By Lambert Strether of Corrente.
Bird Song of the Day
Scaly Thrush, Taichung City, Taiwan. "玉山圓柏灌叢中鳴叫".
* * *
Politics
"So many of the social reactions that strike us as psychological are in fact a rational management of symbolic capital." –Pierre Bourdieu, Classification Struggles
The Constitutional Order
"Raskin: To Call It Undemocratic To Take Trump Off The Ballot Is Like Allowing Voters To Decide Desegregation, Equal Protection" [RealClearPolitics]. From Raskin's conversation with CNN host Laura Coates:

The authors of the 14th Amendment themselves dealt with that question. They felt that if someone sets themselves at war against the Constitution and engages in the most profound anti-democratic act of trying to overthrow an election by installing themselves in office with an insurrection, then at that point, they're constitutionally- barred.

I wish Democrats would stop lying about what the Fourteenth Amendment actually says. It's unbecoming.
Biden Administration
"Five things we learned from the Biden-Xi meeting [BBC]. • Climate, fentanyl, military communication, continued talks, pandas. And then there's this:

Watching Blinken cringe at Biden is like watching the American empire crash and burn in real time.pic.twitter.com/aLxaJ9QV6D

— Danny Haiphong (@SpiritofHo) November 17, 2023

Well worth watching. Several times!

* * *

"Mayorkas unaware that Clapper, Brennan signed Hunter Biden laptop disinformation letter" [Washington Times]. Also Paul Kolbe. "Mr. Mayorkas went on to defend his decision to appoint the three, calling them 'distinguished former members of the intelligence community.'" • From the Department of How Stupid Do They Think We Are?
Our Famously Free Press
"NewsGuard: Surrogate the Feds Pay to Keep Watch on the Internet and Be a Judge of the Truth" [Lee Fang, RealClearInvestigations]. "Instead of merely suggesting rebuttals to untrustworthy information, as many other existing anti-misinformation groups provide, NewsGuard has built a business model out of broad labels that classify entire news sites as safe or untrustworthy, using an individual grading system producing what it calls "nutrition labels." The ratings – which appear next to a website's name on the Microsoft Edge browser and other systems that deploy the plug-in – use a scale of zero to 100 based on what NewsGuard calls 'nine apolitical criteria,' including 'gathers and presents information responsibly' (worth 18 points), 'avoids deceptive headlines' (10 points), and 'does not repeatedly publish false or egregiously misleading content' (22 points), etc. … Critics note that such ratings are entirely subjective – the New York Times, for example, which repeatedly carried false and partisan information from anonymous sources during the Russiagate hoax, gets a 100% rating…. NewsGuard is pushing to apply its browser screening process into libraries, academic centers, news aggregation portals, and internet service providers. Its reach, however, is far greater because of other products it aims to sell to social media and other content moderation firms and advertisers. 'An advertiser's worst nightmare is having an ad placement damage even one customer's trust in a brand,' said Crovitz in a press release touting NewsGuard's "BrandGuard" service for advertisers. 'We're asking them to pay a fraction of what they pay their P.R. people and their lobbyists to talk about the problem,' Crovitz told reporters…. NewsGuard's BrandGuard tool provides an 'exclusion list' that deters advertisers from buying space on sites NewsGuard deems problematic." • Eesh, libraries? Isn't this what we have librarians for?
2024
Less than a year to go!

* * *

"New York judge lifts the gag order that barred Trump from maligning court staff in fraud trial" [Associated Press]. " A gag order that barred Donald Trump from commenting about court personnel after he disparaged a law clerk in his New York civil fraud trial was temporarily lifted Thursday by an appellate judge who raised free speech concerns. Judge David Friedman of the state's intermediate appeals court issued what's known as a stay — suspending the gag order and allowing the former president to speak freely about court staff while a longer appeals process plays out…. At an emergency hearing Thursday, Friedman questioned Engoron's authority to police what Trump says outside the courtroom. He also disputed the trial judge's contention that restricting the 2024 Republican front-runner's speech was necessary or the right remedy to protect his staff's safety."

"Trump team moves for mistrial in NY case, AG asks judge for December deadline on decision" [FOX]. "Trump's team filed the motion for a mistrial Wednesday, citing Judge Arthur Engoron's past social posts on an alumni page for Wheatley School. In the posts, the judge appears to reference the case, as well as Trump and members of the former president's family… 'In this case, the evidence of apparent and actual bias is tangible and overwhelming,' wrote Trump lawyers Clifford Robert and Alina Habba." • None of the coverage I can find provides any actual quotes from Engoron (I keep wanting to type Erdogan). The Wheatley School Alumni Association has a Substack. The only reference to Trump by Engoron that I can find there is from 2022, and complimentary (search the page for "Trump"). There is also www.wheatleyalumni.org, which the Substack seems to duplicate, in part. I can't find anything negative by Engoron there, either. From the actual motion:

Since when is "posting a link" a "public comment"? Erdogan, at least at www.wheatleyalumni.org, is explicitly a blogger. See the URLs: "/-20221005-79.html." Any blogger knows that posting a link isn't the same as commentary! Get Atrios to testify to that effect. Or Lambert!

"Trump rails against reports Biden won't be charged over classified documents" [The Hill]. "Special counsel Robert Hur is expected to put together a critical report of Biden's [handling of classified documents] but its not likely to result in criminal charges, the Wall Street Journal first reported Thursday. Trump, who faces criminal charges in Florida in a classified documents case, fumed on Truth Social against what he called 'selective prosecution.'

"The election interference case against Trump is taking shape" [NPR]. "The federal election interference case against former President Donald Trump is coming into sharper focus, as prosecutors assert he is responsible for the violence at the Capitol on Jan. 6, 2021, and offer new clues about how they intend to prove it…. Prosecutors say Trump should not be able to distance himself from the mayhem. They say evidence of the attack on the Capitol is 'powerful and probative' about his motive and intent. 'Indeed, that day was the culmination of the defendant's criminal conspiracies to overturn the legitimate results of the presidential election, when the defendant directed a large and angry crowd — one that he had summoned to Washington, D.C., and fueled with knowingly false claims of election fraud — to the Capitol,' wrote senior assistant special counsels Molly Gaston and Thomas Windom." "Summoned"? More: "For the first time, the Justice Department team said they are going to use video evidence to show Trump encouraged the crowd at the rally to go to the Capitol, starting 15 minutes into his speech. They said they will provide testimony, photos and geolocation evidence — essentially, cell phone pings — to show how specific Trump supporters listened to him, then went on to strong-arm police and breach the Capitol…. Trump's lawyers said the former president called for the rally crowd to be 'peaceful and patriotic.' They asserted that most of the crowd at the rally on Jan. 6 did behave peacefully."

"Donald Trump's 2024 Trial Schedule Drifts Into Chaos" [TheMessenger]. "In theory, Donald Trump is facing down the prospect of four criminal trials in four different cases next year that clash with the core period of his campaign to return to the White House. In practice, as court filings, judicial rulings, public statements and other recent developments have illustrated, Trump could face just one trial on his road to Election Day 2024. By all accounts, including her own, U.S. District Judge Tanya Chutkan has no intention of budging on the March 4, 2024, start date of Trump's Washington D.C., trial on federal election-subversion charges…. Chutkan has ordered Trump's lawyers and Smith's prosecutors by Jan. 9 to come up with a list of potential questions they want to use to vet jurors. The potential jury pool is also scheduled to appear on Feb. 9 at the federal courthouse in the shadow of the U.S. Capitol and site of the Jan. 6, 2021, insurrection that's central to the case.During an October hearing over a gag order that was imposed on all parties in the case, Chutkan said she had no plans to move dates around despite pleadings from the former president to push everything back until after Election Day 2024…. Yet the trial date could ultimately fall outside of Chutkan's control." • Lots of detail on scheduling. It may well be that the real Democrat goal is not conviction, but sucking money away from the Trump campaign into his lawyer's coffers. Further, a campaign's most important resource is the candidate's time; to the extent that Trump is not able to turn the trials into campaign events, the Democrats are sucking that away, too.

* * *

"Speaker Johnson makes 2024 endorsement: 'All in for President Trump'" [New York Post]. "'I have endorsed him wholeheartedly. Look, I was one of the closest allies that President Trump had in Congress,' Johnson (R-La.) told CNBC's 'Squawk Box.' 'He had a phenomenal first term those first two years.'" Carefully sidestepping Covid, especially Operation Warp Speed. More: "'We brought about the greatest economic numbers in the history of the world, not just the country, because his policies worked and I'm all in for President Trump,' Johnson continued. 'I expect he'll be our nominee, yeah, and he's gonna win it and we have to make Biden a one-term president.' Johnson's predecessor, former Speaker Kevin McCarthy (R-Calif.), has maintained a friendly rapport with Trump, but has so far declined to endorse him in the midst of the primary."

* * *

"The Implosion of Nikki Haley's Social Media Crusade" [Politico]. "'Every person on social media should be verified, by their name. That's, first of all, it's a national security threat,' Haley said Tuesday on Fox News, because it can spread misinformation. Banning anonymous accounts would get 'rid of the Russian bots, the Iranian bots and the Chinese bots,' she continued. On the Ruthless podcast that day, Haley reiterated her pitch: 'They need to verify every single person on their outlet, and I want it by name.' Haley earned immediate broadsides from two of her Republican opponents. Vivek Ramaswamy waved the free speech flag as he denounced her proposal as censorship. Ron DeSantis reminded her that the Federalist Papers were written anonymously. Journalists and activists unloaded with more of the same, including Glenn Greenwald, Charlie Kirk and Dana Loesch. By Wednesday, Haley had softened her harsh proposal, saying, 'I don't mind anonymous American people having free speech; what I don't like is anonymous Russians and Chinese and Iranians having free speech.' Haley's proposal crumpled under the most gentle scrutiny. In order to prove that you're an American worthy of anonymous speech under her regime, wouldn't you have to … identify yourself, thereby losing your anonymity? And that's for starters. Would such a government-mandated scheme be legal? Probably not. Is the plague of anonymous misinformation somehow unique to the internet, requiring special rules for it? No. How practical would it be to identify every social media account by name? Not very." • Lightweight.

* * *

"Poll: A majority of Democrats want new candidate to challenge Biden in 2024 primary" [Yahoo News]. "In a sign of growing concern about President Biden's chances of winning reelection, a majority of potential Democratic primary voters (54%) now say they would like to see 'another Democrat' enter the race to challenge him for their party's 2024 nomination, according to a new Yahoo News/YouGov poll. Only 28% say they would not like a new Democratic candidate to primary the president…. At this point, the odds that Biden will draw a high-profile primary opponent are vanishingly slim. Some filing deadlines have already passed; others are fast approaching. Party leaders and resources almost always fall in line behind an incumbent president, and Biden is no exception. Any new challenger would be shunned, risking his or her future in Democratic politics." • At some point, whatever they're juicing Biden up with will fail. It has occurred to me that the closer this failure point is to the Democrat National Convention August 19 to 22, 2024, Chicago), the more likely it is that the Democrat candidate will be chosen in the classic smoke-filled room. And really, who doesn't want that?

* * *

"Biden stokes Newsom presidential buzz at APEC event alongside California governor" [Washington Examiner]. Biden: "I want to talk about Gov. Newsom," Biden said Wednesday during a reception for APEC leaders. "I want to thank him. He's been one hell of a governor, man. As a matter of fact, he can be anything he wants. "… Newsom has played a prominent role at APEC, greeting Chinese President Xi Jinping at the airport and hosting a high-dollar fundraiser for Biden on Tuesday." • Photo op:

never seen xi smile like that before
good for gavin pic.twitter.com/OXWjytt3YA

— ian bremmer (@ianbremmer) November 16, 2023

I wonder what The Wizard of Kalorama™ thinks of Biden's quip? It occurs to me that of two potential oligarchical clans vying for hegemony in the Democrat Party, he might prefer one closer to his old stomping grounds in Chicago.

"CNN Exclusive: Special counsel using California grand jury in Hunter Biden probe, subpoenas his uncle James Biden" [CNN]. "James Biden, President Joe Biden's brother and a one-time business associate of Hunter, is among the individuals who have received a subpoena in recent weeks, according to two sources close to the investigation." • Not just Hunter — dear Hunter! — then.

* * *

"Schwarzenegger on Trump, Biden: 'They're both flawed'" [Axios]. Schwarzenegger: "The bottom line is, I think we need to find new leaders. To me they're both flawed and I just think we're at a time now where we need someone strong, where we need visionaries, and not people that tinker around with little Mickey Mouse stuff. They're [politicians in Washington] killing themselves to get just a simple budget going. I mean, where are we now? You know, it's just, it's embarrassing to the rest of the world the way we kind of, like, can't get things done, we can't solve the immigration issue, we can't solve the health care issue, we can't solve the debt that we're accumulating and the deficit that we continuously have… all the infrastructure problems…" The endless wars… More: "We don't know where is Trump going to be, legally. We don't know what's going to happen with Biden, if he really is going to stay in. We don't know if there's not a third candidate coming. So I think all of this is premature, to talk about poll numbers, to talk about any of this stuff." • So Schwarzenegger (like me) thinks the story is volatility, not stablity (where "stability" means the Trump v. Biden rematch that so many pundits think is a foregone conclusion.

"Is There an Establishment Plan to Repeal Antitrust Laws?" [Matt Stoller, BIG]. "Here's Montana Senator Jon Tester, running for reelection in a very Trump-friendly state as a Democrat, attacking consolidation in the meat-packing and seed industries as a point of distinction between the parties… [T]he juxtaposition of very popular antitrust with ham-fisted efforts to weaken antitrust provides fertile terrain for doing some brute politics…. Given where most Republican and Trump voters are on issues of corporate power, the attack ads write themselves… That kind of ad could be done in a Republican primary, or a general election. They could also be used in Democratic primaries, or general elections. It really does not matter. The point is, right now, lower prices are the top priority for over two-thirds of voters. Yet, most voters haven't heard about what antitrust enforcers are doing… Senator Jon Tester thinks it's politically salient enough to bring up. It won't take much more for big business to be on the ballot in 2024." • Appointing Lina Kahn is one of the very few unambiguously good things Biden has done, and he's not running on it. Curious.

* * *

NV: "A Snapshot of Biden's Swing-State Troubles" [Jon Ralston, The Atlantic]. Not that I'm one to hold a grudge, but in the 2016 Nevada Democrat Convention, Ralston propagated a false story that a Sanders supporter threw a chair. So it's surprising to see him rehabilitated, if that is the word I want, in the pages of The Atlantic. Anyhow: "Nevada is difficult to poll for a variety of reasons. Here as much as anywhere else, pollsters tend to underestimate the number of people they need to survey by cellphone to get a representative sample, and they generally don't do enough bilingual polling in Nevada, where nearly a third of the population is Hispanic. Nevada also has a transient population, lots of residents working 24/7 shifts, and an electorate that's less educated than most other states'. … Nevada matters in presidential elections, but we are also, let's face it, a tad weird… Still, Democrats have reasons to worry. Nevada was clobbered by COVID disproportionately to the rest of the country, because our economy is so narrowly focused on the casino industry…. the state has been slowly shifting to the right—not just in polling but in Election Day results. In 2020, Nevada was the only battleground state that saw worse Democratic performance compared with 2016, unless you include the more solidly red Florida. Nevada's new Republican governor, Joe Lombardo, is building a formidable political machine. Republicans have made inroads with working-class white voters here, leaving Democrats with an ever-diminishing margin of error."
Republican Funhouse
"Building now for a conservative victory through policy, personnel, and training" [Project 2025]. "It is not enough for conservatives to win elections. If we are going to rescue the country from the grip of the radical Left, we need both a governing agenda and the right people in place, ready to carry this agenda out on Day One of the next conservative Administration…. The 2025 Presidential Transition Project paves the way for an effective conservative Administration based on four pillars: a policy agenda, Presidential Personnel Database, Presidential Administration Academy, and playbook for the first 180 days of the next Administration." There is a Playbook (920 pages in PDF). Since the spooks are big players, I thought I'd see what the Playbook has to say about them:

It's good to see that Republicans, too, appreciated the simple joys in life; in this case, defenestrating Clapper and Brennan. But I thought only liberal Democrats believed in the Norms Fairy. Here is one reaction from an account I like and trust:

Project 2025. What's your plan in the event this becomes reality?

Are you preparing for it? Can you realistically flee the States? Not that bullshit we talk online.

— Shay Stewart Bouley (@blackgirlinmain) November 17, 2023

Project2025 looks like a line-up of typical Republican reactionaries (see the About Page). Horrid, no doubt, but not Mein Kampf. But why the heck can't Democrats get it together to do something similar? (The closest example I can think of is Biden's transition team in 2020, (also) a bloated monstrosity, none of whose deliverables came to anything.) This also looks like a Heritage Foundation production; they're at least known quantity. Anyhow, there are already plenty of reasons to flee the States, starting with the health care system. More study needed!

"Trumpworld Is Already at War Over Staffing a New Trump White House" [Daily Beast]. "The America First Policy Institute was supposed to add the ideological heft to Donald Trump's ad hoc, seat-of-your-pants policymaking. But a year out from Election Day, Trump's allies are signaling that the group may be doing more harm than good—and the campaign is making it clear that Trump, not any outside group, will be in charge of staffing up another White House. The Daily Beast reviewed an internal AFPI email showing staff inside the organization collecting names and seeking recommendations for future Trump administration posts. When Trump campaign operatives got word of that effort, they saw it not only as premature, but also not AFPI's place. But more to the point, Trump's associates are telling the think tank to back off from its donors, fearing that AFPI may be cannibalizing campaign contributors and confusing those who want to directly help Trump's 2024 effort…. Two of Trump's top advisers—Susie Wiles and Chris LaCivita—took the notable step of issuing a joint statement earlier this week clarifying that outside groups do not 'speak for President Trump or his campaign.' 'Therefore, these reports about personnel and policies that are specific to a second Trump Administration are purely speculative and theoretical,' they said. 'Any personnel lists, policy agendas, or government plans published anywhere are merely suggestions." Wiles and LaCivita were apparently reacting to efforts by some people at AFPI and the Heritage Foundation's Project 2025 to present themselves as the Trump White House-in-waiting. A key pitch to donors of these groups has apparently become that these staffers will have tremendous power in the next administration; giving now is seen as one way to curry favor later." • Hilarity ensues!

"Trump is out for vengeance, not Republican political empowerment" [The Hill]. • Who says they're mutually exclusive? I mean, can't Repunblicans have fun and work hard too?
Democrats en Déshabillé
Patient readers, it seems that people are actually reading the back-dated post! But I have not updated it, and there are many updates. So I will have to do that. –lambert

I have moved my standing remarks on the Democrat Party ("the Democrat Party is a rotting corpse that can't bury itself") to a separate, back-dated post, to which I will periodically add material, summarizing the addition here in a "live" Water Cooler. (Hopefully, some Bourdieu.) It turns out that defining the Democrat Party is, in fact, a hard problem. I do think the paragraph that follows is on point all the way back to 2016, if not before:

The Democrat Party is the political expression of the class power of PMC, their base (lucidly explained by Thomas Frank in Listen, Liberal!). ; if the Democrat Party did not exist, the PMC would have to invent it. . ("PMC" modulo "class expatriates," of course.) Second, all the working parts of the Party reinforce each other. Leave aside characterizing the relationships between elements of the Party (ka-ching, but not entirely) those elements comprise a network — a Flex Net? An iron octagon? — of funders, vendors, apparatchiks, electeds, NGOs, and miscellaneous mercenaries, with assets in the press and the intelligence community.

Note, of course, that the class power of the PMC both expresses and is limited by other classes; oligarchs and American gentry (see 'industrial model' of Ferguson, Jorgensen, and Jie) and the working class spring to mind. Suck up, kick down.

* * *

Trump Derangement Syndrome as a form of Obsessive-Compulsive Behavior:

Kevin Champeny, a mosaic artist, expresses what we all feel. pic.twitter.com/fpxnWhJZFV

— 𝙱𝚒𝚕𝚕𝚢𝙳𝟹  (@billyd3_) November 16, 2023

"What all feel."
#COVID19
"I am in earnest — I will not equivocate — I will not excuse — I will not retreat a single inch — AND I WILL BE HEARD." –William Lloyd Garrison
Resources, United States (National): Transmission (CDC); Wastewater (CDC, Biobot; includes many counties; Wastewater Scan, includes drilldown by zip); Variants (CDC; Walgreens); "Iowa COVID-19 Tracker" (in IA, but national data). "Infection Control, Emergency Management, Safety, and General Thoughts" (especially on hospitalization by city).
Lambert here: Readers, thanks for the collective effort. To update any entry, do feel free to contact me at the address given with the plants. Please put "COVID" in the subject line. Thank you!
Resources, United States (Local): AK (dashboard); AL (dashboard); AR (dashboard); AZ (dashboard); CA (dashboard; Marin, dashboard; Stanford, wastewater; Oakland, wastewater); CO (dashboard; wastewater); CT (dashboard); DE (dashboard); FL (wastewater); GA (wastewater); HI (dashboard); IA (wastewater reports); ID (dashboard, Boise; dashboard, wastewater, Central Idaho; wastewater, Coeur d'Alene; dashboard, Spokane County); IL (wastewater); IN (dashboard); KS (dashboard; wastewater, Lawrence); KY (dashboard, Louisville); LA (dashboard); MA (wastewater); MD (dashboard); ME (dashboard); MI (wastewater; wastewater); MN (dashboard); MO (wastewater); MS (dashboard); MT (dashboard); NC (dashboard); ND (dashboard; wastewater); NE (dashboard); NH (wastewater); NJ (dashboard); NM (dashboard); NV (dashboard; wastewater, Southern NV); NY (dashboard); OH (dashboard); OK (dashboard); OR (dashboard); PA (dashboard); RI (dashboard); SC (dashboard); SD (dashboard); TN (dashboard); TX (dashboard); UT (wastewater); VA (dashboard); VT (dashboard); WA (dashboard; dashboard); WI (wastewater); WV (wastewater); WY (wastewater).
Resources, Canada (National): Wastewater (Government of Canada).
Resources, Canada (Provincial): ON (wastewater); QC (les eaux usées); BC, Vancouver (wastewater).
Hat tips to helpful readers: anon (2), Art_DogCT, B24S, CanCyn, ChiGal, Chuck L, Festoonic, FM, FreeMarketApologist (4), Gumbo, hop2it, JB, JEHR, JF, JL Joe, John, JM (10), JustAnotherVolunteer, JW, KatieBird, LL, Michael King, KF, LaRuse, mrsyk, MT, MT_Wild, otisyves, Petal (6), RK (2), RL, RM, Rod, square coats (11), tennesseewaltzer, Utah, Bob White (3).
Stay safe out there!
* * *
Covid is Airborne
"Indoor Air and Coronavirus (COVID-19)" [United States Environmental Protection Agency]. "Spread of COVID-19 occurs via airborne particles and droplets. People who are infected with COVID can release particles and droplets of respiratory fluids that contain the SARS CoV-2 virus into the air when they exhale (e.g., quiet breathing, speaking, singing, exercise, coughing, sneezing). The droplets or aerosol particles vary across a wide range of sizes – from visible to microscopic. Once infectious droplets and particles are exhaled, they move outward from the person (the source). These droplets carry the virus and transmit infection. Indoors, the very fine droplets and particles will continue to spread through the air in the room or space and can accumulate. Since COVID-19 is transmitted through contact with respiratory fluids carrying the infectious SARS-CoV-2 virus, a person can be exposed by an infected person coughing or speaking near them. They can also be exposed by inhaling aerosol particles that are spreading away from the infected person. Transmission of COVID-19 from inhalation of virus in the air can occur at distances greater than six feet. Particles from an infected person can move throughout an entire room or indoor space. The particles can also linger in the air after a person has left the room – they can remain airborne for hours in some cases." • Too bad CDC and HICPAC can't seem to get their heads round the concept. Or hospital infection control, so-called.
Maskstravaganza
Just make masking in medical facilities universal and permanent. Why putz around like this?

Doordash delivery to a rehabilitation facility if I had known they had a covid outbreak of 50 positives I would of declined 😡 pic.twitter.com/PfDHCnN8zj

— Data Report (@CovidDataReport) November 16, 2023

And why this mealy-mouthed "
Vaccines
I've never understood the argument that the vaccine caused more harm than the virus itself:

It's the virus, not the vaccine pic.twitter.com/VlrSrpCDVa

— Gregory Travis. Make schools #DavosSafe (@greg_travis) November 17, 2023
Transmission
But why?

The Inquiry has now rescheduled the third preliminary hearing for Module 2B, the investigation into political and administrative decision making in Wales.

It will take place on Tuesday 12 December.

More details follow soon. https://t.co/TssSefqlI4

— UK Covid-19 Inquiry (@covidinquiryuk) November 17, 2023

'Tis a mystery!

INTERNATIONAL BREAKING NEWS:
The UK Inquiry Into That Thing We Don't Talk About Has Been Disrupted By That Thing We Don't Talk About. pic.twitter.com/dMIiGmdgVY

— The Vertlartnic (@TheVertlartnic) November 16, 2023
"Something Awful"
Lambert here: I'm getting the feeling that the "Something Awful" might be a sawtooth pattern — variant after variant — that averages out to a permanently high plateau. Lots of exceptionally nasty sequelae, most likely deriving from immune dysregulation (says this layperson). To which we might add brain damage, including personality changes therefrom.

* * *
Elite Maleficence
To the tables down at Mory's / Wherever that may be:

I love guerrilla public health messaging. The @CDCgov should realize that when people have to do this—then they are failing their job. @CDCDirector should learn from this. #COVIDisAirborne #CovidIsNotOver

HT @rnussbaum11 pic.twitter.com/J804LLLWaX

— Eric Feigl-Ding (@DrEricDing) November 16, 2023

The "punchline" is silent:

Wait for the punchline. 🤯🤯🤯 pic.twitter.com/7DXwjhkUpL

— Lazarus Long (@LazarusLong13) November 17, 2023

Just look at those baggy blues!
* * *
Lambert here: Lots of indicators up, starting with wastewater. (The one I worry about the most is ER visits, since I think that data is hard to game, and who wants to go to the ER, anyhow?) I think it's time to send the relatives those clippings you saved on brain damage (also, of course, the 2022 clippings: here, here. And the 2020 one).
Case Data
NOT UPDATED From BioBot wastewater data, November 13: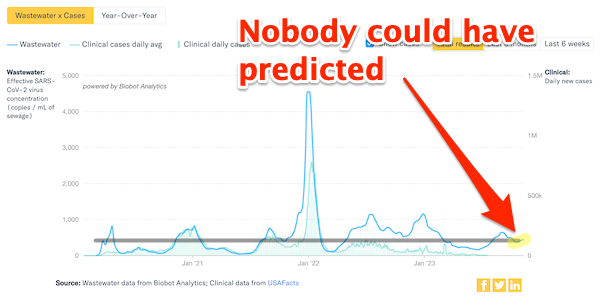 Lambert here: Cases up, just in time for Thanksgiving (and tinfoil hat time: This is the, er, inflection point CDC was trying to conceal when they gave the contract to Verily and didn't ensure a seamless transition).
Regional data: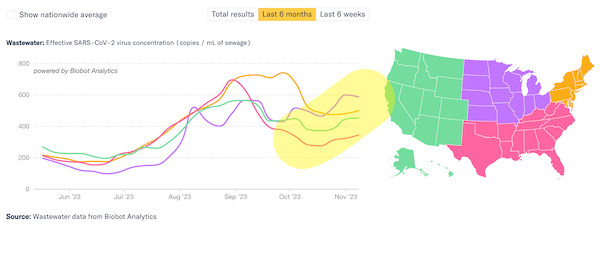 Everywhere!
Variants
NOT UPDATED From CDC, November 11: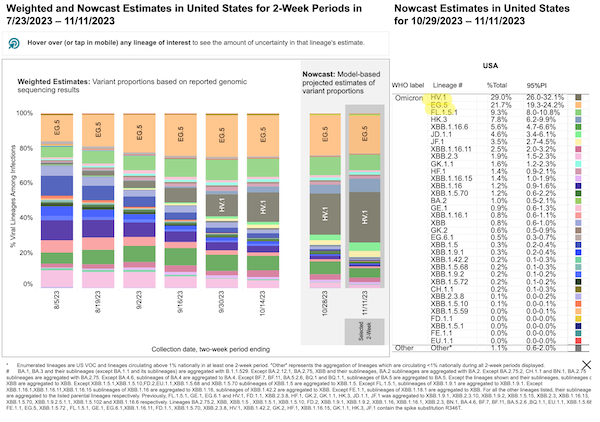 Lambert here: Top of the leaderboard: HV.1, EG.5 a strong second, with FL.1.15.1 and XBB.1.1.16.6 trailing. No BA.2.86 (although that has showed up in CDC's airport testing). Still a Bouillabaisse…
From CDC, October 28: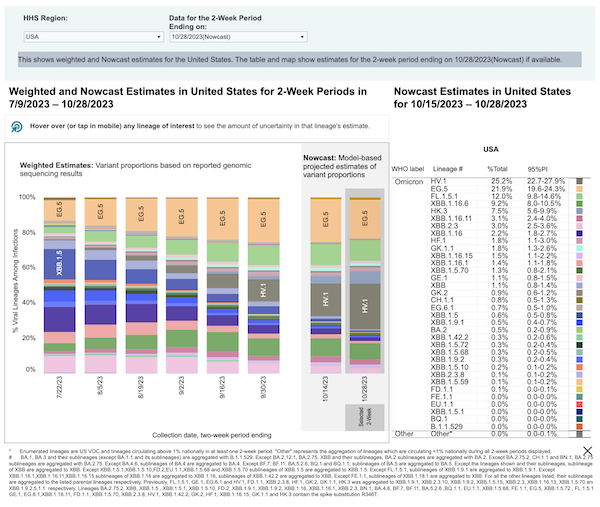 Lambert here: I sure hope the volunteers doing Pangolin, on which this chart depends, don't all move on the green fields and pastures new (or have their access to facilities cut by administrators of ill intent).
CDC: "As of May 11, genomic surveillance data will be reported biweekly, based on the availability of positive test specimens." "Biweeekly: 1. occurring every two weeks. 2. occurring twice a week; semiweekly." Looks like CDC has chosen sense #1. In essence, they're telling us variants are nothing to worry about. Time will tell.
Covid Emergency Room Visits
NOT UPDATED From CDC NCIRD Surveillance, November 11: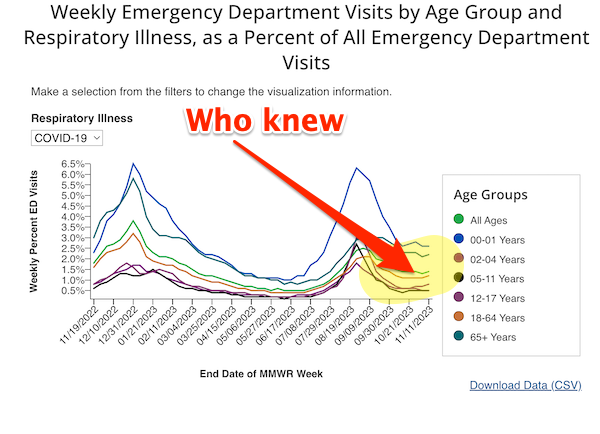 Lambert here: Slight increases in some age groups, conforming to wastewater data. Only a week's lag, so this may be our best current nationwide, current indicator until Verily gets its house in order (and working class-centric, since I would doubt the upper crust goes to the ER).
NOTE "Charts and data provided by CDC, updates Wednesday by 8am. For the past year, using a rolling 52-week period." So not the entire pandemic, FFS (the implicit message here being that Covid is "just like the flu," which is why the seasonal "rolling 52-week period" is appropriate for bothMR SUBLIMINAL I hate these people so much. Notice also that this chart shows, at least for its time period, that Covid is not seasonal, even though CDC is trying to get us to believe that it is, presumably so they can piggyback on the existing institutional apparatus for injections.
Hospitalization
Bellwether New York City, data as of November 17: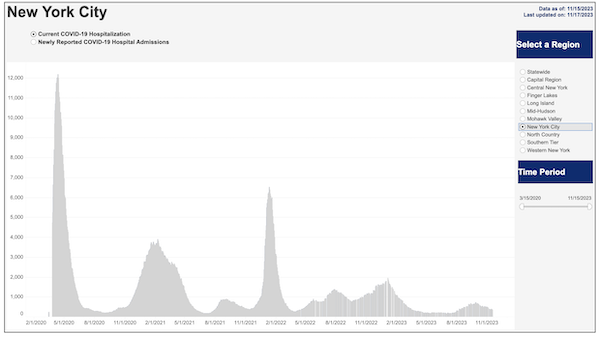 Decline flattens. (I hate this metric because the lag makes it deceptive, although the hospital-centric public health establishment loves it, hospitalization and deaths being the only metrics that matter [snort]).
NOT UPDATED Here's a different CDC visualization on hospitalization, nationwide, not by state, but with a date, at least. November 4: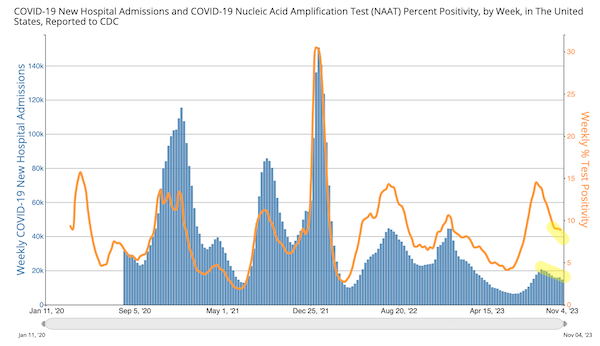 Lambert here: "Maps, charts, and data provided by CDC, updates weekly for the previous MMWR week (Sunday-Saturday) on Thursdays (Deaths, Emergency Department Visits, Test Positivity) and weekly the following Mondays (Hospitalizations) by 8 pm ET†". So where the heck is the update, CDC?
Positivity
NOT UPDATED From Walgreens, November 13: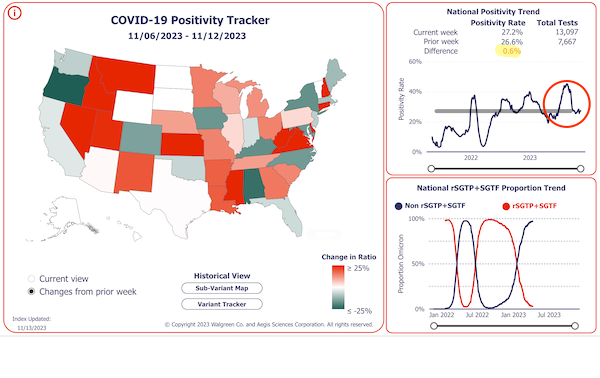 -1.4%. But bouncing around. (It would be interesting to survey this population generally; these are people who, despite a tsunami of official propaganda and enormous peer pressure, went and got tested anyhow.)
NOT UPDATED From Cleveland Clinic, November 11: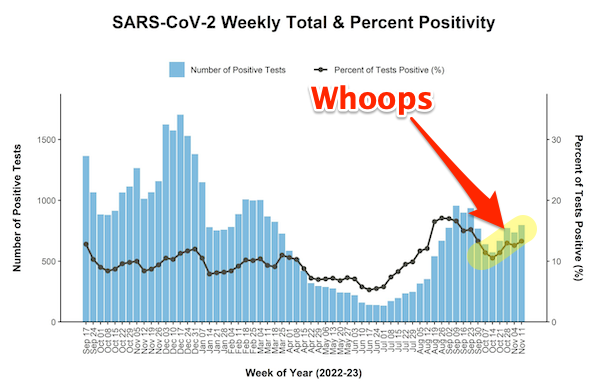 Lambert here: Increase (with backward revision; guess they thought it was over). I know this is just Ohio, but the Cleveland Clinic is good*, and we're starved for data, so…. NOTE * Even if hospital infection control is trying to kill patients by eliminating universal masking with N95s.
NOT UPDATED From CDC, traveler's data, October 23: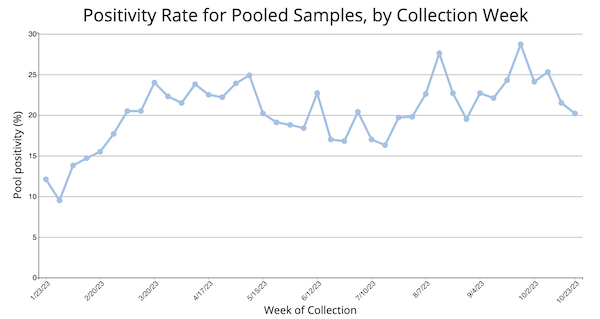 Down, albeit in the rear view mirror. And here are the variants for travelers, still from October 23: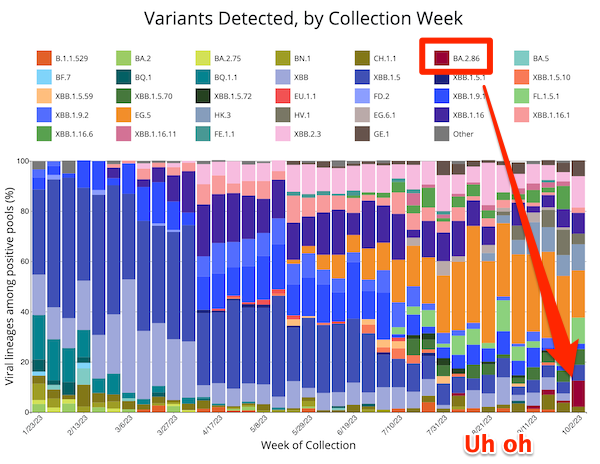 Sudden big BA.2.86 appearance. This variant chart has not been updated, which makes me wonder if CDC is gaming the data, and BA.2.86 is worse than we think.
Deaths
Total: 1,182,259 – 1,182,163 = 96 (96 * 365 = 35,040 deaths per year, today's YouGenicist™ number for "living with" Covid (quite a bit higher than the minimizers would like, though they can talk themselves into anything. If the YouGenicist™ metric keeps chugging along like this, I may just have to decide this is what the powers-that-be consider "mission accomplished" for this particular tranche of death and disease). 
Excess Deaths
The Economist, November 17: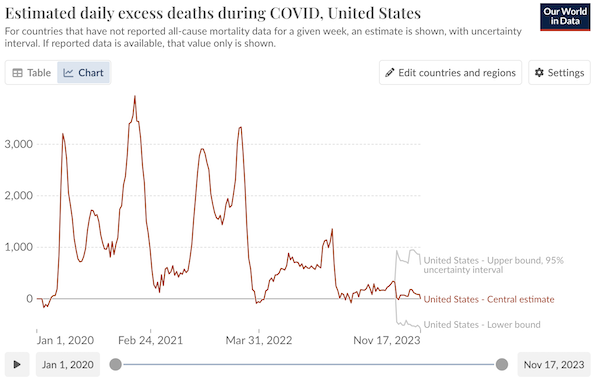 Lambert here: Based on a machine-learning model.
Stats Watch
Housing Starts: "United States Housing Starts" [Trading Economics]. "Housing starts in the US rose by 1.9% month-over-month to a seasonally adjusted annualized rate of 1.372 million in October 2023, above market expectations of 1.35 million as limited supply in the resale market has boosted new construction."
* * *
* * *
Today's Fear & Greed Index: 58 Neutral (previous close: 54 Neutral) [CNN]. One week ago: 40 (Fear). (0 is Extreme Fear; 100 is Extreme Greed). Last updated Nov 17 at 11:38:50 AM ET. Based on what? Arms dealing?
The Gallery
Flyover country is full of great architecture:
went into a movie theater to see if I could take photos of the lobby and the kid working was like "dude you gotta see the actual theater" pic.twitter.com/zKoOe83Ue3

— Midwest Modern (@JoshLipnik) November 16, 2023
Class Warfare
"Starbucks workers in Greater Cleveland join national strike today" [Signal Cleveland]. "Starbucks workers at three Greater Cleveland stores are scheduled to join a one-day national strike Thursday morning, protesting that unionized workers have not received a contract, the union said…. 'I decided to participate on Thursday, and helped organize my store to do so, based on the fact that Starbucks hasn't come to the table to bargain with us,' [Cameron Stefan] said. 'Red Cup Day is one of the busiest days of the year and usually one of the highest sales days for Starbucks. This is to show them that we want to bargain. This is a day that can make our point by helping their pockets to hurt.' … Starbucks spokesman Andrew Trull said the company hasn't refused to bargain. 'Starbucks remains committed to enhancing the partner experience and offering everyone who wears the green apron a bridge to a better future,' he wrote in an email to Signal Cleveland. 'We're encouraged by the progress we've seen towards first contracts at stores where union representatives have approached bargaining with professionalism and an actual interest in discussing partner priorities with our bargaining committees.'" • What a load of codswallop from Corporate. Eesh.
News of the Wired
"Our Mission" [Apostrophe Protection Society]. "If you're looking for guidance on the correct use of apostrophes, you can find this on our Apostrophe Use page. If you have your own photographic examples of misplaced, omitted or excessive apostrophe usage, have a look at the Examples page to see how you can submit your examples for inclusion on the site. You can join the Apostrophe Protection Society to show your support and keep up to date on the Join APS page. It's free, so why not join today!" • I should create some example's here….
* * *
Contact information for plants: Readers, feel free to contact me at lambert [UNDERSCORE] strether [DOT] corrente [AT] yahoo [DOT] com, to (a) find out how to send me a check if you are allergic to PayPal and (b) to find out how to send me images of plants. Vegetables are fine! Fungi and coral are deemed to be honorary plants! If you want your handle to appear as a credit, please place it at the start of your mail in parentheses: (thus). Otherwise, I will anonymize by using your initials. See the previous Water Cooler (with plant) here. From Desert Dog: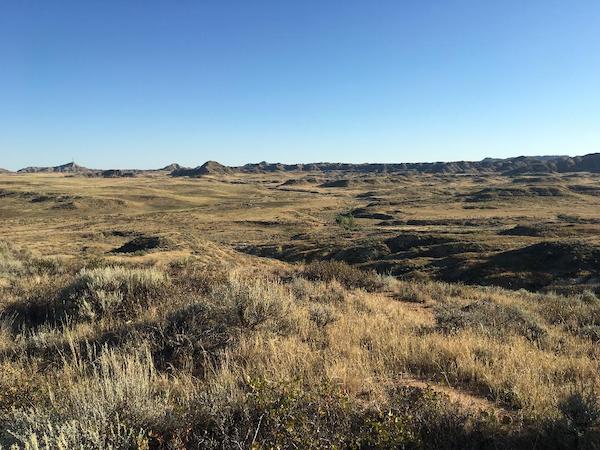 Desert Dog writes: "It's different here in eastern Montana than in the forest. The high hill on the left is called Signal Butte and the Calvary guys would go up on top and they could signal with mirrors to the Fort in South Dakota, sort of internet in the old days."
* * *
Readers: Water Cooler is a standalone entity not covered by the annual NC fundraiser. So if you see a link you especially like, or an item you wouldn't see anywhere else, please do not hesitate to express your appreciation in tangible form. Remember, a tip jar is for tipping! Regular positive feedback both makes me feel good and lets me know I'm on the right track with coverage. When I get no donations for five or ten days I get worried. More tangibly, a constant trickle of donations helps me with expenses, and I factor in that trickle when setting fundraising goals:
Here is the screen that will appear, which I have helpfully annotated: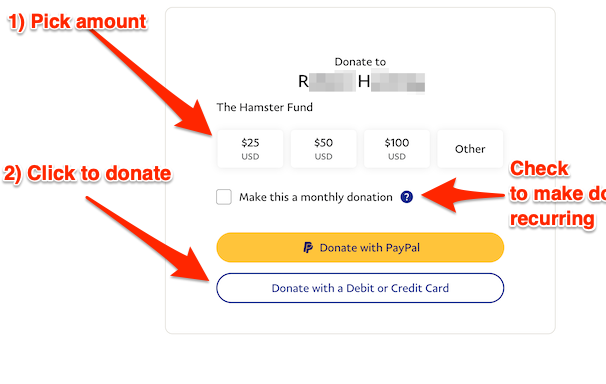 If you hate PayPal, you can email me at lambert [UNDERSCORE] strether [DOT] corrente [AT] yahoo [DOT] com, and I will give you directions on how to send a check. Thank you!