By Lambert Strether of Corrente.
Bird Song of the Day
Long-billed Thrush, Sandakphu, Darjeeling District, West Bengal, India. "Montane, Evergreen Forest, Bamboo, Scrub."
* * *
Politics
"So many of the social reactions that strike us as psychological are in fact a rational management of symbolic capital." –Pierre Bourdieu, Classification Struggles
The Constitutional Order
"Conversation With an 'Insurrectionist': He Took Nancy Pelosi's Lectern" [Newsweek]. A must read, not least because it confirms my priors (see The Class Composition of the Capitol Rioters (First Cut) and The Organizational Capacity and Behavioral Characteristics of the Capitol Rioters (First Cut). The whole piece is very entertaining, in a bemused sort of way, but this to me is the key point: "'I thought it would make a great picture, so I carried it 20 yards to the center of the room, gave a short speech and left it there.' His speech, he said, consisted of him railing against traitors and treason and his idea that budget items ought to be voted on separately." Same thing with the Buffalo Horns dude; he made a speech too, and nothing came of it. In other words, no organization whatever. (I can't find the quote from the Bolshevik Revolution where IIRC a sailor screams at Lenin: "Take power, dammit!" Nothing like that here.)
Biden Administration
"The 40th day of the war Gallant on the release of hostages: Hamas is ready to pay for some peace" (Google translation from Hebrew) [i24]. On Al-Shifa hospital:

Oh. More commentary:

We need more time.

"The official said that soldiers had found weapons and evidence of a militant headquarters, but declined to provide further details and said that proof would not be provided until after the raid had ended." (NY Times)

It takes time to plant evidence.

— Norman Finkelstein (@normfinkelstein) November 15, 2023

"The Secret Service has been lying to you about the White House cocaine scandal" [FOX]. "Good thing we have the documents from the Secret Service right here. But here's the thing: The Secret Service redacted where the cocaine was first found. Now, if the cocaine was actually first found in the cubby, and they photographed it in the cubby, why would they redact that? And then at one point, the Secret Service says this suspicious substance is a white powder in a small Ziploc bag on the redacted lobby floor. What? Lobby floor? The lobby into what room? The library. And I thought they found the cocaine in the cubby. Well, the cubby is not on the floor. The cubby's on the wall. Later on in the night. They said it was in the cubby, and they didn't redact that. They want us to think it was found in that little locker." • It's a game of Clue, isn't it? Hunter, in the Library. With the spoon.
2024
Less than a year to go!

* * *

"Top GOP House Member Hits Engoron With Ethics Complaint" [1945]. "A top Republican congresswoman has hit New York Justice Arthur F. Engoron with an ethics complaint due to alleged politicking for the Democratic Party while being a justice of the New York Supreme Court… Stefanik alleges that Engoron violated these rules. 'Judge Engoron and his staff are partisan Democrat donors. As recently as 2018, Judge Engoron donated to the Manhattan Democrats – even though Section 100.5 says that judges 'shall refrain' from 'making a contribution to a political organization," Stefanik writes in her complaint to the New York State Commission on Judicial Conduct. 'Section 100.5 also stipulates that a 'judge shall prohibit members of the judge's staff' from contributing more than $500 'in the aggregate during any calendar year to all political campaigns for political office.' Allison Greenfield has served as Judge Engoron's principal law clerk since 2019. … The congresswoman continues, 'In 2022 alone, Greenfield donated '$3,335 in political donations to Democrat candidates and causes.' She's already given more than $1,000 in 2023 to campaigns." • Hmm.

* * *




* * *

"Freeway Disaster Presents Hurdle for Newsom's National Ambitions" [David Dayen, The American Prospect]. We don't link to Dayen much, for good reasons I won't go into here, but in this post he's so on point I have to quote. Recall that there was also a freeway fire in Philly, so we have a baseline. "The initial assessment in Philadelphia was that I-95 would be closed for months, maybe through Thanksgiving. But [Democrat PA Governor Josh] Shapiro mobilized union construction workers and enabled a novel use of recycled glass to get the highway up and running in less than two weeks… That set a precedent that Newsom is now going to need to live up to. There is no current timetable for reopening the 10. While most of the site has been cleared of hazardous materials and federal emergency funds have been made available, engineers have not yet determined whether they could simply retrofit the existing structure, or be forced to demolish and rebuild it. The message to residents has been to strap in for a long winter of east-west driving either way. That's not going to fly for Newsom for several reasons. He is not a newcomer in a purple state his first year on the job; in fact, he's termed out in 2026. But Newsom has national aspirations, which is the worst-kept secret in America. If the 10 closure lingers and construction falls behind, public anger will build. Shapiro came in well ahead of schedule, was completely transparent (he even set up a webcam to track progress), and thrived under pressure. That will inevitably be used as a measuring stick for Newsom. Newsom's popularity recently sank to an all-time low in California, an across-the-board drop that has an unclear origin." • Of course, the DNC can force whoever they want to down our throats, especially if (when?) Biden pulls up lame. But skeptical about Newsom, California oligarch and pseudo-Getty scion though he is. First, his hair. Come on. Second, the French Laundry incident. Plenty of grist for oppo there! Finally, his dyslexia. Oppo again — childrens' books and trauma aside — but for Newsom "a five-minute speech may require six hours of preparation and research." So what happens with his briefing books? Do staffers read them aloud?

* * *

"Latest Polls Show My Path to Victory" [Robert F. Kennedy, Jr.] "According to a new national poll by Quinnipiac University, I beat Trump and Biden among voters ages 18-34 with 38% of the vote compared to Biden's 32% and Trump's 27%…. I am also outpacing Biden and Trump among independent voters, with 36% compared to 31% for Biden and 30% for Trump…. Another recent poll conducted by The New York Times and Siena College shows that I am closing the gap on Trump and Biden in six battleground states — AZ, GA, MI, NV, PA, and WI — where I come within single digits of the two-party candidates. In these six battleground states, I beat Trump and Biden among 18-44 year olds."

* * *

"Q&A with Rep. Dean Phillips" [The Dartmouth (Petal)]. Phillips: "People are screaming as loud as they can that they're desperate. Life is not affordable. It's true here in New Hampshire with heating oil, prices are so high for some that there are thousands waiting in line for subsidies, kids going to school hungry, housing out of reach for many people and becoming unaffordable for those who are even in their houses right now, grocery prices through the roof. I voted for many of the President's policies. My contention isn't that what we did was bad. My contention is it's not enough. And my contention is that Bidennomics has become an anchor weighing down the Democratic Party, as it represents to most Americans. I'm not saying that the policies were bad. All I'm saying is we have to do better. How do we do that? Affordability, affordability, affordability. Energy policy, our farm bill and food policy, our housing policy, our education policy and our health care policy, are all elements of how we raise the foundation for hard working Americans." And: "The path forward is mutual empathy… I intend to be the first Jewish President in American history, who signs documents that help establish a Palestinian state. That to me is the solution. And that's where the empathy begins." • Interesting!

* * *

PA: "Democrats' Big Bucks County School Board Sweep Should Unnerve Republicans Everywhere" [RealClearPolitics]. "There are only a handful of counties in this country that can authentically claim their voting habits are bona fide bellwethers for elections in battleground states. Bucks County, a suburb near Philadelphia, is one of them. What makes it so is the political diversity of voters that is split up into three distinct geographical patches: Lower Bucks, Central Bucks and Upper Bucks…. Lower Bucks has always been filled with working-class voters… Central Bucks are the voters who moved up and out of Lower Bucks as it began to decline as industry did. They generally are upper middle class…. Then there is Upper Bucks, which is part rural, part suburb…. Of the three parts of Bucks County, it is the one that is the most truly conservative…. On Tuesday, voters decided to change the balance of power on the Central Bucks School District's school board, which previously had a 6-3 Republican majority. This week, voters flipped it to a pending 6-3 Democratic majority…. Apparently, a majority of voters rebelled against the involvement of the national Moms for Liberty, portrayed by the media as extreme, and which was thought by many centrist voters, even those who usually lean Republican, to use rhetoric that was a bridge too far. Bucks County voters are telling Republicans to stop with the overreach. They are also telling the Democrats, 'We didn't exactly vote for you as much as we voted against the Republicans.'"
Republican Funhouse
Mitchell on comity:

Sen. Mitch McConnell (R-KY) said "its very difficult to control the behavior" of those in the building and that it was the responsibility of Capitol Police to deal with the behavior on the Hill, not his. pic.twitter.com/ALiEr8XdOS

— CSPAN (@cspan) November 14, 2023

To be fair, we're nowwhere near "Caning of Sumner" territory.

"Sen. Markwayne Mullin Stands Up To Fight Teamsters Boss During Senate Hearing: 'We Can Finish It Here'" [RealClearPolitics]. "'Well, stand your butt up then,' said Sen. Mullin. 'You're a United States Senator, sit down,' yelled Sen. Bernie Sanders, chairing the hearing." • I hate that "your butt" locution. Generally spoken by an authority figure to a child, what does it say about how the authority figure views children?

"Rep. McCarthy: I Did Not Kidney Punch Republican Congressman That Voted To Oust Me From Speakership" [RealClearPolitics]. • If you're explaining, you're losing.
Democrats en Déshabillé
Patient readers, it seems that people are actually reading the back-dated post! But I have not updated it, and there are many updates. So I will have to do that. –lambert

I have moved my standing remarks on the Democrat Party ("the Democrat Party is a rotting corpse that can't bury itself") to a separate, back-dated post, to which I will periodically add material, summarizing the addition here in a "live" Water Cooler. (Hopefully, some Bourdieu.) It turns out that defining the Democrat Party is, in fact, a hard problem. I do think the paragraph that follows is on point all the way back to 2016, if not before:

The Democrat Party is the political expression of the class power of PMC, their base (lucidly explained by Thomas Frank in Listen, Liberal!). ; if the Democrat Party did not exist, the PMC would have to invent it. . ("PMC" modulo "class expatriates," of course.) Second, all the working parts of the Party reinforce each other. Leave aside characterizing the relationships between elements of the Party (ka-ching, but not entirely) those elements comprise a network — a Flex Net? An iron octagon? — of funders, vendors, apparatchiks, electeds, NGOs, and miscellaneous mercenaries, with assets in the press and the intelligence community.

Note, of course, that the class power of the PMC both expresses and is limited by other classes; oligarchs and American gentry (see 'industrial model' of Ferguson, Jorgensen, and Jie) and the working class spring to mind. Suck up, kick down.

* * *

"Democrats Plan to Spend Millions to Weaken Republican Supermajorities" [New York Times]. "Democrats are pushing to break up Republican supermajorities in states with Democratic governors, effectively battling to win back the veto pen district by district. Such supermajorities result when a single political party has enough votes in both chambers of a legislature to override a governor's veto, often, though not always, by controlling two-thirds of the chamber. The extraordinary political dissonance of having a governor of one party and a supermajority of an opposing party in the legislature is one of the starkest effects of gerrymandering, revealing how parties cling to evaporating power. As gerrymanders built by both parties for decades have tipped the scales to favor the party of the map-drawers, legislative chambers have proved resistant to shifting political winds at the state level. At times, those gerrymanders have locked in minority rule in legislatures while statewide offices, like the governor's, adhere to the desires of a simple majority of voters. Though both parties employed aggressive gerrymanders during the last round of redistricting in 2021, Republicans entered the cycle with a distinct advantage: In 2010, G.O.P.-controlled state legislatures across the country drew aggressive gerrymanders in state governments. Democrats were caught off guard." • Thanks, Obama.

"Disturbances In The Discourse" [Eschaton]. FTX poodle Rising Star Sean McElwee is back. "I keep telling about how much of The Discourse was really fucked for a couple of years due (in part) to some FTX money floating around… I won't say any names, but there are some people who should be indicted for being straw donors who haven't been!!!" • Dude! Say the names! I mean, we're not talking Epstein's Black Book here. Right?
#COVID19
"I am in earnest — I will not equivocate — I will not excuse — I will not retreat a single inch — AND I WILL BE HEARD." –William Lloyd Garrison
Resources, United States (National): Transmission (CDC); Wastewater (CDC, Biobot; includes many counties; Wastewater Scan, includes drilldown by zip); Variants (CDC; Walgreens); "Iowa COVID-19 Tracker" (in IA, but national data). "Infection Control, Emergency Management, Safety, and General Thoughts" (especially on hospitalization by city).
Lambert here: Readers, thanks for the collective effort. To update any entry, do feel free to contact me at the address given with the plants. Please put "COVID" in the subject line. Thank you!
Resources, United States (Local): AK (dashboard); AL (dashboard); AR (dashboard); AZ (dashboard); CA (dashboard; Marin, dashboard; Stanford, wastewater; Oakland, wastewater); CO (dashboard; wastewater); CT (dashboard); DE (dashboard); FL (wastewater); GA (wastewater); HI (dashboard); IA (wastewater reports); ID (dashboard, Boise; dashboard, wastewater, Central Idaho; wastewater, Coeur d'Alene; dashboard, Spokane County); IL (wastewater); IN (dashboard); KS (dashboard; wastewater, Lawrence); KY (dashboard, Louisville); LA (dashboard); MA (wastewater); MD (dashboard); ME (dashboard); MI (wastewater; wastewater); MN (dashboard); MO (wastewater); MS (dashboard); MT (dashboard); NC (dashboard); ND (dashboard; wastewater); NE (dashboard); NH (wastewater); NJ (dashboard); NM (dashboard); NV (dashboard; wastewater, Southern NV); NY (dashboard); OH (dashboard); OK (dashboard); OR (dashboard); PA (dashboard); RI (dashboard); SC (dashboard); SD (dashboard); TN (dashboard); TX (dashboard); UT (wastewater); VA (dashboard); VT (dashboard); WA (dashboard; dashboard); WI (wastewater); WV (wastewater); WY (wastewater).
Resources, Canada (National): Wastewater (Government of Canada).
Resources, Canada (Provincial): ON (wastewater); QC (les eaux usées); BC, Vancouver (wastewater).
Hat tips to helpful readers: anon (2), Art_DogCT, B24S, CanCyn, ChiGal, Chuck L, Festoonic, FM, FreeMarketApologist (4), Gumbo, hop2it, JB, JEHR, JF, JL Joe, John, JM (10), JustAnotherVolunteer, JW, KatieBird, LL, Michael King, KF, LaRuse, mrsyk, MT, MT_Wild, otisyves, Petal (6), RK (2), RL, RM, Rod, square coats (11), tennesseewaltzer, Utah, Bob White (3).
Stay safe out there!
* * *
Maskstravaganza
Still looking for ways to justify what we should never have to justify in the first place:

Client: "That makes sense. You know, the number of guys who come in here to work lately, they look like fricking zombies. They'll cough and stumble around." (followed by a visual charade demonstration of said zombie workers)

Hubs does not resemble a zombie. For the record.

— ApocaLiz (@Lizzardo77) November 14, 2023

Good idea, though!
Infection
They just can't help themselves:

Oh we got *the* email today.

"Thank you for attending the blah blah blah conference. We are sorry to inform you that there have been several COVID cases and recommend you test."

One of only 4 people that wore a respirator at this thing.

— Dr Noor Bari (@NjbBari3) November 15, 2023

Another PMC superspreading event.
"Something Awful"
Lambert here: I'm getting the feeling that the "Something Awful" might be a sawtooth pattern — variant after variant — that averages out to a permanently high plateau. Lots of exceptionally nasty sequelae, most likely deriving from immune dysregulation (says this layperson). To which we might add brain damage, including personality changes therefrom.

* * *
Policy
"USA – No immunity for prison officers sued for COVID deaths in prison, Circuit Court holds" [Covid-19 Litigation]. "Shortly after the COVID-19 became a national emergency, the Governor of California issued an order suspending the intake of inmates into all state correctional facilities and, soon afterwards, the California Correctional Health Care Services adopted a policy opposing the transfer of inmates between prisons, reasoning that transfers would "carry a significant risk of spreading transmission of the disease between institutions". In this context, a group of high-level officials in the California prison system transferred 122 high-risk inmates from the California Institution for Men (CIM), where there was an outbreak of the COVID-19, to San Quentin State Prison, where there were no known cases of the virus. Most of the men who were transferred were not tested for COVID-19 and none of them was properly screened for symptoms before the transfer; furthermore, even though some of them exhibited symptoms, they were not put on quarantine at their arrival at the prison; instead, all the transferred inmates were housed in a unit with grated doors. The transfer resulted in a violent outbreak of COVID-19 at the San Quentin prison. Despite this state of affairs, the prison official continued to put in place inadequate protective practices and ignored the recommendations received by both the Public Health Officer and a court-appointed medical monitor of California prison. As a result, many inmates and a guard died. The heirs of the latter filed suit against the prison officials claiming that they had violated their relative's substantive due process rights by affirmatively, and with deliberate indifference, placing him in danger. Indeed, under , state employers – who in principle have no constitutional duty to provide their employees with a safe working environment – are liable when they affirmatively and with deliberate indifference create or expose their employees to a dangerous working environment. Plaintiffs also alleged that defendants breached their right to familial association." • Very interesting. Oh, and the "the Governor of California" at the time was none other than Gavin Newsom.

However, a similar case in the UK loses:

They tell me I have to be able to identify who infected me or I don't have a case. This was easy in 2020/21 as staff were tested and isolating and infectious pts identified. Now, anyone in the hospital could've infected me. There's no masks and staff can work while ill.

2/?

— #keepmasksinhealthcare 😷 (@voidscream101) November 14, 2023
Elite Maleficence
Eugenicist Biden Administration continues to erase Covid's airborne transmission, and any mitigations based on it (ventilation, Corsi-Rosenthal boxes/HEPA filters, respirators):

As we head into the holiday season, we have more tools available to help you protect you and your family than ever before.

Learn more at https://t.co/S2DQV6MlBv. pic.twitter.com/352UjAR2ao

— The White House (@WhiteHouse) November 13, 2023

Note that this is a complete repudiation of the views of the White House's own Office of Science and Technology Policy (OSTP), as expressed in 2022. The then-director of OSTP, Alondra Nelson, is a Black woman. I thought we were supposed to listen to them. Anyhow, the Google discloses no hits on airborne Covid transmission by Nelson in 2023, so perhaps mentioning it would have been a career-ending move. So it goes! (At some point, accident, ignorance, and inattention become implausible explanations, and the best working assumption is that the results of a policy — in this case, mass infection by SARS-CoV-2– are the intended results of the policy. Same with Maskless Mandy, HICPAC, etc.)
* * *
Lambert here: Lots of indicators up, starting with wastewater. (The one I worry about the most is ER visits, since I think that data is hard to game, and who wants to go to the ER, anyhow?) I think it's time to send the relatives those clippings you saved on brain damage (also, of course, the 2022 clippings: here, here. And the 2020 one).
Case Data
From BioBot wastewater data, November 13: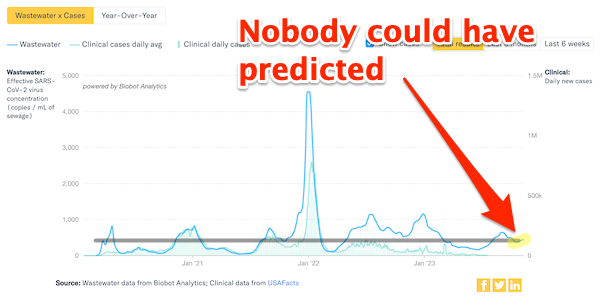 Lambert here: Cases up, just in time for Thanksgiving (and tinfoil hat time: This is the, er, inflection point CDC was trying to conceal when they gave the contract to Verily and didn't ensure a seamless transition).
Regional data: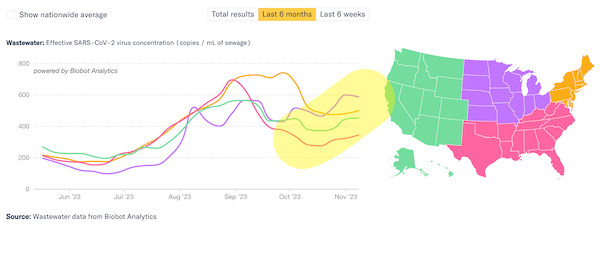 Everywhere!
Variants
NOT UPDATED From CDC, November 11: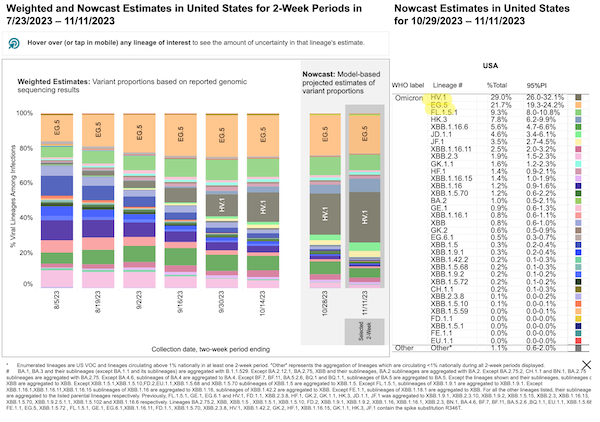 Lambert here: Top of the leaderboard: HV.1, EG.5 a strong second, with FL.1.15.1 and XBB.1.1.16.6 trailing. No BA.2.86 (although that has showed up in CDC's airport testing). Still a Bouillabaisse…
From CDC, October 28: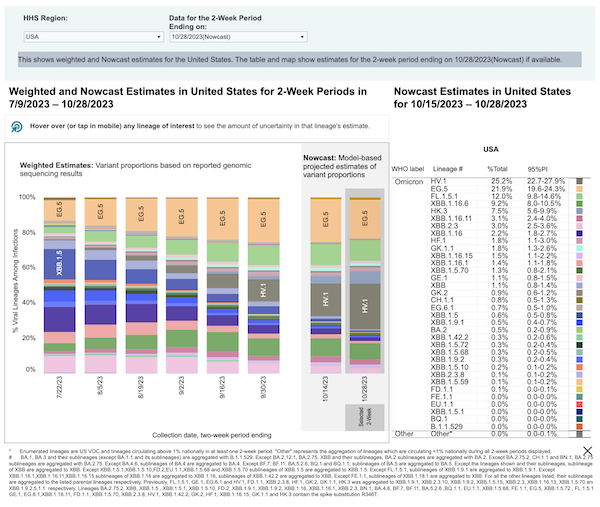 Lambert here: I sure hope the volunteers doing Pangolin, on which this chart depends, don't all move on the green fields and pastures new (or have their access to facilities cut by administrators of ill intent).
CDC: "As of May 11, genomic surveillance data will be reported biweekly, based on the availability of positive test specimens." "Biweeekly: 1. occurring every two weeks. 2. occurring twice a week; semiweekly." Looks like CDC has chosen sense #1. In essence, they're telling us variants are nothing to worry about. Time will tell.
Covid Emergency Room Visits
From CDC NCIRD Surveillance, November 11: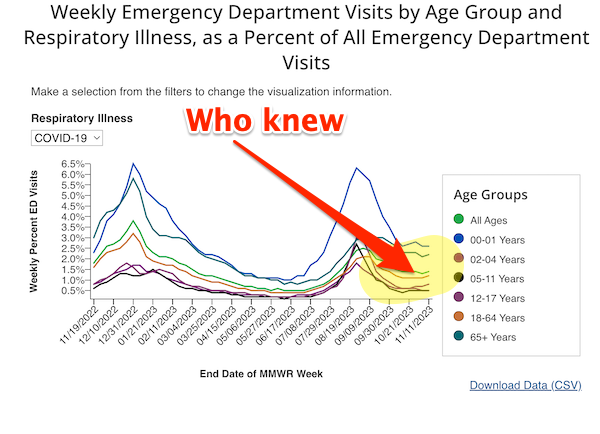 Lambert here: Slight increases in some age groups, conforming to wastewater data. Only a week's lag, so this may be our best current nationwide, current indicator until Verily gets its house in order (and working class-centric, since I would doubt the upper crust goes to the ER).
NOTE "Charts and data provided by CDC, updates Wednesday by 8am. For the past year, using a rolling 52-week period." So not the entire pandemic, FFS (the implicit message here being that Covid is "just like the flu," which is why the seasonal "rolling 52-week period" is appropriate for bothMR SUBLIMINAL I hate these people so much. Notice also that this chart shows, at least for its time period, that Covid is not seasonal, even though CDC is trying to get us to believe that it is, presumably so they can piggyback on the existing institutional apparatus for injections.
Hospitalization
Bellwether New York City, data as of November 15: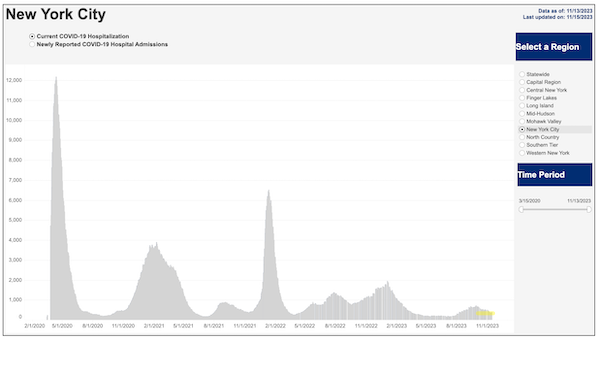 Decline flattens. (I hate this metric because the lag makes it deceptive, although the hospital-centric public health establishment loves it, hospitalization and deaths being the only metrics that matter [snort]).
NOT UPDATED Here's a different CDC visualization on hospitalization, nationwide, not by state, but with a date, at least. November 4: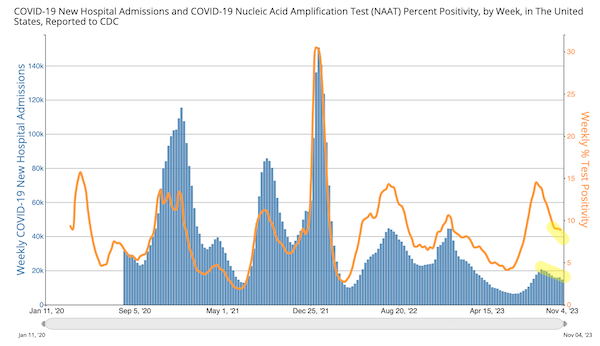 Lambert here: "Maps, charts, and data provided by CDC, updates weekly for the previous MMWR week (Sunday-Saturday) on Thursdays (Deaths, Emergency Department Visits, Test Positivity) and weekly the following Mondays (Hospitalizations) by 8 pm ET†". So where the heck is the update, CDC?
Positivity
NOT UPDATED From Walgreens, November 13: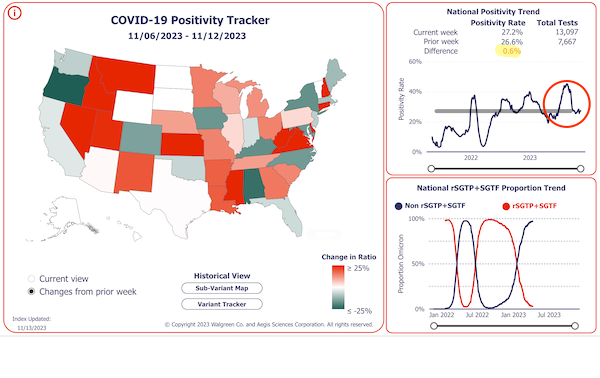 -1.4%. But bouncing around. (It would be interesting to survey this population generally; these are people who, despite a tsunami of official propaganda and enormous peer pressure, went and got tested anyhow.)
From Cleveland Clinic, November 11: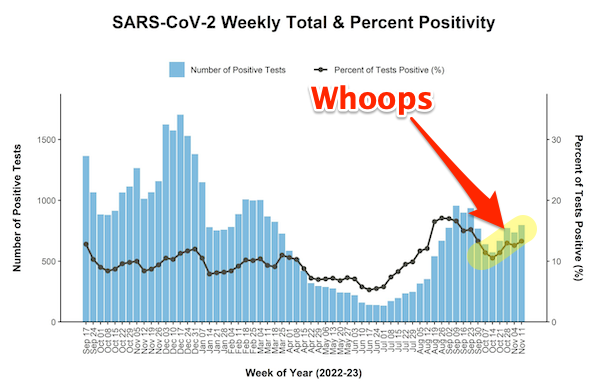 Lambert here: Increase (with backward revision; guess they thought it was over). I know this is just Ohio, but the Cleveland Clinic is good*, and we're starved for data, so…. NOTE * Even if hospital infection control is trying to kill patients by eliminating universal masking with N95s.
NOT UPDATED From CDC, traveler's data, October 23: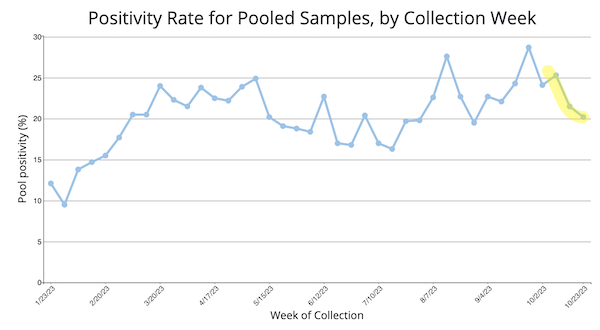 Down, albeit in the rear view mirror. And here are the variants for travelers, still from October 23: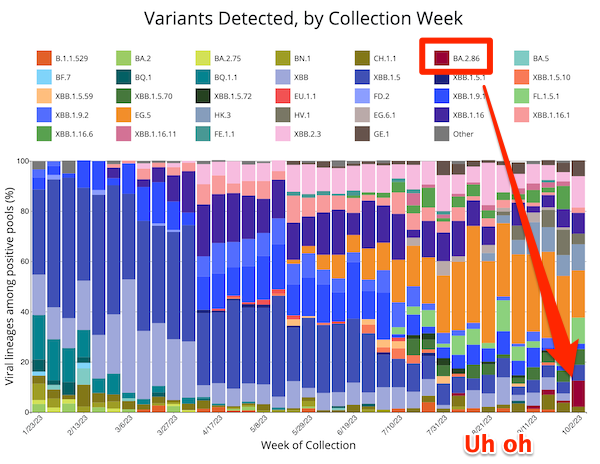 Sudden big BA.2.86 appearance. This variant chart has not been updated, which makes me wonder if CDC is gaming the data, and BA.2.86 is worse than we think.
Deaths
Total: 1,181,963 – 1,181,872 – 1,181,863 – 1,181,620 = 91 (91 * 365 = 33,215 deaths per year, today's YouGenicist™ number for "living with" Covid (quite a bit higher than the minimizers would like, though they can talk themselves into anything. If the YouGenicist™ metric keeps chugging along like this, I may just have to decide this is what the powers-that-be consider "mission accomplished" for this particular tranche of death and disease). 
Excess Deaths
The Economist, November 15: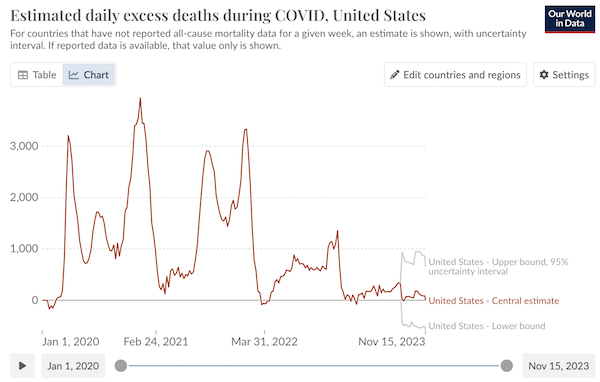 Lambert here: Based on a machine-learning model.
• Demographic impacts:
Excess mortality from disease by age group in the United States

Clear effect of NPIs (masking, distancing and online schools) in 2020 on the school age demographic (5-17)

Also clear pandemic most heavily impacted 18-44yo demographic@EvanBlake17 @DrEricDing @BenjaminMateus7 pic.twitter.com/NRh6WJ4GiI

— Gregory Travis. Make schools #DavosSafe (@greg_travis) November 15, 2023
NPIs seems like a reach, though.
• More demographic impacts:
Men are living shorter than ever versus women. Top reason? #COVID19.

Men are less likely to vaccinate, less likely to mask, less willing/slow to see doctors, and also higher biological risk of severe #COVID.

The last one is biological, but others are maybe toxic masculinity. pic.twitter.com/PZ40CM5Yw8

— Eric Feigl-Ding (@DrEricDing) November 14, 2023
Darwin Awards for everyone. (It would be nice to be able to compare both these datasets with the "Spanish Flu" pandemic.)
The Gallery
"Bringing the painting 'Seascape near Les Saintes-Maries-de-la-Mer' (1888) to life" my sweet Aunt Fanny:
⛵ Bringing the painting 'Seascape near Les Saintes-Maries-de-la-Mer' (1888) to life! This animation is made by Andrey Zakirzyanov. Thank you for using Vincent's work to inspire your creativity 👏🤩
🎶 by Andrey Surotdinov pic.twitter.com/IRAlvkdWvt

— Van Gogh Museum (@vangoghmuseum) November 15, 2023
The painting is already alive. The paint + the eyes + the brain (+, I suppose, culture and taste) make the waves, not some tediously literal minded developer.
News of the Wired
"How Stone Walls Became a Signature Landform of New England" [Smithsonian]. • Laws of Correspondence between mentalitiy and landform?
* * *
Contact information for plants: Readers, feel free to contact me at lambert [UNDERSCORE] strether [DOT] corrente [AT] yahoo [DOT] com, to (a) find out how to send me a check if you are allergic to PayPal and (b) to find out how to send me images of plants. Vegetables are fine! Fungi and coral are deemed to be honorary plants! If you want your handle to appear as a credit, please place it at the start of your mail in parentheses: (thus). Otherwise, I will anonymize by using your initials. See the previous Water Cooler (with plant) here. From EJ: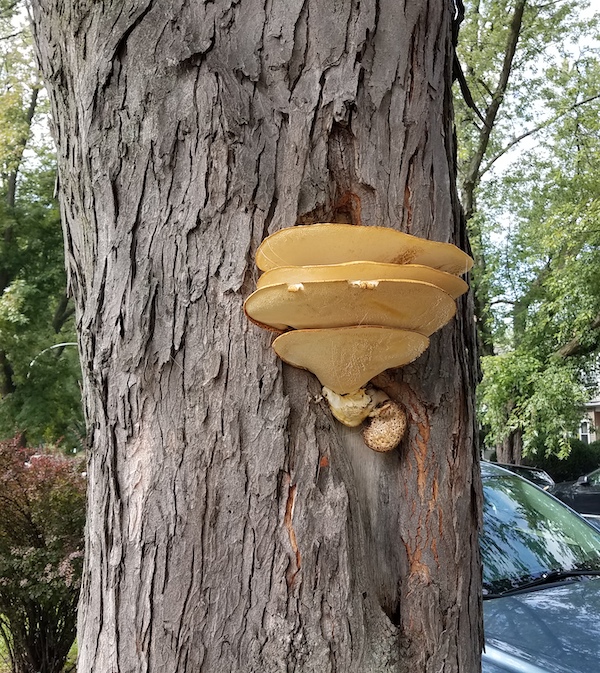 EJ writes: "I saw this today on a tree (on Greenleaf Ave. in Chicago. I think the tree was a type of Maple. The fungus was so pretty and I just hope it is in a cooperative relationship with the tree and not killing it. The tree looked healthy to me)." Can readers speculate? How would one tell?
* * *
Readers: Water Cooler is a standalone entity not covered by the annual NC fundraiser. So if you see a link you especially like, or an item you wouldn't see anywhere else, please do not hesitate to express your appreciation in tangible form. Remember, a tip jar is for tipping! Regular positive feedback both makes me feel good and lets me know I'm on the right track with coverage. When I get no donations for five or ten days I get worried. More tangibly, a constant trickle of donations helps me with expenses, and I factor in that trickle when setting fundraising goals:
Here is the screen that will appear, which I have helpfully annotated: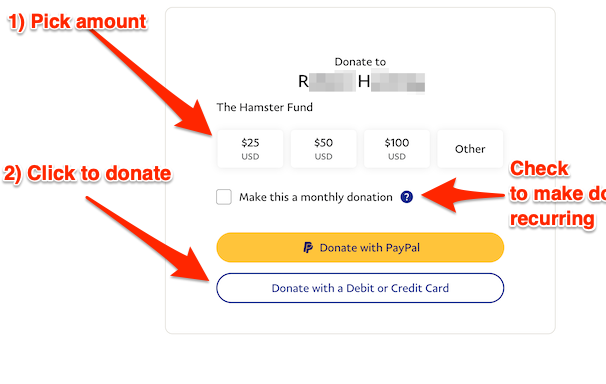 If you hate PayPal, you can email me at lambert [UNDERSCORE] strether [DOT] corrente [AT] yahoo [DOT] com, and I will give you directions on how to send a check. Thank you!