By Lambert Strether of Corrente.
Patient readers, I am on the road today, so I am posting Water Cooler when I have connectivity, as opposed to having burnished it to a gloss of perfection. –lambert
Bird Song of the Day
Hermit Thrush, Shindagin Hollow SF–Shindagin Hollow Rd. Wetland, Tompkins, New York, United States. "Single agitated bird perched on rocks on 'cliff' face."
* * *
Look for the Helpers
"Eldercare, Family Caretaking, and End-of-life Logistics: Stuff I Learned" [Cogito, Ergo Sumana]. • Begone, Debbie Downer! If any of you are in this situation, you will find lots of good information aggregated here. This caught my eye, as something to arrange: "That music kept him company, and was playing when he died." I played my mother Schubert, from some CDs that she had.
Politics
"So many of the social reactions that strike us as psychological are in fact a rational management of symbolic capital." –Pierre Bourdieu, Classification Struggles
Biden Administration
"Billionaires discuss $50 million anti-Hamas media blitz" [Semafor]. Interesting:

Wall Street and Hollywood billionaires have discussed in recent weeks a plan to spend as much as $50 million on a media campaign to ""define Hamas to the American people as a terrorist organization.""

Real-estate billionaire Barry Sternlicht launched the campaign in the days after the Oct. 7 attacks in Israel, and in an email viewed by Semafor, sought $1 million donations each from dozens of the business world's wealthiest people.

He wrote that he'd had ""a great conversation"" about the effort with CNN owner David Zaslav, and that Endeavor CEO and talent agent Ari Emanuel had agreed to coordinate the campaign, though spokespeople for both men said they aren't involved now.

The campaign would aim to ""distinguish between anti-Semites and the Palestinian situation,"" he wrote, as U.S and global media increasingly focus coverage on deaths in Gaza, potentially eroding sympathy and support for Israel.

""Public opinion will surely shift as scenes, real or fabricated by Hamas, of civilian Palestinian suffering will surely erode [Israel's] current empathy in the world community,"" he wrote. "".""

The email was sent to more than 50 household names, including media mogul David Geffen, investors Michael Milken and Nelson Peltz, and tech luminaries Eric Schmidt and Michael Dell. All told, the recipients have a net worth of nearly $500 billion, according to Bloomberg and Forbes data.

It's unclear how far the effort has advanced or who is on board, but it has raised several million dollars, hired Josh Vlasto, a former aide to Sen. Chuck Schumer and Gov. Andrew Cuomo, to advise it, and quietly launched a website, people familiar with the matter said.

Some of those on the chain have been vocal already. Investor Bill Ackman and Apollo CEO Marc Rowan criticized universities for their handling of pro-Palestinian student demonstrations, and Michael Bloomberg donated $44 million to Israel's nonprofit emergency medical service.
2024
Less than a year to go!

* * *

Trump dances:

TIME TO END THE MOVIES MR PRESIDENT,!!

What say you?
🙏🙏🙏🙏🙏🙏🇺🇸🇺🇸🇺🇸🇺🇸🇺🇸🇺🇸🇺🇸🕊🕊🕊🕊🕊

PEACE

NO MORE WARS

SHUT DOWN

LETS GO

🙏🙏🙏🙏🙏🙏🇺🇸🇺🇸🇺🇸🇺🇸🇺🇸🇺🇸🇺🇸🇺🇸🕊🕊🕊🕊🕊 pic.twitter.com/0QBxWiwE1F

— PresidentTrump4🍊🍊🍊🍊🍊 (@GangstaTrump17) November 14, 2023

(Subtext: Let's see Sleepy Joe do that!) As to liberals, but to his tune, did they know it:

Seth Meyers rips into Donald Trump:

""Fuck this dipshit. Racist doofus thinks he can swoop in and set up a dictatorship in 2024 despite having, like, nine sets of handcuffs on him.

Trump dances on stage like a guy in a locker room who's trying to towel off his ball sack. But he… pic.twitter.com/yZiQZhqsuM

— Mike Sington (@MikeSington) November 14, 2023

One thing that has always fascinated me about coarse liberal rhetoric is how shoddy and ill-thought-out the writing is. They just don't do it well. (I mean, the idea that Trump would towel off his ginormous cullions personally. He has people for that!)

* * *

"Biden family's big-money deals in China in background when president meets with Xi Jinping" [Washington Times]. "House and Senate lawmakers have exposed evidence of Mr. Biden's at least tangential involvement in his family's lucrative foreign business deals, including contracts that raked in nearly $5 million from companies linked to the Chinese Communist Party. Critics say the Biden family's deals with China will be among the factors that weaken the president's hand with Mr. Xi. Mr. Biden's visit with Mr. Xi is set for Wednesday in the San Francisco area during the Asia-Pacific Economic Cooperation summit. Meanwhile, House investigators are accelerating an inquiry into Biden family foreign business deals and what role Mr. Biden played while serving as vice president and shortly after leaving office. Companies tied to the Chinese Communist Party figured prominently in the business portfolios of Mr. Biden's son Hunter Biden and the president's brother James Biden and brought the family the most money. According to records obtained by congressional investigators, deals with the now-defunct Chinese energy company CEFC brought in nearly $5 million for Hunter Biden and James Biden. House investigators have linked a $40,000 check that James Biden sent to Mr. Biden in 2017 to a CEFC deal. CEFC is linked to the Chinese Communist Party and its military, the People's Liberation Army." • Again, $5 million? That's all? And there are a lot of Bidens, so whent the split was complete I can't imagine any of them did very well out of it. New marble countertops, maybe. A backyard pool.

* * *

"Here's How Biden Can Turn It Around" [Politico]. "For Biden to win reelection, however, he must make changes. I spoke with dozens of Democrats and anti-Trump Republicans about what the president can do on personnel, presentation and strategy to improve his prospects. Their suggestions (pleadings?) are below. The level of despair was striking….. What's notable is both the uniformity of these anxieties — there's no faction in denial — and how they mirror the discontent of the broader public. Far from being merely the stuff of ""Beltway chatter,"" as Biden's aides dismiss any criticism, there's no divergence between Democratic elites and the electorate. That's because the main causes for concern are clear as day: Biden's age and the cost of living." I saved the deck. Here it is: "Top Democrats agree that the president needs more aggressiveness, more help from his friends and a few more friends. Liz Cheney, Rahm Emanuel and Mitt Romney can help." Oh my. The article also includes this striking passage: "Calling David Axelrod 'a prick,' as a person who has heard Biden use the word says he does in private, is not a strategy to win 270 electoral votes." • Biden is not notably thick-skinned, but in this case, I think it's The Wizard of Kalorama's grinning visage, peeking out from behind his puppet, that has Biden ticked off. And on the other side of the pond, the Daily Mail amps up the fun part–

"'Get out or get going': Furious David Axelrod demands Biden, 80, offer hope to the American people after president called him a 'pri**' for calling him too old for White House and highlighting his dismal polling" [Daily Mail]. "Democrat political strategist David Axelrod has hit back at Joe Biden for calling him a 'pr***' – by telling him to 'either get out or get going' with his 2024 campaign. It marks bubbling tensions between the political heavyweights reaching a boiling point, after Axelrod – Obama's chief strategist – sparked their feud by highlighting Biden's advancing age and declining position in the polls." • There's a timeline!

"Biden Is Losing Black Voters. Here's Why It Matters" [Wall Street Journal]. "Heading into 2024, Democrats are sounding alarms about losing voters like Smith. Black voter turnout fell during the 2022 midterm elections compared with the previous midterms, and polling and interviews with voters show growing dissatisfaction over the economy and Biden's leadership. Any decline with these voters could be fatal for the re-election of Biden, whose path to victory depends on building a diverse coalition of voters in six or so closely fought battleground states. Wage gains have cooled more dramatically for Black workers than other Americans. Median weekly earnings for Black workers employed full time rose 4.2% in the third quarter from a year earlier, versus a 10.3% gain the prior year. Overall wages rose 4.5% last quarter, down from a 6.9% increase in the third quarter of 2022. Party leaders are chiefly concerned about diminished Black voter turnout, but are also worried that some of these voters will instead back Republicans… Vice President Kamala Harris, [what an awkward formulation], is also reaching out to Black audiences, visiting historically Black colleges and gatherings of the National Association for the Advancement of Colored People and Alpha Kappa Alpha, a historically Black sorority." • So Harris is, in a word, bougie? That should bring out the voters! Like the voters who cheered Trump's motorcade on his way to his booking in Atlanta…. 

* * *

"How Nikki Haley is trying to seize the moment and take out DeSantis" [Washington Examiner]. "Former United Nations Ambassador Nikki Haley has reserved $10 million for advertising in Iowa and New Hampshire, the two first nominating contests, as she seeks to overcome Gov. Ron DeSantis (R-FL) as the top alternative candidate to former President Donald Trump. The television, radio, and digital advertising will begin the first week of December and marks Haley's first advertising reservation, according to the Associated Press. The campaign will run through the Jan. 15 Iowa caucuses and New Hampshire's primary. In contrast, DeSantis's campaign has reserved a $2 million ad buy in Iowa that will begin this month and run through the Iowa caucuses… DeSantis has made Iowa the cornerstone of his campaign's path to victory in the GOP primary. He won the coveted endorsement of Gov. Kim Reynolds (R-IA) last week and has pledged to visit all 99 counties in the state." • Also campaign manager hakka.

* * *

"Can Trump and Biden Bring Down the Two-Party System?" [Wall Street Journal]. "The possibility in our current political moment is a strange inversion from the last time a serious third-party contender ran. In 1992, the two main party candidates were both, for all their flaws, plausible and mainstream political figures. Bill Clinton was the New Democrat who had repudiated much of the unelectable left-wing extremism [(!!)] of his party in the 1970s and 1980s. He might have campaigned promising a big stimulus, but he reversed course and governed on fiscal prudence. George H.W. Bush was the model of genteel moderate Republicanism, a successful president ambushed by a brief moment of national angst.

Yet Ross Perot, campaigning on the single issue of deficit reduction, might have done even better than his 19% he got if he hadn't—thanks to a weird and apparently paranoid grudge against the Bush family—seemed just too unorthodox for the presidency. In 1992 then we had two main party candidates who essentially campaigned and governed from the center, almost bested by a third-party eccentric focused on a single issue.

This time around we have two main party candidates who in their different ways are outside the historical mainstream, unorthodox and extreme, and a potential third-party candidate who embodies a craving for orthodoxy. If the third party came as close as it did in 1992, could it get even closer in 2024?" • Hmm.
Democrats en Déshabillé
Patient readers, it seems that people are actually reading the back-dated post! But I have not updated it, and there are many updates. So I will have to do that. –lambert

I have moved my standing remarks on the Democrat Party ("the Democrat Party is a rotting corpse that can't bury itself") to a separate, back-dated post, to which I will periodically add material, summarizing the addition here in a "live" Water Cooler. (Hopefully, some Bourdieu.) It turns out that defining the Democrat Party is, in fact, a hard problem. I do think the paragraph that follows is on point all the way back to 2016, if not before:

The Democrat Party is the political expression of the class power of PMC, their base (lucidly explained by Thomas Frank in Listen, Liberal!). ; if the Democrat Party did not exist, the PMC would have to invent it. . ("PMC" modulo "class expatriates," of course.) Second, all the working parts of the Party reinforce each other. Leave aside characterizing the relationships between elements of the Party (ka-ching, but not entirely) those elements comprise a network — a Flex Net? An iron octagon? — of funders, vendors, apparatchiks, electeds, NGOs, and miscellaneous mercenaries, with assets in the press and the intelligence community.

Note, of course, that the class power of the PMC both expresses and is limited by other classes; oligarchs and American gentry (see 'industrial model' of Ferguson, Jorgensen, and Jie) and the working class spring to mind. Suck up, kick down.

* * *

"Rep. Abigail Spanberger Announces Run for Virginia Governor" [The Messenger]. • Spanberger 2028! (Spanberger is. of course, a CIA Democrat. Wny not, after all, give the spooks direct control over the executive branch? Working through cut-outs is so annoying!) 
#COVID19
"I am in earnest — I will not equivocate — I will not excuse — I will not retreat a single inch — AND I WILL BE HEARD." –William Lloyd Garrison
Resources, United States (National): Transmission (CDC); Wastewater (CDC, Biobot; includes many counties; Wastewater Scan, includes drilldown by zip); Variants (CDC; Walgreens); "Iowa COVID-19 Tracker" (in IA, but national data). "Infection Control, Emergency Management, Safety, and General Thoughts" (especially on hospitalization by city).
Lambert here: Readers, thanks for the collective effort. To update any entry, do feel free to contact me at the address given with the plants. Please put "COVID" in the subject line. Thank you!
Resources, United States (Local): AK (dashboard); AL (dashboard); AR (dashboard); AZ (dashboard); CA (dashboard; Marin, dashboard; Stanford, wastewater; Oakland, wastewater); CO (dashboard; wastewater); CT (dashboard); DE (dashboard); FL (wastewater); GA (wastewater); HI (dashboard); IA (wastewater reports); ID (dashboard, Boise; dashboard, wastewater, Central Idaho; wastewater, Coeur d'Alene; dashboard, Spokane County); IL (wastewater); IN (dashboard); KS (dashboard; wastewater, Lawrence); KY (dashboard, Louisville); LA (dashboard); MA (wastewater); MD (dashboard); ME (dashboard); MI (wastewater; wastewater); MN (dashboard); MO (wastewater); MS (dashboard); MT (dashboard); NC (dashboard); ND (dashboard; wastewater); NE (dashboard); NH (wastewater); NJ (dashboard); NM (dashboard); NV (dashboard; wastewater, Southern NV); NY (dashboard); OH (dashboard); OK (dashboard); OR (dashboard); PA (dashboard); RI (dashboard); SC (dashboard); SD (dashboard); TN (dashboard); TX (dashboard); UT (wastewater); VA (dashboard); VT (dashboard); WA (dashboard; dashboard); WI (wastewater); WV (wastewater); WY (wastewater).
Resources, Canada (National): Wastewater (Government of Canada).
Resources, Canada (Provincial): ON (wastewater); QC (les eaux usées); BC, Vancouver (wastewater).
Hat tips to helpful readers: anon (2), Art_DogCT, B24S, CanCyn, ChiGal, Chuck L, Festoonic, FM, FreeMarketApologist (4), Gumbo, hop2it, JB, JEHR, JF, JL Joe, John, JM (10), JustAnotherVolunteer, JW, KatieBird, LL, Michael King, KF, LaRuse, mrsyk, MT, MT_Wild, otisyves, Petal (6), RK (2), RL, RM, Rod, square coats (11), tennesseewaltzer, Utah, Bob White (3). 
Stay safe out there!
* * *
Transmission
"AITAH for going on vacation with COVID?" [r/AITAH, Reddit]. Because I can't bear to edit this down:

Me (M26) and my wife (F25) married about two months ago, and finally saved up for a proper honeymoon to Paris about a month after our wedding. When the time rolled around last Saturday, I was unfortunately quite ill (coughing, etc, all the works) – so much so that I decided to take a COVID test, which, of course, had to come back positive.

This posed an issue as I knew if I told my wife she would likely want us to cancel/move the honeymoon, and the package we had purchased would have meant this would be a costly venture. Instead, I told her it was negative and just a common cold, so, we set off in time.

Having landed in Paris and arrived at our hotel, we were discussing plans for the first few days, and she started an argument over my illness, saying that she didn't think it would be good for me to go somewhere yet, as I was 'too ill'. I told her that if that was a problem, why did we go on the flight? The argument continued, and ended when I made the misjudgement to tell my wife that I had covid, and that didn't prevent me going on the flight in the first place.

Despite trying to explain to her my logic, and how expensive not going in time would be, this revelation has put a spanner into our honeymoon plans thus far, and we've not done much since – aside from her arguing and berating me for going with COVID in the first. Is she right, and AITA, or was I right to care about expenses?

EDIT: I should add that I made sure to take precautions at the airport/in-flight. I wore a mask, throughout the entire flight, and tried to stay away from crowded areas at much as possible.

I kept scrolling down the responsses, and "YTA" was near-universal. Progress is being made!
"Something Awful"
Lambert here: I'm getting the feeling that the "Something Awful" might be a sawtooth pattern — variant after variant — that averages out to a permanently high plateau. Lots of exceptionally nasty sequelae, most likely deriving from immune dysregulation (says this layperson). To which we might add brain damage, including personality changes therefrom.

* * *
Elite Maleficence
"Critics Say CDC Advisors' Infection Control Guidance Isn't Strong Enough" [MedPage Today]. "Zenei Triunfo-Cortez, RN, president of National Nurses United (NNU), called the draft guidance 'permissive and weak' in a statement following the meeting. 'This draft guidance will only further degrade the already dangerous working conditions of nurses and other healthcare workers,' she said. Several groups — including NNU, Cal/OSHA, the People's CDC, and Project N95 — have rallied opposition to the draft guidance, which updates recommendations from 2007. Ever since HICPAC presented the evidence review for the guidance in June, these groups have chargedopens in a new tab or window that it doesn't go far enough to adequately protect healthcare workers and patients. They've organized public commentary and have urged the CDC to incorporate stronger protections into the guidelines. That evidence review concludedopens in a new tab or window that there's no difference in seasonal respiratory virus infection rates for healthcare workers whether they use N95 or surgical masks during routine patient care. In an email, a CDC spokesperson told MedPage Today that 'Additional analyses have been performed to address feedback that has been received since the initial presentation [of the evidence review] in June 2023. The evidence reviews have been posted on the HICPAC website to ensure full transparency and to allow for more in depth review by stakeholders." • See here and give the HHS Inspector General a call. The process is far from transparent.
* * *
Case Data
NOT UPDATED From BioBot wastewater data, November 6:
Lambert here: Cases up, just in time for Thanksgiving (and tinfoil hat time: This is the, er, inflection point CDC was trying to conceal when they gave the contract to Verily and didn't ensure a seamless transition).
Regional data: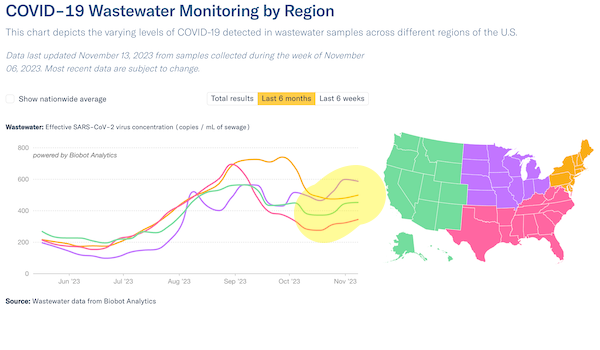 Everywhere!
Variants                  
From CDC, November 11: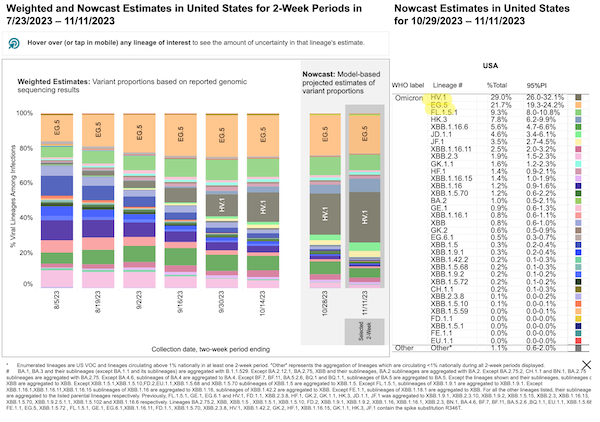 Lambert here: Top of the leaderboard: HV.1, EG.5 a strong second, with FL.1.15.1 and XBB.1.1.16.6 trailing. No BA.2.86 (although that has showed up in CDC's airport testing). Still a Bouillabaisse… 
From CDC, October 28: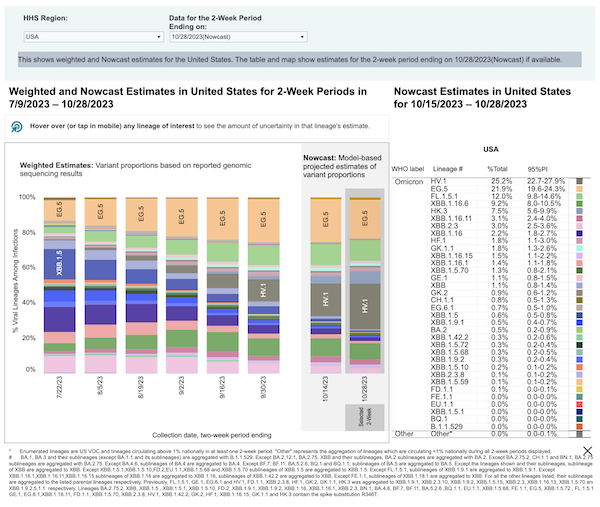 Lambert here: I sure hope the volunteers doing Pangolin, on which this chart depends, don't all move on the green fields and pastures new (or have their access to facilities cut by administrators of ill intent).
CDC: "As of May 11, genomic surveillance data will be reported biweekly, based on the availability of positive test specimens." "Biweeekly: 1. occurring every two weeks. 2. occurring twice a week; semiweekly." Looks like CDC has chosen sense #1. In essence, they're telling us variants are nothing to worry about. Time will tell.
Covid Emergency Room Visits
NOT UPDATED From CDC NCIRD Surveillance, November 4: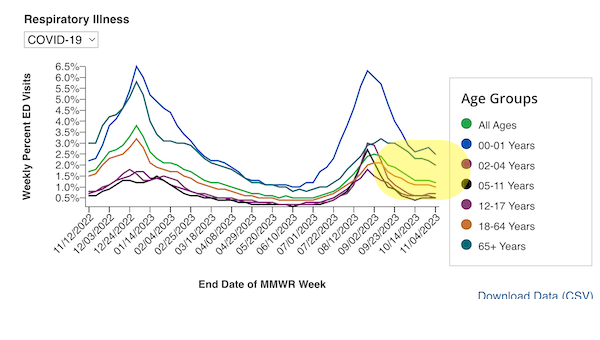 Lambert here: Still flattening. Only a week's lag, so this may be our best current nationwide, current indicator until Verily gets its house in order (and working class-centric, since I would doubt the upper crust goes to the ER).
NOTE "Charts and data provided by CDC, updates Wednesday by 8am. For the past year, using a rolling 52-week period." So not the entire pandemic, FFS (the implicit message here being that Covid is "just like the flu," which is why the seasonal "rolling 52-week period" is appropriate for bothMR SUBLIMINAL I hate these people so much. Notice also that this chart shows, at least for its time period, that Covid is not seasonal, even though CDC is trying to get us to believe that it is, presumably so they can piggyback on the existing institutional apparatus for injections.
Hospitalization
Bellwether New York City, data as of November 13: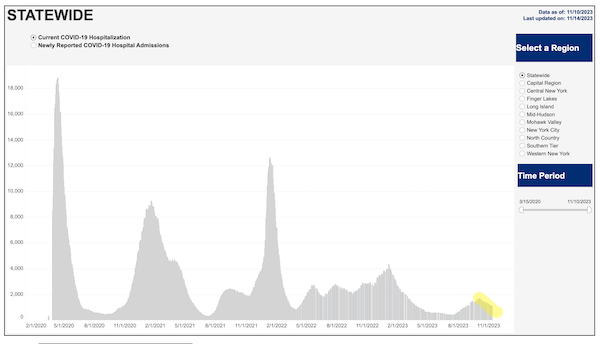 A definite decrease. Should be up in two weeks, though! (I hate this metric because the lag makes it deceptive, although the hospital-centric public health establishment loves it, hospitalization and deaths being the only metrics that matter [snort]).
NOT UPDATED Here's a different CDC visualization on hospitalization, nationwide, not by state, but with a date, at least. November 4: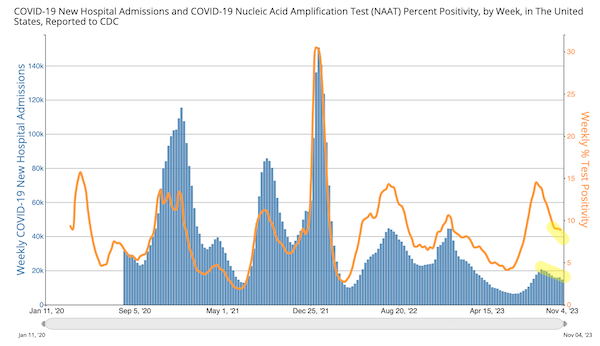 Lambert here: "Maps, charts, and data provided by CDC, updates weekly for the previous MMWR week (Sunday-Saturday) on Thursdays (Deaths, Emergency Department Visits, Test Positivity) and weekly the following Mondays (Hospitalizations) by 8 pm ET†". So where the heck is the update, CDC? 
Positivity
From Walgreens, November 13: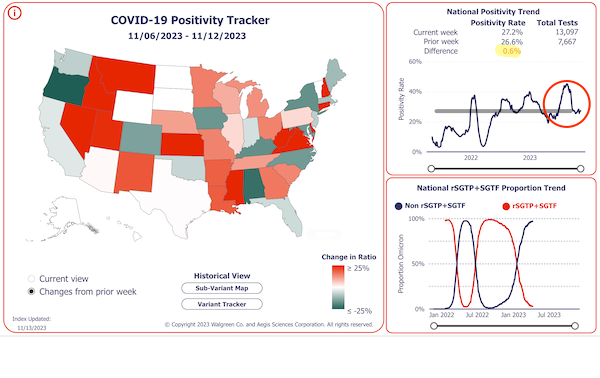 0.6%. But bouncing around. (It would be interesting to survey this population generally; these are people who, despite a tsunami of official propaganda and enormous peer pressure, went and got tested anyhow.)
NOT UPDATED From Cleveland Clinic, November 4: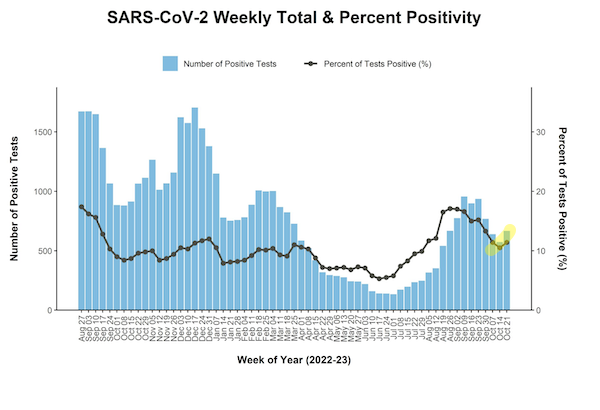 Lambert here: Slight increase. I know this is just Ohio, but the Cleveland Clinic is good*, and we're starved for data, so…. NOTE * Even if hospital infection control is trying to kill patients by eliminating universal masking with N95s.
From CDC, traveler's data, October 23: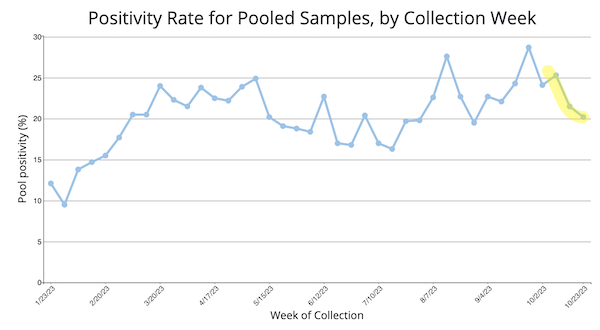 Down, albeit in the rear view mirror. And here are the variants for travelers, still from November 2: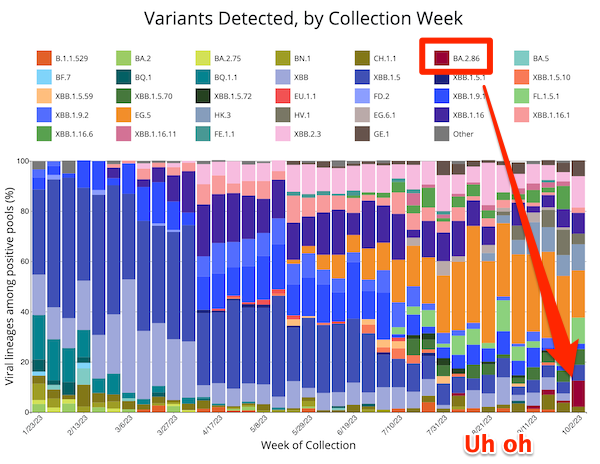 Sudden big BA.2.86 appearance. This variant chart has not been updated, which makes me wonder if CDC is gaming the data, and BA.2.86 is worse than we think.
Deaths
Total: 1,181,894 – 1,181,872 – 1,181,863 – 1,181,620 = 22 (22 * 365 = 3285 deaths per year, today's YouGenicist™ number for "living with" Covid (quite a bit higher than the minimizers would like, though they can talk themselves into anything. If the YouGenicist™ metric keeps chugging along like this, I may just have to decide this is what the powers-that-be consider "mission accomplished" for this particular tranche of death and disease). 
Excess Deaths
The Economist, November 14: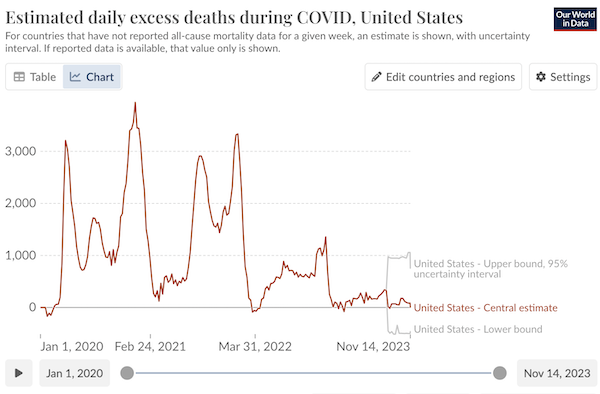 Lambert here: Based on a machine-learning model.
Stats Watch
Business Optimism: "United States NFIB Business Optimism Index" [Trading Economics]. "The NFIB Small Business Optimism Index in the United States edged down for a third consecutive month to 90.7 in October 2023, the lowest since May, from 90.8 in September, but beating forecasts of 90.5. 43% of all owners reported job openings they could not fill, unchanged from September." • Wow, what could have happened to the labor market?
* * *
Shipping: "The Panama Canal is so congested that one ship owner just paid a record $4 million to skip to the front of the line" [Fortune]. "A shipper has paid nearly $4 million to jump to the front of the line at the congested Panama Canal waterway, a record high." 
Tech: "Adobe's $20bn deal to buy Figma faces fresh challenge in Brussels" [Financial Times]. "Adobe's $20bn deal to buy Figma is facing a fresh setback as regulators in Brussels prepare to file anti-competitive charges against the companies, an escalation that signals the EU believes the acquisition will harm rivals in the digital design market. The charges, which might come as early as this week, will flesh out the EU's concerns that the merger could lead to less innovation and higher prices, according to two people with direct knowledge of the probe."
* * *
Today's Fear & Greed Index: 48 Fear (previous close: 40 Fear) [CNN]. One week ago: 40 (Fear). (0 is Extreme Fear; 100 is Extreme Greed). Last updated Nov 13 at 1:52:13 PM ET.
Class Warfare
"UAW workers at major Ford and GM truck plants vote 'no' on record contract deals" [NPR]. "According to vote trackers on the UAW's website, 54.5% of the 4,118 ballots cast in Kentucky — Ford's largest plant — were no votes, the results showed Monday. The plant, which builds Ford's F-Series Super Duty pickup trucks among other models, is estimated to employ 8,700 workers. This indicates that the road ahead for the UAW may not be as smooth as union leadership had hoped for, after reaching record agreements with all three major automakers following a six-week auto strike. This comes after another loss last week, when 52% of the 3,425 ballots cast at General Motors' Flint Assembly plant were also no votes. Roughly 4,700 workers at that plant build Chevy Silverado and GMC Sierra pickup trucks."
"Why thousands of UAW autoworkers are voting 'no' on Big 3's 'life-changing' contracts" [NPR]. "Jerry Coleman, who's worked at the Stellantis Jeep plant in Toledo, Ohio, as a temporary employee since 2018, says he's a definite no vote. 'If I could vote no ten times, I would,' he says. A large part of it is distrust. After reading the contract language, he's not convinced Stellantis will follow through with what's been promised, including a conversion to permanent status for temps like himself. But beyond that, he's frustrated that only by 2027 will autoworkers' wages reach what they were twenty years ago, when adjusted for inflation. Concessions made just before the 2008 financial crisis cut auto wages in half and ended lifelong retirement benefits, relieving the Big 3 of a crippling cost burden. '[Autoworkers] lost everything in one contract," Coleman says. "There's no reason why they can't give this stuff back to us in one contract.'" • Hysteresis….
"Just because you're paranoid, doesn't mean AI's not after you" [The Register]. The deck: "Brit telco BT's digital boss asks people 'how did horses feel when cars were invented? They didn't complain or go on strike.'"
News of the Wired
"Many Popular Houses in L.A. Were Part of a Scam by a Con Artist Who Disappeared" [Atlas Obscura]. "For the location of his next con, Janes chose the unincorporated rural community of Altadena in northeast L.A. The clean air and secluded location had long made the area a haven for tuberculosis patients and bootleggers alike, but it was cheap land, low taxes, and a booming population that attracted Janes. Within a few months he had dispatched scores of construction workers across dozens of newly cut lots. Like Keystone Cops with hammers and saws, they assembled a house a day. Altadena did not require building permits, so no blueprints were filed, but it appears that Janes tweaked widely available single-story house plans to include English cottage touches such as nested, 'cat-slide' gables and steep Coldswold-inspired roofs with warped (composite) shingles. He then hawked his quaint properties relentlessly. By day, sedans emblazoned with 'E. P. Janes, Builder of Fine Homes' chirred around town. By night, the E. P. Janes Concert Hour aired on KFWB, the new Warner Brothers radio station. He rebranded the real estate pages of local newspapers 'The E. P. Janes Section' and filled them with breathless stories, shilling for tradesmen, dissing greedy landlords, and hyping amenities such as in-ground sprinklers, Batchelder tile, 56 electric outlets per home, and grounds 'all dolled up with lawn, shrubbery, walks, etc.' In the fall of 1925, cars jammed the streets of his 'sun-bathed, fog-free, exclusive' subdivision as 50,000 gawkers traipsed through the three-bedroom models of his 'Homes Beautiful' expo." Great stuff! Key point: "He dealt only in trust deeds, which protected him in case a borrower defaulted, leaving a bank to clean up the mess." • Of course, in Los Angeles, it's houses. In San Francisco, it's firms! The perennial rivalry… 
* * *
Contact information for plants: Readers, feel free to contact me at lambert [UNDERSCORE] strether [DOT] corrente [AT] yahoo [DOT] com, to (a) find out how to send me a check if you are allergic to PayPal and (b) to find out how to send me images of plants. Vegetables are fine! Fungi and coral are deemed to be honorary plants! If you want your handle to appear as a credit, please place it at the start of your mail in parentheses: (thus). Otherwise, I will anonymize by using your initials. See the previous Water Cooler (with plant) here. From TH: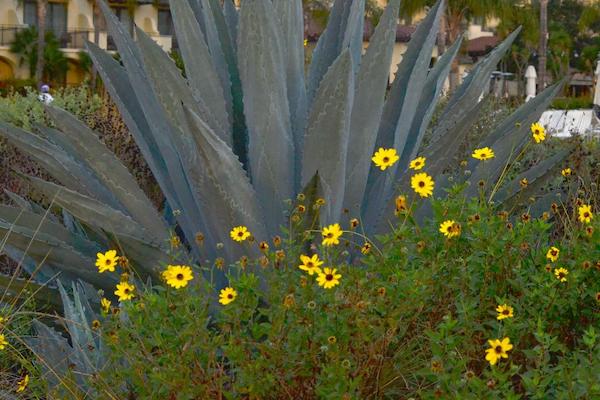 TH writes: "So, Agave (maybe blue?) and I'm always mixing up yellow flowers – are these Mexican Sunflowers?"
* * *
Readers: Water Cooler is a standalone entity not covered by the annual NC fundraiser. So if you see a link you especially like, or an item you wouldn't see anywhere else, please do not hesitate to express your appreciation in tangible form. Remember, a tip jar is for tipping! Regular positive feedback both makes me feel good and lets me know I'm on the right track with coverage. When I get no donations for five or ten days I get worried. More tangibly, a constant trickle of donations helps me with expenses, and I factor in that trickle when setting fundraising goals:
Here is the screen that will appear, which I have helpfully annotated: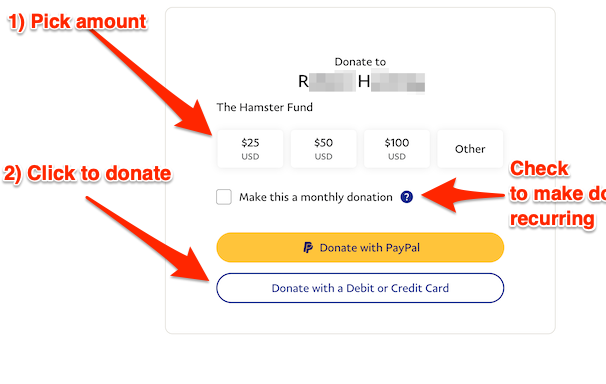 If you hate PayPal, you can email me at lambert [UNDERSCORE] strether [DOT] corrente [AT] yahoo [DOT] com, and I will give you directions on how to send a check. Thank you!