By Lambert Strether of Corrente.
Bird Song of the Day
Common Nightingale (golzii), Ile River Delta–Zheltorangy Poplars; Almaty, Kazakhstan.
* * *
Politics
"So many of the social reactions that strike us as psychological are in fact a rational management of symbolic capital." –Pierre Bourdieu, Classification Struggles
Capitol Seizure
Hmm:

A person is disqualified from "Office under the United States" for engaging in an insurrection or rebellion against "the Constitution of the United States," NOT for engaging in an insurrection or rebellion against "the United States" or "the authority of the United States

— @judgeluttig (@judgeluttig) November 4, 2023

And:

Unfortunately, the parties and lawyers challenging the former president's qualification do not appear to appreciate the critical distinction either, because they are trying to establish that the former president did incite a violent insurrection on the Capitol on January 6.

— @judgeluttig (@judgeluttig) November 4, 2023

And:

effort, plan, and attempt to overturn the 2020 presidential election in order to remain in power beyond the constitutionally prescribed four-year term in the Constitution's Executive Vesting Clause is the quintessential "rebellion against the Constitution of the United States."

— @judgeluttig (@judgeluttig) November 4, 2023
2024
Time for the Countdown Clock!

* * *

"Republican debate tonight: Trump skips third presidential face-off in Miami with DeSantis and Haley set for showdown" [Daily Mail]. "Ron DeSantis and Nikki Haley are set for a showdown at the third Republican presidential primary debate on Wednesday night in Miami. They are both hoping to end the night as the main challenger to Donald Trump, who is leading by 40 points in some polls in the race to be the GOP nominee in 2024. DeSantis is trying to kickstart his campaign on a stage in his home state while former South Carolina governor Haley has seen a surge in the polls, elevating her to second place in key states. The former South Carolina governor is expected to go after DeSantis on everything from his policy on fracking to whether he wears lifts in his shoes to make himself look taller. DeSantis, meanwhile, is looking to build momentum after Governor Kim Reynolds endorsed him in the crucial primary state of Iowa. Vivek Ramaswamy, South Carolina Senator Tim Scott and former New Jersey Governor Chris Christie will join them on stage in a narrower field of just five candidates. Again, Trump has opted to skip the debate and hold his own rally just 30 minutes down the road. But will the Republican rivals be able to avoid his shadow with two months until the first primary?

"The Third Republican Debate Could Be Brutal" [Ed Kilgore, New York Magazine]. "So this is a group of candidates with little or nothing to lose, each of them desperately trying to become the one that challenges the front-runner. With Trump absent once again, it's a recipe for intramural carnage."

* * *

"I Don't Believe This Weekend's Scary Poll Numbers" [Charles Pierce, Esquire]. On the New York Times poll: "Quite simply, I don't believe a single one of those numbers. [Black voters registering 22 percent support in these states for Mr. Trump] is the last one, although I think that sentence about the male-female split is very mushy, Dobbs being still alive and well as an issue, and with a theocratic fetus-fondler running the House of Representatives, it is likely to stay that way. I do not believe that the former president* will get 22 percent of the Black vote. I'd sooner believe he'd get 22 percent of the votes from pixies, elves, and the Tuatha de Denaan… There's never been an election more clouded by the unknown than this one is. There are all kinds of vague shadows dancing in the mist. You can't jump at every one of them." • Fair enough!s

"5 takeaways from new polls that reveal Biden's challenges and Trump's potential victory path" [CNN]. "The topline of a new CNN/SSRS survey of registered voters published Tuesday shows ex-President Donald Trump leading Biden 49% to 45%, which is bad enough for the president. But a deep dive into the data reveals alarming challenges for Biden and bolsters the impression that despite the mayhem and mismanagement of Trump's first term, the GOP front-runner has a strong chance at a second. The new poll reveals deep public discontent with Biden's job performance at a time when his economic optimism is failing to connect with a disgruntled nation weary of high prices. The survey exposes cracks in Biden's multiethnic Democratic coalition and a lack of confidence in his leadership in a war-torn world. Most damagingly, the data show that just a quarter of Americans believe he has the stamina and sharpness to serve as president. This survey follows New York Times/Siena College polling over the weekend that show significant leads for Trump in most of the swing states likely to decide the 2024 election. That triggered another round of agonizing among Democrats over whether Biden should have passed on a run for a second term – even if no realistic challenger for the nomination has emerged in a new generation of the party."

* * *

"Glenn Youngkin STUNNED in Virginia as Democrats flip House and retain Senate control: Republican touted as White House candidate suffers crushing blow on home turf – as abortion rights take center stage at ballot box" [Daily Mail]. "While Republican donors have been urging Youngkin to make a late entry into the 2024 presidential race, the first-term governor said he had to gain control of the General Assembly first – vowing to push through a 15-week abortion ban. Virginia's voters rejected that, with Democrats estimated to win at least 21 state Senate seats, retaining their majority, and 51 seats in the House of Delegates, gaining control from Republicans… It's unlikely Youngkin will join the race now, as he doesn't have wins at his back. He also missed the filing deadline to appear on the New Hampshire primary ballot and wouldn't have appeared in three GOP debates." • Whoopsie.

* * *

"Poll: California voters increasingly disapprove of Gavin Newsom's performance as governor" [Sacramento Bee]. "Gov. Gavin Newsom's approval rating among California voters has sunk to its lowest level on record, with nearly half disapproving of his performance, according to a new poll from the Berkeley Institute of Governmental Studies. The survey, released Tuesday in collaboration with the Los Angeles Times, seems to indicate that while Newsom focuses on raising his national profile and launching various political ventures outside of California, support within the state wanes. According to the poll, 49% of registered voters disapprove of his performance as governor. His approval rating of 44% in the late October poll marked an 11-point drop from February when it was at 55%."

* * *

FL: "A think tank funded by a far-right billionaire wrote a bill to weaken child-labor laws in Florida, records show" [Seeking Rents]. "A conservative think tank funded by a far-right billionaire wrote a controversial new bill in Florida that would weaken the state's child-labor laws, according to records obtained by More Perfect Union. The records show that representatives for the Foundation for Government Accountability wrote the original draft of the Florida legislation, which would allow employers in the state to make 16- and 17-year-old teenagers work the same schedules as adults — including overnight shifts on school nights. 'Attached is draft language on the issue that Rep. Chaney expressed interest in to FGA,' a lobbyist for the FGA's advocacy arm wrote in an Aug. 28 email to an aide to Rep. Linda Chaney, a Republican legislator from St. Pete Beach, which More Perfect Union obtained through a public-records request.'" • Yes, "freedom" is another one of those words…

GA: "AJC poll shows Georgia Democratic rift over Israel" [Atlanta Journal-Constitution]. "Nearly 40% of Democrats say supporting Israel shouldn't be a staple of U.S. foreign policy, compared with only 10% of Republicans and one-third of independents who hold that view. The divide is more distinct among younger, more diverse and poorer voters. About half of voters under 30 and a slim majority of those who make less than $25,000 say supporting Israel is not in the national interest. And 41% of Black voters — long the base of Democratic support in Georgia — also say they believe backing Israel isn't in the national interest. The divide is threatening to fray the coalition that fueled Biden's narrow 2020 victory over Donald Trump."

ME: "Maine will print tribal obligations along with the rest of the state Constitution" [Bangor Daily News]. "Maine's historic treaty obligations to tribes will be printed alongside other parts of the state Constitution after voters backed Question 6 in Tuesday's election. The yes side of Question 6 had 73 percent of votes to 27 percent for the no side when the Bangor Daily News and Decision Desk HQ called the race at 9:18 p.m. Tuesday. It was a key part of the tribal-rights push before the Legislature this year, although it is more of a symbolic measure because the obligations have remained part of the Constitution. Voters passed the change despite Gov. Janet Mills vociferously opposing it in March."

OH: "Ohio voters enshrine abortion access in constitution in latest statewide win for reproductive rights" [Associated Press]. " Ohio voters approved a constitutional amendment on Tuesday that ensures access to abortion and other forms of reproductive health care, the latest victory for abortion rights supporters since the U.S. Supreme Court overturned Roe v. Wade last year." • It's mind-blowing to see National Democrats campaigning orr state victories when for decades they didn't do squat — which is why Dobbs happened in the first place.

PA: "Dan McCaffery's triumph in the Pa. Supreme Court race extends Democrats' majority" [Philadelphia Inquirer]. "Democrat Dan McCaffery was elected to the Pennsylvania Supreme Court on Tuesday, extending the Democrats' majority on the state's highest court and reinforcing the fact that abortion rights and the integrity of elections are top of mind for Pennsylvania voters. Abortion and election issues took center stage in the expensive and contentious showdown between the candidates. Outside groups and the candidates' campaigns spent more than $20 million to win the open seat, which was the top statewide race on the ballot this fall."

VA: "Virginia Democrats block GOP bid to take full control of state government" [NBC]. "Virginia voters have rejected Republican efforts to take full control of the state's government, keeping Democrats in power in the Legislature as a counterweight to GOP Gov. Glenn Youngkin and conservative policy proposals that include a 15-week abortion ban. Democrats kept their majority in the state Senate and flipped the state House, The Associated Press projected."
Obama Legacy
"Obama warns Democrats against being too 'self-righteous' toward political foes: 'Losing strategy'" [FOX]. "'A losing strategy for us, is when we are so insistent on our purity, when we are so self-righteous about positions, that we can't see those folks,' Obama said of political adversaries. 'When we're talking down to them or our general attitude is that 'we're gonna convince you' on how wrong you are." 'I have not seen that work yet,' he added. Obama also said that Democrats were not, for the majority of modern history, 'on the right side' of tolerance. 'It's not as if the entire history of this country Democrats were on the right side of this thing,' he said. 'Democrats, for most of modern history, up until the Civil Rights legislation were anti-democratic and terrorized people and killed them for trying to exercise their democracy.' 'So we don't have clean hands,' Obama continued." • I suppose I agree with the part about Democrats not having clean hands. I don't see where this is going for 2024, unless the idea is that Biden doesn't embrace complexity or some such.

"Why Progressives Should Heed Obama's Call on Israel/Palestine" [Newsweek]. "Unlike what many self-righteous activists seem to think, insisting on your moral superiority and constantly comparing yourself to hallowed movements of the past, from civil rights struggle in the U.S. to anti-Apartheid fight in South Africa, doesn't bring change to the real world. Obama acknowledged this when he said, 'If you genuinely want to change this, you got to figure out how to listen to someone on the other side and not dismiss it.'" • Well, there's the Lincoln Project, but is Obama really going to endorse Dean Phillips?
Democrats en Déshabillé
Patient readers, it seems that people are actually reading the back-dated post! But I have not updated it, and there are many updates. So I will have to do that. –lambert

I have moved my standing remarks on the Democrat Party ("the Democrat Party is a rotting corpse that can't bury itself") to a separate, back-dated post, to which I will periodically add material, summarizing the addition here in a "live" Water Cooler. (Hopefully, some Bourdieu.) It turns out that defining the Democrat Party is, in fact, a hard problem. I do think the paragraph that follows is on point all the way back to 2016, if not before:

The Democrat Party is the political expression of the class power of PMC, their base (lucidly explained by Thomas Frank in Listen, Liberal!). ; if the Democrat Party did not exist, the PMC would have to invent it. . ("PMC" modulo "class expatriates," of course.) Second, all the working parts of the Party reinforce each other. Leave aside characterizing the relationships between elements of the Party (ka-ching, but not entirely) those elements comprise a network — a Flex Net? An iron octagon? — of funders, vendors, apparatchiks, electeds, NGOs, and miscellaneous mercenaries, with assets in the press and the intelligence community.

Note, of course, that the class power of the PMC both expresses and is limited by other classes; oligarchs and American gentry (see 'industrial model' of Ferguson, Jorgensen, and Jie) and the working class spring to mind. Suck up, kick down.

* * *
#COVID19
"I am in earnest — I will not equivocate — I will not excuse — I will not retreat a single inch — AND I WILL BE HEARD." –William Lloyd Garrison
Resources, United States (National): Transmission (CDC); Wastewater (CDC, Biobot; includes many counties; Wastewater Scan, includes drilldown by zip); Variants (CDC; Walgreens); "Iowa COVID-19 Tracker" (in IA, but national data). "Infection Control, Emergency Management, Safety, and General Thoughts" (especially on hospitalization by city).
Lambert here: Readers, thanks for the collective effort. To update any entry, do feel free to contact me at the address given with the plants. Please put "COVID" in the subject line. Thank you!
Resources, United States (Local): AK (dashboard); AL (dashboard); AR (dashboard); AZ (dashboard); CA (dashboard; Marin, dashboard; Stanford, wastewater; Oakland, wastewater); CO (dashboard; wastewater); CT (dashboard); DE (dashboard); FL (wastewater); GA (wastewater); HI (dashboard); IA (wastewater reports); ID (dashboard, Boise; dashboard, wastewater, Central Idaho; wastewater, Coeur d'Alene; dashboard, Spokane County); IL (wastewater); IN (dashboard); KS (dashboard; wastewater, Lawrence); KY (dashboard, Louisville); LA (dashboard); MA (wastewater); MD (dashboard); ME (dashboard); MI (wastewater; wastewater); MN (dashboard); MO (wastewater); MS (dashboard); MT (dashboard); NC (dashboard); ND (dashboard; wastewater); NE (dashboard); NH (wastewater); NJ (dashboard); NM (dashboard); NV (dashboard; wastewater, Southern NV); NY (dashboard); OH (dashboard); OK (dashboard); OR (dashboard); PA (dashboard); RI (dashboard); SC (dashboard); SD (dashboard); TN (dashboard); TX (dashboard); UT (wastewater); VA (dashboard); VT (dashboard); WA (dashboard; dashboard); WI (wastewater); WV (wastewater); WY (wastewater).
Resources, Canada (National): Wastewater (Government of Canada).
Resources, Canada (Provincial): ON (wastewater); QC (les eaux usées); BC, Vancouver (wastewater).
Hat tips to helpful readers: anon (2), Art_DogCT, B24S, CanCyn, ChiGal, Chuck L, Festoonic, FM, FreeMarketApologist (4), Gumbo, hop2it, JB, JEHR, JF, JL Joe, John, JM (10), JustAnotherVolunteer, JW, KatieBird, LL, Michael King, KF, LaRuse, mrsyk, MT, MT_Wild, otisyves, Petal (6), RK (2), RL, RM, Rod, square coats (11), tennesseewaltzer, Utah, Bob White (3).
Stay safe out there!
* * *
Covid is Airborne
#DavosSafe but in the schools. Abrome, a private school in Austin, TX:

Would you feel differently about Covid being 'over' if you knew that people with 18k to spend on their kid's tuition are sending their kids to a school with daily molecular testing, mask requirements, clean air & more? Because it's happening:https://t.co/ZpAvlFopub

— lizwhatsherface.bsky (@RealGayArbys) November 7, 2023

A successful program:

Using a multilayered approach:

Ventilation in particular:

Everything we've been screaming in the void about for years. It works! And don't let hospitals get away with saying "Baggy Blues" are enough!
"Something Awful"
Lambert here: I'm getting the feeling that the "Something Awful" might be a sawtooth pattern — variant after variant — that averages out to a permanently high plateau. Lots of exceptionally nasty sequelae, most likely deriving from immune dysregulation (says this layperson). To which we might add brain damage, including personality changes therefrom.

* * *
* * *
Case Data
NOT UPDATED From BioBot wastewater data, November 6: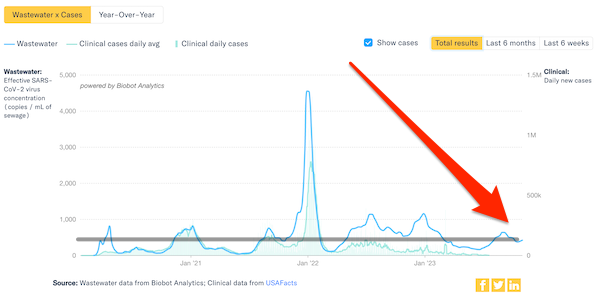 Lambert here: Cases up, just in time for Thanksgiving (and tinfoil hat time: This is the, er, inflection point CDC was trying to conceal when they gave the contract to Verily and didn't ensure a seamless transition).
Regional data: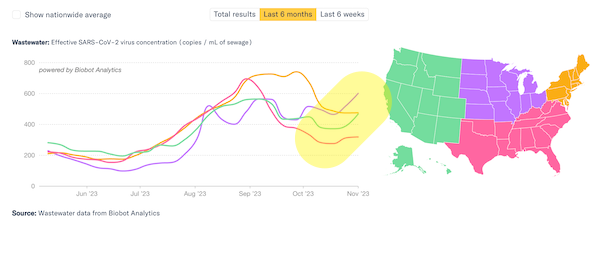 Everywhere!
NOTE I'm so happy to see that Biobot is back. I confess that I have not made a serious comparison of Biobot's sample sets pre- and post-Verily. Nor to my knowledge has anyone. Readers?
Variants
NOT UPDATED From CDC, October 28: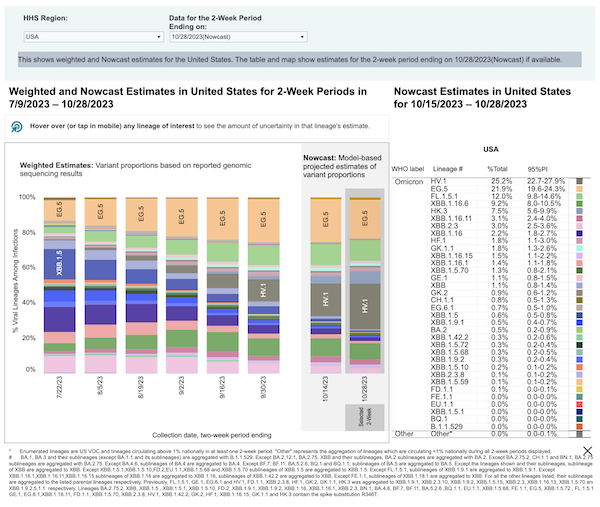 Lambert here: Top of the leaderboard: HV.1, EG.5 a strong second, with FL.1.15.1 and XBB.1.1.16.6 trailing. No BA.2.86 (although that has showed up in CDC's airport testing). Still a Bouillabaisse…
From CDC, October 14: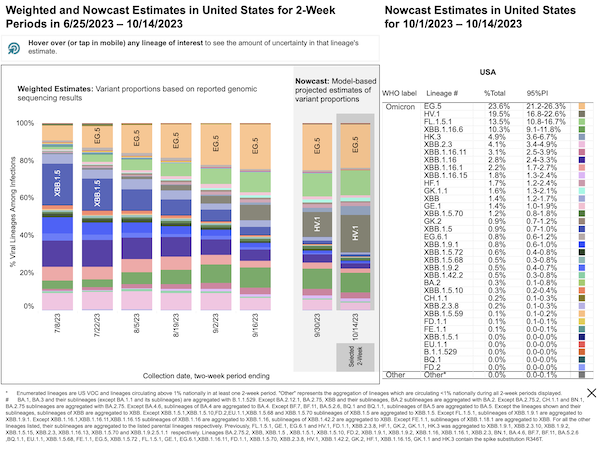 Lambert here: I sure hope the volunteers doing Pangolin, on which this chart depends, don't all move on the green fields and pastures new (or have their access to facilities cut by administrators of ill intent).
CDC: "As of May 11, genomic surveillance data will be reported biweekly, based on the availability of positive test specimens." "Biweeekly: 1. occurring every two weeks. 2. occurring twice a week; semiweekly." Looks like CDC has chosen sense #1. In essence, they're telling us variants are nothing to worry about. Time will tell.
Covid Emergency Room Visits
From CDC NCIRD Surveillance, November 4: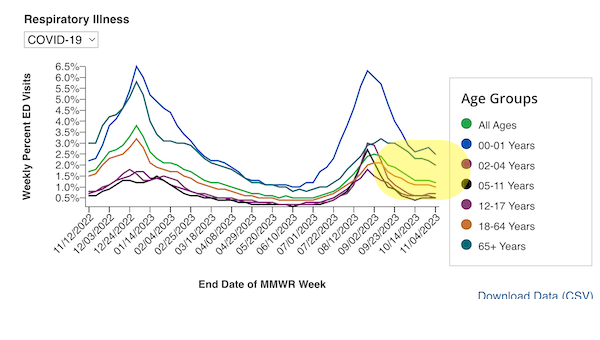 Lambert here: Still flattening. Only a week's lag, so this may be our best current nationwide, current indicator until Verily gets its house in order (and working class-centric, since I would doubt the upper crust goes to the ER).
NOTE "Charts and data provided by CDC, updates Wednesday by 8am. For the past year, using a rolling 52-week period." So not the entire pandemic, FFS (the implicit message here being that Covid is "just like the flu," which is why the seasonal "rolling 52-week period" is appropriate for bothMR SUBLIMINAL I hate these people so much. Notice also that this chart shows, at least for its time period, that Covid is not seasonal, even though CDC is trying to get us to believe that it is, presumably so they can piggyback on the existing institutional apparatus for injections.
Hospitalization
Bellwether New York City, data as of November 8: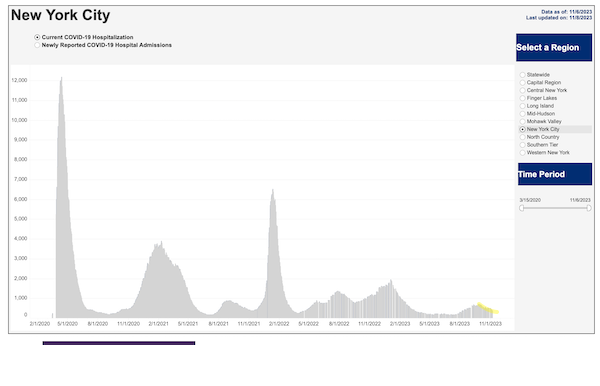 A definite decrease. Should be up in two weeks, though! (I hate this metric because the lag makes it deceptive, although the hospital-centric public health establishment loves it, hospitalization and deaths being the only metrics that matter [snort]).
NOT UPDATED Here's a different CDC visualization on hospitalization, nationwide, not by state, but with a date, at least. October 28: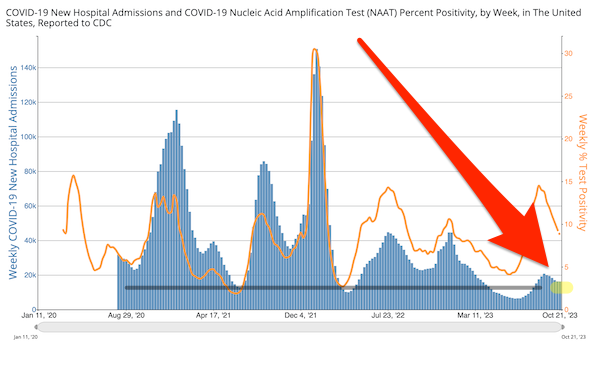 Lambert here: "Maps, charts, and data provided by CDC, updates weekly for the previous MMWR week (Sunday-Saturday) on Thursdays (Deaths, Emergency Department Visits, Test Positivity) and weekly the following Mondays (Hospitalizations) by 8 pm ET†". So where the heck is the update, CDC?
Positivity
NOT UPDATED From Walgreens, November 6: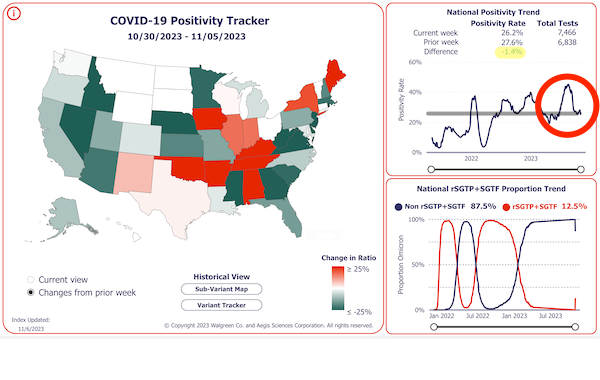 -1.4%. But bouncing around. (It would be interesting to survey this population generally; these are people who, despite a tsunami of official propaganda and enormous peer pressure, went and got tested anyhow.)
From Cleveland Clinic, November 4: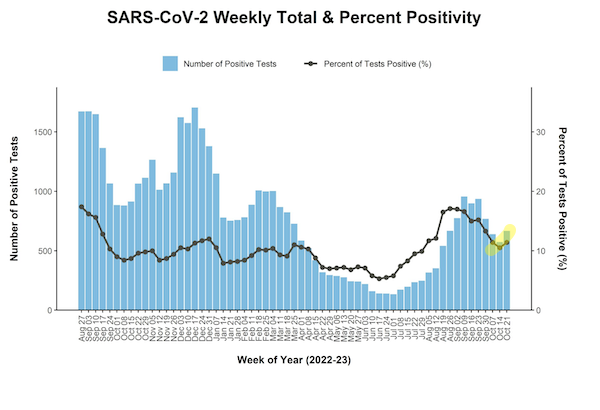 Lambert here: Slight increase. I know this is just Ohio, but the Cleveland Clinic is good*, and we're starved for data, so…. NOTE * Even if hospital infection control is trying to kill patients by eliminating universal masking with N95s.
NOT UPDATED From CDC, traveler's data, October 16: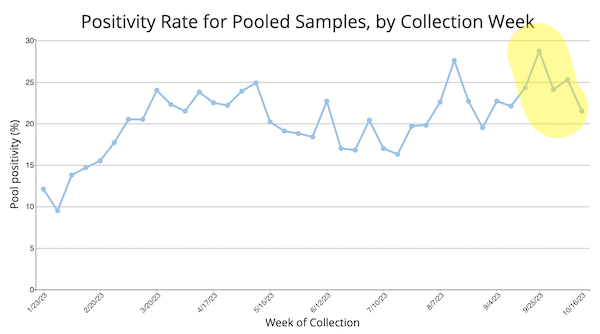 Down, albeit in the rear view mirror. And here are the variants for travelers: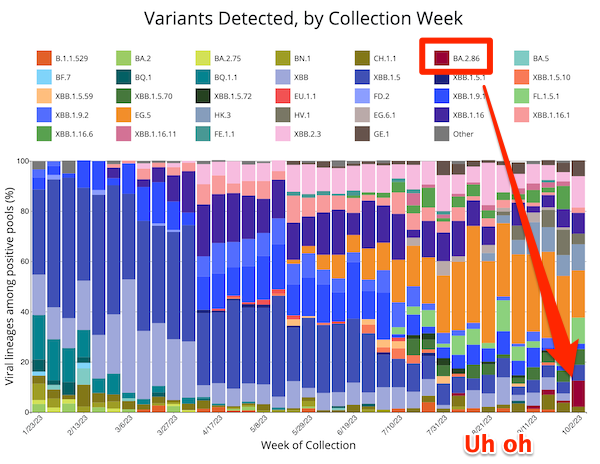 Sudden big BA.2.86 appearance. This variant chart has not been updated, which makes me wonder if CDC is gaming the data, and BA.2.86 is worse than we think.
NOT UPDATED Iowa COVID-19 Tracker, September 27: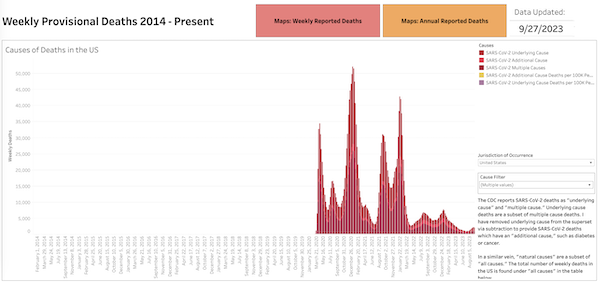 Lambert here: Dunno why no updates. I may have to drop this one, with great reluctance; I like my sources non-CDC.
Deaths
Total: 1,181,620 – 1,181,548 = 72 (72 * 365 = 26,280 deaths per year, today's YouGenicist™ number for "living with" Covid (quite a bit higher than the minimizers would like, though they can talk themselves into anything. If the YouGenicist™ metric keeps chugging along like this, I may just have to decide this is what the powers-that-be consider "mission accomplished" for this particular tranche of death and disease). 
Excess Deaths
The Economist, November 8: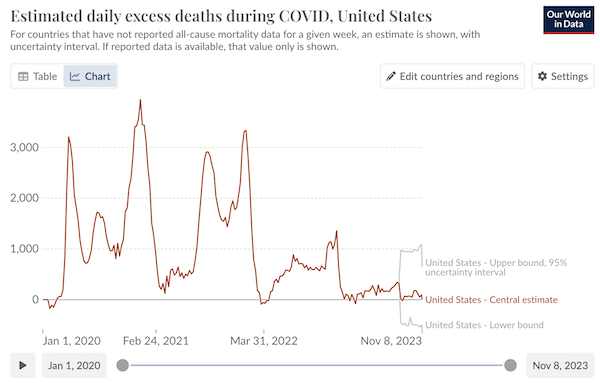 Lambert here: Based on a machine-learning model.
Stats Watch
There are no official statistics of interest today.
* * *
* * *
Today's Fear & Greed Index: 41 Fear (previous close: 40 Fear) [CNN]. One week ago: 32 (Fear). (0 is Extreme Fear; 100 is Extreme Greed). Last updated Nov 8 at 1:45:31 PM ET.
News of the Wired
"Seeing like a Bank" [Bits About Money]. Bank systems are an interesting combination of designed and accidental. They accrete like sedimentary layers. A particular force which affects banks more than most institutions is that the banking industry has undergone decades of consolidation. When banks merge, one bank doesn't simply eat the other and digest its balance sheet and people. They end up running their systems in parallel for years while working out an integration plan. That plan will, almost inevitably, cause one of the systems to mostly "win" and the other system to mostly "lose", but for business reasons, something of the loser will be retained indefinitely. It now has to be grafted onto the winner, despite frequently being itself decades out of date, having its own collection of grafted acquirees partially attached to it, and needing expert input from people who are no longer with the firm." • Well worth a read…
* * *
Contact information for plants: Readers, feel free to contact me at lambert [UNDERSCORE] strether [DOT] corrente [AT] yahoo [DOT] com, to (a) find out how to send me a check if you are allergic to PayPal and (b) to find out how to send me images of plants. Vegetables are fine! Fungi and coral are deemed to be honorary plants! If you want your handle to appear as a credit, please place it at the start of your mail in parentheses: (thus). Otherwise, I will anonymize by using your initials. See the previous Water Cooler (with plant) here. From AM: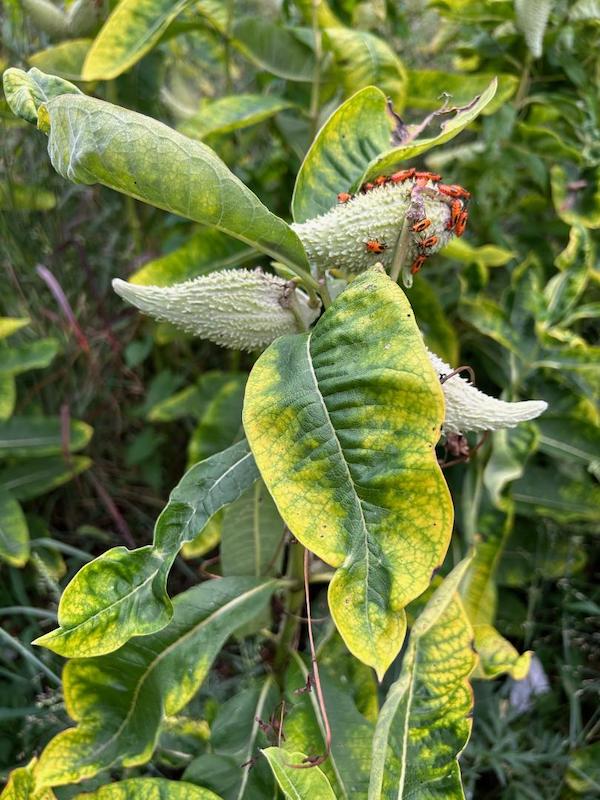 AM writes: "Not sure what this slightly creepy looking plant is, but it's definitely not something I would expect to see in Manhattan, in the Hudson River Park just off the West Side Highway near Desbrosses Street. The insects seem to like it though!!"
* * *
Readers: Water Cooler is a standalone entity not covered by the annual NC fundraiser. So if you see a link you especially like, or an item you wouldn't see anywhere else, please do not hesitate to express your appreciation in tangible form. Remember, a tip jar is for tipping! Regular positive feedback both makes me feel good and lets me know I'm on the right track with coverage. When I get no donations for five or ten days I get worried. More tangibly, a constant trickle of donations helps me with expenses, and I factor in that trickle when setting fundraising goals:
Here is the screen that will appear, which I have helpfully annotated: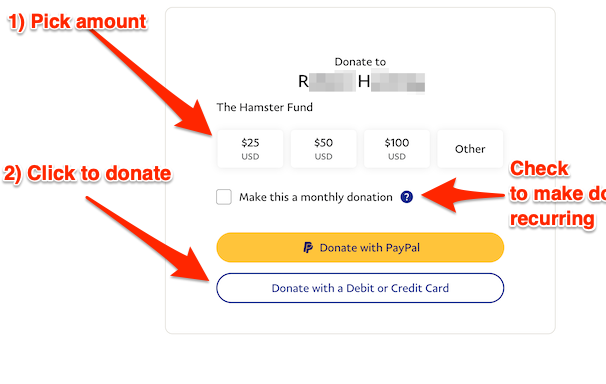 If you hate PayPal, you can email me at lambert [UNDERSCORE] strether [DOT] corrente [AT] yahoo [DOT] com, and I will give you directions on how to send a check. Thank you!