By Lambert Strether of Corrente.
Bird Song of the Day
Masked Finch, Edith Falls Rd at -14.1871,132.0824, Roper Gulf, Northern Territory, Australia. For Halloween, no doubt.
* * *
Politics
"So many of the social reactions that strike us as psychological are in fact a rational management of symbolic capital." –Pierre Bourdieu, Classification Struggles
Biden Administration
Reagan better on Israel than Biden:

"Reagan called Israeli prime minister Menachem Begin. 'Menachem, this is a holocaust.' […] Twenty minutes later Begin called back, saying he had ordered Sharon to halt the attacks."

If the United States wanted to stop the bombing, we could. pic.twitter.com/VdCk1sDShY

— SDL (@SocDoneLeft) October 29, 2023

To be fair, maybe Biden's forgotten how to pick up a phone?

"White House unveils wide-ranging action to mitigate AI risks" [Reuters]. "NetChoice, a national trade association that includes major tech platforms, described the executive order as an 'AI Red Tape Wishlist,' that will end up "stifling new companies and competitors from entering the marketplace and significantly expanding the power of the federal government over American innovation.'" All good, i true, but I doubt very much that it is. More: "As part of the order, the Commerce Department will 'develop guidance for content authentication and watermarking' for labeling items that are generated by AI, to make sure government communications are clear, the White House said in a release." • Amazing that AI, which is far more pernicious than Bitcoin — bullshit generation at scale, founded on the outright theft of intellectual property, and a recipe for crapifying the discourse in near-real time — is being normalized with incredible speed. I guess Bitcoin impacted the financial sector, so it's important.
Our Famously Free Press
2024
Time for the Countdown Clock!

Only seven more days until it's a full year to election day!

* * *

"Trump holds lead in Iowa poll while Haley ties DeSantis for second" [Politico]. "The poll also found that 65 percent of likely caucusgoers believe Trump can win a general election against President Joe Biden despite the legal challenges the former president faces — while 32 percent said it would be nearly impossible for him to beat Biden."

* * *

Vivek the goat sacrificer:

Now is the moment for Israel to return to its founding premise: the Jewish State has an absolute right to exist. A Divine gift, gifted to a Divine nation, charged with a Divine purpose. Israel has an absolute and unequivocal right and responsibility to defend itself to the…

— Vivek Ramaswamy (@VivekGRamaswamy) October 28, 2023




* * *

"Minnesota congressman announces primary challenge to Biden, saying Democrats must focus on future" [Los Angeles Times]. Oddly, I can't search any New Hampshire coverage at all; not the Union-Leader, not the Concord Monitor. "The Minnesota congressman finally entered the race himself Friday, announcing outside the New Hampshire State House: 'It is time for the torch to be passed to a new generation of American leaders.'… Phillips said in his speech that he'd try to fix the economy [horserace], and warned about high prices [horserace] and 'the chaos at our border' [horserace] — issues that could be vulnerabilities for Biden in what could be a rematch against former President Trump. But Terry Shumaker, a former DNC member from New Hampshire and longtime Biden supporter, said[:] 'I'm not aware of what his message is,' he said. 'To do well in the New Hampshire primary, you have to have a message."" • Watch "no message" become the talking point.

"My Invitation to America" (email) [Dean Phillips, Phillips for President (CI)]. For some reason, I can only find the speech in its entirety in a few YouTube clips. Here is the message that DNC goon Shumaker was unable to find, and which the Los Angeles Times did not quote:

But we, America's , know that something has gone terribly, terribly wrong ["carnage"].

We face a crisis of cooperation and of common sense.

A crisis of community and of individual initiative.

And a problem of participation and priorities.

For today's America spends more paying our debts of the past than investing in our future.

A majority of our neighbors live paycheck to paycheck, unable to get ahead and save for their dreams.

Life is simply unaffordable.

We fund more for fighting than we do for feeding.

Corporations and the well off – including me – enjoy more favorable tax treatment than working families.

Too many of our children are hungry and our veterans homeless. Anger and violence is rising, as our life expectancy is falling. Gun violence ravages our communities, and we tolerate it.

America has no health care, only sick care that's more expensive than anywhere else in the world.

We have no mental health system, only a system of greed and corruption.

Chaos at our border and in our cities is growing, while our commitment to countering it is receding.

Prices are too high, healthcare and medicine too expensive, and diseases of despair are claiming our children through addiction and suicide.

We spend billions sending our soldiers to foreign lands and still haven't fixed the failures in Flint.

And are so busy fighting one another that we have ceased the fight against our greatest challenges.

So come on, America! We are better! So let's do better. It is time for we [sic], , to meet this moment!

"The exhausted majority" might strike a chord. It does with me! (Unless "exhaustion" is a subliminal nudge, there's no mention of Covid at all. A third rail?) Readers?

"Opinion: There may be more to Dean Phillips' 'moon shot' presidential bid than meets the eye" [CNN]. Has a useful potted biography of Phillips. "[W]inning an uncontested early primary might be the boost [Phillips] needs to become a much larger figure in the national conversation [lol]. It's hard to argue that Biden would have ended up picking Kamala Harris and Pete Buttigieg for vice president and transportation secretary had they not launched their own 'long-shot' presidential runs back in 2019. Not that Phillips is necessarily eyeing a cabinet-level position in a second Biden term. He is still on the ballot for his congressional seat in his home district in Minnesota, although he will likely face a formidable primary challenger. More likely, Phillips is looking to use the opening in New Hampshire to get his name in play for a 2028 presidential run, when Biden will either be at the end of his term-limits or too old to run again." • "National conversation" is a tell; a deep-dyed Democrat loyalist. This is surely the conventional wisdom. Phillips' biography is interesting. I don't see why he'd be running for transportation secretary. He might lose, but my thoroughly unevidenced hot take is that he's "in it to win it," having assessed that Biden is a far weaker candidate than he appears, both politically and physically/psychically. (Maybe some clever Democratic strategist played him a video timeline of Biden walking, sitting, standing, talking, folding deckchairs, etc.; juiced up, and not. In fact, I'm surprised there isn't such a thing runnning around.)

"Joe Biden's Big New Hampshire Blunder" [Politico]. "By scrapping Iowa, demoting New Hampshire from its first-in-the-nation perch and moving up South Carolina to begin the balloting, President Joe Biden was hoping to preempt a nuisance primary challenge that could embarrass him before the general election. But that may be precisely what he has invited upon himself…. Mixing the enthusiasm of a pre-adolescent gazing up at a T-Rex likeness and the happy warrior joy of his political hero Hubert Humphrey, Rep. Dean Phillips (D-Minn.) let out back-to-back 'wows,' signed his declaration of candidacy and paid the $1,000 to appear on New Hampshire's presidential ballot. Then he went about . 'I learned to love my country right here in New Hampshire,; Phillips said, recounting to the photographers, reporters and state officials cramped into the Secretary of State's capitol office his summers spent at a camp in the White Mountains. (The camp is technically in Maine though along the New Hampshire border, as the Union Leader reported.) He also revealed his inscription on the paperwork: 'I love New Hampshire.'" • BWA-HA-HA-HA!!!! Cross my heart, no backsies, I wrote the "in it to win it" paragraph before I read this!

* * *

"Pence ends White House campaign after struggling to gain traction. 'This is not my time,' he says" [Associated Press]. "Pence's decision, more than two months before the Iowa caucuses that he had staked his campaign on, saves him from accumulating additional debt, as well as the embarrassment of potentially failing to qualify for the third Republican primary debate, on Nov. 8 in Miami. But his withdrawal is a huge blow for a politician who spent years biding his time as Trump's most loyal lieutenant, only to be scapegoated during their final days in office when Trump became convinced that Pence somehow had the power to overturn the results of the 2020 election and keep both men in office — which he did not. While Pence averted a constitutional crisis by rejecting the scheme, he drew Trump's fury, as well as the wrath of many of Trump's supporters, who still believed his lies about the election and see Pence as a traitor. Among Trump critics, meanwhile, Pence was seen as an enabler who defended the former president at every turn and refused to criticize even Trump's most indefensible actions. As a result, an Associated Press-NORC Center for Public Affairs Research from August found that the majority of U.S. adults, 57%, viewed Pence negatively, with only 28% having a positive view." • Oof.

* * *

Newsom in China:

Kid had his feet planted, a clear charge https://t.co/fO51EL0lMO

— Ryan Grim (@ryangrim) October 29, 2023

That must have gone over big with his hosts. At least Newsom didn't kick a puppy!
Republican Funhouse
Wait, Johnson's a liberal Democrat?

The new Speaker is a neocon. MAGA got played. https://t.co/YxWDHW2lya

— David Sacks (@DavidSacks) October 29, 2023
Democrats en Déshabillé
Patient readers, it seems that people are actually reading the back-dated post! But I have not updated it, and there are many updates. So I will have to do that. –lambert

I have moved my standing remarks on the Democrat Party ("the Democrat Party is a rotting corpse that can't bury itself") to a separate, back-dated post, to which I will periodically add material, summarizing the addition here in a "live" Water Cooler. (Hopefully, some Bourdieu.) It turns out that defining the Democrat Party is, in fact, a hard problem. I do think the paragraph that follows is on point all the way back to 2016, if not before:

The Democrat Party is the political expression of the class power of PMC, their base (lucidly explained by Thomas Frank in Listen, Liberal!). ; if the Democrat Party did not exist, the PMC would have to invent it. . ("PMC" modulo "class expatriates," of course.) Second, all the working parts of the Party reinforce each other. Leave aside characterizing the relationships between elements of the Party (ka-ching, but not entirely) those elements comprise a network — a Flex Net? An iron octagon? — of funders, vendors, apparatchiks, electeds, NGOs, and miscellaneous mercenaries, with assets in the press and the intelligence community.

Note, of course, that the class power of the PMC both expresses and is limited by other classes; oligarchs and American gentry (see 'industrial model' of Ferguson, Jorgensen, and Jie) and the working class spring to mind. Suck up, kick down.

* * *

"Andy Kim is making a big bet on breaking New Jersey Democratic politics" [Politico]. • Andy Kim is a CIA Democrat.
#COVID19
"I am in earnest — I will not equivocate — I will not excuse — I will not retreat a single inch — AND I WILL BE HEARD." –William Lloyd Garrison
Resources, United States (National): Transmission (CDC); Wastewater (CDC, Biobot; includes many counties; Wastewater Scan, includes drilldown by zip); Variants (CDC; Walgreens); "Iowa COVID-19 Tracker" (in IA, but national data). "Infection Control, Emergency Management, Safety, and General Thoughts" (especially on hospitalization by city).
Lambert here: Readers, thanks for the collective effort. To update any entry, do feel free to contact me at the address given with the plants. Please put "COVID" in the subject line. Thank you!
Resources, United States (Local): AK (dashboard); AL (dashboard); AR (dashboard); AZ (dashboard); CA (dashboard; Marin, dashboard; Stanford, wastewater; Oakland, wastewater); CO (dashboard; wastewater); CT (dashboard); DE (dashboard); FL (wastewater); GA (wastewater); HI (dashboard); IA (wastewater reports); ID (dashboard, Boise; dashboard, wastewater, Central Idaho; wastewater, Coeur d'Alene; dashboard, Spokane County); IL (wastewater); IN (dashboard); KS (dashboard; wastewater, Lawrence); KY (dashboard, Louisville); LA (dashboard); MA (wastewater); MD (dashboard); ME (dashboard); MI (wastewater; wastewater); MN (dashboard); MO (wastewater); MS (dashboard); MT (dashboard); NC (dashboard); ND (dashboard; wastewater); NE (dashboard); NH (wastewater); NJ (dashboard); NM (dashboard); NV (dashboard; wastewater, Southern NV); NY (dashboard); OH (dashboard); OK (dashboard); OR (dashboard); PA (dashboard); RI (dashboard); SC (dashboard); SD (dashboard); TN (dashboard); TX (dashboard); UT (wastewater); VA (dashboard); VT (dashboard); WA (dashboard; dashboard); WI (wastewater); WV (wastewater); WY (wastewater).
Resources, Canada (National): Wastewater (Government of Canada).
Resources, Canada (Provincial): ON (wastewater); QC (les eaux usées); BC, Vancouver (wastewater).
Hat tips to helpful readers: anon (2), Art_DogCT, B24S, CanCyn, ChiGal, Chuck L, Festoonic, FM, FreeMarketApologist (4), Gumbo, hop2it, JB, JEHR, JF, JL Joe, John, JM (10), JustAnotherVolunteer, JW, KatieBird, LL, Michael King, KF, LaRuse, mrsyk, MT, MT_Wild, otisyves, Petal (6), RK (2), RL, RM, Rod, square coats (11), tennesseewaltzer, Utah, Bob White (3).
Stay safe out there!
* * *
Maskstravaganza
Shot:

I had a new one this morning.
Someone said about my mask, "when are you going to be brave like the rest of us".

— tern (@1goodtern) October 29, 2023

Extraordinary mental gyrations!

Chaser:

When are you going to be brave and take off that parachute?

(with thanks to @equibotanica) pic.twitter.com/KADwyCnZBR

— tern (@1goodtern) October 29, 2023

s


* * *

Oh for pity's sake:

"Oh, yay, Hotez is actually masking!"

"Wait…is he wearing that KN95 upside down…and over his glasses?" pic.twitter.com/IfTOfwmfzS

— Michael R. Hicks, COVID Dissident (@Michael59503746) October 29, 2023

Hotez is being careless and stupid, and setting a bad example. WTF?

* * *

N95 electrostatic explainer:

An ffp2+/n95+ mask doesn't just work like a net, catching objects that are too big for the net.
As air passes in and out, the layers of the mask generate an electrostatic charge, and the charge attracts microscopic particles like airborne viruses or bacteria or asbestos. pic.twitter.com/W0DY5cdwIF

— tern (@1goodtern) October 30, 2023
Covid is Airborne
The CBS 60 Minutes program means that airborne is finally getting a lot of play. Remember the Skagit Valley chorus? One of the first cases that showed how aerosol transmission in a "3-C's" (closed, crowded, close-contact) setting led to super-spreading events. Here it is:

I sang with the Symphony Tacoma Voices when this happened — a choir not too far away from Skagit Valley. Choirs have since been REELING. Music education orgs commissioned a study that the world ignored. Now, school choirs are daily superspreaders & have been for 3 years. https://t.co/i7BKXGm8uo

— ✨🎶Kristennnn🎶✨ (@singingsox) October 30, 2023

Here is that study. If you spend time in a performance space, like a choir, you may find it useful–

"Reducing bioaerosol emissions and exposures in the performing arts" [Colorado State University]. From 2021: "The Centers for Disease Control and Prevention (CDC) advocates maintaining six feet from others to prevent the spread of Coronavirus Disease 2019 (COVID-19); however, this is based on expected airborne particles [the study proper says "bio-aerosols"] emitted during regular breathing. Performance artists are more likely to display forced-air breathing (i.e., singing, playing musical instruments or dancing, among other artistic expressions), which is more like sneezing and coughing. While data is lacking, there is developing consensus that infectious aerosolized particles containing SARS-CoV-2, the virus that causes COVID-19 are partly responsible for global spread. According to one recent study, the transmission distance of SARS-CoV-2 may be more than 13 feet (https://doi.org/10.3201/eid2607.200885). Unfortunately, many infected individuals do not realize they are infected; and group activities such as choir, dance, acting, or instrument ensembles increase the risk of spread. Solutions are needed to reduce the risk of viral spread during performances and group practice settings." Even in 2021, CDC was utterly feckless. Here is the paper.

Airborne resources. Quite a list:

Missed something wrt COVID transmission & prevention (focus: airborne aerosols)?

✅1,085+ media articles
✅415+ science papers
✅490+ threads
✅videos; infographics; webinars; tools; scientists
'Cntrl-F' search any tab#AirborneInfoTag to alert me to add.https://t.co/QUNsMNh75O

— Alex Huffman, Ph.D. – @ProfHuffman@mstdn.social (@HuffmanLabDU) October 4, 2021
Testing and Tracking
"Detecting Covid surges is getting harder, thanks to a contract dispute" [Politico]. Biobot v. Verily makes Politico (!). "The Centers for Disease Control and Prevention wants to replace the firm it has worked with since 2020 to test wastewater for Covid in order to better direct public health resources. But that firm, Massachusetts-based Biobot, has filed a protest, stymieing the transition….. In an interview, CDC Director Mandy Cohen declined to comment on the specifics of the dispute, saying it was a "contracting situation.'" I don't believe that anybody has actually seen the contract. More: "The CDC has not explained why it decided to change contractors, though its deal with Verily[, a subsidiary of Google's parent company,] is considerably less expensive. Verily's contract is for $38 million over five years. Biobot's most recent contract was for about $31 million over less than a year and a half." NIH blew a billion dollars on a useless Long Covid study. This money is couch change. More: "Even if Verily is able to begin work soon, some foresee problems related to the continuity of the data. 'The loss is the loss of historical comparability. It's like starting from day zero with a new surveillance system,' said David Larsen, chair of the public health department at Syracuse University and a wastewater surveillance researcher. 'It's not ideal to change methods.' A CDC spokesperson said the issue will be addressed but declined to say how." • No doubt. Normally, I'd be up in arms about the lack of a proxy for case data, but AFAIAK, Biobot's business model doesn't involve monetizing the data, and as I've said, it's a good bet Verily's does (because otherwise why muscle in with a lowball bid?) Since I think monetizing wastewater data — and no doubt integrating it with location data, search data, etc. — is a dystopian project, I'm with Biobot soon. And I hope they produce the oddly not public contract. Hey, maybe Mandy wants a job in Silicon Valley! She is, after all, a Democrat….

"Biobot Analytics files protest against CDC issuing wastewater surveillance contract to Verily" [WSWS]. "erily's bid for the contract was accepted outright by the CDC, which will pay the company $38 million over five years. Biobot's most recent contract with the CDC was for $31 million over less than 18 months, or nearly three-fold higher. The funding provided through various foundations means Verily could easily underbid any other contract proposition. An epidemiologist familiar with these proceedings who asked not to be named remarked, 'The CDC must be dumping something for a bid that low.'" Hmm. Maybe nuking the historical data is the point? More: "The most important issue at play is the financialization of public health in the US through these private-public enterprises, whereby critical information disease outbreak, the opioid crisis, and the population's general health indices can be accumulated and monopolized by giant conglomerates like Alphabet. This has significant implications for insurance companies, federal agencies, surveillance of the population, and more." • No duh. Not to mention the public.

"A lapse in COVID wastewater detection is worrying scientists about distorted data" [Salon]. "'The biggest issue to me doing wastewater modeling is just its disruption," [Michael Hoerger, Ph.D., a psychologist at Tulane University] told Salon in a phone interview. 'People rely on this data.'" Tinfoil hat time: Perhaps the burying disruption of the data, to CDC, is a feature, not a bug. Certainly CDC's failure to provide a seamless transition would argue in favor of the idea. Then again: "When the CDC similarly transferred contracts in the spring of 2022 from LuminUltra to Biobot, data was unavailable for 150 wastewater sites in 29 states for several weeks." So CDC has form, and Hanlon's Razor might apply. More: "Andrew Wang, Ph.D., a health equity researcher at Northwestern University Feinberg School of Medicine, said he is concerned the switch in contracts may change the sample processing and analyses in a way that prevents Verily's data from being directly compared with Biobot's hundreds of sites. The "bumpy" transfer is reducing an already insufficient surveillance system, Wang said." Meanwhile, CDC's own tracker is lousy, what a surprise: "Hoerger said he'd like to see the CDC's wastewater system ramp up the number of testing sites it includes and make its data more readily available. 'It would have been great if they used their funding to do the sorts of analyses that I'm doing and that others are doing to estimate cases, to make forecasts and to take their raw wastewater data and put it into metrics that people actually care about,' Hoerger said."
"Something Awful"
Lambert here: I'm getting the feeling that the "Something Awful" might be a sawtooth pattern — variant after variant — that averages out to a permanently high plateau. Lots of exceptionally nasty sequelae, most likely deriving from immune dysregulation (says this layperson). To which we might add brain damage, including personality changes therefrom.

* * *

"SARS-CoV-2 virus found to migrate within neurons and infect the brain" [Pasteur Institute, Medical Xpress]. "For the first time, researchers at the Institut Pasteur and Université Paris Cité have demonstrated, in an animal model, a characteristic common to several SARS-CoV-2 variants: the ability to infect the central nervous system. The study confirms that SARS-CoV-2 is capable of infecting human neurons in vitro and migrating into axons, the nerve cell projections that carry information…. 'In this study, we demonstrated that infection of the olfactory bulb is common to all variants and not linked to any particular one, nor to any particular clinical manifestation such as anosmia,' explains Guilherme Dias de Melo, first author of the study and researcher in the Institut Pasteur's Lyssavirus, Epidemiology and Neuropathology Unit…. Through this study, we have characterized the neurotropism of SARS-CoV-2. For all the variants studied, ," concludes Hervé Bourhy, last author of the study and head of the Institut Pasteur's Lyssavirus, Epidemiology and Neuropathology Unit." • Yikes. Note that the brain infection doesn't necessarily produce anosmia; but it may, depending on the variant. Does some clever programmer wish to build a screen-scraping "Yankee Candle Review Index™"?
Elite Maleficence
The UK's Dominic Cummings (!) from 2021 (!!):

An admission!!!!!

Finally! They didn't and STILL don't understand that #COVIDisAirborne!

You HAVE to watch this- it's fundamental to what went wrong in the UK's approach to the pandemic

🔥🔥🔥🔥🔥🔥🔥🔥🔥🔥 pic.twitter.com/uVUoojEO9s

— Eilir Hughes (@hughes_eilir) May 26, 2021

I could have missed it, but I don't recall this getting any play at all.
The Jackpot
I have been thinking along these lines for awhile:

What if the information environment is far more polluted than even the most pessimistic people believe?

— Antiviral Marketing (@antiviral_mktng) October 30, 2023

More:

I am more hopeful than this account. Nevertheless, our civilizational response to the pandemic persuades me that something on this scale is going on (though naturally we need a "mechanism," historically situated, of course).
* * *
Case Data
From BioBot wastewater data, October 30: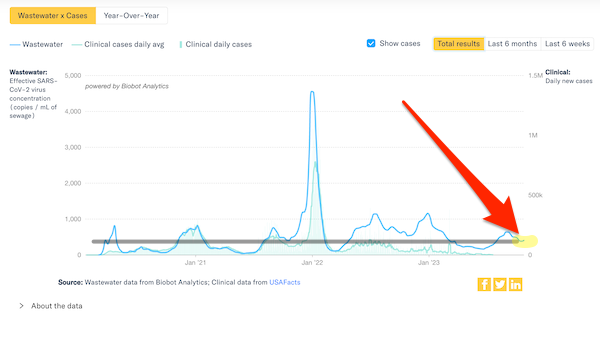 Lambert here: Cases leveling out to a high plateau wasn't on my Bingo card!
Regional data: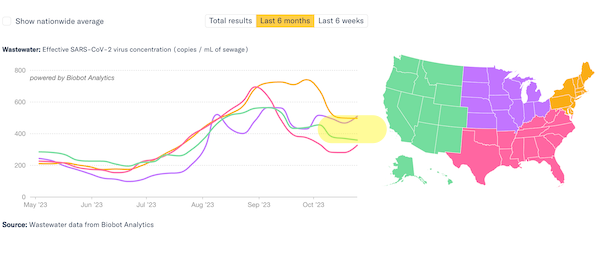 • "Biobot Analytics files protest against CDC issuing wastewater surveillance contract to Verily" [WSWS] "What emerges from the resumption of Biobot's analysis on Friday is that [as I've been muttering for some time]. In early October, scientist Mike Hoerger, the founding director of Louisiana's HealthPsych, estimated that by the end of October transmission rates would be upwards of 745,000 cases per day." • For more on Biobot, see under Testing, supra.
Variants
NOT UPDATED From CDC, October 28: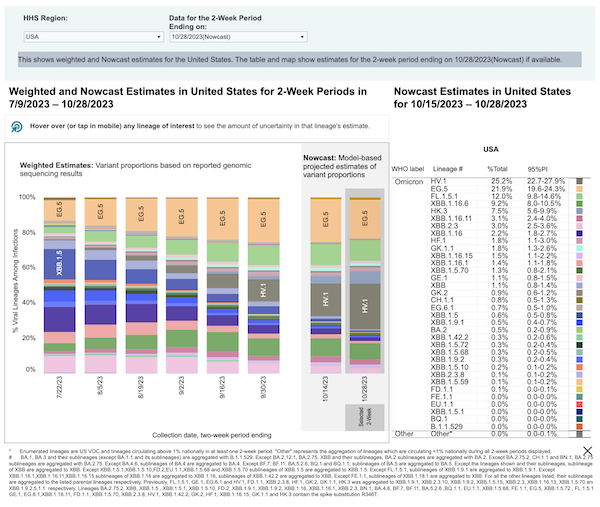 Lambert here: Top of the leaderboard: HV.1, EG.5 a strong second, with FL.1.15.1 and XBB.1.1.16.6 trailing. No BA.2.86 (although that has showed up in CDC's airport testing). Still a Bouillabaisse…
From CDC, October 14: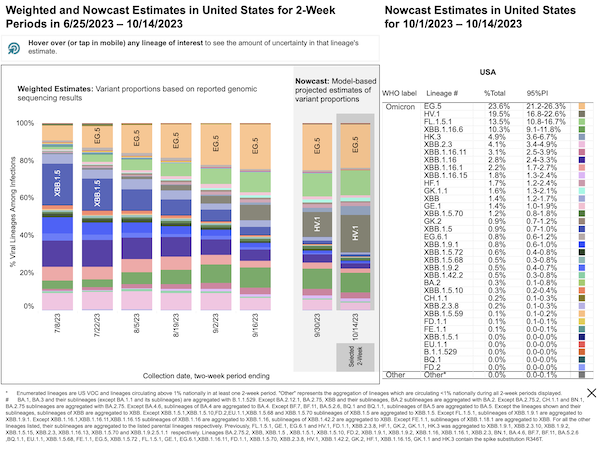 Lambert here: I sure hope the volunteers doing Pangolin, on which this chart depends, don't all move on the green fields and pastures new (or have their access to facilities cut by administrators of ill intent).
CDC: "As of May 11, genomic surveillance data will be reported biweekly, based on the availability of positive test specimens." "Biweeekly: 1. occurring every two weeks. 2. occurring twice a week; semiweekly." Looks like CDC has chosen sense #1. In essence, they're telling us variants are nothing to worry about. Time will tell.
Covid Emergency Room Visits
NOT UPDATED From CDC NCIRD Surveillance, October 21: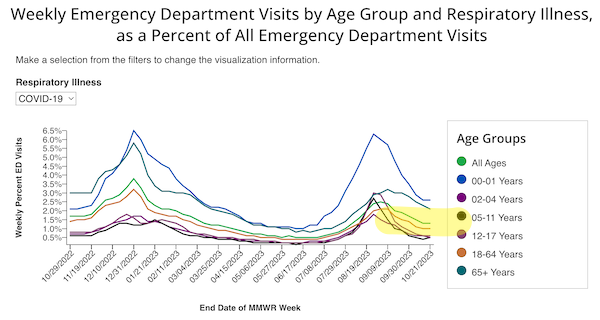 Lambert here: Flattening? Only a week's lag, so this may be our best current nationwide, current indicator until Verily gets its house in order (and working class-centric, since I would doubt the upper crust goes to the ER).
NOTE "Charts and data provided by CDC, updates Wednesday by 8am. For the past year, using a rolling 52-week period." So not the entire pandemic, FFS (the implicit message here being that Covid is "just like the flu," which is why the seasonal "rolling 52-week period" is appropriate for bothMR SUBLIMINAL I hate these people so much. Notice also that this chart shows, at least for its time period, that Covid is not seasonal, even though CDC is trying to get us to believe that it is, presumably so they can piggyback on the existing institutional apparatus for injections.
Hospitalization
Bellwether New York City, data as of October 30: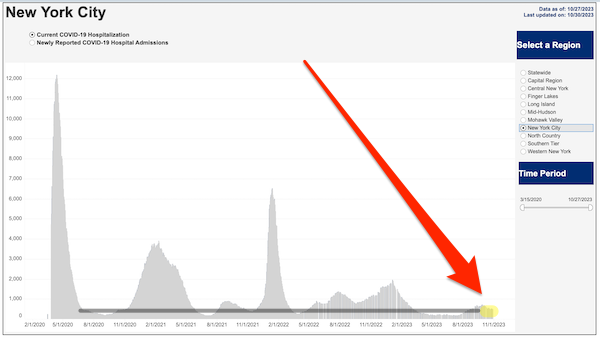 Hospitalization is leveling out, too. (I hate this metric because the lag makes it deceptive, although the hospital-centric public health establishment loves it, hospitalization and deaths being the only metrics that matter [snort]).
Here's a different CDC visualization on hospitalization, nationwide, not by state, but with a date, at least. October 21: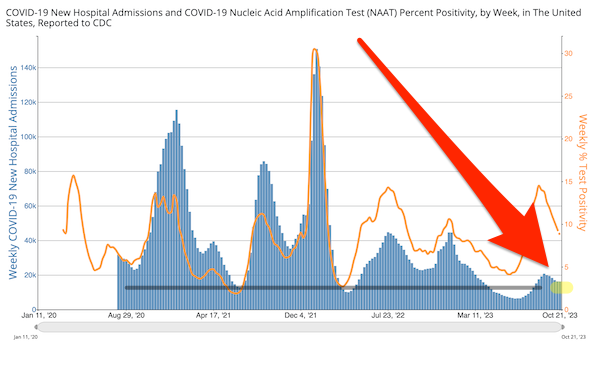 Lambert here: "Maps, charts, and data provided by CDC, updates weekly for the previous MMWR week (Sunday-Saturday) on Thursdays (Deaths, Emergency Department Visits, Test Positivity) and weekly the following Mondays (Hospitalizations) by 8 pm ET†". So where the heck is the update, CDC?
Positivity
NOT UPDATED From Walgreens, October 23: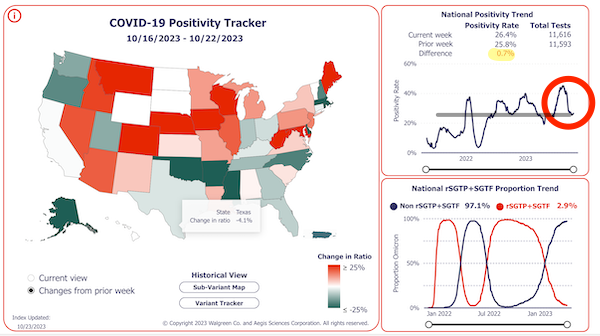 0.7%. Slight increase. (It would be interesting to survey this population generally; these are people who, despite a tsunami of official propaganda and enormous peer pressure, went and got tested anyhow.)
From Cleveland Clinic, October 28: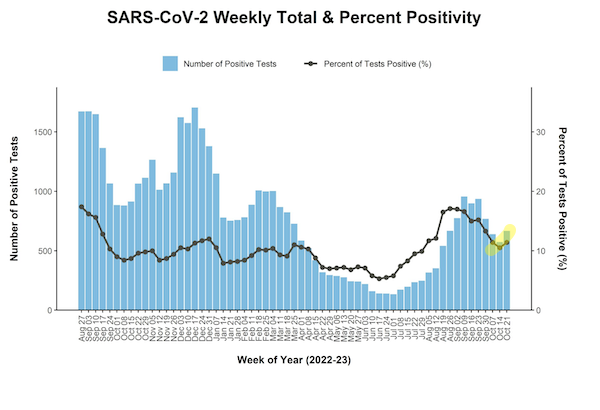 Lambert here: Slight increase. I know this is just Ohio, but the Cleveland Clinic is good*, and we're starved for data, so…. NOTE * Even if hospital infection control is trying to kill patients by eliminating universal masking with N95s.
NOT UPDATED From CDC, traveler's data, October 9: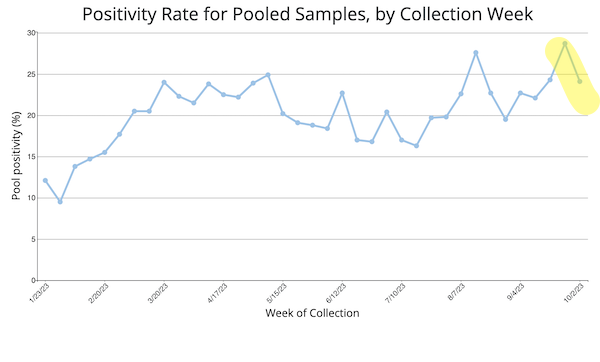 Down, albeit in the rear view mirror. And here are the variants for travelers: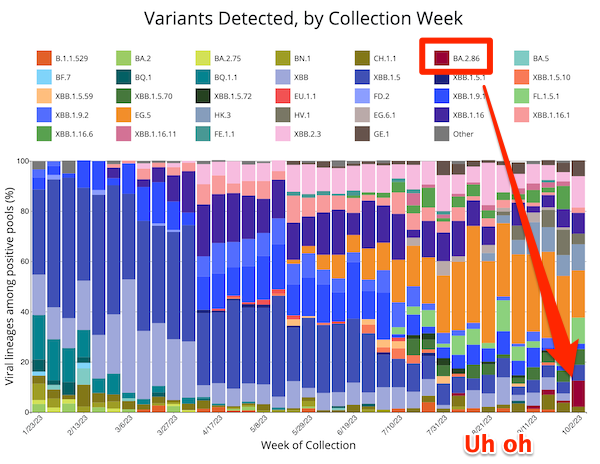 Sudden big BA.2.86 appearance.
Deaths
NOT UPDATED Iowa COVID-19 Tracker, September 27: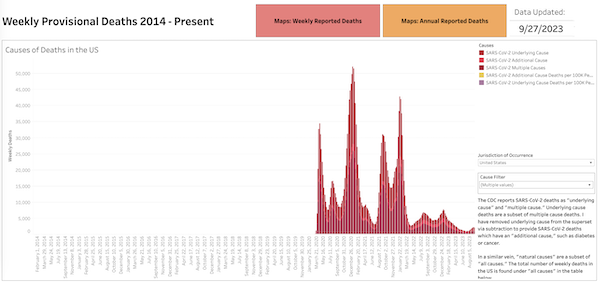 Lambert here: The WHO data is worthless, so I replaced it with the Iowa Covid Data Tracker. Their method: "These data have been sourced, via the API from the CDC: https://data.cdc.gov/NCHS/Conditions-Contributing-to-COVID-19-Deaths-by-Stat/hk9y-quqm. This visualization updates on Wednesday evenings. Data are provisional and are adjusted weekly by the CDC." I can't seem to get a pop-up that shows a total of the three causes (top right). Readers?
Total: 1,180,403 – 1,180,376 = 27 (27 * 365 = 9855 deaths per year, today's YouGenicist™ number for "living with" Covid (quite a bit higher than the minimizers would like, though they can talk themselves into anything. If the YouGenicist™ metric keeps chugging along like this, I may just have to decide this is what the powers-that-be consider "mission accomplished" for this particular tranche of death and disease). 
Excess Deaths
The Economist, October 27: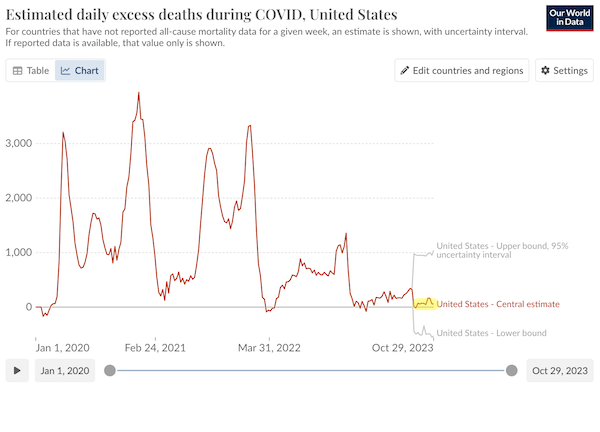 Lambert here: Based on a machine-learning model.
Stats Watch
Manufacturing: "United States Dallas Fed Manufacturing Index" [Trading Economics]. "The Federal Reserve Bank of Dallas's general business activity index for manufacturing in Texas fell to -19.2 in October of 2023, down from -18.1 in the prior month, and marking the 18th consecutive negative reading to suggest a sustained deterioration in business conditions."
* * *
* * *
Today's Fear & Greed Index: 32 Fear (previous close: 23 Extreme Fear) [CNN]. One week ago: 28 (Fear). (0 is Extreme Fear; 100 is Extreme Greed). Last updated Oct 30 at 1:52:19 PM ET.
Rapture Index: Closes unchanged [Rapture Ready]. Record High, October 10, 2016: 189. Current: 185. (Remember that bringing on the Rapture is good.) NOTE on #42 Plagues: "The coronavirus pandemic has maxed out this category." More honest than most! • The goat sacrificers are going to defile the Al Aqsa mosque, and the Rapture Index is down? I hardly had them in the contrarian box!
Class Warfare
"New York Times tech workers to strike over return-to-office rules" [Reuters]. "Tech workers at the New York Times (NYT.N) plan to strike for half a day on Monday, accusing the publisher of attempting to unilaterally force them back to the office….The New York Times issued its return-to-office policy before the tech guild was recognized early last year, when workers voted 404-88 to join the NewsGuild of New York, making TTG the largest tech union in the U.S. with bargaining rights. Tech workers at the union have been in contract talks with the company for more than a year. 'The Times is now not only refusing to recognize our rights to bargain on return-to-office but is now going a step further and using it as a tactic to intimidate us,' said Kathy Zhang, unit chair for the guild that includes software engineers and data analysts."
"The Secretive Industry Devouring the U.S. Economy" [The Atlantic]. "The publicly traded company is disappearing. In 1996, about 8,000 firms were listed in the U.S. stock market. Since then, the national economy has grown by nearly $20 trillion. The population has increased by 70 million people. And yet, today, the number of American public companies stands at fewer than 4,000. How can that be? One answer is that the private-equity industry is devouring them. … In 2000, private-equity firms managed about 4 percent of total U.S. corporate equity. By 2021, that number was closer to 20 percent. In other words, private equity has been growing nearly five times faster than the U.S. economy as a whole…. Most careful academic studies find that although private-equity funds slightly outperformed the stock market on average prior to the early 2000s, they no longer do so. When you take into account their high fees, they appear to be a worse investment than a simple index fund." • As Yves has been saying for some time.
News of the Wired
"How deep is the brain? The shallow brain hypothesis" [Nature]. "Deep learning and predictive coding architectures commonly assume that inference in neural networks is hierarchical. However, largely neglected in deep learning and predictive coding architectures is the neurobiological evidence that all hierarchical cortical areas, higher or lower, project to and receive signals directly from subcortical areas. Given these neuroanatomical facts, today's dominance of cortico-centric, hierarchical architectures in deep learning and predictive coding networks is highly questionable; such architectures are likely to be missing essential computational principles the brain uses. In this Perspective, we present the shallow brain hypothesis: hierarchical cortical processing is integrated with a massively parallel process to which subcortical areas substantially contribute. This shallow architecture exploits the computational capacity of cortical microcircuits and thalamo-cortical loops that are not included in typical hierarchical deep learning and predictive coding networks. We argue that the shallow brain architecture provides several critical benefits over deep hierarchical structures and a more complete depiction of how mammalian brains achieve fast and flexible computational capabilities." • So, ML is bullshit? What a surprise! And what a vindication of Conway's Law! The perfessors and Silicon Valley bros used the org chart for their architecture!
"Assyrian Women of Letters"" [Archeology]. " As was done with much Assyrian correspondence, one or both of Zizizi's parents would have taken a stone cylinder that hung from a cord around their neck and rolled it across the envelope's surface, creating a ribbonlike impression or seal. Her mother's seal depicts tall deerlike figures with long horns standing upright, each one leaning on a staff. This seal was unique to Ishtar-bashti and functioned like an ID, signaling to Zizizi that the letter was indeed from her mother…. Nearly 4,000 years later, archaeologists discovered the angry missive during excavations at the site of the ancient city in central Turkey, now known as Kültepe, a low, grassy plain crowned by a tall mound. More than 23,000 cuneiform tablets have been uncovered at the site. Of these, epigrapher and Assyriologist Cécile Michel of the French National Center for Scientific Research has curated and interpreted more than 300 that bear letters written by or to women who belonged to a highly literate Assyrian merchant class." • Stone cylinders do have the advantage that they are far less easy to hack…
* * *
Contact information for plants: Readers, feel free to contact me at lambert [UNDERSCORE] strether [DOT] corrente [AT] yahoo [DOT] com, to (a) find out how to send me a check if you are allergic to PayPal and (b) to find out how to send me images of plants. Vegetables are fine! Fungi and coral are deemed to be honorary plants! If you want your handle to appear as a credit, please place it at the start of your mail in parentheses: (thus). Otherwise, I will anonymize by using your initials. See the previous Water Cooler (with plant) here. From Carla: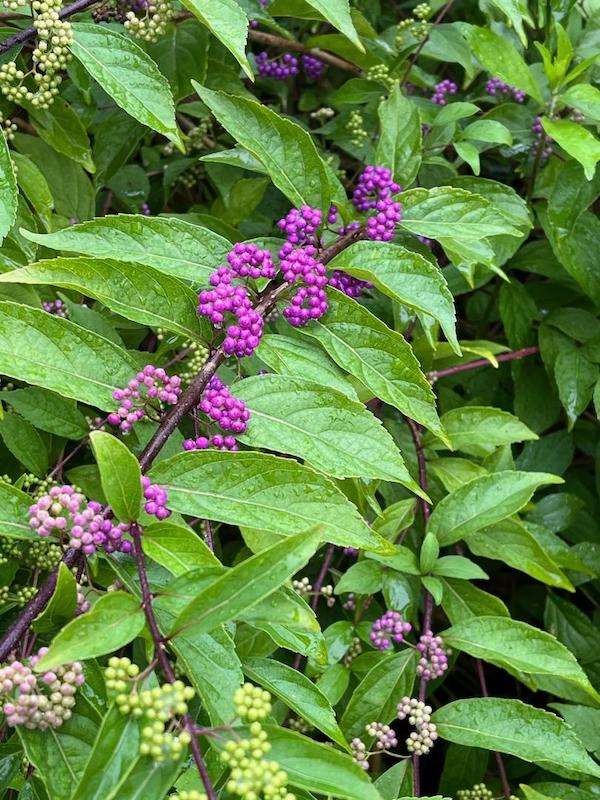 Carla writes: "Beautyberry just starting to strut its stuff."
* * *
Readers: Water Cooler is a standalone entity not covered by the annual NC fundraiser. So if you see a link you especially like, or an item you wouldn't see anywhere else, please do not hesitate to express your appreciation in tangible form. Remember, a tip jar is for tipping! Regular positive feedback both makes me feel good and lets me know I'm on the right track with coverage. When I get no donations for five or ten days I get worried. More tangibly, a constant trickle of donations helps me with expenses, and I factor in that trickle when setting fundraising goals:
Here is the screen that will appear, which I have helpfully annotated: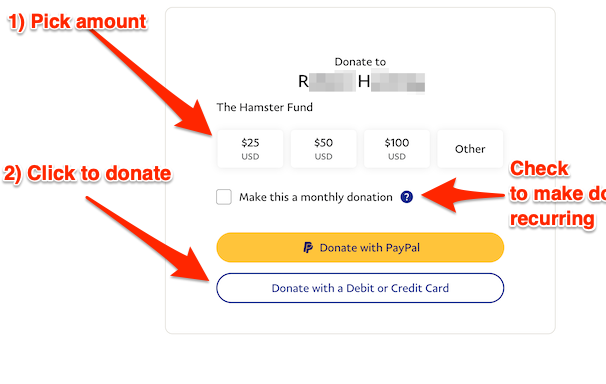 If you hate PayPal, you can email me at lambert [UNDERSCORE] strether [DOT] corrente [AT] yahoo [DOT] com, and I will give you directions on how to send a check. Thank you!