By Lambert Strether of Corrente.
Bird Song of the Day
Australian Pelican, Carawine Gorge Camp Area, East Pilbara, Western Australia, Australia. "2 Feeding in water shallows inlet of a outlet channel. 1/2 moon. Able to see fish but I did see some [go] passed which they missed." More splashing!
* * *
Politics
"So many of the social reactions that strike us as psychological are in fact a rational management of symbolic capital." –Pierre Bourdieu, Classification Struggles
Our Famously Free Press
2024
Time for the Countdown Clock!

"Trump leads Biden among 'double-haters' in Michigan, Pennsylvania, Wisconsin: poll" [New York Post]. "Donald Trump has a narrow advantage over President Biden among voters who dislike both major-party front-runners across three key battleground states, a Democrat-commissioned poll has found. The former president leads the current president 51% to 48% among so-called "double-haters" in Michigan, Pennsylvania and Wisconsin, according to the survey conducted by Democratic firm GQR on behalf of pro-Biden super PAC Unite the Country, first reported by NBC News."

* * *

"U.S. attorney says probe of Biden-Ukraine ties, $10M bribe hamstrung by DOJ, FBI" [Washington Times]. "The U.S. attorney assigned to look into the Biden family's deals in Ukraine, including allegations of pocketing a $10 million bribe, told House lawmakers that the Justice Department and FBI significantly hobbled his investigation….. A key piece of evidence under Mr. Brady's review was the transcript of an interview with one of the FBI's most credible confidential human sources who said he was told that then-Vice President Biden and his son Hunter Biden each accepted a $5 million bribe from the owner of Ukrainian energy firm Burisma. Mr. Brady determined that the allegation was credible enough to warrant further investigation and alerted three U.S. attorney's offices, including the Delaware office investigating Hunter Biden on tax fraud charges. None of them followed up."

* * *

"Democratic Rep. Dean Phillips launches a White House bid, challenging Biden" [NBC]. "Asked if he was running for president next year, Phillips said, 'I am. I have to.' 'I will not sit still, I will not be quiet in the face of numbers that are so clearly saying we're going to be facing an emergency next November,' Phillips added. Biden's campaign did not immediately respond to a request for comment Thursday night. Phillips, 54, has been a staunch critic of Biden's re-election bid, citing a want for a younger leader to replace the 80-year-old president, and has previously called on other candidates to challenge him. 'As a Democrat, I adore Joe Biden. He saved this country. He can cement his legacy,' Phillips said in an August interview on NBC News' 'Meet the Press.' 'My real call to action right now is not about me. The call to action is to ask the president to pass the torch.' 'Enter the primary, my friends,' Phillips added later in the interview. Everybody who is on the bench, meet the moment. Don't wait five years. We need you now.'" • Everybody into the pool!

"55 Things You Need to Know About Dean Phillips" [Politico]. "23. He and his wife have a Norwich Terrier named Henry." • Fine. How's Henry in the biting department?

"Democratic U.S. Rep. Dean Phillips launches longshot bid for presidency" [Star-Tribune]. "Phillips started the campaign roll-out late Thursday and filed for New Hampshire's presidential primary on Friday. He joyfully made his way to his campaign bus Friday morning on one of the most politically consequential days of his career and said 'it's time for change. It's time for people with different perspectives, different backgrounds, different political perspectives, to come together.' But not long after, Phillips more directly confronted Biden's status. 'The only person helping Donald Trump right now, I'm afraid, is President Biden, and that is the problem,' Phillips told reporters…. Phillips has a conceivable path to victory in New Hampshire because Biden has chosen not to appear on the state's primary ballot. Biden strongly supports the Democratic National Committee's reshuffled order of state presidential primaries, which places South Carolina ahead of New Hampshire. And New Hampshire is defying the DNC by seeking to still hold its primary first. That means the only Democrats on New Hampshire's primary ballot could be Phillips, author Marianne Williamson and other lesser-known candidates. Some Democrats in New Hampshire are expected to organize a write-in campaign for Biden. 'I want to speak for the exhausted majority in America. The people who know that we have reached a point where we have got to stop the nonsense,' Phillips told reporters as the day began." • Betting, it would seem, on Biden's medical status.

* * *

"Meet RFK Jr.'s eclectic, ragtag donor army threatening Biden and Trump in 2024" [Washington Examiner]. "An English rock star not fond of COVID-19 lockdowns, a left-wing film director who has come under fire for his relationship with Russian President Vladimir Putin, and a billionaire security firm founder with ties to Amazon CEO Jeff Bezos. On its face, these three characters may not necessarily seem to have a whole lot in common. What they do share, however, is bankrolling the long-shot White House bid for Robert F. Kennedy Jr., a Democrat turned independent who thinks he has what it takes to unseat President Joe Biden in the 2024 presidential election…. Money doesn't lie, either. Between July and September, Kennedy raked in an impressive $8.7 million in campaign donations. That's $470,000 more than the third quarter haul for ex-United Nations ambassador Nikki Haley, who at 8.3% polls third among Republican presidential hopefuls. During that same period, it's also $758,000 more combined than contributions to both Sen. Tim Scott (R-SC) and former Vice President Mike Pence — whose campaigns have struggled to gain traction." Also Timothy Mellon, Gavin de Becker, and Abby Rockefeller, billionaires all. More: "It's a unique donor cohort, along with others who have given to Kennedy, and underscores how the candidate is pulling cash from across the political spectrum." • Many others listed.

"He Was Once a Favorite of the Right. Now, Mike Pence Can't Get a Crowd of 15 to a Pizza Ranch" [Politico]. "Iowa inflicts its own quadrennial and peculiar political indignities and hazing rituals on candidates. But few have submitted to them so fully as Pence, who even his own aides admit must deliver a surprise finish here next January to keep his decades-long presidential ambitions alive. He was the only candidate to actually ride a motorcycle at Iowa Sen. Joni Ernst's July Roast and Ride. He spent more time at the Iowa State Fair than any other candidate." • Commentary:

Mike Pence with a massive crowd today. pic.twitter.com/yghuXFuSr2

— Ian Jaeger (@IanJaeger29) October 22, 2023

Politics is a rough game.
Republican Funhouse
"How Mike Johnson, One of Congress' Staunchest Religious Conservatives, Became Second in Line to the President" [People]. "Johnson's political positions are largely attributed to his ultraconservative religious views, which have led him to fight for prayer in public schools and lobby against abortion and same-sex marriage…. In one editorial written in 2004, Johnson espouses support for the Defense of Marriage Act, which banned the federal recognition of same-sex marriage until being found unconstitutional in 2015." • DOMA having been signed by Bill Clinton…..

"How Mike Johnson Went from Relative Obscurity to Speaker of the House" [The New Yorker]. "The key to Johnson's current standing among House Republicans is his role in the aftermath of the 2020 election. Trump's refusal to accept the result put his congressional supporters in a bind. Their base shared Trump's belief in the illegitimacy of the outcome, but privately the Party's top leaders admitted that the President was unhinged…. Johnson had proposed an alternative that allowed members to skirt the question. According to a detailed report, published last year in the Times, he suggested that House Republicans could vote against certifying the results not just because of fraud, which no one could prove, but on arcane legal grounds. 'Constitutional infirmity,' Johnson called them. Many states had modified their voting procedures in response to the pandemic. But in the process, he argued, they had violated the Constitution. According to Johnson's theory, they could only make changes to election protocol with the approval of each state's own legislature; as a result, Republicans could rule out the results." • This is the only useful nugget in a babbling brook of aghastide, and it's wrong (and whatever happened the New Yorker's vaunted fact-checking department?). I went and found Johnson's amicus brief–

"Motion for Leave to File Brief Amicus Curiae and Brief Amicus Curiae of U.S. Representative Mike Johnson and 125 Other Members of the U.S. House of Representatives in Support of Plaintiff's Motion for Leave to File a Bill of Complaint and Motion for a Preliminary Injunction" (PDF) [Supreme Court of the United States]. An amicus brief for December 2020's Texas v. Pennsylvania, which is a bit of a grab bag, involving the "Electors Clause" (more later), intrastate differences in the treatment of voters, and "material illegality" during the balloting process in the defendant states (PA, GA, MI, WI).

• The remedy sought by TX Attorney General Ken Paxton in Texas was "[to] enjoin the use of unlawful election results without review and ratification by the Defendant States' legislatures and remand to the Defendant States' respective legislatures to appoint Presidential Electors in a manner consistent with the Electors Clause and pursuant to 3 U.S.C. § 2." The Supreme Court declined to hear the case based on standing: "[T]he justices explained that Texas lacked a legal right to sue, known as standing, and did not have a legal interest in how other states carried out their elections. As a result, the court rejected Texas' lawsuit without considering the merits of the state's case. Virtually all legal experts had given the lawsuit little chance of succeeding from the moment it was filed."

• What Johnson did in his amicus brief was toss out the woo woo ("material illegality"), toss out differential treatment of voters, and focus only on the Electors Clause: "Art. II, § 1, cl. 2, directs that: "Each State shall appoint, , a Number of Electors, equal to the whole Number of Senators and Representatives to which the State may be entitled in the Congress." From there, Johnson shows that in the defendant states, balloting processes (mail drops, etc.) were in fact changed by officials in the legislative branch, without legislative approval. Johnson concludes: "As members of the federal legislature, these amici seek to protect the constitutional role of state legislatures in determining the manner by which states choose their electors." Now, both the Texas brief (in part) and Johnson's brief (wholly) seem to be based on the "independent state legislature theory," which is controversial to say the least, but Johnson's brief is focused and to the point, unlike Paxton's prolix screed. It's also a piece of clever lawyering that did the Republicans a big, big favor: It gave them a brief they could sign onto, both pleasing Trump and above all not buying into the woo woo being emitted by Trump's circus of bent lawyers. No wonder he's such a likeable fellow. Commentary:

worrying pic.twitter.com/2Pd51MdBrb

— derek guy (@dieworkwear) October 27, 2023

I think Derek Guy is a great account, and Mike Johnson (R-Brylcream) muscling in on it is to be deplored.

* * *

"The future looks Republican" [The Spectator]. "[W]hatever Trump might have done right or wrong with respect to Covid in 2021, the pandemic would have remained a source of bad headlines. With Afghanistan and Covid as defining issues of the first half of Trump's second term, congressional Republicans would have faced brutal results in the 2022 midterms. Six-year midterms are historically agonizing for the party in the White House. With Trump in the White House, and in that issue environment, no political handicapper can have any doubt about GOP fortunes in 2022. There's no point in guessing what would have happened in the last two years of a second consecutive Trump term, but given the scenarios above, and the fact that a two-term president has been succeeded in office by a member of his own party only once since the 1950s, one can predict with confidence that Republicans would not be on track to keep the White House in 2024. And a younger, more energetic Democrat than Joe Biden would be lined up to crush Mike Pence that November. Instead, Biden is president, and the Democrats are facing a grim 2024." • Plausible, or cope?
Democrats en Déshabillé
Patient readers, it seems that people are actually reading the back-dated post! But I have not updated it, and there are many updates. So I will have to do that. –lambert

I have moved my standing remarks on the Democrat Party ("the Democrat Party is a rotting corpse that can't bury itself") to a separate, back-dated post, to which I will periodically add material, summarizing the addition here in a "live" Water Cooler. (Hopefully, some Bourdieu.) It turns out that defining the Democrat Party is, in fact, a hard problem. I do think the paragraph that follows is on point all the way back to 2016, if not before:

The Democrat Party is the political expression of the class power of PMC, their base (lucidly explained by Thomas Frank in Listen, Liberal!). ; if the Democrat Party did not exist, the PMC would have to invent it. . ("PMC" modulo "class expatriates," of course.) Second, all the working parts of the Party reinforce each other. Leave aside characterizing the relationships between elements of the Party (ka-ching, but not entirely) those elements comprise a network — a Flex Net? An iron octagon? — of funders, vendors, apparatchiks, electeds, NGOs, and miscellaneous mercenaries, with assets in the press and the intelligence community.

Note, of course, that the class power of the PMC both expresses and is limited by other classes; oligarchs and American gentry (see 'industrial model' of Ferguson, Jorgensen, and Jie) and the working class spring to mind. Suck up, kick down.

* * *
Realignment and Legitimacy
"Often in error but still seductive: Why we can't quit election polls" [The Conversation]. "Significantly, election polling benefits from a what-else-is-there attitude among journalists, opinion researchers, historians of public polling and politicians that no other reasonably accurate options exist in sampling the public's views and attitudes. Extensive interviewing by political journalists, an earnest technique called 'shoe-leather' reporting, occasionally has been tried by news organizations seeking an alternative to reliance on polls. But such experiments have produced little success." • Perhaps we have polls only for narrative purposes? One has to write something, after all.
#COVID19
"I am in earnest — I will not equivocate — I will not excuse — I will not retreat a single inch — AND I WILL BE HEARD." –William Lloyd Garrison
Resources, United States (National): Transmission (CDC); Wastewater (CDC, Biobot; includes many counties; Wastewater Scan, includes drilldown by zip); Variants (CDC; Walgreens); "Iowa COVID-19 Tracker" (in IA, but national data). "Infection Control, Emergency Management, Safety, and General Thoughts" (especially on hospitalization by city).
Lambert here: Readers, thanks for the collective effort. To update any entry, do feel free to contact me at the address given with the plants. Please put "COVID" in the subject line. Thank you!
Resources, United States (Local): AK (dashboard); AL (dashboard); AR (dashboard); AZ (dashboard); CA (dashboard; Marin, dashboard; Stanford, wastewater; Oakland, wastewater); CO (dashboard; wastewater); CT (dashboard); DE (dashboard); FL (wastewater); GA (wastewater); HI (dashboard); IA (wastewater reports); ID (dashboard, Boise; dashboard, wastewater, Central Idaho; wastewater, Coeur d'Alene; dashboard, Spokane County); IL (wastewater); IN (dashboard); KS (dashboard; wastewater, Lawrence); KY (dashboard, Louisville); LA (dashboard); MA (wastewater); MD (dashboard); ME (dashboard); MI (wastewater; wastewater); MN (dashboard); MO (wastewater); MS (dashboard); MT (dashboard); NC (dashboard); ND (dashboard; wastewater); NE (dashboard); NH (wastewater); NJ (dashboard); NM (dashboard); NV (dashboard; wastewater, Southern NV); NY (dashboard); OH (dashboard); OK (dashboard); OR (dashboard); PA (dashboard); RI (dashboard); SC (dashboard); SD (dashboard); TN (dashboard); TX (dashboard); UT (wastewater); VA (dashboard); VT (dashboard); WA (dashboard; dashboard); WI (wastewater); WV (wastewater); WY (wastewater).
Resources, Canada (National): Wastewater (Government of Canada).
Resources, Canada (Provincial): ON (wastewater); QC (les eaux usées); BC, Vancouver (wastewater).
Hat tips to helpful readers: anon (2), Art_DogCT, B24S, CanCyn, ChiGal, Chuck L, Festoonic, FM, FreeMarketApologist (4), Gumbo, hop2it, JB, JEHR, JF, JL Joe, John, JM (10), JustAnotherVolunteer, JW, KatieBird, LL, Michael King, KF, LaRuse, mrsyk, MT, MT_Wild, otisyves, Petal (6), RK (2), RL, RM, Rod, square coats (11), tennesseewaltzer, Utah, Bob White (3).
Stay safe out there!
* * *
Maskstravaganza
"Quantitative errors in the Cochrane review on 'Physical interventions to interrupt or reduce the spread of respiratory viruses'" (preprint) [arXiv]. "Our analysis of the Cochrane review and Loeb 2022 thus far demonstrates that these empirical studies utilize approaches for analysis that make unfounded assumptions in estimating effects. While the methods are conventional, they follow a pro-forma context that is not grounded in the circumstances of the trials and observational studies. In this section we introduce additional errors due to missing data, including on non-study participants, as well as compounding effects." And:

Figure 2: A failure to evaluate assumptions and incorporate mathematical equations that correspond to study conditions leads to incorrect conclusions. The first row shows a standard representation of estimates of effects and confidence intervals. In many randomized controlled trials (RCTs) and meta-analyses, random effects equations (second row and Appendix A) are used to account for the impact of unobserved effects that result in random differences between study groups, but do not address systematic biases. Rows 3 through 8 in the table show . Examples of how they appear in such studies are described in the text, including changes in variables, corrected equations for results (dashed rectangles) and consequences for conclusions. Conclusions revised based on these corrections are dramatically different from those drawn from individual studies and meta-analyses. The differences extend to estimates of effect size, confidence intervals, statistical significance, and the magnitude of benefit."

Holy [family blog]!
Vaccines
"2% of kids and 7% of adults have gotten the new COVID shots, US data show" [Associated Press]. "One expert called the rates 'abysmal.' The numbers, presented Thursday at a meeting held by the Centers for Disease Control and Prevention, come from a national survey of thousands of Americans, conducted two weeks ago. The data also indicated that nearly 40% of adults said they probably or definitely will not get the shot. A similar percentage of parents said they did not plan to vaccinate their children. In the late summer, government health officials made the nation's COVID-19 vaccination campaign more like the annual flu campaign. Officials approved updated shots that have a single target, an omicron descendant named XBB.1.5. They replaced vaccines that targeted the original coronavirus strain and a much earlier omicron version. Last month, the CDC recommended the new shots for everyone 6 months and older." • If you look at CDC's variant chart (fresh today) you will see that XBB.1.5 barely registers; it's last month's news, or the month before that. I'm not a vax maven, and I would bet that the updated shot does apply to the new variants (to some degree), but what horrid failure in scientific comumunication this story is, if that's true. Amidst the larger failure of 7% takeup. And yet there's Mandy, swanning about the country unmasked, being photographed grinning at people. (NOTE: I would bet most people think of flu vaccines as nice-to-have, not have-to-have. I certainly do. So why CDC thought harnessing it's Covid effort to the existing flu infratructure would do anything other than decrease uptake is beyond me.

"How to get the new COVID vaccine for free, with or without insurance" [CBS]. "Federal health authorities are urging Americans to reach out to their insurers after reports of some people encountering trouble getting their new COVID-19 vaccine shot for free. Those issues have arisen despite programs and requirements designed to make the shots available at no out-of-pocket cost for all Americans. The hurdles are new to this year's commercial rollout of COVID-19 vaccines from Moderna and Pfizer [but not, apparently, Novavax], which are now listed for more than $100 on the private market. Earlier during the pandemic, vaccines and boosters had all been paid for by the federal government." A hundred bucks is cheap for a heart attack, so its hard to account for the uptake issues on that basis. More: "'There have been a number of [and] shipping of vaccines,' Dr. Céline Gounder, CBS News medical contributor and editor-at-large for public health at KFF Health News, said on 'CBS Mornings' Tuesday. Officials say this year's hiccups in coverage of the shots should be temporary, as insurers and vaccinators work to iron out issues in the systems that handle billing for the shots." • Of course! The billing codes! BWA-HA-HA-HA-HA!!!! The billing codes that shouldn't even exist. We had a single payer system. Then we got rid of it. Then everything screwed up. Perhaps there's a lesson here?
Sequelae
'Tis a mystery!

Staying in Motel.
Having a wine with wife on our mini balcony which overlooks the motels restaurant.
A man, his wife and 2 kids walk out and then he says to her
"I don't know what it is lately, but every time I have been out for dinner in the last month everything taste like…

— Michael Livingston (@DrMLivingston) October 27, 2023

No recent anecdata on Yankee Candles, however.

"Serotonin reduction in post-acute sequelae of viral infection" [Cell]. From the Abstract: "Several hypotheses have been formulated to explain the etiology of PASC, including viral persistence, chronic inflammation, hypercoagulability, and autonomic dysfunction. Here, we propose a mechanism that links all four hypotheses in a single pathway and provides actionable insights for therapeutic interventions. We find that PASC are associated with serotonin reduction. Viral infection and type I interferon-driven inflammation reduce serotonin through three mechanisms: diminished intestinal absorption of the serotonin precursor tryptophan; platelet hyperactivation and thrombocytopenia, which impacts serotonin storage; and enhanced MAO-mediated serotonin turnover. Peripheral serotonin reduction, in turn, impedes the activity of the vagus nerve and thereby impairs hippocampal responses and memory. These findings provide a possible explanation for neurocognitive symptoms associated with viral persistence in Long COVID, which may extend to other post-viral syndromes."
"Something Awful"
Lambert here: I'm getting the feeling that the "Something Awful" might be a sawtooth pattern — variant after variant — that averages out to a permanently high plateau. Lots of exceptionally nasty sequelae, most likely deriving from immune dysregulation (says this layperson). To which we might add brain damage, including personality changes therefrom.

Airborne AIDS:

HIV wasn't discovered until AFTER people started getting rare diseases: CMV, Kaposi sarcoma, fungal infections,toxoplasmosis. Most were initially asymptomatic. Now↗️strep A, fungal infections, reactivated Shingles. All show Immune deficiency .1/

— Rob Graham (@rcgnrcp) October 27, 2023

And:

C19 hides in macorophages (they eat & kill intruders) & "cloaks" itself, blinding the immune system to its presence. It erases immune memory of other pathogens, which makes U > prone 2 catching them (measles does 2). It reactivates Epstein Barr & Varicella. Am I getting through?

— Rob Graham (@rcgnrcp) October 27, 2023

For those whose memory of the AIDS crisis is better than mine, didn't AIDS initially present as a [cough] "mild flu"? And didn't AIDS also have epithelial effects?

* * *
Elite Maleficence
I'm glad to see 60 minutes focus on #CovidIsAirborne:

When COVID-19 surfaced in 2020, the medical field missed something, and it cost lives.

Airborne viruses can travel much further than originally thought. To curb infection, we should have focused on indoor air systems. @DrLaPook reports, Sunday. https://t.co/mEN4CWeXMW pic.twitter.com/SKmMZ6EBM2

— 60 Minutes (@60Minutes) October 26, 2023

OTOH, the exoneration of WHO, CDC, the public health administration, and two Administrations is a little hard to take.

"How Soap Works: The Science Behind Handwashing" [Pfizer]. "While there's still much we don't understand about COVID-19, there's one piece of advice that experts in the health care community agree on: washing your hands with soap and water is one of the most effective ways people can keep from getting sick, and from passing the virus to others." • To be fair, here's Pfizer on masks, though they won't use the words "airborne" or "aerosol," sticking to the obfuscatory "
* * *
Case Data
UPDATE Great news:
📣 Data update: we are moving back to regular weekly updates TODAY! 100+ counties represented. We've been providing Covid ww data since the earliest days of the pandemic, & expanded to #flu & #RSV for all sites in the Biobot Network. More updates to come! https://t.co/har8c6dLbU

— Biobot Analytics (@BiobotAnalytics) October 27, 2023
I'll need to check out if their coverage has changed, but nevertheless, great news (in short supply, lately).
From BioBot wastewater data, October 27:
Regional data: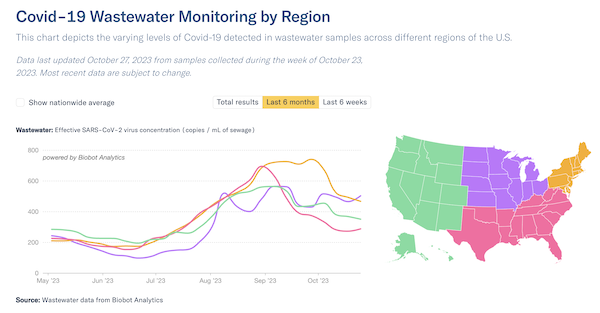 Variants
From CDC, October 28: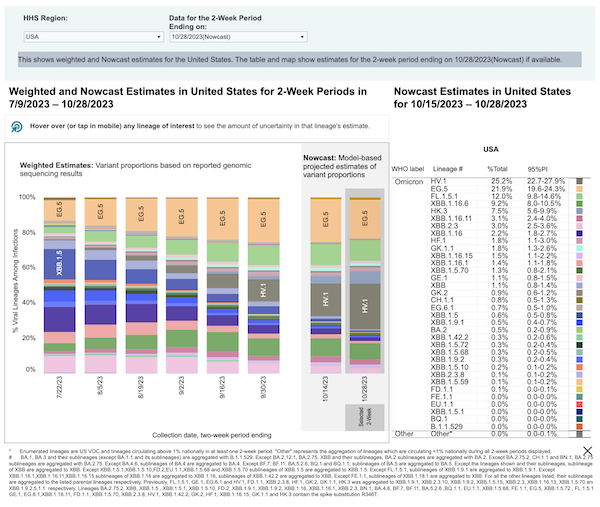 Lambert here: Top of the leaderboard: HV.1, EG.5 a strong second, with FL.1.15.1 and XBB.1.1.16.6 trailing. No BA.2.86 (although that has showed up in CDC's airport testing). Still a Bouillabaisse…
From CDC, October 14: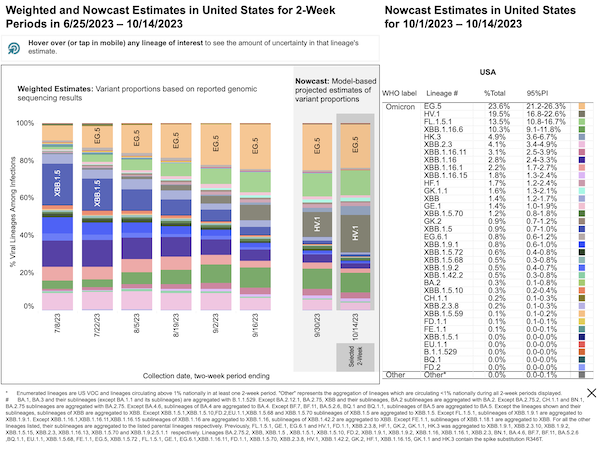 Lambert here: I sure hope the volunteers doing Pangolin, on which this chart depends, don't all move on the green fields and pastures new (or have their access to facilities cut by administrators of ill intent).
CDC: "As of May 11, genomic surveillance data will be reported biweekly, based on the availability of positive test specimens." "Biweeekly: 1. occurring every two weeks. 2. occurring twice a week; semiweekly." Looks like CDC has chosen sense #1. In essence, they're telling us variants are nothing to worry about. Time will tell.
Covid Emergency Room Visits
NOT UPDATED From CDC NCIRD Surveillance, October 21: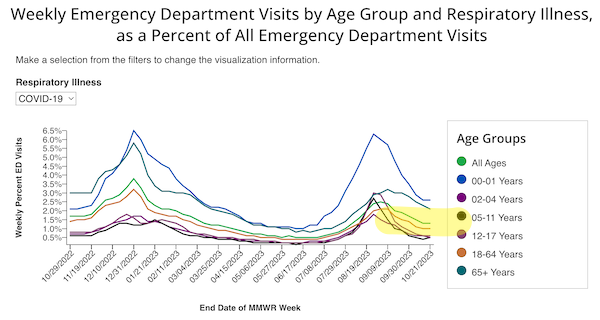 Lambert here: Flattening? Only a week's lag, so this may be our best current nationwide, current indicator until Verily gets its house in order (and working class-centric, since I would doubt the upper crust goes to the ER).
NOTE "Charts and data provided by CDC, updates Wednesday by 8am. For the past year, using a rolling 52-week period." So not the entire pandemic, FFS (the implicit message here being that Covid is "just like the flu," which is why the seasonal "rolling 52-week period" is appropriate for bothMR SUBLIMINAL I hate these people so much. Notice also that this chart shows, at least for its time period, that Covid is not seasonal, even though CDC is trying to get us to believe that it is, presumably so they can piggyback on the existing institutional apparatus for injections.
Hospitalization
Bellwether New York City, data as of October 27: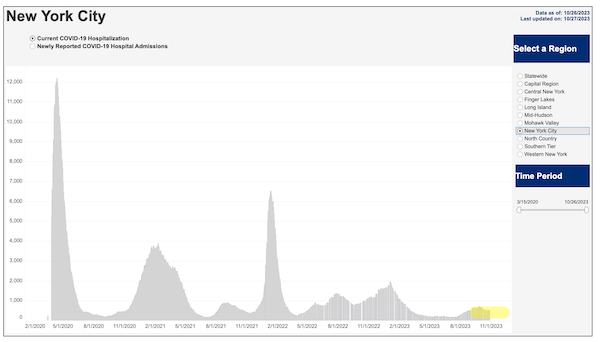 Leveling at a high plateau (which previous peaks didn't do). (I hate this metric because the lag makes it deceptive, although the hospital-centric public health establishment loves it, hospitalization and deaths being the only metrics that matter [snort]).
NOT UPDATED Here's a different CDC visualization on hospitalization, nationwide, not by state, but with a date, at least. October 14:
Lambert here: "Maps, charts, and data provided by CDC, updates weekly for the previous MMWR week (Sunday-Saturday) on Thursdays (Deaths, Emergency Department Visits, Test Positivity) and weekly the following Mondays (Hospitalizations) by 8 pm ET†". So where the heck is the update, CDC?
Positivity
NOT UPDATED From Walgreens, October 23: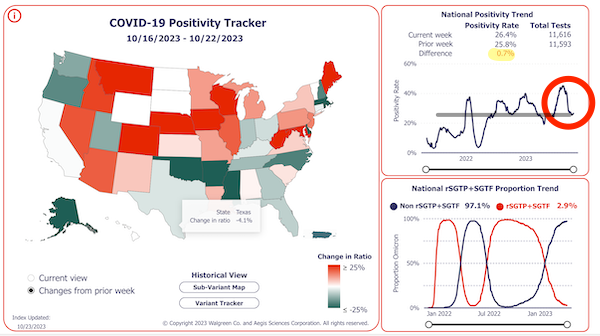 0.7%. Slight increase. (It would be interesting to survey this population generally; these are people who, despite a tsunami of official propaganda and enormous peer pressure, went and got tested anyhow.)
NOT UPDATED From Cleveland Clinic, October 21: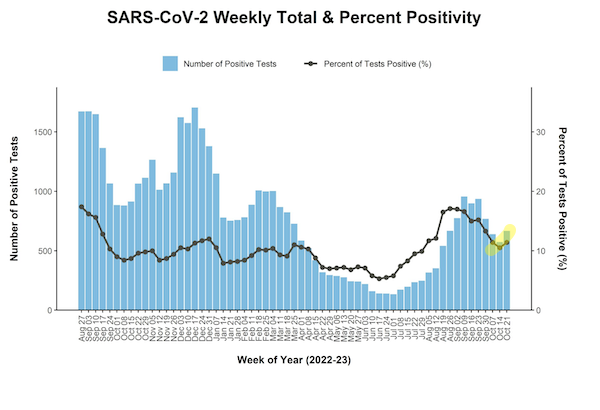 Lambert here: Slight increase. I know this is just Ohio, but the Cleveland Clinic is good*, and we're starved for data, so…. NOTE * Even if hospital infection control is trying to kill patients by eliminating universal masking with N95s.
NOT UPDATED From CDC, traveler's data, October 9: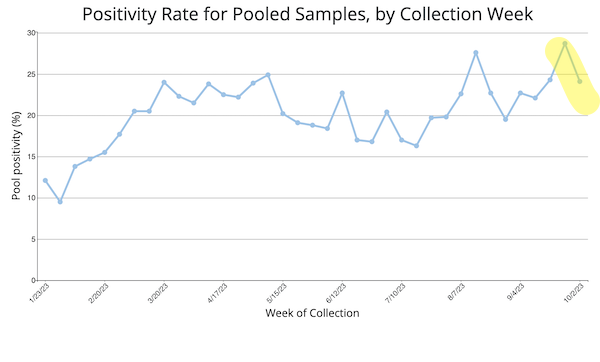 Down, albeit in the rear view mirror. And here are the variants for travelers: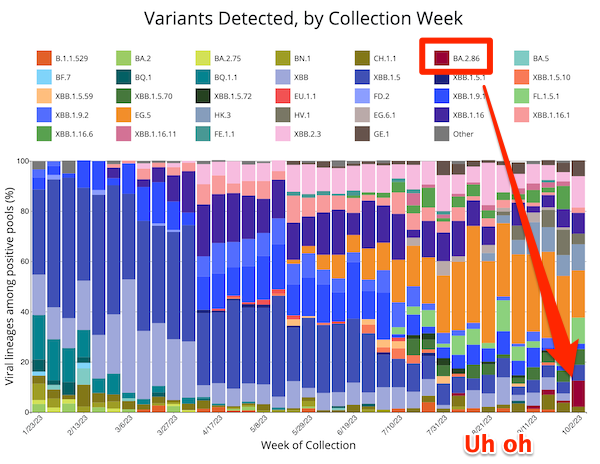 Sudden big BA.2.86 appearance.
Deaths
NOT UPDATED Iowa COVID-19 Tracker, September 27: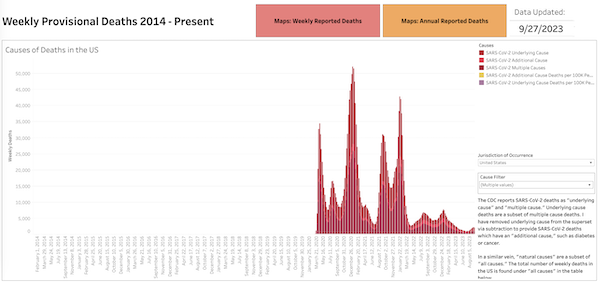 Lambert here: The WHO data is worthless, so I replaced it with the Iowa Covid Data Tracker. Their method: "These data have been sourced, via the API from the CDC: https://data.cdc.gov/NCHS/Conditions-Contributing-to-COVID-19-Deaths-by-Stat/hk9y-quqm. This visualization updates on Wednesday evenings. Data are provisional and are adjusted weekly by the CDC." I can't seem to get a pop-up that shows a total of the three causes (top right). Readers?
Total: 1,180,376 – 1,180,288 = 88 (88 * 365 = 32,120 deaths per year, today's YouGenicist™ number for "living with" Covid (quite a bit higher than the minimizers would like, though they can talk themselves into anything. If the YouGenicist™ metric keeps chugging along like this, I may just have to decide this is what the powers-that-be consider "mission accomplished" for this particular tranche of death and disease). 
Excess Deaths
The Economist, October 27: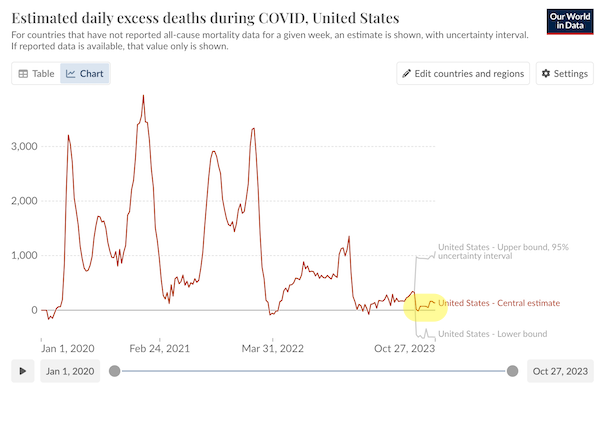 Lambert here: Based on a machine-learning model.
• Maybe I should junk this chart….
This is how you bury a pandemic

Just move your baseline forward so that the new normal incorporates the new normal level of endemic death@Connardanonyme1 @arijitchakrav @heavyredaction pic.twitter.com/GV5PFmJg6G

— Gregory Travis. Make schools #DavosSafe (@greg_travis) October 25, 2023
Stats Watch
Personal Income: "United States Personal Income" [Trading Economics]. "Personal income in the United States increased by 0.3% from a month earlier in September 2023, following a 0.4% rise in August and slightly below market consensus of 0.4%."
* * *
Today's Fear & Greed Index: 26 Fear (previous close: 25 Extreme Fear) [CNN]. One week ago: 26 (Fear). (0 is Extreme Fear; 100 is Extreme Greed). Last updated Oct 27 at 1:45:02 PM ET.
Gunz
"Maine Democrat calls for assault weapons ban after past opposition" [The Hill]. Rep. Jared Golden (D-Maine):
'Out of fear of this dangerous world that we live in, in my determination to protect my own daughter and wife in our own community, because of a false confidence that our community was above this and that we could be in full control, among many other misjudgments, I have opposed efforts to ban deadly weapons of war, like the assault rifle used to carry out this crime,' Golden said at a press conference Thursday.

"The time has now come for me to take responsibility for this failure, which is why I now call on the United States Congress to ban assault rifles, like the one used by the sick perpetrator of this mass killing in my hometown of Lewiston, Maine," he continued. "For the good of my community, I will work with any colleague to get this done in the time that I have left in Congress."

"To the people of Lewiston, my constituents throughout the 2nd District, to those who lost loved ones and to those who have been harmed, I ask for forgiveness and support as I seek to put an end to these terrible shootings," he said.
"'How Much Blood Is Your Fun Worth?'" [The Alantic]. "People own AR-15s because they think they're sexy and cool and manly. Because they have barely any recoil and Army surplus ammo is cheap. Because their buddies have them, so why shouldn't they? Because they are toys—the most dangerous toys in America, but toys nonetheless…. And if the past 24 hours have convinced me of anything, it is that the only way things are ever going to get better is if more gun owners start asking our friends the one question that matters: How much blood is your fun worth?"
Healthcare
"Half of US states had antiviral shortages in 2022-23 flu season" [Center for Infectious Disease Research and Policy]. "Over half of US state and territorial public health preparedness directors (PHPDs) surveyed said they experienced shortages of flu antiviral drugs such as oseltamivir (Tamiflu) during the 2022-23 respiratory virus season, forcing many to turn to national or state stockpiles…. 'It is possible that local antiviral shortages were due to earlier and higher than expected influenza activity in the 2022-2023 influenza season compared with the 2020-2021 and 2021-2022 influenza seasons, with consequent higher demand for oseltamivir,' the study authors wrote, adding that the results highlight the need to monitor local and national antiviral supply distribution." • I wonder why. 'Tis a mystery!
News you can use:
RED FLAG: if your family member gets a pressure ulcer in a hospital and the FIRST time it appears in the reports you get it is labeled a "reassessment," that's a red flag that the hospital is already in the process of altering records to falsely say it was diagnosed at admission.

— Olive Siffleur (@OliveSiffleur) October 27, 2023
Zeitgeist Watch
I meant to pair these two yesterday, but misplaced the second:
Yikes (1):
IDF soldiers having time to rave on base and make TikToks? This and genocide is what our tax is funding 👍🏽 pic.twitter.com/DSXNaPstsk

— Sameen 🇵🇸 (@littlecherubbb) October 19, 2023
Yikes (2):
🇮🇱 Israeli people on TikTok are MOCKING Palestinians about bombings, their lack of electricity and even comparing them to dogs.#Gaza_Genocide #ArmiesToAqsa #Gazabombing Israel Palestine#turkey #Gaza #israelterrorist#iran #Gaza #كتائب_القسامpic.twitter.com/OR1U6Udpvj

— Aisha (@aisha_c10) October 26, 2023
Once again:
I give up. Why can't they?
But on a more optimistic note:
Friday morning in Forest Hills, Queens. Seems like some good old New Yorkers are pissed. pic.twitter.com/TY7gcV9nak

— NYScanner (@nyscanner) October 27, 2023
Class Warfare
"Mayan Seeds Against Feminist Monoculture" [Counterpunch]. "'Feminist friends told me: Aura, you are a woman first and then you are Mayan. And we got entangled in those discussions that made no sense to me (…) Whoever is prioritizing a level of the struggle is speaking from one place, they are doing politics from one place and they are doing academia from one place. The people who are fighting because they are women are not being threatened with the threat that their people could be exterminated, that the river could be carried away, because they enjoy certain safe conditions that allow them to say 'now I fight because I am a woman', but that's not the case for indigenous women and rural women.""
News of the Wired
"Grammar Changes How We See, an Australian Language Shows" [Scientific American]. "Field linguists, whose work brings them regularly into contact with the stunning diversity of the world's languages, also have long doubted the idea that a person's native language has no impact on their thought processes…. The studies Levinson described demonstrated a clear relation between the grammar of a participant's language—specifically, the way words were ordered in it—and the way the person assessed a picture. For example, with a picture of a woman washing a child, English speakers, who perceived the woman as the subject, tended to look at the woman first…. Tseltal speakers did it differently. The grammar of Tseltal, spoken in Chiapas, Mexico, obliges speakers to produce a verb first. So when a group from Levinson's laboratory used eye tracking to understand sentence planning and production in Tseltal, the researchers found that speakers viewed the woman and the child more evenly, looking back and forth between the two. Psycholinguists call this relational encoding… Murrinhpatha [has no word order]. In that initial window the Murrinhpatha speakers were looking evenly back and forth across both characters in the scene, getting a sense of the entire event. Then, once they had decided which word order they were going to use, they started to look primarily at the character they mentioned first. At that point a person who produced a sentence that started with, say, the woman instead of the child spent more time looking at the woman. If instead they produced a sentence that started with the child, they spent more time looking at the child. Essentially, Nordlinger explains, "what a speaker looked at first in a sustained way after the initial 400-millisecond window was the thing that they mentioned first.'" • Bordieu stans: I would file this under "habitus." Yes?
"A Third of Chocolate Products Are High in Heavy Metals, CR's Tests Find" [Consumer Reports]. "As expected, dark chocolates tended to have higher levels of heavy metals and milk chocolate lower. 'But every product we tested had detectable amounts of lead and cadmium,' says James E. Rogers, PhD, director and acting head of product safety testing at CR. 'Sixteen of the 48 products had amounts above CR's levels of concern for at least one of the heavy metals—in some cases more than twice our limit—but we did find safer options in each category of chocolate products.'"
* * *
Contact information for plants: Readers, feel free to contact me at lambert [UNDERSCORE] strether [DOT] corrente [AT] yahoo [DOT] com, to (a) find out how to send me a check if you are allergic to PayPal and (b) to find out how to send me images of plants. Vegetables are fine! Fungi and coral are deemed to be honorary plants! If you want your handle to appear as a credit, please place it at the start of your mail in parentheses: (thus). Otherwise, I will anonymize by using your initials. See the previous Water Cooler (with plant) here. From TH: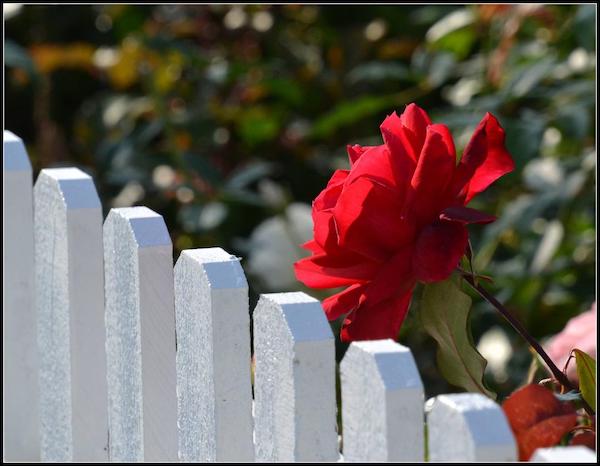 TH writes: "I've never had a camera that could duplicate the vibrancy of red well. I'd worry that it's me doing something wrong, but I notice on tv shows that red jumps around when anyone is wearing it, so I think it's more likely that wave length isn't as easily contained as others. That never stops me from running up to a beautifully vibrant red rose though, so here's yet another attempt gone afoul."
* * *
Readers: Water Cooler is a standalone entity not covered by the annual NC fundraiser. So if you see a link you especially like, or an item you wouldn't see anywhere else, please do not hesitate to express your appreciation in tangible form. Remember, a tip jar is for tipping! Regular positive feedback both makes me feel good and lets me know I'm on the right track with coverage. When I get no donations for five or ten days I get worried. More tangibly, a constant trickle of donations helps me with expenses, and I factor in that trickle when setting fundraising goals:
Here is the screen that will appear, which I have helpfully annotated: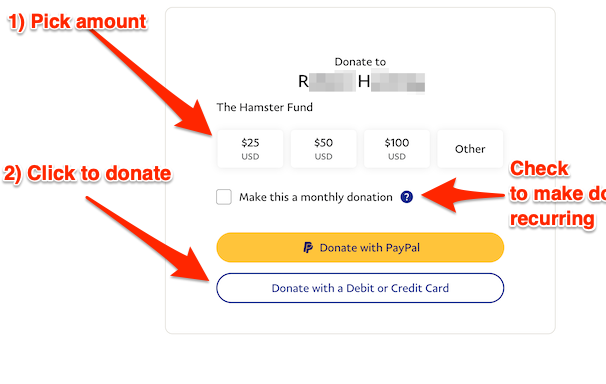 If you hate PayPal, you can email me at lambert [UNDERSCORE] strether [DOT] corrente [AT] yahoo [DOT] com, and I will give you directions on how to send a check. Thank you!