By Lambert Strether of Corrente.
Bird Song of the Day
Great White Pelican, Lake Ziway–southwestern shore, Oromia, Ethiopia. "Calls from a large group of birds on a large pool of water separated from the main lake, given as they were fed fish by a local. The loud splashing occurs every time a fish was thrown at the group and they would all lunge for it."
* * *
Politics
"So many of the social reactions that strike us as psychological are in fact a rational management of symbolic capital." –Pierre Bourdieu, Classification Struggles
Our Famously Free Press
"Newsguard Case Highlights the Pentagon's Censorship End-Around" [Matt Taibbi, Racket News]. "On September 7, 2021, the U.S. Department of Defense gave an award of $749,387 to Newsguard Technologies, a private service that scores media outlets on 'reliability' and 'trust.' According to the suit, roughly 40,000 subscribers buy Newsguard subscriptions, getting in return a system of "Nutrition Labels" supposedly emphasizing 'safe' content. Importantly, Newsguard's customers include universities and libraries, whose users are presented with labels warning you that CBS is great and Tucker Carlson is dangerous…. Consortium News was labeled a purveyor of 'disinformation,' 'misinformation,' and 'false content,' and, worst of all, 'anti-U.S.' This is despite the fact that, according to the suit, Newsguard only flagged six articles out of the tens of thousands Consortium News has published since the late award-winning reporter Robert Parry founded it in 1995. … When Michael Shellenberger and I testified before Congress in March, we mentioned Newsguard as a 'government-funded' ratings service. I was quickly contacted by email by co-CEO Gordon Crovitz, who hastened to correct me: Newsguard isn't government-funded, but merely an organization that receives government funds…. I immediately wrote back: "You're not funded by the U.S. government, except for a $750,000 Pentagon award?"…. Crovitz finally answered, writing: 'We are 'government funded' in the same way that Verizon is 'government funded: We have licensed data to the government for a fee, just as Verizon has provided telco services for a fee.'… The conceit about funding isn't complicated, but it works. Because Newsguard has other customers, it can claim to be an "independent" news service that just happens to downgrade news reports that contradict and/or criticize the policy of its major client, the Department of Defense…. The suit also details what I think is the more insidious part of the system. In the guise of an independent news service, Newsguard contacts outlets and interrogates them about disputed content, not-so-subtly pressing for retractions." • $750,000 is couch change. But enough to harm small fry like Consortium News!

"Washington Post Completely Botches Chaturbate Rules in Virginia Candidate Takedown" [The Intercept]. "The Washington Post had a salacious tip on its hands, graciously gifted to the newspaper by an unnamed Republican operative ahead of a crucial Virginia legislative election. The paper also had a problem: The activity the tip exposed was between consenting adults. But it was also rather sensational — sex and voyeurism on the internet — so there had to be a way to get it into print. The map through that thicket was also provided, it appears, by the same operative. The paper framed the story around an allegation that was elegant if a little absurd: Democratic candidate Susanna Gibson, it was alleged, had violated the terms of service of the sex site Chaturbate by soliciting monetary tips for performing specific acts with her husband. According to a snippet of the terms of service quoted by the Post, Chaturbate's policy states that 'requesting or demanding specific acts for tips may result in a ban from the Platform for all parties involved.' So it was that six of the resulting article's first 10 paragraphs zeroed in on the claim that Chaturbate's terms of service don't allow performers to request tips for specific sex acts, followed by multiple examples of Gibson having done so. The message to Post readers was clear: What consenting adults do among themselves is their business, but if a candidate can't be trusted with Chaturbate's terms of service, how can she be trusted with public office?" However: "A complete reading of the website's terms of service, testimony from users of the site, and a Chaturbate official reveal that the policy applies not to performers like Gibson, but to users of the site, who are not allowed to demand performers do specific acts in exchange for a tip." • Oppo — dumped!
2024
Time for the Countdown Clock!

* * *

"Ex-Chief of Staff Mark Meadows granted immunity, tells special counsel he warned Trump about 2020 claims: Sources" [ABC]. "Former President Donald Trump's final chief of staff in the White House, Mark Meadows, has spoken with special counsel Jack Smith's team at least three times this year, including once before a federal grand jury, which came only after Smith granted Meadows immunity to testify under oath, according to sources familiar with the matter…. As described to ABC News, Meadows privately told Smith's investigators that — to this day — he has yet to see any evidence of fraud that would have kept now-president Joe Biden from the White House, and he told them he agrees with a government assessment at the time that the 2020 presidential election was the most secure election in U.S. history. Under the immunity order from Smith's team, the information Meadows provided to the grand jury earlier this year can't be used against him in a federal prosecution…. While speaking with investigators, Meadows was specifically asked if Trump ever acknowledged to him that he'd lost the election. Meadows told investigators he never heard Trump say that, according to sources."

"Tearful Jenna Ellis Pleads Guilty as 'Attorney Who's Also a Christian'" [The Roys Report]. "Accepting a plea deal with the Fulton County district attorney's office, Ellis pleaded guilty to one felony count of aiding and abetting false statements and writings. The statements concerned Ellis telling lawmakers in Georgia that fake votes were counted in the 2020 presidential election. She also agreed to provide evidence potentially implicating other defendants in the sweeping criminal racketeering case and to testify in any future trials."

"Trump Moves to Dismiss January 6 Case" [Declassified with Julie Kelly]. "There is no love lost between both sides and the judge. Chutkan scolded John Lauro, Trump's lead attorney in the January 6 case, numerous times during the October 16 hearing in her Washington courtroom to debate Smith's proposed gag order. At one point, she admonished Lauro for giving a "campaign" speech while at times raising her voice and pointing her finger at him. More fireworks can be expected in the near future over Trump's motions to dismiss the case based on three challenges: selective and vindictive prosecution; statutory grounds; and constitutional grounds. (Smith also indicted Trump in June in the Southern District of Florida for mishandling national defense information and obstructing the investigation.)… [T]he selective prosecution motion accused Biden of pressuring officials at his Department of Justice to open an investigation into the former president… The motion to dismiss on statutory grounds challenged the evidence contained in Smith's 45-page indictment—some referred to it as a 'speaking' indictment after it was filed, meaning the document acted more as a public relations vehicle then a legal one—that detailed Trump's alleged scheme to stay in power after the 2020 election…. And in a bit of shade-throwing, Lauro cited McDonnell v United States, the successful appeal of former Virginia Governor Robert McDonnell's 2014 fraud conviction, to blast Smith's 'expansive interpretation' of fraud that 'criminalize[s] broad swaths of ordinary political interactions.'… Lauro, understandably, made his most impassioned plea to dismiss the case based on the grounds it violates Trump's Constitutional rights. '[The] indictment must be dismissed because it seeks to criminalize core political speech and advocacy that lies at the heart of the First Amendment,' Lauro wrote in the third motion…. It's unlikely these motions will go anywhere in Chutkan's courtroom except to provide more fodder for her surliness toward Team Trump. For now, Trump's lawyers should just sharpen their arguments for the inevitable showdown at the Supreme Court."

"Trump Preps for an Avalanche of Co-Conspirators to Flip" [Rolling Stone]. "Since the summer, Donald Trump's legal teams have been wracked by one abiding fear: betrayal. On one front, the former president's inner circle has fretted about how many co-defendants in the Fulton County criminal case — or co-conspirators in the special counsel probes — might turn against him, accept a plea deal, and cooperate with the prosecutors. But lingering beneath the fear of disloyalty lies another, darker fear about whether anyone anyone still working in, or close to, Trump's inner orbit could already secretly be working with prosecutors. For months, Trump, his lawyers, and advisers have been preparing for a potential onslaught of co-defendants flipping on him ahead of trial in the Georgia case. In the last week alone, three prominent co-defendants — ​​Jenna Ellis, Kenneth Chesebro, and Sidney Powell — have all struck plea deals with the district attorney, and the former president and his team are expecting more to come. According to two sources familiar with the situation, and another two people briefed on it, the former president and his inner sanctum have tried for months to ascertain which imperiled Trump allies have been inching towards cutting deals. When Trump has sent his advisers and attorneys on these so-called 'fact-finding' missions this year, they have routinely come up empty — unable to satisfy the former president's demands to know who is preparing to snitch. In the face of this uncertainty, several of Trump's attorneys have been briefing the ex-president on what one source calls 'threat and [potential] damage assessments.'"

* * *

"Biden won't file for New Hampshire Democratic primary" [The Hill]. "President Biden's name will not be on the Democratic primary ballot in New Hampshire in 2024, both his campaign and state Democratic Party confirmed to The Hill on Tuesday. 'While the president wishes to participate in the Primary, he is obligated as a Democratic candidate for President to comply with the Delegate Selection Rules for the 2024 Democratic National Convention promulgated by the Democratic National Committee. On October 24, 2023, the Democratic National Committee's Rules & Bylaws Committee issued guidance urging Democratic campaigns to refrain from placing candidates' names on the ballot,' wrote Biden campaign manager Julie Chavez Rodriguez in a letter obtained by The Hill to state Democratic Party Chair Raymond Buckley…. [This] comes as Rep. Dean Phillips (D-Minn.) is reportedly gearing up to launch a longshot bid for the Democratic nomination against Biden. Phillips has reportedly done outreach in New Hampshire; the Minnesota Democrat is not expected to ultimately draw a competitive contest against the president, but the move would create an unwelcome distraction for Democrats." • I suppose Phillips would then automagically become "the challenger"?

"The Democrats Do Have A Way To Get Rid Of Joe Biden" [1945]. "It is important to note that the filing deadline for Nevada, the earliest in the country, has passed and 14 more states have filing deadlines before the end of the year. That makes it increasingly difficult for anyone to challenge Biden in the primaries. As such, Biden will appear on the primary ballot and is by far the most likely candidate to win the nomination. Yet, the current commander-in-chief could still opt to step down. The Democratic Party would then be forced to elect a candidate at its convention next year. It would be unprecedented in the modern era, to say the least. In other words, the window for the DNC to replace Biden is rapidly closing. Biden thus won't join the ranks of Tyler, Fillmore, Pierce, Johnson, and Arthur, unless he chooses to step out of the race. However, Biden could still become the 17th president who was denied a second term." • I tried to read the Democrat Party bylaws once; they were completely, mind-numbingly impenetrable, especiallly the money-laundering parts. My take is that the DNC, through the Rules and Bylaws Committee, can do whatever the [family blog] they want, whenever they want, and that the bylaws are written with that possibility in mind; see here. (The only real incompressible timeline issue is the actual printing of general election ballots, given that election day is constitutionally fixed.)

The alternative:

KAMALA HARRIS: The falcon…it cannot HEAR the falconer. [NERVOUS LAUGH] Things fall apart!

— kate h.w. bush 🇵🇸🇦🇲 (@ari_ugh_) October 22, 2023

"National survey: Biden has a Latino problem" [Orlando Sentinel]. "Politicians ignore the Hispanic community at their peril. It's contributed the most to U.S. population growth over the last few years, and a new Hispanic becomes eligible to vote every 30 seconds. And Hispanics don't just live in a few pockets of the country — they are moving to every corner…. LIBRE's poll tells us that Latinos sense something is deeply wrong with the economy. Nearly four out of five Hispanics have a negative view of the economy, and 71% say the country is on the wrong track. Drilling more deeply, 84% say inflation has hurt their quality of life. These figures help explain Hispanics' attitude toward Biden: A majority disapprove of his job performance, while he is underwater with independent Hispanics by 28 points. But most alarmingly, the pessimistic attitudes are most prevalent among younger voters. When asked if they agree that the country is declining and that their children will have more limited opportunities, 70% of retirement-age Hispanics agree. Still, a remarkable 85% of those 18 to 34 agree. That means six out of every seven young Latino voters think the country is declining. Those disillusioned voters will be a force not only in the coming presidential and congressional elections but for decades to come. Politicians from both parties can appeal to this group by offering policy solutions that will genuinely improve their lives instead of treating them like an interest group." • Like universal concrete material benefits.

No:

Shouldn't that be "with Joe and Democrats"?

* * *

VA: "Virginia Republicans send explicit "18+ only" ad attacking candidate for sex videos" [Axios]. "The Republican Party of Virginia is sending voters in Henrico County a political mailer labeled 'explicit' and '18+ only.' It's the party's first major swing at Democratic House of Delegates candidate Susanna Gibson over live sex videos she streamed with her husband on the website Chaturbate. Inside the sealed envelope are screenshots and quotes from the videos. In a copy of the two-page mailer obtained by Axios, the screenshots of Gibson are not explicit. But the quotes from the videos are…. The flier also includes a family photo of Gibson and her husband with their two young children, whose faces are blacked out." • I don't know what the Gibsons were thinking, but a salaciously sealed envelope? Really?

VA: "Virginia GOP mails voters explicit flyers about Democrat Susanna Gibson" [NBC]. " Two weeks before Virginia's Nov. 7 election, Virginia's Republican Party has sent voters flyers including explicit content about Democrat Susanna Gibson, who is mired in a sex scandal as she runs for a seat in the Virginia House of Delegates…. The House of Delegates is closely split between Democrats and Republicans. Republicans hold 48 seats, Democrats hold 46 seats, and six seats are vacant." • Whoops.

VA: "Virginia Democrats defend Susanna Gibson after sex-livestream revelation" [Guardian]. "Youngkin told the station he had not seen the mailers, but felt Gibson should be held accountable. 'This candidate's personal life is something that that candidate needs to explain to people, and the Democratic party needs to have an opinion on this,' he said." • Ah, "needs to." I thought that locution was only for fingerwagging liberal Democrats!
Obama Legacy
"911 call captures frantic moments after Obama family chef drowns at Martha's Vineyard estate" [New York Post]. "Details have been sparse since the July accident and Massachusetts State Police has requested that the identities of witnesses and USSS agents who reported to the scene be redacted from public reports. Campbell, from Dumfries, Virginia, had previously worked as a sous chef at the White House, beginning under President George W. Bush and staying through Obama's two terms. The Obamas later asked him to leave the White House with them and follow as their personal chef." • Fate.

"Obama Chef Death Investigation Update" [Judicial Watch]. Not seeing a lot, and I've only seen sub-Brietbart-level commentary. This caught my eye: "At approximately 8:40PM [redacted]'s motorcade arrived at the ICP [incident command post] and I was introduced to [redacted]. I … along with EFD [Edgartown Fire Dept.] Chief Schaeffer briefed [redacted] on the situation thus far, as well as the search and rescue efforts currently underway. A short time later, [redacted] arrived at the ICP and I was introduced to her. I observed that [redacted] was visibly emotional and was shaking from being cold and wet…. In a preliminary conversation I had with [redacted] and [redacted] [she] informed me that when she initially observed CAMPBELL fall off his paddleboard, began splashing and became extremely panicked, yelling for help and subsequently went underwater very quickly. [Redacted] stated that she immediately discarded her paddleboard and swam over to CAMPBELL as fast as she could in [an] attempt to rescue him." • I'm assuming that the [redacted] person with the motorcade was Obama, and the other [redacted] person was the staffer who tried to rescue Campbell. As I read this, the police talked to both of them at the same time. I don't know if that's odd or not.
Republican Funhouse
Democrats en Déshabillé
Patient readers, it seems that people are actually reading the back-dated post! But I have not updated it, and there are many updates. So I will have to do that. –lambert

I have moved my standing remarks on the Democrat Party ("the Democrat Party is a rotting corpse that can't bury itself") to a separate, back-dated post, to which I will periodically add material, summarizing the addition here in a "live" Water Cooler. (Hopefully, some Bourdieu.) It turns out that defining the Democrat Party is, in fact, a hard problem. I do think the paragraph that follows is on point all the way back to 2016, if not before:

The Democrat Party is the political expression of the class power of PMC, their base (lucidly explained by Thomas Frank in Listen, Liberal!). ; if the Democrat Party did not exist, the PMC would have to invent it. . ("PMC" modulo "class expatriates," of course.) Second, all the working parts of the Party reinforce each other. Leave aside characterizing the relationships between elements of the Party (ka-ching, but not entirely) those elements comprise a network — a Flex Net? An iron octagon? — of funders, vendors, apparatchiks, electeds, NGOs, and miscellaneous mercenaries, with assets in the press and the intelligence community.

Note, of course, that the class power of the PMC both expresses and is limited by other classes; oligarchs and American gentry (see 'industrial model' of Ferguson, Jorgensen, and Jie) and the working class spring to mind. Suck up, kick down.

* * *

"Nearly 300 Bernie Sanders Alumni Call on Senator to Back a Ceasefire in Gaza" [The Intercept]. "In a letter sent Tuesday, former staffers asked Sanders to introduce a Senate-side companion to the 'ceasefire now' resolution in the House; support an end to U.S. funding 'for war crimes against the Palestinian people, the expansion of settlements, and the occupation of Palestinian lands'; and to support an end to the blockade of Gaza. The House ceasefire resolution — led by Reps. Cori Bush, D-Mo.; Rashida Tlaib, D-Mich.; André Carson, D-Ind.; Summer Lee, D-Pa.; and Delia Ramirez, D-Ill. — now has 18 members supporting it. 'President Biden clearly values your counsel, as is shown by the ways you've managed to shape the outcomes of his presidency,' the staffers wrote. 'We urge you to make it clear what is at stake in this crisis politically, morally, and strategically.'"

"How the Democrats betrayed the Jews" [David Mamet, Unherd]. "But there is no more cosy mystery in the antisemitism of the Democratic Party; Representatives are affiliated with the Democratic Socialists and pro-Palestinians, calling for the end of the state of Israel — that is, for the death of the Jews. And Democrat Representatives repeat and refuse to retract the libel that Israel bombed a hospital, in spite of absolute proof to the contrary, and will not call out the unutterable atrocities of Hamas. The writing is on the wall. In blood."

"Exclusive: How did California DMV clean up dead rats in its Fresno office? Emails detail delays" [Sacramento Bee]. "The communiques were obtained through a California Public Records Act request and included 13 email threads from the DMV concerning the issues at the call center at the Manchester Center mall. Records from the city of Fresno's Code Enforcement Division were also obtained that detailed an inspection of the DMV's leased property. The emails paint a more detailed picture of how a few dead rodents festered into a stench that one employee described as 'a dead person that had been sitting in the 110-degree heat for 10 days.' The employees, represented by SEIU Local 1000, say the rodent problem existed for years but that they alerted their union representatives when the stench became unbearable and asked them to intervene. Although a DMV manager initially submitted a complaint about the smell on Sept. 26, Omninet Capital, which manages the building, didn't call in its pest control contractor for a week, the emails show. The emails also reveal that five call center employees filed workers' compensation claims, and two went to the hospital, as a result of the stench. It appears that the building's management also did not install air scrubbers until nearly two-and-a-half weeks after the complaint was originally lodged." • But CalPERS keeps rolling along!
Realignment and Legitimacy
"Mock Constitutional Convention Reveals Far Right's Vision for Rewriting the U.S. Constitution" [Exposed by CMD]. "For three days in August, 115 "commissioners," as convention organizers branded them, from 49 states participated in a mock constitutional convention — simulating an event that legal scholars warn could result in minority rule and a radical curtailment of federal protections if it actually occurred. Right-wing activists have long advocated for a constitutional convention, an untried method for changing the country's founding document provided for in Article V of the Constitution, which empowers states to call for a convention that moves forward once two-thirds of them do so. So far, 19 states have signed on to a resolution from the Convention of States calling for a constitutional convention to radically curtail federal powers. … Convention of States has won passage of its far-reaching convention calls in 19 states, and ALEC-led groups claim that they have28 state applications for their balanced budget amendment proposal — just six shy of the 34 needed to trigger a convention." • There's the usual wing-nut stuff, including term limits and a balanced budget, but here is the sweetener:

Ka-ching!

"Narcissism Fuels Congressional Dysfunction" [RealClearPolitics]. "Congress is dysfunctional. We all know that. But the roots of this dysfunction have to do with character, not ideology. Congress is a mirror of American society. Though Matt Gaetz, Andy Biggs, Ted Cruz, Nancy Mace, Rashida Tlaib, and Cori Bush (among others) span the ideological spectrum, they all exemplify an epidemic of narcissism that threatens institutions across society. Equipped with an 'unreasonably high sense of their own importance,' these narcissists in Congress use their perch for a ceaseless pursuit of attention and self-promotion. In the process, they undermine public trust in institutions, which are at an all-time low according to polls…. Civic virtue is the counterbalance to our inherent fallibility. The founders understood that character, not ideology, determines the fate of American democracy." • No, they didn't! If men were angels….

"Bracing for Impact" [John Michael Greer, Ecosophia]. I have plenty to disagree with here, but this is absolutely spot-on: "I'm not saying that you should move to the country, by yourself or with a group of friends, and settle into a lifestyle of bucolic bliss as a subsistence farmer. To begin with, farming is a skilled trade; if you didn't grow up doing it, or haven't spent years on working farms learning how it's done, you don't know enough to keep yourself from going broke or starving to death. (It takes five to ten years of hard work on average to get past the learning curve and reach the point at which you can feed yourself by farming.) Since we're not talking about the end of the world, furthermore, you can expect to have to keep paying a mortgage, utility bills, and taxes while you fling yourself into brutally hard physical labor from sunup to sundown. Americans have this weird cultural fixation about going back to the land, and the dominant role of American culture worldwide over the last century or so has inspired a lot of people in other parts of the world to fall into the same mental trap. Here in the US, for a certain broad class of well-off urbanites, moving to a rural area and spending a few years playing at farming is an approved way to have your midlife crisis and finish the task of wrecking an unstable marriage. (I've watched this happen tolerably often.) It's not a viable way to deal with an impending economic and social crisis—again, not unless you grew up farming or have some other access to extensive hands-on experience." • It's not easy being a peasant, which is why so many peasants — and especially their children — escape to the city.
#COVID19
"I am in earnest — I will not equivocate — I will not excuse — I will not retreat a single inch — AND I WILL BE HEARD." –William Lloyd Garrison
Resources, United States (National): Transmission (CDC); Wastewater (CDC, Biobot; includes many counties; Wastewater Scan, includes drilldown by zip); Variants (CDC; Walgreens); "Iowa COVID-19 Tracker" (in IA, but national data). "Infection Control, Emergency Management, Safety, and General Thoughts" (especially on hospitalization by city).
Lambert here: Readers, thanks for the collective effort. To update any entry, do feel free to contact me at the address given with the plants. Please put "COVID" in the subject line. Thank you!
Resources, United States (Local): AK (dashboard); AL (dashboard); AR (dashboard); AZ (dashboard); CA (dashboard; Marin, dashboard; Stanford, wastewater; Oakland, wastewater); CO (dashboard; wastewater); CT (dashboard); DE (dashboard); FL (wastewater); GA (wastewater); HI (dashboard); IA (wastewater reports); ID (dashboard, Boise; dashboard, wastewater, Central Idaho; wastewater, Coeur d'Alene; dashboard, Spokane County); IL (wastewater); IN (dashboard); KS (dashboard; wastewater, Lawrence); KY (dashboard, Louisville); LA (dashboard); MA (wastewater); MD (dashboard); ME (dashboard); MI (wastewater; wastewater); MN (dashboard); MO (wastewater); MS (dashboard); MT (dashboard); NC (dashboard); ND (dashboard; wastewater); NE (dashboard); NH (wastewater); NJ (dashboard); NM (dashboard); NV (dashboard; wastewater, Southern NV); NY (dashboard); OH (dashboard); OK (dashboard); OR (dashboard); PA (dashboard); RI (dashboard); SC (dashboard); SD (dashboard); TN (dashboard); TX (dashboard); UT (wastewater); VA (dashboard); VT (dashboard); WA (dashboard; dashboard); WI (wastewater); WV (wastewater); WY (wastewater).
Resources, Canada (National): Wastewater (Government of Canada).
Resources, Canada (Provincial): ON (wastewater); QC (les eaux usées); BC, Vancouver (wastewater).
Hat tips to helpful readers: anon (2), Art_DogCT, B24S, CanCyn, ChiGal, Chuck L, Festoonic, FM, FreeMarketApologist (4), Gumbo, hop2it, JB, JEHR, JF, JL Joe, John, JM (10), JustAnotherVolunteer, JW, KatieBird, LL, Michael King, KF, LaRuse, mrsyk, MT, MT_Wild, otisyves, Petal (6), RK (2), RL, RM, Rod, square coats (11), tennesseewaltzer, Utah, Bob White (3).
Stay safe out there!
* * *
Covid is Airborne
"Peak risk of SARS-CoV-2 infection within 5 s of face-to-face encounters: an observational/retrospective study" [Nature]. "The link between aerosol dynamics and viral exposure risk is not fully understood, particularly during movement and face-to-face interactions. To investigate this, we employed Particle Trace Velocimetry with a laser sheet and a high-speed camera to measure microparticles from a human mannequin's mouth. … Our results showed that the peak of viral exposure risk was within 5 s during face-to-face encounters under both ventilated and non-ventilated conditions. Moreover, the risk of viral exposure greatly decreased in ventilated conditions compared to non-ventilated conditions. Based on these findings, considering a risk mitigation strategy for the duration of 5 s during face-to-face encounters is expected to significantly reduce the risk of virus exposure in airborne transmission." • What on earth could that strategy be, one wonders? (This also gives an account of the "fleeting encounter" cases, including Osterholm's elevator case.
"Something Awful"
Lambert here: I'm getting the feeling that the "Something Awful" might be a sawtooth pattern — variant after variant — that averages out to a permanently high plateau. Lots of exceptionally nasty sequelae, most likely deriving from immune dysregulation (says this layperson). To which we might add brain damage, including personality changes therefrom.

* * *
Elite Maleficence
Droplet goons still killing people:

These guidelines by the International Society for Infectious Diseases about infection control of COVID-19 are still based upon the unscientific droplet dogma, which caused so much misery in the world.

It was updated in… September 2023 (!).

Shame on you, @ISID_org! https://t.co/uuKQzfp302 pic.twitter.com/uoFNSoUImc

— Maarten De Cock (@mdc_martinus) October 20, 2023

I'm still waiting for confirmation on this, from the droplet goons at WHO:

Hopefully, fierce internal dissension is holding up publication.
* * *
Case Data
NEVER TO BE UPDATED From BioBot wastewater data, October 2: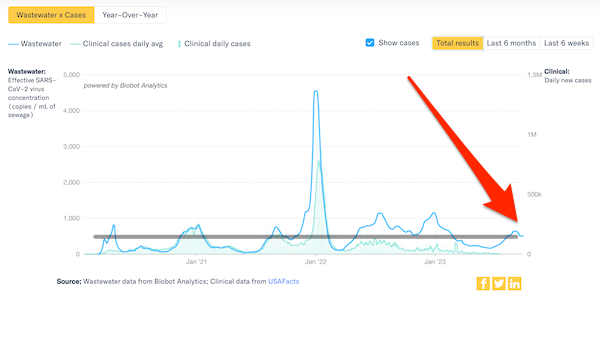 Lambert here: Leveling out to a high plateau wasn't on my Bingo card! Perhaps FL.1.5.1, high in the Northeast, has something going for it that other variants don't have?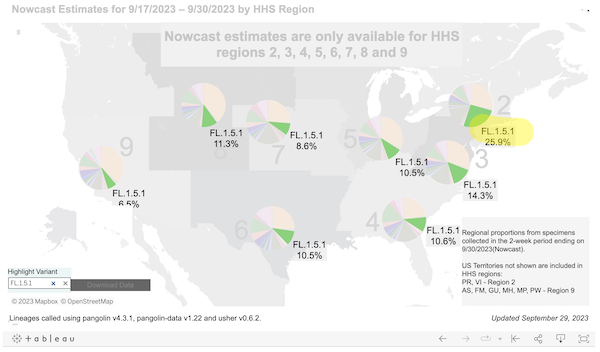 Regional data: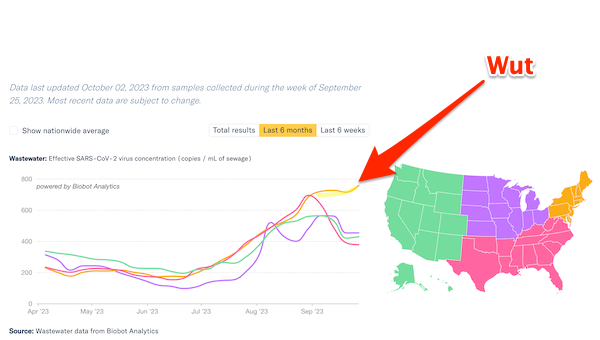 Interestingly, the upswing begins before July 4, which neither accelerates nor retards it.
Variants
NOT UPDATED From CDC, October 14: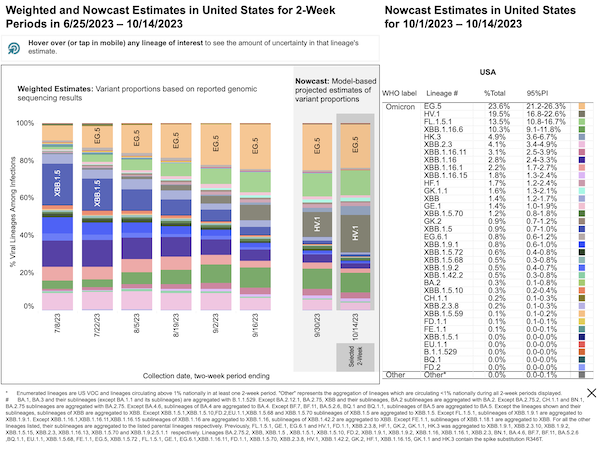 Lambert here: Top of the leaderboard: EG.5 ("Eris"), with HV.1 a strong second, and XBB.1.1.16.6 and FL.1.15.1 trailing. No BA.2.86. Still a Bouillabaisse…
From CDC, September 16: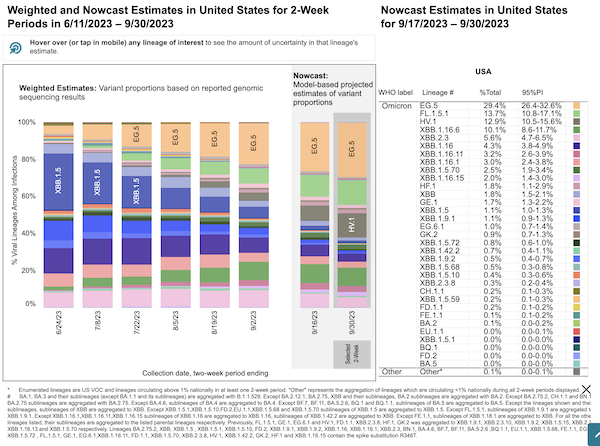 Lambert here: I sure hope the volunteers doing Pangolin, on which this chart depends, don't all move on the green fields and pastures new (or have their access to facilities cut by administrators of ill intent).
CDC: "As of May 11, genomic surveillance data will be reported biweekly, based on the availability of positive test specimens." "Biweeekly: 1. occurring every two weeks. 2. occurring twice a week; semiweekly." Looks like CDC has chosen sense #1. In essence, they're telling us variants are nothing to worry about. Time will tell.
Covid Emergency Room Visits
From CDC NCIRD Surveillance, October 21: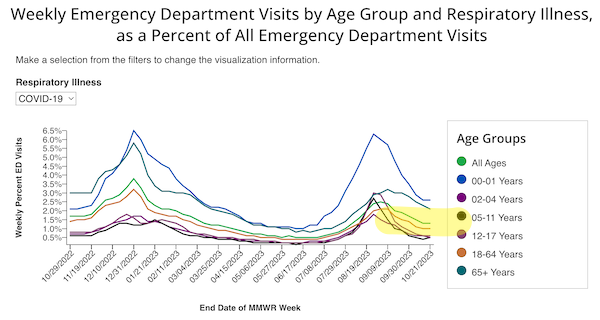 Lambert here: Flattening? Only a week's lag, so this may be our best current nationwide, current indicator until Verily gets its house in order (and working class-centric, since I would doubt the upper crust goes to the ER).
NOTE "Charts and data provided by CDC, updates Wednesday by 8am. For the past year, using a rolling 52-week period." So not the entire pandemic, FFS (the implicit message here being that Covid is "just like the flu," which is why the seasonal "rolling 52-week period" is appropriate for bothMR SUBLIMINAL I hate these people so much. Notice also that this chart shows, at least for its time period, that Covid is not seasonal, even though CDC is trying to get us to believe that it is, presumably so they can piggyback on the existing institutional apparatus for injections.
Hospitalization
Bellwether New York City, data as of October 25: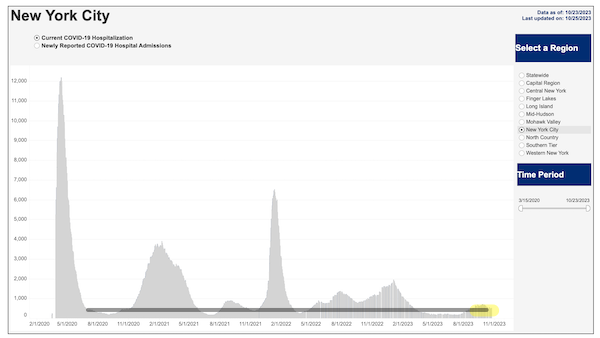 Leveling out? (New York State is now falling, too.) I hate this metric because the lag makes it deceptive (although the hospital-centric public health establishment loves it, hospitalization and deaths being the only metrics that matter).
NOT UPDATED Here's a different CDC visualization on hospitalization, nationwide, not by state, but with a date, at least. October 14:
Lambert here: "Maps, charts, and data provided by CDC, updates weekly for the previous MMWR week (Sunday-Saturday) on Thursdays (Deaths, Emergency Department Visits, Test Positivity) and weekly the following Mondays (Hospitalizations) by 8 pm ET†". So where the heck is the update, CDC?
Positivity
NOT UPDATED From Walgreens, October 23: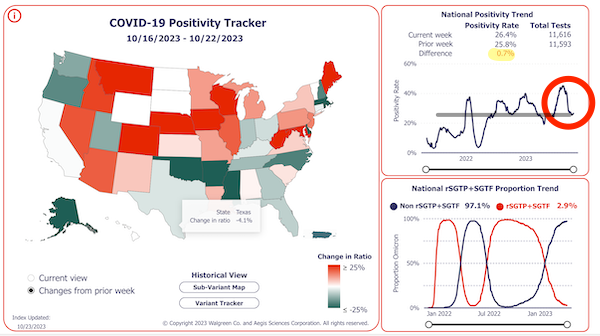 0.7%. Slight increase. (It would be interesting to survey this population generally; these are people who, despite a tsunami of official propaganda and enormous peer pressure, went and got tested anyhow.)
NOT UPDATED From Cleveland Clinic, October 21: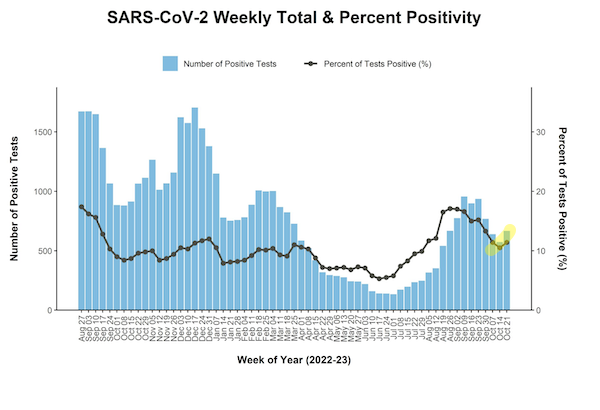 Lambert here: Slight increase. I know this is just Ohio, but the Cleveland Clinic is good*, and we're starved for data, so…. NOTE * Even if hospital infection control is trying to kill patients by eliminating universal masking with N95s.
NOT UPDATED From CDC, traveler's data, October 2: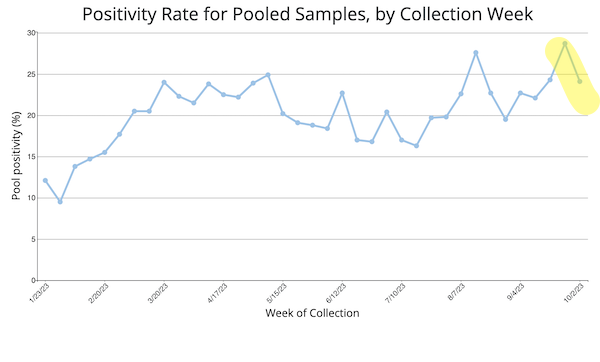 Down, albeit in the rear view mirror. And here are the variants for travelers: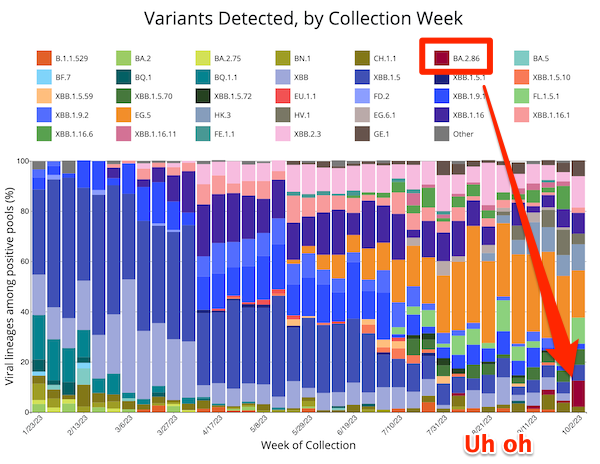 Sudden big BA.2.86 appearance.
Deaths
NOT UPDATED Iowa COVID-19 Tracker, September 27: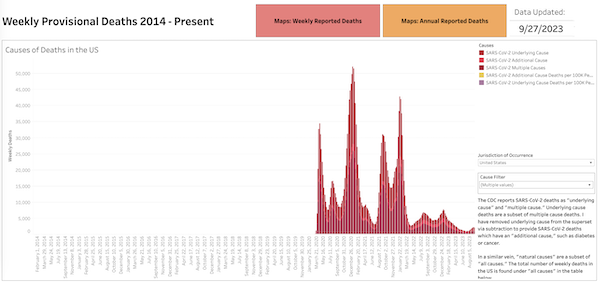 Lambert here: The WHO data is worthless, so I replaced it with the Iowa Covid Data Tracker. Their method: "These data have been sourced, via the API from the CDC: https://data.cdc.gov/NCHS/Conditions-Contributing-to-COVID-19-Deaths-by-Stat/hk9y-quqm. This visualization updates on Wednesday evenings. Data are provisional and are adjusted weekly by the CDC." I can't seem to get a pop-up that shows a total of the three causes (top right). Readers?
Total: 1,180,183 – 1,180,119 = 64 (64 * 365 = 23,360 deaths per year, today's YouGenicist™ number for "living with" Covid (quite a bit higher than the minimizers would like, though they can talk themselves into anything. If the YouGenicist™ metric keeps chugging along like this, I may just have to decide this is what the powers-that-be consider "mission accomplished" for this particular tranche of death and disease). 
Excess Deaths
The Economist, October 25: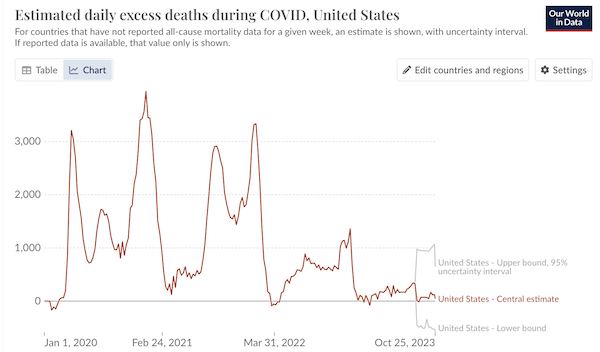 Lambert here: Based on a machine-learning model.
Stats Watch
There are no official statistics of interest today.
* * *
* * *
Today's Fear & Greed Index: 32 Fear (previous close: 31 Fear) [CNN]. One week ago: 35 (Fear). (0 is Extreme Fear; 100 is Extreme Greed). Last updated Oct 25 at 1:31:59 PM ET
Zeitgeist Watch
"Oregon State University warns students to 'avoid all robots,' amid bomb threat with Starship delivery robots" [FOX]. • Wise as a general rule….
Class Warfare
"High steaks society: who are the 12% of people consuming half of all beef in the US?" [Guardian]. "So who is this 12% consuming all that beef? Men and people between the ages of 50 and 65 were more likely to be in what the researchers dubbed as 'disproportionate beef eaters…. White people were among those more likely to eat more beef." • Naturally, income was never investigated!
News of the Wired
"Without a Trace: How to Take Your Phone Off the Grid" [The Markup]. "If I've learned anything from this, it's that cash is king." • Well worth a read. And long live cash.
* * *
Contact information for plants: Readers, feel free to contact me at lambert [UNDERSCORE] strether [DOT] corrente [AT] yahoo [DOT] com, to (a) find out how to send me a check if you are allergic to PayPal and (b) to find out how to send me images of plants. Vegetables are fine! Fungi and coral are deemed to be honorary plants! If you want your handle to appear as a credit, please place it at the start of your mail in parentheses: (thus). Otherwise, I will anonymize by using your initials. See the previous Water Cooler (with plant) here. From Angie Neer: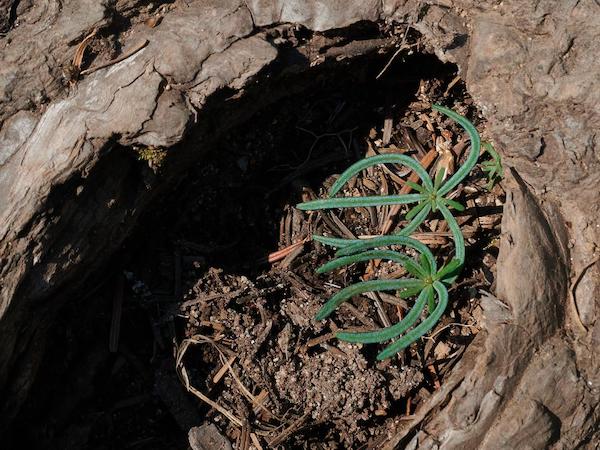 Angie Neer writes: "I'm not sure what to make of these little plants nestled in a cavity in the base of a tree at about 5000 feet altitude in the Cascades of WA. I've been through a lot of similar forest without ever noticing them, but then they're quite inconspicuous. The leaves (or petals?) look like blades of grass, but they radiate from a short central stem, with 5-fold symmetry, almost like flowers. The longest are about an inch. They bend around to point toward the morning sun."
* * *
Readers: Water Cooler is a standalone entity not covered by the annual NC fundraiser. So if you see a link you especially like, or an item you wouldn't see anywhere else, please do not hesitate to express your appreciation in tangible form. Remember, a tip jar is for tipping! Regular positive feedback both makes me feel good and lets me know I'm on the right track with coverage. When I get no donations for five or ten days I get worried. More tangibly, a constant trickle of donations helps me with expenses, and I factor in that trickle when setting fundraising goals:
Here is the screen that will appear, which I have helpfully annotated: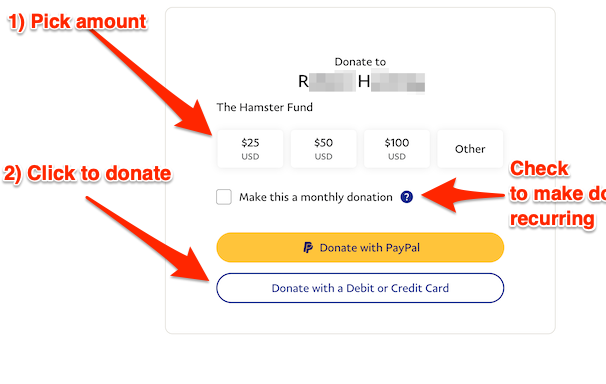 If you hate PayPal, you can email me at lambert [UNDERSCORE] strether [DOT] corrente [AT] yahoo [DOT] com, and I will give you directions on how to send a check. Thank you!