By Lambert Strether of Corrente.
Bird Song of the Day
Tree Swallow, Pilgrim Hot Springs Rd, off Kougarok Rd. Nome Census Area, Alaska, United States.
Bank Swallow, Willow Island, Cameron, Louisiana, United States.
* * *
Politics
"So many of the social reactions that strike us as psychological are in fact a rational management of symbolic capital." –Pierre Bourdieu, Classification Struggles
Capitol Seizure
"Greene requests Capitol Police preserve footage, police reports from House protest demanding Israel-Hamas cease-fire" [The Hill]. "The Georgia Republican called on the House Administration Committee to investigate the incident and review all footage and evidence from Capitol Police, writing that the 'insurrectionists involved must be prosecuted to the fullest extent of the law.'" • When MTG is right, she's right…

I demand @CapitolPolice preserve all video footage inside and outside the Cannon House office building today.

There must be an investigation into the organized breach and occupation that stopped Congress from holding a Speaker election and continuing legislative business today. https://t.co/QBWVF1XjT9

— Rep. Marjorie Taylor Greene🇺🇸 (@RepMTG) October 18, 2023

Sounds to me like these protesters were interfering with an official proceeding, and possibly even parading without a permit. And aren't those operational defintions of "insurrection," at least according to Democrats?

* * *

"Justice Department appeals sentences for Proud Boys already to serve decade plus over Jan. 6 Capitol riot" [FOX]. "The Justice Department on Monday appealed the sentences for five Proud Boys leaders, including leader Enrique Tarrio, who had been hit with the Civil War-era charge of seditious conspiracy in connection to the Jan. 6 riot at the U.S. Capitol, arguing the prison times given are significantly shorter than what prosecutors asked for…. Prosecutors, who made their court filings on Monday, also had recommended sentences of 33 years for former Proud Boys organizer Joseph Biggs, of Ormond Beach, Florida; 30 years for Proud Boys chapter leader Zachary Rehl, of Philadelphia; and 27 years in prison for chapter leader Ethan Nordean, of Auburn, Washington. Kelly sentenced Nordean to 18 years, Biggs to 17 years and Rehl to 15 years."

"Ex-Michigan gubernatorial candidate sentenced to 2 months behind bars for Capitol riot role" [Associated Press]. "A federal judge on Tuesday sentenced a former Republican candidate for Michigan governor [Ryan Kelley] to two months behind bars for joining a mob's Jan. 6, 2021, attack on the U.S. Capitol, where he riled up other rioters and ripped a tarp outside the building…. Several months before his guilty plea, Kelley posted on social media that the Capitol riot was an FBI 'set up.' His campaign posted the words "political prisoner" on Facebook after his June 2022 arrest. U.S. District Judge Christopher Cooper told Kelley that he misused his platform as a candidate for public office by promoting lies about election fraud, including the baseless claim that Jan. 6 was somehow part of an FBI plot." • Cooper was nominated by Obama. Due diligence would demand I check his shoes….
2024
Time for the Countdown Clock!

* * *

"The Trump gag order should be struck down" [The Hill]. "The imposition of a gag order on former President Donald Trump was overwhelmingly applauded by pundits and press alike…. However, this order should concern everyone who values freedom of speech. While the odds may favor Chutkan on appeal, this order should be overturned as overbroad and dangerous… These orders come at a great cost — limiting both parties and counsels in raising objections to alleged abuses of the government. The First Amendment was written in the aftermath of such abuses, including the infamous prosecution of publisher John Peter Zenger 290 years ago in 1733…. Some polls show that a majority now believe the Trump prosecutions are "politically motivated." Tens of millions oppose the prosecutions, and this will be the single most-discussed issue of the campaign. Yet, one candidate would be both the subject of this national debate and a gagged order barring participation in it…. If Chutkan had simply barred statements targeting court staff or jurors, there would be no controversy. But she has imposed a vaguely worded court order that could turn campaign speeches into criminal contempt."

"Woman arrested after trying to speak to Donald Trump during his NY civil fraud trial" [Insider]. "A female court employee was arrested on a contempt of court charge on Wednesday after approaching Donald Trump from the audience of his civil fraud trial in New York and trying to speak to him during testimony… The woman, whose court credentials were visible, stood about 20 feet from Trump's seat at the defense table, and could be heard asking a court officer if she could 'help' the former president." • Odd. "Help" how?

"Trump's frustration builds at New York civil fraud trial as lawyer asks witness if he lied" [NBC]. "Shaking his head, throwing his hands in the air, whispering, former President Donald Trump appeared frustrated Wednesday in a New York City courtroom during his ongoing civil trial. Trump has already been found liable for fraud, but the trial is proceeding on several other accusations, including falsification of business records and conspiracy. The state is demanding $250 million and severe restrictions on the Trump businesses. He and his co-defendants have denied all wrongdoing in the case. On the stand was a real estate executive and appraiser who expressed surprise Tuesday that he was cited in Trump Organization datasets as having advised the company on valuation methods. Attorney Lazaro Fields repeatedly asked during his cross-examination of the executive, Doug Larson, if he incorrectly appraised a building that ultimately brought in more income than predicted. Larson, who years ago appraised the building for a bank, repeatedly said no. Trump's team has argued that valuations and appraisals are subjective opinions, varying from one person to the next – giving a property owner leeway to craft their own numbers far afield of what even an expert might say. As Larson insisted he correctly appraised Trump's building, Trump's head bobbed quickly from side to side, his whispers growing to loud rasps. Kevin Wallace, a lawyer for New York Attorney General Letitia James, implied Trump's behavior was tantamount to witness intimidation, and asked the judge to instruct Trump to refrain from commenting. Judge Arthur Engoron appeared unconcerned, but obliged. 'OK, I'll ask everyone to be quiet while the witness is testifying,' Engoron said." • Not quite the WWF, but still!

"Former Trump lawyer Sidney Powell pleads guilty in Georgia election interference case" [NPR]. "On Thursday morning — one day before the scheduled start of jury selection for her joint trial with attorney Kenneth Chesebro — Powell appeared in Fulton County Superior Court to plead guilty to six misdemeanor counts of conspiracy to commit intentional interference with the performance of election duties. Under the plea deal, Powell will serve six years of probation, pay a $6,000 fine, pay restitution of $2,700 to the state that covers the cost of replacing election equipment, write an apology letter and testify truthfully in future hearings and trials, as well as provide 'any requested documents or evidence subject to any lawful privileges asserted in good faith prior to entering this plea.'" • Hmm.

* * *

"What The Heck? Joe Biden Just Joined Donald Trump's Truth Social" [1945]. "The Biden-Harris 2024 campaign unveiled its presence on the platform under the handle @BidenHQ, emphasizing humor and outreach as motives…. The campaign's profile on Truth Social sports a banner image declaring, 'the malarkey ends here,' a nod to Biden's iconic catchphrase. In a Tweet from their Twitter account, the campaign admitted their decision to join Truth Social was driven by a sense of humor. They highlighted this by choosing a profile image commonly referred to as 'Dark Brandon,' a meme portraying Biden with laser eyes, derived from the 'Let's Go Brandon' chant popular in right-wing circles. The Biden camp, with a touch of wit, encouraged a diverse audience, stating, 'Well. Let's see how this goes. Converts welcome!" • Cheeky!

* * *

"DeSantis keeps up evacuation flights, supply runs to Israel" [Orlando Sentinel]. "Florida officials continued to bring home U.S. citizens and send donated supplies to Israel on Wednesday, with Gov. Ron DeSantis and his presidential campaign team touting the missions on social media. But the DeSantis administration remained tight-lipped about the details of the flight costs, other than a comment that one cost about $4 million in taxpayer dollars. They also have not disclosed much about the passengers or arrangements with the volunteer rescue organization that helped organize the flights despite repeated requests for more information." • Gotta give the highly unlikeable DeSantis props for honey-badger tendencies here.

* * *

"Cornel West draws max donation from GOP megadonor Harlan Crow" [NBC]. "Progressive activist and independent presidential candidate Cornel West received a maximum campaign donation from Republican megadonor Harlan Crow, West's latest fundraising report shows. Crow made the $3,300 donation in August, weeks before West abandoned his bid for the Green Party nomination to run as an independent. Crow has called West, a self-proclaimed 'non-Marxist socialist' and longtime professor at Princeton University, 'a good friend.'…. Crow's close ties to Supreme Court Justice Clarence Thomas have come under scrutiny in recent months after a ProPublica report in April detailed gifts, travel, and other items of value provided by the Texas billionaire to Thomas and his family." • Not the same, but sheesh.

* * *

"Youngkin event planner helped organize Jan. 6 rally at US Capitol" [VPM]. "An event planner who has done extensive work for Gov. Glenn Youngkin helped organize the Jan. 6, 2021, rally that ended with a deadly attack on the U.S. Capitol. There's no indication Hannah Salem Stone, a consultant who previously worked for former President Donald Trump, participated in the violence that followed the rally. Her name appeared on permit paperwork for the event, which described Stone as an 'operations manager for logistics and communications,' according to a subpoena issued by the U.S. House Select Committee on the Jan. 6 attack. She held several roles in the Trump administration during a three-year period that ended in February 2020. Stone went on to help plan Youngkin's January 2022 inauguration, according to screenshots of social media posts — captured by the Substack newsletter South Arkansas Reckoning — as well as Virginia campaign finance records. She continued to provide consulting and supplies for events throughout Youngkin's term. In all, her company, Salem Strategies, has received more than $785,000 from the governor's inaugural committee and Spirit of Virginia PAC." • I think "that ended with" is doing a lot of work, there. The rally is one thing, the riot another IMNSHO.

"Gov. Glenn Youngkin courts donors ahead of high-stakes Va. elections" [ABC]. "Virginia Republicans could see an influx of cash from top donors following Gov. Glenn Youngkin's two-day retreat ahead of the state's high-stakes legislative elections next month. The 'Red Vest Retreat,' named after the fleece Youngkin wore during his 2021 campaign, was held on Tuesday and Wednesday. It's the latest example of how high the stakes are seen as for Youngkin, as he eyes total GOP control of the General Assembly. 'When you consider the timing, it appears to me like Gov. Youngkin is all-in on getting a unified Republican legislature and installing as much of his agenda in as he can in the last two years of this term,' said Dr. Chapman Rackaway, a professor and chair of political science at Radford University. While Youngkin has been eyed by some prominent donors as a potential late entrant in the 2024 presidential race, someone who attended the retreat told ABC News that he remains focused on Virginia. 'What's best for him right now is to take care of Virginia,' this donor said. 'Is there a time for something in the future? I don't know. He's the kind of person I would love to see at the helm of our country.'" • Still waiting on the Sherman statement from Youngkin, and I think I'll be waiting awhile. For example–

"Virginia's odd-year statehouse elections are now less than three weeks away" [Virginian-Pilot]. "California Gov. Gavin Newsom and his climate regulators in Sacramento have declared war on the internal-combustion engine. Through their 'Advanced Clean Car' rules and 'Zero-Emission Vehicle"'mandates, they have ordered the auto industry to phase out of production the gas-powered cars, SUVs, and pickups that American families prefer to buy and drive. California's goal is to require that all new vehicle sales will be 100% electric by 2035. Unfortunately, what began in Sacramento isn't confined to the Golden State. California's car ban has come to Virginia. As part of Gov. Ralph Northam's aggressive climate agenda, the Virginia General Assembly voted in 2021 to apply California's vehicle standards and EV mandates to the commonwealth. As a result, Virginians' choice of new cars and trucks will now be dictated by California's regulatory policies. Although some people prefer electric vehicles, particularly as a second car for urban commuting, they are certainly not the right option for everyone. Rather than looking to Sacramento's radical climate policies to set the agenda, Richmond should reassert itself and preserve the freedom that would allow people to choose an EV when they decide it's the right option for their families. These are just some of the reasons why Gov. Glenn Youngkin is urging the General Assembly to repeal the 2021 'Clean Cars' law that puts Virginia under the thumb of California's regulators." • Setting up the Presidential debate question right now…

* * *

"How big is Gov. J.B. Pritzker thinking with Think Big America group?" [Chicago Tribune]. Democratic Gov. J.B. Pritzker moved Wednesday to enhance his national profile — and provoked further speculation about his future political plans [something I've been muttering about for some time]— by creating an organization to promote abortion and LGBTQ+ rights issues and fight "right wing extremists" on a state-by-state basis. With the launch of his Think Big America, a tax-exempt organization that can devote unlimited funding to lobbying on behalf of its political goals, Pritzker is expanding upon his long-standing support for his party and abortion rights, and increasing his progressive political footprint for a possible future bid for the presidency….. The 'think big' title of the organization is a play off the campaign theme successfully employed twice by the second-term Illinois governor, an entrepreneur and an heir of the Hyatt hotels fortune who is worth an estimated $3.5 billion, making him the nation's wealthiest elected politician…. Pritzker's initial funding for the new organization was not disclosed. The group's focus out of the gate will be on planned ballot initiatives in Ohio, Nevada and Arizona to codify abortion rights under state constitutions." So, GOTV? More: "Pritzker has expressed unwavering support for President Joe Biden's reelection [of course, of course] and eschewed talk of being a potential 'Plan B' if Biden had chosen not to run or took himself out of the running…. Pritzker also is an advisory member to Biden's reelection campaign and will be host governor in August for the Democratic National Convention in Chicago where Biden is set to be renominated." • And if Biden should — most unfortunately — slip a cog between October 2023 and August 2024….

* * *
Republican Funhouse
"Playbook: Why the McHenry bubble might pop" [Politico]. "With Rep. Jim Jordan's speakership bid on life support, chatter on Capitol Hill has turned to what some are casting as the inevitable Plan D: temporarily empowering acting Speaker Pro Tempore Patrick McHenry to move critical legislation while Republicans search for a viable new leader. But elevating McHenry is much easier said than done. For one, McHenry himself has pooh-poohed the idea. The North Carolina Republican — who seems less than thrilled to be in his current position — has made clear that he thinks he only has power to oversee a new speakership election. Could that change? Sure. But for an effort to be successful, McHenry himself would likely need to be onboard. An even bigger challenge: On a practical level, many Republicans are opposed. Sure, the world is on fire. Hamas' barbaric attack on Israel and Israel's response has left the Middle East reeling, Ukraine is still struggling to hold the line against Russia, and here at home, Uncle Sam runs out of money in less than a month. But the truth is that most Republicans don't yet feel pressured enough to set aside their own personal ambitions to get back to governing. In fact, yesterday Jordan's inner circle appeared to try to use this idea of empowering McHenry to boost Jordan's own candidacy, accusing those flirting with the idea of trying to turn the majority over to Democrats." • On the theory that the only people to be trusted with power are the ones who don't want it, maybe McHenry would be the right choice….

"Where Is the Republican Lina Khan?" [Matt Stoller, Compact]. "[Khan] represents the actual policy implementation of populist economics. Younger GOP politicians like Sens. Josh Hawley and J.D. Vance and Rep. Matt Gaetz disagree with McConnell and are upfront about seeking to turn the Republican Party into a working-class political coalition, including by building new administrative tools to do so…. Ultimately, if the Republican Party is to become a working-class vehicle, it will need to go far beyond playing footsie with wielding government power. To truly govern in a way that will satisfy their base and the public at large, conservatives are going to have to find their own Lina Khan. But until they do, they can start by working with the one in office right now." • Well, maybe. To my mind, a party that was truly "a working class vehicle" would want workers to have control of the means of production. Hard to see that policy position coming from either party just now.
Clinton Legacy
No.

I love the way the mail modulates from "friends and teammates" to "teammate" back to "friend" and then to "team of big-hearted people" (that is last is CAN-SPAM-mandated verbiage, where the mailer explains to recipient why they're getting the mail, is especially delicious. Of course I'm getting this mail! I'm "big-hearted"!)
Democrats en Déshabillé
Patient readers, it seems that people are actually reading the back-dated post! But I have not updated it, and there are many updates. So I will have to do that. –lambert

I have moved my standing remarks on the Democrat Party ("the Democrat Party is a rotting corpse that can't bury itself") to a separate, back-dated post, to which I will periodically add material, summarizing the addition here in a "live" Water Cooler. (Hopefully, some Bourdieu.) It turns out that defining the Democrat Party is, in fact, a hard problem. I do think the paragraph that follows is on point all the way back to 2016, if not before:

The Democrat Party is the political expression of the class power of PMC, their base (lucidly explained by Thomas Frank in Listen, Liberal!). ; if the Democrat Party did not exist, the PMC would have to invent it. . ("PMC" modulo "class expatriates," of course.) Second, all the working parts of the Party reinforce each other. Leave aside characterizing the relationships between elements of the Party (ka-ching, but not entirely) those elements comprise a network — a Flex Net? An iron octagon? — of funders, vendors, apparatchiks, electeds, NGOs, and miscellaneous mercenaries, with assets in the press and the intelligence community.

Note, of course, that the class power of the PMC both expresses and is limited by other classes; oligarchs and American gentry (see 'industrial model' of Ferguson, Jorgensen, and Jie) and the working class spring to mind. Suck up, kick down.

* * *

"A political group that helped lead Democrats' takeover of Colorado politics turns 20" [Colorado Sun]. The deck: "ProgressNow Colorado is an irreverent organization that doesn't reveal its donors. It has continued when some of its peer groups have disbanded." Oh, it doesn't? Oh, it has? More: "Wealthy Democratic donors teamed up to reverse their party's fortune, routing their money through a series of political nonprofits and political committees to organize voters to try to dominate the airwaves. One of those dark-money groups was ProgressNow Colorado. The strategy worked…. The ProgressNow model has spread to more than half the states in the nation…. Michael Huttner set aside his law practice to form ProgressNow Colorado in 2003, serving as the group's first executive director. Huttner sought to mobilize Democrats via the internet through blogging and private chat groups anchored in geography and policy interest. Call it a pre-social media version of 'rapid response' — the practice of attacking opponents quickly and cleverly on social media…. The work of ProgressNow Colorado and its companion groups was paired with infusions of big money from Polis, philanthropist and Democratic political donor Pat Stryker, and entrepreneurs Rutt Bridges and Tim Gill…. Dick Wadhams, a former Colorado GOP chairman, said ProgressNow Colorado was born in an era when Democrats started indirectly spending on campaigns. Instead of giving money to candidate campaigns, they routed cash through political spending groups, like super PACs, and nonprofits like ProgressNow to influence voters." • So, Colorado was Ground Zero for the Non-Profit Industrial Complex? Interesting that Stryker worked through blogs; I was sust starting out in 2003, and I remember the "'Both Ways Bob'" (literal) flip-flops from 2006 ("part of the organization's mocking of Republican gubernatorial candidate and former U.S. Rep. Bob Beauprez").
Realignment and Legitimacy
""Open discourse is the central pillar of a free society" [The Westminster Declaration]:

We write as journalists, artists, authors, activists, technologists, and academics to warn of increasing international censorship that threatens to erode centuries-old democratic norms.

Coming from the left, right, and centre, we are united by our commitment to universal human rights and freedom of speech, and we are all deeply concerned about attempts to label protected speech as 'misinformation,' 'disinformation,' and other ill-defined terms.

This abuse of these terms has resulted in the censorship of ordinary people, journalists, and dissidents in countries all over the world.

Such interference with the right to free speech suppresses valid discussion about matters of urgent public interest, and undermines the foundational principles of representative democracy.

Across the globe, government actors, social media companies, universities, and NGOs are increasingly working to monitor citizens and rob them of their voices. These large-scale coordinated efforts are sometimes referred to as the 'Censorship-Industrial Complex.'

This complex often operates through direct government policies. Authorities in India[1] and Turkey[2] have seized the power to remove political content from social media. The legislature in Germany[3] and the Supreme Court in Brazil[4] are criminalising political speech. In other countries, measures such as Ireland's 'Hate Speech' Bill[5], Scotland's Hate Crime Act[6], the UK's Online Safety Bill[7], and Australia's 'Misinformation' Bill[8] threaten to severely restrict expression and create a chilling effect.

But the Censorship Industrial Complex operates through more subtle methods. These include visibility filtering, labelling, and manipulation of search engine results. Through deplatforming and flagging, social media censors have already silenced lawful opinions on topics of national and geopolitical importance. They have done so with the full support of 'disinformation experts' and 'fact-checkers' in the mainstream media, who have abandoned the journalistic values of debate and intellectual inquiry.

First signatory: Taibbi, followed by Shellenberger. Assange #6. I like it that Aaron Maté and Izabella Kaminska are adjacent. Good for them. I am, however, noticing a gap in the coverage: Liberal Democrats. Where, for example, is Paul Krugman? James Fallows? Ezra Klein? Matt Yglesias? How about Hendrick Hertzberg? Markos Moulitsas Zuniga? Hey, how about Neera Tanden?

"Lawmakers à la Carte: How ALEC Sells Access to State Legislators" [Exposed by CMD]. "It's no secret that the American Legislative Exchange Council (ALEC) offers its corporate sponsors a variety of options for buying access to state lawmakers. Now, new documents reveal just how much — or little — it costs. For $50,000, a corporate or industry executive can give a main stage presentation to all ALEC members in attendance at its annual meeting. For $35,000, a corporation or industry group can work with ALEC's policy staff to design a workshop for lawmakers. Materials obtained and reviewed by the Center for Media and Democracy (CMD) reveal a menu of opportunities for corporate sponsors interested in purchasing access to lawmakers at ALEC's annual conferences. The documents were prepared in advance of last year's three-day annual policy meeting in Atlanta, which focused on efforts to combat 'woke capitalism,' reproductive healthcare, voting rights, and the administrative state, as CMD previously reported."• "Woke capitalism." Not such an inaccurate description for liberal Democrats!

"DSA's existential crisis" [Politico]. "Just as the Democratic Socialists of America finally got a toehold in electoral politics, the organization is at risk of losing it. Israel's war with Hamas has fractured the group, threatening its recent gains and its standing as a mainstream political voice…. Infighting within the DSA — which now has nearly 100,000 members — has been common as the group grew into a force in Democratic Party politics in the wake of Sen. Bernie Sanders' 2016 presidential campaign. Now, however, the divisions are especially acute as DSA's elected members distance themselves from the vocal grassroots minority that is far more radical and less willing to compromise than the officeholders, who understand the need to build coalitions in order to have influence… Of course, the divide doesn't fall neatly along grassroots vs. officeholder fault lines — members of the progressive Squad in Congress have taken different tacks on the issue as well. Reps. Rashida Tlaib (D-Mich.) and Cori Bush (D-Mo.), in particular, have taken flak from Republicans in Washington for their responses calling out Israeli occupation of Palestine in the wake of the Hamas attacks, while Ocasio-Cortez stuck to a more measured response. It's worth noting that Sanders, perhaps the country's most prominent democratic socialist, immediately condemned the Hamas attacks along with most congressional lawmakers." • At least on my timeline, Cori Bush was first out of the box, and good for her.
#COVID19
"I am in earnest — I will not equivocate — I will not excuse — I will not retreat a single inch — AND I WILL BE HEARD." –William Lloyd Garrison
Resources, United States (National): Transmission (CDC); Wastewater (CDC, Biobot; includes many counties; Wastewater Scan, includes drilldown by zip); Variants (CDC; Walgreens); "Iowa COVID-19 Tracker" (in IA, but national data). "Infection Control, Emergency Management, Safety, and General Thoughts" (especially on hospitalization by city).
Lambert here: Readers, thanks for the collective effort. To update any entry, do feel free to contact me at the address given with the plants. Please put "COVID" in the subject line. Thank you!
Resources, United States (Local): AK (dashboard); AL (dashboard); AR (dashboard); AZ (dashboard); CA (dashboard; Marin, dashboard; Stanford, wastewater; Oakland, wastewater); CO (dashboard; wastewater); CT (dashboard); DE (dashboard); FL (wastewater); GA (wastewater); HI (dashboard); IA (wastewater reports); ID (dashboard, Boise; dashboard, wastewater, Central Idaho; wastewater, Coeur d'Alene; dashboard, Spokane County); IL (wastewater); IN (dashboard); KS (dashboard; wastewater, Lawrence); KY (dashboard, Louisville); LA (dashboard); MA (wastewater); MD (dashboard); ME (dashboard); MI (wastewater; wastewater); MN (dashboard); MO (wastewater); MS (dashboard); MT (dashboard); NC (dashboard); ND (dashboard; wastewater); NE (dashboard); NH (wastewater); NJ (dashboard); NM (dashboard); NV (dashboard; wastewater, Southern NV); NY (dashboard); OH (dashboard); OK (dashboard); OR (dashboard); PA (dashboard); RI (dashboard); SC (dashboard); SD (dashboard); TN (dashboard); TX (dashboard); UT (wastewater); VA (dashboard); VT (dashboard); WA (dashboard; dashboard); WI (wastewater); WV (wastewater); WY (wastewater).
Resources, Canada (National): Wastewater (Government of Canada).
Resources, Canada (Provincial): ON (wastewater); QC (les eaux usées); BC, Vancouver (wastewater).
Hat tips to helpful readers: anon (2), Art_DogCT, B24S, CanCyn, ChiGal, Chuck L, Festoonic, FM, FreeMarketApologist (4), Gumbo, hop2it, JB, JEHR, JF, JL Joe, John, JM (10), JustAnotherVolunteer, JW, KatieBird, LL, Michael King, KF, LaRuse, mrsyk, MT, MT_Wild, otisyves, Petal (6), RK (2), RL, RM, Rod, square coats (11), tennesseewaltzer, Utah, Bob White (3).
Stay safe out there!
* * *
Look for the Helpers
What it takes:

How did we get here?

For the past 3 years we have been gathering data (CO2 readings) in our church buildings across the world. We collected hundreds of samples and gathered all the data in a massive spreadsheet. @citlanx has been the brains and muscle behind this project.

— Liesl McConchie (@LieslMcconchie) October 18, 2023

In the thread: "They want to be aligned with ASHRAE 241." Standards are important! "Not to pick nits, but I would like to know more about why open windows and HVAC were the only ventilation solutions. No HEPA filters or Corsi-Rosenthal boxes? Or masks? I guess Upper-Room UV is seen as substituting for those. In any case, may all megachurches also decide to protect their parishioners.
Treatment
"Pfizer more than doubles price of lifesaving Covid-19 medication Paxlovid as US transitions out of pandemic phase" [CNN]. • Thanks, Ashish!

"Azvudine versus Paxlovid for oral treatment of COVID-19 in Chinese patients with pre-existing comorbidities" (letter)[Journal of Infection]. "In this retrospective cohort study, we found that Azvudine was associated with a significantly reduced risk of composite disease progression outcome* compared with Paxlovid in the COVID-19 patients with pre-existing comorbidities. Notably, Azvudine showed substantial clinical benefit than Paxlovid among men, patients under the age of 65 years, those receiving the hospitalization beyond 5 days since onset, those with severe COVID-19 on admission and those received antibiotic treatment on admission. Paxlovid has been reported to significantly reduce the hospitalization and death rates in patients over 65 years of age but not those under 65 years of age, compared with matched controls.10 Our results support the use of Azvudine in those under 65 years of age. To our knowledge, this is the first study to evaluate the clinical effectiveness of Azvudine versus Paxlovid in COVID-19 patients with pre-existing comorbidities on admission." NOTE * "The primary endpoint was a composite disease progression outcome which was defined as any of the following events: 1) non-invasive respiratory support; 2) initiation of endotracheal intubation; 3) intensive care unit admission; 4) all-cause death. The secondary endpoints were each of these individual disease progression outcomes. Patients were observed from the date of admission until discharge, occurrence of outcome event or death, whichever came first."
"Something Awful"
Lambert here: I'm getting the feeling that the "Something Awful" might be a sawtooth pattern — variant after variant — that averages out to a permanently high plateau. Lots of exceptionally nasty sequelae, most likely deriving from immune dysregulation (says this layperson). To which we might add brain damage, including personality changes therefrom.

* * *
Elite Maleficence
WHO keeps lying that handwashing prevents Covid transmission:

Hand hygiene is one of the most important measures to prevent the spread of infectious diseases, including bacterial, diarrhoeal and respiratory diseases such as #COVID19.https://t.co/7hnwycc1PP#GlobalHandwashingDay pic.twitter.com/N0NnxRTknw

— World Health Organization (WHO) Western Pacific (@WHOWPRO) October 15, 2023

You've gotta admire their commitment to the bit!
* * *
Case Data
NEVER TO BE UPDATED From BioBot wastewater data, October 2: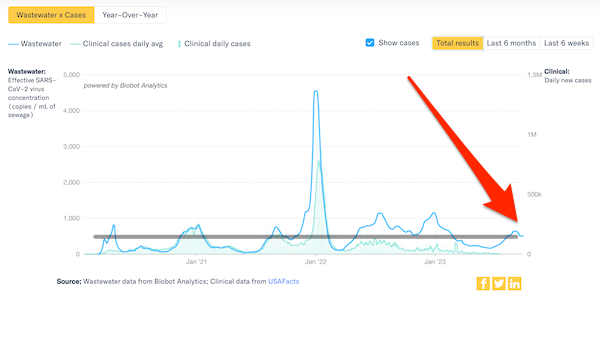 Lambert here: Leveling out to a high plateau wasn't on my Bingo card! Perhaps FL.1.5.1, high in the Northeast, has something going for it that other variants don't have?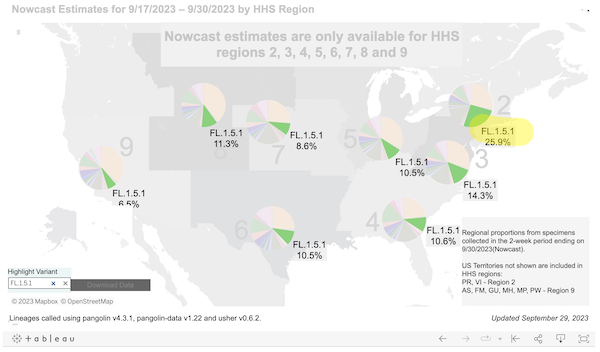 Regional data: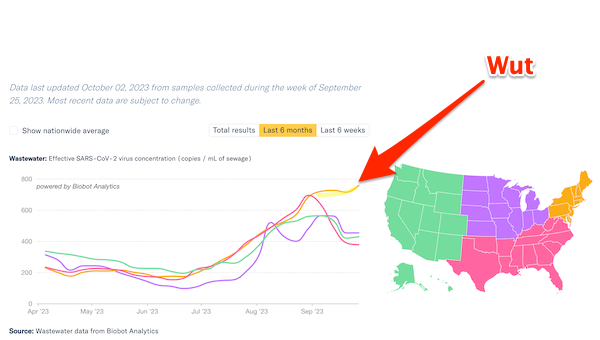 Interestingly, the upswing begins before July 4, which neither accelerates nor retards it.
Variants
NOT UPDATED From CDC, October 14: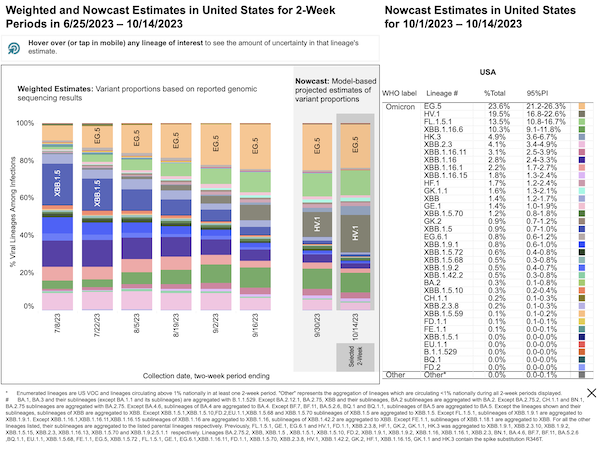 Lambert here: September 30 is tomorrow, but never mind that. Top of the leaderboard: EG.5 ("Eris"), with HV.1 a strong second, and XBB.1.1.16.6 and FL.1.15.1 trailing. No BA.2.86. Still a Bouillabaisse…
From CDC, September 16: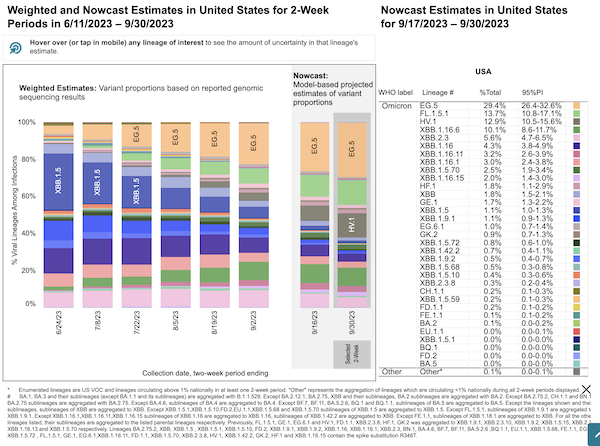 Lambert here: I sure hope the volunteers doing Pangolin, on which this chart depends, don't all move on the green fields and pastures new (or have their access to facilities cut by administrators of ill intent).
CDC: "As of May 11, genomic surveillance data will be reported biweekly, based on the availability of positive test specimens." "Biweeekly: 1. occurring every two weeks. 2. occurring twice a week; semiweekly." Looks like CDC has chosen sense #1. In essence, they're telling us variants are nothing to worry about. Time will tell.
Covid Emergency Room Visits
From CDC NCIRD Surveillance, October 14: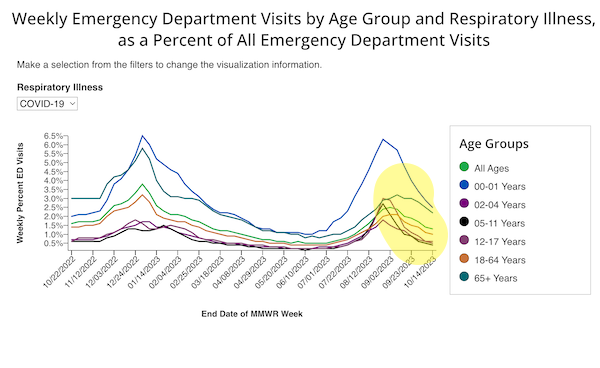 Lambert here: Only a week's lag, so this may be our best current nationwide, current indicator until Verily gets its house in order (and working class-centric, since I would doubt the upper crust goes to the ER).
NOTE "Charts and data provided by CDC, updates Wednesday by 8am. For the past year, using a rolling 52-week period." So not the entire pandemic, FFS (the implicit message here being that Covid is "just like the flu," which is why the seasonal "rolling 52-week period" is appropriate for bothMR SUBLIMINAL I hate these people so much. Notice also that this chart shows, at least for its time period, that Covid is not seasonal, even though CDC is trying to get us to believe that it is, presumably so they can piggyback on the existing institutional apparatus for injections.
Hospitalization
Bellwether New York City, data as of October 19: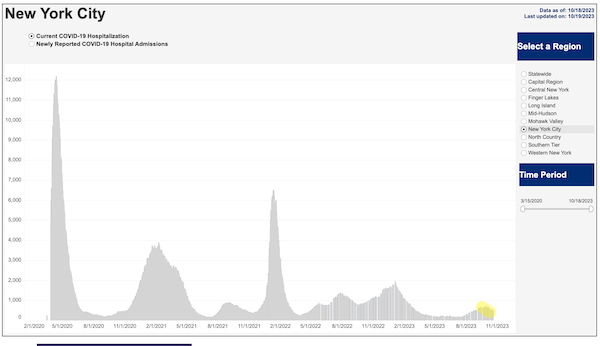 Still decreasing. (New York State is now falling, too.) I hate this metric because the lag makes it deceptive (although the hospital-centric public health establishment loves it, hospitalization and deaths being the only metrics that matter).
NOT UPDATED Here's a different CDC visualization on hospitalization, nationwide, not by state, but with a date, at least. October 7: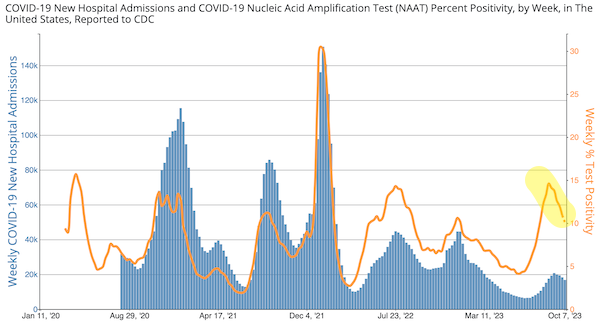 Lambert here: "Maps, charts, and data provided by CDC, updates weekly for the previous MMWR week (Sunday-Saturday) on Thursdays (Deaths, Emergency Department Visits, Test Positivity) and weekly the following Mondays (Hospitalizations) by 8 pm ET†". So where the heck is the update, CDC?
Positivity
NOT UPDATED From Walgreens, October 16: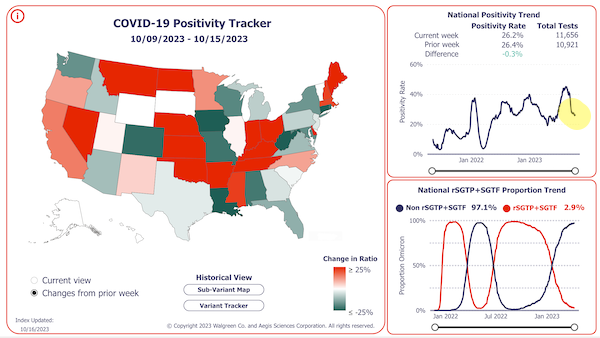 -0.3%. Still dropping, though less than before. (It would be interesting to survey this population generally; these are people who, despite a tsunami of official propaganda and enormous peer pressure, went and got tested anyhow.)
NOT UPDATED From Cleveland Clinic, October 14: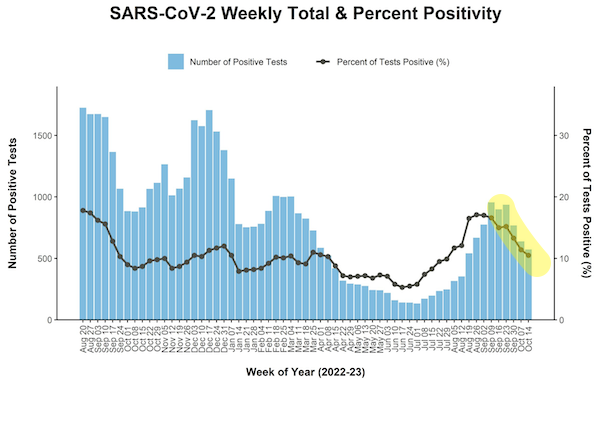 Lambert here: I know this is just Ohio, but the Cleveland Clinic is good*, and we're starved for data, so…. NOTE * Even if hospital infection control is trying to kill patients by eliminating universal masking with N95s.
NOT UPDATED From CDC, traveler's data, September 25: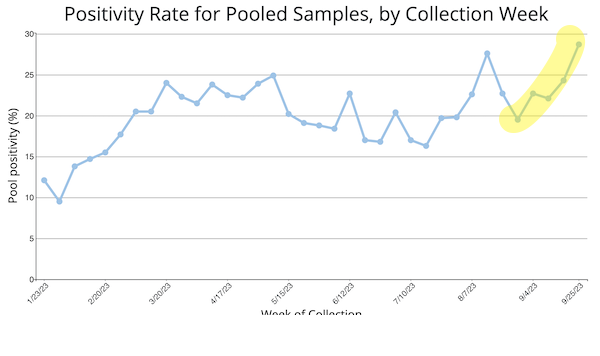 Back up again, albeit in the rear view mirror. And here are the variants for travelers: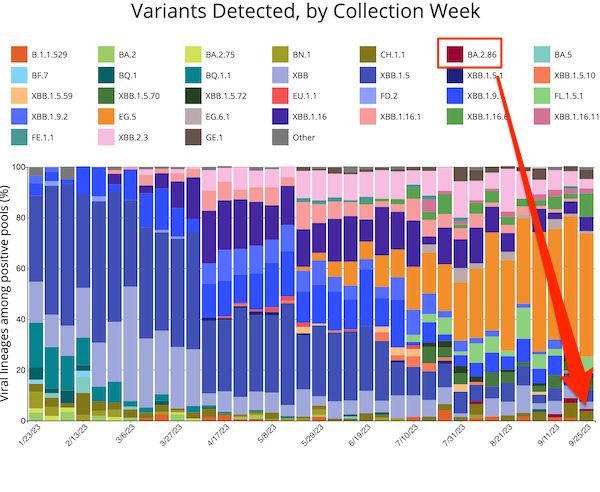 BA.2.86 shrinks. Flash in the pan?
Deaths
NOT UPDATED Iowa COVID-19 Tracker, September 27: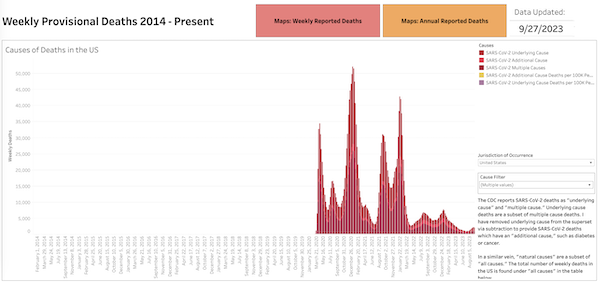 Lambert here: The WHO data is worthless, so I replaced it with the Iowa Covid Data Tracker. Their method: "These data have been sourced, via the API from the CDC: https://data.cdc.gov/NCHS/Conditions-Contributing-to-COVID-19-Deaths-by-Stat/hk9y-quqm. This visualization updates on Wednesday evenings. Data are provisional and are adjusted weekly by the CDC." I can't seem to get a pop-up that shows a total of the three causes (top right). Readers?
Total: 1,179,587 – 1,179,385 = 202 (202 * 365 = 73,730 deaths per year, today's YouGenicist™ number for "living with" Covid (quite a bit higher than the minimizers would like, though they can talk themselves into anything. If the YouGenicist™ metric keeps chugging along like this, I may just have to decide this is what the powers-that-be consider "mission accomplished" for this particular tranche of death and disease). 
Excess Deaths
The Economist, October 19: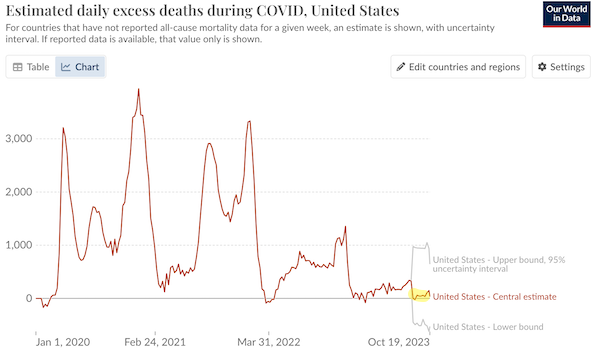 Lambert here: Based on a machine-learning model.
Stats Watch
Employment Situation: "United States Initial Jobless Claims" [Trading Economics]. "The number of Americans filing for unemployment benefits fell by 13,000 from the prior week to 198,000 on the week ending October 14th, the least since January of 2023 and well below market estimates of 212,000. The result added to evidence that the labor market remains at historically tight levels, pointing to further resilience to the Federal Reserve's aggressive tightening cycle and prolonging the period in which the central bank is expected to leave borrowing costs at restrictive levels."
Manufacturing: "United States Philadelphia Fed Manufacturing Index" [Trading Economics]. "The Philadelphia Fed Manufacturing Index in the US increased [to] -9 in October 2023 from -13.5 in September, compared with market forecasts of -6.4."
* * *
The Bezzle: "New York sues crypto firms for losing over $1 billion" [The Verge]. "New York Attorney General Letitia James is suing three cryptocurrency companies — Gemini, Genesis, and Digital Currency Group (DCG) — over claims they misled investors, leading to the loss of over $1 billion. In a lawsuit filed on Thursday, James says their alleged fraudulent schemes affected over 230,000 investors. The lawsuit targets Gemini, the crypto exchange owned by Cameron and Tyler Winklevoss, and its Earn program…. Additionally, James is suing Genesis and its DCG parent company for allegedly trying to cover up over $1 billion in losses. James is seeking to ban Gemini, Genesis, and DCG from the investment industry in New York. She also wants the firms to 'pay damages, restitution, and disgorgement of all funds and cryptocurrencies' that they earned as part of their alleged schemes." • Prosecution futures.
The Bezzle: "Google-hosted malvertising leads to fake Keepass site that looks genuine" [Ars Technica]. "Google has been caught hosting a malicious ad so convincing that there's a decent chance it has managed to trick some of the more security-savvy users who encountered it…. Looking at the ad, which masquerades as a pitch for the open source password manager Keepass, there's no way to know that it's fake. It's on Google, after all, which claims to vet the ads it carries. Making the ruse all the more convincing, clicking on it leads to ķeepass[.]info, which, when viewed in an address bar, appears to be the genuine Keepass site." Note that "ķ" is a different character from "k," which is how the ad tricks you (and on a cellphone, the difference will be extremely hard to spot). More: "Information from Google's Ad Transparency Center shows that the ads have been running since Saturday and last appeared on Wednesday. The ads were paid for by an outfit called Digital Eagle, which the transparency page says is an advertiser whose identity has been verified by Google."
Tech:
Lol.
Manufacturing: "Rolls-Royce is cutting up to 2,500 jobs in an overhaul of the U.K. jet engine maker" [NPR]. "Jet engine maker Rolls-Royce said Tuesday it's cutting up to 2,500 jobs globally as part of a corporate overhaul that its new CEO is carrying out. The aerospace company was hit hard by the COVID-19 pandemic that decimated demand for air travel." • A ginormous fake parts scandal based in the UK, Boeing's endless troubles, the continuing F-35 debacle (achieiving a monopoly for a defective product is a pretty neat trick!)…. Should someone check in on the West's aircraft industry? As alert reader Paul J-H points out, "Airbus, Dassault and Saab are doing quite ok, I think? In other words – the European firms." European? Or with significant state involvement?
* * *
NOT UPDATED! Today's Fear & Greed Index: 35 Fear (previous close: 35 Fear) [CNN]. One week ago: 31 (Fear). (0 is Extreme Fear; 100 is Extreme Greed). Last updated Oct 16 at 8:00:00 PM ET. Breaking in a new intern?
Guillotine Watch
"Exclusive: Tech billionaire Peter Thiel was an FBI informant" [Insider]. "In the summer of 2021, Insider has learned, Thiel began providing information as a "confidential human source," or CHS, to Johnathan Buma, a Los Angeles-based FBI agent who specializes in investigating political corruption and foreign-influence campaigns. Charles Johnson, a longtime associate of Thiel's and a notorious figure in the far-right movement that Thiel has subsidized for a decade, told Insider in a statement that he helped recruit the billionaire as an informant by introducing him to Buma. The source said that any assistance Thiel might have provided to the FBI should be understood as part of Thiel's gradual distancing of himself from Trump and the broader MAGA movement, which has vigorously criticized the FBI and other federal law-enforcement agencies…. The FBI maintains a vast network of informants to keep tabs on organized crime, terrorist threats, extremist groups, and other criminal and intelligence targets. These sources, according to the bureau's Confidential Human Source Policy Guide, are more than casual tipsters. Confidential human sources enter 'into a relationship with the FBI, and that relationship will forever affect the life of that individual,' the guide says. '[They] will be either an 'FBI source' or a 'former FBI source' and, in turn, his or her conduct or misconduct will reflect upon the FBI.'" • That Guide sounds like fascinating reading. Good premise for a novel!
Class Warfare
"UAW members aren't all assembling cars. More and more are unionized grad students" [NPR]. "On a recent Saturday, a crowd marched in the rain outside a Stellantis parts distribution center in Tappan, N.Y. Joining the striking autoworkers were others members of the United Auto Workers union, including some hailing from completely different lines of work. ',' says Andrea Joseph, a postdoctoral fellow from the Icahn School of Medicine at Mount Sinai who studies pregnancy. These days, the 'A' in UAW might as well include academia, as roughly 100,000 of the union's 383,000 members work in higher education. They include graduate students who work as teaching and research assistants, clerical and technical workers, adjunct professors and postdocs."
"The Annoyance Economy" [Annie Lowry, The Atlantic]. "The gap between how the economy is and how people feel things are going is enormous, and arguably has never been bigger…. [N]ostalgia, true or false, is driving up the Annoyance Index. Even if things are pretty good at the moment, many Americans remember them feeling better in the recent past. Families had way more cash on hand during the pandemic. Interest rates were much lower. Wage growth was faster a year ago. Prices were lower—a lot lower—before the pandemic. And many employees have been forced back to the office, when they were happy working at home. Things are great, but folks are mad. All we need is for prices to come down, interest rates to stabilize, housing markets to normalize, polarization to decrease, and the news media's incentives to change. Until then, the Economic Annoyance Index will just keep getting higher." • Piece of cake!
"Self-Checkout Is a Failed Experiment" [The Atlantic]. "You know how this process actually goes by now: You still have to wait in line. The checkout kiosks bleat and flash when you fail to set a purchase down in the right spot. Scanning those items is sometimes a crapshoot—wave a barcode too vigorously in front of an uncooperative machine, and suddenly you've scanned it two or three times. Then you need to locate the usually lone employee charged with supervising all of the finicky kiosks, who will radiate exasperation at you while scanning her ID badge and tapping the kiosk's touch screen from pure muscle memory. If you want to buy something that even might carry some kind of arbitrary purchase restriction—not just obvious things such as alcohol, but also products as seemingly innocuous as a generic antihistamine—well, maybe don't do that. All is not rosy in the world of self-checkout." • The same will be true of AI customer service, when that becomes ubiquitous.
"'Déjà vu': A train derailment 40 years ago holds clues for East Palestine's future" [NBC]. "Livingston [Louisiana]'s derailment offers one of the closest parallels to the disaster unfolding in East Palestine. Both were major train crashes. Both involved some of the same chemicals, including vinyl chloride. Both communities saw train cars catch fire and chemical fires pollute the air. And both communities have grappled with deep concerns about the safety of the air they breathe and the water they drink. Few have been as impactful as the one in Livingston, where cleanup efforts, health monitoring and water testing continued for at least three decades. It's a situation that offers some sense of the future for residents in Ohio and also serves as a reminder that U.S. rail towns for decades have faced dangers as chemicals pass through." • Makes me wonder about pipelines….
News of the Wired
"Early Europeans Ate Seaweed for Thousands of Years" [Smithsonian]. "[R]esearchers analyzed samples of preserved dental plaque from the remains of 74 early humans unearthed at 28 European archaeological sites. Some of the teeth were around 2,000 years old, while others were more than 8,000 years old… They found the chemical biomarkers of seaweed and aquatic plants in 26 samples, which suggests that early humans were eating—or, at the very least, chewing—these bounties from the sea. More specifically, they detected red, green and brown seaweed, as well as pondweed and a relative of the water lily…. The researchers hope their findings will encourage more people to start adding seaweed and aquatic plants to their diets."
"The Theory That Men Evolved to Hunt and Women Evolved to Gather Is Wrong" [Scientific American]. "Even if you're not an anthropologist, you've probably encountered one of this field's most influential notions, known as Man the Hunter. The theory proposes that hunting was a major driver of human evolution and that men carried this activity out to the exclusion of women. It holds that human ancestors had a division of labor, rooted in biological differences between males and females, in which males evolved to hunt and provide, and females tended to children and domestic duties. It assumes that males are physically superior to females and that pregnancy and child-rearing reduce or eliminate a female's ability to hunt…. Mounting evidence from exercise science indicates that women are physiologically better suited than men to endurance efforts such as running marathons. This advantage bears on questions about hunting because a prominent hypothesis contends that early humans are thought to have pursued prey on foot over long distances until the animals were exhausted. Furthermore, the fossil and archaeological records, as well as ethnographic studies of modern-day hunter-gatherers, indicate that women have a long history of hunting game…. Overall, females are metabolically better suited for endurance activities, whereas males excel at short, powerful burst-type activities. You can think of it as marathoners (females) versus powerlifters (males). Much of this difference seems to be driven by the powers of the hormone estrogen."
* * *
Contact information for plants: Readers, feel free to contact me at lambert [UNDERSCORE] strether [DOT] corrente [AT] yahoo [DOT] com, to (a) find out how to send me a check if you are allergic to PayPal and (b) to find out how to send me images of plants. Vegetables are fine! Fungi and coral are deemed to be honorary plants! If you want your handle to appear as a credit, please place it at the start of your mail in parentheses: (thus). Otherwise, I will anonymize by using your initials. See the previous Water Cooler (with plant) here. From Desert Dog: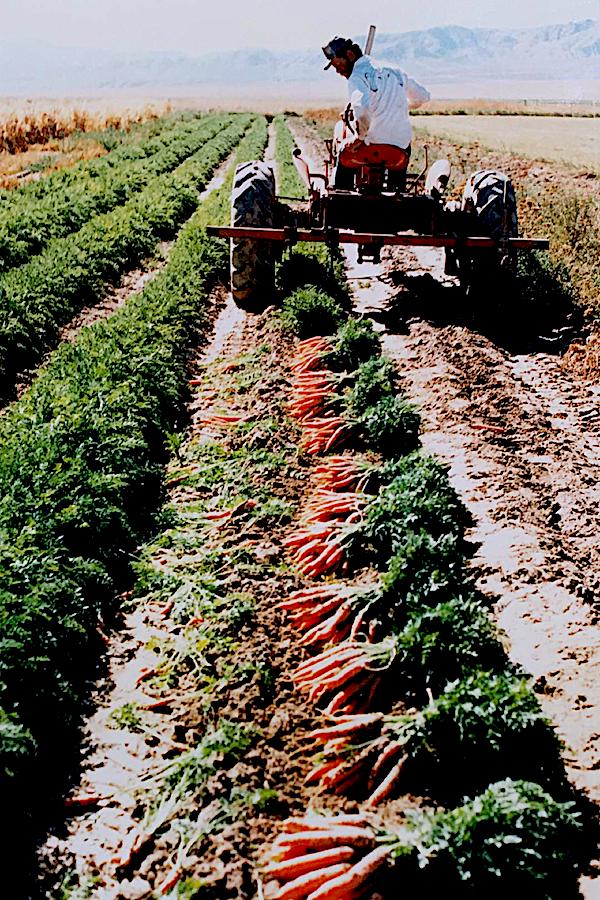 Desert Dog writes: "It's getting to be that time of year to harvest the French Juicing Carrots which are the finest for both eating and juicing." I had to fiddle with this a bit, and I didn't have time to go into LightRoom to save the sky. But impressive! That's a lot of carrots!
* * *
Readers: Water Cooler is a standalone entity not covered by the annual NC fundraiser. So if you see a link you especially like, or an item you wouldn't see anywhere else, please do not hesitate to express your appreciation in tangible form. Remember, a tip jar is for tipping! Regular positive feedback both makes me feel good and lets me know I'm on the right track with coverage. When I get no donations for five or ten days I get worried. More tangibly, a constant trickle of donations helps me with expenses, and I factor in that trickle when setting fundraising goals:
Here is the screen that will appear, which I have helpfully annotated: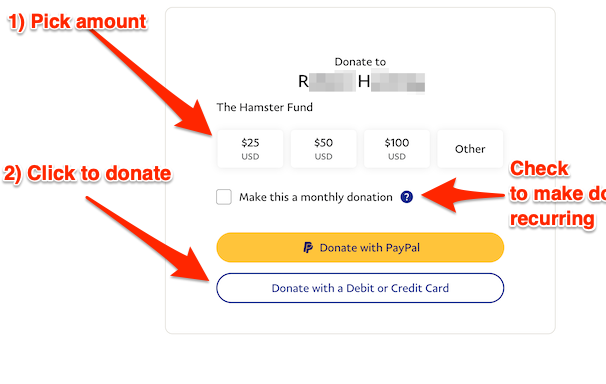 If you hate PayPal, you can email me at lambert [UNDERSCORE] strether [DOT] corrente [AT] yahoo [DOT] com, and I will give you directions on how to send a check. Thank you!