By Lambert Strether of Corrente.
Bird Song of the Day
Tree Swallow, Pilgrim Hot Springs Rd, off Kougarok Rd. Nome Census Area, Alaska, United States.
* * *
Politics
"So many of the social reactions that strike us as psychological are in fact a rational management of symbolic capital." –Pierre Bourdieu, Classification Struggles
Biden Administration
"What Friends Owe Friends" [Richard Haass, Foreign Affairs]. "The Biden administration has banked enormous goodwill with the Israeli government and people as a result of the president's extraordinary October 10 speech, Secretary of State Antony Blinken's visit to Israel last week, and the decision to supply Israel with what it needs militarily. Mario Cuomo, who served as the governor of New York, once remarked that a politician campaigns in poetry but governs in prose. President Joe Biden's speech was poetry, but the time has come for prose, best delivered in private. Both the United States and Israel should want to avoid an outcome that involves Israel being pressured into a cease-fire amid broad condemnation regionally and globally. Arab governments, including Saudi Arabia, could reinforce that message as well as help to facilitate the release of Israeli hostages and signal to Israel that normalization could proceed after the war ends if Israel is seen to have acted responsibly." • No doubt!

"'You are not alone': Biden attends Israeli war cabinet meeting" (video) [MSNBC, YouTube]. " and met with Israeli Prime Minister Benjamin Netanyahu during a visit to Tel Aviv amid the war with Hamas." • That's completely unseemly. On the bright side, at least any notion that the U.S. is or can be an "honest broker" has been erased.
2024
Time for the Countdown Clock!

* * *

"The Gag Order Contempt Trap" [Declassified with Julie Kelly]. "Here is the crux of the order":

"But two things beg for clarity. One, 'directing others to make any public statements' appears to satisfy Smith's request that the gag order prohibit 'surrogates' from making unacceptable comments. What does that mean? Who, in Chutkan's mind, are 'others' and who decides if they've been directed by Trump or his attorneys? Does it apply to Trump's campaign spokesmen, his family members, or even supportive members of Congress? How will the "directing" caveat be satisfied? An FBI raid followed by interrogation? Second, the blanket term 'reasonably foreseeable witness' creates a gaping contempt trap. During the hearing, Chutkan and Smith's team made clear that negative comments about former Vice President Mike Pence, former Attorney General William Barr, and former chairman of the Joint Chiefs of Staff Mark Milley would be forbidden since they might be called as government witnesses in the March 2024 trial. (It's highly unlikely any would agree to testify.) But who else does that include? Smith's indictment refers to dozens of individuals tied to the 2020 election including Republican officials in swing states who could be considered 'reasonably foreseeable witnesses.' Does that mean Trump cannot criticize, say, Republican Georgia Governor Brian Kemp? What about Democratic governors in Michigan, Wisconsin, and Pennsylvania who also are mentioned in Smith's indictment? Does the gag order cover any and all comments about the 2020 election, an issue Trump continues to discuss on the campaign trail and one of continued concern to Republican voters?" • All Trump has to do is try some apophasisa ("Now, I'm not saying Jack Smith is narrow between the eyes….").

* * *

"Do the math," an order liberal Democrats are fond of issuing:

Plus, Joe Biden owes me six hundred bucks.

"Kamala Harris' popularity at historic lows because she talks to people like children, says Marc Thiessen" [Marc Theissen, FOX]. "She has this habit of talking about the most mundane things in this deeply profound voice. And when people hear that, when people hear her say, 'Transportation is about getting people to the place they want to go,' and says it in such a profound way, they think one of two things. Either they think she's stupid or they think, 'She thinks I'm stupid.' People don't like to be talked to like a child. And so either they just lose confidence in her or they think she's talking down to them, and that makes her profoundly unpopular."• Sure, FOX. But he's not wrong!

* * *

"Editorial: Hamas attacks were personal in South Florida. DeSantis' swift action pays off" [Miami Herald]. "On Sunday night, 270 evacuees landed at Tampa International Airport, the result of an executive order DeSantis signed on Thursday to charter flights for Florida residents stranded in Israel. Another flight carrying seven people landed in Orlando earlier in the day. DeSantis, who's running for president, and his wife greeted the evacuees in Tampa, where they shook hands posed for photos. The Herald Editorial Board has criticized DeSantis for exploiting politically fraught moments, as he did with the Southern border crisis when he flew migrants to Martha's Vineyard. This time, however, the governor's actions have real consequences and benefits for Floridians and Americans caught up in the unprecedented attacks by Hamas, which the United States rightly labels a terrorist organization. The group murdered entire families, children the elderly and music festival goers, hunted down and executed in cold blood. Almost 200 others were taken hostage, the Israeli military said Monday. The attacks feel personal for South Florida and other areas of the country with large Jewish populations who contribute to every facet of our communities and whose traditions have made our melting pot more vibrant." • The contrast between DeSantis and Biden is pretty great (and Trump could have chartered a plane, if he'd thought of it. Or sent his own). Quick thinking by DeSantis.

* * *

"Original Spin" [Jeffrey Toobin, Airmail]. Skakel was a Kennedy clan member convicted of murder. "[I]n 2016, Kennedy published Framed: Why Michael Skakel Spent over a Decade in Prison for a Murder He Didn't Commit. The book became a best-seller and, more importantly, now that Kennedy is running for president, it established a literary—and political—prototype for Kennedy. In Framed, Kennedy took a complex and unfamiliar subject for most readers—here, a decades-old murder—and presented a tendentious and misleading version of the facts, tailored to his own preconceptions. Worse yet, Kennedy relied on an ugly racial stereotype—about "big, muscular, and tall" nonwhite men—to attempt to pin the murder on two innocent people. Kennedy followed a similar approach in his later books about vaccines and the coronavirus pandemic: using cherry-picked details and bogus insinuations to make a case that his readers, as non-specialists, lacked the expertise to refute. Kennedy's record on a subject as narrow as the Moxley murder or as broad as epidemiology compels the same conclusion: that he is a fundamentally untrustworthy narrator." A long article, worth the unlock. This caught my eye: "The heart of Kennedy's defense of his cousin is that Skakel had what Kennedy describes variously as an "ironclad alibi" and a "gold-plated alibi" because he was at the Terrien home between 9:30 and 10 P.M., "the established time of Martha's death." But that narrow window was not "the established" time of her death; in fact, the testimony of multiple forensic-science experts at the trial, based on the crime-scene evidence and autopsy results, showed that it was impossible to pinpoint the precise time of death. According to their testimony, Moxley could have died any time between 9:30 P.M. on October 30 and 5:30 A.M. the following morning. Kennedy's fundamental distortion of the evidence undermines his case for Skakel's innocence." • So, interesting. I remember Toobin from back in the Clinton impeachment days; he was like a Jonathan Turley, but for liberals. Of course, that was a long time ago….

* * *

"How Gavin Newsom cooled California labor's hot streak" [Politico]. "As he builds his profile as a national Democratic leader, Newsom took a middle path in his handling of labor's big priorities at home in California, delivering unions some significant wins but also checking them in telling ways…. Newsom thwarted unions by rejecting far-reaching responses to economic transformations like automation — embodied by bills offering insurance to striking workers and cracking down on driverless trucks — along with protections for domestic workers and safeguards for Starbucks organizing drives. On the other side of the ledger, he enacted a law expanding the number of sick days employers must provide, negotiated a breakthrough fast food labor deal, and set aside his fiscal reservations to raise the minimum wage for health care workers." • Could be positioning himself nationally. Or maybe he just hates workers?

* * *

PA: "The Pa. Supreme Court race is 'the biggest game in town,' and groups are spending big on both sides" [The Inquirer]. "The race to fill a vacancy on the Pennsylvania Supreme Court is dominating airwaves and mailboxes across the state this fall. That's because both parties see it as a high-stakes race — and an important test…. The race between Carluccio, currently the president judge of the Montgomery County Court of Common Pleas, and McCaffery, a state Superior Court judge, has centered on abortion, mail voting, and election laws — issues with stark partisan divides that are likely to go before the court in the coming year…. In interviews, the major difference the two candidates expressed in their judicial ideologies was what a Supreme Court justice should do when the law is unclear, or when the General Assembly fails to clarify the law. Carluccio said the court should follow the law as written, and said it is not the court's role to fill in any gaps. McCaffery, meanwhile, said he believes it is the court's duty to interpret the laws and their intent. For example, McCaffery said the court did its job in 2020 when it created drop boxes and a three-day window for mail ballots to arrive to counties, while the court was widely criticized by Republicans for creating policy that did not exist in the law."

CA: "Garvey Talks Baseball, Common Sense, and Cross-Party Appeal" [RealClearPolitics]. "This week, as the baseball great jumped into a crowded field of candidates vying to succeed the late Sen. Dianne Feinstein, he's hoping he can translate his ability to maintain loyal fans from rival sports franchises to generating cross-party appeal. Though his entrance into the race was expected for months, Garvey, 74, says he made a final determination to run after Giants fans started coming up to him to say, 'God, we hate the Dodgers, but we'll vote for you.' 'So maybe that was a precursor for running for office,' Garvey told RealClearPolitics Tuesday, declining to say which team he now roots for the most. "I mean, trying to be a man for all people.' It's a message Garvey hopes resonates among a broad swath of voters and one that will help him stand out among a deeply partisan slate of candidates that includes Democratic Reps. Adam Schiff, Katie Porter, Barbara Lee, and potentially Laphonza Butler, the longtime labor leader [and Uber shill] and abortion-rights advocate Newsom appointed last week to fill the Senate vacancy.
Republican Funhouse
"Jim Jordan With a New Twenty" [The American Conservative]. BWA-HA-HA-HA-HA!!! Even TAC! More: "en months ago, Rep. Kevin McCarthy of California, then the Republican nominee for Speaker of the House, had to cut a deal with twenty conservative holdouts, nicknamed "the Twenty," to become Speaker. McCarthy's potential replacement, Rep. Jim Jordan of Ohio, is now dealing with a new, very different Twenty. While McCarthy was dogged by the House Freedom Caucus and friends, Jordan faces a blob of establishment-type Republicans composed mostly of appropriators, warmongers, and liberals."

"Jordan's speakership campaign on its last legs" [Politico]. "Opposition to Jim Jordan's speakership bid is increasing, as the Ohio Republican again failed to get the 217 votes he needs to win the gavel. After halting voting for nearly a day in hopes of securing more Republican votes, Jordan instead lost two more votes on the second ballot. The House then went into another recess, at Jordan's request, before a possible third vote. The GOP plans to hold a conference meeting Wednesday afternoon as it keeps searching for a way out of its speaker mess. Jordan's total number of Republican opponents reached 22 on the second round of voting. With the list of defectors growing, even after a significant delay, his chances at the gavel are looking virtually nonexistent…. [Some Republicans] are openly floating an alternative: Empowering acting Speaker Patrick McHenry to move certain legislation on the floor."
Democrats en Déshabillé
Patient readers, it seems that people are actually reading the back-dated post! But I have not updated it, and there are many updates. So I will have to do that. –lambert

I have moved my standing remarks on the Democrat Party ("the Democrat Party is a rotting corpse that can't bury itself") to a separate, back-dated post, to which I will periodically add material, summarizing the addition here in a "live" Water Cooler. (Hopefully, some Bourdieu.) It turns out that defining the Democrat Party is, in fact, a hard problem. I do think the paragraph that follows is on point all the way back to 2016, if not before:

The Democrat Party is the political expression of the class power of PMC, their base (lucidly explained by Thomas Frank in Listen, Liberal!). ; if the Democrat Party did not exist, the PMC would have to invent it. . ("PMC" modulo "class expatriates," of course.) Second, all the working parts of the Party reinforce each other. Leave aside characterizing the relationships between elements of the Party (ka-ching, but not entirely) those elements comprise a network — a Flex Net? An iron octagon? — of funders, vendors, apparatchiks, electeds, NGOs, and miscellaneous mercenaries, with assets in the press and the intelligence community.

Note, of course, that the class power of the PMC both expresses and is limited by other classes; oligarchs and American gentry (see 'industrial model' of Ferguson, Jorgensen, and Jie) and the working class spring to mind. Suck up, kick down.

* * *

"California Senate race will prove whether Democrats care about diversity" [Steve Phillips, WaPo]. "Time and again it has been shown that . Democrats across the country agree that Black women are badly underrepresented in our nation's leadership. Schiff and Porter are White; Lee is a Black woman. The right course is clear, isn't it? It would be, anyway, if the participants had the courage and principles to follow it: Schiff and Porter should step aside and reembrace their vital leadership roles in the House. And the rest of the state's Democratic leaders should walk their talk and throw their clout behind Lee's bid for the state's full six-year seat in the Senate." • Considering the key role played by the South Carolina political establishment in 2008, 2016 (Clinton), and 2020 (Biden), perhaps it's time for a transplant.
Realignment and Legitimacy
"Young Morality and Old Morality" [Hamilton Nolan, How Things Work]. "Who is being childish here? Is it the young college students, appalled at genocide looming in front of their eyes, possessed with the overwhelming urge to do something, who—despite not possessing a PhD in global affairs—flood into the streets and rage against the atrocity? Or is it the well educated and highly placed and influential adults, granted positions of great importance, who, as a crisis unfolds, as civilians are murdered, as neighborhoods are bombed, as oppression and religion collide in war, use their time griping about the hotheadedness of the young people protesting in the streets? Which of these groups has more accurately identified what should be our current topic of attention—the young people whose focus is on the governments that possess militaries and missiles and are poised to cause thousands of deaths, or the adults whose focus is on how some college kid said something annoying at a DSA rally? Wake the f*ck up. The adults in the room are everywhere proving the kids' critique to be true."

"Deb Chachra's 'How Infrastructure Works'" [Cory Doctorow, Pluralistic]. "Infrastructure isn't merely a way to deliver life's necessities – mobility, energy, sanitation, water, and so on – it's a shared way of delivering those necessities. It's not just that economies of scale and network effects don't merely make it more efficient and cheaper to provide these necessities to whole populations. It's also that the lack of these network and scale effects make it unimaginable that these necessities could be provided to all of us without being part of a collective, public project. The dream of declaring independence from society, of going 'off-grid,' of rejecting any system of mutual obligation and reliance isn't merely an infantile fantasy – it also doesn't scale, which is ironic, given how scale-obsessed its foremost proponents are in their other passions. Replicating sanitation, water, rubbish disposal, etc to create individual systems is wildly inefficient. Creating per-person communications systems makes no sense – by definition, communications involves at least two people. So , Chachra reminds us, . It's a gift we give to ourselves, to each other, and to the people who come after us. Any rugged individualism is but a thin raft, floating on an ocean of mutual obligation, mutual aid, care and maintenance. Infrastructure is vital and difficult. Its amortization schedule is so long that in most cases, it won't pay for itself until long after the politicians who shepherded it into being are out of office (or dead). Its duty cycle is so long that it can be easy to forget it even exists – especially since the only time most of us notice infrastructure is when it stops working."
#COVID19
"I am in earnest — I will not equivocate — I will not excuse — I will not retreat a single inch — AND I WILL BE HEARD." –William Lloyd Garrison
Resources, United States (National): Transmission (CDC); Wastewater (CDC, Biobot; includes many counties; Wastewater Scan, includes drilldown by zip); Variants (CDC; Walgreens); "Iowa COVID-19 Tracker" (in IA, but national data). "Infection Control, Emergency Management, Safety, and General Thoughts" (especially on hospitalization by city).
Lambert here: Readers, thanks for the collective effort. To update any entry, do feel free to contact me at the address given with the plants. Please put "COVID" in the subject line. Thank you!
Resources, United States (Local): AK (dashboard); AL (dashboard); AR (dashboard); AZ (dashboard); CA (dashboard; Marin, dashboard; Stanford, wastewater; Oakland, wastewater); CO (dashboard; wastewater); CT (dashboard); DE (dashboard); FL (wastewater); GA (wastewater); HI (dashboard); IA (wastewater reports); ID (dashboard, Boise; dashboard, wastewater, Central Idaho; wastewater, Coeur d'Alene; dashboard, Spokane County); IL (wastewater); IN (dashboard); KS (dashboard; wastewater, Lawrence); KY (dashboard, Louisville); LA (dashboard); MA (wastewater); MD (dashboard); ME (dashboard); MI (wastewater; wastewater); MN (dashboard); MO (wastewater); MS (dashboard); MT (dashboard); NC (dashboard); ND (dashboard; wastewater); NE (dashboard); NH (wastewater); NJ (dashboard); NM (dashboard); NV (dashboard; wastewater, Southern NV); NY (dashboard); OH (dashboard); OK (dashboard); OR (dashboard); PA (dashboard); RI (dashboard); SC (dashboard); SD (dashboard); TN (dashboard); TX (dashboard); UT (wastewater); VA (dashboard); VT (dashboard); WA (dashboard; dashboard); WI (wastewater); WV (wastewater); WY (wastewater).
Resources, Canada (National): Wastewater (Government of Canada).
Resources, Canada (Provincial): ON (wastewater); QC (les eaux usées); BC, Vancouver (wastewater).
Hat tips to helpful readers: anon (2), Art_DogCT, B24S, CanCyn, ChiGal, Chuck L, Festoonic, FM, FreeMarketApologist (4), Gumbo, hop2it, JB, JEHR, JF, JL Joe, John, JM (10), JustAnotherVolunteer, JW, KatieBird, LL, Michael King, KF, LaRuse, mrsyk, MT, MT_Wild, otisyves, Petal (6), RK (2), RL, RM, Rod, square coats (11), tennesseewaltzer, Utah, Bob White (3).
Stay safe out there!
* * *
Look for the Helpers
"Signing up and participating in the November 2-3rd Virtual HICPAC Meeting" [World Health Network]. "The Oral Public Comment Request Submission Period will open October 2, 2023, and close on October 23, 2023." So there's still time. (CDC gatekeeps by requiring a "business email address," but WHN says any address should be OK.) Also, you don't have to sign up to watch: ". The link to the meeting webcast will be posted at their website shortly before the meeting." Excellent work, including a meeting guide and talking points. (Hilariously, the minutes and recordings for 2023 are all by outside parties like WHN; nothing by CDC at all.)
Maskstravaganza
"What Went Wrong with a Highly Publicized COVID Mask Analysis?" [Scientific American]. "Cochrane Reviews base their findings on randomized controlled trials (RCTs), often called the "gold standard" of scientific evidence. But many questions can't be answered well with RCTs, and some can't be answered at all. Nutrition is a case in point. It's almost impossible to study nutrition with RCTs because you can't control what people eat, and when you ask them what they have eaten, many people lie. In fact, there is strong evidence that masks do work to prevent the spread of respiratory illness. It just doesn't come from RCTs. It comes from Kansas. In July 2020 the governor of Kansas issued an executive order requiring masks in public places. Just a few weeks earlier, however, the legislature had passed a bill authorizing counties to opt out of any statewide provision. In the months that followed, COVID rates decreased in all 24 counties with mask mandates and continued to increase in 81 other counties that opted out of them. Another study found that states with mask mandates saw a significant decline in the rate of COVID spread within just days of mandate orders being signed. The authors concluded that in the study period—March 31 to May 22, 2020—more than 200,000 cases were avoided, saving money, suffering and lives…. Cochrane ignored this epidemiological evidence because it didn't meet its rigid standard. I have called this approach 'methodological fetishism,' when scientists fixate on a preferred methodology and dismiss studies that don't follow it." • See NC on Cochrane here.
Sequelae
"Cognitive-linguistic difficulties in adults with Long COVID: A follow-up study" [Science Direct]. N = 41. "In summary, adults with Long COVID displayed significantly weaker performance than healthy adults in immediate and delayed at the 6-month follow-up study. This was consistent with their poor performance in verbal recall in the first study and indicated that this area of cognitive-linguistic performance had not improved during the 6-month period between the first and follow-up studies. The absence of statistically significant differences between adults with Long COVID and healthy adults on all other language tasks indicated that adults with Long COVID had improved their performance in several areas that were weak in the first study. These areas are verbal fluency (letter and category fluency) and discourse informativeness. The fact that adults with Long COVID had effectively closed the gap between their performance and that of healthy adults in verbal fluency and discourse informativeness suggested that there had been some spontaneous improvement in these cognitive-linguistic skills in the 6 months between the first and follow-up studies." • That's great, but: PILOT TO TOWER: Uh, can you repeat that?
"Something Awful"
Lambert here: I'm getting the feeling that the "Something Awful" might be a sawtooth pattern — variant after variant — that averages out to a permanently high plateau. Lots of exceptionally nasty sequelae, most likely deriving from immune dysregulation (says this layperson). To which we might add brain damage, including personality changes therefrom.

* * *
Elite Maleficence
And the band played on….

Did we mention our #IDBugBowl planning team is the BEST? 💗#IDWeek2023 pic.twitter.com/0ORekQOsab

— IDWeek (@IDWeekmtg) October 15, 2023

Note that Biobot wastewater data, before CDC choked it off, showed that cases were high in the Northeast; IDweek is held in Boston, sponsored by the The Infectious Diseases Society of America (IDSA). I love that all the collateral for the conferences uses the 2LA "ID" (identity?). What ID actually stands for — "Infectious Diseases" — is carefully erased. Bad vibes, no doubt.

They knew:

"Managers are reading this and freaking out."

From an e-mail (Apr. 7, 2020) between two former White House Medical Unit Directors after CDC suggests possibility of airborne transmission.

Found on: https://t.co/DAp8hOuM7i pic.twitter.com/maSqAhG1ny

— Maarten De Cock (@mdc_martinus) October 17, 2023
* * *
Case Data
NEVER TO BE UPDATED From BioBot wastewater data, October 2: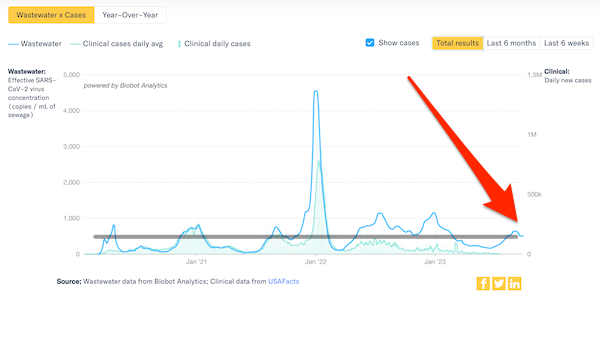 Lambert here: Leveling out to a high plateau wasn't on my Bingo card! Perhaps FL.1.5.1, high in the Northeast, has something going for it that other variants don't have?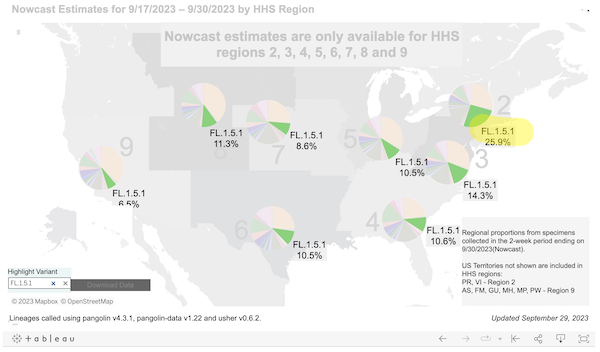 Regional data: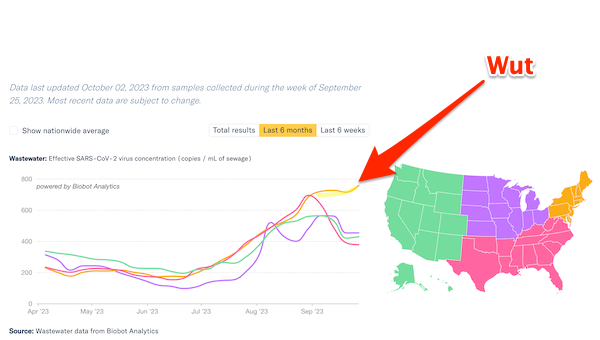 Interestingly, the upswing begins before July 4, which neither accelerates nor retards it.
• How to get at the ridiculously bad Verily dashboard now that Biobot's been axed, a thread:
Did you know, you can still access recent national C0VID #wastewater data in the U.S.?

I'll walk you though it.

🧵
1/ pic.twitter.com/wjp3XXQatX

— Mike Hoerger, PhD MSCR MBA (@michael_hoerger) October 17, 2023
• More on CDC's totally seamless transition from Biobot to Verily:
Verily also does testing outside of WastewaterSCAN sites and soon will be testing the CDC sites which will not be included on the@WastewaterSCAN
dashboard but on their website: https://t.co/6JcH4paEd6

— COVIDPoops19 (@COVIDPoops19) October 18, 2023
Variants
NOT UPDATED From CDC, October 14: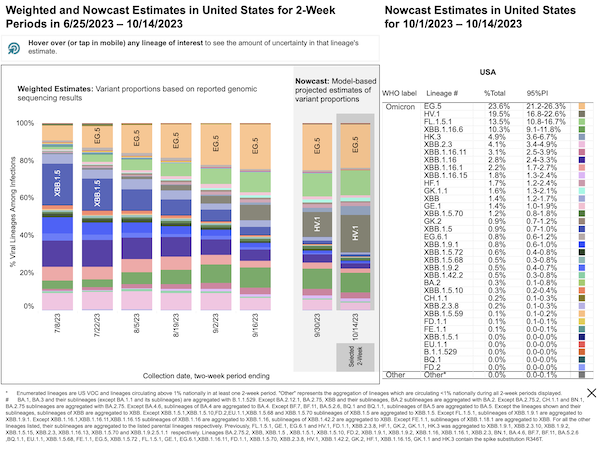 Lambert here: September 30 is tomorrow, but never mind that. Top of the leaderboard: EG.5 ("Eris"), with HV.1 a strong second, and XBB.1.1.16.6 and FL.1.15.1 trailing. No BA.2.86. Still a Bouillabaisse…
From CDC, September 16: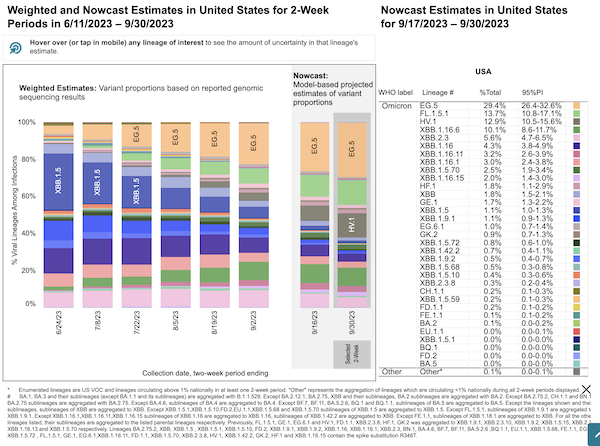 Lambert here: I sure hope the volunteers doing Pangolin, on which this chart depends, don't all move on the green fields and pastures new (or have their access to facilities cut by administrators of ill intent).
CDC: "As of May 11, genomic surveillance data will be reported biweekly, based on the availability of positive test specimens." "Biweeekly: 1. occurring every two weeks. 2. occurring twice a week; semiweekly." Looks like CDC has chosen sense #1. In essence, they're telling us variants are nothing to worry about. Time will tell.
Covid Emergency Room Visits
NOT UPDATED From CDC NCIRD Surveillance, October 7: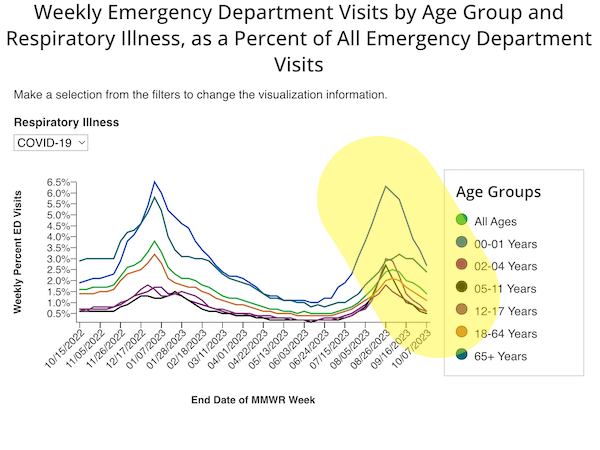 Drop coinciding with wastewater drop.
NOTE "Charts and data provided by CDC, updates Wednesday by 8am. For the past year, using a rolling 52-week period." So not the entire pandemic, FFS (the implicit message here being that Covid is "just like the flu," which is why the seasonal "rolling 52-week period" is appropriate for bothMR SUBLIMINAL I hate these people so much. Notice also that this chart shows, at least for its time period, that Covid is not seasonal, even though CDC is trying to get us to believe that it is, presumably so they can piggyback on the existing institutional apparatus for injections.
Hospitalization
Bellwether New York City, data as of October 17: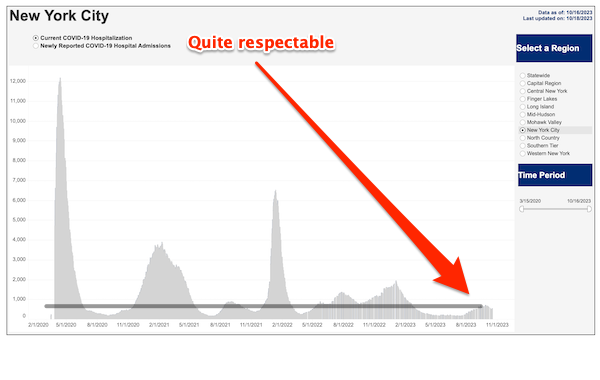 Still decreasing. (New York State is now falling, too.) I hate this metric because the lag makes it deceptive.
• Lambert here: Since this is the only remaining daily data I collect, this is a good place to remark that I think do think we're on the downside of the current surge, shown by wastewater data before CDC defenestrated Biobot, positivity data, and ER visits. Deaths are up, but they are the laggiest indicators of all. In retrospect, as shown by the line on the chart, this was quite a respectable little surge, especially as so many were trying to pretend it didn't exist. Public health establishment, good job!
NOT UPDATED Here's a different CDC visualization on hospitalization, nationwide, not by state, but with a date, at least. October 7: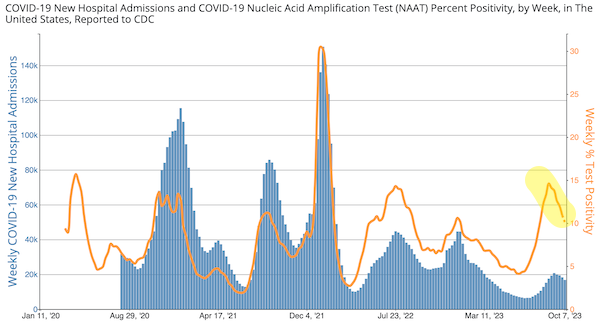 Lambert here: "Maps, charts, and data provided by CDC, updates weekly for the previous MMWR week (Sunday-Saturday) on Thursdays (Deaths, Emergency Department Visits, Test Positivity) and weekly the following Mondays (Hospitalizations) by 8 pm ET†". So where the heck is the update, CDC?
Positivity
NOT UPDATED From Walgreens, October 16: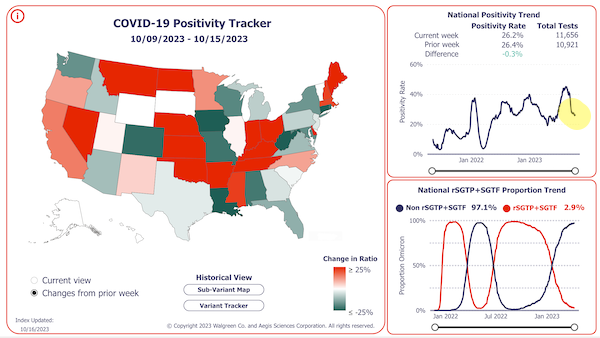 -0.3%. Still dropping, though less than before. (It would be interesting to survey this population generally; these are people who, despite a tsunami of official propaganda and enormous peer pressure, went and got tested anyhow.)
NOT UPDATED From Cleveland Clinic, October 14: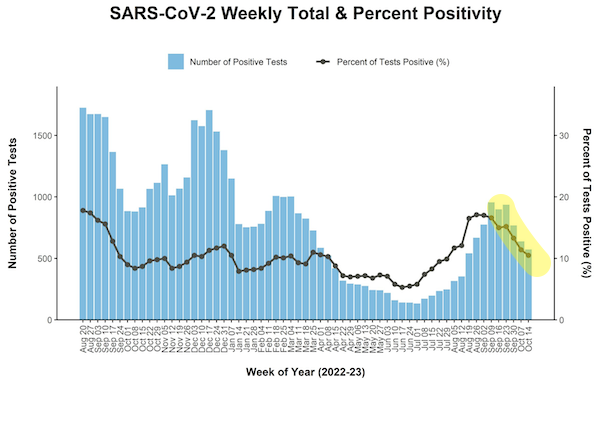 Lambert here: I know this is just Ohio, but the Cleveland Clinic is good*, and we're starved for data, so…. NOTE * Even if hospital infection control is trying to kill patients by eliminating universal masking with N95s.
NOT UPDATED From CDC, traveler's data, September 25: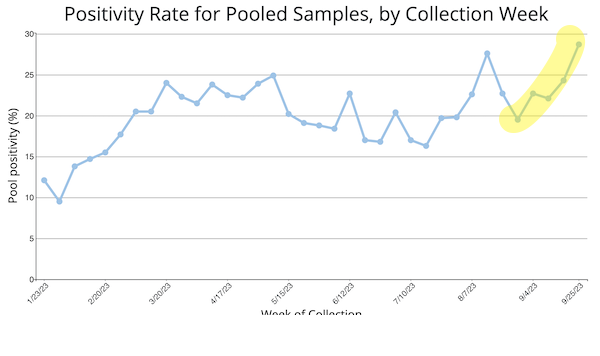 Back up again, albeit in the rear view mirror. And here are the variants for travelers: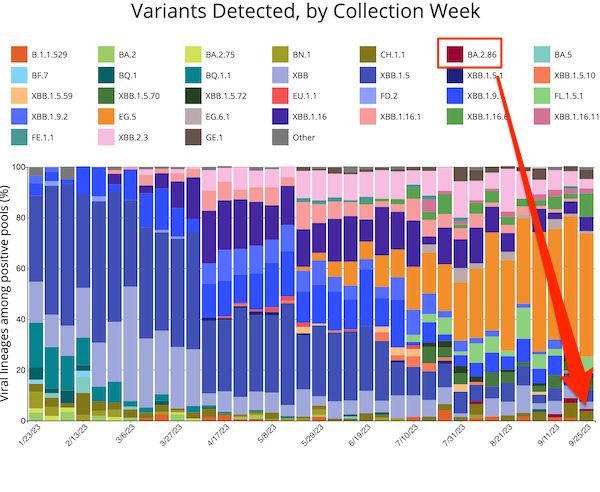 BA.2.86 shrinks. Flash in the pan?
Deaths
NOT UPDATED Iowa COVID-19 Tracker, September 27: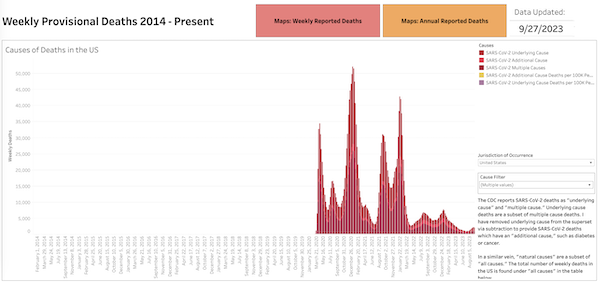 Lambert here: The WHO data is worthless, so I replaced it with the Iowa Covid Data Tracker. Their method: "These data have been sourced, via the API from the CDC: https://data.cdc.gov/NCHS/Conditions-Contributing-to-COVID-19-Deaths-by-Stat/hk9y-quqm. This visualization updates on Wednesday evenings. Data are provisional and are adjusted weekly by the CDC." I can't seem to get a pop-up that shows a total of the three causes (top right). Readers?
Total: 1,179,385 – 1,179,271 = 114 (114 * 365 = 41,610 deaths per year, today's YouGenicist™ number for "living with" Covid (quite a bit higher than the minimizers would like, though they can talk themselves into anything. If the YouGenicist™ metric keeps chugging along like this, I may just have to decide this is what the powers-that-be consider "mission accomplished" for this particular tranche of death and disease). 
Excess Deaths
The Economist, October 18: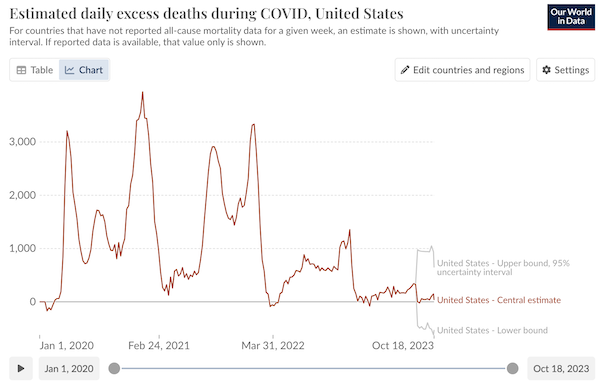 Lambert here: Based on a machine-learning model.
Stats Watch
Housing Starts: "United States Housing Starts" [Trading Econmics]. "Housing starts in the US rose by 7% month-over-month to a seasonally adjusted annualized rate of 1.36 million in September of 2023, rebounding from the upwardly revised, three-year low of 1.27 million from the previous month, but missing estimates of a sharper 1.38 million starts."
* * *
Inflation:
Three years ago, the average transaction price for a new car was about $39,000.

Now it's about $48,000, per Edmunds.

— unusual_whales (@unusual_whales) October 18, 2023
Yikes!
Inflation:
They have definitely been lying to us about inflation.

This is insane!

— Declaration of Memes (@LibertyCappy) October 16, 2023
Remember that prices go up because firms raise them.
The Bezzle: "Narrative over numbers: Andreessen Horowitz's State of Crypto report" [Molly White]. "Venture capital firm Andreessen Horowitz (aka "a16z") has invested billions in crypto, raising four separate crypto funds: $350 million in 2018, $515 million in 2020, $2.2 billion in 2021, and $4.5 billion in 2022…. Reading Andreessen Horowitz's newest State of Crypto report, one wonders if they exist in a parallel universe where the recent 'crypto winter' never came to pass…. The truth is that Andreessen Horowitz needs crypto to do well. With an asset class so dependent on sentiment for value, they seem to be hoping that if they can convince both their investors and the general public that everything is going just great and crypto prices are about to take off again, they can cause it to become true. The result of this approach is an incredibly shameless piece of propaganda showing the extents to which Andreessen Horowitz is willing to manipulate facts and outright lie, hoping to turn the sentiment on the crypto industry back to where retail investors were providing substantial pools of liquidity with which they could line their pockets. If anyone still believes that venture capital firms like Andreessen Horowitz are powerful sources of innovation and societal benefit, I hope this will give them pause." • Capital allocation is a social function. Or, in Venture Capital and Private Equity's case, a dysfunction.
* * *
Today's Fear & Greed Index: 35 Fear (previous close: 35 Fear) [CNN]. One week ago: 31 (Fear). (0 is Extreme Fear; 100 is Extreme Greed). Last updated Oct 16 at 8:00:00 PM ET.
Class Warfare
"Mike Rowe Wants More Philosopher-Welders" (interview) [Mike Rowe, Reason]. So did Gramsci; he called them "organic intellectuals" (which I'm guessing is prison code-switching for party members, but that's another story). Rowe: "The rift in our work force and the labor shortage we're seeing today can be walked right back to the moment we decided to take shop class out of high school….. After we spoke in 2016, there was a presidential debate. Marco [Rubio]—I forget what the question was—but he said, 'What this country needs are more welders and fewer philosophers.' Big applause line. Later that evening, thousands of people were saying, 'Hey, Mike, this guy's singing your song. This guy gets it.' And I thought, 'Oh, crap. I'm doing something wrong.' Because that's not at all what I mean. What I responded to in the wake of that was, 'Look, what our country needs are more welders who can talk intelligently about Descartes and Nietzsche. And what our country needs are more philosophers who can run an even bead.' It's not this or that." Amen. I don't know why I have to go to a libertarian to hear this, for pity's sake. And: "7.2 million able-bodied men in prime working age are sitting out the work force—not just not working, but affirmatively not looking for work. That's new. That's never happened in peacetime." • I don't think a job is the same thing as work ("application of force along a displacement"). Work isn't always great, but it's often great. Gardening is work, reading is work, painting (house or canvas) is work, parenting is work. Love is work. Making stone axes, or baskets, or painting cave walls is work. Work is highly adaptive. Jobs on the other hand…. I can't be judgy about people who decided to "sit this one out" re: jobs. It's like Veblen's distinction between industry and business. Work is in the industry bucket; jobs are in the business bucket.
"A worker between intellectuals" (interview) [Paul Mattick, The Anarchist Library]. Mattick saw a lot: "At the start of WWI, all Germany's population was enthusiastic about the war. In 1914, the leaders of the workers' movement, which in part didn't reflect the crowds' enthusiasm, accepted this state of things so as to not be engulfed by the chauvinist wave that had involved the adherents of the workers' movement, parties and unions. The working class was integrated in the system, both ideologically and on the organizational front. Naturally nobody expected how it was all going to end, and just one year after the start of the war, even the enthusiasm washed away in every warring country, leaving place to misery, suffering and discontent increasingly visible." • Worth a read for the historical sweep.
News of the Wired
Sadly, I am not wired today.
* * *
Contact information for plants: Readers, feel free to contact me at lambert [UNDERSCORE] strether [DOT] corrente [AT] yahoo [DOT] com, to (a) find out how to send me a check if you are allergic to PayPal and (b) to find out how to send me images of plants. Vegetables are fine! Fungi and coral are deemed to be honorary plants! If you want your handle to appear as a credit, please place it at the start of your mail in parentheses: (thus). Otherwise, I will anonymize by using your initials. See the previous Water Cooler (with plant) here. From EM: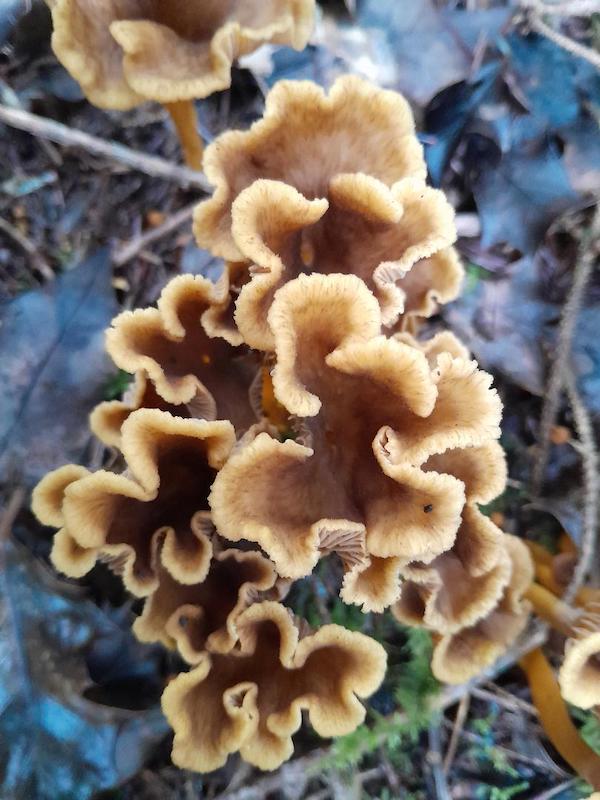 EM writes: "It's the most wonderful time of the year, specifically mushroom time."
* * *
Readers: Water Cooler is a standalone entity not covered by the annual NC fundraiser. So if you see a link you especially like, or an item you wouldn't see anywhere else, please do not hesitate to express your appreciation in tangible form. Remember, a tip jar is for tipping! Regular positive feedback both makes me feel good and lets me know I'm on the right track with coverage. When I get no donations for five or ten days I get worried. More tangibly, a constant trickle of donations helps me with expenses, and I factor in that trickle when setting fundraising goals:
Here is the screen that will appear, which I have helpfully annotated: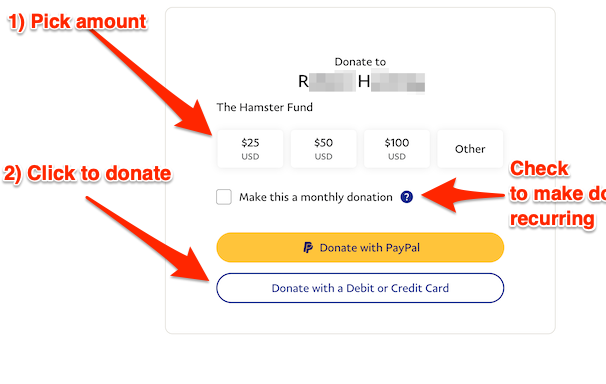 If you hate PayPal, you can email me at lambert [UNDERSCORE] strether [DOT] corrente [AT] yahoo [DOT] com, and I will give you directions on how to send a check. Thank you!