By Lambert Strether of Corrente.
Bird Song of the Day
Barn Swallow (American), Jena Wildlife Management Area, Dixie, Florida, United States. "Song and calls at nesting site under concrete bridge; same colony and location as 96-05-08."
* * *
Politics
"So many of the social reactions that strike us as psychological are in fact a rational management of symbolic capital." –Pierre Bourdieu, Classification Struggles
Biden Administration
"World crises sound alarm, but Biden's foreign policy delivers shaky response" [Washington Times]. "'The United States is in a far weaker position today than it was under previous administrations,' said Nile Gardiner, a foreign affairs analyst at the conservative Heritage Foundation. 'Biden has projected weakness. You see it in the Middle East, where Iran has gained a lot of ground. You see it in Asia with growing Chinese aggression. The Biden administration is flailing on the world stage.'" • A country that can't manufacture enough ammunition wants to fight a two-front war. Three, if you throw China into the mix. And to be fair to Biden, that didn't start with him; it took decades of bipartisan decision-making.
2024
Time for the Countdown Clock!

* * *

"Trump and Biden Seek Historic Combined Sweep" [Larry Sabato's Crystal Ball]. "[I]t is possible that Biden and Trump will, combined, put up the strongest performance in the nominating season in modern history. There has never been a nominating season where both major party nominees went undefeated in the nominating season. But that is a possibility in this Biden versus Trump matchup. In national polling (this time, aggregated by FiveThirtyEight), Trump is up roughly 40 points over his nearest rival, Gov. Ron DeSantis (R-FL), 55%-14%, with other candidates lagging behind DeSantis. Biden, meanwhile, has not attracted any mainstream opposition and is currently leading 61%-17% nationally over vaccine skeptic Robert F. Kennedy Jr., who reports indicate is poised to leave the Democratic race in favor of an independent bid [which he did]. Biden's polling lead is not very impressive for a sitting president, but he also has no strong opposition to capitalize on this soft support. Trump's leads in polls of Iowa and New Hampshire are not quite as robust as his national lead, but he's still been up roughly 30 points on his nearest rival in recent surveys of both leadoff states. We have to be on guard for the possibility that something changes in either or both races. What if there's a formidable late entry on either side? What if Donald Trump's seemingly strong support is a mirage, and the combined weight of his legal and other problems opens the door to one of his opponents? What if Joe Biden's age and poor approval ratings prompt him to retire? But another what if, more plausible than any of the mentioned above, is this: What if nothing changes? And that's where the possibility of a historic, modern sweep comes into play." • Firmly on the side of stability (not volatility).

* * *

"Trump sues ex-spy over dossier, citing 'shocking and scandalous claims' [Associatiated Press]. " A lawyer for Donald Trump told a London judge Monday the ex-president plans to prove that 'shocking and scandalous claims' about him in a largely discredited report by a former British spy were false and harmed his reputation. Trump has sued the company founded by Christopher Steele, who created a dossier in 2016 that contained rumors and uncorroborated allegations about Trump that erupted in a political storm just before he was inaugurated. Trump is seeking damages from Orbis Business Intelligence for allegedly violating British data protection laws…. Trump said in his witness statement that he was not trying to harass or seek revenge or drive Orbis into financial ruin but wants to establish that the information in the dossier was false. 'Until there is such a judgment, I continue to suffer damage and distress as a result of people wrongfully believing that the data in the dossier is accurate,' he said. In two previous High Court cases, a judge ruled Orbis and Steele were not legally liable for the consequences of the dossier's publication."

* * *

"Trump Tells Iowa Crowd: 'I'm Willing to Go to Jail … for Our Country to Win'" [The Messenger]. • That's a pitch that's hard to beat!

"Inside Trump's Backroom Effort to Lock Up the Nomination" [New York Times]. "As Mr. Trump dodges debates and is regularly seen on his golf courses in branded white polo shirts and red MAGA hats, it can seem that he is bypassing the 2024 primary fight entirely. He has done relatively few public campaign events until recent weeks. But Mr. Trump and his political team have spent months working behind the scenes to build alliances and contingency plans with key party officials, seeking to twist the primary and delegate rules in their favor…. The maneuvering is the type of old-school party politics that Mr. Trump, who cut his teeth in the machine politics of 1970s and 1980s New York, relishes and knows best: personal calls and chits, glad-handing, relationships and reprisals. Advisers say that in contrast to some tasks, getting him to make those calls is a breeze. Plus, the seemingly arcane issue of delegate accumulation — tallying up formal support in the states to secure the nomination at the party convention next summer — is deeply personal to Mr. Trump after he was outflanked in exactly this fight in 2016. Then, a better-organized Senator Ted Cruz of Texas worked Trump-skeptical state parties to win more delegates even in some places where he had lost at the ballot box…. Now, surrounded by a more experienced team and the authority of a former president with loyalists entrenched nationwide, Mr. Trump is doing to Mr. DeSantis exactly what he once accused Hillary Clinton of doing to Bernie Sanders: bending the system in his favor. Mr. Trump's backroom campaign reveals the extent to which he has become the establishment of the Republican Party." • Interesting. Do we have any Republican, or Republican-adjacent readers who can comment? (It does seem to me that this is a pattern with Trump; behind the puffery and the bluster is very often a disciplined and effective backroom operation; true in 2016, when Jared set up a data operation in Texas; and IIRC during his Presidency, where some lawyers nobody ever heard did a great job on his impeachment defense. Why this pattern was not true for Trump's election denial scheme in 2020, and why he had to rely on lawyers both bent and incompetent, is still an open question. I mean, it's simply not prima facie that our elections are clean.)

* * *

"Alex Marlow on 'Breaking Biden': Hunter Biden, Art Troll: President's Addict Son Paints with Cocaine Straw, Alcohol-Based Paints" [DNYUZ]. "Most people think they know the Bidens all too well. One of the reasons I wrote [Breaking Biden] is because I believe, in general, people know relatively nothing about the Bidens. Hunter is as misunderstood as any of them. I note in the book that despite his grifting, drug use, and reluctance to perform basic paternal responsibilities, sometimes My colleague Emma-Jo Morris, who knows Hunter's true self better than almost anyone in journalism, has been making the same point for some time." • Dear Hunter! I agree; Hunter has lived! I would vote for Hunter Biden over Pete Buttigieg any day of the week.

* * *

"DeSantis greets Floridians on first chartered flight from Israel" [Politico]. • Hoo boy.

"'That decision cost lives': Covid data case further deflates Ron DeSantis's campaign" [Guardian]. "A courtroom settlement over withheld Covid-19 data that critics say cost thousands of lives has deflated Ron DeSantis's campaign trail persona as a courageous freedom warrior who kept his state open during a deadly peak of the pandemic… The settlement ends a two-year legal battle between the DeSantis administration and a coalition of Democrats, open government advocates and media outlets that began in June 2021 when the Florida health department ended daily updates of Covid cases, deaths and vaccinations on its online dashboard. The department will pay the plaintiffs' $152,000 legal bill and resume regular posting of the data that DeSantis's communications team insisted at the time was no longer necessary because cases

had 'significantly decreased' and that Florida was 'returning to normal'. In reality, as DeSantis dismissed reporting on the pandemic as 'media hysteria', the Delta variant of the virus was just taking hold, and cases and fatalities spiked, to a record 385 a day in Florida by September 2021. Simultaneously, Florida led the nation in pediatric Covid hospitalizations…. ;Twenty-three thousand Floridians died during the Delta surge, and not only did the DeSantis administration restrict information on Covid during that time, they repeatedly downplayed the severity of the outbreak to fit their political narrative and help DeSantis run for president. That decision cost lives,' said Carlos Guillermo Smith, a Democratic former state congressman who filed the lawsuit against the Florida health department, later joined by the Florida Center for Government Accountability." • Fine, but DeSantis was just a little ahead of the entire political class, very much including the Biden Administration. So is what he did so wrong?

* * *

"Glenn Youngkin thinks he has a Republican response to Democrats' abortion attacks" [Politico]. "The Virginia GOP is trying to flip the script on an issue that has dogged Republicans for a year and a half. So far, Republicans have been doing their best to not talk about it. But now Youngkin is going after Democrats as extremists who don't support any restrictions. Republicans, the new campaign says, are the reasonable ones who back a ban after 15 weeks with exceptions for cases of rape, incest and life of the mother. They are betting big on this new tactic: Republicans have recently launched a major $1.4 million ad buy to make that case in the final stretch of the campaign for control of the state Legislature. 'The only issue that Democrats are running on is abortion,' David Rexrode, the executive director of Youngkin's Spirit of Virginia PAC, said in an interview at the organization's offices in Richmond earlier this month. 'And so since they're running attack ads on abortion, we're going to respond on abortion.' Republicans' goal is to neutralize Democrats' most powerful line of attack, even while focusing on topics like crime and the economy to try to win. If successful, it could provide a blueprint for a party that has struggled electorally since the Supreme Court overturned Roe v. Wade."

* * *

"Phillips is considering a New Hampshire presidential primary run. Here's how he could beat Biden" [MinnPost]. The deck: "Phillips faces an Oct. 27 deadline for deciding whether to run for president in New Hampshire's primary." And: "In his third term representing the Twin Cities' western suburbs in the U.S. House, Phillips injected himself into presidential politics in July of last year, when he became the first congressional Democrat to suggest Biden, 80, should not run again, citing the president's age. Phillips, who considers himself a centrist, initially indicated he would only run for president if Biden were to drop out. Then he said his role was to try to convince other moderate Democrats to challenge the president. But that hasn't happened. So now he's considering an effort to topple his party's leader. Despite his limited time in government, Phillips, 54, could become the most prominent Democrat running against Biden. And he could actually stand a chance of winning an important presidential primary if he runs in New Hampshire. The only candidates currently challenging the president in that state are self-help author Marianne Williamson, who is struggling with her campaign, and media figurehead Cenk Uygur, who has welcomed Phillips to join him in challenging Biden. Robert F. Kennedy Jr. said recently he'd run as an independent instead of a Democrat. Because New Hampshire is defying the DNC and Biden's decision to have South Carolina host the first presidential primary on Feb. 3, the president won't be on the ballot in the Granite State. 'Biden has very clearly said South Carolina should go first,' said University of New Hampshire political science professor Dante Scala. So, without Biden on the ballot, Phillips could conceivably win. But there is also a chance he would not, Scala said." • I dunno. "Dean Phillips" sounds like a firm; "Dean Phillips," "Dunder Mifflin." If Phillips were the senior partner, "Phillips Dean."

"Window is closing for any surprise 2024 candidates, but they could still emerge" [ABC News]. "Politicians who are floated as late-breaking candidates — including Rep. Dean Phillips, D-Minn., or Virginia's Republican Gov. Glenn Youngkin — could theoretically still declare they are running for the White House and even, on paper, go on to win their party's nominations even if they miss the cutoff for the early primary and caucus dates, experts told ABC News…. Experts said that missing filing deadlines or joining the 2024 presidential race after some key benchmarks pass in early voting states would make it very challenging but not impossible to earn a presidential nomination….. Success as a late-entry candidate would depend on building momentum among voters despite not campaigning and gaining traction in the early states or being able to win any of their delegates, the experts said. 'If you have a lot of popularity … oomph you can still get the nomination, even though you missed the early primaries,' said Richard Winger, a ballot access expert and political analyst…. There is some precedent for candidates joining the race without qualifying to be on the ballot in early or key states. Former New York City Mayor Michael Bloomberg formally entered the 2020 presidential race as a Democrat in late November 2019 but did not file in New Hampshire. Former Mass. Gov. Deval Patrick also launched an unsuccessful bid that month, missing deadlines to file in Alabama and Arkansas." • Wow, Deval Patrick. Whatever happened to the backup Obama?

* * *

"The Democrats Savior? Why Pete Buttigieg Could Be President" [1945]. "Transportation Secretary Pete Buttigieg remains highly popular among Democrats – and a possible presidential candidate someday. He could be a strong contender for the top job in 2028. A poll taken in January showed him more popular than his boss, Joe Biden, among 2024 Democratic New Hampshire primary voters. Twenty-three percent told a Granite State poll taken by the University of New Hampshire that they preferred Buttigieg. He had a 69% approval rating among Democrats compared with 49% for Biden."

"Buttigieg Chased Off Stage By Protesters at Maryland Event" [The Messenger]. "limate change protestors on Tuesday chased Transportation Secretary Pete Buttigieg from a stage as he was being interviewed at an event hosted by the Baltimore Banner. The protestors appeared to be criticizing a Texas petrochemical project Buttigieg's office is considering, according to the outlet. Buttigieg left the stage briefly while security officers were unable to immediately clear the stage and asked the audience to leave the room." • Whoops! ("Appeared to be" because the protesters didn't "appear to be" interviewed!!)

* * *
Republican Funhouse
"House speaker vote live updates: Jim Jordan appears to lack enough votes in first round to lead the House" [NBC]. Live coverage. "Several House Republicans oppose Jordan, who needs 217 of the 221 GOP caucus members to vote for him." • Jordan takes it to the mat, and gets pinned. What a shame.

"Give the speaker pro tempore speaker power" [Washington Examiner]. • I love this concept. It's so late Roman Republic!
Democrats en Déshabillé
Patient readers, it seems that people are actually reading the back-dated post! But I have not updated it, and there are many updates. So I will have to do that. –lambert

I have moved my standing remarks on the Democrat Party ("the Democrat Party is a rotting corpse that can't bury itself") to a separate, back-dated post, to which I will periodically add material, summarizing the addition here in a "live" Water Cooler. (Hopefully, some Bourdieu.) It turns out that defining the Democrat Party is, in fact, a hard problem. I do think the paragraph that follows is on point all the way back to 2016, if not before:

The Democrat Party is the political expression of the class power of PMC, their base (lucidly explained by Thomas Frank in Listen, Liberal!). ; if the Democrat Party did not exist, the PMC would have to invent it. . ("PMC" modulo "class expatriates," of course.) Second, all the working parts of the Party reinforce each other. Leave aside characterizing the relationships between elements of the Party (ka-ching, but not entirely) those elements comprise a network — a Flex Net? An iron octagon? — of funders, vendors, apparatchiks, electeds, NGOs, and miscellaneous mercenaries, with assets in the press and the intelligence community.

Note, of course, that the class power of the PMC both expresses and is limited by other classes; oligarchs and American gentry (see 'industrial model' of Ferguson, Jorgensen, and Jie) and the working class spring to mind. Suck up, kick down.

* * *

The party left me:

The liberal icon, the Wise Old Man of MSNBC, Bill Kristol, says the reason he's now a fervent supporter of the Democratic Party and Joe Biden is because it's Biden and the Democrats who are now the most steadfast supporters of Reagan's ideology. https://t.co/eagYURjuN8

— Glenn Greenwald (@ggreenwald) October 17, 2023

Kristol's not wrong, is he? Bless his heart.
Realignment and Legitimacy
"Mollie Hemingway: People Can Not Trust Intelligence Agencies Because Of Their Actions, Inability To Repent" [RealClearPolitics]. • Screamingly obvious. So why do I have to hear this from The Federalist, for pity's sake?

"Allum Bokhari: Meet Michael Hayden, Deep State Spy Chief Turned Media Blacklister" [RealClearPolitics]. • Screamingly obvious. So why do I have to hear this from Breitbart? Gawd, I need a shower. I feel all icky.
#COVID19
"I am in earnest — I will not equivocate — I will not excuse — I will not retreat a single inch — AND I WILL BE HEARD." –William Lloyd Garrison
Resources, United States (National): Transmission (CDC); Wastewater (CDC, Biobot; includes many counties; Wastewater Scan, includes drilldown by zip); Variants (CDC; Walgreens); "Iowa COVID-19 Tracker" (in IA, but national data). "Infection Control, Emergency Management, Safety, and General Thoughts" (especially on hospitalization by city).
Lambert here: Readers, thanks for the collective effort. To update any entry, do feel free to contact me at the address given with the plants. Please put "COVID" in the subject line. Thank you!
Resources, United States (Local): AK (dashboard); AL (dashboard); AR (dashboard); AZ (dashboard); CA (dashboard; Marin, dashboard; Stanford, wastewater; Oakland, wastewater); CO (dashboard; wastewater); CT (dashboard); DE (dashboard); FL (wastewater); GA (wastewater); HI (dashboard); IA (wastewater reports); ID (dashboard, Boise; dashboard, wastewater, Central Idaho; wastewater, Coeur d'Alene; dashboard, Spokane County); IL (wastewater); IN (dashboard); KS (dashboard; wastewater, Lawrence); KY (dashboard, Louisville); LA (dashboard); MA (wastewater); MD (dashboard); ME (dashboard); MI (wastewater; wastewater); MN (dashboard); MO (wastewater); MS (dashboard); MT (dashboard); NC (dashboard); ND (dashboard; wastewater); NE (dashboard); NH (wastewater); NJ (dashboard); NM (dashboard); NV (dashboard; wastewater, Southern NV); NY (dashboard); OH (dashboard); OK (dashboard); OR (dashboard); PA (dashboard); RI (dashboard); SC (dashboard); SD (dashboard); TN (dashboard); TX (dashboard); UT (wastewater); VA (dashboard); VT (dashboard); WA (dashboard; dashboard); WI (wastewater); WV (wastewater); WY (wastewater).
Resources, Canada (National): Wastewater (Government of Canada).
Resources, Canada (Provincial): ON (wastewater); QC (les eaux usées); BC, Vancouver (wastewater).
Hat tips to helpful readers: anon (2), Art_DogCT, B24S, CanCyn, ChiGal, Chuck L, Festoonic, FM, FreeMarketApologist (4), Gumbo, hop2it, JB, JEHR, JF, JL Joe, John, JM (10), JustAnotherVolunteer, JW, KatieBird, LL, Michael King, KF, LaRuse, mrsyk, MT, MT_Wild, otisyves, Petal (6), RK (2), RL, RM, Rod, square coats (11), tennesseewaltzer, Utah, Bob White (3).
Stay safe out there!
* * *
Covid is Airborne
I remember the old college tune: "What's the color of horse-sh*t? Brown! Brown! Brown!" Still true today:

The end of the PH emergency in one photo from @BrownUniversity home to manufacturing public health consent, social murder, and some of the worst of the pandemic.

See @LauraMiers thread below. https://t.co/bxLbiSdlUL pic.twitter.com/LsqrhmHMh3

— Dogs4Object Permanence🐶 (@B_Dogs4) October 15, 2023

Brown has a lot to answer for, in the person of Leana Wen; not as much as that house of ill-fame, Stanford, but still a lot.
Vaccines
"#Novavax vs mRNA vaccine" [Jeff Gilchrist, Threadreader]. "This thread explains how @Novavax is different from the #Moderna and #Pfizer #mRNA #vaccines and describes some of the benefits such as broadened #variant recognition, more durable #immunity, and fewer side effects." • Well worth a read, for those considering Novavax.
Immune System Dysregulation
"New York City struggling to contain rising tuberculosis cases" [Politico]. "The city has confirmed about 500 cases of active tuberculosis so far this year, an increase of roughly 20 percent from the same time last year." • Huh. 'Tis a mystery!
Censorship and Propaganda
"Changing nature of Covid: Is it just a regular winter bug now?" [BBC]. • By Betteridge's Law, no. BBC complaint line:

Please report this article to the BBC at newssiteerrors@bbc.co.uk or with complaints. I refuted their points in the thread. #CovidIsNotOver #COVID19 #LongCovid
It says less people have died of covid-19 than of the flu in 2023 and uses botched case counts. https://t.co/ykpTNlUR6j

— IlluminatiPizza666 (@IPizza666) October 15, 2023
Scientific Communication
Stochastic eugenicism from CDC:

#Clinicians: Fall and winter virus season is here. Vaccines are available to provide protection from severe RSV disease to adults 60 years and over.

Talk to your patients about getting protected from severe #RSV disease this season: https://t.co/pxDQ1uXJNd #VaccinesWork pic.twitter.com/BBq8i5fRZ4

— CDC (@CDCgov) October 17, 2023

#VaccinesWork, but no mention that #MasksWork, which is odd, since both the (Asian) clinician and the (Black) patient are wearing them; what for? CDC doesn't say. Of course, they're modeling a baggy blue and some gormless earlooper, instead of N95s. And there is, naturally, no HEPA filter in the background…
"Something Awful"
Lambert here: I'm getting the feeling that the "Something Awful" might be a sawtooth pattern — variant after variant — that averages out to a permanently high plateau. Lots of exceptionally nasty sequelae, most likely deriving from immune dysregulation (says this layperson). To which we might add brain damage, including personality changes therefrom.

* * *

"Enumerating Exceptional Properties of SARS Cov 2" [Anthony J Leonardi, Easy Chair (AntiDLC)]. "There is a huge lobby for normalization of SARS Cov 2. Entire industries depend on the public's return to normal consumer and working behaviors. As such, the rationalizations and reassurances to the public that SARS Cov 2 is a normal seasonal Coronavirus are relentless. These are constructed like homilies and catch-phrases, such as 'we must learn to live with it,' and, 'it's endemic,' with the implication of its endemicity referring to the abandonment of efforts which acknowledge its existence, such as testing…. It is a complete misconception that introduction of a virus to the immune system makes subsequent infections like a common cold, and that virulence is due to novelty. If nerves, organs, and immune systems could speak, they would tell a tale of exceptional inflammation, aging, and death, which we must turn to science to hear. Here, I will give you, the reader, clear enumerations where SARS Cov 2 is unlike a common cold." And:

SARS Cov 2 triggers a unique, long-lived inflammatory overreaction unseen in Sepsis and influenza….
SARS Cov 2 sends T cells into the brain while lethal influenza does not.
SARS Cov 2 directly causes autoimmunity by reprogramming a special type of T cell called the T regulatory cell, which has never been observed before.
The human genetic line has not propagated any sarbecovirus elements therefore never has faced Sarbecovirus infection to the extent to evolutionarily adapt, except in the unlikely theoretical possibility of extremely negative selection (meaning infected humans did not create progeny.)
Elite Maleficence
* * *
Lambert here: No point watching the tape; the CDC snarled it, by (mixed metaphor) decapitating the national source of wastewater data, without which we have no current case data at all (although we can always check our local sewage plant). All the lagging indicators are down (except, of course, for deaths and excess deaths, which are up). That might mean the current surge is trending down. But it might not! Mandy, good job!
Case Data
NEVER TO BE UPDATED From BioBot wastewater data, October 2:
Lambert here: Leveling out to a high plateau wasn't on my Bingo card! Perhaps FL.1.5.1, high in the Northeast, has something going for it that other variants don't have?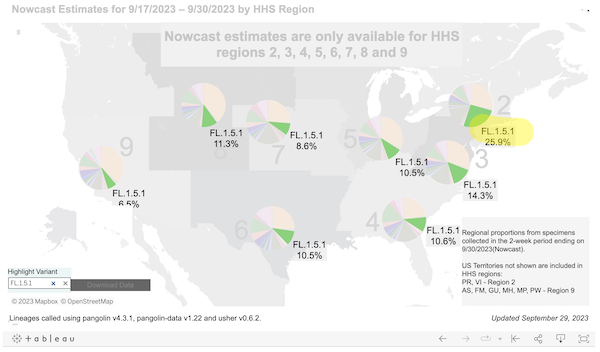 Regional data: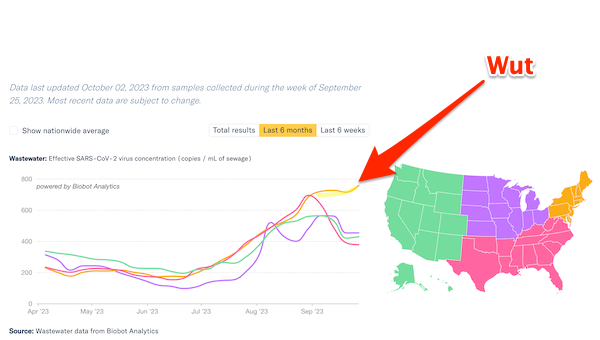 Interestingly, the upswing begins before July 4, which neither accelerates nor retards it.
• Biobot Analytics Awarded NIDA Funding for Nationwide Wastewater-Based Monitoring Program for High Risk Substances and Others Associated with Health Risk" (press release) [Biobot]. From September 23. "Biobot Analytics, a global leader in wastewater epidemiology, was awarded a Phase III Small Business Innovation Research (SBIR) contract from the National Institute on Drug Abuse (NIDA) of the National Institutes of Health to conduct anonymous, population-level wastewater-based monitoring on drugs and overdose reversal agents. This program is a groundbreaking initiative aimed at evaluating the distribution of substance use and misuse on a national level. Over 100,000 overdose deaths occurred in the United States last year and more than two-thirds of all overdose deaths in 2022 involved a synthetic opioid, according to provisional data. Biobot's work is a vital step forward in the country's collective efforts to address substance use and misuse. …. The program will provide wastewater analysis of methamphetamine, cocaine, fentanyl, xylazine, naloxone, and their metabolites to 70 communities across the United States. The SBIR Phase III contract represents the continuation of Biobot's work supported by NIDA's SBIR Phase I and Phase II grants." • So I'm happy that Biobot is still in business, albeit now a party to the drug war. Still, the implication of the headline is that SARS-CoV-2 is not a "high risk substance… associated with health risk." Really?
Variants
NOT UPDATED From CDC, October 14: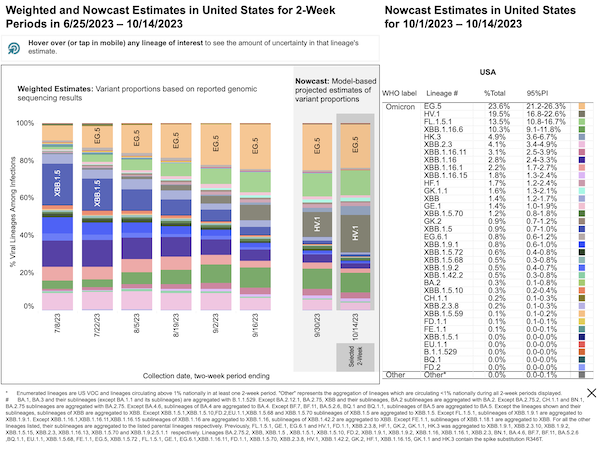 Lambert here: September 30 is tomorrow, but never mind that. Top of the leaderboard: EG.5 ("Eris"), with HV.1 a strong second, and XBB.1.1.16.6 and FL.1.15.1 trailing. No BA.2.86. Still a Bouillabaisse…
From CDC, September 16: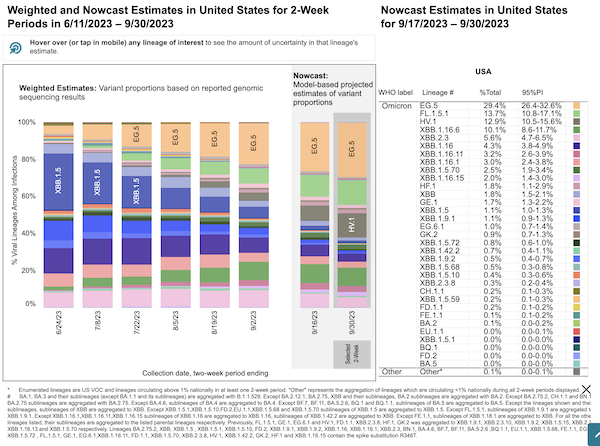 Lambert here: I sure hope the volunteers doing Pangolin, on which this chart depends, don't all move on the green fields and pastures new (or have their access to facilities cut by administrators of ill intent).
CDC: "As of May 11, genomic surveillance data will be reported biweekly, based on the availability of positive test specimens." "Biweeekly: 1. occurring every two weeks. 2. occurring twice a week; semiweekly." Looks like CDC has chosen sense #1. In essence, they're telling us variants are nothing to worry about. Time will tell.
Covid Emergency Room Visits
NOT UPDATED From CDC NCIRD Surveillance, October 7: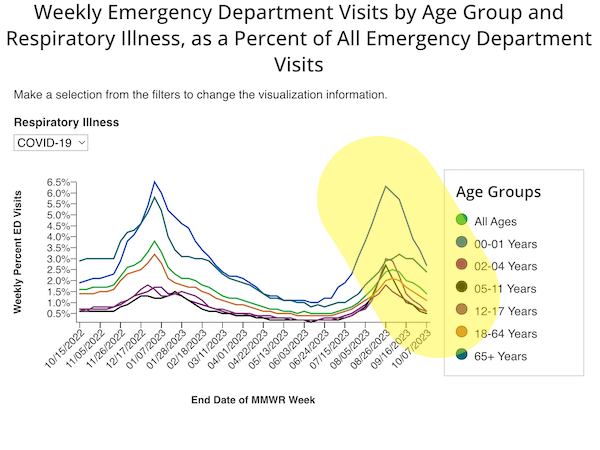 Drop coinciding with wastewater drop.
NOTE "Charts and data provided by CDC, updates Wednesday by 8am. For the past year, using a rolling 52-week period." So not the entire pandemic, FFS (the implicit message here being that Covid is "just like the flu," which is why the seasonal "rolling 52-week period" is appropriate for bothMR SUBLIMINAL I hate these people so much. Notice also that this chart shows, at least for its time period, that Covid is not seasonal, even though CDC is trying to get us to believe that it is, presumably so they can piggyback on the existing institutional apparatus for injections.
Hospitalization
Bellwether New York City, data as of October 17: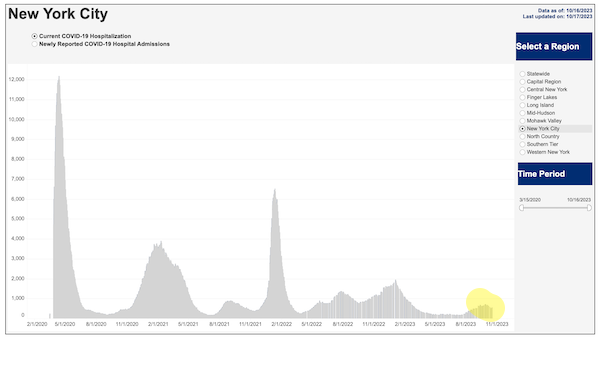 Still decreasing. (New York State is now falling, too.) I hate this metric because the lag makes it deceptive.
Here's a different CDC visualization on hospitalization, nationwide, not by state, but with a date, at least. October 7: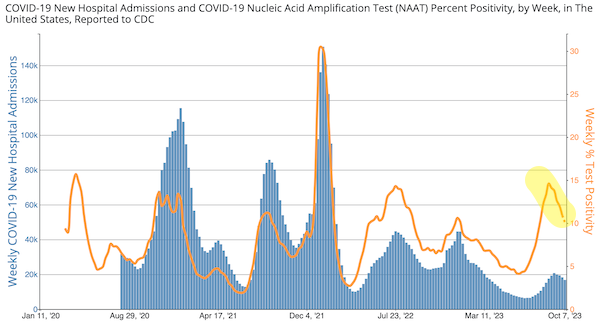 Lambert here: "Maps, charts, and data provided by CDC, updates weekly for the previous MMWR week (Sunday-Saturday) on Thursdays (Deaths, Emergency Department Visits, Test Positivity) and weekly the following Mondays (Hospitalizations) by 8 pm ET†". So where the heck is the update, CDC?
Positivity
From Walgreens, October 16: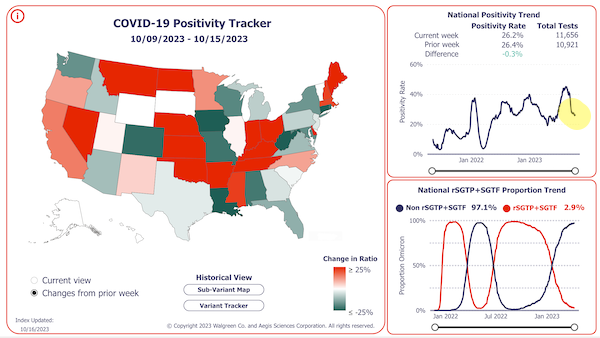 -0.3%. Still dropping, though less than before. (It would be interesting to survey this population generally; these are people who, despite a tsunami of official propaganda and enormous peer pressure, went and got tested anyhow.)
From Cleveland Clinic, October 14: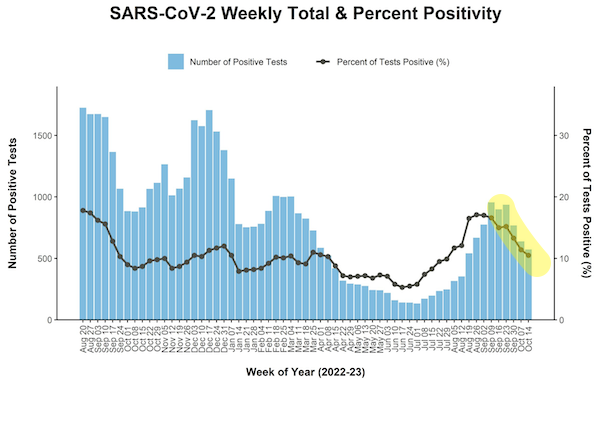 Lambert here: I know this is just Ohio, but the Cleveland Clinic is good*, and we're starved for data, so…. NOTE * Even if hospital infection control is trying to kill patients by eliminating universal masking with N95s.
NOT UPDATED From CDC, traveler's data, September 25: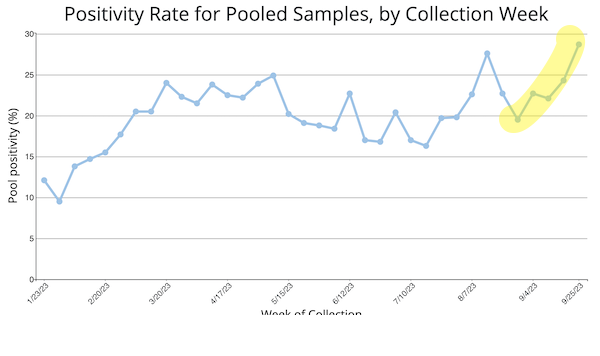 Back up again, albeit in the rear view mirror. And here are the variants for travelers: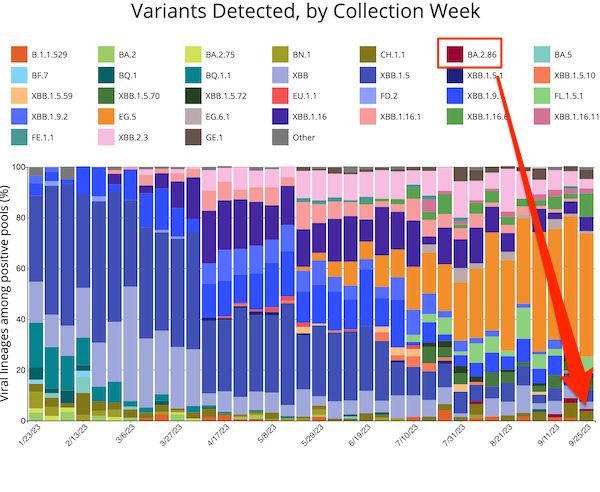 BA.2.86 shrinks. Flash in the pan?
Deaths
NOT UPDATED Iowa COVID-19 Tracker, September 27: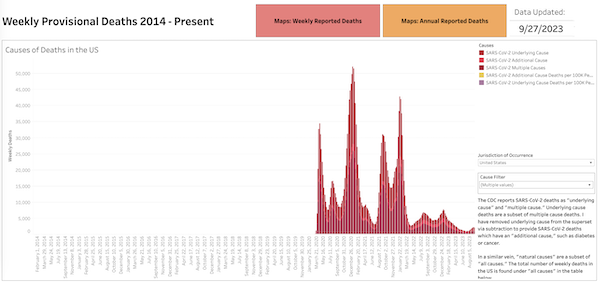 Lambert here: The WHO data is worthless, so I replaced it with the Iowa Covid Data Tracker. Their method: "These data have been sourced, via the API from the CDC: https://data.cdc.gov/NCHS/Conditions-Contributing-to-COVID-19-Deaths-by-Stat/hk9y-quqm. This visualization updates on Wednesday evenings. Data are provisional and are adjusted weekly by the CDC." I can't seem to get a pop-up that shows a total of the three causes (top right). Readers?
Total: 1,179,271 – 1,178,851 = 420 (420 * 365 = 153,300 deaths per year, today's YouGenicist™ number for "living with" Covid (quite a bit higher than the minimizers would like, though they can talk themselves into anything. If the YouGenicist™ metric keeps chugging along like this, I may just have to decide this is what the powers-that-be consider "mission accomplished" for this particular tranche of death and disease). 
Excess Deaths
The Economist, October 13: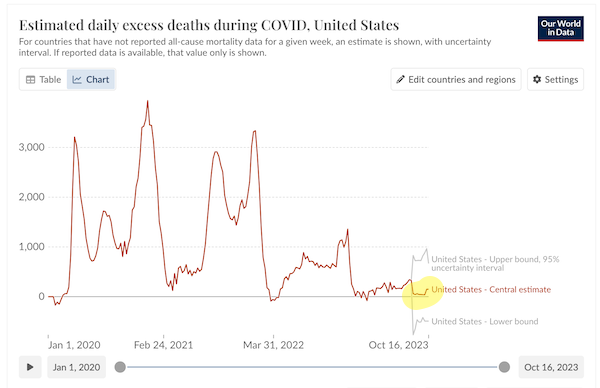 Lambert here: Based on a machine-learning model.
Stats Watch
Retail: "U.S. Retail Sales" [Trading Economics]. "Retail sales in the US advanced 0.7% mom in September 2023, following an upwardly revised 0.8% rise in August and beating forecasts of a 0.3% advance. The data continues to point to robust consumer spending despite high prices and borrowing costs."
Manufacturing: "United States Manufacturing Production MoM" [Trading Economics]. "Manufacturing production in the US rose 0.4% from a month earlier in September 2023, beating market expectations of a 0.1% increase and following a revised 0.1% fall in August. The index for motor vehicles and parts moved up only 0.3%, as motor vehicle assemblies were held down by the ongoing strike against three automakers. Elsewhere in manufacturing, gains of 1% or more were recorded by wood products, primary metals, and plastics and rubber products, and declines of 1% or more were recorded by apparel and leather as well as printing and support."
* * *
Gentleman Prefer Bonds: "Geopolitical volatility returns to the financial markets" [The Editorial Board, Financial Times]. "The Vix index — a measure of expected volatility — has averaged notably higher since 2020 than in the decade before. The World Uncertainty Index, which measures the prevalence of the word "uncertain" in analysts' reports, has been trending upwards for years and has jumped significantly since 2021. The more uncertain future is altering the playbook of market participants, from investors to central bankers. First, quantitative models used to price assets and assess trends are less meaningful…. Looking beyond charts, balance sheets and ratios has its own implications. Markets do not have a great record of pricing geopolitical risk and assessing low-probability, high-impact events, or 'tail risks' … The difficulty of measuring geopolitical premia also raises the reward for those that can get it right. There is a growing demand for professionals who can combine political and macro knowledge with financial fundamentals." • Hmm.
The Bezzle:
Sam Bankman-Fried, the former crypto billionaire, rejected seven different iterations of the balance sheet at his hedge fund, Alameda Research, before he alighted upon one that he felt comfortable showing to lenders. https://t.co/WuON1k00F2 pic.twitter.com/XdbMi6Zs1q

— Axios (@axios) October 17, 2023
The Bezzle:
When researchers analyzed the performance of 18,000 regular gamblers in casino games, only 13% won over a two-year period.

But, less than 1% of day traders reliably generated a positive return two years running.

Bookmark this 🧵 for the next time you feel like day trading: pic.twitter.com/nTBPJ57SUm

— Market Sentiment (@mkt_sentiment) October 14, 2023
Tech: Well, so much for formerly-kwown-as-Twitter-alternative BlueSky: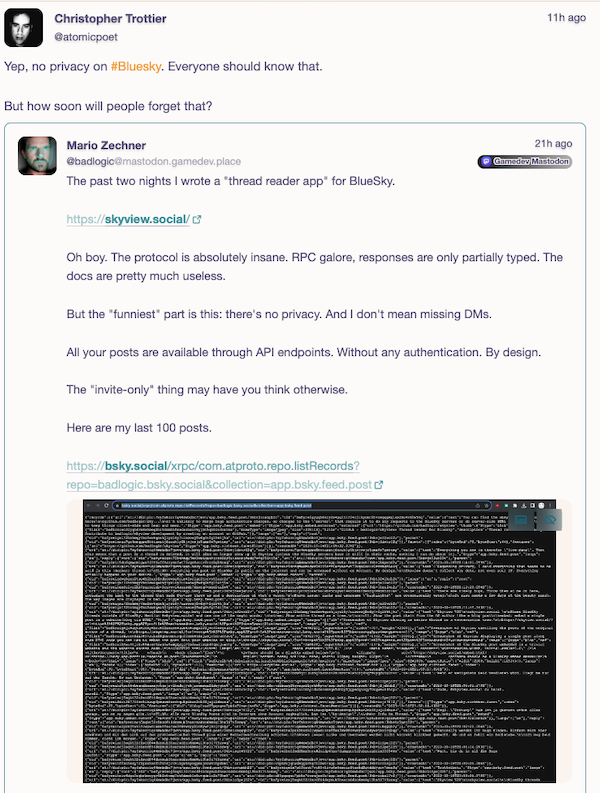 * * *
Today's Fear & Greed Index: 35 Fear (previous close: 35 Fear) [CNN]. One week ago: 31 (Extreme Fear). (0 is Extreme Fear; 100 is Extreme Greed). Last updated Oct 16 at 8:00:00 PM ET.
Groves of Academe
"More than a third of Nevada students chronically absent, continuing pandemic-era trend" [Nevada Independent]. "Ignacio Prado has noticed a change at Futuro Academy in East Las Vegas ever since the pandemic: More parents are keeping their kids at home if they are sick….. 'When I have conferences with families, they just sort of say back to me a lot of what we said to them during the pandemic around ,' he said. 'Before the pandemic, coming to school with a cough wasn't that big of a deal.'" A ray of hope that our citizenry is not completely depraved? More: "While there are many reasons why a student may miss school, state education officials say the pandemic has spurred exponential rises in absenteeism rates. They've noticed greater health consciousness and emphasized how significant time away from in-person learning fostered a general decrease in student engagement that schools are still reeling from." And: "The state's primary way of addressing absenteeism is through the Multi-Tiered System of Supports Project at UNR, [Christy McGill, the state's deputy superintendent for educator effectiveness and family engagement] said. The project provides schools and districts with monthly training on how to best identify the causes of chronic absenteeism. The state education department is responsible for finding the funds for the program. The program outlines a list of interventions, ranging from offering a school refusal assessment and academic catch-up opportunities to monitoring the student's attendance for 20 days and creating formal plans with families." • NOTHING ABOUT VENTILATION!!!! [lambert bangs head on desk]. Could it be — follow me closely, here — that there's a significant proportion of parents who don't want to pass on, or catch, an airborne Level 3 Biohazard that could damage their children's brains for the rest of their lives? (Of course, school administrators would be the very last to detect that official propaganda is wearing thin….
Zeitgeist Watch
"The Techno-Optimist Manifesto (parody) ["Marc Andreessen," Andreessen Horowitz]. Redacted by Grosser: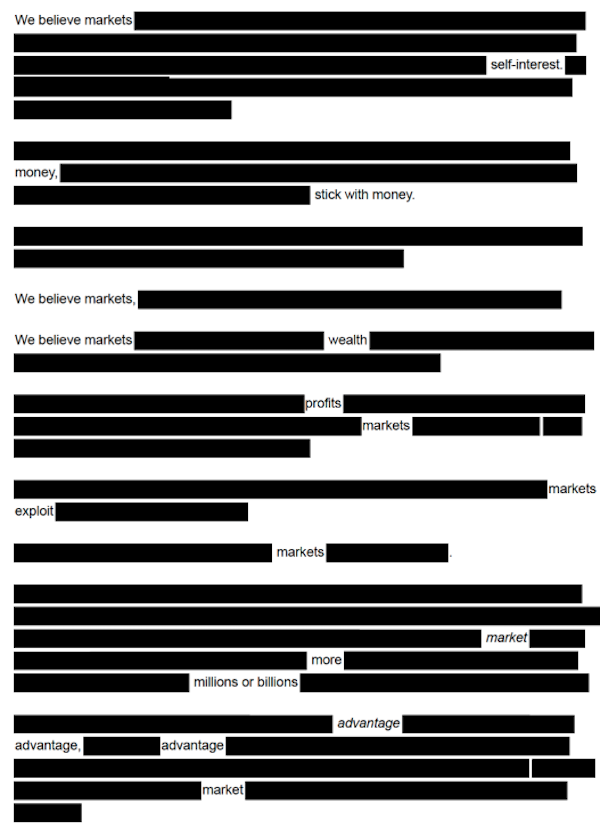 "The Baloney Detection Kit: Carl Sagan's Rules for Bullshit-Busting and Critical Thinking" [The Marginalian].
Healthcare
"Driving 100 miles in labor; giving birth in the ER: Fears rise as 3 maternity units prepare to close in Alabama" [NBC]. "',' said Dr. John Waits, CEO of the nonprofit Cahaba Medical Care, which runs medical clinics that take patients regardless of their ability to pay. Several of Cahaba's physicians deliver babies at Princeton Baptist and Shelby Baptist. 'There's something broken about the funding stream that helps us take care of our women and children,' Waits said." • Rule #1 once more.
"Medicare Advantage keeps growing. Tiny, rural hospitals say that's a huge problem" [NPR]. "Private plans now cover more than half of those eligible for Medicare. And while enrollment is highest in metropolitan areas, it has increased fourfold in rural areas since 2010. Meanwhile, more than 150 rural hospitals have closed since 2010, according to the Cecil G. Sheps Center for Health Services Research at the University of North Carolina. States such as Texas, Tennessee and Georgia have had the most closures. Medicare Advantage growth has had an outsize impact on the finances of small, rural hospitals that Medicare has designated as 'critical access.' Under the designation, government-administered Medicare pays extra to those hospitals to compensate for low patient volumes. Medicare Advantage plans, on the other hand, offer negotiated rates that hospital operators say often don't match those of traditional Medicare."
Class Warfare
"Turk Wars: How AI Threatens the Workers Who Fuel It Edit comments" [Stanford Social Innovation Review]. The deck: "The much-hyped AI tools of the future are being built by a globally dispersed army of data workers." And: "In August 2022, a company called AI Insights issued a huge request for services on Amazon Mechanical Turk, an Amazon-owned marketplace where a globally crowdsourced pool of individual data workers can accept small digital tasks for pay….. [M]aking a living through Mechanical Turk requires working in volume…. And so, last year, when AI Insights posted a request for more than 70,000 HITs during what is typically a slow season on the platform, it represented a bonanza of opportunity for "Turkers," as Mechanical Turk's workers call themselves. But as they got to work, in some cases completing hundreds of HITs, the Turkers soon realized that AI Insights was rejecting all of their work en masse, without explanation. According to the platform's guidelines, that meant the Turkers wouldn't be paid, but that AI Insights would get to keep their work all the same. Also, since individual Turkers' approval ratings are affected anytime their work is rejected—and since most requesters on the site won't accept bids from Turkers with less than a 99% approval rating—the mass rejection also sent many Turkers' ratings tumbling downward, effectively blacklisting them through no fault of their own. When Turkers contacted Amazon, asking them to intervene, the tech giant washed its hands of the situation, saying they can't 'get involved in disputes between workers and requesters.'" • Not nice people at all.
News of the Wired
Analog FTW:
* * *
Contact information for plants: Readers, feel free to contact me at lambert [UNDERSCORE] strether [DOT] corrente [AT] yahoo [DOT] com, to (a) find out how to send me a check if you are allergic to PayPal and (b) to find out how to send me images of plants. Vegetables are fine! Fungi and coral are deemed to be honorary plants! If you want your handle to appear as a credit, please place it at the start of your mail in parentheses: (thus). Otherwise, I will anonymize by using your initials. See the previous Water Cooler (with plant) here. From IM: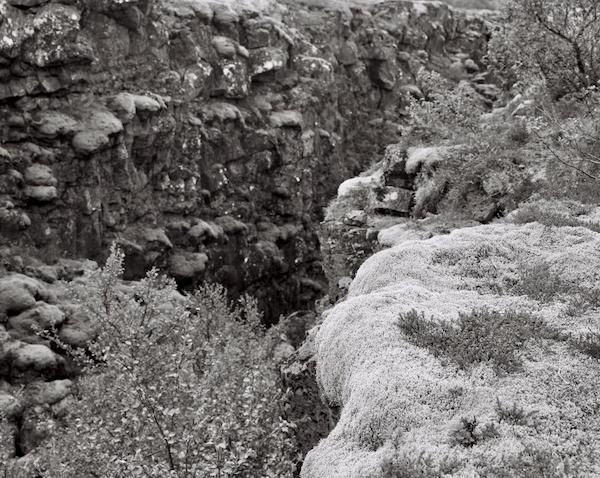 IM writes: "Some Icelandic moss and mother-of-thyme perched on the edge of a cliff in Thingvellir national park, where the Atlantic rift pokes above sea level. This is on the North American side."
* * *
Readers: Water Cooler is a standalone entity not covered by the annual NC fundraiser. So if you see a link you especially like, or an item you wouldn't see anywhere else, please do not hesitate to express your appreciation in tangible form. Remember, a tip jar is for tipping! Regular positive feedback both makes me feel good and lets me know I'm on the right track with coverage. When I get no donations for five or ten days I get worried. More tangibly, a constant trickle of donations helps me with expenses, and I factor in that trickle when setting fundraising goals:
Here is the screen that will appear, which I have helpfully annotated: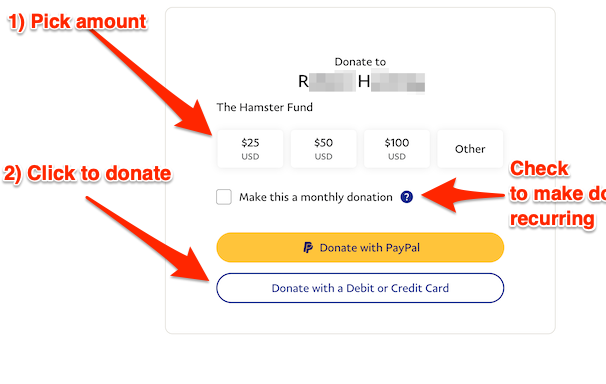 If you hate PayPal, you can email me at lambert [UNDERSCORE] strether [DOT] corrente [AT] yahoo [DOT] com, and I will give you directions on how to send a check. Thank you!