By Lambert Strether of Corrente.
Bird Song of the Day
Barn Swallow, Stevenson Rd. Game Farm and Compost, Tompkins, New York, United States.
* * *
Politics
"So many of the social reactions that strike us as psychological are in fact a rational management of symbolic capital." –Pierre Bourdieu, Classification Struggles
Biden Administration
Two-front wars (1):

We're the most powerful nation in the history of the world. We can take care of Israel and Ukraine and still maintain our overall international defense. pic.twitter.com/j3ajSs5sG8

— Joe Biden (@JoeBiden) October 16, 2023

Shall we try for three?

Two-front wars (2):

The United States can "certainly" afford wars on two fronts, the country's Treasury Secretary Janet Yellen has told Sky News 👇 https://t.co/OxCgJn48TH

— Sky News (@SkyNews) October 16, 2023

For some definition of "afford."
2024
Time for the Countdown Clock!

* * *

"Trump on Campaign Trail: Slightly Unhinged, Completely Unplugged" [RealClearPolitics]. "'They're going to do the electric vehicle nonsense, you know?' Trump told the audience, in one early moment that sounded like a Seinfeld cold open. 'You put a little circle around your house. You can't go outside the circle, you'll never come back.'" • Far be it from me to be The Donald Whisperer, but I think this was the piece of flotsam thrown up by Trump's free association:

Then again:

"They pay millions of dollars in taxes!" Trump said. "Yet, when they're taking a shower, they're told to hurry up. You're only allowed a small amount of water when you're taking a shower. That's why rich people from Beverly Hills, generally speaking, don't smell so good. Their hygiene is not good. But it's forced to be that way. So when you meet somebody with a beautiful house in Beverly Hills, you know that person is sort of disgusting under there."

Dear me! The whole article well worth a read:

But amidst the doom and gloom, it's laughter that seems to be Trump's objective at these rallies. Even after the grim and depressing news from Israel, the former president didn't deviate from a speaking style that can best be described as stand-up comedy. This is a president with Jewish grandchildren, remember, but the largest slaughter of Jews since the Holocaust was treated with gallows humor: The first mention of Israel last Saturday evening in Cedar Rapids came with a quip at President Biden's expense.

"He wasn't Winston Churchill, let's put it that way," Trump said while critiquing the cautious initial response from the White House. Then Trump did his Winston Churchill impression.

Remember when Jon Stewart and Stephen Colbert were actually touted as having political power, by West Wing brains? Turns out the comedian who did was…. Donald Trump. It's a funny old world.

* * *

"New poll suggests President Biden may have Pennsylvania problem for 2024" [CBS]. "A Quinnipiac poll released last week shows Biden narrowly trailing Trump in a hypothetical matchup in the commonwealth. The same poll found Biden's favorability rating among Pennsylvanians sits at just 39%…. U.S. Rep. Brendan Boyle (D-Penn.) serves on the Biden campaign national advisory board. Boyle said sitting presidents have trailed in the past. 'Ronald Reagan, Bill Clinton and Barack Obama were all losing in the polls,' Boyle said. 'They all obviously went on to win reelection and win actually by quite a margin.' Boyle said the president should continue to push his economic message of job creation and low unemployment. But some have questioned the frequent visits to Philadelphia at the expense of rallying support in other areas of the state." • Yep. The Democrats seem constiutionally incapable of ever implementing an "Every County, Every Vote"-style campaign. All the way back to Obama strangling Howard Dean's 50-state strategy.

* * *

"Dean Phillips starts calling New Hampshire Dems in step toward challenging Biden" [Politico (nippersdad)]. "Rep. Dean Phillips has begun making calls to Democratic operatives and officials in New Hampshire, the latest step he's taken toward launching a primary challenge against President Joe Biden…. Phillips withdrew from House Democratic leadership earlier this month, amid concern that his flirtation with a primary bid was causing a distraction. He has met with Democratic donors over the summer about a potential run. 'He's doing the things you would do if you're running — or if you've not officially decided and you're trying to check what the reception would be,' said a New Hampshire Democrat operative, granted anonymity to discuss the issue candidly…. Phillips, meanwhile, drew his own primary challenger this week when Ron Harris, a DNC executive committee member, announced a bid for Phillips' congressional seat."

"Who Is Potential Biden Primary Challenger Dean Phillips? Millionaire Former Gelato Exec Turned Congressman Would Be President's Most Prominent Opponent" [Forbes]. Gelato? Did he sell any to Nancy? 'Asked by Forbes in 2017 if he believes business executives make good politicians, Phillips responded: 'Business people are rather humbled when they enter the legislative arena, because they are used to making decisions that are then implemented by people who report to them, but…I never make a decision without hearing two of the most polar opposite perspectives on any issue because I want to know how the extremes feel.'" • So, Overton Window firmly nailed in place? Fun fact: Phillips is "Dear Abby"'s grandson He is also "Problem Solvers Caucus" member (Josh Gottheimer, D-Private Equity, co-chair).

* * *

"Spurious Spy Now Runs RFK, Jr. Campaign" [Spy Talk]. Kucinich out, Amaryllis Fox Kennedy in: "Robert F. Kennedy Jr.'s campaign for president is now being run by his daughter-in-law, who happens to be a former employee of the CIA—the same agency that RFK Jr. believes played a role in the 1963 murder of his uncle, the 35th president, and his father…. Fox Kennedy was a "NOC," one of the agency's operatives working under "non-official cover." NOCs work overseas as private individuals without any apparent affiliation with a U.S. government agency or embassy, which leaves them vulnerable to being caught spying." • Lots of odd detail, but "former employee of the CIA" is enough for me. Why? Fox Kennedy also wrote a memoir, Life Undercover. Has anyone read it?

"Booze, beads and art among unclaimed gifts lavished upon billionaire Illinois Gov. J.B. Pritzker" [Associated Press]. "The COVID-19 crisis imbued the governor's admirers with generosity. From March 2020 through December 2021, Pritzker received 33 gifts specifically in appreciation of his pandemic protocol, including some that seemed more personal: handmade face-coverings, items with inspirational messages, selections of food and a Gov. Pritzker bobblehead from the National Bobblehead Hall of Fame and Museum in Milwaukee. There also was '2:30 p.m. Man,' a painting of a smiling Pritzker in acrylic by SeungRi "Victoria" Park, a Chicago schoolteacher and artist. 'Every day at 2:30, he showed up on my TV,' said Park, referring to Pritzker's daily news conferences during the worst of the pandemic. 'I don't vote for any politicians, but I like him. I wanted to paint him. He reminded me of Buddha.' Pritzker, the state's third Jewish governor, was not a spiritual leader to Park, but his message resonated. 'I don't go with religion and I don't go with politicians," said Park, who has remained free of COVID-19 in the 3 1/2 years since the coronavirus crept into Illinois. 'But I go with science.'" • Good for Pritzker. I don't believe Newsom did this (perhaps his dyslexia got in the way). Trump did, of course.

"Democrats welcome mat for migrants is also fraying party's base" [Albany Herald]. "With no firm plans in place and the only concrete advice to incoming migrants being Pritzker's warning that 'it's gonna get cold in Chicago and New York very soon,' cracks among the Democratic base, particularly among key ethnic and racial blocs, have emerged over spending taxpayer dollars and housing for migrants. Despite the cold political calculation of using human beings as political pawns in a larger federal game aimed at securing the nation's southern border, Abbott's strategy of spreading the pressure on the federal government may be working. 'We of course are a welcoming state and have been caring for the people who've arrived. But we can't bear the burden only ourselves,' Pritzker said on CBS' 'Face the Nation' on his calls for assistance from Democratic President Joe Biden's administration. 'It seems like now is the moment to talk about border security and immigration reform. We want immigrants in the United States, we also want border security. It seems like there's a compromise there,' the Democratic governor said…. Now, with the leadership of the Republican-led U.S. House unsettled, prospects for a comprehensive immigration plan and significant federal aid to Chicago appear unlikely anytime soon."

* * *

VA: "Editorial: Forget the morality play. For Dems, online sex scandal could spell disaster" [Richmond Times-Dispatch]. "It's been more than five weeks since news broke that Susanna Gibson, the Democratic candidate running for the 57th District seat in the House of Delegates, livestreamed sex acts with her husband on a publicly accessible website. The revelation, first reported in The Washington Post, instantly became the talk of this year's critical legislative election: All 140 seats of the General Assembly are on the ballot, and a narrow partisan split — Republicans hold the House by four seats; Democrats have a four-seat edge in the Senate — is the only thing standing in the way of complete Republican control of state government, not to mention Gov. Glenn Youngkin's political future….. Gibson, a nurse practitioner who has made protecting abortion rights central to her campaign, has largely retreated from the public sphere since the scandal broke (she is, however, still canvassing and running political ads)…. So far, the scandal has barely registered as an actual campaign issue, at least not in the form of aggressive political advertising or public condemnations from her Republican opponent. Why, exactly, is harder to pinpoint. Gibson's livestreams with her husband appear to be consensual, and didn't break any laws. There's a question of judgment, and broken social norms, but this isn't sexual assault or predatory behavior — and for millennia, men have been doing far worse. 'I don't think anybody knows quite what to do with this story,' says Richard Meagher, a political science professor at Randolph-Macon College. There's no 'Clintonesque" problem, Meagher says: 'It's just really hard in the post-Trump era to find any disqualifying events or experience that would prevent (candidates) from running. I just don't know that the Democrats are going to abandon her because of this. People have very short memories these days.' Time will tell. How much the state party has been willing to put into Gibson's campaign since the scandal went public is unclear (state finance reports for September are due this week). And where voters fall on the morality of it all — whether Gibson is or isn't fit for office — remains an open question." • Well, at least Gibson didn't work for the CIA. So there's that.

* * *
Republican Funhouse
"House Likely to Pick Speaker This Week. But how or whom remains unclear" [Election Law Blog]. "As this round-up shows, it remains quite unclear who will emerge or how. Jim Jordan can only afford to lose four House Republicans. Punchbowl reports, however, that Mike Rogers of Alabama is organizing to oppose Jordan, and "[s]ources involved in the effort tell us that there are upwards of 10 lawmakers firmly in the 'Never Jordan' camp." Politico is also reporting on this effort. Meanwhile, the Hill reports on both Jordon's efforts to invoke the crisis to shore up support and Jeffries claims that informal conversations are afoot on a bi-partisan election of Speaker." • Time for Jordan to head for the showers?

"The 'Unprecedented' House GOP Meltdown Isn't as Novel as You Think. And There Is a Way Out" [Politico]. "Between 1937 and 1964, Democrats maintained a technical majority for all but four years (1947-49 and 1953-55). But in reality, an informal coalition of Southern Democrats and conservative Republicans denied national Democrats a functioning majority. By the time John F. Kennedy assumed the presidency, the House was so deadlocked and dysfunctional that it had all but given up on passing routine appropriations bills — strikingly similar to today…. As most students of history know, in the mid-1960s, national Democrats broke the conservative stranglehold in Congress. They did so for three reasons. First, Kennedy's assassination gave the new president, Lyndon Johnson, an opportunity to call for bold action to "finish" the work of his slain predecessor. Johnson skillfully channeled the nation's grief to launch a full-throated effort for civil rights and anti-poverty legislation. Second, the 1964 election cycle saw national Democrats sweep both House and Senate elections, replacing conservative Republicans with liberal Democrats and thus undermining the conservative coalition. Assuming no one wins a landslide majority in Congress in the current, polarized environment, the third reason is most instructive today. Between 1964 and 1968, moderate and liberal Republicans found common cause with national Democrats in Congress to form a new, informal governing majority that replaced the old conservative coalition." • Heaven help us, the centrists on both sides of the aisle will discover they share a bond….

* * *

On polling:

My first Mastodon embed; let's see how it goes!
Democrats en Déshabillé
Patient readers, it seems that people are actually reading the back-dated post! But I have not updated it, and there are many updates. So I will have to do that. –lambert

I have moved my standing remarks on the Democrat Party ("the Democrat Party is a rotting corpse that can't bury itself") to a separate, back-dated post, to which I will periodically add material, summarizing the addition here in a "live" Water Cooler. (Hopefully, some Bourdieu.) It turns out that defining the Democrat Party is, in fact, a hard problem. I do think the paragraph that follows is on point all the way back to 2016, if not before:

The Democrat Party is the political expression of the class power of PMC, their base (lucidly explained by Thomas Frank in Listen, Liberal!). ; if the Democrat Party did not exist, the PMC would have to invent it. . ("PMC" modulo "class expatriates," of course.) Second, all the working parts of the Party reinforce each other. Leave aside characterizing the relationships between elements of the Party (ka-ching, but not entirely) those elements comprise a network — a Flex Net? An iron octagon? — of funders, vendors, apparatchiks, electeds, NGOs, and miscellaneous mercenaries, with assets in the press and the intelligence community.

Note, of course, that the class power of the PMC both expresses and is limited by other classes; oligarchs and American gentry (see 'industrial model' of Ferguson, Jorgensen, and Jie) and the working class spring to mind. Suck up, kick down.

* * *
#COVID19
"I am in earnest — I will not equivocate — I will not excuse — I will not retreat a single inch — AND I WILL BE HEARD." –William Lloyd Garrison
Resources, United States (National): Transmission (CDC); Wastewater (CDC, Biobot; includes many counties; Wastewater Scan, includes drilldown by zip); Variants (CDC; Walgreens); "Iowa COVID-19 Tracker" (in IA, but national data). "Infection Control, Emergency Management, Safety, and General Thoughts" (especially on hospitalization by city).
Lambert here: Readers, thanks for the collective effort. To update any entry, do feel free to contact me at the address given with the plants. Please put "COVID" in the subject line. Thank you!
Resources, United States (Local): AK (dashboard); AL (dashboard); AR (dashboard); AZ (dashboard); CA (dashboard; Marin, dashboard; Stanford, wastewater; Oakland, wastewater); CO (dashboard; wastewater); CT (dashboard); DE (dashboard); FL (wastewater); GA (wastewater); HI (dashboard); IA (wastewater reports); ID (dashboard, Boise; dashboard, wastewater, Central Idaho; wastewater, Coeur d'Alene; dashboard, Spokane County); IL (wastewater); IN (dashboard); KS (dashboard; wastewater, Lawrence); KY (dashboard, Louisville); LA (dashboard); MA (wastewater); MD (dashboard); ME (dashboard); MI (wastewater; wastewater); MN (dashboard); MO (wastewater); MS (dashboard); MT (dashboard); NC (dashboard); ND (dashboard; wastewater); NE (dashboard); NH (wastewater); NJ (dashboard); NM (dashboard); NV (dashboard; wastewater, Southern NV); NY (dashboard); OH (dashboard); OK (dashboard); OR (dashboard); PA (dashboard); RI (dashboard); SC (dashboard); SD (dashboard); TN (dashboard); TX (dashboard); UT (wastewater); VA (dashboard); VT (dashboard); WA (dashboard; dashboard); WI (wastewater); WV (wastewater); WY (wastewater).
Resources, Canada (National): Wastewater (Government of Canada).
Resources, Canada (Provincial): ON (wastewater); QC (les eaux usées); BC, Vancouver (wastewater).
Hat tips to helpful readers: anon (2), Art_DogCT, B24S, CanCyn, ChiGal, Chuck L, Festoonic, FM, FreeMarketApologist (4), Gumbo, hop2it, JB, JEHR, JF, JL Joe, John, JM (10), JustAnotherVolunteer, JW, KatieBird, LL, Michael King, KF, LaRuse, mrsyk, MT, MT_Wild, otisyves, Petal (6), RK (2), RL, RM, Rod, square coats (11), tennesseewaltzer, Utah, Bob White (3).
Stay safe out there!
* * *
Vaccines
"Covid Nasal Vaccines Get A Boost" [Eric Topol, Ground Truths]. "While there is no major wave of Covid infections at the moment, the number of people who are still getting infected or reinfected each day is substantial. We have no good way to prevent these infections besides non-pharmacological interventions (masks, physical distancing, air ventilation and filtration, etc). Shots provide only moderate (30-40% reduction) and brief (<6-8 weeks) protection from infections. Pandemic fatigue is full blown; the world is doing all possible to move on even though the virus forges ahead on its evolutionary arc, destined to find new ways to infect (and mostly reinfect) more hosts. There are known variants, currently at low levels, that will be more problematic than what we are seeing right now (such as the FLips, recently reviewed) with a new wave likely to be seen in November. Despite our progress with updated XBB.1.5 monovalent vaccines and Paxlovid availability, these infections carry a risk, some of which is unpredictable, for severe Covid and Long Covid. The big gap in our armamentarium is an easy to administer, durable, potent, variant-proof, safe nasal vaccine that blocks infections and transmission." • A good review of the field of play, and the introduction laying out the reasonin behind nasal vaccines is very good. The Codagenix Phase 1 nasal vaccine ("CoviLiv") is "live-attenuated intranasal," so maybe we could get out of the mRNA box.

"Phase III Pivotal comparative clinical trial of intranasal (iNCOVACC) and intramuscular COVID 19 vaccine (Covaxin®)" [Nature]. I am embarassed to say I missed this (Twitter's deterioration again, I think). Finally somebody tests Bharat's nasal vaccine besides Bharat! From August, still germane. The Discussion: "In this report of the interim findings from a phase 3 clinical trial, we found that two weeks after a second vaccination with BBV154 [Bharat iNCOVACC], an intranasal, adenoviral-vectored SARS-CoV-2 vaccine, neutralization titres against wild-type (D614G) SARS-CoV-2 virus were superior to those observed two weeks after two doses of the intramuscular Covaxin vaccine. Similarly, the intranasal vaccine induced significantly higher cross-neutralizing responses against the BA.5 sub-lineage of the Omicron variant. In addition to these humoral responses, we also detected higher mucosal (sIgA) antibodies at Day 42 following BBV154 compared with Covaxin administration. These results were further supported by statistically significant increases of IgA-secreting plasmablasts on Day 42, compared with Day 0 in the BBV154 group… In this study, the combined incidence rates of local and systemic adverse events after the first and second doses of BBV154 are strikingly lower than the rates reported for other SARS-CoV-2 vaccine platform candidates. However, other vaccine studies enrolled different populations and employed varying approaches to measure adverse events. Nonetheless, the intranasal route of administration was well tolerated in comparison with the injected Covaxin control vaccine, with fewer than 5% and 3% of vaccinees reporting local or systemic adverse events." N = 3160.
Scientific Communication
"The Coronavirus Still Doesn't Care About Your Feelings" [The Nation]. "[I]f there's one thing we've learned, three and a half years into the current crisis, it's that—contrary to what the movies taught us—pandemics don't automatically spawn terror-stricken stampedes in the streets. Media and public health coverage have a strong hand in shaping public response and can—under the wrong circumstances—promote indifference, incaution, and even apathy. A very visible example of this was the sharp drop in the number of people masking after the CDC revised its guidelines in 2021, recommending that masking was not necessary for the vaccinated (from 90 percent in May to 53 percent in September). As that example suggests, emphasizing the message 'don't panic' puts the cart before the horse unless tangible measures are being taken to prevent panic-worthy outcomes. And indeed, these repeated assurances against panic have arguably also preempted a more vigorous and urgent public health response—as well as perversely increasing public acceptance of the risks posed by coronavirus infection and the unchecked transmission of the virus. This 'moral calm'—a sort of manufactured consent—impedes risk mitigation by promoting the underestimation of a threat. Soothing public messaging during disasters can often lead to an increased death toll: Tragically, false reassurance contributed to mortality in both the attacks on the World Trade Center and the sinking of the Titanic." • Worth reading in full. On "moral calm"–

"The Moral Calm Before the Storm: How a Theory of Moral Calms Explains the Covid-Related Increase in Parents' Refusal of Vaccines for Children" (preprint) [socArXiv]. "To further explain these patterns, I offer a theory of 'moral calm.' Drawing on the theory of moral panic (Cohen 1972; Goode and Ben-Yehuda 1994), I define moral calms as situations marked by a lack of widespread fear of some potentially harmful phenomenon. As pre-pandemic research has shown, anti-vaccine activists do not just try to persuade others that vaccines are dangerous; they also argue that vaccines are largely unnecessary, on the grounds that vaccine-preventable diseases pose minimal threat to young, 'healthy' people (Estep and Greenberg 2020; Prislin et al. 1998; Reich 2016b, 2016a, 2020a; Ten Kate, Koster, and Van der Waal 2021). Essentially, anti-vaccine activists attempt to promote not only a moral panic around vaccines but also a moral calm around vaccine-preventable diseases." And not just Covid; measles and MMR generally. More: "Building on these findings, I will show that messages from public health experts in the early stages of the pandemic inadvertently helped create a 'moral calm' around children and Covid-19. These messages, which portrayed children, and particularly white, 'healthy" children as being at low risk of contracting, transmitting, and getting seriously ill from the disease…." Because "we" didn't want school closures? More: "… led many mothers to perceive the vaccine as unnecessary for their children, even if they had never previously refused vaccines. Perceiving the vaccine as unnecessary opened the door for mothers to engage with misinformation about Covid-19 vaccines, which then led mothers to see the vaccine as potentially more harmful to their children than the disease itself. Ultimately, I conclude that the coupling of a moral calm around children and Covid and a moral panic around Covid vaccines created a perfect storm of rhetoric and sentiments, leading a substantial number of parents to decide that they would, at least initially, refuse to vaccinate their children against Covid-19." • I think the moral calm idea is interesting. I'm not sure mRNA vaccines is where I'd try the idea out.
"Something Awful"
Lambert here: I'm getting the feeling that the "Something Awful" might be a sawtooth pattern — variant after variant — that averages out to a permanently high plateau. Lots of exceptionally nasty sequelae, most likely deriving from immune dysregulation (says this layperson). To which we might add brain damage, including personality changes therefrom.

* * *

"Neurologic Effects of SARS-CoV-2 Transmitted among Dogs" [Emerging Infections Diseases, CDC]. From the Abstract: "We observed substantial brain pathology in SARS-CoV-2–infected dogs, particularly involving blood–brain barrier damage resembling small vessel disease, including changes in tight junction proteins, reduced laminin levels, and decreased pericyte coverage. Furthermore, we detected phosphorylated tau, a marker of neurodegenerative disease, indicating a potential link between SARS-CoV-2–associated small vessel disease and neurodegeneration. Our findings of degenerative changes in the dog brain during SARS-CoV-2 infection emphasize the potential for transmission to other hosts and induction of similar signs and symptoms. The dynamic brain changes in dogs highlight that even asymptomatic individuals infected with SARS-CoV-2 may develop neuropathologic changes in the brain." • On the bright side, maybe people who don't care about infecting their children will care about infecting their dogs.
Elite Maleficence
BoJo to the Hague Tribunal:

And here it is, the document about #LongCovid on which @BorisJohnson scrawled "Bollocks. This is Gulf War Syndrome Stuff". A document describing serious ongoing symptoms and the need for more recognition and support for patients.#CovidInquiry#WeNeedAnswers#LongCovidRuinsLives pic.twitter.com/Fq32C5v8yY

— Long Covid Support 🌍 (@long_covid) October 13, 2023

Extroverts are gonna kill us all:

'Brunch and concerts', the new bread and circuses.

— SodiumContent 🧂✨ (He/Him/They/Them) (@thesaltynsassy) October 14, 2023

One wonders, as neurological damage becomes more and more evident, whether menus will be gradually simplified, and of course the dishes, too (as taste goes?).
* * *
Lambert here: No point watching the tape; the CDC snarled it, by (mixed metaphor) decapitating the national source of wastewater data, without which we have no current case data at all (although we can always check our local sewage plant). Mandy, good job!
Case Data
NEVER TO BE UPDATED From BioBot wastewater data, October 2:
Lambert here: Leveling out to a high plateau wasn't on my Bingo card! Perhaps FL.1.5.1, high in the Northeast, has something going for it that other variants don't have?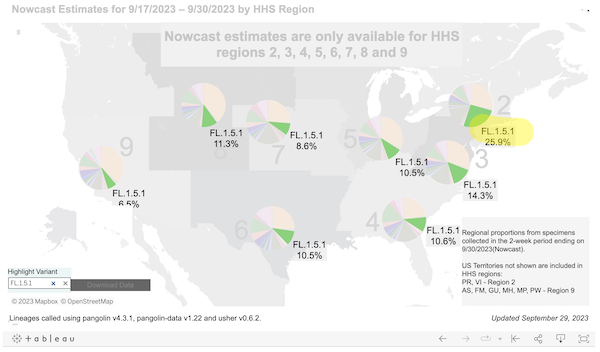 Regional data: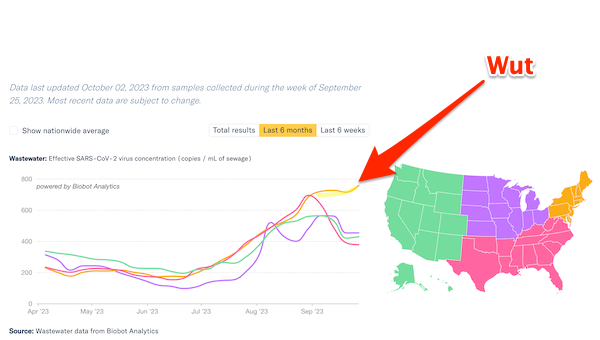 Interestingly, the upswing begins before July 4, which neither accelerates nor retards it.
• "CDC ends Biobot Analytics contract for wastewater surveillance of COVID pandemic" [WSWS]. "As of September 27, 2023, one of the few reliable sources of information on the real state of the COVID pandemic in the US was halted….. Instead, the CDC awarded the $38 million contract for up-to-five years to Verily (formerly Google Life Sciences) on September 26, 2023. However, a glance into Verily's COVID dashboard, WastewaterSCAN, offers little in terms of comprehensible data in regional or national terms. It simply states, 'Medium: Downward trend and medium concentration in the last 21 days.'… It appears that the disruption in wastewater data is . Such shifts in contracts usually take place over a span of time to assure a seamless transition on the data being presented…. Biobot Analytics was alone in tracking the entire course of the summer wave, enabling an appreciative public to take what self-protective measures they could and providing vital information to medical science and public health efforts. The hostility of the CDC and its political and corporate masters to this effort—they evidently regarded data collection on COVID as more dangerous than the lethal disease itself—no doubt accounts for the decision to award the wastewater data monitoring contract to a different company." • After CDC's criminal "green map," I can believe anything of them. However, although eliminating real-time data is bad, handing wastewater data over to one of Google's tentacles is worse. Again, Google is known to (a) monetize data, and (b) game public-facing data (1) for profit, and (2) when the Censorship Industrial Complex tells them to (say, to "prevent panic"). This is very bad. Google is simply bad for data hygiene, and they shouldn't be let near public health data.
Variants
NOT UPDATED From CDC, October 14: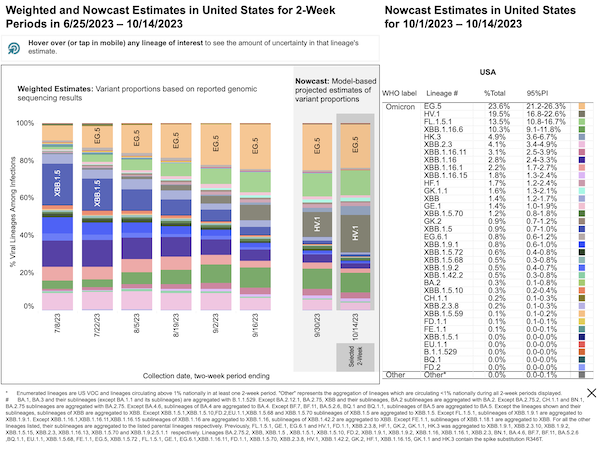 Lambert here: September 30 is tomorrow, but never mind that. Top of the leaderboard: EG.5 ("Eris"), with HV.1 a strong second, and XBB.1.1.16.6 and FL.1.15.1 trailing. No BA.2.86. Still a Bouillabaisse…
From CDC, September 16: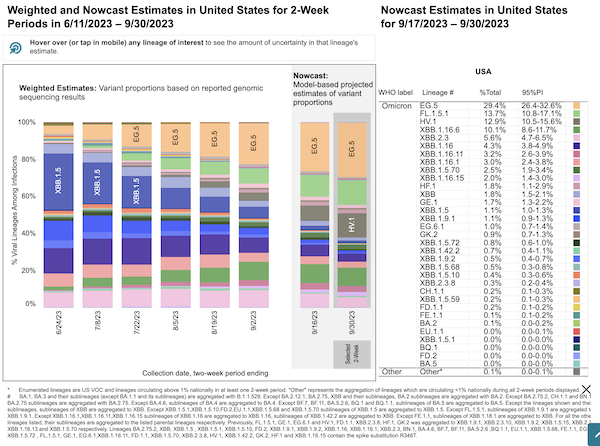 Lambert here: I sure hope the volunteers doing Pangolin, on which this chart depends, don't all move on the green fields and pastures new (or have their access to facilities cut by administrators of ill intent).
CDC: "As of May 11, genomic surveillance data will be reported biweekly, based on the availability of positive test specimens." "Biweeekly: 1. occurring every two weeks. 2. occurring twice a week; semiweekly." Looks like CDC has chosen sense #1. In essence, they're telling us variants are nothing to worry about. Time will tell.
Covid Emergency Room Visits
NOT UPDATED From CDC NCIRD Surveillance, October 7: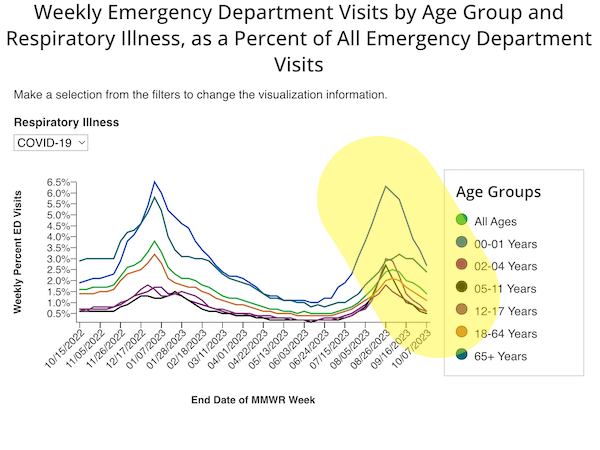 Drop coinciding with wastewater drop.
NOTE "Charts and data provided by CDC, updates Wednesday by 8am. For the past year, using a rolling 52-week period." So not the entire pandemic, FFS (the implicit message here being that Covid is "just like the flu," which is why the seasonal "rolling 52-week period" is appropriate for bothMR SUBLIMINAL I hate these people so much. Notice also that this chart shows, at least for its time period, that Covid is not seasonal, even though CDC is trying to get us to believe that it is, presumably so they can piggyback on the existing institutional apparatus for injections.
Hospitalization
Bellwether New York City, data as of October 16: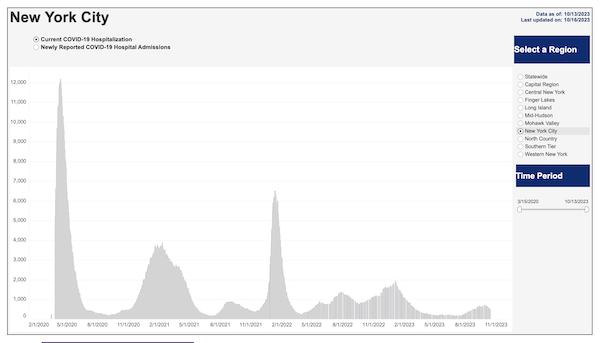 Still decreasing. (New York State is now falling, too.) I hate this metric because the lag makes it deceptive. NOTE I wonder why they they lightened up the shade of grey (MANAGER: "That dark grey is depressing!").
Here's a different CDC visualization on hospitalization, nationwide, not by state, but with a date, at least. September 30: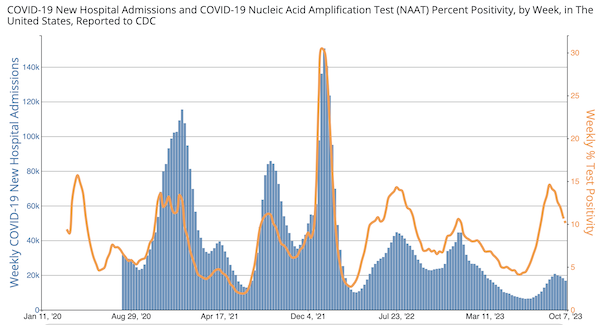 Lambert here: "Maps, charts, and data provided by CDC, updates weekly for the previous MMWR week (Sunday-Saturday) on Thursdays (Deaths, Emergency Department Visits, Test Positivity) and weekly the following Mondays (Hospitalizations) by 8 pm ET†". So where the heck is the update, CDC?
Positivity
NOT UPDATED From Walgreens, October 9: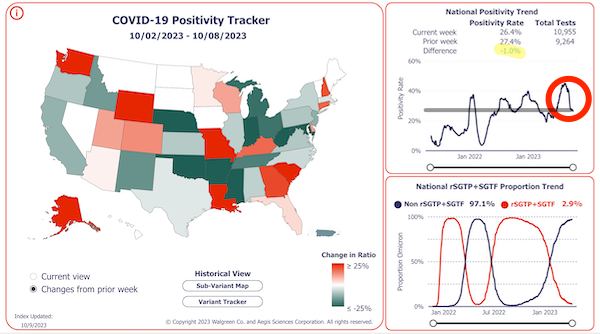 -1.0%. Still dropping, though less than before. (It would be interesting to survey this population generally; these are people who, despite a tsunami of official propaganda and enormous peer pressure, went and got tested anyhow.)
From Cleveland Clinic, October 7: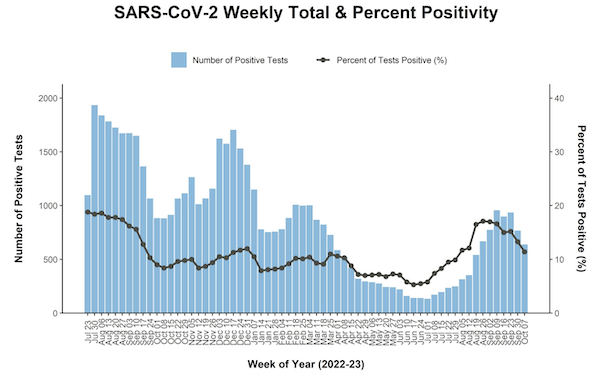 Lambert here: I know this is just Ohio, but the Cleveland Clinic is good*, and we're starved for data, so…. NOTE * Even if hospital infection control is trying to kill patients by eliminating universal masking with N95s.
From CDC, traveler's data, September 25: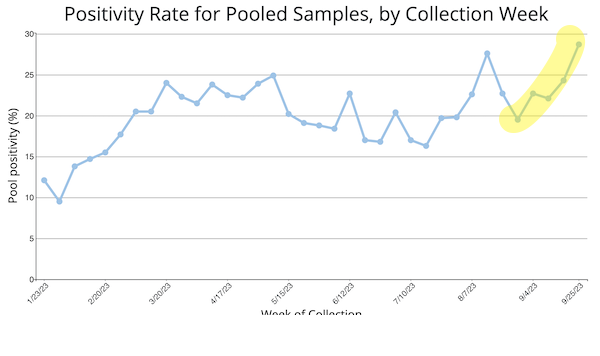 Back up again, albeit in the rear view mirror. And here are the variants for travelers: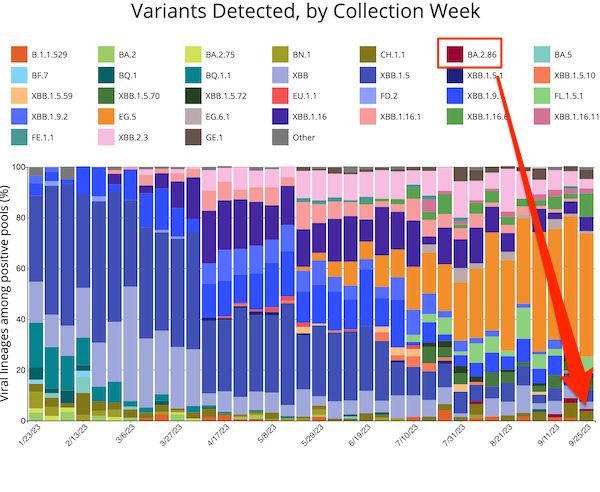 BA.2.86 shrinks. Flash in the pan?
Deaths
NOT UPDATED Iowa COVID-19 Tracker, September 27: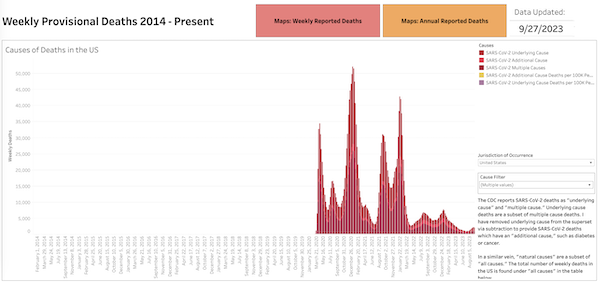 Lambert here: The WHO data is worthless, so I replaced it with the Iowa Covid Data Tracker. Their method: "These data have been sourced, via the API from the CDC: https://data.cdc.gov/NCHS/Conditions-Contributing-to-COVID-19-Deaths-by-Stat/hk9y-quqm. This visualization updates on Wednesday evenings. Data are provisional and are adjusted weekly by the CDC." I can't seem to get a pop-up that shows a total of the three causes (top right). Readers?
Total: 1,178,851 – 1,178,704 = 147 (147 * 365 = 53,655 deaths per year, today's YouGenicist™ number for "living with" Covid (quite a bit higher than the minimizers would like, though they can talk themselves into anything. If the YouGenicist™ metric keeps chugging along like this, I may just have to decide this is what the powers-that-be consider "mission accomplished" for this particular tranche of death and disease). 
Excess Deaths
NOT UPDATED The Economist, October 13: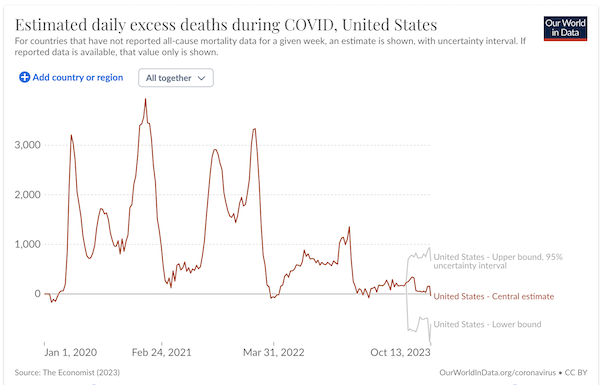 Lambert here: Based on a machine-learning model.
Stats Watch
Manufacturing: "United States NY Empire State Manufacturing Index" [Trading Economics]. "The NY Empire State Manufacturing Index fell to -4.6 in October 2023 from 1.9 in September, compared to forecasts of -7, and showing that business activity in the New York state edged lower."
* * *
Tech: "I wrote the book on user-friendly design. What I see today horrifies me" [Don Norman, Fast Company]. "Despite our increasing numbers the world seems to be designed against the elderly. Everyday household goods require knives and pliers to open. Containers with screw tops require more strength than my wife or I can muster. (We solve this by using a plumber's wrench to turn the caps.) Companies insist on printing critical instructions in tiny fonts with very low contrast. Labels cannot be read without flashlights and magnifying lenses. And when companies do design things specifically for the elderly, they tend to be ugly devices that shout out to the world 'I'm old and can't function!' We can do better." • And that's before we get to cellphones. Commentary:
just celebrated my laptop's 10th birthday <3 pic.twitter.com/0CqOyWYwr1

— alex krokus (@alexkrokus) April 18, 2023
The Economy: "If the Economy Is So Strong, Why Are Consumer Stocks Tanking?" [Wall Street Journal]. "Although the U.S. economy generally appears to be humming along, companies across the retail spectrum have suggested consumers are starting to exercise more caution with their purchases. The latest fall in the shares also coincides with a rapid rise in Treasury yields, which reduces the appeal of the staples stocks in particular because they are often seen as dividend plays…. Dollar General is among the companies that have said its customers are buying fewer discretionary items while opting to pick up food and other essentials, leaving the company with an inventory of unsold goods."
* * *
Today's Fear & Greed Index: 36 Fear (previous close: 28 Fear) [CNN]. One week ago: 30 (Extreme Fear). (0 is Extreme Fear; 100 is Extreme Greed). Last updated Oct 16 at 1:38:21 PM ET.
Rapture Index: Closes unchanged [Rapture Ready]. Record High, October 10, 2016: 189. Current: 186. (Remember that bringing on the Rapture is good.) NOTE on #42 Plagues: "The coronavirus pandemic has maxed out this category." More honest than most! • Israel/Palestine blows up, and the Rapture isn't closer?!
Games
"This New Hand-Painted Video Game Takes Place Inside Claude Monet's Eyeball" [Smithsonian]. "Australian designer and developer Pat Naoum spent seven years creating the game, which takes players on a colorful, 12-level journey through Monet's iris, per Artnet's Min Chen. To progress in the game, players must solve puzzles while running along green vines and through scenes depicted in some of Monet's paintings. In doing so, they also help Monet complete his works. Naoum hand-painted the entire game, a process that took over 2,000 hours. He then learned to code so he could digitize his artwork and make it interactive—all while holding down a day job as a web designer." • Neat!
The Gallery
Really speaks to the railfan in me:
Freight Car at Truro, 1931 https://t.co/gJCPkTwPc2 pic.twitter.com/WvMMXpZdG7

— Edward Hopper (@artisthopper) October 14, 2023
Class Warfare
"Cultivating community-based participatory research (CBPR) to respond to the COVID-19 pandemic: an illustrative example of partnership and topic prioritization in the food services industry" [BMC Public Health]. "Key findings were that food service workers (1) were provided workplace COVID-19 droplet-based protections that were insufficient against a highly-infectious airborne illness, (2) had to make difficult decisions about health and safety with limited definitive public health guidance and structural supports, (3) faced considerable stressors and mental health concerns, especially depression, anxiety, and substance use, with limited counseling support, (4) continue to experience long-term health, mental health, and financial impacts, and (5) want more support to prevent in-home COVID-19 transmission and gain more support around health, mental health, and financial well-being in the food service industry."
"Exploring Gender Bias in Six Key Domains of Academic Science: An Adversarial Collaboration" [Exploring Gender Bias in Six Key Domains of Academic Science: An Adversarial Collaboration]. From the Abstract: "Contrary to the omnipresent claims of sexism in these domains appearing in top journals and the media, our findings show that tenure-track women are at parity with tenure-track men in three domains (grant funding, journal acceptances, and recommendation letters) and are advantaged over men in a fourth domain (hiring). For teaching ratings and salaries, we found evidence of bias against women; although gender gaps in salary were much smaller than often claimed, they were nevertheless concerning. Even in the four domains in which we failed to find evidence of sexism disadvantaging women, we nevertheless acknowledge that broad societal structural factors may still impede women's advancement in academic science. Given the substantial resources directed toward reducing gender bias in academic science, it is imperative to develop a clear understanding of when and where such efforts are justified and of how resources can best be directed to mitigate sexism when and where it exists."
News of the Wired
"Forget privacy: you're terrible at targeting anyway" [OpenWarr]. "The state of personalized recommendations is surprisingly terrible. At this point, the top recommendation is always a clickbait rage-creating article about movie stars or whatever Trump did or didn't do in the last 6 hours. Or if not an article, then a video or documentary. That's not what I want to read or to watch, but I sometimes get sucked in anyway, and then it's recommendation apocalypse time, because the algorithm now thinks I like reading about Trump, and now everything is Trump. ." • Words to live by! (Also, written in 2019. If anything, more true today.)
* * *
Contact information for plants: Readers, feel free to contact me at lambert [UNDERSCORE] strether [DOT] corrente [AT] yahoo [DOT] com, to (a) find out how to send me a check if you are allergic to PayPal and (b) to find out how to send me images of plants. Vegetables are fine! Fungi and coral are deemed to be honorary plants! If you want your handle to appear as a credit, please place it at the start of your mail in parentheses: (thus). Otherwise, I will anonymize by using your initials. See the previous Water Cooler (with plant) here. From Angie Neer: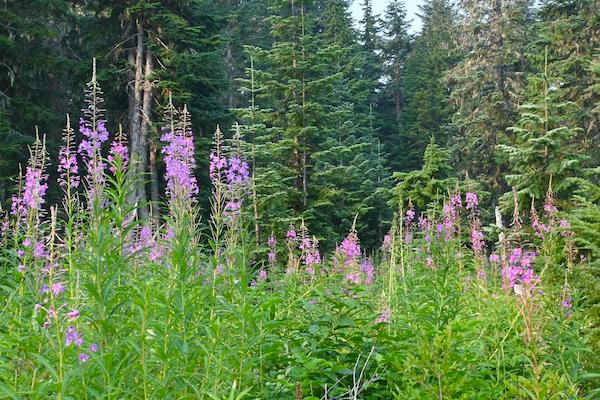 Angie Neer writes: "Fireweed and evergreens, near Mount Rainier, WA."
* * *
Readers: Water Cooler is a standalone entity not covered by the annual NC fundraiser. So if you see a link you especially like, or an item you wouldn't see anywhere else, please do not hesitate to express your appreciation in tangible form. Remember, a tip jar is for tipping! Regular positive feedback both makes me feel good and lets me know I'm on the right track with coverage. When I get no donations for five or ten days I get worried. More tangibly, a constant trickle of donations helps me with expenses, and I factor in that trickle when setting fundraising goals:
Here is the screen that will appear, which I have helpfully annotated: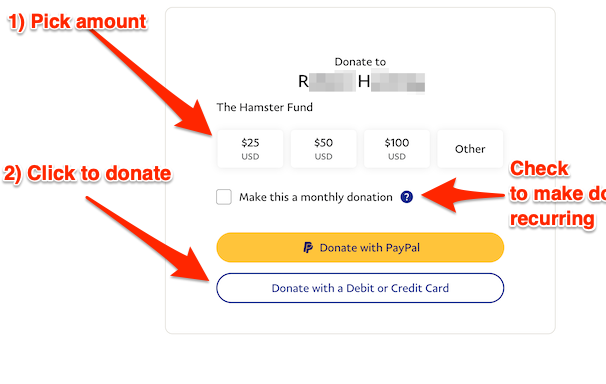 If you hate PayPal, you can email me at lambert [UNDERSCORE] strether [DOT] corrente [AT] yahoo [DOT] com, and I will give you directions on how to send a check. Thank you!