By Lambert Strether of Corrente.
Happy Friday the 13th to those who observe. –lambert
Bird Song of the Day
House Wren (Northern), 6681 Leaches Crossing Rd, Avoca, Wisconsin, United States. "With Common Yellowthroat, Song Sparrow, Mourning Dove, RWBL…"
* * *
Politics
"So many of the social reactions that strike us as psychological are in fact a rational management of symbolic capital." –Pierre Bourdieu, Classification Struggles
The Constitutional Order
"Colorado judge strikes down Trump's attempt to toss a lawsuit seeking to bar him from 2024 primary ballot" [Colorado Sun]. "Citizens for Responsibility and Ethics in Washington claims in its lawsuit that putting Trump on the ballot in Colorado would violate a provision of the 14th Amendment that bars people who have "engaged in insurrection" against the Constitution from holding office…. Trump's attorneys argued that a Colorado law protecting people from being sued over exercising their free speech rights shielded him from the lawsuit, but Colorado District Judge Sarah Wallace said that law doesn't apply in this case…. The trial to determine Trump's eligibility for the Colorado ballot is scheduled to start Oct. 30."
Biden Administration
A little war news, since the situation is overly volatile:

"Israel-Hamas live: Thousands flee but no mass exodus after Israeli warning" [Al Jazeera]. "Al Jazeera correspondents report that thousands have fled to the south, but there appears to be no mass exodus." • Here is a handy map:

"South" is where the IDF ordered Gazans to flee, meaning south of the Wadi Gaza (map center), or "Gaza River" (plus wetlands). If I were a Palestinian, I would be very dubious about being even more penned up.

"Israeli military says troops make first ground raids into Gaza" [Reuters]. "Israeli military spokesperson Rear Admiral Daniel Hagari said troops backed by tanks had mounted raids to attack Palestinian rocket crews and seek information on the location of hostages taken by Hamas."

"Putin cautions Israel against using tactics in Gaza like Nazi siege of Leningrad" [Reuters]. "Russian President Vladimir Putin cautioned Israel on Friday against laying siege to Gaza in the same way that Nazi Germany besieged Leningrad, saying a ground offensive there would lead to an 'absolutely unacceptable' number of civilian casualties. Putin said Israel had been subjected to 'an attack unprecedented in its cruelty' by Hamas militants, but was responding with cruel methods of its own. He said there had been calls even in the United States for a blockade of the Hamas-controlled Gaza Strip on a par with 'the siege of Leningrad during World War Two'. 'In my view it is unacceptable,' Putin told reporters at a summit in Kyrgyzstan. 'More than 2 million people live there. Far from all of them support Hamas by the way, far from all. But all of them have to suffer, including women and children. Of course it's hard for anyone to agree with this.' His criticism of Israel was made all the more stinging by the reference to the 1941-44 siege of Leningrad and the implied comparison between Israel and Hitler's Germany, with potential for causing deep offence in Israel. Putin said, however, that Israel had the right to defend itself." • I for one would be very happy to (1) discover any player who is agreement-capable and (2) imagine a good outcome (or rather a better outcome than the status quo ante).

"Chuck Schumer will lead a bipartisan trip to Israel this weekend" [Politico]. • Let me know how that works out….

* * *

"WH Denounces Dems Equating Hamas Attack With Israel's Response" [RealClearPolitics]. "On Tuesday, the White House condemned "repugnant" and "disgraceful" comments from members of Congress equating the terrorist attack by Hamas with previous actions taken by Israel. Notably, this rebuttal applies to Democratic Reps. Rashida Tlaib of Michigan and Cori Bush of Missouri…. This was a continuation of a message the president stressed directly moments earlier in the East Room of the White House. Flanked by Vice President Kamala Harris and Secretary of State Antony Blinken, Biden said forcefully, 'Like every nation in the world, Israel has the right to respond, indeed has a duty to respond, to these vicious attacks.'" • Good to see Biden being "forceful." That should bring him a little bump.
2024
Time for the Countdown Clock!

* * *

"Donald Trump's Israeli War Insight" [Wall Street Journal]. The full quote: "'Two nights ago I read all of Biden's security people, can you imagine, national defense people,' Mr. Trump said Wednesday night in West Palm Beach. 'And they said 'Gee, I hope Hezbollah doesn't attack from the north. Because that's the most vulnerable spot.' And I said, wait a minute, you know Hezbollah is very smart. They're all very smart. The press doesn't like when they say, you know. I said that President Xi of China, 1.4 billion people, he controls it with an iron fist. I said he's a very smart man. They killed me the next day. I said he was smart. What am I gonna say?'" • Trump being Trump. Democrat aghastitude because demon figures are demons ffs (and of course only Democrats are smart. That's why they're running Joe Biden).

"Trump, in West Palm Beach, tells DeSantis: 'I can never forget.' And forget about 2028, too." [Palm Beach Post]. "'I think he blew it for in four years. You never know what's going to happen, but in '28, I don't see it happening,' Trump said to a crowd of supporters. "I can never forget because that's such great disloyalty.' Trump's taunts came during a show of political force with thousands gathered in West Palm Beach for a meeting of a fan club created more than five years expressly for him during his presidency. It was an opportunity for Trump to demonstrate his enduring popularity in his home county and DeSantis' home state. The Trump faithful did not disappoint by showing up in numbers large enough to fill the cavernous Palm Beach County Convention Center."

"Trump lawyers claim special counsel seeks pre-election conviction in classified documents case 'no matter the cost'" [South Florida Sun-Sentinel]. "'The fact that they continue to contend that it is appropriate and not a violation of President Trump's due process rights to push forward with back-to-back multi-month trials in different districts with wholly different facts — over a defendant's objection — reveals a central truth about these cases,' the defense lawyers wrote. 'The special counsel's office is engaged in a reckless effort to try to obtain a conviction of President Trump prior to the 2024 election, no matter the cost.' 'The Court should not permit the use of the criminal justice process toward that end,' the lawyers added. The lawyers repeated their earlier assertions that the government has not followed through on its obligations to make all the classified documents accessible and available for inspection by the defense. The special counsel's prosecutors dispute that assertion, saying they have made secure facilities available to review the materials."

* * *

"White House knew Biden had his own document problem before siccing FBI on Trump, new timeline shows" [Just the News]. "Comer disclosed in a letter to White House Counsel Edward Siskel that Congress has now confirmed that Biden's aides knew as early as March 2021 that the current president had kept government documents at his insecure university think tank office in Washington D.C. They would later be determined to contain classified information. A year later – with the public unaware of Biden's document predicament – the Biden White House instructed the National Archives to give the FBI access to 15 boxes of government memos —some classified — that Trump had located in his Florida home, kicking a criminal probe of the 45th president into high gear." And: "According to the timeline in Chairman Comer's letter, Biden White House employees first visited the Penn Biden Center—a think-tank at the University of Pennsylvania—to 'take inventory of President Biden's documents and materials,' in March of 2021, more than a year before President Biden's lawyers claimed that 'what appear[ed] to be Obama-Biden Administration records, including a small number of documents with classified markings' were first discovered at the center on November 2, 2022." • Not earthshaking, but drip-drip-drip….

* * *

"Nikki Haley and Ron DeSantis duke it out for donors — but it may not matter against Trump" [NBC]. "As Florida Gov. Ron DeSantis and former South Carolina Gov. Nikki Haley jockey to be the top alternative to former President Donald Trump in the Republican presidential primaries, their campaigns will court a consortium of megadonors at a closed-door conference Friday in Dallas…. And even winning the donor jackpot might not make much of a difference. . Between his campaign and the super PAC Never Back Down, DeSantis has collected more than $150 million. After it spent $4 million testing anti-Trump ads in Iowa, the Win it Back PAC — which has ties to the conservative Club for Growth — found it could do limited damage, with 'diminishing returns,' to Trump." Wowsers. And these guys are used to buying whatever they want. New experience for them! More: "As of last week, DeSantis' campaign had just $5 million in the bank for the primaries, a small number for someone who entered the race in May with expectations that he would be the field's best fundraiser by far. A DeSantis donor said it's a 'huge problem.' Haley's campaign reported having $9 million available for primary season spending." • Ouch!

"Ron DeSantis hits new low in North Carolina polling" [Florida Politics]. "The Florida Governor has just 12% support in the poll of 600 likely Republican Primary voters, which was conducted Oct. 8 and Oct. 9. That puts him 40 points behind Donald Trump's 52%, and in a statistical tie with Nikki Haley's 11% given the poll's margin of error of +/- 3.88 percentage points. An additional 12% of respondents were undecided, with Vivek Ramaswamy's 5% good for fourth place among actual candidates. The pollster calls the results a 'runaway' for Trump."

"A billionaire-backed think tank keeps sabotaging Florida workers. More attacks are coming." [Jason Garcia, Seeking Rents]. "Dick Uihlein, the Midwestern billionaire and Republican megadonor who is the largest funder of the Foundation for Government Accountability. Uihlein, an heir to the Schlitz brewing fortune and the founder of the shipping supply company Uline, has been very good to Ron DeSantis Campaign-finance filings show that Uihlein has given more than $2.4 million to DeSantis over the past five years — including $1.4 million to a state political committee that DeSantis used to control and another $1 million to a federal super PAC now financing his campaign for president. Uihlein's wife, Liz Uihlein, has given DeSanits another $1.5 million. And Ron DeSantis has been very good to Dick Uihlein and his Foundation for Government Accountability. Emails, schedules and lobbying records show that senior DeSantis aides have worked closely with FGA staffers while simultaneously cultivating Uihlein with perks like invitations to private events at the Governor's Mansion in Tallahassee….. With Uihlein's FGA cheering him on and providing public-relations cover, DeSantis has slashed unemployment payments to laid-off workers. He has made it harder for public-sector employees to band together in unions and collectively bargain for better pay and benefits. And he has refused to extend Medicaid to an estimated 800,000 Floridians who don't have health insurance — and is now presiding over a particularly callous purge of the state's post-pandemic Medicaid rolls. The FGA is pushing for more. Records show it been working on proposals that could deny food stamps to more Floridians, evict some people from affordable housing, lock full-time college students into near-full-time jobs, and allow government contractors to pay their employees poorer wages." • Not nice people at all.

* * *

"How a Grinnell fender-bender fueled a misleading campaign narrative" [Bleeding Heartland]. A student jourrnalist is an eye-witness to Ramaswamy's visit to Grinnell. "His interactions with students appeared to follow a formula. His goal was to evoke a reaction, often by remaining unemotional and uncaring while discussing important topics to students. Whether it was LGBTQ+ activists, public school supporters, or Ukrainian students, he knew how to solicit visceral responses, carefully documented by campaign staffers recording every interaction from multiple camera angles. With content in hand, he could take to social media, mischaracterizing interactions and ignoring facts." Which he did. And: "With that in mind, I should not have been surprised when Ramaswamy and his campaign put forth a clear lie about the car accident that occurred prior to the event in Grinnell on Thursday, October 5. The accident took place when a driver backed out of her parking spot, incidentally contacting a campaign vehicle parked across the street. The campaign claimed that: (1) the incident was intentional, (2) the student was affiliated with a group of protesters, and (3) the driver fled the scene. In reality, the situation was vastly different. The driver was clearly distracted by Ramaswamy's arrival and did not look behind her or in her rear-view mirror. As she backed out, she scraped her right bumper on the left bumper of the campaign car [diagram given]. It was apparent that: (1) the accident was unintentional, (2) the driver did not know it was Ramaswamy's car, (3) she was unaffiliated with protesters, and (4) she remained at the scene to talk with police. And yet, the media ran with the campaign's story, refusing to take the time to verify the account or talk to the involved parties. More than anything, I see this episode as a reminder that ." And this little lagniappe: "Yet, as the Grinnell Police Chief told me during my investigation into Ramaswamy's illegal parking, 'Facts are good.' Indeed they are." • Do libertarians believe that parking can even be illegal?

* * *

"RNC's Election Integrity Department Gets To Work" [RealClearPolitics]. "At the same time, in the years since 2020 the concerted efforts of Democrats, left-leaning activists, and major corporate media to dismiss the risks posed by mail-in balloting and other issues in the 2020 election have proven misleading in key respects. Typical of this effort was the Brookings Institution, which asserted in 2020 that 'there is no evidence that mail ballots increase electoral fraud.' This is in spite of the fact that previous reports by The New York Times and Jimmy Carter, as well as a joint analysis by Cal Tech and M.I.T., all affirmed that mail-in ballots are more susceptible to fraud. Connecticut authorities are currently recommending criminal charges against campaign workers for the mayor of Bridgeport – the largest city in the state – over potential fraud involving mail-in ballots in that city's 2019 Democratic primary election. Now local authorities are investigating again after fellow Democrats have produced a video apparently showing the same mayor's campaign fraudulently stuffing ballot boxes to narrowly win another primary election last month. As a result, questions about the radical alteration of how Americans voted in 2020 as a result of COVID and aggressive Democratic Party litigation have never been settled, and Republican voters remain suspicious."

* * *
Republican Funhouse
"Fear and loathing grips the House GOP" [Politico]. "The House GOP has entered an angrier and more bewildered phase in its leadership crisis. The fractious Republican conference has rejected a second speaker hopeful in eight days — this time, Kevin McCarthy's longtime heir apparent, Steve Scalise. While Republicans appear to be turning next to Rep. Jim Jordan (R-Ohio), some are already airing open doubts that Jordan can pull off what the majority leader couldn't. The lesson Republicans have learned in the frenetic week since McCarthy's fall: They have no clear choice for leader who can unite their ranks — no matter how long this drags out and their chamber of Congress is paralyzed. It's not just GOP centrists sparring with the hard right. It's not just McCarthy loyalists secretly fuming at Scalise or his allies. There's mounting anger across the entire conference that no GOP speaker candidate, including Jordan, appears able to prevail under the current margins." • Jordan, a Republican speaker wannabe wrestling with the same issues as one-time speaker Denny Hastert. Surely it's possible to do better?

"Bipartisan talk grows as GOP fails to find a speaker" [Axios]. "Lawmakers in both parties are expressing growing openness, both in public and in private, to a bipartisan deal to elect a House speaker as Republicans are continually thwarted in their efforts to do it alone With House Majority Leader Steve Scalise (R-La.) withdrawing despite winning his party's nomination, some Republicans are concerned nobody can win the job with just GOP votes. "There's a sentiment building around [a bipartisan deal] among Democrats and Republicans," Rep. Dan Kildee (D-Mich.), a member of Democratic leadership who represents a swing district, told Axios…." • How about Oprah?

* * *

"Wisconsin Republicans Walk Back Efforts to Impeach Newly Elected State Supreme Court Justice Protasiewicz" [Democracy Docket]. "

On Thursday, Oct. 12, Wisconsin Assembly Speaker Robin Vos (R) and fellow Republicans indicated that they would walk back their impeachment crusade against liberal state Supreme Court Justice Janet Protasiewicz. This comes after last week when former Wisconsin Supreme Court Justice David Prosser advised Vos that there should be 'no effort to impeach' Protasiewicz over her refusal to recuse herself from an ongoing legal challenge to the state's legislative maps. Today, in what appears to be an attempt to retract his threats, Vos clarified that any impeachment inquiries going forward would rest on what the justice does while 'in office.'"
Democrats en Déshabillé
Patient readers, it seems that people are actually reading the back-dated post! But I have not updated it, and there are many updates. So I will have to do that. –lambert

I have moved my standing remarks on the Democrat Party ("the Democrat Party is a rotting corpse that can't bury itself") to a separate, back-dated post, to which I will periodically add material, summarizing the addition here in a "live" Water Cooler. (Hopefully, some Bourdieu.) It turns out that defining the Democrat Party is, in fact, a hard problem. I do think the paragraph that follows is on point all the way back to 2016, if not before:

The Democrat Party is the political expression of the class power of PMC, their base (lucidly explained by Thomas Frank in Listen, Liberal!). ; if the Democrat Party did not exist, the PMC would have to invent it. . ("PMC" modulo "class expatriates," of course.) Second, all the working parts of the Party reinforce each other. Leave aside characterizing the relationships between elements of the Party (ka-ching, but not entirely) those elements comprise a network — a Flex Net? An iron octagon? — of funders, vendors, apparatchiks, electeds, NGOs, and miscellaneous mercenaries, with assets in the press and the intelligence community.

Note, of course, that the class power of the PMC both expresses and is limited by other classes; oligarchs and American gentry (see 'industrial model' of Ferguson, Jorgensen, and Jie) and the working class spring to mind. Suck up, kick down.

* * *

"Fetterman: America 'not sending their best and brightest' to Congress" [The Hill]. "Sen. John Fetterman said Wednesday that America 'is not sending their best and brightest' to represent them in Congress. 'Sometimes you literally just can't believe like, these people are making the decisions that are determining the government here. It's actually scary, the Pennsylvania Democrat said during an appearance on "The Late Show with Stephen Colbert…. '[Y]ou have some very less gifted kinds of people there that are willing to shut down the government just as score points on Fox [News]," Fetterman said. As House Republicans struggle to elect a new Speaker after removing Rep. Kevin McCarthy (R-Calif.) earlier this month, Colbert asked if senators 'feel pretty good right now that they're not the most dysfunctional part of the government?' 'Well it's a low bar, really,' Fetterman replied. 'I just want everybody to realize just how truly dysfunctional it really is,' the 54-year-old lawmaker continued. 'And I always tell people, don't worry, please don't worry. It's much worse than you think.'" • People are dunking on Fetterman for this, but if I fulfilled a life-long dream, made it to the Senate, and discovered what it was like, I'd be depressed, too. Now, this ought to be the standard "Republicans are stupid, we are smart" trope that Democrats deploy whenever they are breathing or waking, but Fetterman really doesn't go there; "score points on Fox" is pretty weak, in any case I've heard (not sure if this is true now) that FOX is blaring everywhere on the Capitol. Also, remember the study I posted awhile back that said that the only personality type that assessed risk accurately was the depressive?

"The Democrats' Immigration Problem" [Ruy Teixeira, the Liberal Patriot]. "[T]his influx has now spread across the country including to a number of very blue cities and states who are now complaining loudly about the strain on their resources, despite their professed policies of being 'sanctuaries' [no, not like that!] for such illegal entrants. Half of the hotel rooms in New York City are now occupied by these migrants and 600 more are arriving every day in the city. Similar stories of being completely overwhelmed by the migrant influx abound across the country… In short, the situation is out of control—exactly what most voters don't want and they are reacting accordingly…. At this point, Democrats appear to be hoping that the immigration issue is just not very salient to voters in 2024 or that other issues are so much more salient (e.g., abortion) that their huge disadvantage on immigration won't matter much. In what promises to be a very close election against a probable opponent who will be more than happy to demagogue the issue, this seem like a very unwise course, if not an outright gift to your opponent." • "Half of the hotel rooms in New York City" is an impressive factoid, but it also comes from New York Mayor Eric Adams, who doesn't cite to a source. Surely Teixeira can do better than that?

"Red or blue, Democrats have grand plans for diverse voters in your state" [Donna Brazile, The Hill]. "While only 41 percent of white voters in the 2020 presidential election cast ballots for Joe Biden according to Roper Public Opinion Research, Biden was elected president on the strength of majorities he won among other voters. These included 87 percent of Black voters, 65 percent of Hispanic voters and 61 percent of Asian American voters. In addition, Biden won 57 percent of the female vote and 60 percent of the vote among people 29 and younger (compared with 45 percent of the vote among those 65 and older)." • Ah, another classification struggle!
Realignment and Legitimacy
"Soros Closes Offices Across $25 Billion Philanthropy Empire" [Bloomberg]. "The $25 billion international network of foundations started by George Soros is shuttering offices around the world as it prepares to cut more than 40% of its staff." • First SBF, now this!
#COVID19
"I am in earnest — I will not equivocate — I will not excuse — I will not retreat a single inch — AND I WILL BE HEARD." –William Lloyd Garrison
Resources, United States (National): Transmission (CDC); Wastewater (CDC, Biobot; includes many counties; Wastewater Scan, includes drilldown by zip); Variants (CDC; Walgreens); "Iowa COVID-19 Tracker" (in IA, but national data). "Infection Control, Emergency Management, Safety, and General Thoughts" (especially on hospitalization by city).
Lambert here: Readers, thanks for the collective effort. To update any entry, do feel free to contact me at the address given with the plants. Please put "COVID" in the subject line. Thank you!
Resources, United States (Local): AK (dashboard); AL (dashboard); AR (dashboard); AZ (dashboard); CA (dashboard; Marin, dashboard; Stanford, wastewater; Oakland, wastewater); CO (dashboard; wastewater); CT (dashboard); DE (dashboard); FL (wastewater); GA (wastewater); HI (dashboard); IA (wastewater reports); ID (dashboard, Boise; dashboard, wastewater, Central Idaho; wastewater, Coeur d'Alene; dashboard, Spokane County); IL (wastewater); IN (dashboard); KS (dashboard; wastewater, Lawrence); KY (dashboard, Louisville); LA (dashboard); MA (wastewater); MD (dashboard); ME (dashboard); MI (wastewater; wastewater); MN (dashboard); MO (wastewater); MS (dashboard); MT (dashboard); NC (dashboard); ND (dashboard; wastewater); NE (dashboard); NH (wastewater); NJ (dashboard); NM (dashboard); NV (dashboard; wastewater, Southern NV); NY (dashboard); OH (dashboard); OK (dashboard); OR (dashboard); PA (dashboard); RI (dashboard); SC (dashboard); SD (dashboard); TN (dashboard); TX (dashboard); UT (wastewater); VA (dashboard); VT (dashboard); WA (dashboard; dashboard); WI (wastewater); WV (wastewater); WY (wastewater).
Resources, Canada (National): Wastewater (Government of Canada).
Resources, Canada (Provincial): ON (wastewater); QC (les eaux usées); BC, Vancouver (wastewater).
Hat tips to helpful readers: anon (2), Art_DogCT, B24S, CanCyn, ChiGal, Chuck L, Festoonic, FM, FreeMarketApologist (4), Gumbo, hop2it, JB, JEHR, JF, JL Joe, John, JM (10), JustAnotherVolunteer, JW, KatieBird, LL, Michael King, KF, LaRuse, mrsyk, MT, MT_Wild, otisyves, Petal (6), RK (2), RL, RM, Rod, square coats (11), tennesseewaltzer, Utah, Bob White (3).
Stay safe out there!
* * *
"Something Awful"
Lambert here: I'm getting the feeling that the "Something Awful" might be a sawtooth pattern — variant after variant — that averages out to a permanently high plateau. Lots of exceptionally nasty sequelae, most likely deriving from immune dysregulation (says this layperson). To which we might add brain damage, including personality changes therefrom.

* * *
* * *
Lambert here: Back to tape-watching mode. It still looks to me like the current surge has some ways to run, given how wastewater flattened, with the East Coast up. Let's wait and see.
Case Data
NOT UPDATED From BioBot wastewater data, October 2: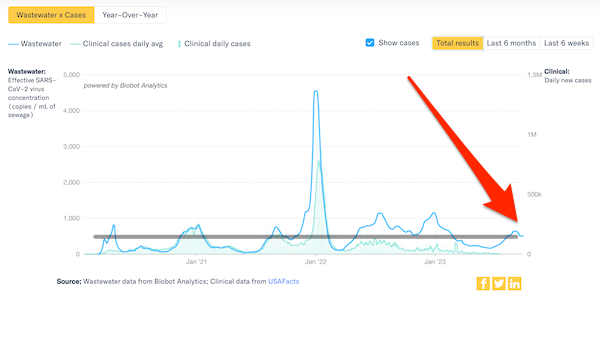 Lambert here: Leveling out to a high plateau wasn't on my Bingo card! Perhaps FL.1.5.1, high in the Northeast, has something going for it that other variants don't have?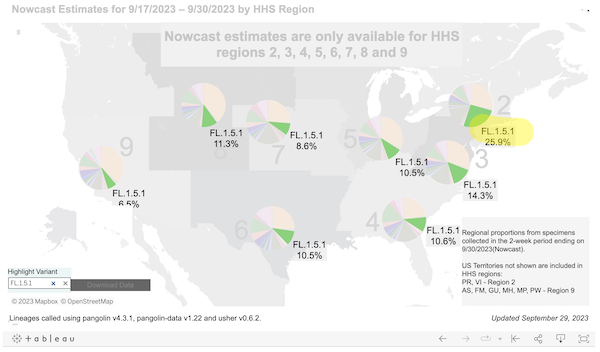 Regional data: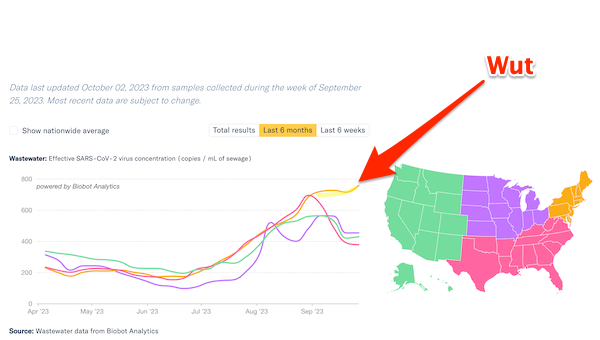 Interestingly, the upswing begins before July 4, which neither accelerates nor retards it.
• CDC butchers transition from Biobot to Verily:
I was expecting to provide an updated PMC C0VID-19 Tracker today, but Biobot has not updated their wastewater report.

At some point, we will transition to Verily, but I was hoping Biobot would continue to report a bit longer.

In the meantime (soon), I'll provide some… https://t.co/q3EFNJ29au

— Mike Hoerger, PhD MSCR MBA (@michael_hoerger) October 10, 2023
Why on earth is their a gap in coverage? Surely it would have been possible to transition seamlessly from one wastewater testing company seamlessly? This is our only reliable proxy for nation-wide case data. Why, it's almost like CDC doesn't want us to see it! (I am developing more on Verily, which looks very top heavy, full of Silicon Valley types, but really hasn't delivered much of anything. Also, there was a really big layoff recently. I did go through the executive layer, looking for spooks, but didn't find any. (If anybody has any corporate reports on Verily, please share or throw over the transom.)
Variants
From CDC, October 14: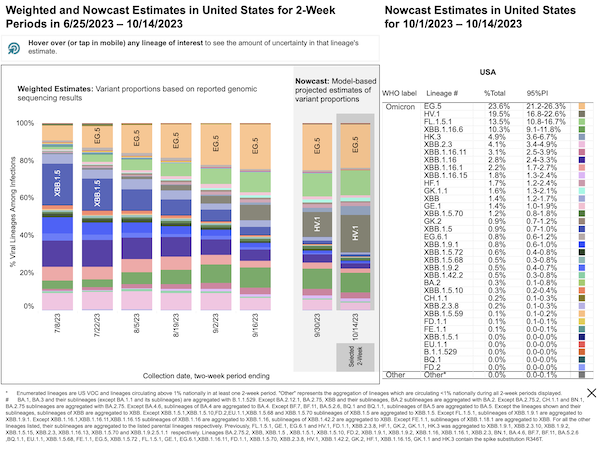 Lambert here: September 30 is tomorrow, but never mind that. Top of the leaderboard: EG.5 ("Eris"), with HV.1 a strong second, and XBB.1.1.16.6 and FL.1.15.1 trailing. No BA.2.86. Still a Bouillabaisse…
From CDC, September 16: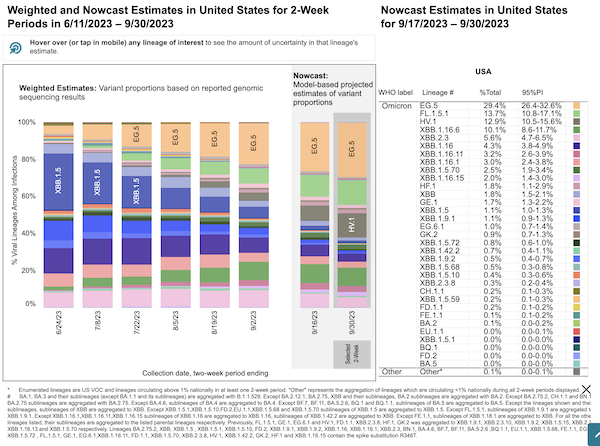 Lambert here: I sure hope the volunteers doing Pangolin, on which this chart depends, don't all move on the green fields and pastures new (or have their access to facilities cut by administrators of ill intent).
CDC: "As of May 11, genomic surveillance data will be reported biweekly, based on the availability of positive test specimens." "Biweeekly: 1. occurring every two weeks. 2. occurring twice a week; semiweekly." Looks like CDC has chosen sense #1. In essence, they're telling us variants are nothing to worry about. Time will tell.
Covid Emergency Room Visits
NOT UPDATED From CDC NCIRD Surveillance, October 7: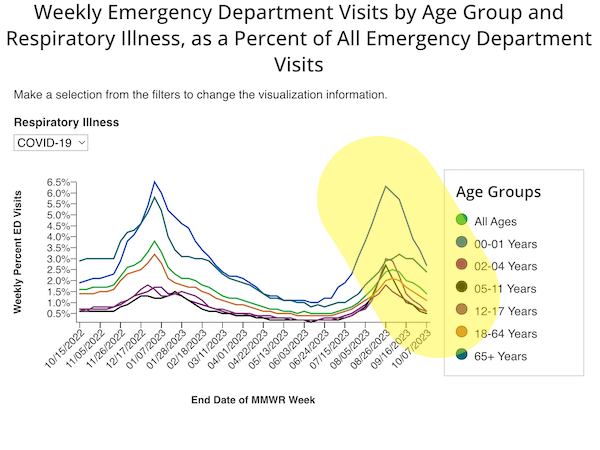 Drop coinciding with wastewater drop.
NOTE "Charts and data provided by CDC, updates Wednesday by 8am. For the past year, using a rolling 52-week period." So not the entire pandemic, FFS (the implicit message here being that Covid is "just like the flu," which is why the seasonal "rolling 52-week period" is appropriate for bothMR SUBLIMINAL I hate these people so much. Notice also that this chart shows, at least for its time period, that Covid is not seasonal, even though CDC is trying to get us to believe that it is, presumably so they can piggyback on the existing institutional apparatus for injections.
Hospitalization
Bellwether New York City, data as of October 12: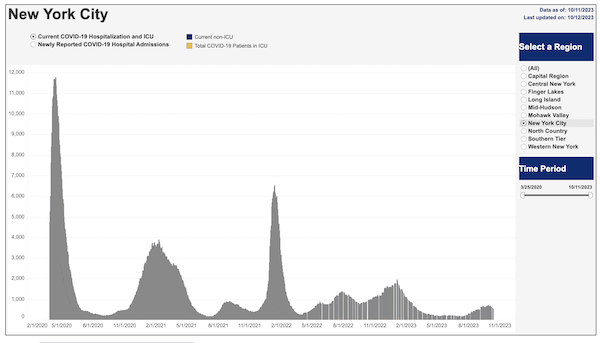 Still decreasing. (New York State is now falling, too.) I hate this metric because the lag makes it deceptive.
NOT UPDATED Here's a different CDC visualization on hospitalization, nationwide, not by state, but with a date, at least. September 30: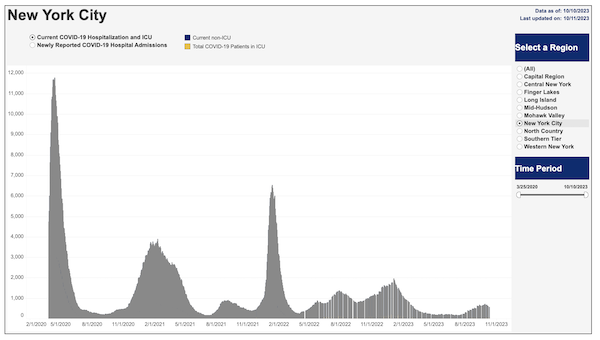 Lambert here: "Maps, charts, and data provided by CDC, updates weekly for the previous MMWR week (Sunday-Saturday) on Thursdays (Deaths, Emergency Department Visits, Test Positivity) and weekly the following Mondays (Hospitalizations) by 8 pm ET†". So where the heck is the update, CDC?
Positivity
NOT UPDATED From Walgreens, October 9: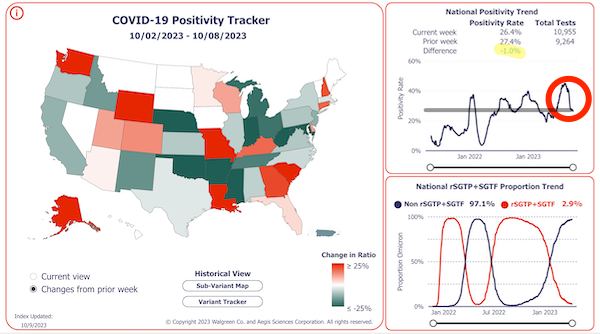 -1.0%. Still dropping, though less than before. (It would be interesting to survey this population generally; these are people who, despite a tsunami of official propaganda and enormous peer pressure, went and got tested anyhow.)
NOT UPDATED From Cleveland Clinic, October 7: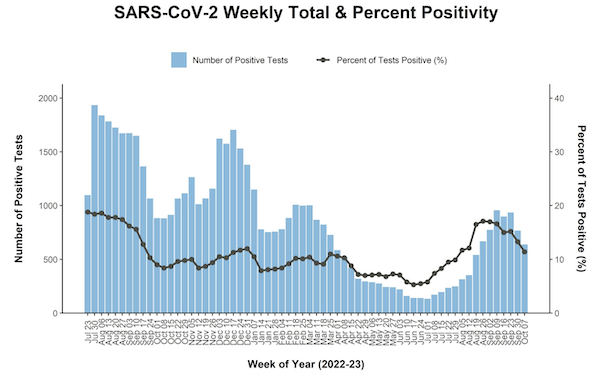 Lambert here: I know this is just Ohio, but the Cleveland Clinic is good*, and we're starved for data, so…. NOTE * Even if hospital infection control is trying to kill patients by eliminating universal masking with N95s.
NOT UPDATED From CDC, traveler's data, September 18: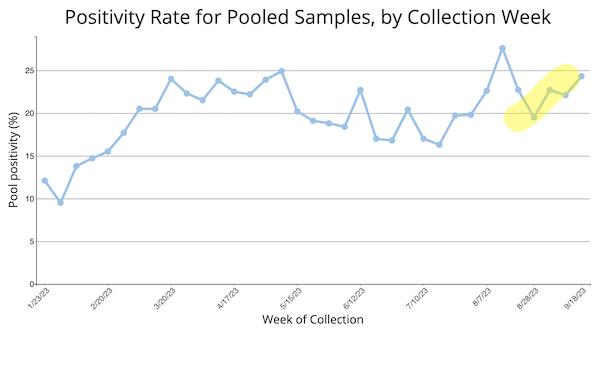 Back up again, albeit in the rear view mirror. And here are the variants for travelers: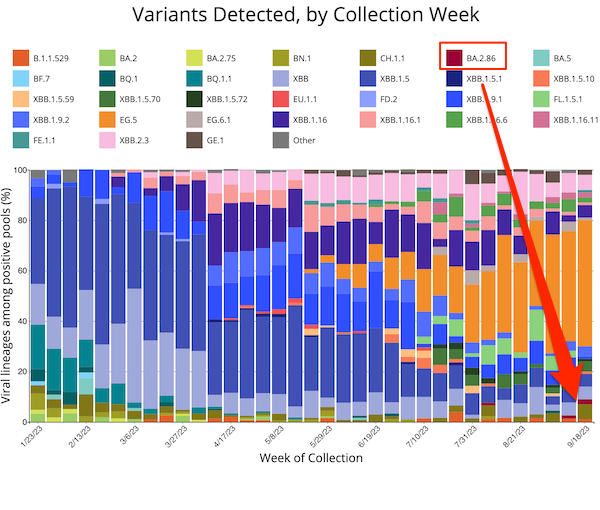 Now, BA.2.86 for two weeks in a row. Bears watching.
Deaths
NOT UPDATED Iowa COVID-19 Tracker, September 27: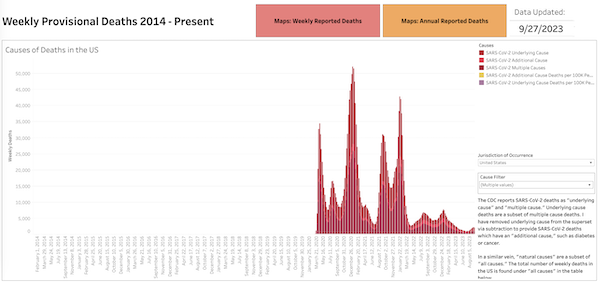 Lambert here: The WHO data is worthless, so I replaced it with the Iowa Covid Data Tracker. Their method: "These data have been sourced, via the API from the CDC: https://data.cdc.gov/NCHS/Conditions-Contributing-to-COVID-19-Deaths-by-Stat/hk9y-quqm. This visualization updates on Wednesday evenings. Data are provisional and are adjusted weekly by the CDC." I can't seem to get a pop-up that shows a total of the three causes (top right). Readers?
Total: 1,178,704 – 1,178,638 = 66 (66 * 365 = 24,090 deaths per year, today's YouGenicist™ number for "living with" Covid (quite a bit higher than the minimizers would like, though they can talk themselves into anything. If the YouGenicist™ metric keeps chugging along like this, I may just have to decide this is what the powers-that-be consider "mission accomplished" for this particular tranche of death and disease). 
Excess Deaths
The Economist, October 13: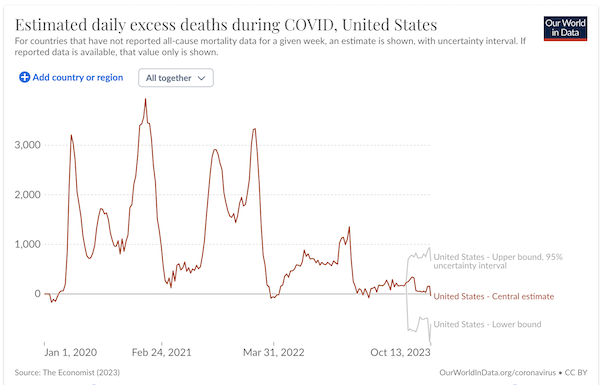 Lambert here: Based on a machine-learning model.
Stats Watch
There are no official statistics of interest today.
* * *
* * *
Today's Fear & Greed Index: 29 Fear (previous close: 35 Fear) [CNN]. One week ago: 25 (Extreme Fear). (0 is Extreme Fear; 100 is Extreme Greed). Last updated Oct 11 at 1:42:38 PM ET.
The Gallery
"Scientists pry a secret from the 'Mona Lisa' about how Leonardo painted the masterpiece" [Associated Press]. "Using X-rays to peer into the chemical structure of a tiny speck of the celebrated work of art, scientists have gained new insight into the techniques that Leonardo da Vinci used to paint his groundbreaking portrait of the woman with the exquisitely enigmatic smile. The research, published Wednesday in the Journal of the American Chemical Society, suggests that the famously curious, learned and inventive Italian Renaissance master may have been in a particularly experimental mood when he set to work on the 'Mona Lisa' early in the 16th century. The oil-paint recipe that Leonardo used as his base layer to prepare the panel of poplar wood appears to have been different for the 'Mona Lisa,' with its own distinctive chemical signature, the team of scientists and art historians in France and Britain discovered. 'He was someone who loved to experiment, and each of his paintings is completely different technically,' said Victor Gonzalez, the study's lead author and a chemist at France's top research body, the CNRS. …. Specifically, the researchers found a rare compound, plumbonacrite, in Leonardo's first layer of paint. … Finding plumbonacrite in the 'Mona Lisa' attests "to Leonardo's spirit of passionate and constant experimentation as a painter – it is what renders him timeless and modern," [Carmen Bambach, a specialist in Italian art and curator at New York's Metropolitan Museum of Art' said by email." • Surely "timeless and modern" is a contradiction in terms?
Class Warfare
"Kaiser Permanente, Unions Reach Deal on New Contracts" [Wall Street Journal]. "Unions and the health system announced the deal Friday morning, after the first full day of bargaining following a strike by more than 75,000 Kaiser nurses, pharmacists and other workers. The strike, which lasted up to three days, was the largest on record in healthcare. Neither side immediately provided terms of the tentative agreement. Wages and staffing across Kaiser hospitals and clinics were key issues in negotiations. The unions said Kaiser outsourcing was a sticking point. Acting U.S. Labor Secretary Julie Su had joined the negotiations to help resolve the disputes. Unions warned of a larger and longer work stoppage in November without an agreement. " • There is no deal, and there is no contract, until the union membership voted on it. Why is this so hard for "journalists" to understand?
News of the Wired
"The Absolute Minimum Every Software Developer Must Know About Unicode in 2023 (Still No Excuses!)" [Tonsky]. • Fun stuff.
* * *
Contact information for plants: Readers, feel free to contact me at lambert [UNDERSCORE] strether [DOT] corrente [AT] yahoo [DOT] com, to (a) find out how to send me a check if you are allergic to PayPal and (b) to find out how to send me images of plants. Vegetables are fine! Fungi and coral are deemed to be honorary plants! If you want your handle to appear as a credit, please place it at the start of your mail in parentheses: (thus). Otherwise, I will anonymize by using your initials. See the previous Water Cooler (with plant) here. From SR: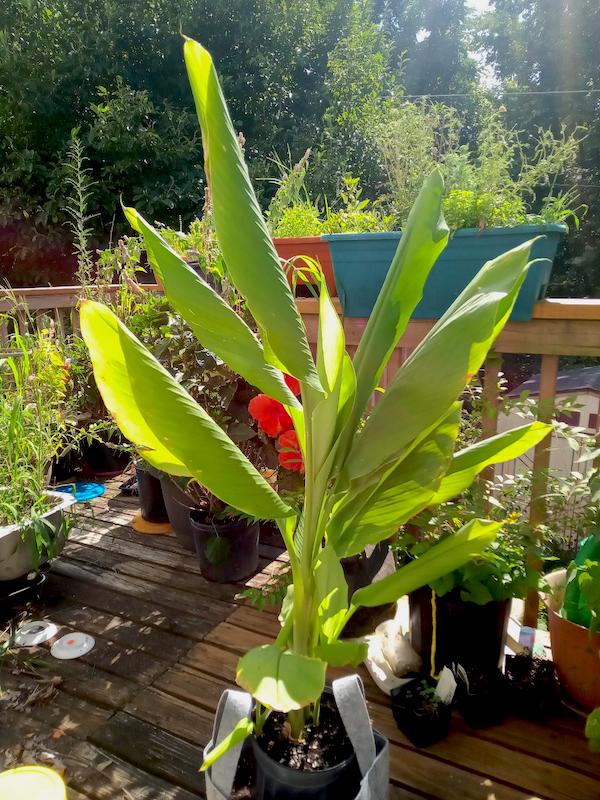 SR writes: "Not the most elegant shot. But turmeric glows green in late afternoon." A little blown out by the setting sun, but quite a plant!
* * *
Readers: Water Cooler is a standalone entity not covered by the annual NC fundraiser. So if you see a link you especially like, or an item you wouldn't see anywhere else, please do not hesitate to express your appreciation in tangible form. Remember, a tip jar is for tipping! Regular positive feedback both makes me feel good and lets me know I'm on the right track with coverage. When I get no donations for five or ten days I get worried. More tangibly, a constant trickle of donations helps me with expenses, and I factor in that trickle when setting fundraising goals:
Here is the screen that will appear, which I have helpfully annotated: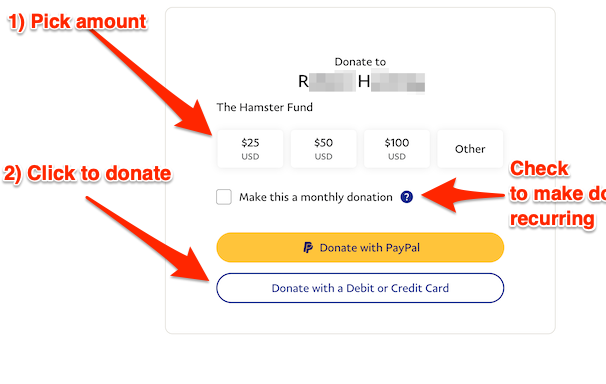 If you hate PayPal, you can email me at lambert [UNDERSCORE] strether [DOT] corrente [AT] yahoo [DOT] com, and I will give you directions on how to send a check. Thank you!