By Lambert Strether of Corrente.
Bird Song of the Day
House Wren (Northern), Walla Walla; Frog Hollow, Walla Walla, Washington, United States. "This bird was singing every morning before dawn, outside my home."
* * *
Politics
"So many of the social reactions that strike us as psychological are in fact a rational management of symbolic capital." –Pierre Bourdieu, Classification Struggles
2024
Time for the Countdown Clock!

* * *

"Many GOP anti-Trumpers are throwing in the towel" [Axios]. "Win It Back, a political action committee (PAC) affiliated with the conservative group Club for Growth, says it burned through $6 million creating 40 anti-Trump messages — none of them effective, the New York Times reported. Republican Accountability PAC — a group of former Trump voters dedicated to moving beyond the former president — is giving up on the primary after spending $1 million on ads in Iowa. "We have stopped spending money in the primary," the PAC's leader, Sarah Longwell, told Reuters…. Much of the Republican field will be in Las Vegas for the Republican Jewish Coalition at the end of the month, and later will head to Miami for the third GOP debate." • Hmm.

* * *

19,335 emails is a lot:

These damning numbers further confirm that there was never a wall separating the Office of the Vice President and Hunter Biden's business endeavors.

In fact, there was extensive commingling between them. https://t.co/nwKpZnR4ng

— America First Legal (@America1stLegal) October 10, 2023

"Democrats wrestle with the Biden conundrum" [NBC]. "Amid all of the news and issues on the top of political minds, there is one non-versation that continues to dominate: Can Joe Biden do this again? I call it a 'non-versation' because the folks wringing their hands the most about whether Biden is up to the task of winning in 2024 are people who, in many cases, have already endorsed him for re-election. A few even work directly for him — and are still having the same uneasy feeling as they watch Donald Trump methodically consolidate Republican support while a right-wing information ecosystem turns the Biden brand into the Clinton brand circa 2016." Which won't be that hard, will it. More: "In the real world, concern about Biden's age is an issue, and the voters are screaming it. Every reputable pollster who has asked has found more than 50% of registered Democrats want a primary campaign. The numbers stem from a simple fact: A number of Biden supporters were never enamored with him but saw him as the safest way to get rid of Trump. When you look at these numbers, it's as if Democrats are ready to hand Biden a gold watch and thank him for beating Trump, making Congress slightly more functioning and expanding NATO — and call it a legacy. So what will it take to fire up Democrats for Biden? The best elixir for him could well be a primary challenge. The best way to disprove the age and ability issue is to run an active campaign, something Biden has yet to do. This advice may be easier to give than receive." • And worth what we paid for it?

"Why Democrats aren't far ahead heading into 2024" [Jonathan Chait, New York Magazine]. "[T]he pattern set in that new insurgent Republican leaders would seize power and promise great conservative victories, only to find their troops eventually turning on them. John Boehner, Paul Ryan, and now Kevin McCarthy have all succumbed to the pattern. (Ironically, the only Republican Speaker to surrender his post peacefully during this period was Dennis Hastert, who later turned out to have sexually abused boys.) A natural consequence of this pattern has been to drive House Republicans to constantly employ more extreme methods: shutting down the government, threatening to default on the national debt, impeaching Democrats with or without evidence. McCarthy used all these methods against Biden at the behest of his right-wing rivals. When they inevitably failed to produce the expected victories, the radicals preferred to get rid of him rather than admit that their own strategy was misconceived." • It's the Circle of Life….

* * *

"100 days until the Iowa caucuses. What could possibly go wrong?" [USA Today]. "What could possibly go wrong? Actually, a lot could change. Three months is plenty of time for an expanding United Auto Workers strike to take a toll on the economy, for Ukraine's fortunes to shift on the battlefield, for courtroom revelations and health scares, for front-runners to hit turbulence and challengers to gain momentum. Enough time to upend what now seems all but certain. Though the candidates who are ahead at this point often do end up being nominated for president, that doesn't always happen. At this point in the 2008 race, a CNN poll showed former New York Mayor Rudy Giuliani leading the Republican field as former senator Fred Thompson was fading. On the Democratic side, Sen. Hillary Clinton had built a 30-point lead that seemed almost indestructible. But on Election Day, it was her then-distant rival, Illinois Sen. Barack Obama, who faced off against Arizona Sen. John McCain for the White House." • Volatility from the courtroom, abortion, "A slip, a fall, a bad cold" (Trump's 77, let us not forget), impeachment, the GOP field. And, of course, unknown unknowns. Meteor strike, alien landing….

* * *

"Three Cheers for RFK Jr.'s Candidacy" [Jeffrey Sachs, The Kennedy Beacon]. "As of today, I'd vote for RFK Jr. over either Joe Biden or Donald Trump. Yet the beauty of RFK Jr.'s independent run is that voters will have more than a year to decide, after listening carefully to the candidates. My bet is that the national debate will break strongly in RFK Jr.'s favor."

"RFK Jr. to Hannity: 'Do You Want To Talk About My Positions Or Read Talking Points From The Trump Campaign?'" [RealClearPolitics]. I could almost like the guy:

KENNEDY: Do you want to talk about my positions?

HANNITY: Yes, sir.

KENNEDY: Or read these talking points from the Trump campaign?

HANNITY: Excuse me. These are not talking points, these are called Hannity points. I do my own research.

KENNEDY: Yeah but I saw that same list published this morning by the Trump campaign. It was the exact same list. And, again, if you want to know what my position is on any issue, I'm happy to talk to you about it.

In a perfect world, I wouldn't to depend on RFK Jr.'s word, though.

"Crackpot fight! Trump is worried about RFK Jr. running for president — and he should be scared" [Amanda Marcotte, Salon]. "[T]he slice of voters Trump and Kennedy could be competing over aren't defined by political beliefs that map neatly onto concepts like 'liberal' or 'conservative.' Instead, they're fighting over the crank vote: People who are addicted to gobbling down kooky, bizarre and above all, false information. The QAnon crowd, in other words." • Wow, Marcotte is still writing. Wow.

* * *

"Pritzker, scientific leaders announce launch of Chicago biohub named for Mark Zuckerberg, wife" [ABC7]. "Gov. JB Pritzker and scientific leaders on Thursday announced the launch of a groundbreaking hub for research in the heart of Fulton Market: The Chan Zuckerberg Biohub Chicago." • Fulton Market? Let's hope they don't have a vat spill!

"'Young Turks' host Cenk Uygur announces primary bid against Biden" [Fresno Bee]. "'The Young Turks' founder Cenk Uygur announced on his show Wednesday that he will run for president as a Democrat, directly challenging President Biden. '[Biden] is not going to win,' Uygur said during the announcement. 'It should not have been me, it should have been somebody else, but unfortunately it was not anyone else. There's only four months left. We must change course. He has at best a 10 percent chance of winning. I'm running as a proxy. I am running to win. But I am also running as a proxy for any other candidate.'" • Hold up:

Anyhow, if I were doing oppo on Cenk, I'd start with the comments section on his site, which when I last looked — I grant, years ago – was a cesspit of bro ridiculousness.
Republican Funhouse
"Lobbying World: Former EPA official joins American Chemistry Council" [The Hill]. "Ryan "RJ" Jackson will join the American Chemistry Council as its new vice president of federal affairs. Jackson most recently led government and political affairs for the National Mining Association and previously was chief of staff for the Environmental Protection Agency. He was also staff director for the Senate Environment and Public Works Committee under its former chairman, Sen. Jim Inhofe (R-Okla.), who retired at the end of the last Congress."
Democrats en Déshabillé
Patient readers, it seems that people are actually reading the back-dated post! But I have not updated it, and there are many updates. So I will have to do that. –lambert

I have moved my standing remarks on the Democrat Party ("the Democrat Party is a rotting corpse that can't bury itself") to a separate, back-dated post, to which I will periodically add material, summarizing the addition here in a "live" Water Cooler. (Hopefully, some Bourdieu.) It turns out that defining the Democrat Party is, in fact, a hard problem. I do think the paragraph that follows is on point all the way back to 2016, if not before:

The Democrat Party is the political expression of the class power of PMC, their base (lucidly explained by Thomas Frank in Listen, Liberal!). ; if the Democrat Party did not exist, the PMC would have to invent it. . ("PMC" modulo "class expatriates," of course.) Second, all the working parts of the Party reinforce each other. Leave aside characterizing the relationships between elements of the Party (ka-ching, but not entirely) those elements comprise a network — a Flex Net? An iron octagon? — of funders, vendors, apparatchiks, electeds, NGOs, and miscellaneous mercenaries, with assets in the press and the intelligence community.

Note, of course, that the class power of the PMC both expresses and is limited by other classes; oligarchs and American gentry (see 'industrial model' of Ferguson, Jorgensen, and Jie) and the working class spring to mind. Suck up, kick down.

* * *

"Sen. Bob Menendez charged with acting as foreign agent for Egypt" [Axios]. "The new charge comes after Menendez, the former chairman of the Senate Foreign Relations Committee, was indicted last month alongside his wife, Nadine Menendez, in an alleged bribery scheme…. In a superseding indictment Thursday, prosecutors charged Menendez under the Foreign Agents Registration Act, which requires those working on behalf of foreign governments, companies, and other entities to register with the U.S. Department of Justice….. Menendez conspired with his wife and Hana to perform 'a series of acts on behalf of Egypt, including on behalf of Egyptian military and intelligence officials,' the superseding indictment said." • Hmm. On point for the Middle East mishegoss?

"Slotkin on Tlaib statement: 'It shouldn't be hard to condemn terrorism'" [The Hill]. • Hilarity ensues; Slotkin is a CIA Democrat.

"Political forces begin to move on new California Sen. Butler as she mulls a run" [CNN]. Laphonza Butler, D-NGO. "Butler's new temporary spokesperson keeps providing the same statement about how she has not made a decision yet. But Butler is well-known among California insiders, with top Democrats in the state telling CNN, 'She does not do things that she cannot be successful at – so my guess is she would not have put herself in this spot if she didn't think she had a shot at winning an election.' According to CNN's conversations with nearly two dozen officials and operatives deeply involved in the appointment and the Senate campaigns, they are all left guessing. That includes Gov. Gavin Newsom himself, according to a spokesperson; he doesn't know what her decision will be, though he has said publicly that he offered the appointment to Butler with no strings attached. 'It's uncomfortable and weird waiting this out,' said an operative working on one of the campaigns who asked not to be named. 'I just don't see how anyone in the next five months is able to mount a campaign that can work.'"
Realignment and Legitimacy
The border. Handy map:

Thousands of migrants in Chicago — many of whom have been bused there from Texas — are waiting for a spot in one of the city's overcrowded shelters. Last week, as many as 14 buses arrived in a single day. https://t.co/QuvfrTKa5c

— Axios (@axios) October 11, 2023
#COVID19
"I am in earnest — I will not equivocate — I will not excuse — I will not retreat a single inch — AND I WILL BE HEARD." –William Lloyd Garrison
Resources, United States (National): Transmission (CDC); Wastewater (CDC, Biobot; includes many counties; Wastewater Scan, includes drilldown by zip); Variants (CDC; Walgreens); "Iowa COVID-19 Tracker" (in IA, but national data). "Infection Control, Emergency Management, Safety, and General Thoughts" (especially on hospitalization by city).
Lambert here: Readers, thanks for the collective effort. To update any entry, do feel free to contact me at the address given with the plants. Please put "COVID" in the subject line. Thank you!
Resources, United States (Local): AK (dashboard); AL (dashboard); AR (dashboard); AZ (dashboard); CA (dashboard; Marin, dashboard; Stanford, wastewater; Oakland, wastewater); CO (dashboard; wastewater); CT (dashboard); DE (dashboard); FL (wastewater); GA (wastewater); HI (dashboard); IA (wastewater reports); ID (dashboard, Boise; dashboard, wastewater, Central Idaho; wastewater, Coeur d'Alene; dashboard, Spokane County); IL (wastewater); IN (dashboard); KS (dashboard; wastewater, Lawrence); KY (dashboard, Louisville); LA (dashboard); MA (wastewater); MD (dashboard); ME (dashboard); MI (wastewater; wastewater); MN (dashboard); MO (wastewater); MS (dashboard); MT (dashboard); NC (dashboard); ND (dashboard; wastewater); NE (dashboard); NH (wastewater); NJ (dashboard); NM (dashboard); NV (dashboard; wastewater, Southern NV); NY (dashboard); OH (dashboard); OK (dashboard); OR (dashboard); PA (dashboard); RI (dashboard); SC (dashboard); SD (dashboard); TN (dashboard); TX (dashboard); UT (wastewater); VA (dashboard); VT (dashboard); WA (dashboard; dashboard); WI (wastewater); WV (wastewater); WY (wastewater).
Resources, Canada (National): Wastewater (Government of Canada).
Resources, Canada (Provincial): ON (wastewater); QC (les eaux usées); BC, Vancouver (wastewater).
Hat tips to helpful readers: anon (2), Art_DogCT, B24S, CanCyn, ChiGal, Chuck L, Festoonic, FM, FreeMarketApologist (4), Gumbo, hop2it, JB, JEHR, JF, JL Joe, John, JM (10), JustAnotherVolunteer, JW, KatieBird, LL, Michael King, KF, LaRuse, mrsyk, MT, MT_Wild, otisyves, Petal (6), RK (2), RL, RM, Rod, square coats (11), tennesseewaltzer, Utah, Bob White (3).
Stay safe out there!
* * *
Celebrity Watch
"Chinese celebrities' Covid deaths subvert propaganda push to minimise outbreak" [Financial Times]. Missed this when I posted on Covid and celebrities. From January 2023: "China is mourning a growing number of public figures lost to Covid-19, from academics to opera singers, whose deaths have complicated the government's efforts to minimise the scale of the unfolding outbreak sweeping across the country. Since authorities last month scrapped most restrictions instituted to keep the virus at bay, coronavirus has rampaged through China's vulnerable population with unparalleled speed, leaving hospitals inundated with the sick and elderly and crematoria overwhelmed with demand…. Students at Tsinghua and Peking universities in Beijing and other academic institutions have been tallying deaths among retired professors, while other internet sleuths have counted at least 16 deaths among the 1,831 top figures at China's sciences and engineering academies." • Using whatever the Chinese equivalent is of GoogleDocs, no doubt, just as we do.
Censorship and Propaganda
Is it possible these parents are using the (pissant, sloppy, and not-at-all long) lockdowns as an excuse?????

Really keen to understand how anyone can ascribe lack of potty training to lockdown 3 yrs ago- after all, potty training happens at home in toddlers, not in school, and is usually not a social phenomenon! Someone please explain…. https://t.co/luQVhbtcWk

— Dr. Deepti Gurdasani (@dgurdasani1) October 9, 2023
Testing and Tracking
A word from the New York City Comptroller:

Great to be feeling better, testing negative, and back doing the people's business in person.

Thanks @ICCRonline for a great roundtable on what investors can do to insure #ASeatAtTheTable for workers — so we can building a more thriving & inclusive economy. pic.twitter.com/zazzbxg3Ao

— Brad Lander (@bradlander) October 5, 2023

Champ, that test is not negative. Faint the line is, but it's there….
Infection
Multiple infections as a mark of pride? Toughing it out? Sucking it up?

Reminder that adults contract actual influenza, on average, once every 7 years and colds 1-3 times per year. So having Covid 5+ times in 4.5 years is a lot to get an acute illness that knocks you out for days. Even without accounting for sequelae, this doesn't seem sustainable https://t.co/Rm6tBGO3xm

— Amanda Hu (@amandalhu) October 8, 2023
Sequelae
"Incident autoimmune diseases in association with a SARS-CoV-2 infection: A matched cohort study" [medRxiv]. N = 641,704. From the Abstract: "[W}e found a 42.63% higher likelihood of acquiring autoimmunity for patients who had suffered from COVID-19 [confirmed by PCR]. This estimate was similar for common autoimmune diseases, such as Hashimoto thyroiditis, rheumatoid arthritis, or Sjögren syndrome. The highest IRR was observed for autoimmune disease of the vasculitis group. Patients with a more severe course of COVID-19 were at a greater risk for incident autoimmune diseases…. SARS-CoV-2 infection is associated with an increased risk of developing new-onset autoimmune diseases after the acute phase of infection.
"Something Awful"
Lambert here: I'm getting the feeling that the "Something Awful" might be a sawtooth pattern — variant after variant — that averages out to a permanently high plateau. Lots of exceptionally nasty sequelae, most likely deriving from immune dysregulation (says this layperson). To which we might add brain damage, including personality changes therefrom.

* * *
Elite Maleficence
Intelligence test at IDWeek:

#IDTwitter meet up. So many cool people in the best speciality. ❤️ #IDWeek2023 pic.twitter.com/obG0Vkrctj

— Sidd Kogilwaimath MD (@HIVDocSK) October 12, 2023

More like an integrity test. Not to preen, but:

2… pleasure of meeting through this platform, every single person still trying to avoid Covid, form, as a group, the most compassionate and resilient set of people I have ever met in my life. These shared qualities are not a coincidence. The great conceptual mistake that the..

— Conor Browne (@brownecfm) October 11, 2023

Intelligence test in Canadian hockey:

Coach Rick Tocchet is proud of his players for endangering themselves and their fans by playing sick:

"He didn't really want to come out, then when he puked in his mask I said you gotta come out. … It kind of hit them, but that's why I'm proud of them. The guys sucked it up." https://t.co/XgzLGtpDYt

— Tom Jackman (@frozen) October 12, 2023

A "little bit of a bug." I wonder what bug?
* * *
Lambert here: Back to tape-watching mode. It still looks to me like the current surge has some ways to run, given how wastewater flattened, with the East Coast up. Let's wait and see.
Case Data
NOT UPDATED From BioBot wastewater data, October 2: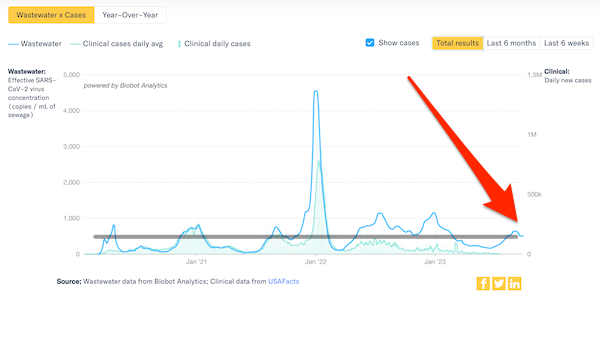 Lambert here: Leveling out to a high plateau wasn't on my Bingo card! Perhaps FL.1.5.1, high in the Northeast, has something going for it that other variants don't have?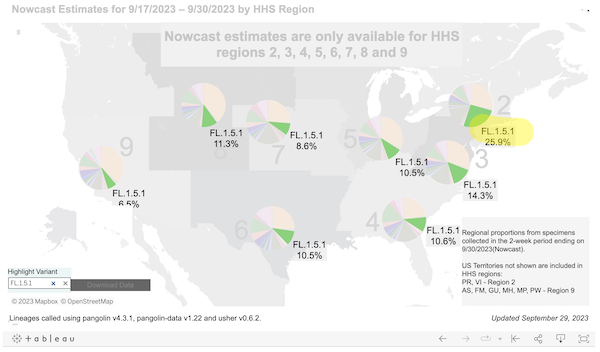 Regional data: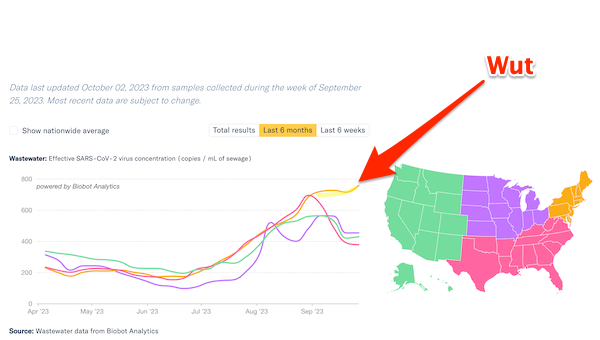 Interestingly, the upswing begins before July 4, which neither accelerates nor retards it.
Seriously, what gives, Biobot? Nine days with no update and no announcement is CDC-level scientific commnication. Is there a problem at the lab? A funding issue? A supply chain debacle? "Covid is over," so no data? What? Now we have the answer–
• "CDC taps Verily for wastewater surveillance" [Becker's Hospital Review]. "Verily, the healthcare unit of parent company Alphabet, has won its first CDC contract to support national wastewater monitoring, the company said Oct. 2. Under the deal, Verily will test wastewater samples from up to 400 sites nationwide for the presence of COVID-19 and mpox. The findings will help health departments better understand disease trends and respond promptly to any outbreaks. Verily and CDC did not disclose the price of the contract, though STAT reports it's $38M." Commentary:
While we are disappointed with this news, we are incredibly proud of the work we've accomplished with CDC to date, and we know that this decision had nothing to do with our past performance. This is just the reality of how government contracting works.

— Biobot Analytics (@BiobotAnalytics) October 6, 2023
Reality of how monopoly works, more like it. Putting our wastewater data in Google's hands makes me shudder. First, you know they're going to monetize it. Plus, given "The Twitter Files," you know they'll censor it. Does anybody really believe that Google would give us good data on the next pandemic, especially if the current Administration wanted to "prevent panic"? I don't. And third, why the hell isn't this a government function?
Lambert here: Patient readers, I should have spotted the Biobot news earlier, for which I apologize. It does seem, then, that Twitter, even Covid Twitter, has deteriorated; I would have expected to see this from my follows, which include Biobot (perhaps Elon is flooding my timeline; I don't know). Which is too bad, because I don't see an alternative (other than restarting the blogosphere). Does any kind reader have a spare BlueSky invite?
• Verily's horrid dashboard, and I had to click around for about five minutes to get a national view (below). Why, it's almost like they're trying to hide something! Note the minimization built right into the design: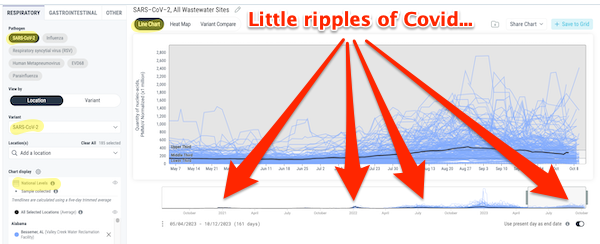 (The top, large portion of the chart is data between the left and right gray slider bars on the bottom part (the timeline of the entire pandemic, to which the red arrows I drew point.)
• Biobot data v. Verily data:
Biobot (blue) versus Verily (black) #wastewater data.

You'll see Verily data suggest the most recent wave (#7) has had considerably more transmission than Delta (#3). And that last winter (#6) was similar (or worse!) than the prior winter's BA.1 surge (#4).

Who wins?

— Mike Hoerger, PhD MSCR MBA (@michael_hoerger) October 11, 2023
Variants
NOT UPDATED From CDC, September 30: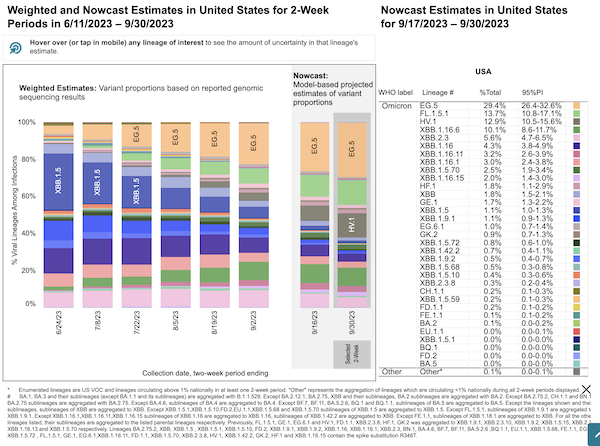 Lambert here: September 30 is tomorrow, but never mind that. Top of the leaderboard: EG.5 ("Eris"), with FL.1.15.1, HV.1, and XBB.1.1.16.6 trailing. Still a Bouillabaisse…
From CDC, September 16: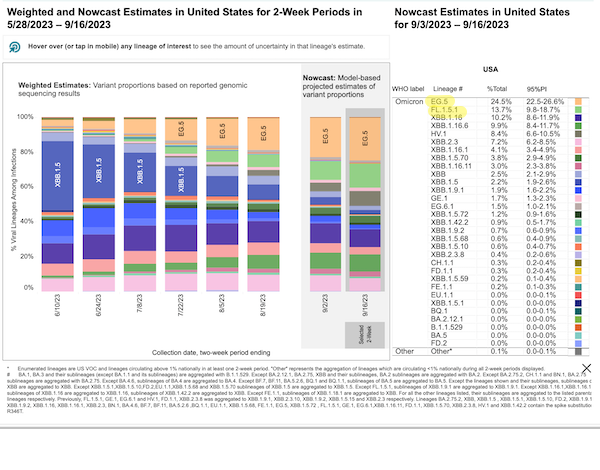 Lambert here: I sure hope the volunteers doing Pangolin, on which this chart depends, don't all move on the green fields and pastures new (or have their access to facilities cut by administrators of ill intent).
CDC: "As of May 11, genomic surveillance data will be reported biweekly, based on the availability of positive test specimens." "Biweeekly: 1. occurring every two weeks. 2. occurring twice a week; semiweekly." Looks like CDC has chosen sense #1. In essence, they're telling us variants are nothing to worry about. Time will tell.
Covid Emergency Room Visits
From CDC NCIRD Surveillance, October 7: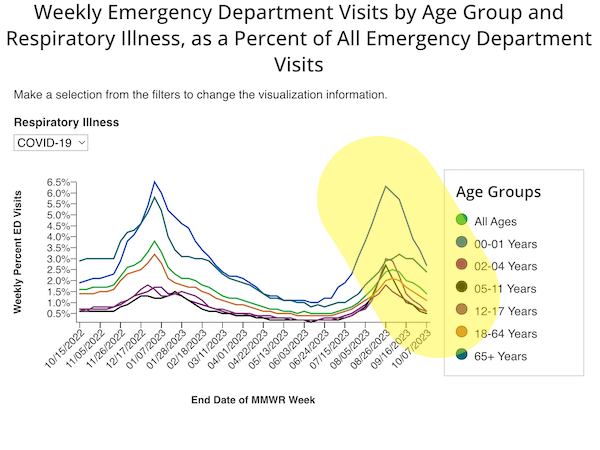 Drop coinciding with wastewater drop.
NOTE "Charts and data provided by CDC, updates Wednesday by 8am. For the past year, using a rolling 52-week period." So not the entire pandemic, FFS (the implicit message here being that Covid is "just like the flu," which is why the seasonal "rolling 52-week period" is appropriate for bothMR SUBLIMINAL I hate these people so much. Notice also that this chart shows, at least for its time period, that Covid is not seasonal, even though CDC is trying to get us to believe that it is, presumably so they can piggyback on the existing institutional apparatus for injections.
Hospitalization
Bellwether New York City, data as of October 11: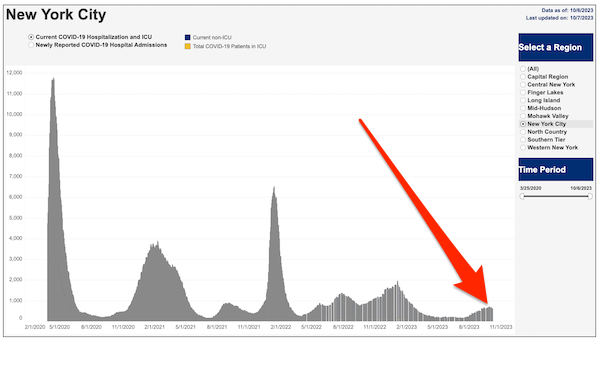 Still decreasing. (New York state is steadily rising, but it's New York City that's the bellwether.) I hate this metric because the lag makes it deceptive.
NOT UPDATED Here's a different CDC visualization on hospitalization, nationwide, not by state, but with a date, at least. September 30: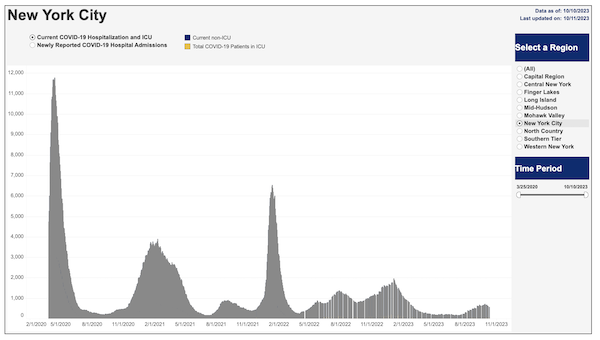 Lambert here: "Maps, charts, and data provided by CDC, updates weekly for the previous MMWR week (Sunday-Saturday) on Thursdays (Deaths, Emergency Department Visits, Test Positivity) and weekly the following Mondays (Hospitalizations) by 8 pm ET†". So where the heck is the update, CDC?
Positivity
NOT UPDATED From Walgreens, October 9: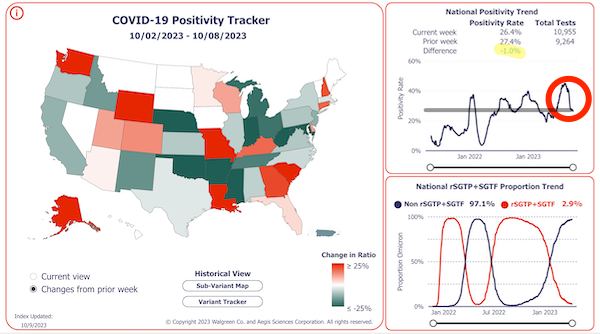 -1.0%. Still dropping, though less than before. (It would be interesting to survey this population generally; these are people who, despite a tsunami of official propaganda and enormous peer pressure, went and got tested anyhow.)
NOT UPDATED From Cleveland Clinic, October 7: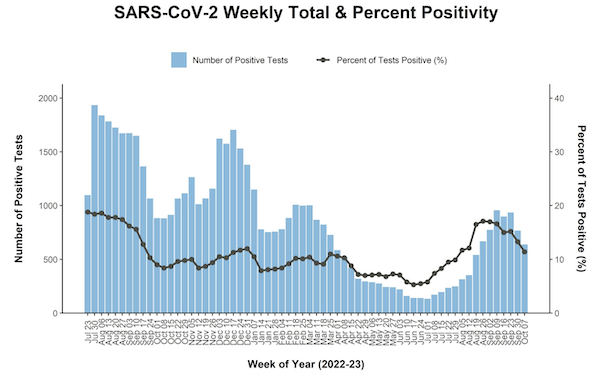 Lambert here: I know this is just Ohio, but the Cleveland Clinic is good*, and we're starved for data, so…. NOTE * Even if hospital infection control is trying to kill patients by eliminating universal masking with N95s.
NOT UPDATED From CDC, traveler's data, September 18: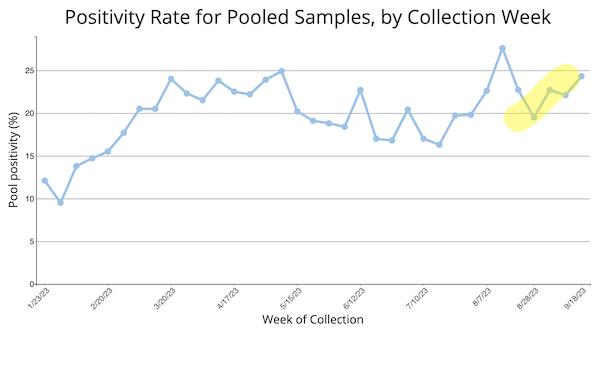 Back up again, albeit in the rear view mirror. And here are the variants for travelers: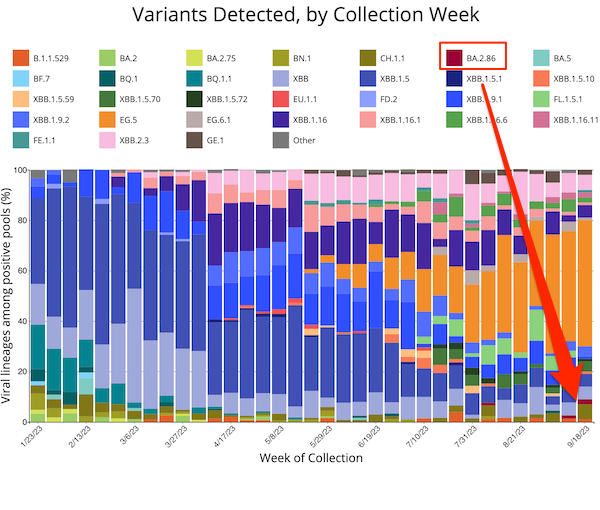 Now, BA.2.86 for two weeks in a row. Bears watching.
Deaths
NOT UPDATED Iowa COVID-19 Tracker, September 27: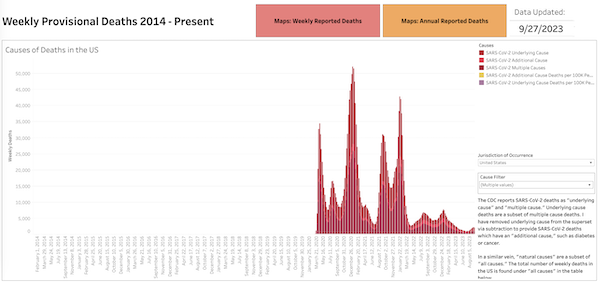 Lambert here: The WHO data is worthless, so I replaced it with the Iowa Covid Data Tracker. Their method: "These data have been sourced, via the API from the CDC: https://data.cdc.gov/NCHS/Conditions-Contributing-to-COVID-19-Deaths-by-Stat/hk9y-quqm. This visualization updates on Wednesday evenings. Data are provisional and are adjusted weekly by the CDC." I can't seem to get a pop-up that shows a total of the three causes (top right). Readers?
Total: 1,178,638 – 1,178,490 = 148 (148 * 365 = 54,020 deaths per year, today's YouGenicist™ number for "living with" Covid (quite a bit higher than the minimizers would like, though they can talk themselves into anything. If the YouGenicist™ metric keeps chugging along like this, I may just have to decide this is what the powers-that-be consider "mission accomplished" for this particular tranche of death and disease). 
Excess Deaths
The Economist, October 12: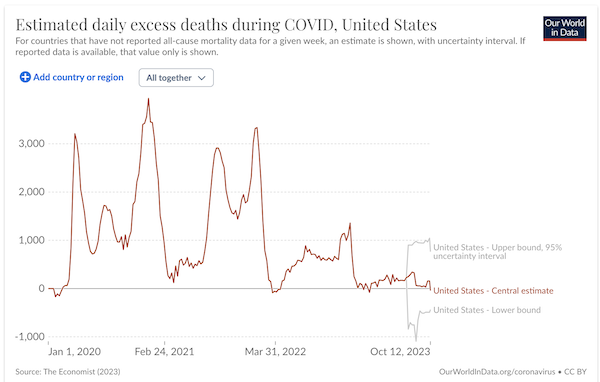 Lambert here: Based on a machine-learning model.
Stats Watch
* * *
* * *
Today's Fear & Greed Index: 33 Fear (previous close: 31 Fear) [CNN]. One week ago: 23 (Extreme Fear). (0 is Extreme Fear; 100 is Extreme Greed). Last updated Oct 11 at 1:42:38 PM ET.
The Conservatory
"Why Rappers Stopped Writing" [Kottke.org]. "These days, instead of writing down lyrics and bringing them to the studio to record, many rappers are using the improvisational "punch-in method" to craft songs during the recording session."
Zeitgeist Watch
"The monkey's got the locomotive under control":
I certainly hope so!
Our Famously Free Press
"Washington Post slashing 240 jobs" [The Hill]. "The Washington Post says it has plans to do away with more than 200 jobs as a cost cutting measure after prognostications for online readership and subscriptions proved "overly optimistic" heading into 2024…. The Post is one of several media and tech companies to conduct layoffs and hiring freezes in the face of a tough ad market, news fatigue and other economic hardships in recent months." • Bullshit fatigue, more like it.
Imperial Collapse Watch
"MBTA eliminates Green Line extension slow zones, reopens Union Square branch early" [Boston Globe]. "To eliminate the Green Line extension speed restrictions, T officials said crews had to widen the distance between the rails at hundreds of points along the tracks…. The T has said that the Green Line extension, the first expansion of the T's subway system since 1987 which fully opened last year, 'has always been narrow, but somehow became so narrow in recent months that it was dangerous for trains to travel at full speed, prompting more than a dozen speed restrictions along the tracks. Track experts say it is nearly impossible for track gauge to narrow over such a short period of time At a MBTA board of directors meeting last month, the T's top infrastructure official told members of the agency's oversight board the Green Line extension — which was decades and billions of dollars in the making — 'didn't meet construction standard.'" • How do you spend a billion dollars on rail and not get track that's in gauge?
Class Warfare
"Whitehall Study" [Wikipedia (DD)]. "The Whitehall Studies investigated social determinants of health, specifically the cardiovascular disease prevalence and mortality rates among British civil servants. The initial prospective cohort study, the Whitehall I Study, examined over 17,500 male civil servants between the ages of 20 and 64, and was conducted over a period of ten years, beginning in 1967. A second cohort study, the Whitehall II Study,[2] was conducted from 1985 to 1988 and examined the health of 10,308 civil servants aged 35 to 55, of whom two thirds were men and one third women. A long-term follow-up of study subjects from the first two phases is ongoing. The studies, named after the Whitehall area of London and originally led by Michael Marmot, found a strong association between grade levels of civil servant employment and mortality rates from a range of causes: . Men in the lowest grade (messengers, doorkeepers, etc.) had a mortality rate three times higher than that of men in the highest grade (administrators)." • So Case-Deaton not so new?
News of the Wired
"Why Eat Like a Caveman?" [JSTOR]. "A central narrative of the Paleo concept is that humans evolved for the conditions of the Paleolithic era and are unsuited for life in the modern world, with its abundant agricultural and processed foods. Paleo systems call for avoiding grains and sugars and instead eating mostly meat and vegetables. Many Paleo manuals discuss the diet in distinctly masculine terms, throwing around words like virile, warrior, and protector. Yet, as with most diets, the majority of practitioners are women. Johnson suggests that the masculine framing may actually be a draw for some women who object to typical gendered narratives about food and health. Many Paleo women assert their desire for steak, muscle building, and a type of fitness that isn't solely about losing weight (though weight loss and fighting the 'obesity epidemic' is an unavoidable part of Paleo discourse). [Cultural critic Adrienne Rose Johnson] argues that the vision behind Paleo is much bigger than just weight loss, or even just individual health. Advocates often paint a picture of a pre-agricultural life of varied physical activities, ample leisure, and strong communities. And some Paleo dieters go beyond their food choices in attempting to emulate people from the distant past. Some avoid artificial light, eat raw meat, practice polyamory, and avoid wearing shoes." • Sounds harmless enough. I had a steady diet of coffee, steak with pepper, and red wine for a couple of years. It wasn't bad, though I didn't notice any health benefits. And I kept wearing shoes….
"How to Read a Compass" [Field & Stream]. What it says on the tin. Detailed and clear. Conclusion: "Knowing how to read a compass is invaluable for all—from adventurers to weekend hikers. It's a reliable method for ensuring your navigation is accurate and your journey safe, whether exploring a new trail or finding your way back to civilization. GPS is a great tool as well, but having solid map and compass skills helps you to use a GPS more efficiently."
* * *
Contact information for plants: Readers, feel free to contact me at lambert [UNDERSCORE] strether [DOT] corrente [AT] yahoo [DOT] com, to (a) find out how to send me a check if you are allergic to PayPal and (b) to find out how to send me images of plants. Vegetables are fine! Fungi and coral are deemed to be honorary plants! If you want your handle to appear as a credit, please place it at the start of your mail in parentheses: (thus). Otherwise, I will anonymize by using your initials. See the previous Water Cooler (with plant) here. From SR: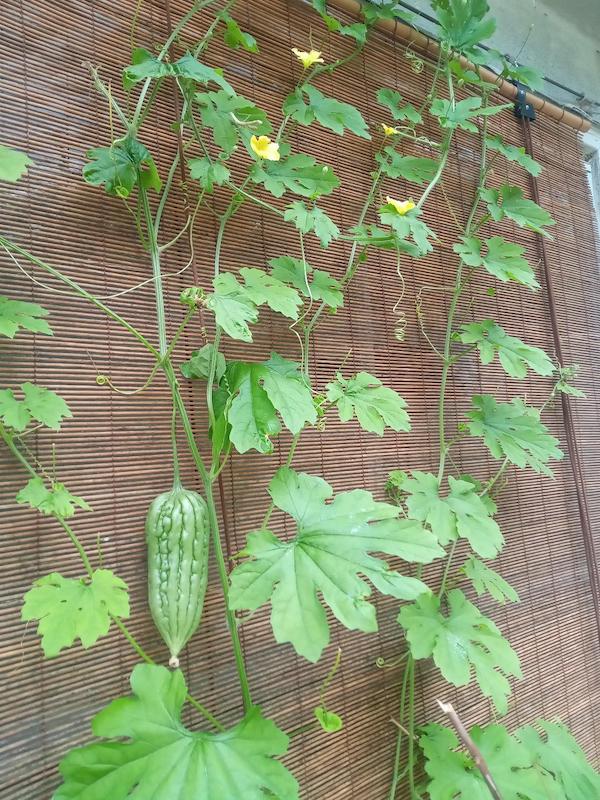 SR writes: "First fruit of my first bitter melon vine! Bonus: blossoms smell delightful. Thriving on a very hot deck in Northern Virginia."
* * *
Readers: Water Cooler is a standalone entity not covered by the annual NC fundraiser. So if you see a link you especially like, or an item you wouldn't see anywhere else, please do not hesitate to express your appreciation in tangible form. Remember, a tip jar is for tipping! Regular positive feedback both makes me feel good and lets me know I'm on the right track with coverage. When I get no donations for five or ten days I get worried. More tangibly, a constant trickle of donations helps me with expenses, and I factor in that trickle when setting fundraising goals:
Here is the screen that will appear, which I have helpfully annotated: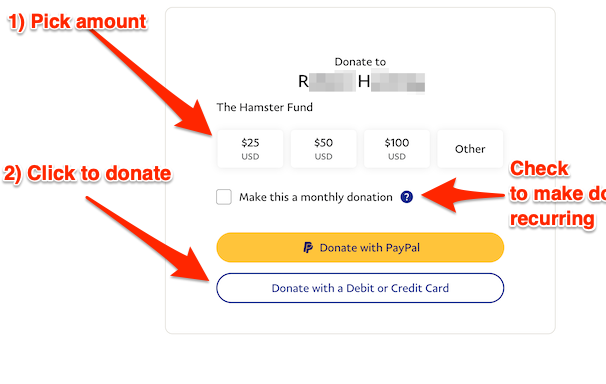 If you hate PayPal, you can email me at lambert [UNDERSCORE] strether [DOT] corrente [AT] yahoo [DOT] com, and I will give you directions on how to send a check. Thank you!