By Lambert Strether of Corrente.
I wish I knew which brain genius at Apple designed the "Magic Mouse" so you can't use it while charging.
Bird Song of the Day
House Wren, Uplands Farm Sanctuary, Suffolk, New York, United States. "Sang frequently throughout the morning from several song perches. At the beginning, it is singing from the top of a dead snag. In the second cut, it starts out on that perch, then flies to another and continues."
* * *
Politics
"So many of the social reactions that strike us as psychological are in fact a rational management of symbolic capital." –Pierre Bourdieu, Classification Struggles
Biden Administration
2024
Time for the Countdown Clock!

* * *

"Do Any of These People Stand a Chance Against Trump?" [Olivia Nuzzi, New York Magazine]. I like the kind of campaign reporting where the writer follows the candidates around and writes what they see; this is a good example of that. "Up close, then, the Republican contest is a strange sight. Over the past 13 weeks, I have visited the early-voting states to observe the candidates. . Often, it does not feel like the candidates are really running. It feels like they are doing something else… Their essential function is to provide yet more content about the American political media's favorite subject. Whether the candidates are pretending he doesn't exist, or flattering him to pander to his fans, or calling him unfit to lead, all of their campaigns have one thing in common: They cannot escape Donald Trump." • Clearly there are deeper problems than Trump….

* * *

"Investigations are exposing the Bidens' influence-peddling dynasty" [Jonathan Turley, The Hill]. "The Bidens had only one family business. They did not make furniture or sell groceries. They sold influence and, as Biden associate Devon Archer explained, Joe was their 'brand.' As these investigations and prosecutions continue, the public may conclude that it is not empathy but avarice that defines the Bidens." • The post is a list of bad things Bidens have done (and there are plenty of them). So it's not very interesting. However, my takeaway is that Biden is the head of a clan (see this discussion of "Biden blood"). So what matters to Biden — no matter how much Democrats fight to limit corruption to quid pro quo — is that the clan benefits, not him personally. Hence the trickles of money into various family accounts. The Biden clan is not the only clan in the game; cf. the Pritzkers. Or the (fractured) Kennedys.

* * *

"RFK Jr. to run as independent in 2024, ditching Democratic primary bid" [Axios]. "Robert F. Kennedy Jr. announced on Monday at Philadelphia's Independence Mall that he is dropping his longshot Democratic primary bid and instead will run as an independent presidential candidate in 2024…. Kennedy said Monday he was 'declaring independence' from the 'tyranny of corruption that robs us of affordable lives, our belief in the future and our respect for each other.' 'People suspect that the divisions are deliberately orchestrated,' he said. 'They're fed up with being fooled and they're ready to take back power.'" • Good choice of venue. And in a swing state, too.

"Today, I Declared Myself an Independent Candidate for President" [Robert F. Kennedy Jr., Newsweek]. "I declared independence from the two political parties and the corrupt interests that dominate them, and the entire rigged system of rancor and rage, corruption and lies, that has turned government officials into indentured servants of their corporate bosses. If left unchecked, they will commoditize our air, water, food, labor, and children, and turn the American Dream into desperation and dust. I declared my independence from these corrupting powers because they are incompatible with the inalienable rights that our original Declaration of Independence invoked in 1776: life, liberty, and the pursuit of happiness. How can we guard life when for-profit corporations have captured the public agencies that are supposed to protect us? How can we enjoy liberty when a surveillance state seeks to hide the truth and quash dissent to preserve its power? And how can we pursue happiness when our nation's families are imprisoned by debt and hunger and jobs that will never pay the bills?"

* * *
Clinton Legacy
"Hillary Clinton says MAGA 'cult members' need 'deprogramming'" [Axios]. Same headline as The Hill last week. The original quote, from The Hill: "Maybe there needs to be a deprogramming of the cult members." • All the coverage seems to miss the worst of it, that key word: "formal." How does that happen, institutionally? Credentialled personnel, obviously, but under what auspices? DHS Fusion Centers? The American Psychological Society? Wellness practitioners? And so forth. That Clinton even imagines — takes for granted — that we have the operational capability and technical means to "formally" "deprogram" several million voters — not all Trump voters being MAGA, of course — is more than a little frightening, given the level of delusion exhibited.
Democrats en Déshabillé
Patient readers, it seems that people are actually reading the back-dated post! But I have not updated it, and there are many updates. So I will have to do that. –lambert

I have moved my standing remarks on the Democrat Party ("the Democrat Party is a rotting corpse that can't bury itself") to a separate, back-dated post, to which I will periodically add material, summarizing the addition here in a "live" Water Cooler. (Hopefully, some Bourdieu.) It turns out that defining the Democrat Party is, in fact, a hard problem. I do think the paragraph that follows is on point all the way back to 2016, if not before:

The Democrat Party is the political expression of the class power of PMC, their base (lucidly explained by Thomas Frank in Listen, Liberal!). ; if the Democrat Party did not exist, the PMC would have to invent it. . ("PMC" modulo "class expatriates," of course.) Second, all the working parts of the Party reinforce each other. Leave aside characterizing the relationships between elements of the Party (ka-ching, but not entirely) those elements comprise a network — a Flex Net? An iron octagon? — of funders, vendors, apparatchiks, electeds, NGOs, and miscellaneous mercenaries, with assets in the press and the intelligence community.

Note, of course, that the class power of the PMC both expresses and is limited by other classes; oligarchs and American gentry (see 'industrial model' of Ferguson, Jorgensen, and Jie) and the working class spring to mind. Suck up, kick down.

* * *

"As 2024 Looms, Democrats' Campaign Tech Crumbles Under Private Equity Squeeze" [The Intercept]. "In recent years, the privately owned monopoly over the Democratic Party's voter data has changed hands from one for-profit company to another. Apax Partners, a global private equity firm, currently owns EveryAction and NGP VAN, the firms that house the Democrats' suite of voter file, compliance, and organizing tools. Apax acquired them from another private equity firm in 2021, creating a new merged entity called Bonterra. Last month, according to current and former employees, Bonterra cut at least 20 percent of its staff, more than 200 employees. Staff members across EveryAction and NGP VAN, which hold the Democratic Party's most sensitive data, were cut. At least a quarter of the people laid off belonged to the union, 51 of them unit members from EveryAction and NGP VAN. At least half of the developers at ActionKit, a fundraising and customer relations management software acquired by EveryAction in 2019, lost their jobs…. The recent cuts at Bonterra come after layoffs earlier in the year, which preceded ." Makes you wonder how much was funded by SBF. More: "In the two years since Bonterra's creation, at least 340 people have been laid off. Cuts in January were followed three months later by layoffs at other Democratic and progressive consulting, media, and polling firms like Middle Seat and ActBlue. Last month, EMILY's List laid off eight people, including most staff working on grassroots candidate outreach and training, and shut down its national training and recruitment program. The leader of the group who oversaw the cuts, Laphonza Butler, was just appointed to represent California in the Senate on Tuesday." • Gonna be hard to keep pumping hot air into the balloon….
Realignment and Legitimacy
"1968 Part II: The Center Vaporizes" [3 Quarks Daily]. Part I. If you want volatile, 1968 was volatile. Whether or not you lived through it, this piece is worth a read. I won't reproduce the timeline, but this seems familiar: "America's ability to deflect the course of history as it accelerated toward the unknown was disappearing." And: "There were so many crosscurrents, so many strange alliances, that it's difficult to trace each causation."

"I Never Thought I'd Live to See Democracy Die. But Now I Wonder" [Michael Tomasky, The New Republic]. And the deck: "Chaos and corruption are on the rise, the perfect breeding ground for authoritarians to claim control." • Well, look. It's not like we have crazypants authoritarians calling for people who opposed them politically to be deprogrammed, presumably by the State. Oh, wait….

"Impeachments and forced removals from office emerge as partisan weapons in the states" [Associated Press]. "As Republicans in Congress begin their impeachment inquiry into President Joe Biden, the process is calling attention to the increasing use of impeachment in the states as a partisan political weapon rather than as a step of last resort for officeholders believed to have committed a serious offense…. It's not just impeachment. Over the past two years, Republicans also have sought to pry Democrats and nonpartisan executives from office through recalls, legislative maneuvers and forced removals, even when no allegations of wrongdoing have surfaced." • Politics ain't beanbag. Surely the Democrats were prepared for blowback from the Trump impeachments?

"Virginia Dems call for probe into expulsions from voting rolls" [Axios]. "Virginia Gov. Glenn Youngkin (R) is under fire from Democrats who are calling for a federal investigation into why an unknown number of people have been wrongly removed from the state's voter rolls because they were mistakenly listed as felons…. 'We have never been able to get a response to just how many people are impacted and how are we going to let those people know,' [Shawn Weneta, policy strategist at American Civil Liberties Union of Virginia] said. "There is an urgency to this because of the state of this election and the thousands of people this could impact.'" • Hmm. The number shouldn't be hard to get, so….

"Experts: Every vote matters in municipal elections, so why is nobody voting?" [Chicago Tribune]. "As local officials make decisions impacting development, road repairs, police and fire services, and more every day, municipal elections are arguably those that impact voters the most, experts say. Yet despite the significance, they are also the elections that drive the fewest number of voters to the polls…. Low voter turnout for municipal elections can be attributed to a number of things such as when the local elections are not held during a congressional election year and especially during a presidential election year…. A lack of awareness of local issues can be a contributing factor to the problem of low voter turnout. News coverage focuses on national, state and large market issues, leaving smaller communities without coverage on local issues…. ',' [Dr. Yu Ouyang, associate professor of political science at Purdue University Northwest] said." • I'm not sure that's true except in the most trivial sense. In a system where democracy is so decayed, perhaps nobody and nothing important appears in the ballot in the first place. Paradoxically, your vote would mean the most only when exercised with many others.
#COVID19
"I am in earnest — I will not equivocate — I will not excuse — I will not retreat a single inch — AND I WILL BE HEARD." –William Lloyd Garrison
Resources, United States (National): Transmission (CDC); Wastewater (CDC, Biobot; includes many counties; Wastewater Scan, includes drilldown by zip); Variants (CDC; Walgreens); "Iowa COVID-19 Tracker" (in IA, but national data). "Infection Control, Emergency Management, Safety, and General Thoughts" (especially on hospitalization by city).
t impact voters the most, experts say. Yet despite the significance, they are also the elections that drive the fewest number of voters to the polls…. Low voter turnout for municipal elections can be attributed to a number of things such as when the local elections are not held during a congressional election year and especially during a presidential election year…. A lack of awareness of local issues can be a contributing factor to the problem of low voter turnout. News coverage focuses on national, state and large market issues, leaving smaller communities without coverage on local issues…. ',' [Dr. Yu Ouyang, associate professor of political science at Purdue University Northwest] said." • I'm not sure that's true except in the most trivial sense. In a system where democracy is so decayed, perhaps nobody and nothing important appears in the ballot in the first place. Paradoxically, your vote would mean the most only when exercised with many others.
Lambert here: Readers, thanks for the collective effort. To update any entry, do feel free to contact me at the address given with the plants. Please put "COVID" in the subject line. Thank you!
Resources, United States (Local): AK (dashboard); AL (dashboard); AR (dashboard); AZ (dashboard); CA (dashboard; Marin, dashboard; Stanford, wastewater; Oakland, wastewater); CO (dashboard; wastewater); CT (dashboard); DE (dashboard); FL (wastewater); GA (wastewater); HI (dashboard); IA (wastewater reports); ID (dashboard, Boise; dashboard, wastewater, Central Idaho; wastewater, Coeur d'Alene; dashboard, Spokane County); IL (wastewater); IN (dashboard); KS (dashboard; wastewater, Lawrence); KY (dashboard, Louisville); LA (dashboard); MA (wastewater); MD (dashboard); ME (dashboard); MI (wastewater; wastewater); MN (dashboard); MO (wastewater); MS (dashboard); MT (dashboard); NC (dashboard); ND (dashboard; wastewater); NE (dashboard); NH (wastewater); NJ (dashboard); NM (dashboard); NV (dashboard; wastewater, Southern NV); NY (dashboard); OH (dashboard); OK (dashboard); OR (dashboard); PA (dashboard); RI (dashboard); SC (dashboard); SD (dashboard); TN (dashboard); TX (dashboard); UT (wastewater); VA (dashboard); VT (dashboard); WA (dashboard; dashboard); WI (wastewater); WV (wastewater); WY (wastewater).
Resources, Canada (National): Wastewater (Government of Canada).
Resources, Canada (Provincial): ON (wastewater); QC (les eaux usées); BC, Vancouver (wastewater).
Hat tips to helpful readers: anon (2), Art_DogCT, B24S, CanCyn, ChiGal, Chuck L, Festoonic, FM, FreeMarketApologist (4), Gumbo, hop2it, JB, JEHR, JF, JL Joe, John, JM (10), JustAnotherVolunteer, JW, KatieBird, LL, Michael King, KF, LaRuse, mrsyk, MT, MT_Wild, otisyves, Petal (6), RK (2), RL, RM, Rod, square coats (11), tennesseewaltzer, Utah, Bob White (3).
Stay safe out there!
* * *
Maskstravaganza
"Mask mandates are returning to some hospitals. Should they be there to stay?" [Salon]. "'We may give somebody a powerful medication that takes away their entire immune system and then in order to get medical care, they have to go to a hospital where they sit next to people that are unmasked that could give them a disease that could kill them,' [Dr. Theodore Pak, an infectious diseases fellow, who has seen hundreds of COVID-19 patients at the hospitals he practices at in Boston, Massachusetts. ] told Salon in a phone interview. 'We don't really think about that or weigh that risk anymore.'" • Those Boston hospitals, like MGH and Brigham, that are actually trying to reduce masking, and patient protection generally…
Sequelae
"Multiorgan MRI findings after hospitalisation with COVID-19 in the UK (C-MORE): a prospective, multicentre, observational cohort study" [The Lancet]. N = 2710. From the Abstract: "The multiorgan impact of moderate to severe coronavirus infections in the post-acute phase is still poorly understood." And the Discussion: "Our study demonstrates the substantial burden of multiorgan abnormalities in patients after hospitalisation for COVID-19, with nearly one in three patients having an excess burden of multiorgan injury. When compared with controls, we noted a higher proportion of lung, brain, and renal MRI abnormalities among patients. Multiorgan abnormalities on imaging were associated with older age, comorbidities, and severity of acute infection, with evidence of both vascular and inflammatory patterns of injury."
"Something Awful"
Lambert here: I'm getting the feeling that the "Something Awful" might be a sawtooth pattern — variant after variant — that averages out to a permanently high plateau. Lots of exceptionally nasty sequelae, most likely deriving from immune dysregulation (says this layperson). To which we might add brain damage, including personality changes therefrom.

Excellent thread comparing Covid to AIDS:

Every single ugly aspect of the human condition that HIV exposed with the resolution of an optical microscope, COVID exposed with the resolution of an electron microscope

If pandemic were a movie franchise, HIV/AIDS would be "The Godfather" and COVID would be the "better" sequel

— Gregory Travis. Make schools #DavosSafe (@greg_travis) October 2, 2023

Immune dysregulation followed by horridly various sequelae is not the only common factor….

* * *
Elite Maleficence
From a Fellow of the Infectious Diseases Society of America (and contrast "Todd" to Dr. Pak, above):

Want to wear an n95 mask for the rest of your life and avoid social interactions? Ok – that's your right.

I'm going to return to a completely normal life and enjoy the rest that fate deems me worthy of.

Someone can do a trash tier observational study about this in the future

— Todd C. Lee (@DrToddLee) October 6, 2023

I know "Todd" might find this hard to believe, but there are some people I would prefer never to interact with, ever, on any account.
* * *
Lambert here: Back to tape-watching mode. It still looks to me like the current surge has some ways to run, given how wastewater flattened, with the East Coast up. Let's wait and see.
Case Data
NOT UPDATED FFS!!!!! From BioBot wastewater data, October 2:
Lambert here: Leveling out to a high plateau wasn't on my Bingo card! Perhaps FL.1.5.1, high in the Northeast, has something going for it that other variants don't have?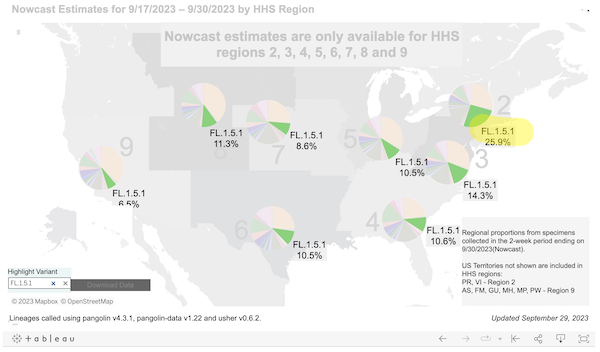 Regional data: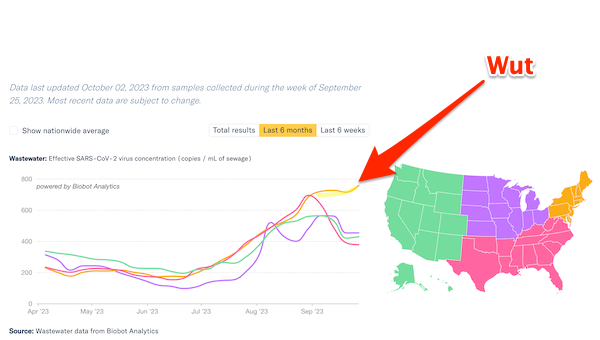 Interestingly, the upswing begins before July 4, which neither accelerates nor retards it.
Variants
NOT UPDATED From CDC, September 30: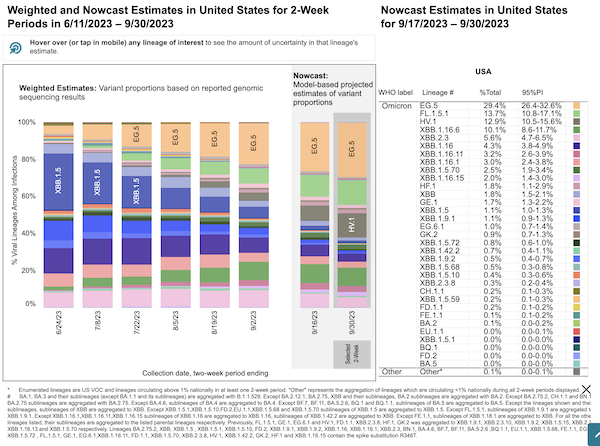 Lambert here: September 30 is tomorrow, but never mind that. Top of the leaderboard: EG.5 ("Eris"), with FL.1.15.1, HV.1, and XBB.1.1.16.6 trailing. Still a Bouillabaisse…
From CDC, September 16: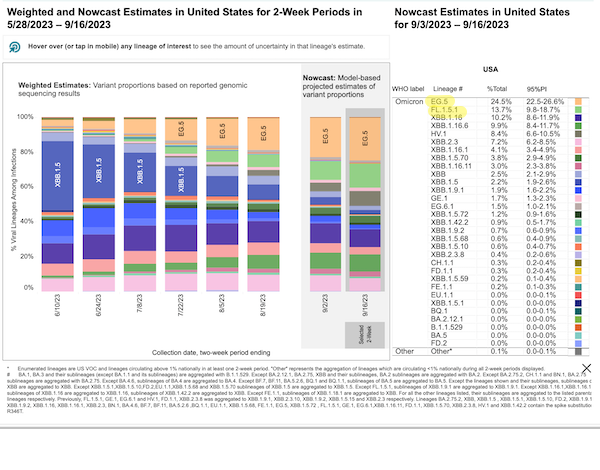 Lambert here: I sure hope the volunteers doing Pangolin, on which this chart depends, don't all move on the green fields and pastures new (or have their access to facilities cut by administrators of ill intent).
CDC: "As of May 11, genomic surveillance data will be reported biweekly, based on the availability of positive test specimens." "Biweeekly: 1. occurring every two weeks. 2. occurring twice a week; semiweekly." Looks like CDC has chosen sense #1. In essence, they're telling us variants are nothing to worry about. Time will tell.
Covid Emergency Room Visits
NOT UPDATED From CDC NCIRD Surveillance, September 30: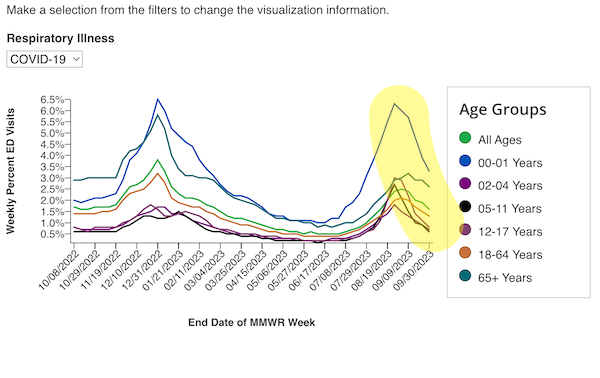 Drop coinciding with wastewater drop.
NOTE "Charts and data provided by CDC, updates Wednesday by 8am. For the past year, using a rolling 52-week period." So not the entire pandemic, FFS (the implicit message here being that Covid is "just like the flu," which is why the seasonal "rolling 52-week period" is appropriate for bothMR SUBLIMINAL I hate these people so much. Notice also that this chart shows, at least for its time period, that Covid is not seasonal, even though CDC is trying to get us to believe that it is, presumably so they can piggyback on the existing institutional apparatus for injections.
Hospitalization
Bellwether New York City, data as of October 6: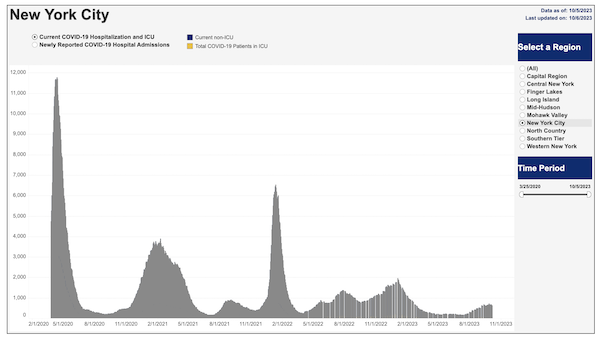 Still decreasing. (New York state is steadily rising, but it's New York City that's the bellwether.) I hate this metric because the lag makes it deceptive.
NOT UPDATED Here's a different CDC visualization on hospitalization, nationwide, not by state, but with a date, at least. September 30: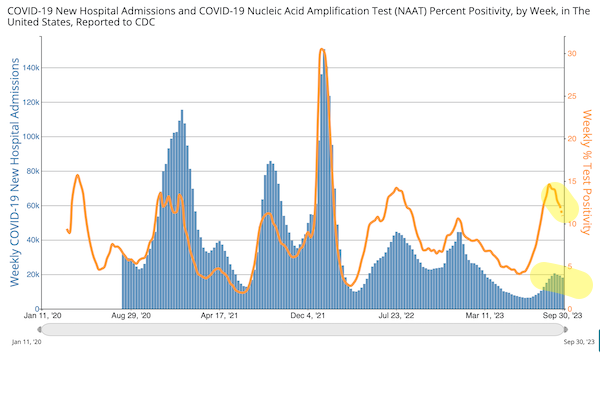 Lambert here: "Maps, charts, and data provided by CDC, updates weekly for the previous MMWR week (Sunday-Saturday) on Thursdays (Deaths, Emergency Department Visits, Test Positivity) and weekly the following Mondays (Hospitalizations) by 8 pm ET†". So where the heck is the update, CDC?
Positivity
From Walgreens, October 9: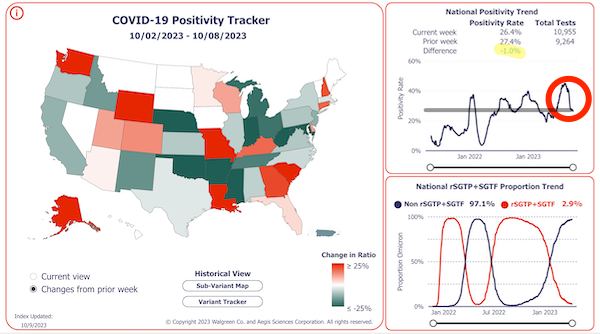 -1.0%. Still dropping, though less than before. (It would be interesting to survey this population generally; these are people who, despite a tsunami of official propaganda and enormous peer pressure, went and got tested anyhow.)
From Cleveland Clinic, October 7: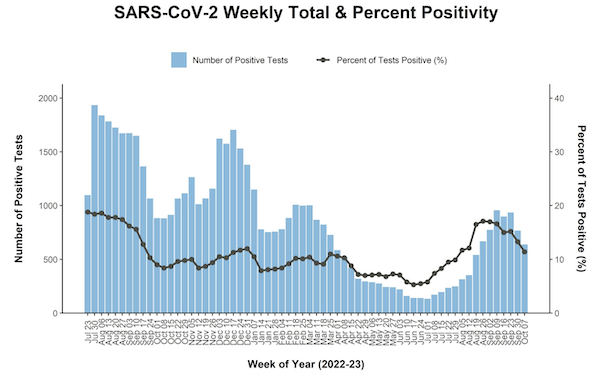 Lambert here: I know this is just Ohio, but the Cleveland Clinic is good*, and we're starved for data, so…. NOTE * Even if hospital infection control is trying to kill patients by eliminating universal masking with N95s.
NOT UPDATED From CDC, traveler's data, September 18: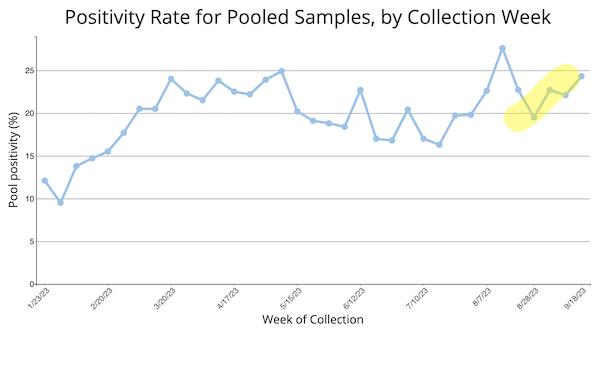 Back up again, albeit in the rear view mirror. And here are the variants for travelers: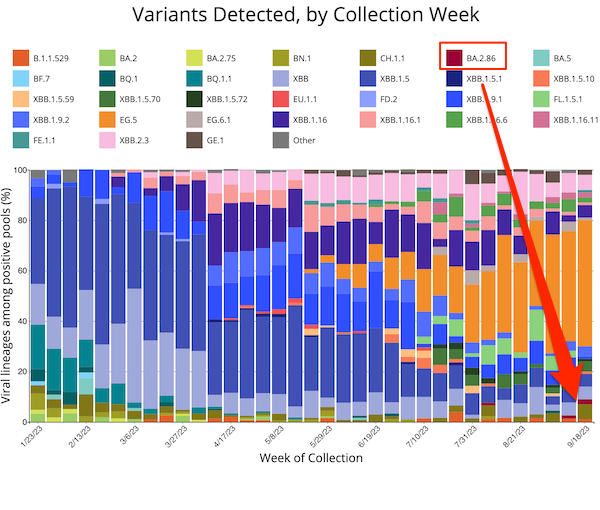 Now, BA.2.86 for two weeks in a row. Bears watching.
Deaths
NOT UPDATED Iowa COVID-19 Tracker, September 27: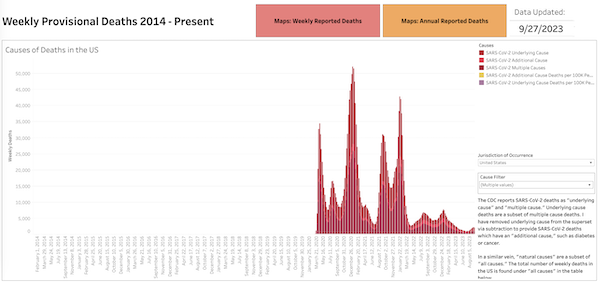 Lambert here: The WHO data is worthless, so I replaced it with the Iowa Covid Data Tracker. Their method: "These data have been sourced, via the API from the CDC: https://data.cdc.gov/NCHS/Conditions-Contributing-to-COVID-19-Deaths-by-Stat/hk9y-quqm. This visualization updates on Wednesday evenings. Data are provisional and are adjusted weekly by the CDC." I can't seem to get a pop-up that shows a total of the three causes (top right). Readers?
Total: 1,178,436 – 1,178,150c = 286 (286 * 365 = 104,390 deaths per year, today's YouGenicist™ number for "living with" Covid (quite a bit higher than the minimizers would like, though they can talk themselves into anything. If the YouGenicist™ metric keeps chugging along like this, I may just have to decide this is what the powers-that-be consider "mission accomplished" for this particular tranche of death and disease). 
Excess Deaths
The Economist, October 10: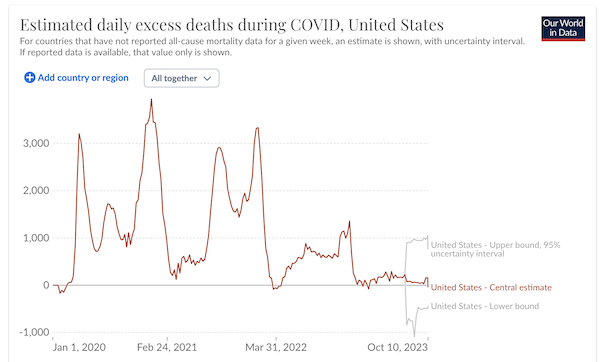 Lambert here: Based on a machine-learning model.
Stats Watch
There are no official statistics of interest today.
* * *
Tech: "How Disney Packed Big Emotion Into a Little Robot" [IEEE Spectrum]. • No, they didn't. Robots are machines. They don't have emotions. Who let that headline through?
The Bezzle: Anybody remember Web 3.0? That's where all the stupid money was before it sloshed over to AI:
New Web3 Vulnerabilities & Frauds appear daily 👎

How can you be sure you have never interacted with them?
🤷‍♂️ Exactly. You can't.

It took YEARS to build your net worth. Don't lose it in seconds!

⚡️ Scan any Web3 Token or Smart Contract before interacting with it. It's free.

— De.Fi🛡️Web3 Antivirus (@DeDotFiSecurity) September 15, 2023
This is an advertisement, but what does it say that the product is even being advertised?
* * *
Today's Fear & Greed Index: 33 Fear (previous close: 29 Fear) [CNN]. One week ago: 17 (Extreme Fear). (0 is Extreme Fear; 100 is Extreme Greed). Last updated Oct 10 at 1:41:55 PM ET.
Rapture Index: Closes down one on Date Setting. "The lack of activity has downgraded this category" [Rapture Ready]. Record High, October 10, 2016: 189. Current: 186. (Remember that bringing on the Rapture is good.) NOTE on #42 Plagues: "The coronavirus pandemic has maxed out this category." More honest than most! • I guess the Index closed before Israel/Palestine blew up.
Zeitgeist Watch
"We are our apps" [London Review of Books]. Round-up on Jonathan Crary. This caught my eye: "'The ends of sleep' [a Crary title] has a double meaning. The first, clear enough, is that sleep is under threat; a hundred years ago most adults slept ten hours a day, while the average now is six and a half. Neoliberalism has colonised our nightly respite as part of its general operation of 'bioderegulation'. As with many other military initiatives, 'the creation of the sleepless soldier' has moved into civilian life with online producers and consumers attached to global workplaces and markets 24/7…. In a world that never sleeps the old revolutionary call 'to awaken' is misbegotten as well: 'Worker-consumers of the world, zone out! You have only your screens to lose!' is more like it. This is the second sense of 'the ends of sleep': its purposes today. Sleep, he argues, has a newfound role as a site of resistance; it is a 'natural condition' that can serve as a final barrier against 'the theft of time from us by capitalism'. Although he puts the phrase in scare quotes, this critical recourse to a 'natural condition' is a new note in Crary. Also new is his ethical appeal to the care of others: 'As the most private, most vulnerable state common to all, sleep is crucially dependent on society in order to be sustained.' Since we require others to protect us while we sleep, sleep figures the necessary 'durability of the social'." • Hmm. See NC here on sleep, and here on waking.
Class Warfare
"Mapping Turbulence" [New Left Review]. "In his trenchant essay on the 2006 US midterms, 'Structure vs Conjuncture', Brenner argues that the most significant American reforms of the twentieth century – those enacted by Roosevelt and later Johnson – were won through militant social movements, each struggling under different political-economic backdrops. Contra the criticisms levelled by Ackerman (and to a lesser extent Barker), Brenner does not attribute these successes to any simple, automatic relation between such movements and the prevailing economic conditions. Rather, he sees their achievements as the outcome of contingent historical developments. For Brenner, New Deal-era reforms were the result of an 'explosion of mass direct action outside the electoral-legislative arena'; organizations like the United Auto Workers 'initially refused to support the Democratic ticket and, at their founding convention in 1936, called for the formation of independent farmer–labour parties.' Over the course of the 'second depression' and defeats in the latter half of the decade, however, 'CIO officialdom reacted to the fall-off in mass struggles by turning to the institutionalization of union–employer relations, through state-sanctioned collective bargaining and regulation', which entailed 'a full commitment to the electoral road and to the Democratic Party'. From this point on, the Democrats and labour officialdom worked in tandem, and came to 'count on labour's support' while delivering less and less in return." • This whole essay/review is worth a cup of coffee.
News of the Wired
"America does not have a good food culture" [Chris Arnade Walks the World]. "The reality of food in America, outside of a few high-status neighborhoods scattered around the US, is that most people don't prioritize the varied experiences of eating at bespoke restaurants, and so the median food eaten in the US is not from some well reviewed Indonesian place on the Upper East Side, or from that really cool Bolivian place in Alexandria. It's far more mundane than that, far more processed, and far less social. The far more common reality of food experience in America is someone eating drive-through alone in their car, or eating wings at the Applebee's bar while watching the game with friends, or heating up leftovers in a microwave before work. It's not all a hellscape of lonely meals of processed food, but relative to the rest of the world, it is." • Well worth a read. Food, especially when accompanied by conviviality, is very important (and I don't know how to square this with the hash we've made o f ventilating restuarants, or tip culture).
"Fair coins tend to land on the same side they started: Evidence from 350,757 Flips" [arXiv]. "Many people have flipped coins but few have stopped to ponder the statistical and physical intricacies of the process. In a preregistered study we collected 350,757 coin flips to test the counterintuitive prediction from a physics model of human coin tossing developed by Persi Diaconis. The model asserts that when people flip an ordinary coin, it tends to land on the same side it started — Diaconis estimated the probability of a same-side outcome to be about 51%. Our data lend strong support to this precise prediction… Furthermore, this lack of heads-tails bias does not appear to vary across coins. Our data therefore provide strong evidence that when some (but not all) people flip a fair coin, it tends to land on the same side it started. Our data provide compelling statistical support for Diaconis' physics model of coin tossing." • What. Why?
* * *
Contact information for plants: Readers, feel free to contact me at lambert [UNDERSCORE] strether [DOT] corrente [AT] yahoo [DOT] com, to (a) find out how to send me a check if you are allergic to PayPal and (b) to find out how to send me images of plants. Vegetables are fine! Fungi and coral are deemed to be honorary plants! If you want your handle to appear as a credit, please place it at the start of your mail in parentheses: (thus). Otherwise, I will anonymize by using your initials. See the previous Water Cooler (with plant) here. From KC: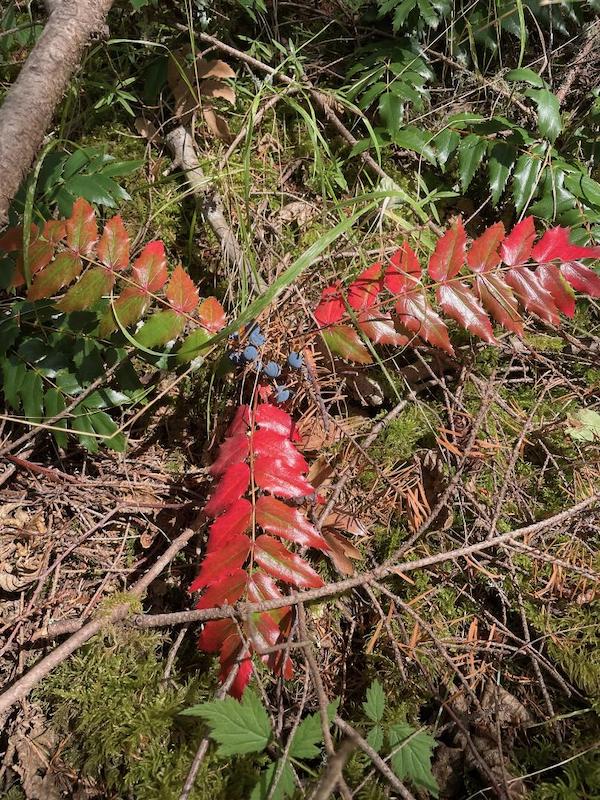 KC writes: "Oregon Grape pic from deep in the forest on Orcas Island, WA." The colors!
* * *
Readers: Water Cooler is a standalone entity not covered by the annual NC fundraiser. So if you see a link you especially like, or an item you wouldn't see anywhere else, please do not hesitate to express your appreciation in tangible form. Remember, a tip jar is for tipping! Regular positive feedback both makes me feel good and lets me know I'm on the right track with coverage. When I get no donations for five or ten days I get worried. More tangibly, a constant trickle of donations helps me with expenses, and I factor in that trickle when setting fundraising goals:
Here is the screen that will appear, which I have helpfully annotated: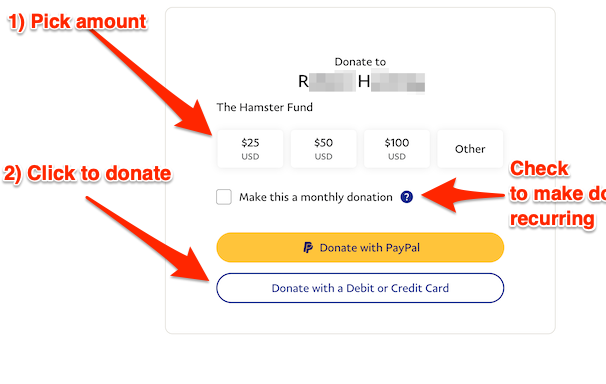 If you hate PayPal, you can email me at lambert [UNDERSCORE] strether [DOT] corrente [AT] yahoo [DOT] com, and I will give you directions on how to send a check. Thank you!