By Lambert Strether of Corrente.
Bird Song of the Day
Say's Phoebe, Mount Falcon Park, Morrison Trailhead, Jefferson, Colorado, United States. Crickets, owl, virtuoso trilling.
* * *
Politics
"So many of the social reactions that strike us as psychological are in fact a rational management of symbolic capital." –Pierre Bourdieu, Classification Struggles
Biden Administration
"US President Joe Biden's dog removed from White House amid biting incidents" [Al Jazeera]. Not the kind of headline you want to see. "The announced removal of Commander came hours after White House press secretary Karine Jean-Pierre was asked at a daily media briefing about a new allegation that he had bitten a White House staffer. Jean-Pierre referred questions to the first lady's office, which said Commander and Dale Haney, the head groundskeeper at the White House, were playing and that no skin was broken in an incident that was photographed by a tourist and shared with a news organisation, which then published the image online.The US Secret Service has acknowledged that 11 of its agents had been nipped by the president's dog, though US media reported that the actual number was higher and that the dog had bitten other White House workers, too. One such incident required a hospital visit by an injured law enforcement officer, according to records from the Department of Homeland Security." • More than 11 bitings? Holy [family blog], that's executive dysfunction! Bye bye, Commander:

Which one is more vicious? (Also, I wonder whether any patterns would emerge if Biden's sunglasses wearing were to be charted.)

* * *

"Biden criticized for waiving 26 laws in Texas to allow border wall construction [Guardian]. "Joe Biden faced intense criticism from environmental advocates, political opponents and his fellow Democrats after the president's administration waived 26 federal laws to allow border wall construction in south Texas, its first use of a sweeping executive power that was often employed under Donald Trump…. A federal proclamation issued on 20 January 2021 said: 'Building a massive wall that spans the entire southern border is not a serious policy solution.' On Wednesday, border officials claimed the new project was consistent with that proclamation. 'Congress appropriated fiscal year 2019 funds for the construction of border barrier in the Rio Grande Valley, and [homeland security] is required to use those funds for their appropriated purpose,' a statement said. The statement also said officials were 'committed to protecting the nation's cultural and natural resources and will implement sound environmental practices as part of the project covered by this waiver.' Observers were not convinced. Referring to a famous (and much-mocked) Trump campaign promise, Matt Stoller, research director at the American Economic Liberties Project, said: 'Mexico didn't pay for the wall, but Biden did.'" • Worth noting this only happened after Pritzker wrote Biden a letter (and not when Eric Adams whinged (and not, of course, when DeSantis and Abbot complained)).

"Biden to build new border wall touted by Trump, in policy reversal" [Reuters]. "Trump was quick to claim victory and demand an apology. 'As I have stated often, over thousands of years, there are only two things that have consistently worked, wheels, and walls!' Trump wrote on social media. 'Will Joe Biden apologize to me and America for taking so long to get moving….'" • I don't think "wheels and walls" will survive A/B testing, but let's wait and see.
2024
Time for the Countdown Clock!

* * *

Two parties, both alike in dignity:

NBC poll on the issues pic.twitter.com/WAIiHkEf4s

— Guy Benson (@guypbenson) October 5, 2023

On political ("protecting democracy") economy ("looking out for the middle class") voters see the parties as identical. And they're right!

* * *

"Judge at Trump's NY civil fraud trial slams hand on bench, loses his cool during testimony: 'This is ridiculous!'" [New York Post]. Trump setting up living quarters in the judge's head, as he does. "The Manhattan judge deciding Donald Trump's $250 million civil fraud trial lost his cool on Wednesday — slamming his hand on the bench and snapping, 'This is ridiculous' — as the former president's lawyers grilled his ex-accountant over inconsistent testimony. The judge's annoyed reaction came after Trump's side claimed that Donald Bender, a partner at accounting firm Mazars USA, was evading their questions. Trump attorney Jesus Suarez had spent part of Tuesday afternoon and all of Wednesday morning cross-examining Bender — and said he would continue with the questioning through the end of the day…. 'We need to be allowed to parse the evidence — we didn't bring this case,' [Trump attorney Christopher] Kise argued. Alina Habba, also a Trump lawyer, chimed in, 'We haven't got one answer from him … he has no memory as we sit here.' Over the course of testimony Wednesday — the third day of trial in New York Attorney General Letitia James' lawsuit — Engoron checked Trump's legal team twice more, at one point suggesting they were pandering to the press and carrying out their defense as if a jury were present."

"Trump fraud trial in NYC live updates: AG James declares 'the Trump show is over,' says she 'will not be bullied'" (live blog) [New York Post]. Not the best live blog ever, but this from Trump: "We're going down the line, page after page, document after document and the bottom line is: This is rigged. The judge knows whatever he's going to do. He said that Mar-a-lago is worth $18 million and it's worth $1-and-a-half billion or thereabouts. He said it was worth $18 million, so he defrauded us. He called me a fraud, he called me a fraud and he values Mar-a-Lago at $18 million, and you can't do that."

"Trump bails out of fraud trial on 3rd day: He came, he scowled, he got gagged, and left" [Insider]. "Exit, Donald Trump…. He doesn't have to return until he testifies by order of a New York state subpoena some weeks from now. 'I'd rather be right now in Iowa,' Trump said in a parting shot to reporters at the start of the lunch break, midway through the trial's first week…. During his half-week in residence at the trial, chaperoned by the Secret Service, Trump attacked the attorney general and the judge — in addition to off-topic diatribes against President Joe Biden and the special counsel Jack Smith." • "In residence," I love it!

* * *

PA: "Casey leads McCormick in Senate race, poll says" [Bradford Era]. "In the 2024 presidential race in the nation's most populous battleground state, the difference between Trump and President Joe Biden was well within the margin of error, with Trump ahead, 47% to 45%, in a possible rematch of their 2020 contest. Both candidates had similar approval ratings, too: Biden was viewed favorably by 39% and unfavorably by 57%, while Trump had 40% positive and 56% negative ratings. ',' [Quinnipiac polling analyst Tim Malloy] said. While Trump still has to overcome a large field of candidates to win the Republican nomination, he was well ahead of the pack and improved his position compared with a similar survey in June, even after four criminal indictments" [N = 1,725; ± 3.7%]. • A swing state….

"Exclusive: Donald Trump Followers Targeted by FBI as 2024 Election Nears" [William Arkin, Newsweek]. "Right after January 6, the FBI co-authored a restricted report ('Domestic Violent Extremists Emboldened in Aftermath of Capitol Breach, Elevated Domestic Terrorism Threat of Violence Likely Amid Political Transitions and Beyond') in which it shifted the definition of AGAAVE ('anti-government, anti-authority violent extremism') from 'furtherance of ideological agendas' to 'furtherance of political and/or social agendas.' For the first time, such groups could be so labeled because of their politics. It was a subtle change, little noticed, but a gigantic departure for the Bureau. Trump and his army of supporters were acknowledged as a distinct category of domestic violent extremists, even as the FBI was saying publicly that political views were never part of its criteria to investigate or prevent domestic terrorism. Where the FBI sees threats is also plain from the way it categorizes them—a system which on the surface is designed to appear nonpartisan. This shifted subtly days after the events of January 6 when it comes to what the Bureau calls AGAAVE. 'We cannot and do not investigate ideology,' a senior FBI official reassured the press after January 6. 'We focus on individuals who commit or intend to commit violence or criminal activity that constitutes a federal crime or poses a threat to national security.' But the FBI went further in October 2022 when it created a new subcategory—'AGAAVE-Other'—of those who were a threat but do not fit into its anarchist, militia or Sovereign Citizen groups. Introduced without any announcement, and reported here for the first time, the new classification is officially defined as 'domestic violent extremists who cite anti-government or anti-authority motivations for violence or criminal activity not otherwise defined, such as individuals motivated by a desire to commit violence against those with a real or perceived association with a specific political party or faction of a specific political party.'" • A classification struggle! And speaking as a former professional classifier, "other" categories are dangerous, because anything and everything can end up in them.

* * *

"Democrats cry foul after Gov. Youngkin's Political Action Committee receives $2 million donation from wealthy TikTok investor" [WAVY]. "Gov. Glenn Youngkin is facing criticism from Democrats after his political action committee (PAC), Spirit of Virginia, received a $2 million contribution from wealthy TikTok investor Jeff Yass…. The donation comes less than a year after Youngkin signed an executive order banning TikTok on all state devices and networks claiming, 'TikTok and WeChat data are a channel to the Chinese Communist Party, and their continued presence represents a threat to national security, the intelligence community, and the personal privacy of every single American.' It's for this reason that Democratic House Minority Leader Don Scott says Youngkin should give the money back."

* * *

"Cornel West leaves the Green Party in favor of an independent bid" [Politico]. "Presidential candidate Cornel West is leaving the Green Party and will continue his bid for the White House as an independent candidate. 'As Dr. West's campaign for president grows, he believes the best way to challenge the entrenched system is by focusing 100% on the people, not on the intricacies of internal party dynamics,' said the West campaign in a statement." Reading between the lines, the GP is absolutely as dysfunctional as I have always said it was. More: "The objective as an 'independent, unaffiliated' candidate is to get on the ballot in all 50 states, campaign manager Peter Daou told POLITICO. But he acknowledged the move comes with some challenges. 'It's a major strategic hurdle for an independent or third party to attain ballot access even in one state, let alone all 50 as a present presidential candidate,' Daou said in an interview. 'So we will be applying as much rigorous analysis as we can to the best way to approach this because we don't have unlimited resources.' The simple part, Daou argued, is getting the signatures. What will be difficult is navigating the specific ballot access laws and requirements of every state. A large volunteer base is helpful for collecting signatures, but it takes expertise to find the easiest way to get on the ballot in each state, said ballot access expert Richard Winger, who recently published a guide to how third party candidates can petition to be on the 2024 ballot." • Focus on swing states? What a battle royal that would be!

* * *
Republican Funhouse
"Most 2024 GOP presidential candidates urge Republicans to stop the chaos after McCarthy's ouster" [Associated Press]. "Most of the top Republican candidates running for president in 2024 reacted grimly to the ouster of House Speaker Kevin McCarthy by a faction of hard-liners in their own party, while one contender embraced the chaos and the front-runner for the nomination notably did not denounce the move. Many agreed that it was a clear sign that new leadership was needed, not just in the House of Representatives but also in the party as a whole. Former President Donald Trump, who has shown an unabashed willingness to go after his fellow Republicans, asked: 'Why is it that Republicans are always fighting among themselves?'… 'We just need leadership. We need to put leaders out there, deliver for the folks that we represent. I think that we need order. We need smooth government operations, and we need to deliver results,' [DeSantis said on the Hugh Hewitt radio show Wednesday morning]." And the trains running on time? More: "Meanwhile, biotech entrepreneur Vivek Ramaswamy welcomed the chaos." • I'm not sure aghastitude at inner party workings ever resonates with voters.

"Calls mount for 'House Speaker Donald Trump,' as lawmaker claims he can best 'unite' GOP" [FOX News]. "Calls continue to mount for Donald Trump to be nominated speaker of the House as some argue that only the former president could unite divided Republicans. Rep. Greg Steube, R-Fla., told FOX News on Wednesday that Trump would be the perfect candidate to coalesce Republicans behind common policy objectives after Rep. Kevin McCarthy, R-Calif., was stripped of the gavel Tuesday. 'We need somebody to unite our conference. And I honestly believe that he's the only person that can do that,' Steube told 'The Story.' 'He is the America First agenda. We need the America First agenda to be displayed in the House of Representatives.'" • I can only say that Trump as House speaker would be awesome, the equivalent of hitting the entire spectacle, not merely the referee, over the head with a chair, WWF-style. However, the Speakership would mire Trump in actual governance. I'm not sure that would be to his benefit.

"Leonard Leo says he will not cooperate with D.C. Attorney General tax probe" [Politico]. "Judicial activist Leonard Leo is not cooperating with an investigation by Washington D.C. Attorney General Brian Schwalb for potentially misusing nonprofit tax laws for personal enrichment, his attorney confirmed. David Rivkin, Leo's attorney, said in a statement to POLITICO that Schwalb has 'no legal authority to conduct any investigatory steps or take any enforcement measures' because Leo's multi-billion-dollar aligned nonprofits — which poured millions into campaigning for the nominations of conservative Supreme Court justices and advocating before them — were organized outside of D.C. Leo's consulting firm, CRC Advisors is registered in D.C. and his main aligned nonprofit, The 85 Fund, used a D.C. mailing address for at least a decade. Schwalb is also looking into liberal 'dark money' group Arabella Advisors, a consulting firm founded by a former Clinton official that manages a handful of nonprofits, POLITICO confirmed, after Republican attorneys general recently complained that Schwalb should instead be probing Arabella. 'Arabella Advisors complies with the law and will cooperate with the District of Columbia Attorney General's civil inquiry,"'said Arabella spokesman Steve Sampson said in a statement. … The investigations — and subsequent subpoenas — are in response to dueling complaints from liberal and conservative watchdog groups filed with the IRS that began after POLITICO reported that the lifestyle of Leo and a handful of his allies took a lavish turn beginning in 2016, the year he was tapped as an unpaid adviser on judicial nominations to former President Donald Trump." • Somebody call a w-h-a-a-a-m-bulance! I don't have a lot of sympathy for billionaire Leo (and simultaneously loathe Arabella).
Democrats en Déshabillé
Patient readers, it seems that people are actually reading the back-dated post! But I have not updated it, and there are many updates. So I will have to do that. –lambert

I have moved my standing remarks on the Democrat Party ("the Democrat Party is a rotting corpse that can't bury itself") to a separate, back-dated post, to which I will periodically add material, summarizing the addition here in a "live" Water Cooler. (Hopefully, some Bourdieu.) It turns out that defining the Democrat Party is, in fact, a hard problem. I do think the paragraph that follows is on point all the way back to 2016, if not before:

The Democrat Party is the political expression of the class power of PMC, their base (lucidly explained by Thomas Frank in Listen, Liberal!). ; if the Democrat Party did not exist, the PMC would have to invent it. . ("PMC" modulo "class expatriates," of course.) Second, all the working parts of the Party reinforce each other. Leave aside characterizing the relationships between elements of the Party (ka-ching, but not entirely) those elements comprise a network — a Flex Net? An iron octagon? — of funders, vendors, apparatchiks, electeds, NGOs, and miscellaneous mercenaries, with assets in the press and the intelligence community.

Note, of course, that the class power of the PMC both expresses and is limited by other classes; oligarchs and American gentry (see 'industrial model' of Ferguson, Jorgensen, and Jie) and the working class spring to mind. Suck up, kick down.

* * *

"Senators nix casual clothing as bipartisan resolution sets new dress code for Senate floor" [Associated Press]. "The bipartisan resolution by Sens. Joe Manchin, D-W.Va., and Mitt Romney, R-Utah, comes after backlash to Schumer's announcement that staff for the chamber's Sergeant-at-Arms would no longer enforce a dress code on the Senate floor. The guidance came as Pennsylvania Sen. John Fetterman has been unapologetically wearing shorts and sweatshirts around the Senate, voting from doorways so he didn't walk on the chamber floor and get in trouble for his casual dress. 'Though we've never had an official dress code, the events over the past week have made us all feel as though formalizing one is the right path forward,' Schumer said Wednesday evening, as the resolution by Manchin and Romney passed." • Good to see our representatives foused on the important things. And it's bipartisan! (What the heck does "have made us all feel as though" even mean?)
Realignment and Legitimacy
"Jacquet: Explaining non-participation in deliberative mini-publics" [Equality by Lot]. Summarizing a "highly cited" paper by Vincent Jacquet, a handy table:

"State Election Board shelves bid to allow more hand-marked ballots, affirms touchscreen use" [News from the States]. "On Tuesday, the Georgia State Election Board rejected a proposal that would have increased the number of voters casting hand-marked paper ballots in the 2024 election cycle when existing touchscreen machines raise ballot privacy concerns. By rejecting requests to enhance ballot secrecy and security, the election board likely eliminates any possibility of meaningful election rule changes ahead of Georgia's busy election cycle in 2024, which will gain steam with a presidential primary on March 12."

"Youngkin administration says it's fixing issue that improperly removed some voters from the rolls" [Associated Press]. "Gov. Glenn Youngkin's administration said this week, with early voting underway, that it is working to fix an issue that misclassified probation violations as felonies and has led to an unknown number of eligible Virginians being removed from the voter rolls. State election officials are working with Virginia State Police to identify voters whose registration 'may have been canceled in error' and begin the process of having those people reinstated, Andrea Gaines, a spokeswoman for the Department of Elections, said in a statement Wednesday. 'We are taking great care to identify each person affected and working to reinstate their registration immediately,' said Susan Beals, commissioner of the Department of Elections." • Given the demographics of probation violation, if this were Florida 2000, I'd say the Republicans were tampering with the voter rolls, just like Jebbie did. Also, "taking great care" and "immediately" contradict, surely?
#COVID19
"I am in earnest — I will not equivocate — I will not excuse — I will not retreat a single inch — AND I WILL BE HEARD." –William Lloyd Garrison
Resources, United States (National): Transmission (CDC); Wastewater (CDC, Biobot; includes many counties; Wastewater Scan, includes drilldown by zip); Variants (CDC; Walgreens); "Iowa COVID-19 Tracker" (in IA, but national data). "Infection Control, Emergency Management, Safety, and General Thoughts" (especially on hospitalization by city).
Lambert here: Readers, thanks for the collective effort. To update any entry, do feel free to contact me at the address given with the plants. Please put "COVID" in the subject line. Thank you!
Resources, United States (Local): AK (dashboard); AL (dashboard); AR (dashboard); AZ (dashboard); CA (dashboard; Marin, dashboard; Stanford, wastewater; Oakland, wastewater); CO (dashboard; wastewater); CT (dashboard); DE (dashboard); FL (wastewater); GA (wastewater); HI (dashboard); IA (wastewater reports); ID (dashboard, Boise; dashboard, wastewater, Central Idaho; wastewater, Coeur d'Alene; dashboard, Spokane County); IL (wastewater); IN (dashboard); KS (dashboard; wastewater, Lawrence); KY (dashboard, Louisville); LA (dashboard); MA (wastewater); MD (dashboard); ME (dashboard); MI (wastewater; wastewater); MN (dashboard); MO (wastewater); MS (dashboard); MT (dashboard); NC (dashboard); ND (dashboard; wastewater); NE (dashboard); NH (wastewater); NJ (dashboard); NM (dashboard); NV (dashboard; wastewater, Southern NV); NY (dashboard); OH (dashboard); OK (dashboard); OR (dashboard); PA (dashboard); RI (dashboard); SC (dashboard); SD (dashboard); TN (dashboard); TX (dashboard); UT (wastewater); VA (dashboard); VT (dashboard); WA (dashboard; dashboard); WI (wastewater); WV (wastewater); WY (wastewater).
Resources, Canada (National): Wastewater (Government of Canada).
Resources, Canada (Provincial): ON (wastewater); QC (les eaux usées); BC, Vancouver (wastewater).
Hat tips to helpful readers: anon (2), Art_DogCT, B24S, CanCyn, ChiGal, Chuck L, Festoonic, FM, FreeMarketApologist (4), Gumbo, hop2it, JB, JEHR, JF, JL Joe, John, JM (10), JustAnotherVolunteer, JW, KatieBird, LL, Michael King, KF, LaRuse, mrsyk, MT, MT_Wild, otisyves, Petal (6), RK (2), RL, RM, Rod, square coats (11), tennesseewaltzer, Utah, Bob White (3).
Stay safe out there!
* * *
Maskstravaganza
"B.C. mask rules return to health-care settings" [Vancouver City News]. "Provincial Health Officer Dr. Bonnie Henry [she's heart-broken, I'm sure] announced last week the return of mask mandates for health-care workers, visitors, and volunteers in patient-care areas of places like hospitals and other public facilities. Masks are not mandatory in private practices, along with dentist and chiropractor offices." • Henry is such a tool, and that's the charitable explanation. Covid is airborne and moves like smoke, through the entire facility, not just in "patient care" areas. And not in dentist's offices, when dentistry is the very definition of an Aerosol Generating Procedure?! These people aren't just bad, they're getting worse; actually regressing. (The wording is also extremely revealing of the paradigm at play here: One might imagine that the entire hospital is a "patient care" area — what reason for being, after all, does a hospital have? — but apparently not.)
Celebrity Watch
"Taylor Swift Helped Drive 35,000 New Voter Registrations After One Instagram Post" [Teen Vogue]. • Good for her. Now if only she would mask up. Another example of celebrity leadership:

Beyonce still wears masks behind the scenes. Celebs are taking more precautions than they let on. https://t.co/9gCuw7EkOp pic.twitter.com/eHnl3cE8ey

— lizwhatsherface.bsky (@RealGayArbys) October 2, 2023

There's a paper to be written on parasocial relationships and public health….
Infection
"Lingering COVID virus in tongue linked to long-term taste loss" [National Institute on Aging]. "Loss of taste, one of the most common and frustrating symptoms of COVID-19 infection, appears to be associated with persistent damage to taste buds caused by low amounts of the virus that can linger for months or even more than a year… COVID-related loss of smell and taste affects millions of people, can negatively alter overall quality of life and nutrition, and lead to depression. A recent study estimated that 60% of people infected with COVID in 2021 lost some ability to taste or smell, and a quarter of those patients, approximately 28 million Americans, didn't fully recover and were left with a decreased sense of smell…. The team examined biopsy samples, discovering that low amounts of virus, undetectable by COVID polymerase chain reaction (PCR) tests, lingered in tongue and taste bud cells in some cases for as long as 1.5 years. They also found that taste bud basal cells — which produce new taste buds as old ones die off — affected by the virus produced buds that were smaller, misshapen, and had fewer taste receptor cells than healthy ones." • Eesh. Rather ironic, eh? We optimized our Covid response so that restaurants would remain open, and now millions have lost their sense of taste….
Treatment
"Effects of tea, catechins and catechin derivatives on Omicron subvariants of SARS-CoV-2" [Nature]. From the Abstract: "Here we show that Omicron subvariants were effectively inactivated by green tea, Matcha, and black tea.. Holy [family blog]! I'd say "Big if true, but this is Nature…. More: "Healthy volunteers consumed a candy containing green tea or black tea, and saliva collected from them immediately after the candy consumption significantly decreased in vitro…. The study may suggest molecular basis for potential usefulness of these compounds in suppression of mutant viruses that could emerge in the future and cause next pandemic." • I am not a variant maven, but subject to correction: BA.1 isn't even on the charts any more, and EG.5, FL.1.5.1, the top items on the current variant leaderboard, are from a different lineage. News Medical concludes that "This study demonstrated that green tea, Matcha, and black tea effectively inactivate Omicron subvariants," but although the article lists a lot of variants, EG.5 and FL.1.5.1 do not appear. Nevertheless. Now do coffee!
"Something Awful"
Lambert here: I'm getting the feeling that the "Something Awful" might be a sawtooth pattern — variant after variant — that averages out to a permanently high plateau. Lots of exceptionally nasty sequelae, most likely deriving from immune dysregulation (says this layperson). To which we might add brain damage, including personality changes therefrom.

* * *
* * *
Lambert here: Back to tape-watching mode. It still looks to me like the current surge has some ways to run, given how wastewater flattened, with the East Coast up. Let's wait and see.
Case Data
NOT UPDATED From BioBot wastewater data, October 2: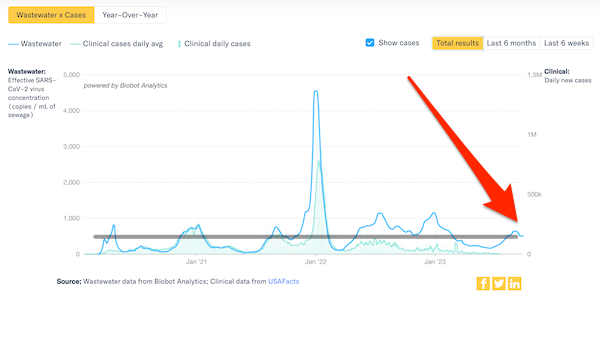 Lambert here: Leveling out to a high plateau wasn't on my Bingo card! Perhaps FL.1.5.1, high in the Northeast, has something going for it that other variants don't have?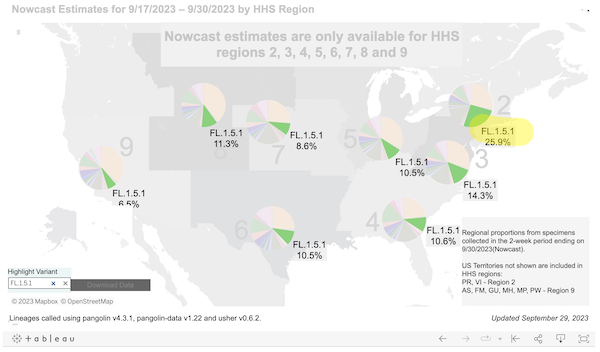 Regional data: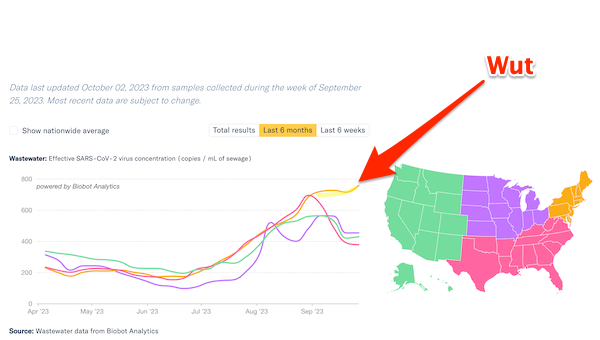 Interestingly, the upswing begins before July 4, which neither accelerates nor retards it.
Variants
NOT UPDATED From CDC, September 30: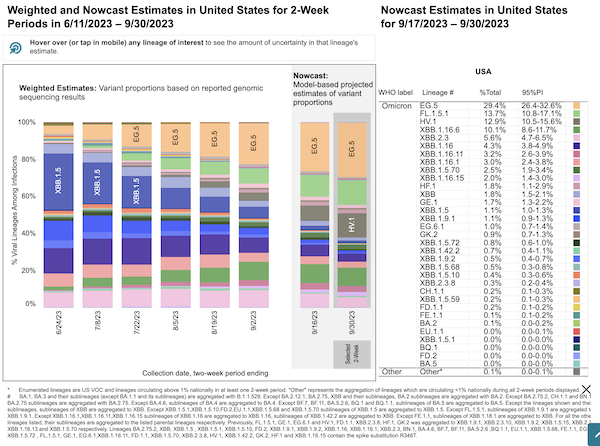 Lambert here: September 30 is tomorrow, but never mind that. Top of the leaderboard: EG.5 ("Eris"), with FL.1.15.1, HV.1, and XBB.1.1.16.6 trailing. Still a Bouillabaisse…
From CDC, September 16: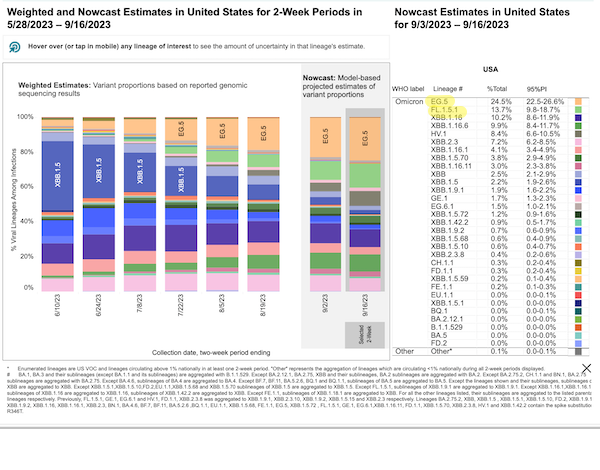 Lambert here: I sure hope the volunteers doing Pangolin, on which this chart depends, don't all move on the green fields and pastures new (or have their access to facilities cut by administrators of ill intent).
CDC: "As of May 11, genomic surveillance data will be reported biweekly, based on the availability of positive test specimens." "Biweeekly: 1. occurring every two weeks. 2. occurring twice a week; semiweekly." Looks like CDC has chosen sense #1. In essence, they're telling us variants are nothing to worry about. Time will tell.
Covid Emergency Room Visits
NOT UPDATED From CDC NCIRD Surveillance, September 30: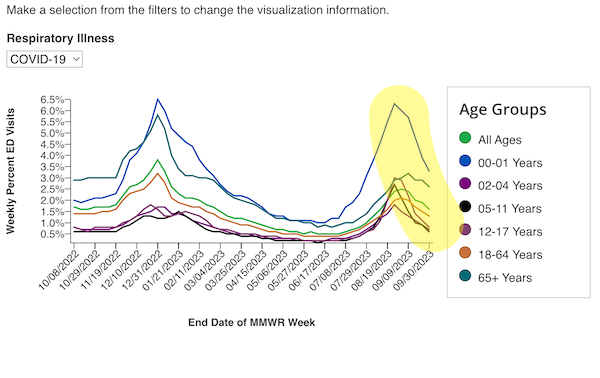 Drop coinciding with wastewater drop.
NOTE "Charts and data provided by CDC, updates Wednesday by 8am. For the past year, using a rolling 52-week period." So not the entire pandemic, FFS (the implicit message here being that Covid is "just like the flu," which is why the seasonal "rolling 52-week period" is appropriate for bothMR SUBLIMINAL I hate these people so much. Notice also that this chart shows, at least for its time period, that Covid is not seasonal, even though CDC is trying to get us to believe that it is, presumably so they can piggyback on the existing institutional apparatus for injections.
Hospitalization
Bellwether New York City, data as of October 5:
Slightly decreasing. (New York state is steadily rising, but it's New York City that's the bellwether.) I hate this metric because the lag makes it deceptive.
NOT UPDATED Here's a different CDC visualization on hospitalization, nationwide, not by state, but with a date, at least. September 23: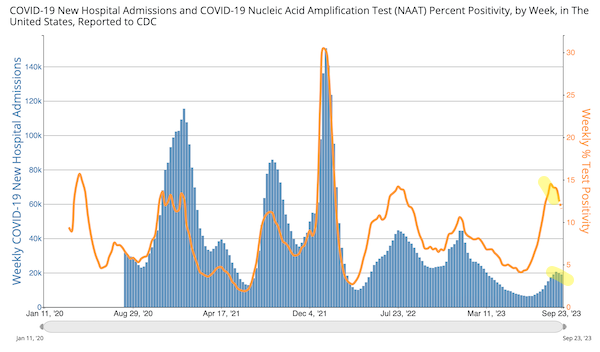 Lambert here: "Maps, charts, and data provided by CDC, updates weekly for the previous MMWR week (Sunday-Saturday) on Thursdays (Deaths, Emergency Department Visits, Test Positivity) and weekly the following Mondays (Hospitalizations) by 8 pm ET†". So where the heck is the update, CDC?
Positivity
NOT UPDATED From Walgreens, October 2: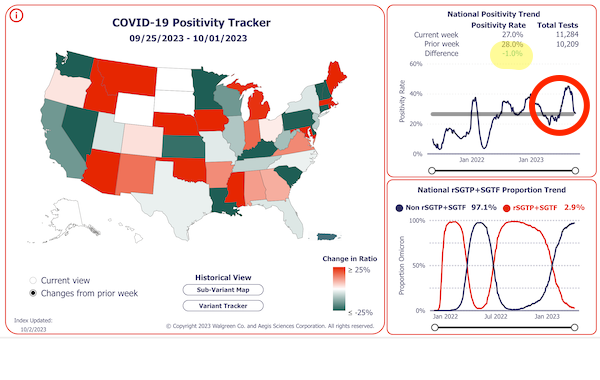 -1.0%. Another big drop. (It would be interesting to survey this population generally; these are people who, despite a tsunami of official propaganda and enormous peer pressure, went and got tested anyhow.)
NOT UPDATED From Cleveland Clinic, September 23: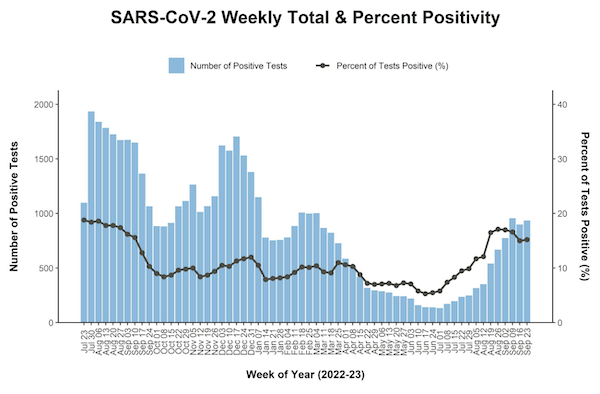 Lambert here: I know this is just Ohio, but the Cleveland Clinic is good*, and we're starved for data, so…. NOTE * Even if hospital infection control is trying to kill patients by eliminating universal masking with N95s.
NOT UPDATED From CDC, traveler's data, September 11: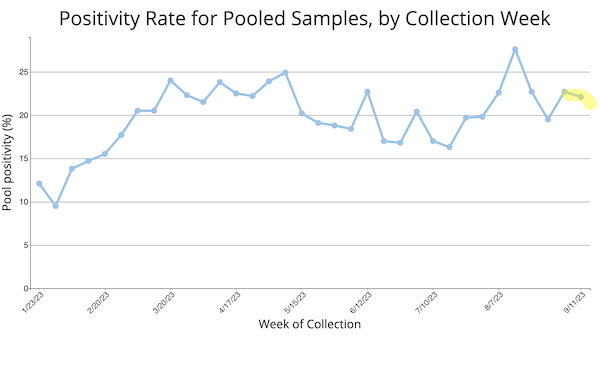 Back up again And here are the variants for travelers: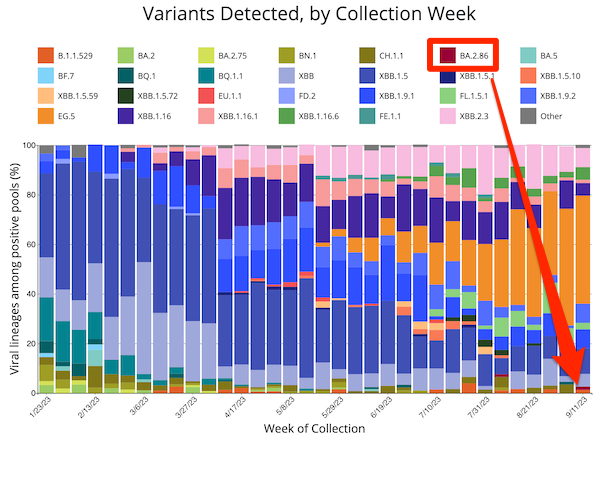 Now, BA.2.86. FL.1.51.1, interestingly, low.
Deaths
NOT UPDATED Iowa COVID-19 Tracker, September 27: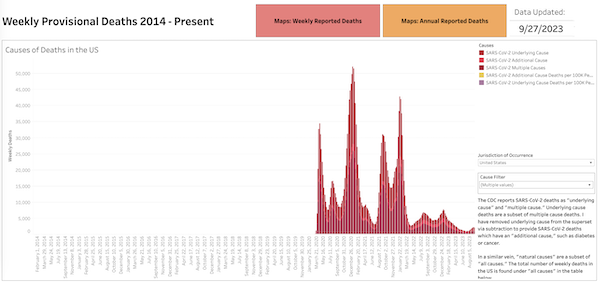 Lambert here: The WHO data is worthless, so I replaced it with the Iowa Covid Data Tracker. Their method: "These data have been sourced, via the API from the CDC: https://data.cdc.gov/NCHS/Conditions-Contributing-to-COVID-19-Deaths-by-Stat/hk9y-quqm. This visualization updates on Wednesday evenings. Data are provisional and are adjusted weekly by the CDC." I can't seem to get a pop-up that shows a total of the three causes (top right). Readers?
Total: 1,177,982 – 1,177,856 = 126 (126 * 365 = 45,990 deaths per year, today's YouGenicist™ number for "living with" Covid (quite a bit higher than the minimizers would like, though they can talk themselves into anything. If the YouGenicist™ metric keeps chugging along like this, I may just have to decide this is what the powers-that-be consider "mission accomplished" for this particular tranche of death and disease). 
Excess Deaths
The Economist, October 4: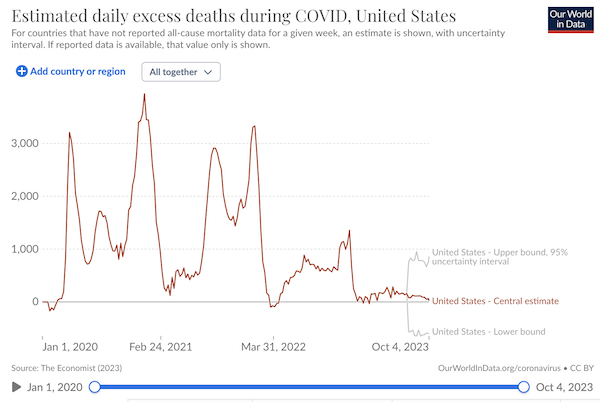 Lambert here: This is now being updated daily again. Odd. Based on a machine-learning model.
Stats Watch
"United States Initial Jobless Claims" [Trading Economics]. "The number of Americans filing for unemployment benefits edged higher by 2,000 to 207,000 on the week ending September 30th, below estimates of 210,000 and remaining close to the seven-month low of 202,000 from earlier in the month. In the meantime, continuing claims unexpectedly fell by 1,000 to 1,664,000 on the week ending September 23rd, well below estimates of 1,675,000 and remaining close to the near-eight-month low recorded previously, suggesting that unemployed individuals are having relative success in finding new jobs. The data added to evidence that the labor market remains at historically tight levels, pointing to added resilience to the Federal Reserve's aggressive tightening cycle and adding leeway for rates to remain higher for longer."
* * *
The Bezzle: "Booking.com makes a fortune – so why is it leaving its bills to small hotels unpaid?" [Guardian]. "There is something wrong at Booking.com. While its parent company has been making record profits – $1.3bn for the second quarter of 2023 alone – and its CEO and executives have been cashing in millions of dollars in shares this year, many of the people who helped Booking.com make that fortune claim to have not been paid since July, some say longer. Many Booking.com accommodation partners from Australia to Europe to the Americas have faced silence from the company as they've chased payments for months while struggling to keep businesses afloat – particularly during the lucrative northern hemisphere peak summer season, when many guests were essentially staying free of charge, as Booking.com hadn't passed on payments…. Many partners have complained directly to the CEO about Booking.com's silence on late payments and staff's lack of response to calls, emails and cases opened on the platform that are closed without being resolved."
* * *
Today's Fear & Greed Index: 23 Extreme Fear (previous close: 18 Extreme Fear) [CNN]. One week ago: 28 (Fear). (0 is Extreme Fear; 100 is Extreme Greed). Last updated Oct 5 at 1:59:01 PM ET.
The Jackpot
"Passport processing times reduced by 2 weeks, State Department says" [CBS News]. "If you need to get a new passport or renew it soon, the process should be a bit quicker. The State Department says it has lowered expected wait times by two weeks following a 2023 that so far has resulted in weeks-long and sometimes months-long waits to get passports. All passport applications received Monday and beyond will have wait times of 8-11 weeks for routine service with times shortened to 5-7 weeks for expedited service, the State Department said in a statement. The change in processing time does not apply to applications received before Monday. More than 24 million passport books and cards were issued in the fiscal year that ended over the weekend, the State Department said. That number was a record, eclipsing the previous year's record of 22 million. Over late spring and early summer, the State Department was receiving approximately 450-500,000 applications each week, CBS News reported. The State Department suggested travelers begin the process 6-9 months in advance of any travel and to check the validity of their passports frequently." • Couldn't hurt to do this now, and I strongly suggest that those of you without passports consider getting one. You never know! (Consider also that the passport is good for ten years and is currently very low tech. Gawd knows what will happen when they go more high tech, so get yours now.)
Zeitgeist Watch
"Software can detect hidden and complex emotions in parents" (press release) [University of Bristol]. "The University of Bristol and Manchester Metropolitan University team worked with Bristol's Children of the 90s study participants to see how well computational methods could capture authentic human emotions amidst everyday family life. This included the use of videos taken at home, captured by headcams worn by babies during interactions with their parents. The findings, published in Frontiers, show that scientists can use machine learning techniques to accurately predict human judgements of parent facial expressions based on the computers' decisions. Lead author Romana Burgess, PhD student on the EPSRC Digital Health and Care CDT in the School of Electrical, Electronic and Mechanical Engineering at the University of Bristol, explained: 'Humans experience complicated emotions – the algorithms tell us that someone can be 5% sad or 10% happy, for example. 'Using computational methods to detect facial expressions from video data can be very accurate, when the videos are of high quality and represent optimal conditions – for instance, when videos are recorded in rooms with good lighting, when participants are sat face-on with the camera, and when glasses or long hair are kept from blocking the face.'" • As a WASP, I have come to accept that I don't necessarily know what my emotions are, and "an app for that" might be handy. OTOH, when I think of the ways that app could be gamed, I recoil in horror.
Class Warfare
Fair. Worth a watch (you can leave the sound down):
She has two parents, both public school teachers, and points out what they were able to afford in the 1990s.

Compared to what the typical incomes are today and the cost of housing, there is just no comparison. The massive inflation of the real estate market (hard assets)… pic.twitter.com/0dNYi53WnR

— Wall Street Silver (@WallStreetSilv) October 3, 2023
I don't know the word for what kind of bias this is ("normalcy?"). For example, my picture of "grade school" doesn't include metal detectors, shootings, or cops in the halls. But that's only because I'm an old codger, and probably, at this point, a minority. And it's very hard for me to put myself in the shoes of somebody whose, well, "lived experience" of something so seemingly quotidian as so at variance with my own.
News of the Wired
"Pythagoras: Everyone knows his famous theorem, but not who discovered it 1000 years before him" [Journal of Targeting, Measurement and Analysis for Marketing]. "The story of Pythagoras and his famous theorem is not well known. Some of the plot points of the story are presented in this article…. Pythagoras is immortally linked to the discovery and proof of a theorem that bears his name – even though there is no evidence of his discovering and/or proving the theorem. There is concrete evidence that the Pythagorean Theorem was discovered and proven by Babylonian mathematicians 1000 years before Pythagoras was born." • Neat!
* * *
Contact information for plants: Readers, feel free to contact me at lambert [UNDERSCORE] strether [DOT] corrente [AT] yahoo [DOT] com, to (a) find out how to send me a check if you are allergic to PayPal and (b) to find out how to send me images of plants. Vegetables are fine! Fungi and coral are deemed to be honorary plants! If you want your handle to appear as a credit, please place it at the start of your mail in parentheses: (thus). Otherwise, I will anonymize by using your initials. See the previous Water Cooler (with plant) here. From MT Jefe: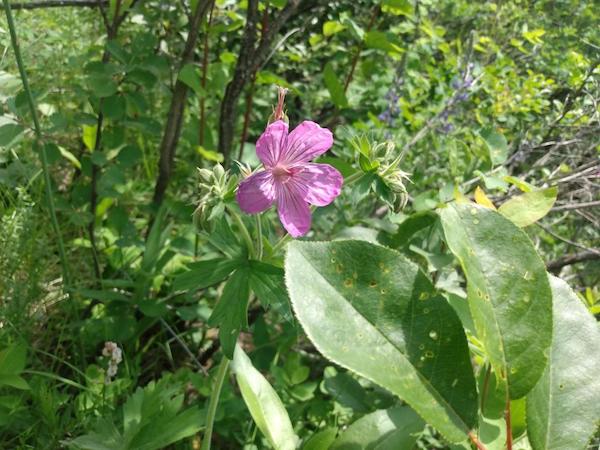 MT jefe writes: "Sticky geranium, Montana." This is a geranium?
* * *
Readers: Water Cooler is a standalone entity not covered by the annual NC fundraiser. So if you see a link you especially like, or an item you wouldn't see anywhere else, please do not hesitate to express your appreciation in tangible form. Remember, a tip jar is for tipping! Regular positive feedback both makes me feel good and lets me know I'm on the right track with coverage. When I get no donations for five or ten days I get worried. More tangibly, a constant trickle of donations helps me with expenses, and I factor in that trickle when setting fundraising goals:
Here is the screen that will appear, which I have helpfully annotated: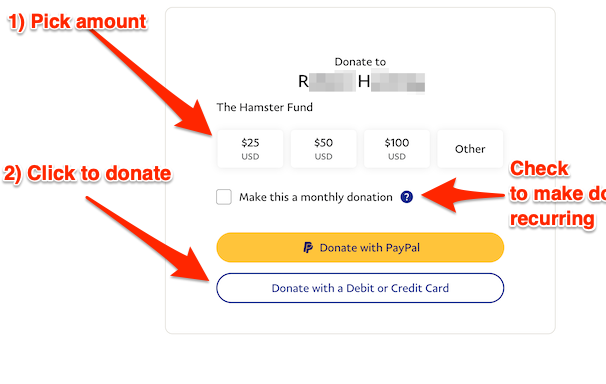 If you hate PayPal, you can email me at lambert [UNDERSCORE] strether [DOT] corrente [AT] yahoo [DOT] com, and I will give you directions on how to send a check. Thank you!