By Lambert Strether of Corrente.
Whoops, didn't quite follow the regular order, here. Bird (done) and plant (done) very shortly.
Bird Song of the Day
Black x Eastern Phoebe (hybrid), Clayton Lake SP, Union, New Mexico, United States. With, I think, airplanes.
* * *
Politics
"So many of the social reactions that strike us as psychological are in fact a rational management of symbolic capital." –Pierre Bourdieu, Classification Struggles
The Constitutional Order
"Supreme Court declines to consider longshot bid to disqualify Trump from running for president" [CNN]. "The Supreme Court said Monday that it will not take up a longshot challenge to Donald Trump's eligibility to run for president because of his alleged role in the January 6, 2021, attack on the US Capitol. The case was brought by John Anthony Castro, a little-known candidate for the Republican presidential nomination, who sued Trump earlier this year in an effort to disqualify him from running for president and holding the office 'given his alleged provision of aid or comfort to the convicted criminals and insurrectionist that violently attacked our United States Capitol on January 6, 2021.' The case was denied without any comment or recorded vote…. At least two other similar challenges to Trump's eligibility have been brought in recent weeks by groups seeking to keep the former president from returning to the Oval Office. Those cases – in Minnesota and Colorado – are far more serious legal endeavors than Castro's challenge, and they have the backing of a wide array of legal experts and constitutional scholars, though they still face long odds to prevail."

"The 14th Amendment can't save the country from Donald Trump" [Editorial Board, WaPo]. This is the editorial Luttig was so exercised about yesterday. The conclusion: "The public would be better off pursuing a more straightforward route to keeping the former president out of the Oval Office: voting." • Perhaps it would be best to leave lawfare to the spooks and their various assets in the press, and keep the Federalist Society out of it.

"Trump and the Fourteenth Amendment Gambit" [The American Conservative]. "In the developing world, the party in power does away with its opponents in one of three ways: a bullet to the face, chucking them in jail, or kicking them off the ballot. It's good to see that America is already at work on two of the three…. This use of the Fourteenth Amendment is malarkey, will not succeed, and is simply another attempt at politically decapitating Donald Trump instead of beating him at the ballot box."

"Prof. Michael McConnell, Responding About the Fourteenth Amendment, 'Insurrection,' and Trump" [Reason]. "It is not obvious that partisan officials in state governments, without specific authorization or checks and balances, should apply broad and uncertain definitions to decide who can run for office in a republic, when responsible officials with clear statutory and constitutional authority have not done so [under 18 U.S.C § 2383, which covers participation in rebellion or insurrection]." • Yes, that is why Baude and Paulsen are proposing a change in the Constitutional order (the title of this section).

* * *

"The Sweep and Force of Section Three" [William Baude and Michael Stokes Paulsen, University of Pennsylvania Law Review]. I highly recommend this piece (and the ensuing discussion at NC, starting here). As a former English major and a fan of close reading, I'm not averse to "originalism," of which Baude and Paulsen provide a magisterial example, in the sense that understanding the law as a text must begin with understanding the plain, public meaning of the words used when the text was written. That's how I read Shakespeare, or Joyce, so why not the Constitution? Just as long as understanding doesn't end there! In any case, I'm working through it. One thing I notice is that there do seem to have been rather a lot of rebellions and insurrections, not just the Civil War. To me, this is parallel to one lesson I drew from Mike Duncan's Revolutions podcast (episode 1): There are rather a lot of revolutions, too. Alert reader Pensions Guy summarizes Baude and Paulsen as follows:

The authors go through an exhaustive textual and originalism analysis of Section Three, and their Federalist Society leanings do not deter them from reaching their conclusion that officials in every State who are charged with determining candidate qualifications should conclude that Donald Trump is disqualified from being on ballots because of the oath he took on Inauguration Day 2017 and subsequently violated through his role in the insurrection that took place on January 6, 2021.

Taking "insurrection" as read (I need to do more reading), this has been more of my continuing coverage of Section Three.
Biden Administration
"Biden says that all 10 drugs targeted for the first Medicare price negotiations will participate" [Associated Press]. • Ten! My goodness!
2024
Time for the Countdown Clock!

* * *

"Judge in fraud trial imposes gag order after Trump attacks judge's aide" [Politico]. "'This morning one of the defendants posted to his social media account a disparaging, untrue and personally identifying post about a member of my staff,' said Justice Arthur Engoron, addressing Trump as he sat in the courtroom, about 15 feet from the clerk, Allison Greenfield. 'Personal attacks on members of my court staff are unacceptable, inappropriate and I will not tolerate them in any circumstances,' Engoron continued. The judge said he had warned Trump Monday 'off the record' about making such comments, but that Trump had ignored him. After Trump posted the material online Tuesday, Engoron ordered him to delete the post — and it quickly disappeared from Trump's social media site, Truth Social. 'Consider this statement a gag order forbidding all parties from posting, emailing or speaking publicly about any of my staff,' Engoron said. 'Failure to abide by this order will result in serious sanctions.'"

* * *

"Haley surpasses DeSantis in New Hampshire poll" [Politico]. "Haley beat DeSantis 19 percent to 10 percent in a Suffolk University/Boston Globe/USA TODAY survey released on Wednesday morning. But they both remain far behind the frontrunner, Donald Trump. The former president leads his Republican rivals with 49 percent support in the poll of 500 likely GOP primary voters that was conducted after the second debate and has a margin of error of plus or minus 4.4 percentage points. It comes just days before GOP candidates will flood New Hampshire next week, starting with the former president on Monday and most of the rest of the field at a weekend cattle call hosted by the state GOP. DeSantis' freefall in New Hampshire — he once led Trump in the state, back in a January poll — has opened up a real race for second place in the first-in-the-nation primary state that could energize Republicans critical of Trump. And it's Haley who's emerging from the pack as she capitalizes on rising interest in her candidacy following her standout debate performances. But Trump remains immovable atop the field."

"Trump's lame and harebrained 'Birdbrain' bullying of Nikki Haley" [New York Post]. "'Birdbrain'? That's the best Trump could do for Nikki Haley? Say what you will about the Donald's third run at the presidency, but the guy's losing his once-fearsome nicknaming powers. 'Low Energy Jeb' Bush was an instant classic, and cruelly accurate about Bush's limp public persona. … 'Crooked Hillary'? Darn right…. Sure, we first saw decline with Trump's lame 'Meatball Ron' and tin-eared 'DeSanctimonious' jabs at Florida Gov. Ron DeSantis. But the peeved-grandma tone of 'Birdbrain' proves he's slipping. Haley is anything but: calm and effective, with a sound grasp of policy. She was at least arguably the winner of the first two GOP debates, no easy task for a woman dealing with a pack of shouting men." • And then there's this:

After a day of campaigning, this is the message waiting for me outside my hotel room…#PrettyPatheticTryAgain#YouJustMadeMyCaseForMe pic.twitter.com/htbSumo58r

— Nikki Haley (@NikkiHaley) October 1, 2023

Pleasingly WWF-style, but did the Trump campaign actually claim credit for this? Is there hotel video that shows who dropped it off? (And if it was the Haley campaign, well, brass ones!)

"Report: Billionaire donates $2 million as Youngkin's PAC sets record pace" [Richmond Times-Dispatch]. "A billionaire investor reportedly has contributed $2 million to Gov. Glenn Youngkin's Spirit of Virginia PAC as big donors continue to aid the governor's record push to take control of both houses of the General Assembly. Olivia Rinaldi of CBS News was first to report that Jeff Yass, the founder of Susquehanna Investment Group, donated $2 million to Spirit of Virginia. Another billionaire, Thomas Peterffy, founder and chairman of Interactive Brokers, donated another $1 million to Youngkin's PAC on Sept. 27, bringing his total donations to the PAC to $3 million…. The big donations come in the final frenzied push for control of the House of Delegates and the state Senate. They also come as some of the GOP's major donors reportedly hold out hope that Youngkin will make a late entry into the GOP presidential contest."

"Youngkin breaks fundraising records for statehouse Republicans" [Washington Examiner]. "Fundraising is just one area in which Youngkin has succeeded and drawn attention as a possible 2024 GOP candidate. Despite media reports he wants to run, Youngkin has consistently said his top priority was giving Republicans control of Richmond and seeing his agenda passed." Not exactly a Sherman statement. More: "National Democratic consultant Simon Rosenberg, who hosted a meeting on the races last night, said, 'Things feel good there — early vote is good, polls are good, money is good, but there are lots of undecideds, and we struggled in 2021. Cannot take a single vote for granted. We just need to put our heads down, blow out the early vote, and bring this critical election home in the coming days.'"

* * *

"When the president's dog bites man, it's news" [Matt Bai, WaPo]. "if Commander were your dog or mine, and he had a habit of clamping down on police or mail carriers, how many attacks do you suppose it would have taken before the dog was removed from our custody? Two, maybe three? The answer is definitely not 11…. There's a familiar sense of entitlement in this Commander business…. After a few years of being waited on every minute of the day, [Presidents] start to see themselves as inseparable from the job. They begin to see the house as their house, rather than ours. They see the agents that protect them as furniture…. No one around the president wants to tell him that he's no longer holding himself to the standards of other people. So the aides enable, instead. They implement new 'leashing protocols' (they actually use this term), instead of saying flatly to the president: 'This is crazy, and it has to stop.'… [H]is aides shouldn't dismiss the Commander fiasco…. They should see it for the warning flare that it is." • Eleven times? That's a lot. In the Third World, I believe this is called "Big Man Syndrome." Nobody around the Big Man tells him the the truth. And that disconnect is the source of his inevitable fall.

* * *

"RFK Jr.'s super PAC preps for him to run as an Independent" [Politico]. "The poll, conducted by the firm John Zogby Strategies and commissioned by the American Values 2024 PAC, comes amid growing speculation — fueled by Kennedy himself — that he will leave the Democratic Party in the upcoming weeks…. All told, the poll shows that in a general election between Trump, Biden and a generic 'independent candidate,' the result is Trump at 40 percent, Bident at 38 percent and the independent candidate at 17 percent. In a matchup between Trump, Biden and 'Robert F. Kennedy Jr.' as the independent candidate, the result is Trump and Bide tied at 38 percent with Kennedy at 19 percent. The survey did not include Green Party candidate Cornel West. Such numbers are far more bullish on Kennedy's prospects than independent polls. The authors, however, argue that they effectively undermine Democratic gripes that Kennedy would play the role of a spoiler by helping Trump win. 'The opposite is true. Kennedy is taking more votes from Trump than from Biden,' reads a press release announcing the poll numbers."

"RFK Jr. probably won't hurt Biden. He might even help him" [Nate Silver]. "Having looked at data on dozens of third-party candidates in other races — mostly for offices like Congress and governor when building election models — I'm skeptical that they serve as spoilers as often as their critics claim. Third-party support tends to collapse down the stretch if the candidates aren't seen as viable. Johnson, for instance, polled as high as 10 percent in polling averages early in the 2016 race before falling to 5 percent in the final polling averages and then getting only 3.3 percent on Election Day. Third-party candidates typically also get less support in swing states, where voters know a protest vote could be more costly. For the sake of argument, let's say that Kennedy does prove to be a factor in 2024. Why the widespread assumption that Biden has more to lose than Trump? As my former FiveThirtyEight colleague Nathaniel Rakich has pointed out, polls fairly consistently show Kennedy with stronger favorable ratings among Republicans than Democrats." Hmm.

* * *

"Pritzker contacts White House, local officials worried about migrant crisis" [WGN]. "As Chicago's humanitarian crisis escalates, Governor JB Pritzker and Mayor Brandon Johnson warned the White House the situation is becoming untenable. According to Pritzker, he received correspondence from the White House Tuesday, 24 hours after delivering a message to the White House on the migrant situation in Chicago, where City officials are expecting as many as 25 busloads of asylum seekers to arrive each day. 'I have spoken to the White House since even over the weekend and the letter to make sure that they heard us and that they want to be responsive,' Pritzker said. 'And they've said that they want to be responsive to those things.' Pritzker is asking for a point person to coordinate federal help for migrants, temporary protected status application fees to be waived, and employment authorization for Venezuelans. He said he is also seeking Medicaid waivers and housing vouchers for new arrivals in the City. As of Tuesday morning, 9,827 migrants were in Chicago shelters, with another 3,012 awaiting placement. In all, more than 17,000 migrants have arrived in the City since the first busload arrived in August of last year… Texas Governor Greg Abbott has vowed to send even more migrants to Chicago as winter months approach as well, applying even more pressure on City and state officials to coordinate resources to accommodate new arrivals." • First daylight between Biden and Pritzker?

"Biden border policies under fire from another blue state governor" [FOX]. "The Democratic governor of Illinois this week blamed President Biden for creating an "untenable situation" in his state by failing to address the national migrant crisis. Gov. J.B. Pritzker joined a growing number of Democrats who have criticized Biden's border policies when he sent a letter to the president on Monday with a list of demands outlining how the federal government's response to the border crisis is inadequate. Pritzker complained that more than 15,000 migrants have been shipped 'like cargo' to Illinois from border states 'in a dehumanizing attempt to score political points.' While Illinois Democrats welcome migrants — — Pritzker wrote that the number of migrant arrivals is 'overwhelming our ability to provide aid to the refugee population.' 'Unfortunately, the welcome and aid Illinois has been providing to these asylum seekers has not been matched with support by the federal government. Most critically, the government's lack of intervention and coordination at the border has created an untenable situation for Illinois,' the letter states." • If one must moralize about being "a sanctuary city," why is there a border at all?

* * *

"Victor Davis Hanson: The Next 12-18 Months Will Be The Most Explosive Since The Great Depression" [RealClearPolitics]. An interview with Tucker Carlson: "[CARLSON:] All bets are off! It's like putting all sorts of ingredients of explosives into a kind of device and it is going to blow up I think, somehow. But I don't think we can predict what is going to happen, it is just too volatile. I think the left feels that they want to push the envelope, they want to take the leading Republican candidate and create charges against him, which they know they wouldn't ever lodge if he hadn't run for president. They would have left him alone." • In the volatility v. stability framing for 2024, Hansen is for volatility. I am with Hansen, a strange place for me to be, but it's a strange time.
2020 Post Mortem
"The Georgia Fake Electors Scheme: What Does Legal and Political History Tell Us About These Charges?" [Federalist Society]. "Fake" electors? Or "contingent" electors? Worth a read but so detailed I can't excerpt it properly. "On December 7, [Secretary of State Brad Raffensperger] announced that the recount had narrowed the differential to 11,779 votes (a 0.24% margin) but had not changed the outcome. Governor Brian Kemp again certified the results, and he and then-Lieutenant Governor Geoff Duncan issued a statement acknowledging that Trump's legal challenge remained a 'viable—and quickest—option' for contesting the outcome. On December 9, the court issued an order saying that it would consider Trump's legal challenge 'in the normal course.' This posed a dilemma since electors had to gather together and cast their votes on votes on December 14, in accordance with a federal law (3 U.S.C. § 7) which requires that presidential electors 'of each State shall meet and give their votes on the first Tuesday after the second Wednesday in December' at the location designated by each state. If the 16 Trump electors did not show up and vote that day and Trump ultimately prevailed in his legal challenge, he would have had no remedy, not only depriving him of the 16 electoral votes to which he would be entitled as a matter of law, but also depriving Georgia of the opportunity of having its 16 electoral votes count at all. There is also no question that had Trump actually prevailed in his legal challenge, he would have been entitled to Georgia's 16 electoral college votes, notwithstanding the fact that Governor Brian Kemp had previously certified the Biden-Harris ticket as the winner. Georgia law explicitly provides [for this] (in Section 21-2-503(a) of the Official Code of Georgia)." • Hawaii 1960 is cited as a precedent for a good-faith case of "contingent electors" (a precedent which Fulton County District Attorney Fani Willis did not follow).

"Another resident from The Villages accused of 2020 election voter fraud" [Click Orlando]. "A 58-year-old man is the latest resident from The Villages to be accused of fraud related to the 2020 elections. Robert Rivernider was arrested Friday in Sumter County on charges of fraud in connection with casting a vote and forgery of a public record…. Rivernider is accused of signing a vote-by-mail ballot for his father in 2020. Keen said the ballot was signed and dated Oct. 16, 2020, but postmarked on Oct. 23, 2020…. Several residents from The Villages have faced charges in the last few years for voter fraud related to the 2020 election. News 6 has reported that at least four Villages residents were charged with voting twice in the election. All of them entered into a pre-trial intervention program to avoid potential prison time." • Not numerically significant (voter fraud, not election fraud) but the "iconic" retirement community certainly is lively!
Democrats en Déshabillé
Patient readers, it seems that people are actually reading the back-dated post! But I have not updated it, and there are many updates. So I will have to do that. –lambert

I have moved my standing remarks on the Democrat Party ("the Democrat Party is a rotting corpse that can't bury itself") to a separate, back-dated post, to which I will periodically add material, summarizing the addition here in a "live" Water Cooler. (Hopefully, some Bourdieu.) It turns out that defining the Democrat Party is, in fact, a hard problem. I do think the paragraph that follows is on point all the way back to 2016, if not before:

The Democrat Party is the political expression of the class power of PMC, their base (lucidly explained by Thomas Frank in Listen, Liberal!). ; if the Democrat Party did not exist, the PMC would have to invent it. . ("PMC" modulo "class expatriates," of course.) Second, all the working parts of the Party reinforce each other. Leave aside characterizing the relationships between elements of the Party (ka-ching, but not entirely) those elements comprise a network — a Flex Net? An iron octagon? — of funders, vendors, apparatchiks, electeds, NGOs, and miscellaneous mercenaries, with assets in the press and the intelligence community.

Note, of course, that the class power of the PMC both expresses and is limited by other classes; oligarchs and American gentry (see 'industrial model' of Ferguson, Jorgensen, and Jie) and the working class spring to mind. Suck up, kick down.

* * *

"Hillary Clinton on supporting Ukraine as Putin aims to undermine democracy" [PBS]. "[CLINTON:] And I'm for [Biden/Harris] on the merits, but I'm also for them because the alternative is so dark and dystopian, to undermine the rule of law, to destroy our institutions, to pull us out of NATO, doing Putin's bidding, to be unwilling to stand up for the real American values, to put one person above the country. None of that is American. So, I think that Biden/Harris deserves to be reelected." I like "Biden/Harris" in the third person, singular." Fan service from PBS. And: "Former Secretary of State Hillary Clinton is once again Professor Hillary Clinton, as a professor of practice at Columbia University's newly launched Institute of Global Politics." Oh, good.
Realignment and Legitimacy
"The Open Plot to Dismantle the Federal Government" [The Atlantic]. "As he runs again for a second term, Trump is vowing to 'dismantle the deep state' and ensure that the government he would inherit aligns with his vision for the country. Unlike during his 2016 campaign, however, Trump and his supporters on the right—including several former high-ranking members of his administration—have developed detailed proposals for executing this plan. Immediately upon his inauguration in January 2025, they would seek to convert thousands of career employees into appointees fireable at will by the president. They would assert full White House control over agencies, including the Department of Justice, that for decades have operated as either fully or partially independent government departments. Trump's nearest rivals for the Republican nomination have matched and even exceeded his zeal for gutting the federal government. The businessman Vivek Ramaswamy has vowed to fire as much as 75 percent of the workforce. And Florida Governor Ron DeSantis promised a New Hampshire crowd last month, 'We're going to start slitting throats on day one.' These plans, as well as the vicious rhetoric directed toward federal employees, have alarmed a cadre of former government officials from both parties who have made it their mission to promote and protect the nonpartisan civil service. They proudly endorse the idea that the government should be composed largely [doing a lot of work, there] of experienced, nonpolitical employees." • Here we see the destructive power of the term "deep state," orginating with liberals and, like so many others, repurposed by conservatives (see, e.g., "fake news"). It's clear that Trump's governing class enemies were concentrated in the intelligence community and the national security bureaucracy generally (for which I prefer the term "The Blob," which is quite often not "deep" at all, but right out in the open). However, because "deep state" is both such a terrific earworm and so vague, conservatives have repurposed it to target the civil service and government generally. Trump's opponents make the same error; they don't separate the "civil service" from "The Blob," as they should. What a mess.
#COVID19
"I am in earnest — I will not equivocate — I will not excuse — I will not retreat a single inch — AND I WILL BE HEARD." –William Lloyd Garrison
Resources, United States (National): Transmission (CDC); Wastewater (CDC, Biobot; includes many counties; Wastewater Scan, includes drilldown by zip); Variants (CDC; Walgreens); "Iowa COVID-19 Tracker" (in IA, but national data). "Infection Control, Emergency Management, Safety, and General Thoughts" (especially on hospitalization by city).
Lambert here: Readers, thanks for the collective effort. To update any entry, do feel free to contact me at the address given with the plants. Please put "COVID" in the subject line. Thank you!
Resources, United States (Local): AK (dashboard); AL (dashboard); AR (dashboard); AZ (dashboard); CA (dashboard; Marin, dashboard; Stanford, wastewater; Oakland, wastewater); CO (dashboard; wastewater); CT (dashboard); DE (dashboard); FL (wastewater); GA (wastewater); HI (dashboard); IA (wastewater reports); ID (dashboard, Boise; dashboard, wastewater, Central Idaho; wastewater, Coeur d'Alene; dashboard, Spokane County); IL (wastewater); IN (dashboard); KS (dashboard; wastewater, Lawrence); KY (dashboard, Louisville); LA (dashboard); MA (wastewater); MD (dashboard); ME (dashboard); MI (wastewater; wastewater); MN (dashboard); MO (wastewater); MS (dashboard); MT (dashboard); NC (dashboard); ND (dashboard; wastewater); NE (dashboard); NH (wastewater); NJ (dashboard); NM (dashboard); NV (dashboard; wastewater, Southern NV); NY (dashboard); OH (dashboard); OK (dashboard); OR (dashboard); PA (dashboard); RI (dashboard); SC (dashboard); SD (dashboard); TN (dashboard); TX (dashboard); UT (wastewater); VA (dashboard); VT (dashboard); WA (dashboard; dashboard); WI (wastewater); WV (wastewater); WY (wastewater).
Resources, Canada (National): Wastewater (Government of Canada).
Resources, Canada (Provincial): ON (wastewater); QC (les eaux usées); BC, Vancouver (wastewater).
Hat tips to helpful readers: anon (2), Art_DogCT, B24S, CanCyn, ChiGal, Chuck L, Festoonic, FM, FreeMarketApologist (4), Gumbo, hop2it, JB, JEHR, JF, JL Joe, John, JM (10), JustAnotherVolunteer, JW, KatieBird, LL, Michael King, KF, LaRuse, mrsyk, MT, MT_Wild, otisyves, Petal (6), RK (2), RL, RM, Rod, square coats (11), tennesseewaltzer, Utah, Bob White (3).
Stay safe out there!
* * *
Vaccines
"New Novavax COVID-19 vaccine authorized, available 'in the coming days'" [Boing Boing]. "If, like me, you've been waiting for the new, updated single-strain, XBB.1.5-focused Novavax COVID-19 vaccine, today brought some great news for folks living in the United States—the vaccine received Emergency Use Authorization from the FDA and is now included in the CDC's vaccine recommendations." "XBB.1.5-focused" — that is, a "new, improved formula" — is the lay translation of "monovalent." More: "The Novavax vaccine is a protein-based alternative to Pfizer and Moderna's mRNA vaccines. It also includes an adjuvant—a substance added to a vaccine that boosts the body's immune reaction—called "Matrix-M." Matrix-M is created from saponins harvested from the inner bark of the Chilean soapbark tree." • Very, very pleased to see an mRNA alternative, which it took our regulators a rediculously long time to approve.

"CDC is no longer distributing Covid-19 vaccination cards, once a staple of the pandemic" [CNN]. "The US Centers for Disease Control and Prevention is no longer distributing the white cards that were given out with Covid-19 vaccines earlier in the pandemic, according to the agency's website…. 'Your state's IIS cannot issue you a vaccination card, but they can provide a digital or paper copy of your full vaccination record, including your COVID-19 vaccinations,' the agency says…. But major pharmacy chains say you don't need your old card to get the newly updated vaccines."
Censorship and Propaganda
Annals of Denial:

Even if you're not high-risk, some of you realize that these unmasked, huge events carry risk. A whole lot of people have been getting C0VID this past month, and more will do so in the winter. You'd think SOME admission of this fact would be within the Overton Window…

— J. P. Gownder (கவுண்டர்) (@jgownder) October 2, 2023

Interestingly, the account is VP analyst at Forrester, Cambridge, MA.
Scientific Communication
"How do you do, fellow kids?" (IM Doc):

Getting your flu shot this season is so fetch. https://t.co/WXjuAIOgmr

— Mandy K. Cohen, MD, MPH (@CDCDirector) October 4, 2023

"Stop trying to make fetch happen" (Mean Girls. 2004).
"Something Awful"
Lambert here: I'm getting the feeling that the "Something Awful" might be a sawtooth pattern — variant after variant — that averages out to a permanently high plateau. Lots of exceptionally nasty sequelae, most likely deriving from immune dysregulation (says this layperson). To which we might add brain damage, including personality changes therefrom.

* * *
The Jackpot
"Years of life lost to COVID-19 in 49 countries: A gender- and life cycle-based analysis of the first two years of the pandemic" [PLOS Global Public Health]. "Between January 2020 and December 2021, we found that over 85,649,579 years of life have been lost to COVID-19 among the 49 selected countries, among which 2,724,463 deaths were caused by the disease. While most of the [Years of life lost (YLL)] occurred on the American continent, after adjusting for population two central European countries were found to be in the top five with the highest rate of YLL (Hungary and Czechia). Our study offers two key results worth discussing: i. we did not find systematic differences in YLL rates by gender, but we did find differences by life cycle, and ii. that enables producing evidence-based and actionable insights for decision-making in public health when facing future pandemics." Or not! More: "In this study, we observed that deaths from COVID-19 in young people were few (globally, 2.96% of all YLL have been attributed to deaths of individuals between 0 and 26 years), and even when they would be expected to contribute the most YLL at the individual level, it was the older adults who had both the highest absolute number of deaths and YLL combined (50.01%)."
* * *
Lambert here: Back to tape-watching mode. It still looks to me like the current surge has some ways to run, given how wastewater flattened, with the East Coast up. Let's wait and see.
Case Data
NOT UPDATED From BioBot wastewater data, October 2:
Lambert here: Leveling out to a high plateau wasn't on my Bingo card! Perhaps FL.1.5.1, high in the Northeast, has something going for it that other variants don't have?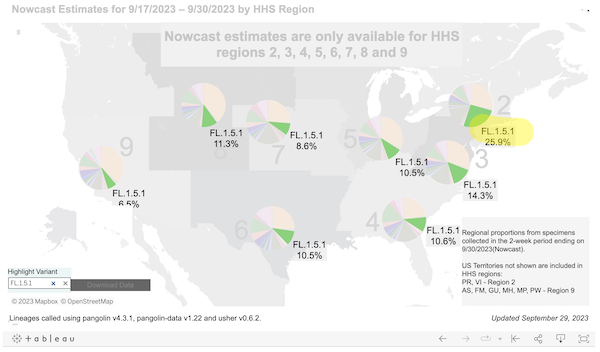 Regional data: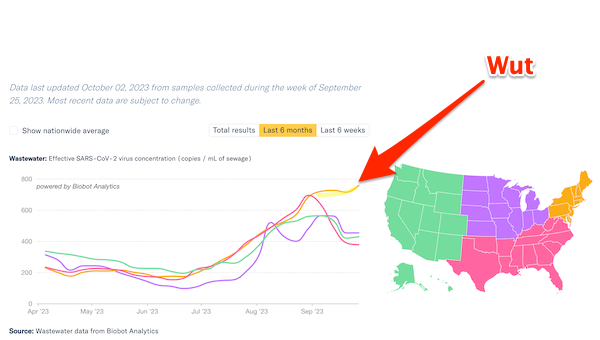 Interestingly, the upswing begins before July 4, which neither accelerates nor retards it.
Variants
NOT UPDATED From CDC, September 30: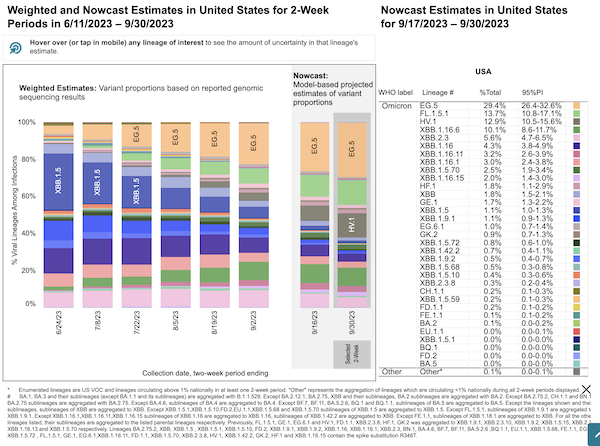 Lambert here: September 30 is tomorrow, but never mind that. Top of the leaderboard: EG.5 ("Eris"), with FL.1.15.1, HV.1, and XBB.1.1.16.6 trailing. Still a Bouillabaisse…
From CDC, September 16: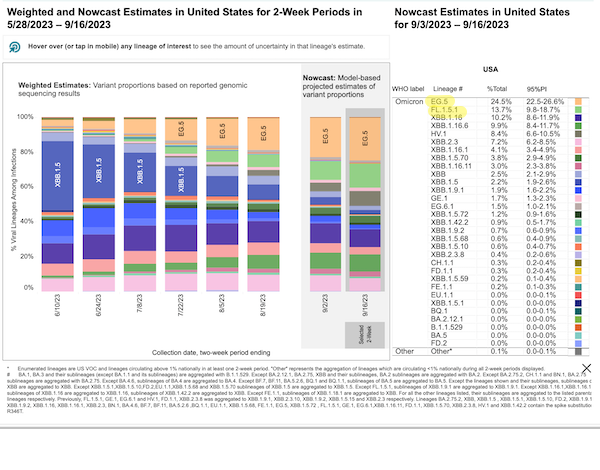 Lambert here: I sure hope the volunteers doing Pangolin, on which this chart depends, don't all move on the green fields and pastures new (or have their access to facilities cut by administrators of ill intent).
CDC: "As of May 11, genomic surveillance data will be reported biweekly, based on the availability of positive test specimens." "Biweeekly: 1. occurring every two weeks. 2. occurring twice a week; semiweekly." Looks like CDC has chosen sense #1. In essence, they're telling us variants are nothing to worry about. Time will tell.
Covid Emergency Room Visits
From CDC NCIRD Surveillance, September 30: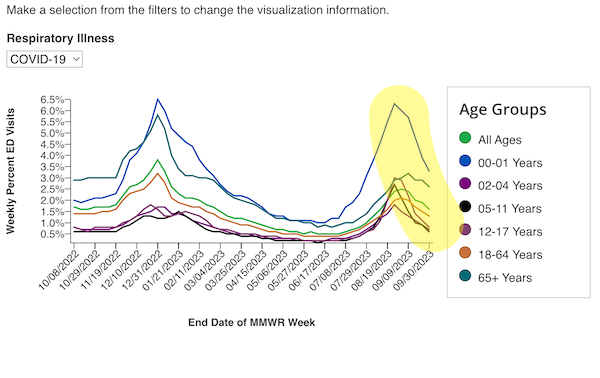 Drop coinciding with wastewater drop.
NOTE "Charts and data provided by CDC, updates Wednesday by 8am. For the past year, using a rolling 52-week period." So not the entire pandemic, FFS (the implicit message here being that Covid is "just like the flu," which is why the seasonal "rolling 52-week period" is appropriate for bothMR SUBLIMINAL I hate these people so much. Notice also that this chart shows, at least for its time period, that Covid is not seasonal, even though CDC is trying to get us to believe that it is, presumably so they can piggyback on the existing institutional apparatus for injections.
Hospitalization
Bellwether New York City, data as of October 3: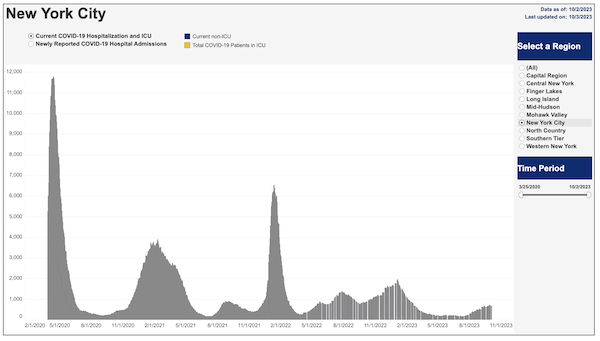 Levelling off again. (New York state is steadily rising, but it's New York City that's the bellwether.) I hate this metric because the lag makes it deceptive.
NOT UPDATED Here's a different CDC visualization on hospitalization, nationwide, not by state, but with a date, at least. September 23: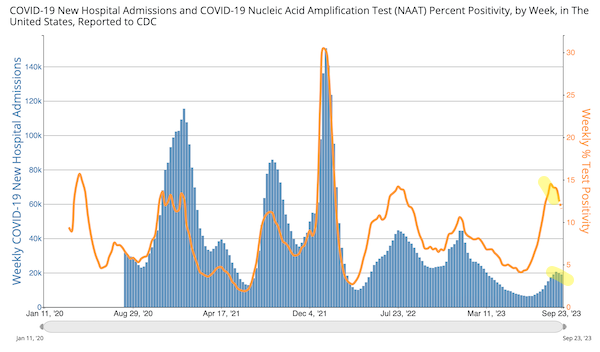 Lambert here: "Maps, charts, and data provided by CDC, updates weekly for the previous MMWR week (Sunday-Saturday) on Thursdays (Deaths, Emergency Department Visits, Test Positivity) and weekly the following Mondays (Hospitalizations) by 8 pm ET†". So where the heck is the update, CDC?
Positivity
NOT UPDATED From Walgreens, October 2: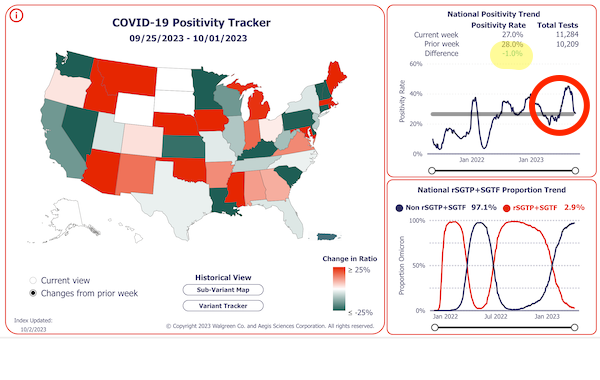 -1.0%. Another big drop. (It would be interesting to survey this population generally; these are people who, despite a tsunami of official propaganda and enormous peer pressure, went and got tested anyhow.)
NOT UPDATED From Cleveland Clinic, September 23: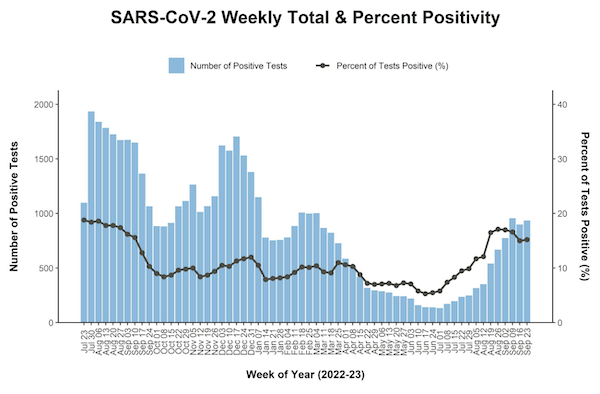 Lambert here: I know this is just Ohio, but the Cleveland Clinic is good*, and we're starved for data, so…. NOTE * Even if hospital infection control is trying to kill patients by eliminating universal masking with N95s.
NOT UPDATED From CDC, traveler's data, September 11: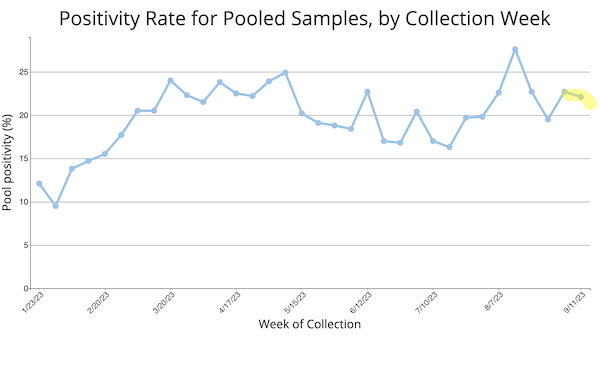 Back up again And here are the variants for travelers: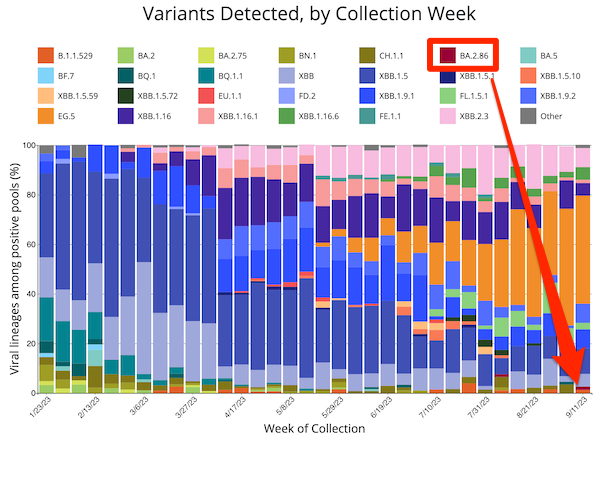 Now, BA.2.86. FL.1.51.1, interestingly, low.
Deaths
NOT UPDATED Iowa COVID-19 Tracker, September 27: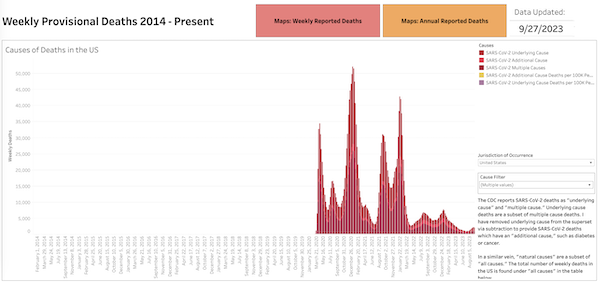 Lambert here: The WHO data is worthless, so I replaced it with the Iowa Covid Data Tracker. Their method: "These data have been sourced, via the API from the CDC: https://data.cdc.gov/NCHS/Conditions-Contributing-to-COVID-19-Deaths-by-Stat/hk9y-quqm. This visualization updates on Wednesday evenings. Data are provisional and are adjusted weekly by the CDC." I can't seem to get a pop-up that shows a total of the three causes (top right). Readers?
Total: 1,177,856 – 1,177,793 = 63 (63 * 365 = 22,995 deaths per year, today's YouGenicist™ number for "living with" Covid (quite a bit higher than the minimizers would like, though they can talk themselves into anything. If the YouGenicist™ metric keeps chugging along like this, I may just have to decide this is what the powers-that-be consider "mission accomplished" for this particular tranche of death and disease). 
Excess Deaths
The Economist, October 4: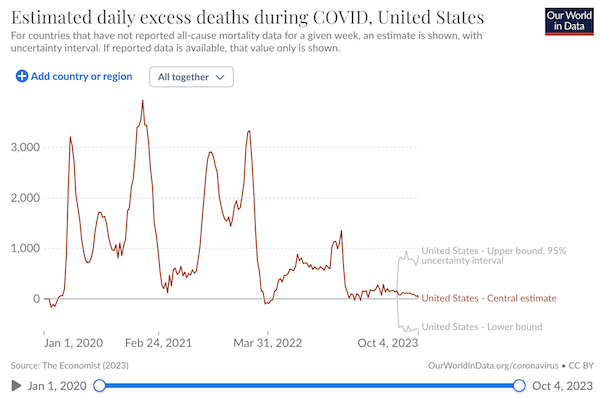 Lambert here: This is now being updated daily again. Odd. Based on a machine-learning model.
Stats Watch
Employment Situation: "United States ADP Employment Change" [Trading Economics]. "Private businesses in the US hired 89K workers in September 2023, the least since January 2021 when private employers shed jobs, and well below market forecasts of 153K. It follows a revised 180K increase in August, compared to an initial 177K."
Manufacturing: "United States Factory Orders" [Trading Economics]. "New orders for manufactured goods in the US increased by 1.2 percent from the previous month to $586.1 million in August 2023, more than market expectations of a 0.2 percent rise and after a 2.1 percent decline."
Services: "United States ISM Services PMI" [Trading Economics]. "The ISM Services PMI eased to 53.6 in September of 2023 from the six-month high of 54.5 in the previous month, in line with market expectations. The result pointed to the ninth consecutive expansion for service sector activity to mark 39 periods of growth from the last 40, consolidating the strong momentum for the sector despite the aggressive tightening campaign from the Federal Reserve."
* * *
The Bezzle:
Sam Bankman Fried's greatest accomplishment is exposing Michael Lewis. https://t.co/Zzudq7lvHT

— Matt Stoller (@matthewstoller) October 3, 2023
Burn! See Yves on Michael Lewis here and here (yes, we have a long memory here at NC).
* * *
Today's Fear & Greed Index: 19 Extreme Fear (previous close: 17 Extreme Fear) [CNN]. One week ago: 23 (Extreme Fear). (0 is Extreme Fear; 100 is Extreme Greed). Last updated Oct 4 at 1:53:11 PM ET.
The Gallery
"A Top Antiquities Sleuth Has Called Out the Manhattan D.A. For Continually Passing His Work Off As Its Own" [Artnet]. "By most measures, the antiquities trafficking unit has been a resounding success since its launch by the Manhattan district attorney's office in 2017…. In total, the unit has recovered more than 4,500 antiquities stolen from 30 countries with a value in excess of $410 million. It's most recent coup, however—the return to Lebanon of two 4th century C.E. marble statuettes—has prompted a Cambridge-based archaeologist to accuse the unit of misusing intellectual property and failing to provide proper accreditation. Christos Tsirogiannis, a forensic archeologist and expert in how antiquities are looted and trafficked, claims the unit has been passing off his academic research as its own and has ignored multiple requests to credit him in official announcements. In an accusation first published in The Guardian, Tsirogiannis says he has been helping the unit to recover and repatriate ancient objects for the past five years pro bono. Tsirogiannis said his patience ran out following the unit's September 7 announcement concerning the statuettes, because it directly involved research from his 2012 PhD thesis."
Zeitgeist Watch
"Trauma is Indeed Like a Car Crash" [Freddie DeBoer]. "Suppose you get injured in a car accident and suffer some sort of serious but not life-threatening injuries. Your body will have undergone trauma, in the old school physical sense – the sense from which we get the concept of the trauma center. What would you do? The sensible course of action would be to seek professional medical care. You would not, I hope, set about to learn how to treat that trauma from TikTok, while sitting in the burning car. You wouldn't expect Discord to diagnose you accurately. You wouldn't buy a workbook on recovering from a car accident put together by someone with dubious credentials… None of this is similar to the approach common to the recent obsessive pop-psychology interest in "trauma," the use of which has become a form of currency among impressionable people. That kind of trauma is seen as permanent and existential… This is despite the fact that all of the research tells us that most people get over psychological traumas and often fairly quickly. And thank god! That's exactly what we should want…. Today, people perform trauma. They perform trauma because they're rewarded for doing so with attention and sympathy. The desire to get those things is natural; the incentive structure that produces that behavior is toxic. The social assumptions that once pushed people to valorize being healthy, which we now often dismiss as "stigma," have no purchase in online communities like TikTok, Tumblr, or Instagram. What has great purchase is presenting a comprehensible identity to others, a vision of a self made legible by some simplistic and overarching factor."
Groves of Academe
"Academic bystanders and Sold a Story" [Crooked Timber]. "If you haven't yet listened to Emily Hanford's Sold a Story, you probably should, now. It's brilliant, if profoundly depressing. Very brief synopsis: the methods routinely used to teach children to read in the US don't work well for large numbers of children, and the science of reading has been clear about this for decades. Three academics in particular — Lucy Calkins of Teachers College, and Irene Fountas and Gay Su Pinnell of the Ohio State University — are responsible for promoting these bad practices (which are pervasive), and persisted in doing so long after the research was clear, and have gotten very rich (by the standards of academics) from the curriculum sales/speaking circuit…. [T]here is, as in many professions, a very stringent norm of not rocking the boat. This is, in general, a good norm, because academia has more than its share of cranks, more than its share of arrogant shits, and, not coincidentally, more than its share of arrogant shit cranks. (I say more than its share: a higher proportion, anyway, than I encountered in the office furniture moving business, though maybe that field just had less than its share). So: norms that dis-embolden such people have their place. But: in this case, the science of reading has been so clear, for so long, and the practices that Calkins, Fountas and Pinnell peddle have been so damaging, that it might sensibly have been worth overcoming the norm."
Class Warfare
"Labor Market Not Yet Working for Workers" [American Compass]. "The Bureau of Labor Statistics reports monthly on the number of jobs in the economy, but ." Odd. More: "American Compass created the definition of a "secure job," intended to represent a minimum threshold for a worker to attain economic security and support a family. A secure job is one that pays at least $40,000 per year, includes health insurance and paid time off, and offers predictable earnings and a regular or controllable schedule… Most jobs fulfill any one of these criteria, but only 40% fulfill them all….. These figures place in context the lament from employers that they cannot find enough workers, purportedly even after sweetening their offers. Have they tried offering the bare minimum that might provide an American worker with security? Apparently, for most, the answer is no. The problem becomes more pronounced when bifurcating the market by education level. Among workers holding at least a bachelor's degree, 55% hold secure jobs. For those with less than a bachelor's degree, 30% hold secure jobs." Handy chart: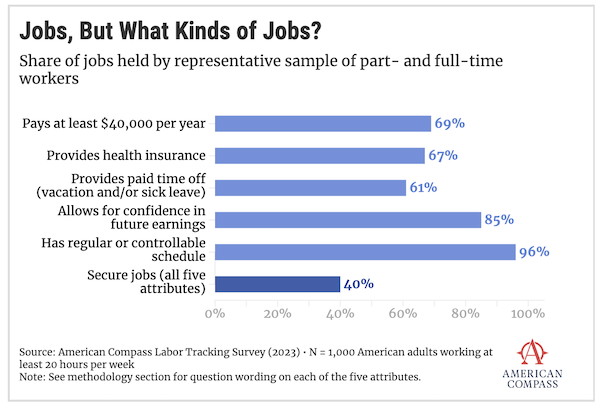 "The role of socio-economic disparities in the relative success of SARS-CoV-2 variants in New York City in early 2021" [medRxiv]. From the Conclusion: "Our study was able to elucidate how various factors, including geographic variability in seropositivity, a symptom of inequities associated with socio-demographic factors in 2020, affected the competition dynamic between two co-existing viral lineages. Such analyses would not be possible in the post-Omicron era when multiple consecutive waves are dominated by variants with similar properties and where the majority of the population have a mixture of acquired natural and/or vaccine-induced immunity (29). By focusing on the time preceding the emergence of the Delta and Omicron variants, we show that the consequences of socioeconomic disparities in an outbreak can have a ripple effect that can last into subsequent outbreaks, providing an important lesson for future epidemic preparedness and mitigation efforts."
"Talking sh*t" [Verso]. This is a fun but wandering piece, worth reading and filing away. This caught my eye: "Karl Marx also had a view on such matters. 'By means of an artificially hidden sewer system, all the lavatories of London spew their physical filth into the River Thames,' he wrote. Actually, he was attacking a certain right-wing newspaper that we all love to hate. He continued: 'By means of the systematic pushing of goose quills, the world capital spews out all its social filth into the great papered central sewer called the Daily Telegraph.' Less metaphorically, in later life he was interested in what John Bellamy Foster calls the 'metabolic rift' – the realisation that soil fertility is not a natural given, but is determined by over-exploitation, particularly under capitalism. Exhausted soils need replenishing. Marx was interested in the writings of the chemist and agronomist Justus von Liebig (known as the 'father of fertiliser'). Perhaps all the sh*t that was pumped into London's rivers could have been better used as natural fertiliser for the land…. [S]hit in a bucket and return it to the farmer to fertilise the land…. Is the idea so outrageous? As is very thoroughly attested, Chinese farmers have been doing this for millennia."
News of the Wired
"Among the Cabin Fanatics of Mississippi's Giant Houseparty" [The New Yorker]. "The Neshoba County Fair calls itself Mississippi's Giant Houseparty, because every year the same families return to five hundred and ninety-seven individually owned, festively painted cabins there. For a week at the end of July, even many who live nearby move to the fairgrounds, creating an instant community of twenty thousand people, three times larger than the population of the county seat, Philadelphia. The fair, founded in the late eighteen-hundreds in the remote east-central part of the state, has survived two World Wars, the Great Depression, and the coronavirus pandemic because the cabin owners could not bear to give it up. After spraying for bugs, touching up the paint, hanging porch swings, washing linens, changing light bulbs, making beds, and stocking refrigerators (some cabins have four), the families hold the equivalent of Thanksgiving—seven times. There are food hangovers, and hangover hangovers, and children everywhere, only nobody goes home." • It sounds like a down-market Burning Man. But wowsers, does that ", antlike, " pack a punch.
* * *
Contact information for plants: Readers, feel free to contact me at lambert [UNDERSCORE] strether [DOT] corrente [AT] yahoo [DOT] com, to (a) find out how to send me a check if you are allergic to PayPal and (b) to find out how to send me images of plants. Vegetables are fine! Fungi and coral are deemed to be honorary plants! If you want your handle to appear as a credit, please place it at the start of your mail in parentheses: (thus). Otherwise, I will anonymize by using your initials. See the previous Water Cooler (with plant) here. From SC: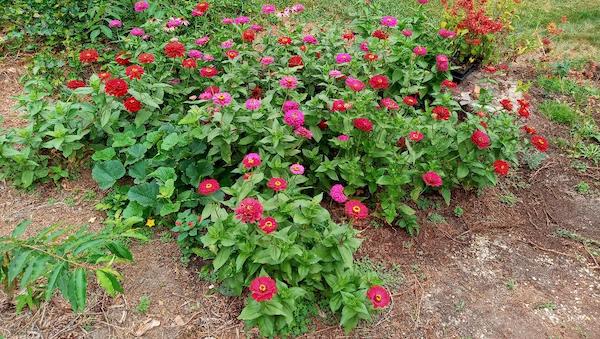 SC writes:
It has been about a year since I last sent an update on my garden projects. My "point and shoot" refurbed Nikon L18 camera stopped communicating with its USB port, which put a damper on documentation. Recently I sorted out how to get images off a cheap smartphone that I reluctantly acquired after the
service to my flip-phone was discontinued. Here is a "first this year" report that may be of interest to gardening-minded readers.

Here's a decorative project I undertook to improve the appearance of a "scar" left by the removal of some trees that were leaning alarmingly. It got off to a very late start (first plants installed in early July; date of photo is late August), but has done better than expected in the hot weather.

The main subject is a mixed planting of Zinnias with some Scarlet Sage and four perennials, Purple Coneflower, Rose Campion, Cardinal Flower and Creeping Thyme. The Zinnias overshadow everything, though one can see some coneflowers poking above the "canopy" at the back. To the right of the stump, on which is sitting a tray of "waiting to be planted" Scarlet Sage, is a 2nd bed with no Zinnias; there are more Scarlet Sage, and Cardinal Flower, along with Lavender and perennial Chamomile.

The Zinnia-heavy patch was planted in early July, not optimal in view of the heat and dryness, but the Zinnias tolerated the conditions and overshadowed the other plants, protecting them while they were getting established. I expect that the perennials will survive and come back strong in 2024.

The Creeping Thyme and Chamomile will hopefully spread and function as ground cover, through which in future the other perennials will grow and into which annuals can be planted.

Everything was started from seed; Zinnia, Hidcote Lavender, Roman Chamomile, and Creeping Thyme (Margic Carpet) came from Outside Pride, Cardinal Flower from Prairie Moon Nursery, Scarlet Sage (Vista Red) from Park Seed; the Rose Campion and Coneflowers were from saved seed. The Rose Campion, Coneflower, Lavender, and Cardinal Flower seed were sown in trays in late 2022 and left outside over the Winter to cold treat them. Cold-treatment
is necessary for the Hidcote Lavender to germinate and is helpful for the others.

In bright sunlight, the Zinnias are really vivid, one gets the impression that they are fluorescing. The OP product is "Merlot Mix". I cannot recommend this mix highly enough; it is gorgeous and Zinnias are so, so easy to start from seed.

A final, amusing, note is that at left of, and a little below, center one can discern squash-shaped leaves and a small yellow blossom. This is a volunteer that appeared in mid-July. It is a vine-style squash/melon and has been spreading into the rest of the patch; I've been pinching off the runners to contain it. It's not clear to me what variety this is, but it might be descended from the Korean Melon I last grew in 2020 or 2021, though the fruit striping is not quite what I recall; maybe it has hybridized, or the original plant was itself a hybrid and the descendants differ from it.

This is the first serious decorative bed I have undertaken in my own yard, and the results are so nice that I will definitely do this again in future.
I stan for zinnias!
* * *
Readers: Water Cooler is a standalone entity not covered by the annual NC fundraiser. So if you see a link you especially like, or an item you wouldn't see anywhere else, please do not hesitate to express your appreciation in tangible form. Remember, a tip jar is for tipping! Regular positive feedback both makes me feel good and lets me know I'm on the right track with coverage. When I get no donations for five or ten days I get worried. More tangibly, a constant trickle of donations helps me with expenses, and I factor in that trickle when setting fundraising goals:
Here is the screen that will appear, which I have helpfully annotated: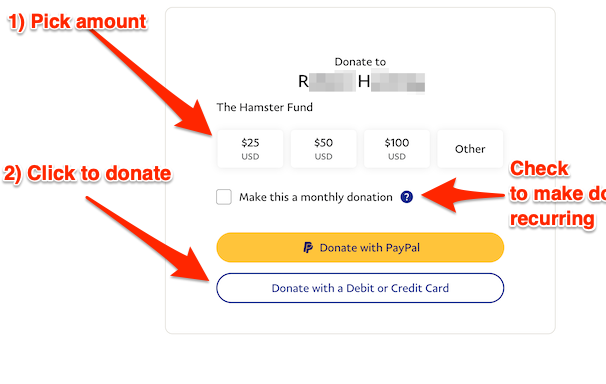 If you hate PayPal, you can email me at lambert [UNDERSCORE] strether [DOT] corrente [AT] yahoo [DOT] com, and I will give you directions on how to send a check. Thank you!