By Lambert Strether of Corrente.
Bird Song of the Day
Say's Phoebe, Mount Falcon Park, Morrison Trailhead, Jefferson, Colorado, United States.
* * *
Politics
"So many of the social reactions that strike us as psychological are in fact a rational management of symbolic capital." –Pierre Bourdieu, Classification Struggles
The Constitutional Order
"Former federal judge rips Washington Post over 14th Amendment editorial" [The Hill]. "Former federal judge Michael Luttig ripped The Washington Post's Monday op-ed against invoking the 14th Amendment to disqualify former President Trump from the 2024 election, calling it "perhaps the most journalistically incompetent and irresponsible" piece he has ever read on the U.S. Constitution." • Here is Luttig's tweet storm:

I apology for the length of this rejoinder. A "Letter to the Editor" seemed futile for the needs and purposes of this tweet. Thank goodness for Twitter!

— @judgeluttig (@judgeluttig) October 2, 2023




* * *

"The Sweep and Force of Section Three" [William Baude and Michael Stokes Paulsen, University of Pennsylvania Law Review]. I highly recommend this piece (and the ensuing discussion at NC, starting here). As a former English major and a fan of close reading, I'm not averse to "originalism," of which Baude and Paulsen provide a magisterial example, in the sense that understanding the law as a text must begin with understanding the plain, public meaning of the words used when the text was written. That's how I read Shakespeare, or Joyce, so why not the Constitution? Just as long as understanding doesn't end there! In any case, I'm working through it. One thing I notice is that there do seem to have been rather a lot of rebellions and insurrections, not just the Civil War. To me, this is parallel to one lesson I drew from Mike Duncan's Revolutions podcast (episode 1): There are rather a lot of revolutions, too. Alert reader Pensions Guy summarizes Baude and Paulsen as follows:

The authors go through an exhaustive textual and originalism analysis of Section Three, and their Federalist Society leanings do not deter them from reaching their conclusion that officials in every State who are charged with determining candidate qualifications should conclude that Donald Trump is disqualified from being on ballots because of the oath he took on Inauguration Day 2017 and subsequently violated through his role in the insurrection that took place on January 6, 2021.

Taking "insurrection" as read (I need to do more reading), this has been more of my continuing coverage of Section Three.
Capitol Seizure
"January 6 Was Not an Attempted Coup" [The American Conservative]. "[T]he events of January 6 exhibited virtually none of the characteristics of the dozens of successful or unsuccessful coups around the world over the past seven decades. If this really was an attempted coup, it must have been organized by Monty Python…. The most obvious defect was that Trump and the other alleged plotters did not even make an attempt to shut down a notoriously hostile news media, including most notably, the television networks…. A second pervasive feature of genuine coups is the role of military units trusted wholeheartedly by those people making a bid to overthrow the existing political order…. A final coup feature missing from the January 6 episode were sizable, ongoing pro-coup demonstrations, especially once violence erupted at the Capitol…. People who robotically insist that January 6 was a failed coup need to explain why the episode did not have any of the major features that dozens of successful and unsuccessful coups in other countries have exhibited. It is far more likely that the disorder was simply a riot that a handful of frustrated, right-wing policy zealots waged. Such violence cannot be tolerated, and the perpetrators deserve to be prosecuted—as hundreds have been. But it is wrong to conflate a riot (however nasty) with an organized insurrection." • Yep.
Biden Administration
"Congress dodged a government shutdown. Here are the winners and losers from a messy fight." [USA Today]. "The 'clean' continuing resolution noticeably omits President Joe Biden's request for additional U.S. aid to Ukraine, which has bipartisan support. McCarthy, who has had to placate all corners of his conference, left Ukraine funding out of the continuing resolution in a win for some opponents to funding the Ukraine war effort. Enmity toward U.S. aid to Ukraine among House Republicans has appeared to grow as the war drags on. Nearly half of House Republicans voted to strip $300 million in Ukraine aid from an annual defense spending bill last week." • Stripping Ukraine funding seems to be, oddly, an afterthought in most of the coverage, and not framed as a victory for Gaetz (depicted as a loser). But it's hard to see how Democrats, regardless of what they say, would not consider it a real loss. After all, it's their war.
2024
Time for the Countdown Clock!

* * *

"Donald Trump's Fraud Trial in New York" [Wall Street Journal]. "In comments at the courthouse, Mr. Trump called it a "witch hunt," and he has a point. Yet the investigation also seems to have caught some typical Trumpian deception…. Judge Engoron acknowledged that this asset puffery doesn't seem to have created losses for the creditors: 'Defendants correctly assert that 'the record is devoid of any evidence of default, breach, late payment, or any complaint of harm." The judge said, however, that legally speaking this is 'completely irrelevant.' Whether he is correct under New York law is a possible subject of appeal…. But the lenders weren't naifs and had to know Mr. Trump's penchant for lying. Mr. Trump appears to believe he could claim anything, as long as he tacked on a disclaimer. 'They call it 'worthless clause," he said in a deposition, 'because it makes the statement 'worthless."…. Yet Mr. Trump is right that Ms. James is a partisan Democrat who campaigned on going after him. The night she won the AG's race in November 2018, she proclaimed: 'I will be shining a bright light into every dark corner of his real estate dealings.' This is an abuse of prosecutorial power, targeting a person and then hunting for something to charge him with." • "I give up. Why can't they?" –"I Must Not Think Bad Thoughts," X.

"Trump fundraises off fraud trial: 'Nothing can break me'" [The Hill]. "Trump's campaign blasted out a fundraising email with a subject line of 'I just left the courthouse' roughly 20 minutes after court was dismissed in Manhattan, where the former president had been present." Trump campaign firing on all eight cylinders already. More: "The fundraising email was similar to those Trump has sent after indictments and court appearances in other criminal proceedings, including federal cases in Washington, D.C., and in Florida, and it underscored how the former president and his campaign have sought to capitalize politically on Trump's legal woes."

"Who is Arthur Engoron? Judge weighing future of Donald Trump empire is Ivy League-educated ex-cabbie" [Associated Press]. "Engoron has been involved in Trump-related cases since 2020, when he was assigned to intervene in quarrels among Trump's lawyers and James' office over demands for evidence and the direction of her investigation. Trump's lawyers wanted James' lawsuit moved to a judge in the court's Commercial Division, which is set up to handle complex corporate litigation, but an administrative judge kept the case with Engoron, citing his experience with the matter."

* * *

"Trump campaigns before thousands in friendly blue-collar, eastern Iowa, touting trade, farm policy" [Associated Press]. "Trump headlined an afternoon event in Ottumwa, where 2,500 packed the inside of an event hall at the Bridge View Center in Ottumwa. The small city is a hub in eastern Iowa and the seat of Wapello County, one of 31 counties Trump carried in 2016 that Democrat Barack Obama had won four years earlier. It was Trump's second trip in two weeks to eastern Iowa, where he was drawing large crowds…. The crowd spent hours waiting outdoors to enter the Trump event, despite sweltering heat uncommon for early October. It was a stark contrast to the roughly 200 who attended a campaign stop in suburban Des Moines Saturday by former United Nations Ambassador Nikki Haley, who has gained renewed interest in Iowa since the first two Republican presidential debates. Trump is expected back to the Waterloo and Cedar Rapids areas next week…. Trump volunteers at the site held clipboards stacked with pledge cards and asked attendees whether they would commit to support Trump at the caucuses." • Presumably all the campaigns use pledge cards, but it still shows professional advance work.

"'We love the farmers.' Trump, aiming to cement support in Iowa, signs John Deere combine" [Des Moines Register]. "After his speech, he visited a farm northeast of Oskaloosa, where he shook hands with a line of farmers, greeted their wives and left a large Sharpie signature on a John Deere combine. 'We love the farmers, and we appreciate the farmers,' he told them. 'You wouldn't want anything else, right? I don't think you'd want to do what I do.'"

"Trump campaign calls on RNC to cancel third GOP debate" [The Hill]. "'The RNC should immediately put an end to any further primary debates so we can train our fire on Crooked Joe Biden and quit wasting time and money that could be going to evicting Biden from the White House,' [Trump campaign senior advisers Chris LaCivita] said in a statement following the second debate."

* * *

"Hunter Biden's Legal Saga Enters Fraught New Chapter" [Wall Street Journal]. "Hunter Biden pleaded not guilty Tuesday to felony gun charges, opening a fraught new chapter in his long legal saga in the same federal courthouse in Delaware where, roughly two months earlier, he had hoped to put those troubles behind him…. Prosecutors didn't bring tax charges against him last month, but they could still do so. Weiss has signaled that he may bring such a case in either California or Washington, D.C., where the younger Biden lived during the years at issue."

* * *

"Column: A solid Senate pick and a craven move by Gavin Newsom" [Los Angeles Times]. "But Newsom never should have appointed her — or anyone else — to fill Feinstein's seat without a promise to serve the balance of the late senator's term, then stand aside once voters made their selection. Just last month, the governor had said he would see to that. 'Interim appointment,' he said on NBC's 'Meet the Press,' noting that a fiercely competitive Senate primary was already well underway and he wished to steer clear. 'It would be completely unfair to the Democrats that have worked their tail off,' Newsom said, and he was absolutely right. 'That primary is just a matter of months away. I don't want to tip the balance of that.' Um. Never mind. Newsom went ahead and showed he was just fine upending that balance, assuming Butler decides to seek a full term. She has yet to publicly state her plans. But if Butler chooses to run, she'll get no opposition from the governor. 'If that person decides she wants to seek a full term in 2024, then she is free to do so,' spokesman Anthony York said hours before Newsom announced his pick Sunday night. 'There is absolutely no litmus test, no promise.' And no consistency from the governor." • I admit it never occurred to me that Butler would hang out on Capitol Hill for a few months and then blow town, presumably to server on a Newsom campaign. My bad! On Butler, commentary:

Intersectionality is lobbying for both Uber and Airbnb.

— Matt Stoller (@matthewstoller) October 2, 2023

"Burn!" (as I believe we used to say, back in 2003).

"Newsom vetoes bill to give striking workers unemployment benefits" [Los Angeles Times]. "California Gov. Gavin Newsom vetoed legislation Saturday that would have granted striking workers unemployment benefits, a measure strongly supported by Hollywood unions and other influential labor organizations in California. Newsom's rejection of Senate Bill 799 delivers a rare blow to organized labor, which has enjoyed strong support in the Democratic-controlled state Legislature." •

* * *

Universal concrete material benefits:

Biggest R advantage on economy since 1991 in newest @GallupNews survey. They've been polling this question since 1951 (!!!) https://t.co/JPyGoUlgSs

— Benjy Sarlin (@BenjySarlin) October 3, 2023

Everything that made workers' lives easier during the Trump administration — primarily, the CARES Act — was systematically stripped away by the Biden Administration. Now we see the results.
Republican Funhouse
"Republican congressman admits he 'was praying' for 'small' GOP House majority before 2022 midterm elections" [FOX]. "'When a lot of people, unfortunately, were voting, to have a 270, 280 Republican House, I was praying each evening for a small majority, because I recognize that ,' Rep. Matt Rosendale, R-Mont., said during a closed briefing, which The Messenger first reported was 'a virtual briefing for around 50 top conservative donors.'" • I don't necessarily like Rosendale's principles, but at least he has some. By contrast, can you imagine the (putative) Democrats left hoping, if not praying, for a small majority to advance their agenda? I can't, which means to me that Democrats are liberals across the board. This also shows an interesting structural difference between the parties.

"A viewer's guide to the McCarthy-Gaetz showdown" [Politico]. "If Democrats vote present, they can take themselves out of the "members voting" count and allow McCarthy to hang on with less than a full majority of the current House, and with potentially much less support than he got in January's grueling speaker election." But: "If McCarthy is booted, his immediate replacement won't be chosen by Gaetz – it will be handpicked by McCarthy himself. Here's why. Under a system created after Sept. 11, 2001, to ensure continuity of government, the House clerk would bring out a thus-far-secret list of McCarthy's preferred successors. The first name on that list would immediately become an acting speaker, with all the authority of a regular speaker, and thus empowered to oversee the election of a new speaker." • The plot thickens!
Democrats en Déshabillé
Patient readers, it seems that people are actually reading the back-dated post! But I have not updated it, and there are many updates. So I will have to do that. –lambert

I have moved my standing remarks on the Democrat Party ("the Democrat Party is a rotting corpse that can't bury itself") to a separate, back-dated post, to which I will periodically add material, summarizing the addition here in a "live" Water Cooler. (Hopefully, some Bourdieu.) It turns out that defining the Democrat Party is, in fact, a hard problem. I do think the paragraph that follows is on point all the way back to 2016, if not before:

The Democrat Party is the political expression of the class power of PMC, their base (lucidly explained by Thomas Frank in Listen, Liberal!). ; if the Democrat Party did not exist, the PMC would have to invent it. . ("PMC" modulo "class expatriates," of course.) Second, all the working parts of the Party reinforce each other. Leave aside characterizing the relationships between elements of the Party (ka-ching, but not entirely) those elements comprise a network — a Flex Net? An iron octagon? — of funders, vendors, apparatchiks, electeds, NGOs, and miscellaneous mercenaries, with assets in the press and the intelligence community.

Note, of course, that the class power of the PMC both expresses and is limited by other classes; oligarchs and American gentry (see 'industrial model' of Ferguson, Jorgensen, and Jie) and the working class spring to mind. Suck up, kick down.

* * *

"No, The Bowman Controversy Does Not Warrant Expulsion" [Jonathan Turley]. "Expulsion remains a rare remedy in Congress. Despite hundreds of years of often deep and angry political divisions, only 20 members have been expelled and only 5 were expelled from the House. Think of that for a moment. Five House members in the prior roughly 250 years. We now have 3 in one year being considered. The last time three members were up for expulsion, it was due to their support for the South in the Civil War. The House has had members that make the pirates of Penzance* look like teetotalers. Past members have included some who were embodiments of the greedy and the grotesque. The lack of expulsions historically has reflected an understanding that the use of this power can lead to a type of expulsion compulsion." • However, Bowman did pull a fire alarm and then told an outrageous lie about it. Can we at least get the coverage right? And are we at liberty to mock him for it? NOTE * Who were not really pirates but "noblemen who have gone wrong." Musical interlude:

"The Era Of Hostage Taking And Small Ransoms" [Brian Beutler, Off Message]. Beutler, late of Pod Save American. "Yes, Democrats are, at the moment, hobbled by Kyrsten Sinema and Joe Manchin, but at no point in the past two decades have they made ending this state of affairs a top party-building priority. Their indulgence has been inexcusable; their gluttony for punishment, undignified—just as it's undignified to pay ransoms to Republicans, even small ones, when they threaten to harm the country. It's not unreasonable for rank-and-file liberals to expect Democrats to draw a hard line against extortion. It's not unreasonable for rank-and-file liberals to puzzle over why Democrats haven't reconstituted their majority (through persuasion and strategic recruiting) to support changing the rules if and when Republicans abuse them. Tuberville and McCarthy are each disgraced in their own ways, but we shouldn't ignore the fact that they walked through doors Democrats left open for them. And we should worry a great deal about what will be in their sights the next time around, perhaps just 45 days from now, when they come barreling through again." • So what the heck was Beutler doing podcasting with Obama's speechwriter for what seems like forever?
Realignment and Legitimacy
"How Elites Ate the Social Justice Movement" [Freddie deBoer, The Free Press]. "[I]f single-payer were passed tomorrow, we would have to start defending it tomorrow. We'd have to fight over how generous the benefits were. We would have to ensure that dental and vision benefits were covered. We would have to prevent the inevitable attempts by conservatives to tear down the system entirely or to make it considerably less generous, as they already do with Medicare and Social Security. There would be no rest. This is, I concede, a depressing condition, an exhausting one. But there's no alternative. And perhaps there shouldn't be. I still yearn for revolution, but I now recognize that any revolution must be a permanent one, in the sense meant by Karl Marx and Friedrich Engels—that a perpetual revolutionary class must exist, remaining independent from the political machinery of its day and constantly pressing for a more radical future, even after great victory. This is the only way to truly secure the best good for the most people. We must see political success as an ever-receding horizon." • The Bolsheviks did take power, after all, though deBoer carefully writes "perpetual" instead of "professional." deBoer's first sentence: "I'm a Marxist." Fascinating to see him published in by Bari Weiss.

"Antisocialism and the rehabilitation of fascism" [Carl Beijer]. "Fascism, correctly understood as a radical eliminationist and expansionist ultranationalism that emerges when the middle class displaces the stress of severe economic precarity under capitalism onto minority scapegoats — fascism can still only be found among a narrow albeit dangerously powerful fraction of Ukraine's population. Persisting characterizations of Ukraine as a nation of fascists are not just grossly inaccurate, nor are they merely cruel to a nation of innocent civilians suffering a horrific war of aggression. This line is also dangerously reactionary, serving at once to both legitimize the Kremlin's preposterous 'denazification' rationale for invasion and to displace our own problem with fascism onto another country as some foreign, exotic phenomena. It contradicts none of this to add that the faction of our ruling class aligned with Ukraine in this war are using it as a pretext to villify socialism at the cost of rehabilitating twentieth century fascism."

"Why MAGA Wants to Betray Ukraine" [Paul Krugman, New York Times]. "Ukraine's unexpectedly successful resistance to Russian aggression has also put other autocratic regimes that might have been tempted to engage in wars of conquest on notice that democracies aren't that easy to overrun. Not to put too fine a point on it, but Russia's failures in Ukraine have surely reduced the chances that China will invade Taiwan." • Not sure how demonstrating to the world's biggest manufacturing power that we can't make enough ammo does that. (However, I applaud the not-very-subtle shifting of goalposts from defeating Putin and dismembering Russia to preventing "democracies" from being "over-run.")
#COVID19
"I am in earnest — I will not equivocate — I will not excuse — I will not retreat a single inch — AND I WILL BE HEARD." –William Lloyd Garrison
Resources, United States (National): Transmission (CDC); Wastewater (CDC, Biobot; includes many counties; Wastewater Scan, includes drilldown by zip); Variants (CDC; Walgreens); "Iowa COVID-19 Tracker" (in IA, but national data). "Infection Control, Emergency Management, Safety, and General Thoughts" (especially on hospitalization by city).
Lambert here: Readers, thanks for the collective effort. To update any entry, do feel free to contact me at the address given with the plants. Please put "COVID" in the subject line. Thank you!
Resources, United States (Local): AK (dashboard); AL (dashboard); AR (dashboard); AZ (dashboard); CA (dashboard; Marin, dashboard; Stanford, wastewater; Oakland, wastewater); CO (dashboard; wastewater); CT (dashboard); DE (dashboard); FL (wastewater); GA (wastewater); HI (dashboard); IA (wastewater reports); ID (dashboard, Boise; dashboard, wastewater, Central Idaho; wastewater, Coeur d'Alene; dashboard, Spokane County); IL (wastewater); IN (dashboard); KS (dashboard; wastewater, Lawrence); KY (dashboard, Louisville); LA (dashboard); MA (wastewater); MD (dashboard); ME (dashboard); MI (wastewater; wastewater); MN (dashboard); MO (wastewater); MS (dashboard); MT (dashboard); NC (dashboard); ND (dashboard; wastewater); NE (dashboard); NH (wastewater); NJ (dashboard); NM (dashboard); NV (dashboard; wastewater, Southern NV); NY (dashboard); OH (dashboard); OK (dashboard); OR (dashboard); PA (dashboard); RI (dashboard); SC (dashboard); SD (dashboard); TN (dashboard); TX (dashboard); UT (wastewater); VA (dashboard); VT (dashboard); WA (dashboard; dashboard); WI (wastewater); WV (wastewater); WY (wastewater).
Resources, Canada (National): Wastewater (Government of Canada).
Resources, Canada (Provincial): ON (wastewater); QC (les eaux usées); BC, Vancouver (wastewater).
Hat tips to helpful readers: anon (2), Art_DogCT, B24S, CanCyn, ChiGal, Chuck L, Festoonic, FM, FreeMarketApologist (4), Gumbo, hop2it, JB, JEHR, JF, JL Joe, John, JM (10), JustAnotherVolunteer, JW, KatieBird, LL, Michael King, KF, LaRuse, mrsyk, MT, MT_Wild, otisyves, Petal (6), RK (2), RL, RM, Rod, square coats (11), tennesseewaltzer, Utah, Bob White (3).
Stay safe out there!
* * *
Maskstravaganza
"Healthcare-associated respiratory viral infections after discontinuing universal masking" [Infection Control and Hospital Epidemiology]:

When our hospital moved from universal masking in all clinical buildings to masking for all patient encounters only, we observed an immediate, substantial, and sustained increase healthcareassociated respiratory viral infections. These observations are informative regarding the impact of masking because—unlike rapid simultaneous implementation of numerous mitigation strategies in healthcare settings and the community early in the pandemic—no other changes in infection prevention strategies or staffing levels were implemented at our facility in late 2022. The elevated transmission pressure from community viruses during the winter respiratory virus season may explain part but not all of the increase in [healthcare-associated respiratory viral infections (HARVI] rate. Cases of healthcare-associated COVID-19 during this period approached what was seen during the omicron wave despite a consistently lower census of admitted patients positive for SARS-CoV-2. Moreover, local prevalences of most common respiratory viruses were steady or declining during the period when the HARVI rate rose dramatically.

Hopefully those psychos at HICPAC pay attention. Frustratingly, the article describes both "medical" masks and respirators as "masking."

"50 Infected in NY Hospital COVID Outbreak: Mask Mandates Return" [The Messenger]. "Officials at Champlain Valley Physicians Hospital in Plattsburgh, New York, has reported 50 COVID infections among staffers this week, alongside 20 patients who have been admitted with the virus. 'In order to protect our patients, our staff and families, we are requiring all patients and visitors to wear appropriate face coverings — surgical masks — while they are with us," said Keith Collins, M.D., infectious disease specialist, in a statement. 'COVID can be spread before you have symptoms and you may not know you are carrying it.' 'We have a number of patients who were diagnosed with COVID here. Because it's unclear how they came in contact with the virus, universal masking is the best way to combat its spread,' Lisa Mark, M.D., the hospital's chief medical officer, added." • Surgical masks. Oh well, baby steps. And the mandates should not need to "return." They should never have been lifted.

"With COVID-19 cases edging up, London hospitals revise masking rules" [CBC]. "As cases of COVID-19 climb in the London region, London Health Sciences Centre (LHSC) and St. Josephs's Health Care London are revising their masking rules to require staff and doctors in direct contact with patients to wear masks, and recommend visitors and patients do the same." IOW, not universal. More: "'Updated masking guidelines, in combination with other protective measures like staying up to date on vaccinations, is part of our responsive strategy this respiratory season,' said Dr. Michael Silverman, the chair and chief of infectious diseases in London, and medical director of infection prevention and control and the Infectious Diseases Care Program at St. Joseph's in a statement." • [family blog] your make-work, useless, lethal "responsive strategy." Just mandate universal masking. Also, for the record, Covid is not seasonal. Nor best thought of as respiratory.

Choice of words:

It may be controversial, but for the past 1.5 years, I've been using a daily topical prophylactic against C0VID. Applies directly to the face. It's not FDA approved & unavailable in many countries. I've never met another adult using it. I'm convinced it's nearly 100% effective in…

— Mike Hoerger, PhD MSCR MBA (@michael_hoerger) October 2, 2023

"Topical prophylactic" is so much better than "face covering."
Vaccines
Extraordinarily poor scientific communication:

Pharmacist asked today if I needed a Covid booster. Told her I was waiting for #novavax . "What's that?" She asked. "Is it Pfizer or Moderna?". I told her it was a third vaccine, a better one. She shook her head. "There are only two."

— B (Mastodon @CurrentlyCranky@mindly.social) (@CurrentlyCranky) October 1, 2023
Transmission
The Royal Society has an entire issue of meta-studiets on Non-Pharmaceutical Interventions (NPIs), "The effectiveness of non-pharmaceutical interventions on the COVID-19 pandemic: the evidence," all open sourced. From the executive summary: "There is clear evidence from studies conducted during the pandemic that stringent implementation of packages of NPIs was effective in some countries in reducing transmission of SARS-CoV-2. There is also evidence for the effectiveness of individual NPIs, but most NPIs were implemented in packages. Disentangling the effects of one NPI when other NPIs were implemented at the same time presents a significant challenge. Evidence suggests that NPIs were, in general, more effective when case numbers and the associated transmission intensity of SARS-CoV-2 were lower. NPIs became less effective as more transmissible variants of the virus emerged (eg Delta, Omicron) which were better adapted to spreading between people and evading immune responses. Stringency of application of individual NPIs and groups of NPIs influenced rates of transmission, eg respirator masks were more effective than surgical masks and two weeks of quarantine were more effective than shorter periods."

From and Abstracts for each article:

Face Masks: " Despite the ROB, and allowing for uncertain and variable efficacy, we conclude that wearing masks, wearing higher quality masks (respirators), and mask mandates generally reduced SARS-CoV-2 transmission in these study populations."

Social Distancing: "The more stringent [Social Distancing Measures (SDMs)] such as stay-at-home orders, restrictions on mass gatherings and closures were estimated to be most effective at reducing SARS-CoV-2 transmission. Most studies included in this review suggested that combinations of SDMs successfully slowed or even stopped SARS-CoV-2 transmission in the community.

Testing, contact tracing and isolation: "Based on the scarcity of robust empirical evidence, we were not able to draw any firm quantitative conclusions about the quantitative impact of TTI interventions in different epidemic contexts. While the majority of studies found that testing, tracing and isolation reduced transmission, evidence for the scale of this impact is only available for specific scenarios and hence is not necessarily generalizable."

International border control: "We find that symptomatic screening measures were not particularly effective, but that diagnostic-based screening methods were more effective at identifying infected travellers. Targeted travel restrictions levied against travellers from Wuhan were likely temporarily effective but insufficient to stop the exportation of the virus to the rest of the world. Quarantine of inbound travellers was also likely effective at reducing transmission, but only with relatively long quarantine periods, and came with important economic and social effects."

Environmental control (EC) measures: "EC NPIs considered in this review are room ventilation, air filtration/cleaning, room occupancy, surface disinfection, barrier devices, CO2 monitoring and one-way-systems….. Evidence suggests that EC NPIs of ventilation, air cleaning devices and reduction in room-occupancy may have a role in reducing transmission in certain settings. However, the evidence was usually of low or very low quality and certainty, and hence the level of confidence ascribed to this conclusion is low. Based on the evidence found, it was not possible to draw any specific conclusions regarding the effectiveness of surface disinfection and the use of barrier devices."

Communications: "This review explored the effectiveness of communications in enhancing the adoption of or adherence to behavioural interventions (non-pharmaceutical interventions (NPIs)) related to COVID-19…. Included studies suggest that NPI adoption or adherence was generally high, and communication had significant impacts, with key themes including clarity and consistency, trust and control." • UK case study.
"Something Awful"
Lambert here: I'm getting the feeling that the "Something Awful" might be a sawtooth pattern — variant after variant — that averages out to a permanently high plateau. Lots of exceptionally nasty sequelae, most likely deriving from immune dysregulation (says this layperson). To which we might add brain damage, including personality changes therefrom.

* * *
* * *
Lambert here: Back to tape-watching mode. It looks to me like the current surge has some ways to run, given how wastewater flattened, with the East Coast up. Let's wait and see.
Case Data
NOT UPDATED From BioBot wastewater data, October 2:
Lambert here: Leveling out to a high plateau wasn't on my Bingo card! Perhaps FL.1.5.1, high in the Northeast, has something going for it that other variants don't have?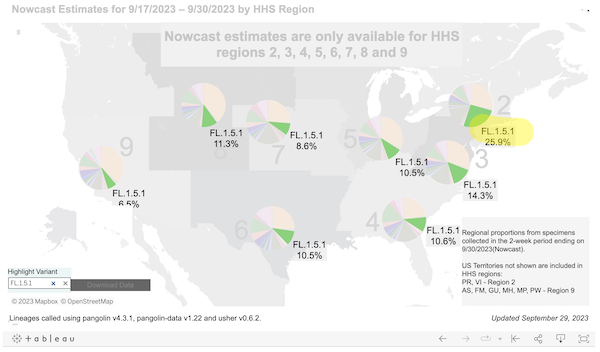 Regional data: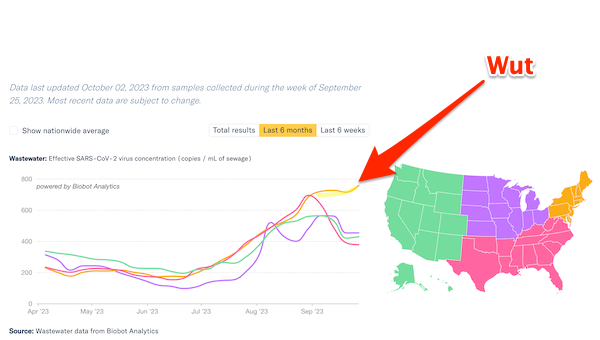 Interestingly, the upswing begins before July 4, which neither accelerates nor retards it.
Variants
NOT UPDATED From CDC, September 30: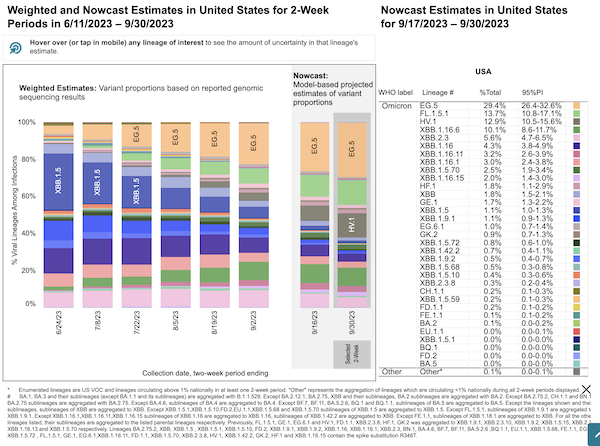 Lambert here: September 30 is tomorrow, but never mind that. Top of the leaderboard: EG.5 ("Eris"), with FL.1.15.1, HV.1, and XBB.1.1.16.6 trailing. Still a Bouillabaisse…
From CDC, September 16: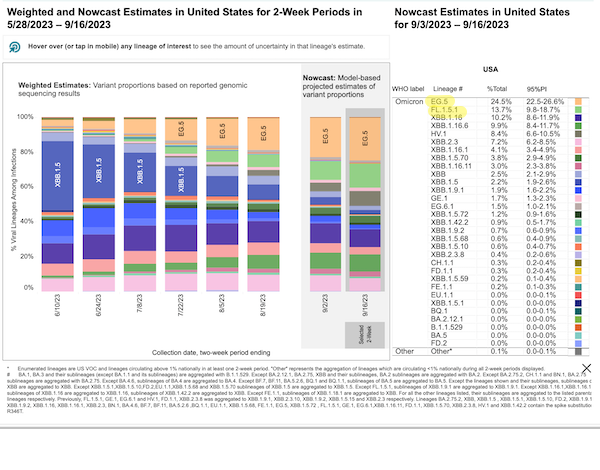 Lambert here: I sure hope the volunteers doing Pangolin, on which this chart depends, don't all move on the green fields and pastures new (or have their access to facilities cut by administrators of ill intent).
CDC: "As of May 11, genomic surveillance data will be reported biweekly, based on the availability of positive test specimens." "Biweeekly: 1. occurring every two weeks. 2. occurring twice a week; semiweekly." Looks like CDC has chosen sense #1. In essence, they're telling us variants are nothing to worry about. Time will tell.
Covid Emergency Room Visits
NOT UPDATED From CDC NCIRD Surveillance, September 23: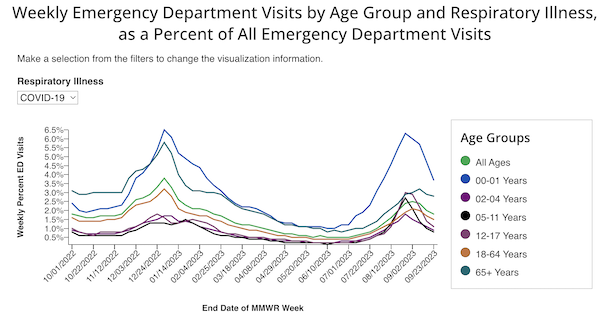 Drop coinciding with wastewater drop.
NOTE "Charts and data provided by CDC, updates Wednesday by 8am. For the past year, using a rolling 52-week period." So not the entire pandemic, FFS (the implicit message here being that Covid is "just like the flu," which is why the seasonal "rolling 52-week period" is appropriate for bothMR SUBLIMINAL I hate these people so much. Notice also that this chart shows, at least for its time period, that Covid is not seasonal, even though CDC is trying to get us to believe that it is, presumably so they can piggyback on the existing institutional apparatus for injections.
Hospitalization
Bellwether New York City, data as of October 3: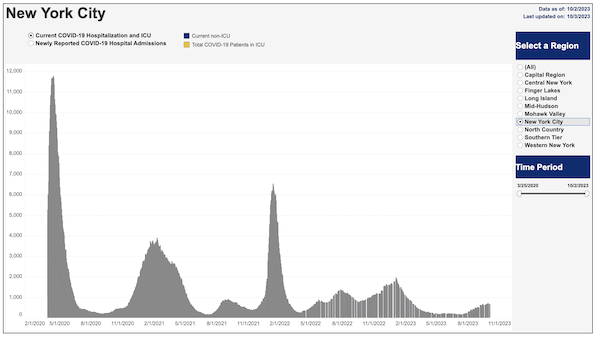 Levelling off again. (New York state is steadily rising, but it's New York City that's the bellwether.) I hate this metric because the lag makes it deceptive.
NOT UPDATED Here's a different CDC visualization on hospitalization, nationwide, not by state, but with a date, at least. September 23: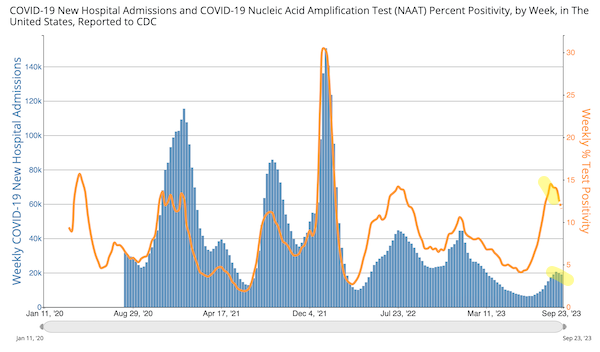 Lambert here: "Maps, charts, and data provided by CDC, updates weekly for the previous MMWR week (Sunday-Saturday) on Thursdays (Deaths, Emergency Department Visits, Test Positivity) and weekly the following Mondays (Hospitalizations) by 8 pm ET†". So where the heck is the update, CDC?
Positivity
From Walgreens, October 2: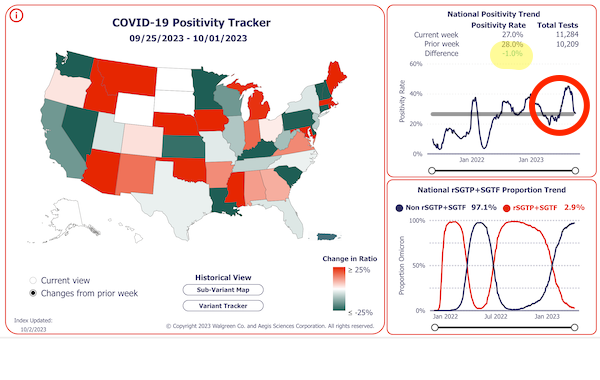 -1.0%. Another big drop. (It would be interesting to survey this population generally; these are people who, despite a tsunami of official propaganda and enormous peer pressure, went and got tested anyhow.)
NOT UPDATED From Cleveland Clinic, September 23: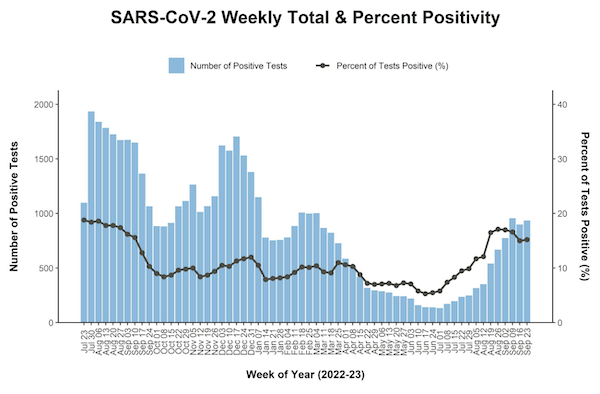 Lambert here: I know this is just Ohio, but the Cleveland Clinic is good*, and we're starved for data, so…. NOTE * Even if hospital infection control is trying to kill patients by eliminating universal masking with N95s.
NOT UPDATED From CDC, traveler's data, September 11: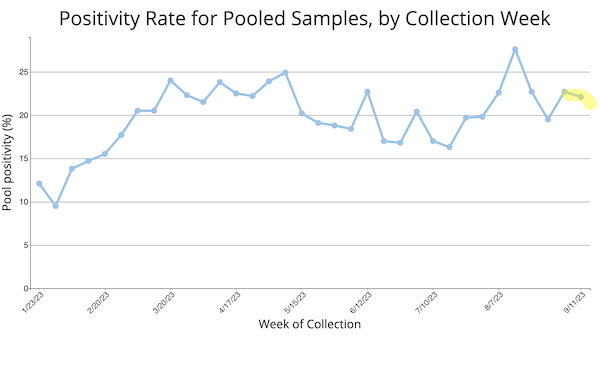 Back up again And here are the variants for travelers: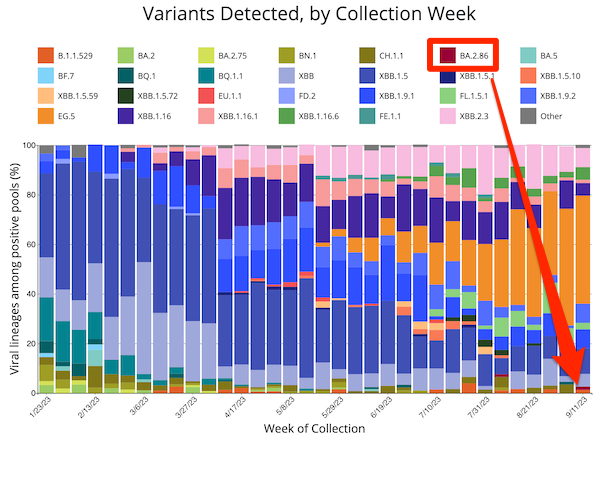 Now, BA.2.86. FL.1.51.1, interestingly, low.
Deaths
NOT UPDATED Iowa COVID-19 Tracker, September 27: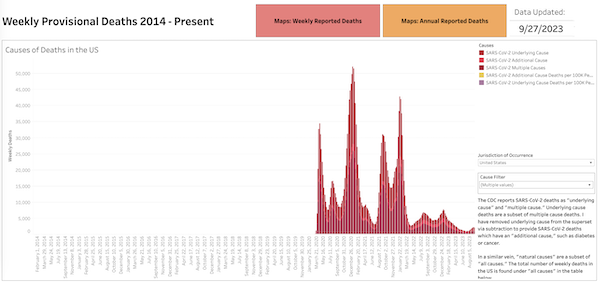 Lambert here: The WHO data is worthless, so I replaced it with the Iowa Covid Data Tracker. Their method: "These data have been sourced, via the API from the CDC: https://data.cdc.gov/NCHS/Conditions-Contributing-to-COVID-19-Deaths-by-Stat/hk9y-quqm. This visualization updates on Wednesday evenings. Data are provisional and are adjusted weekly by the CDC." I can't seem to get a pop-up that shows a total of the three causes (top right). Readers?
Total: 1,177,793 – 1,177,283 = 510 (510 * 365 = 186,150 deaths per year, today's YouGenicist™ number for "living with" Covid (quite a bit higher than the minimizers would like, though they can talk themselves into anything. If the YouGenicist™ metric keeps chugging along like this, I may just have to decide this is what the powers-that-be consider "mission accomplished" for this particular tranche of death and disease). 
Excess Deaths
The Economist, October 1: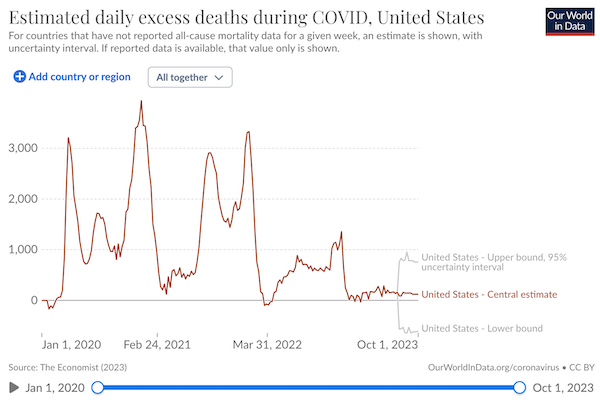 Lambert here: This is now being updated daily again. Odd. Based on a machine-learning model.
Stats Watch
Employment Situation: "United States Job Openings" [Trading Economics]. "The number of job openings rose by 690,000 from the previous month to 9.61 million in August 2023, well above the market consensus of 8.8 million and indicating a robust labor market despite the Fed's unprecedented monetary policy tightening measures."
Employment Situation: "Be skeptical of that job openings number" [Axios]. "Actual business hiring was basically unchanged in August, rising to 5.9 million people hired. The hiring rate was stable at 3.7%. The number of people who were laid off or quit was also flat in August. Moreover, the job openings number frequently displays volatility that doesn't seem to align with any underlying economic change. The rubber-meets-road indicators around actual hiring and layoffs are more stable. Meanwhile, many other data points are consistent with a slowing labor market.
Supply Chain: "United States LMI Logistics Managers Index Current" [Trading Economics]. "The Logistics Manager's Index in the United States increased to 52.4 in September 2023, pointing to the second consecutive month of expansion and the strongest growth in the logistics sector in seven months."
* * *
Retail: "Retail theft isn't actually increasing much, major industry study finds" [CNBC]. "Retail theft has caught the attention of the masses in recent years, from startling smash-and-grab videos during the depths of the Covid pandemic to corporate earnings calls where retailers like Target and Foot Locker are discussing losses from organized retail crime more than they ever have. But the effect of theft on retailers' bottom lines is about the same as it has been for years, according to the latest data released Tuesday in the widely used industry survey conducted by the National Retail Federation. Total retail shrink grew to more than $112 billion in 2022, up from $93.9 billion the year before, according to the newest National Retail Security Survey. The metric, which accounts for various types of inventory loss including theft, damage and vendor error, generally rises as retail sales climb. While retailers and the NRF are increasingly saying crime is cutting into profits, losses from internal and external theft last year were largely on par with historical trends. They made up 65% of total shrink, the survey found." But: "Sixty-seven percent of respondents reported more violence associated with organized retail crime than a year ago. In the last survey, 81% reported an increase in violence." • However, I would want more than a survey of retailers to accept that.
Manufacturing: "Boeing Settles Allegations of Shortcuts in V-22 Osprey Manufacturing" [Manufacturing.net]. "The company has long held a contract to manufacture the V-22 Osprey, a vertical takeoff and landing military aircraft. According to the U.S. Justice Department, Boeing from 2007 to 2018 failed to adhere to agreed upon standards for the fabrication of composite components. The U.S. government contends Boeing failed to perform required monthly testing on autoclaves used in the composite cure process and was not in compliance with additional requirements related to the testing at its facility in Ridley Park, Pennsylvania. As a result, the company has agreed to pay $8.1 million to settle the alleged violations of the False Claims Act." • Well, I'm sure the 787s are OK!
* * *
Today's Fear & Greed Index: 25 Extreme Fear (previous close: 28 Fear) [CNN]. One week ago: 31 (Fear). (0 is Extreme Fear; 100 is Extreme Greed). Last updated Oct 2 at 1:59:14 PM ET.
Rapture Index: Closes unchanged [Rapture Ready]. Record High, October 10, 2016: 189. Current: 187. (Remember that bringing on the Rapture is good.) NOTE on #42 Plagues: "The coronavirus pandemic has maxed out this category." More honest than most!
Photo Book
"A Forthcoming Book Turns a New Leaf On Remarkable Photographs of Trees From Around the World" [Colossal]. "Looking At Trees, a forthcoming book compiled with an introduction by artist Sophie Howarth, encourages us to reconnect with our natural surroundings. Images by more than two dozen contemporary photographers, including Beth Moon, Marc Alcock, and Myoung Ho Lee, explore a range of different species, ecosystems, and landscapes. From enigmatic plantations to lofty dwellings, the volume explores the diverse ways in which the woody plants are an important part of our daily lives, even if sometimes we have to remember to notice them." • Here's one: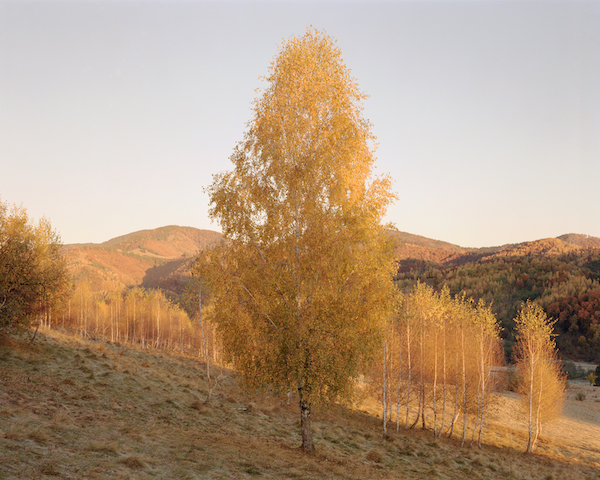 And even though this is not a photo, it may help artists–
"Leonardo da Vinci Was Wrong – Scientists Disprove 'Rule of Trees'" [SciTech Daily]. "Da Vinci's interest in drawing led him to look at the size ratios of different objects, including trees, so that he could create more accurate representations of them. To correctly represent trees, he perceived a so-called 'Rule of trees' which states that 'all the branches of a tree at every stage of its height are equal in thickness to the trunk when put together.'… [But f]or water and nutrients to move efficiently through the tree, from root to leaf tip, the vascular system has to maintain 'hydraulic resistance'. Ruben Valbuena and Stuart Sopp of Bangor University and SLU have calculated that for hydraulic resistance to work, there comes a point where the 'Rule of Trees' can no longer hold true. In order to efficiently transport liquids from roots to leaf tips, a tree's vascular channels need to maintain a certain dimension to maintain hydraulic resistance. Therefore, the plant has to reduce its volume as it reaches its extremities, causing a higher ratio of the capillary to the surrounding plant mass."
The Gallery
It's been awhile since Elon killed off the artbots, and anything from the deeply odd Lawrence Alma-Tadema came across my feed:
Lawrence Alma-Tadema
Hopeful
1909
34 x 13.8 cm
Oil on panel
Sterling and Francine Clark Art Institute, Williamstown, Massachusetts pic.twitter.com/BWvK2w0cK1

— PubHist (@Pub_Hist) October 3, 2023
Zeitgeist Watch
"Propaganda's casualties." [The Floutist]. "Such is the power of propaganda: People are led to believe outright lies, to think whatever their government wants them to, and to act in ways completely at odds with reality and their own best interest. Propaganda validates preexisting biases which are themselves the product of propaganda. To put it another way: Propaganda creates a self-perpetuating information ecosystem in which each lie, or half-truth, confirms the next so that people can no longer tell what is true from what is false, or what advances their own security and wellbeing from what actually undermines it…. Propaganda makes a mockery of truth: Anything can be made to appear true so that truth itself loses all meaning and, in the process, reality itself. Consequently, the entire social and political order becomes one-dimensional and cartoon-like—a mere parody of itself as the country that boasts about defending democracy everywhere undermines it. The point cannot be overstated: . Unable to discern what is true from what is false people are robbed of the ability to make sound decisions about the world in which they live." • Good thing we're not building any propaganda into our AI training sets. Oh, wait….
Imperial Collapse Watch
"The Rules-Based International Order Is Quietly Disintegrating" [Walter Russell Mead, Wall Street Journal]. The peroration: "States are imploding and the rule of law is disappearing across large parts of the world. In Latin America, narco-trafficking crime organizations have infiltrated or supplanted weak states. Something similar is happening in the Sahel, with jihadist groups and bandits openly defying the authority of shambolic governments. Russia, China and Iran are happily fishing in these troubled waters, with few signs of effective Western responses to a growing security threat. The ignominious collapse of French power across Africa has been more dramatic, but the palsied incompetence of American responses to the erosion of civil order among our own neighbors is at least equally disgraceful, and equally grave. Threatened by powerful and relentless adversaries from without, undermined by political decadence and institutional decay from within, ." • Since the 1930s? Before World War II? "Show me you're completely ahistorical without saying your completely ahistorical." (Also, I love pundits with three names, especially trochaic names.)
Class Warfare
"Huge strike could happen at Kaiser health facilities starting Wednesday. Here's what we know" [Los Angeles Times]. "Tens of thousands of Kaiser Permanente employees in California and other states plan to go on strike Wednesday after union contracts expired for a huge swath of the Kaiser workforce. The planned strike involves several labor organizations that are part of the Coalition of Kaiser Permanente Unions. The biggest is SEIU-United Healthcare Workers West, which represents nearly 60,000 employees in California….. The majority of the Kaiser workforce is unionized, but not all of the unions that represent its employees are taking part in the three-day strike. For instance, many of the registered nurses working at Kaiser Permanente facilities in Southern California belong to unions that aren't part of the coalition."
News of the Wired
"Wilhelm Reich on Pleasure and the Genesis of Anxiety" [Epoché]. "[Reich] proposes in the following passages to schematize the living being as a blob, or, say, as a balloon. Let's imagine a living balloon that, to survive, needs to remain inflated. It can encounter two problems: either, having lost some air, it is too deflated, and needs to 'incorporate' some air – reinflate itself – or, having too much air inside, it needs to release some of its air – deflate. It is important to note that both of them, inflation and deflation, are movements. At first, the difference between these two seems merely to lie in a difference of direction, a quantitative difference. To quench a hunger, we need to incorporate the nutrients that we lack; there is, in that sense, a central movement. Libidinal desire, on the other hand, is marked by a peripheral movement, a movement to the outside, a release. These two movements are obviously connected: when we get hungry, we need to start looking for food, which means that we need to get in contact with the world, as Reich says in the quote above. The libidinal (peripheral) movement therefore goes before the (central) movement of incorporation. At the same time, though, the libidinal movement and the movement of incorporation correspond to different problems: 'underpressure': lack of pressure that needs to be compensated, and 'overpressure': excess of pressure that needs to be released. There is, in that sense, also a qualitative difference between these two." • I'm not sure that's how organisms operate; but it's certainly suggestive of how The Blob operates.
* * *
Contact information for plants: Readers, feel free to contact me at lambert [UNDERSCORE] strether [DOT] corrente [AT] yahoo [DOT] com, to (a) find out how to send me a check if you are allergic to PayPal and (b) to find out how to send me images of plants. Vegetables are fine! Fungi and coral are deemed to be honorary plants! If you want your handle to appear as a credit, please place it at the start of your mail in parentheses: (thus). Otherwise, I will anonymize by using your initials. See the previous Water Cooler (with plant) here. From DG: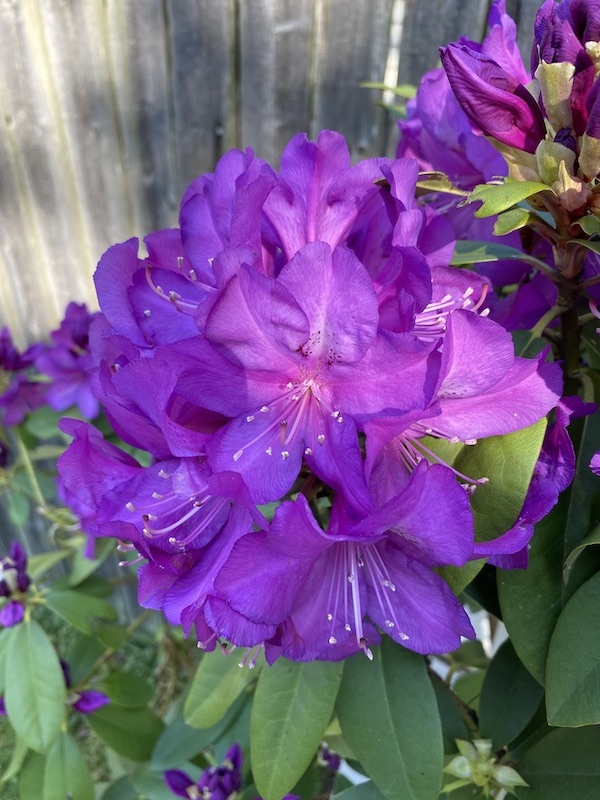 DG writes: "Deciduous rhododendron."
* * *
Readers: Water Cooler is a standalone entity not covered by the annual NC fundraiser. So if you see a link you especially like, or an item you wouldn't see anywhere else, please do not hesitate to express your appreciation in tangible form. Remember, a tip jar is for tipping! Regular positive feedback both makes me feel good and lets me know I'm on the right track with coverage. When I get no donations for five or ten days I get worried. More tangibly, a constant trickle of donations helps me with expenses, and I factor in that trickle when setting fundraising goals:
Here is the screen that will appear, which I have helpfully annotated: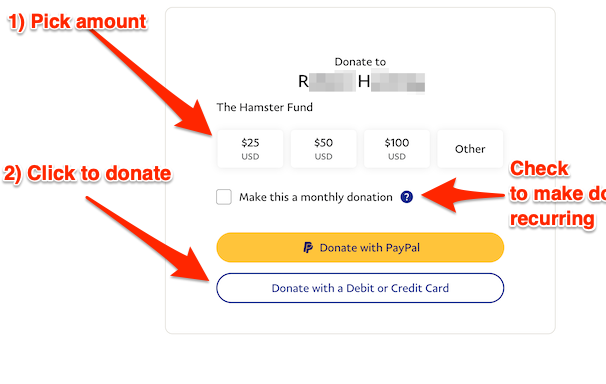 If you hate PayPal, you can email me at lambert [UNDERSCORE] strether [DOT] corrente [AT] yahoo [DOT] com, and I will give you directions on how to send a check. Thank you!