By Lambert Strether of Corrente.
Patient readers, this Water Cooler is a bit light; I had to do actual research on the ballot line material, so I couldn't blast through linky goodness at my usual pace. –lambert
Bird Song of the Day
Kashmir Nuthatch, Yusmarg Budgam, Jammu and Kashmir, India. "Calls from the male of a pair of birds, responding to playback of Collared Owlet, along with a large group of tits and other birds. While calling the bird was moving mid to high in a tall dead pine tree, in mixed conifer forest."
White-breasted Nuthatch (Eastern), Prairie Creek Reservoir–multi-use trail, Delaware, Indiana, United States. "Lured this male in with playback of Eastern song a minute before. Singing from 40 feet above me; interaction calls later on between this male and his presumed mate that joined him in the same tree." Airplanes in the background, I think….
* * *
Politics
"So many of the social reactions that strike us as psychological are in fact a rational management of symbolic capital." –Pierre Bourdieu, Classification Struggles
The Constitutional Order
"New Effort To Remove Trump From Ballot Underway In California" [Huffington Post]. "A group of California lawmakers are exploring a new method of potentially removing Donald Trump from the state's ballot over the former president's alleged 14th Amendment violations. The nine lawmakers ― eight members of the state Assembly and one member of the state Senate ― signed a letter Monday asking the state's Attorney General Rob Bonta to pursue a judiciary ruling on the matter, saying he's 'uniquely positioned to proactively seek the court's opinion to confirm Mr. Trump's inability to hold office.' … The lawmakers hope that asking Bonta to spearhead the effort could speed things along."

* * *

"The Sweep and Force of Section Three" [William Baude and Michael Stokes Paulsen, University of Pennsylvania Law Review]. I highly recommend this piece (and the ensuing discussion at NC, starting here). As a former English major and a fan of close reading, I'm not averse to "originalism," of which Baude and Paulsen provide a magisterial example, in the sense that understanding the law as a text must begin with understanding the plain, public meaning of the words used when the text was written. That's how I read Shakespeare, or Joyce, so why not the Constitution? Just as long as understanding doesn't end there! In any case, I'm working through it. One thing I notice is that there do seem to have been rather a lot of rebellions and insurrections, not just the Civil War. To me, this is parallel to one lesson I drew from Mike Duncan's Revolutions podcast (episode 1): There are rather a lot of revolutions, too. Alert reader Pensions Guy summarizes Baude and Paulsen as follows:

The authors go through an exhaustive textual and originalism analysis of Section Three, and their Federalist Society leanings do not deter them from reaching their conclusion that officials in every State who are charged with determining candidate qualifications should conclude that Donald Trump is disqualified from being on ballots because of the oath he took on Inauguration Day 2017 and subsequently violated through his role in the insurrection that took place on January 6, 2021.

Taking "insurrection" as read (I need to do more reading), this has been more of my continuing coverage of Section Three.
Biden Administration
"America's next government shutdown could be the strangest yet" [The Economist]. "House Speaker Kevin McCarthy has struggled to get his conference to agree on how to reopen spending negotiations after a debt-ceiling deal set spending levels earlier this year. 'This is a high-wire act over the Grand Canyon during a thunderstorm,' Mr Gingrich says, adding that his larger majority let him manoeuvre more freely during bitter political fights. By comparison, Mr McCarthy is beholden to congressmen like Florida's Matt Gaetz who, Mr Gingrich says, 'would probably vote against anything that McCarthy was for just because he hates McCarthy.' The current speaker bowed to the hardliners' wishes and spent days leading up to the deadline trying to pass separate appropriations bills and so-called policy riders. These would drastically cut spending across the government and advance unrelated policies such as immigration enforcement. They stand no chance of passing the Senate or being signed into law by Joe Biden, making a shutdown inevitable. The alternative is to pass the Senate's bipartisan legislation to avert a shutdown. But were Mr McCarthy to side with a reasonable, bipartisan majority in the House, that would prompt a "motion to vacate", or vote on Mr McCarthy's speakership." • Gingrich got pantsed routinely by Bill Clinton when he was speaker, and is any any case a washed-up has-been. Why is he in anybody's Rolodex, let alone the clever anonymous Brits at the Economist?
2024
Time for the Countdown Clock!

* * *

"It's likely too late for new hopefuls to jump into the 2024 GOP presidential primaries" [NBC]. The deck: "With filing deadlines approaching quickly, there's little hope for anti-Trump Republicans dissatisfied with the current field." And: "'The runway for someone to realistically run for president is basically over,' said Nick Trainer, who served as Delegates and Party Organization director on Trump's 2020 campaign but is not working for a White House hopeful this cycle…. For a candidate to appear on the ballot in many of the December-deadline states, he or she would already have to be collecting signatures — and there's no shadow campaign going on right now, according to GOP operatives who are paying close attention to the race." • Because I'm the suspicious sort, and this logic is being applied to the Democrat campaign too, I thought I'd find out what the filing deadlines for primaries actually were (note that Trainer is wrong; not all states require signature gathering). I summarized BallotPedias's big table to states and dates only:

State
Party
Filing deadline
Notes
Nevada
Democratic
10/16/23
New Hampshire
Qualified parties
10/27/23
Alabama
Democratic
11/10/23
Alabama
Republican
11/10/23
Arkansas
Democratic
11/14/23
A candidate can qualify for ballot placement either by filing a petition or by paying the filing fee. A candidate does not need to do both.
Arkansas
Republican
11/14/23
Tennessee
Qualified parties
12/05/23
The secretary of state can also place candidate names directly on the ballot.
Oklahoma
Qualified parties
12/06/23
A candidate may file either via petition or filing fee. Both are not required.
Michigan
Qualified parties
12/08/23
Colorado
Qualified parties
12/11/23
A candidate can qualify for ballot placement either by filing a petition or by paying the filing fee. A candidate does not need to do both.
Texas
Democratic
12/11/23
Petition signatures are only required in lieu of filing fee.
Texas
Republican
12/11/23
Petition signatures are only required in lieu of filing fee.
Virginia
Qualified parties
12/14/23
California
Democratic
12/15/23
A petition is only required if a candidate is not placed on the ballot by the secretary of state.
California
Republican
12/15/23
Louisiana
Qualified parties
12/15/23
Candidates can obtain ballot placement either by submitting a petition or paying the requisite filing fee.
North Carolina
Qualified parties
12/15/23
A candidate is only required to file a petition if he or she is not placed on the ballot automatically by party leaders.
Vermont
Qualified parties
12/15/23
Ohio
Democratic
12/20/23
Ohio
Republican
12/20/23
Candidates qualify by petition by "fielding candidates for delegate and alternate delegate to the party's national convention who have pledged their support to that candidate."
Massachusetts
Qualified parties
12/22/23
The secretary of the commonwealth is authorized to "place candidates on the ballot who have been generally advocated or recognized in the national news media." The chair of a political party's state committee can also select names to be printed on the primary ballot.
Illinois
Qualified parties
01/05/24
Kentucky
Qualified parties
01/05/24
There are three additional methods of ballot qualification that do not require candidates to file petitions. All four filing methods require payment of the filing fee.
Kansas
Qualified parties
01/19/24
A candidate can qualify for ballot placement either by filing a petition or by paying the filing fee. A candidate does not need to do both.
West Virginia
Qualified parties
01/27/24
Wisconsin
01/30/24
Delaware
Qualified parties
02/02/24
Indiana
02/09/24
Petition signature verification deadline: 1/30/24
Maryland
Qualified parties
02/09/24
Petitions are only required from candidates not recognized by the secretary of state for automatic ballot placement.
Montana
03/11/24
Oregon
Qualified parties
03/12/24
A candidate must only submit a petition if he or she is not selected for automatic ballot placement. The secretary of state advises candidates to submit signatures by 2/27/24 to ensure the office has time to verify the signatures.
South Dakota
N/A
03/26/24
Candidate names for the primary ballot are provided by the parties themselves.
Mississippi
Qualified parties
??
Utah
Qualified parties
??
Washington
N/A
??
Candidate names for the primary ballot are provided by the parties themselves.
Alaska
N/A
N/A
State law does not provide for a presidential primary election.
Florida
N/A
N/A
Participating parties submit candidate names directly to the secretary of state.
Georgia
N/A
N/A
Participating parties submit candidate names directly to the secretary of state.
Hawaii
N/A
N/A
State law does not provide for a presidential primary election.
Idaho
N/A
N/A
Parties administer their own presidential nominating events.
Iowa
N/A
N/A
State law does not provide for a presidential primary election.
Minnesota
N/A
N/A
Party chairs determine which candidates will appear on primary ballots.
Missouri
N/A
N/A
State law does not provide for a presidential primary election.
North Dakota
N/A
N/A
Parties administer their own presidential nominating events.
South Carolina
N/A
N/A
Parties administer their own presidential nominating events.
Wyoming
N/A
N/A
Parties administer their own presidential nominating events.

Swing States: AZ, PA, MI, NV, NC, GA, WI (in bold).

Super Tuesday States: AL, AK, AR, CA, CO, ME, MA, MN, NC, OK, TN, TX, UT, VT, VA (in italic).

So, yes, anybody hoping to get on a primary ballot had better hustle up their lameducks. Note, however, the wild profusion of procedures (and it gets even wilder at the full BallotPedia table). Note also that some data, for whatever reason, is outright missing: Arizona and Maine, for example. There are doubtless election professionals who are poring over this material now.

And while I'm on balloting procedures: Since, in the stability v. volatility dichotomy that in my view dominates this election I am firmly on the volatility camp — and any pundit who claims (or advocates, really) that we're looking at Trump v. Biden more than a year out is firmly in the stability camp — I regard the 2024 ballot lines as volatile too, regardless of the filing dates above. The 2020 election, with the lockdowns and closures taking place during the election, provided a number of cases challenging balloting. I haven't had the time to do real research, let alone Shepherdize anything, but this sentence in Esshaki v. Whitmer, 455 F. Supp. 3d 367 (E.D. Mich. 2020), caught my eyeL

, as will be explained in detail below, the Court finds that the State's actions in the form of enforcing both the Stay-at-Home Order and the statutory ballot-access requirements, operate in tandem to impose a severe burden on Plaintiff's ability to seek elected office, in violation of his First and Fourteenth Amendment rights to freedom of speech, freedom of association, equal protection, and due process of the law. Consequently, the Motion for Preliminary Injunction will be granted.

(The injunction was to allow additional time for signature gathering, so that Esshaki might appear on the ballot.) Now, I think the scenarios where "unique" "historical circumstances" would come into play in 2024 are pretty obvious — a candidate totally slips a cog or, alternatively, gets whacked — and in that case, the parties — whose distinctive competence in modern times, after all, is control of the ballot line — would do what needed to be done, and changing the ballot would be a lot less risky than a Mel Carnahan scenario. Professionals are doubtless doing this research too, right now. I'm starting to think that "the rule of law," including election law, is a lot like "the rules-based international order": honored more in the breach than the observance. Buckle up!

* * *

"Trump's GOP rivals say he's unelectable. Polls disagree" [Politico]. "Far from being an electoral liability, the former president is starting to lead — or at the very least tie — Biden in general election polling. Not only is Trump the top choice of a growing majority of Republican primary voters in national surveys, but Republicans overwhelmingly think he's the candidate with the best chance of beating Biden next fall. And poll after poll suggests Biden and Trump are essentially tied with just over a year until the general election." • A New York judge just took Trump's business away. I bet there are a lot of voters who are going to put that right in the "asset forfeiture" bucket and say "he's one of us," just like the non-bougie Blacks waving placards and cheering Trump's motorcade it rolled to his arraignment in Atlanta.

* * *

"Trump's long game with Latino voters is apparent after his historic arraignment" [NBC]. From June, still germane. "After his day in court, where he pleaded not guilty to 37 federal counts related to his alleged mishandling of classified documents, Trump headed to the Cuban restaurant Versailles — a pit stop for presidential candidates for decades, including former Presidents Bill Clinton and George W. Bush — where he was greeted by a cheering crowd…. nThe choice to turn the day of his federal indictment into a chance to court Latino voters was not surprising. No other U.S. president has dedicated so much time to Latinos in Florida, an ongoing source of frustration for Democrats and anti-Trump Republicans who have been pointing out his consistent outreach for years. It's worth remembering, as Florida International University political scientist Dario Moreno points out, that Trump did not start with strong support in the country's southernmost big city. Trump's initial campaign comments slamming Mexicans and his subsequent anti-immigrant rhetoric was seen by many voters as anti-Hispanic…. But once he became president, Trump spent time in Miami-Dade County and focused heavily on the Cuban American and Venezuelan community and growing groups such as Nicaraguans and Colombians…. 'What started out as a constituency that wasn't behind him and viewed him with suspicion has become, I think, among his most loyal base,' Moreno said." • Hence: "U.S. [i.e., Biden] Will Allow Nearly 500,000 Venezuelan Migrants to Work Legally"?

"Biden campaign is ramping up its strategy to win over Latino voters" [NBC]. "The campaign's broader strategy includes tailored ads for Latino voters in battleground states using narrators with accents from their countries or regions of origin; messaging on television and digital platforms that are popular with Latinos; and standing up an early effort to counter misinformation aimed at Latino voters, which Democratic officials believe eroded some support for Biden among Latinos in 2020…. A new NBC News poll released this week found 51% of Latinos have a high interest in the election, compared with 73% of white voters. Overall, Latinos currently have a lower interest in the 2024 election than at this same point in past election cycles. Shoring up Latino support, and voter turnout, could make the difference for Biden in key states in what's expected to be a tight race, particularly if it's a rematch between Biden and Republican front-runner, former President Donald Trump. While Biden overwhelmingly won among Latino voters in 2020, that year Trump gained more of their support than in the 2016 election."
Democrats en Déshabillé
Patient readers, it seems that people are actually reading the back-dated post! But I have not updated it, and there are many updates. So I will have to do that. –lambert

I have moved my standing remarks on the Democrat Party ("the Democrat Party is a rotting corpse that can't bury itself") to a separate, back-dated post, to which I will periodically add material, summarizing the addition here in a "live" Water Cooler. (Hopefully, some Bourdieu.) It turns out that defining the Democrat Party is, in fact, a hard problem. I do think the paragraph that follows is on point all the way back to 2016, if not before:

The Democrat Party is the political expression of the class power of PMC, their base (lucidly explained by Thomas Frank in Listen, Liberal!). ; if the Democrat Party did not exist, the PMC would have to invent it. . ("PMC" modulo "class expatriates," of course.) Second, all the working parts of the Party reinforce each other. Leave aside characterizing the relationships between elements of the Party (ka-ching, but not entirely) those elements comprise a network — a Flex Net? An iron octagon? — of funders, vendors, apparatchiks, electeds, NGOs, and miscellaneous mercenaries, with assets in the press and the intelligence community.

Note, of course, that the class power of the PMC both expresses and is limited by other classes; oligarchs and American gentry (see 'industrial model' of Ferguson, Jorgensen, and Jie) and the working class spring to mind. Suck up, kick down.

* * *
#COVID19
"I am in earnest — I will not equivocate — I will not excuse — I will not retreat a single inch — AND I WILL BE HEARD." –William Lloyd Garrison
Resources, United States (National): Transmission (CDC); Wastewater (CDC, Biobot; includes many counties; Wastewater Scan, includes drilldown by zip); Variants (CDC; Walgreens); "Iowa COVID-19 Tracker" (in IA, but national data). "Infection Control, Emergency Management, Safety, and General Thoughts" (especially on hospitalization by city).
Lambert here: Readers, thanks for the collective effort. To update any entry, do feel free to contact me at the address given with the plants. Please put "COVID" in the subject line. Thank you!
Resources, United States (Local): AK (dashboard); AL (dashboard); AR (dashboard); AZ (dashboard); CA (dashboard; Marin, dashboard; Stanford, wastewater; Oakland, wastewater); CO (dashboard; wastewater); CT (dashboard); DE (dashboard); FL (wastewater); GA (wastewater); HI (dashboard); IA (wastewater reports); ID (dashboard, Boise; dashboard, wastewater, Central Idaho; wastewater, Coeur d'Alene; dashboard, Spokane County); IL (wastewater); IN (dashboard); KS (dashboard; wastewater, Lawrence); KY (dashboard, Louisville); LA (dashboard); MA (wastewater); MD (dashboard); ME (dashboard); MI (wastewater; wastewater); MN (dashboard); MO (wastewater); MS (dashboard); MT (dashboard); NC (dashboard); ND (dashboard; wastewater); NE (dashboard); NH (wastewater); NJ (dashboard); NM (dashboard); NV (dashboard; wastewater, Southern NV); NY (dashboard); OH (dashboard); OK (dashboard); OR (dashboard); PA (dashboard); RI (dashboard); SC (dashboard); SD (dashboard); TN (dashboard); TX (dashboard); UT (wastewater); VA (dashboard); VT (dashboard); WA (dashboard; dashboard); WI (wastewater); WV (wastewater); WY (wastewater).
Resources, Canada (National): Wastewater (Government of Canada).
Resources, Canada (Provincial): ON (wastewater); QC (les eaux usées); BC, Vancouver (wastewater).
Hat tips to helpful readers: anon (2), Art_DogCT, B24S, CanCyn, ChiGal, Chuck L, Festoonic, FM, FreeMarketApologist (4), Gumbo, hop2it, JB, JEHR, JF, JL Joe, John, JM (10), JustAnotherVolunteer, JW, KatieBird, LL, Michael King, KF, LaRuse, mrsyk, MT, MT_Wild, otisyves, Petal (6), RK (2), RL, RM, Rod, square coats (11), tennesseewaltzer, Utah, Bob White (3).
Stay safe out there!
* * *
"Something Awful"
Lambert here: I'm getting the feeling that the "Something Awful" might be a sawtooth pattern — variant after variant — that averages out to a permanently high plateau. Lots of exceptionally nasty sequelae, most likely deriving from immune dysregulation (says this layperson). To which we might add brain damage, including personality changes therefrom.

* * *
* * *
Lambert here: Wastewater data, ER visits, and positivity are all telling me the current peak is past; we dodged a bullet post-Labor Day/school opening. I wish the darned anecdotes — granted, Twitter's algo amplifies my tendency toward doomscrolling — would co-operate:
More anecdotes on coughing and absences, and I see a lot:
…presenting…the #CleanAir propeller , a single hepa filter unit decorated with pictures of science experiments. More staff are interested in a #corsirosenthalbox since so many students are symptomatic now. It feels like the middle of November for people sick & coughing. pic.twitter.com/yXDAvSksKb

— Sphagnum Moss (@moss_sphagnum) September 28, 2023
Doesn't all have to be Covid, of course; see the wastewater. But the coughing and constant illness could be immune dysregulation. The public health establishment is, I think, trying to force this coughing, sickened population into the tripledemic box — whoever coined "tripledemic" should get a bonus — and then vaccinate them, but (a) vax take-up is low, owing to the catastrophic mistrust the public health establishment has brought upon itself, and (b) misplaced anyhow, since we don't know what these coughing, sickened people really have, because all our [family blogging] data sources have been systematically choked off. Of course, some of its Covid too–
"19 Bridgeport school staffers, 41 students test positive for COVID-19 as cases rise across CT" [CT Post]. "But Early warned the figures are likely to climb in the coming months as fall begins and the district's 1,500 or so teachers and almost 20,000 students spend more time indoors away from cold weather. 'Now that COVID's here, I don't anticipate it going anywhere,' [Lizette Earley, the district's supervisor for health and nursing services] told the board's health, safety and facilities committee this week. 'This is something that we will continue to deal with on a yearly basis. And much like the flu, it will have times when it peaks and lowers.'" • Stochastic eugenics in action, gee thanks Lizette. The flu doesn't cause neurological or vascular damage ffs. And heaven forfend anybody should mention ventilation!
Case Data
NOT UPDATED From BioBot wastewater data, September 25:
Lambert here: "Data last updated September 18, 2023 from samples collected during the week of September 11, 2023. This Thursday's update is delayed. Visualizations are next expected to be updated on September 25, 2023. Most recent data are subject to change." So even wastewater data is turning to garbage? (I checked CDC data, and it was updated on September 18, too? Funding issues? Everybody using the same lab behind the scenes, and there was a debacle of some kind?)
Lambert here: Dropping everywhere but the Northeast. How am I going to be doing my personal risk assessment when the data lags by a week?
Regional data: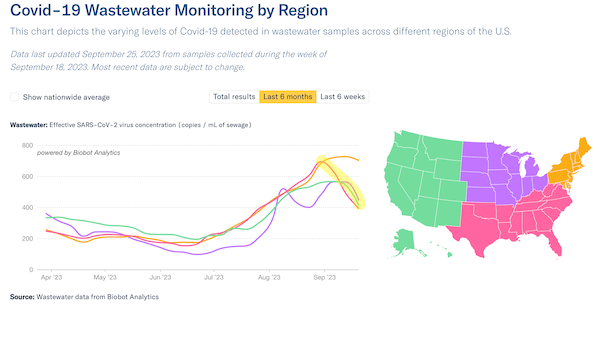 Interestingly, the upswing begins before July 4, which neither accelerates nor retards it.
Variants
From CDC, September 30: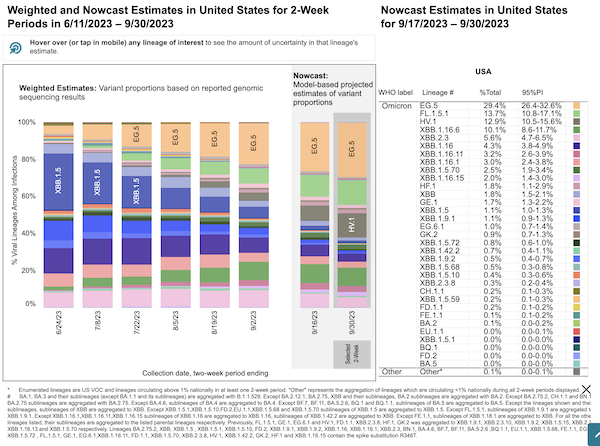 Lambert here: September 30 is tomorrow, but never mind that. Top of the leaderboard: EG.5 ("Eris"), with FL.1.15.1, HV.1, and XBB.1.1.16.6 trailing. Still a Bouillabaisse…
From CDC, September 16: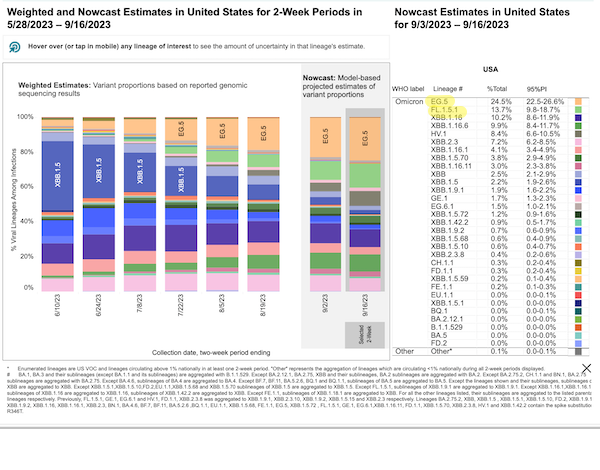 Lambert here: I sure hope the volunteers doing Pangolin, on which this chart depends, don't all move on the green fields and pastures new (or have their access to facilities cut by administrators of ill intent).
CDC: "As of May 11, genomic surveillance data will be reported biweekly, based on the availability of positive test specimens." "Biweeekly: 1. occurring every two weeks. 2. occurring twice a week; semiweekly." Looks like CDC has chosen sense #1. In essence, they're telling us variants are nothing to worry about. Time will tell.
Covid Emergency Room Visits
NOT UPDATED From CDC NCIRD Surveillance, September 23: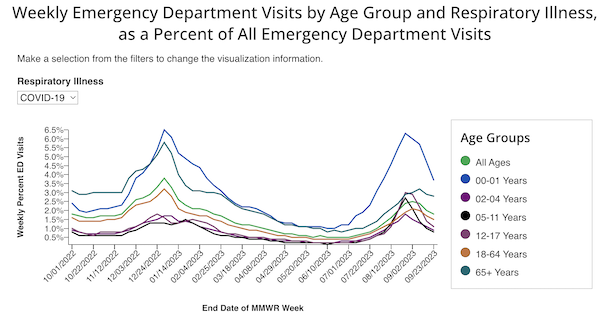 Drop coinciding with wastewater drop.
NOTE "Charts and data provided by CDC, updates Wednesday by 8am. For the past year, using a rolling 52-week period." So not the entire pandemic, FFS (the implicit message here being that Covid is "just like the flu," which is why the seasonal "rolling 52-week period" is appropriate for bothMR SUBLIMINAL I hate these people so much. Notice also that this chart shows, at least for its time period, that Covid is not seasonal, even though CDC is trying to get us to believe that it is, presumably so they can piggyback on the existing institutional apparatus for injections.
Hospitalization
NOT UPDATED Bellwether New York City, data as of September 28: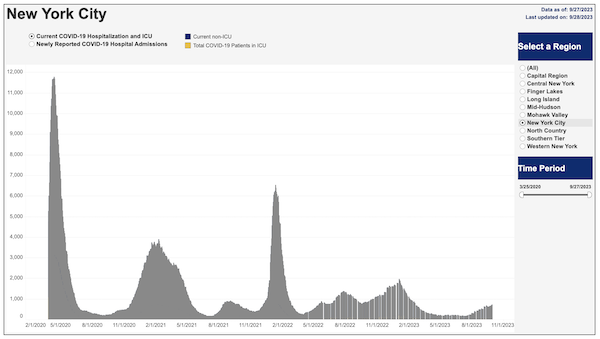 Return to the upward climb. I hate this metric because the lag makes it deceptive.
NOT UPDATED Here's a different CDC visualization on hospitalization, nationwide, not by state, but with a date, at least. September 16: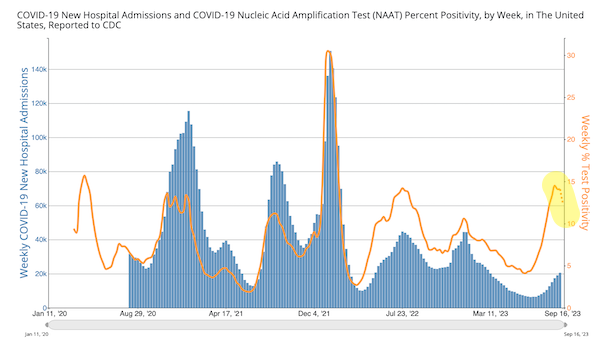 Lambert here: At least we can see that positivity and hospitalization correlate.
Lambert here: "Maps, charts, and data provided by CDC, updates weekly for the previous MMWR week (Sunday-Saturday) on Thursdays (Deaths, Emergency Department Visits, Test Positivity) and weekly the following Mondays (Hospitalizations) by 8 pm ET†". So where the heck is the update, CDC?
Positivity
NOT UPDATED From Walgreens, September 25: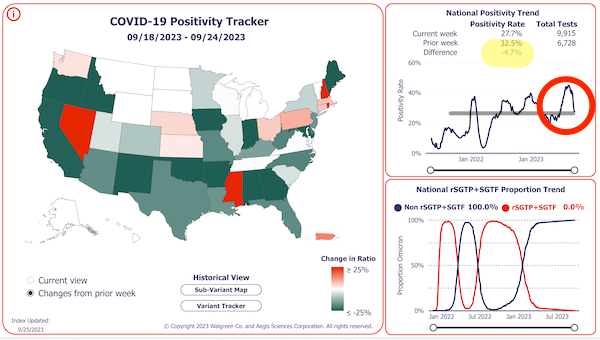 -4.7%. Another big drop. (It would be interesting to survey this population generally; these are people who, despite a tsunami of official propaganda and enormous peer pressure, went and got tested anyhow.)
NOT UPDATED From Cleveland Clinic, September 23: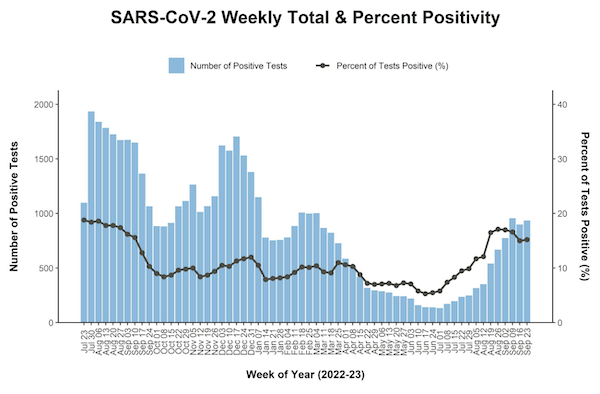 Lambert here: I know this is just Ohio, but the Cleveland Clinic is good*, and we're starved for data, so…. NOTE * Even if hospital infection control is trying to kill patients by eliminating universal masking with N95s.
NOT UPDATED From CDC, traveler's data, September 4: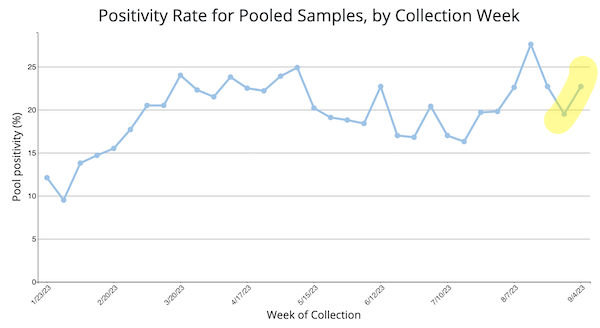 Back up again And here are the variants: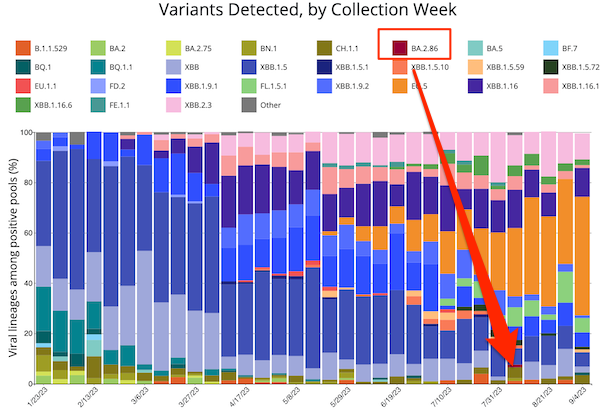 No BA.2.86 for three of the long-delayed collection weeks. We know BA.2.86 is in the country, so apparently it escaped CDC's net.
Deaths
Iowa COVID-19 Tracker, September 27: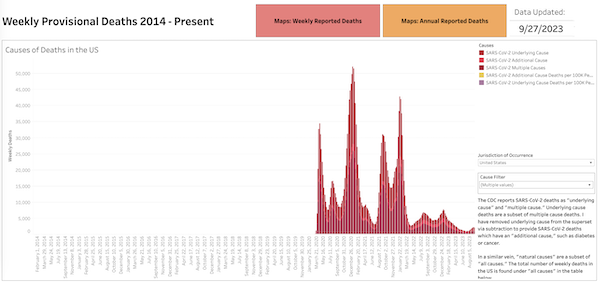 Lambert here: The WHO data is worthless, so I replaced it with the Iowa Covid Data Tracker. Their method: "These data have been sourced, via the API from the CDC: https://data.cdc.gov/NCHS/Conditions-Contributing-to-COVID-19-Deaths-by-Stat/hk9y-quqm. This visualization updates on Wednesday evenings. Data are provisional and are adjusted weekly by the CDC." I can't seem to get a pop-up that shows a total of the three causes (top right). Readers?
Total: 1,176,771 – 1,176,595 = 176 (176 * 365 = 64,240 deaths per year, today's YouGenicist™ number for "living with" Covid (quite a bit higher than the minimizers would like, though they can talk themselves into anything. If the YouGenicist™ metric keeps chugging along like this, I may just have to decide this is what the powers-that-be consider "mission accomplished" for this particular tranche of death and disease). 
Excess Deaths
The Economist, September 28: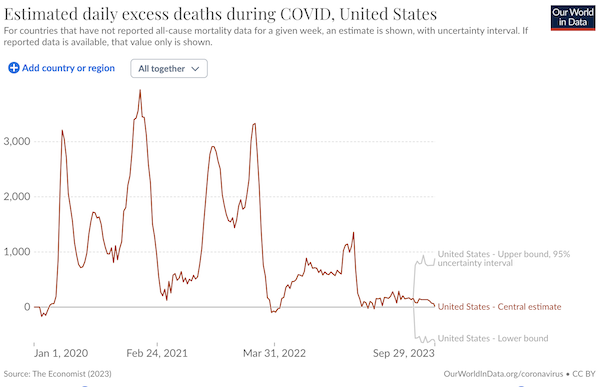 Lambert here: This is now being updated daily again. Odd. Based on a machine-learning model.
Stats Watch
Inflation: "United States Core PCE Price Index MoM" [Trading Economics]. "Core PCE prices in the US, which exclude food and energy, increased by 0.1 percent month-over-month in August 2023, the least since November 2020 and below market expectations of a 0.2 percent rise. The annual rate, regarded as the Federal Reserve's preferred measure of inflation, eased as anticipated to 3.9 percent, the lowest since May 2021. When factoring in food and energy costs, the PCE price index climbed 0.4 percent from the previous month and 3.5 percent from the corresponding period in the previous year." • If you say so.
Consumer Expectations: "United States Michigan Consumer Expectations" [Trading Economics]. "The University of Michigan Consumer Expectations in the United States rose slightly less than initially expected in September 2023 (66 vs 66.3 in the preliminary estimate). It compares with 65.5 in August, as consumers are unsure about the trajectory of the economy given multiple sources of uncertainty, for example over the possible shutdown of the federal government and labor disputes in the auto industry."
Manufacturing: "United States Chicago PMI" [Trading Economics]. "The Chicago Business Barometer, also known as the Chicago PMI, fell to 44.1 in September 2023 from 48.7 in August, and well below market forecasts of 47.6. The reading marked the 13th consecutive month of contraction in business activity in the Chicago region, and it was stronger than the previous month."
* * *
Tech: "Norway wants Facebook behavioral advertising banned across Europe" [The Register]. "Norway has told the European Data Protection Board (EDPB) it believes a countrywide ban on Meta harvesting user data to serve up advertising on Facebook and Instagram should be made permanent and extended across Europe. The Scandinavian country's Data Protection Authority, Datatilsynet, had been holding back Facebook parent Meta from scooping up data on its citizens with the threat of fines of one million Kroner (about $94,000) per day if it didn't comply. In August, it said Meta hadn't been playing ball and started serving up the daily fines. However, the ban that resulted in these fines, put into place in July, expires on November 3 – hence Norway's request for a 'binding decision.' The July order came after a Court of Justice of the European Union (CJEU) ruling [PDF] earlier that month stating Meta's data processing operation was also hauling in protected data – race and ethnicity, religious affiliation, sexual orientation etc. – when it cast its behavioral ads net. Norway is not a member of the EU but is part of the European single market, and the CJEU, as Europe's top court, has the job of making sure the application and interpretation of law within the market is compliant with European treaties (this part would apply to Norway) as well as ensuring that legislation adopted by the EU is applied the same way across all Member States."
Tech: "Study reveals some teens receive 5,000 notifications daily, most spend almost two hours on TikTok" [TechSpot]. " It shouldn't come as a surprise to learn that kids spend a lot of time on their phones. A new survey found that the average teen used their handset for over four hours per day, with TikTok taking up most of that time – almost two hours daily. It was also discovered that more than half of the participants received more than 200 notifications in one day, with some getting an incredible 5,000 notifications in 24 hours." • Kids these days. When I get a new machine, the first thing I do is turn all notifications off.
Tech: "Report: Jony Ive and OpenAI CEO Raise $1B to Design the 'iPhone of AI'" [Gizmodo]. • No.
* * *
Today's Fear & Greed Index: 29 Fear (previous close: 29 Fear) [CNN]. One week ago: 34 (Fear). (0 is Extreme Fear; 100 is Extreme Greed). Last updated Sep 29 at 1:42:20 PM ET.
Zeitgeist Watch
"Costco is selling gold bars, and they're selling out within hours" [CBS]. "The discount retailer said this week it has started selling 1-ounce bars of gold, but that demand is so strong it can't keep them in stock even with a limit of two bars per member. The company is selling two types of bars: a 1-ounce gold PAMP Suisse Lady Fortuna Veriscan bar, which bears the imprint of a silhouette of the goddess of fortune with a cornucopia, and a 1-ounce bar from South Africa's Rand Refinery, stamped with an elephant design. Both bars are about half an inch long. The PAMP Suisse bar is registered and comes with a digital certificate that can be accessed with a QR code, while the Rand bars come with their own serial numbers."
Healthcare
"Flu, Covid vaccination rates decline, as U.S. health officials make new push for inoculations" [STATS]. A fine natural experiment for anybody who wants to write the paper: "With Covid transmission surging and flu and RSV seasons on the near horizon, federal officials have been keen to project that this fall and winter's respiratory disease season won't be a repeat of last year's chaotic activity, when the early arrival of RSV and influenza coincided with an increase in Covid transmission to strain health care capacity across the country. But their efforts have been undermined by a bumpy rollout of updated Covid vaccines, which this fall for the first time are being provided by the commercial market. ." • BWA-HA-HA-HA-HA!!! Who knew that abolishing "single payer" would cause problems!
Class Warfare
"UAW Expands Strike to GM Plant in Michigan, Ford Factory in Chicago" [WSJ]. "The United Auto Workers union expanded its strike to a Ford Motor factory in Chicago and a General Motors plant in Michigan, citing a lack of progress at the bargaining table. UAW President Shawn Fain said during a livestream address Friday that Chrysler-parent Stellantis would be spared from further walkouts for now, saying the company delivered a proposal that made significant progress on the union's demands, including cost-of-living-adjustments. The new walkouts would add nearly 7,000 workers to the roughly 18,000 UAW members on strike across the three companies, at three assembly plants and dozens of parts-distribution facilities. The Detroit companies combined have about 146,000 union workers. The union renewed its expansion of strikes at Ford after sparing the automaker last week because Fain said talks had been advancing at the time. The latest walkouts offer further insight into the UAW's novel strike strategy. The union has been gradually expanding the walkouts but so far without causing deep disruption across the companies' factory footprints."
News of the Wired
"A universal description of stochastic oscillators" [PNAS]. Science is popping! "Many natural systems exhibit oscillations that show sizeable fluctuations in frequency and amplitude. This variability can arise from a wide variety of physical mechanisms. Here, we develop a general theory for stochastic oscillators, based on a canonical nonlinear transformation of variables. . We test the theory for three theoretical models of noisy oscillators arising from fundamentally different mechanisms: a damped harmonic oscillator with dynamical noise, a fluctuation-perturbed limit-cycle system, and an excitable system in which oscillations require noise to occur." • Now do the economy. And pandemics. Could some kind reader with the right chops take a look at this?
* * *
Contact information for plants: Readers, feel free to contact me at lambert [UNDERSCORE] strether [DOT] corrente [AT] yahoo [DOT] com, to (a) find out how to send me a check if you are allergic to PayPal and (b) to find out how to send me images of plants. Vegetables are fine! Fungi and coral are deemed to be honorary plants! If you want your handle to appear as a credit, please place it at the start of your mail in parentheses: (thus). Otherwise, I will anonymize by using your initials. See the previous Water Cooler (with plant) here. From Chet G: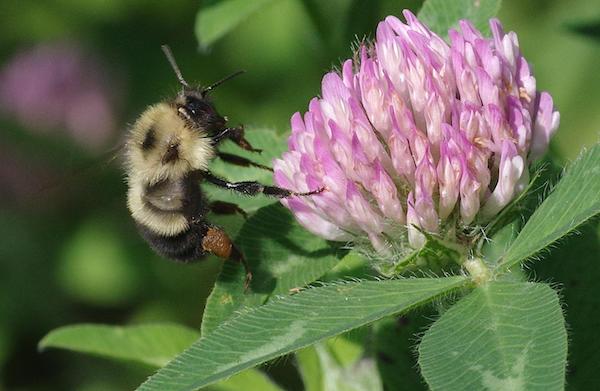 Chet G writes: "Bumblebee on red clover flower."
* * *
Readers: Water Cooler is a standalone entity not covered by the annual NC fundraiser. So if you see a link you especially like, or an item you wouldn't see anywhere else, please do not hesitate to express your appreciation in tangible form. Remember, a tip jar is for tipping! Regular positive feedback both makes me feel good and lets me know I'm on the right track with coverage. When I get no donations for five or ten days I get worried. More tangibly, a constant trickle of donations helps me with expenses, and I factor in that trickle when setting fundraising goals:
Here is the screen that will appear, which I have helpfully annotated: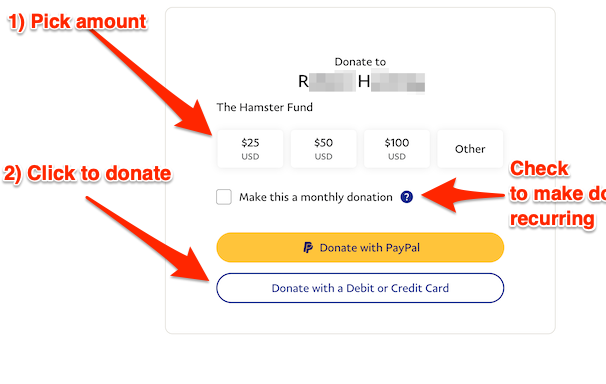 If you hate PayPal, you can email me at lambert [UNDERSCORE] strether [DOT] corrente [AT] yahoo [DOT] com, and I will give you directions on how to send a check. Thank you!