By Lambert Strether of Corrente.
"We thank you, Almighty God, for the gift of water." –The Book of Common Prayer
YouTube's algorithm started serving me videos of cute dogs swimming, heaven knows why; it's hard to see how steam locomotives, snooker, surfing (actual surf), K-Pop could have induced such a beneficence. But since the summer is over and the swimming pools are closed (I assume yours, though the only map I could find was from 2020, and tracked Covid closures), I took the algo's output as a topical omen. But let me immediately relegate the cat in the headline to a footnote[1]. Swimming dogs, then; and then, swimming. (I have my sound down at all times; that might be a good idea for you, too, if you watch the videos.)
Some dogs are bred to swim:
EXP 4

These energetic, powerful gundogs enjoy outdoor play. For a breed built to retrieve waterfowl for hours on end, swimming and fetching are natural pastimes. #Dogs #GoldenRetriever #DogLover #Bingo #akc #Canine pic.twitter.com/gOAFAZNkVr

— Bolutife Kelani Azeez (@kbitss) September 21, 2023
1. Others, not so much:
看我看我,快看我有多棒!🐶
Look at me, look at me, look at how great I am!#lifestyle #news #dogs #pets #swimming pic.twitter.com/Ijk6WgDQCy

— 吹水茶馆🫒🪸🍀🪷global village🌏 (@pengxina131817) September 20, 2023
2. Here are two dogs taking a swimming lesson:
Two dogs swimming together during dog training #dogsoftwitter #dogsarefamily #DogVideo #dogsarelove #dogstyle #animallover #FunniestVideos #teamworkmakesthedreamwork #swimming pic.twitter.com/YJRLx1DgU5

— Bastian Lang (@bastian_lang86) March 15, 2023
3. Lesson learned, here is dog-paddling from an usual perspective:
4. Here is a pack of wild dogs:
Total chaos!

Swimming in a pond, hunting rabbits, wild dogs, just the best.

Scribe to my YouTube @86daysinkruger
for more sights like this.

More than a place. It's a feeling.
Kruger National Park, South Africa 🇿🇦#86daysinkruger#86days#86wild#wilddog pic.twitter.com/qm5CkPqrLy

— Christopher Tosi (@86daysinkruger) September 16, 2023
5. And here is a dog carried away by the current but reaching safety:
swimming dogs pic.twitter.com/P3eDdxYf2w

— Tweets of Nature 🌴🐏 (@TweetsOfNature) September 21, 2023
Perhaps Dog #5 feels like this physician in the New England Journal of Medicine (which I now read regularly, thanks to Covid). Caught in a rip tide, with her brother unable to save her or himself[2]:
When I look back, I'm surprised by how quickly I gave in to fatigue and helplessness, recognizing that I was severely outmatched, figuring that it was the end. A few more moments passed — ones that felt drawn out and agonizing — and out of nowhere, a lifeguard, well versed in the practical physics of riptides, swam nimbly around the current and pulled our exhausted, shaking, humbled bodies to shore.

There have been moments in these past 3 years when I've felt like I was drowning again…. Early on, the terror of going to work and potentially bringing this lethal virus home to our families. The challenge of reaching out to our primary care patients across the telephone lines to keep them afloat through their profound, terrifying isolation — and of realizing how little we could do for them.
I don't remember learning to swim. Certainly later than 8000 BCE, when rock paintings at Gilf Kebir, in southwestern Egypt, depicted swimmers:
Or maybe not:
[M]odern researchers suggest the images depict not swimmers but something more symbolic: floating spirits, or even dreams recorded by the Stone Age dwellers of the region.
Certainly my ability to swim is, well, a privilege, luck of the draw, a function of the time, place, and class into which I was born, American's long Imperial Summer, when there was clean water everywhere, public facilities, a countryside to drive out to, in the Buick or the Volkswagen:
This year the OECD reported that only one in four people in low-income countries can swim. Low to middle-income countries report more non-swimmers than swimmers, and a majority of those not able to swim are girls and women.

Access to natural waterways has decreased world-wide through the privatisation of foreshores and beaches, and the building of dams, roads, ports, the development of wetlands, and larger cities.
Many swimming pools in those dog videos, and not all plastic ones, either. (Surely somebody has written a book on the American "back yard.") Certainly, these children are not me: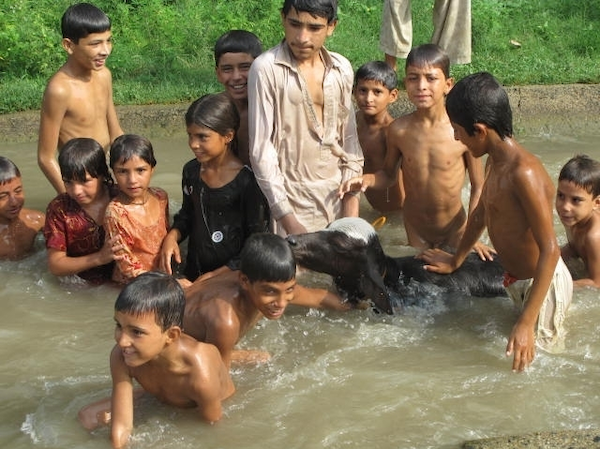 My first memory failure is not remembering how I got into a lake, but remembering the silvery rippled wide lake itself, and that my father rescued me. Even as he climbed the career ladder, we never did have a swimming pool, but we did have a galvanized tub, filled with the green hose, under the purple and green of the mulberry tree. In the summer we drove out to a creek that meandered through the "green tunnels" of the midwest, where a bar of clean white sand dammed up enough water for we the children to swim, in our underwear, and for the mothers to talk. After Labor Day, we camped and drove for miles through the sumac over dirt road to an artificial lake, with no lifeguards, no buoys, and nobody around. When I was an obnoxious teenager, one of a pack, we were all much given to dunking in pool blue of the newly built municipal piscina. And then of course the chilly, glinting Atlantic, where even immersed only up to my belly I could feel the tug of the undertow, which I didn't like much.
The bodily sensation — the kinesthesia? Proprioception? — that returns to me is being bouyant, of floating, feeling weightless. But that's not what swimming is:
Swimming involves repeated motions known as strokes in order to propel the body forward.
My younger self seems to have left out the strokes part; splashing, floating, diving porpoise-like, even dunking — but not propulsion; not forward motion (and not, above all, fluid rising in my lungs).
The poet Elizabeth Bishop takes a more joyously immersive, sensational view of swimming in "Pleasure Seas"[3] (the seas being off the coast of Florida, not New England). Like Auden, she begins with a painting:
In the walled off swimming-pool the water is perfectly flat.
The pink Seurat bathers are dipping themselves in and out
Through a pane of bluish glass.
The cloud reflections pass
Huge amoeba-motions directly through
The beds of bathing-caps: white, lavender, and blue.
This Seurat is not the well-known Sunday Afternoon on the Island of La Grande Jatte, but the less well-known Bathers at Asnières, in which you can see what I think is a bathing cap, albeit red. You can also see that Bathers is directly on point for this post: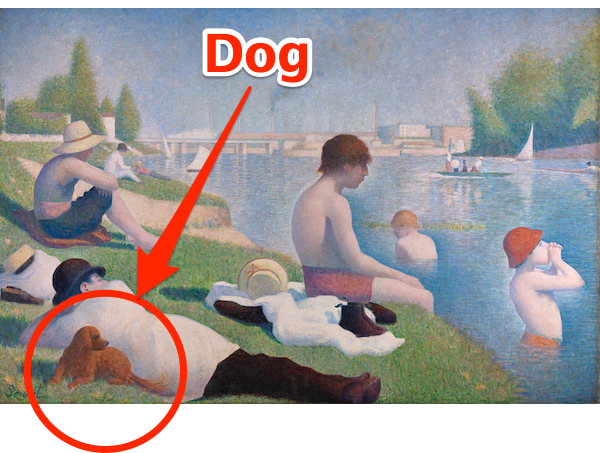 (You may think that Bishop's accumulation of small, precise sensory detail is very much like a Seurat painting.) She concludes:
From the swimming-pool or from the deck of a ship
Pleasures strike off humming, and skip
Over the tinsel surface: a Grief floats off
Spreading out thin like oil.

But shatters immediately, suffers refraction,
And comes back in shoals of distraction.
Happy the people in the swimming-pool and on the yacht,
Happy the man in that airplane, likely as not —
And out there where the coral reef is a shelf
The water runs at it, leaps, throws itself
Lightly, lightly, whitening in the air:
An acre of cold white spray is there
Dancing happily by itself.
Bishop certainly does do propulsion, doesn't she? One might hope that her capital "L" hints at a better fate than "shoals of distraction" for "Love," linear though it may be in its expression. Finishing its potted history, the Conversation remarks:
It takes time to learn to swim, is especially difficult as an adult to learn, and do-or-die – it's impossible to fake.
One strikes out from shore. But one never does know where one will end up?[4]
NOTES
[1] It's a cute cat, and it does swim, but the YouTuber disabled embedding. Also, "Cuddle Buddies."
[2] I'm leaving out the part about "emerging from this catastrophic time," and "isn't it also true that in many ways we are stronger?" because I'm not sure about either claim, no matter how tentatively put. The piece concludes with the author gifting themselves with swimming lessons.
[3] Not included at the Poetry Foundation, for pity's sake.
[4] Pet owners left puzzled as their dogs turn bright green after swimming in reservoir Manchester Evening News. Nobody knows why.