By Lambert Strether of Corrente.
Patient readers, my IT is back to normal, fortunately. It's a rare thing, I think, to have four layers of a redundant system fail, but fail they did! –lambert
Bird Song of the Day
California Towhee, Sand Creek Rd., Colusa, California, United States.
* * *
Politics
"So many of the social reactions that strike us as psychological are in fact a rational management of symbolic capital." –Pierre Bourdieu, Classification Struggles
Biden Administration
"White House launching $5 billion program to speed coronavirus vaccines" [WaPo]. "'Project Next Gen' — the long-anticipated follow-up to 'Operation Warp Speed,' the Trump-era program that sped coronavirus vaccines to patients in 2020 — would take a similar approach to partnering with private sector companies to expedite development of vaccines and therapies. An array of scientists, public heath experts and politicians have called for the initiative, warning that existing therapies have steadily lost their effectiveness and new ones are needed. 'It's been very clear to us that the market on this is moving very slowly,' Ashish Jha, the White House coronavirus coordinator, said in an interview Monday. 'There's a lot that government can do, the administration can do, to speed up those tools … for the American people.'" And: "Jha and others said the new effort will focus on three goals: creating long-lasting monoclonal antibodies, after an evolving virus rendered current treatments ineffective; accelerating development of vaccines that produce what is known as mucosal immunity, which is thought to reduce transmission and infection risks; and speeding efforts to develop pan-coronavirus vaccines to guard against new variants of SARS-CoV-2, as well as other coronaviruses, from Middle East respiratory syndrome (MERS) to still-unidentified viruses in that family. And: "But Jha declined to set timetables for when the products might come to market…." And so: "Key parts of the new initiative have yet to be finalized. The White House is still considering candidates to lead the program, officials said. The vetting process has been complicated by Democrats' desire to avoid questions of conflicts of interest that dogged Operation Warp Speed, after Trump officials selected Moncef Slaoui, a pharmaceutical industry executive with significant stock holdings, to lead that program." • I'm not impressed. Biden has put together a small pot of $5 billion, while blaming Republicans for not appropriating anything. The project should have been set up in January 2021, but it took the molasses-brained Biden administration two years to move, and in the interim, 700,000+ people died. There's no timeline — very much unlike "Warp Speed" — and so no urgency. And we don't know who's running it, so we don't know how much of a priority it will be. I'd love it to succeed, but I dunno….

"Project Next Gen: The United States Gets Serious for New Covid Vaccines" [Eric Topol, Ground Truths]. "This is a substantial allocation that should make a difference for accelerating development of nasal and pan-coronavirus vaccines that can be more protective, and durable (both with respect to time and against new variants), along with therapies such as monoclonal antibodies and oral anti-viral pills beyond Paxlovid. Public-industry partnerships (OWS) that have accounted for our early and extraordinary success vs Covid, but until now not replicated. We really need this support…. The new Project NextGen didn't happen by accident. It took many months for the White House Response Team, with efforts led by Dr. Ashish Jha, to first attempt Congressional authorization of funds, and later to successfully get HHS allocation. It also [what prioritization?]. I'm thrilled to see this getting done. Of course it would have been better to have been initiated a year or two ago, but a foundation of science for the next generation vaccines and therapies has been building. This program and funding can, if properly executed, be a huge catalyst to get up better protected and prepared for the future." • A three-quarters-empty but slowly filling glass? I'll be "thrilled" when I see the leadership and a timeline. There is no reason whatever to trust the Biden Administration on any aspect of Covid policy. They have form. I would also like to know how Biden was brought to agree on the relatively trivial $5 billion amount.
The Supremes
"Democrats ask chief justice to investigate Clarence Thomas trips: 'It is your duty'" [The Hill]. • That dull thud you just heard is called "punting." AOC is right. Impeach the dude. It's ridiculous.
2024
"Key lawmakers granted access to Biden, Trump and Pence classified documents" [CNN]. "Top lawmakers on Capitol Hill who oversee the intelligence community finally have been granted the ability to look over the classified documents found improperly in the homes of President Joe Biden, former President Donald Trump and former Vice President Mike Pence, three sources familiar with the matter tell CNN, ending a months-long standoff between Congress and the administration. The members of the "Gang of Eight", which includes the House and Senate leaders from each party as well as the chairs and ranking members of the House and Senate intelligence committees, are privy to the most sensitive classified information. They began to get the documents last week. A source familiar with the process tells CNN the Gang of Eight began getting access to Biden, Pence and Trump's classified documents 'in a rolling production' last week. The Biden administration is giving the group access to the documents 'in tranches' and not all at once, according to the source. For several months, leaders of the intelligence committees have been pushing for more information about the kinds of documents found, offering harsh criticism for the lack of information they received early on."

* * *

OH: "Waning support for Ukraine in Ohio points to US election flashpoint" [Financial Times]. "Ahead of the 2024 elections, the faultlines in Republican foreign policy are starting to appear. Former US president Donald Trump and his expected main rival for the nomination Ron DeSantis have questioned American assistance to Ukraine, although the Florida governor later moderated his stance. Others such as Nikki Haley and Mike Pence have argued that the US needs to continue its support. Former US secretary of state Mike Pompeo travelled to Kyiv this month and advocated for American aid, which he said was not about abstract ideals but 'strengthening our national and economic security.' The same splits can be found in Ohio, where isolationist senator JD Vance took over this year from the more moderate senator Rob Portman, who was one of Congress's strongest voices on Ukraine. Ohio's governor, Mike DeWine, who was also elected in 2022, has advocated for continued assistance to Kyiv. The Biden administration is expected to request more aid for Ukraine in the summer when some $45bn passed last year runs out. And it is people like Snyder, or Judith Vanderhorst, a self-described 'down-the-middle' Republican, who lawmakers will have in mind heading into competitive 2024 congressional and presidential primaries and elections. The US 'probably shouldn't' keep sending aid to Ukraine, said Vanderhorst, of Centreville, Ohio. 'I don't think America should have to police the world, we have enough issues and problems here.'"
Democrats en Déshabillé
Patient readers, it seems that people are actually reading the back-dated post! But I have not updated it, and there are many updates. So I will have to do that. –lambert

I have moved my standing remarks on the Democrat Party ("the Democrat Party is a rotting corpse that can't bury itself") to a separate, back-dated post, to which I will periodically add material, summarizing the addition here in a "live" Water Cooler. (Hopefully, some Bourdieu.) It turns out that defining the Democrat Party is, in fact, a hard problem. I do think the paragraph that follows is on point all the way back to 2016, if not before:

The Democrat Party is the political expression of the class power of PMC, their base (lucidly explained by Thomas Frank in Listen, Liberal!). ; if the Democrat Party did not exist, the PMC would have to invent it. . ("PMC" modulo "class expatriates," of course.) Second, all the working parts of the Party reinforce each other. Leave aside characterizing the relationships between elements of the Party (ka-ching, but not entirely) those elements comprise a network — a Flex Net? An iron octagon? — of funders, vendors, apparatchiks, electeds, NGOs, and miscellaneous mercenaries, with assets in the press and the intelligence community.

Note, of course, that the class power of the PMC both expresses and is limited by other classes; oligarchs and American gentry (see 'industrial model' of Ferguson, Jorgensen, and Jie) and the working class spring to mind. Suck up, kick down.

* * *

"AOC: The Biden Administration's Rightward Turn Is 'a Profound Miscalculation'" (interview) [AOC, Jacobin]. Interviewed by Sirota. Worth a read. AOC: "What this is about is building a very sophisticated infrastructure in the progressive movement that focuses on field operations and professionalizing how we can share that across the movement, because far too many campaigns start from scratch. That's something I've been thinking about a lot and working on. I have a PAC, Courage to Change, that focuses on down-ballot elections and supporting progressives who are in that boat where they aren't able to tap into these high-net-worth fundraising circles to build a super-well-funded campaign. It needs to be down to blocks. You need to know your path to victory. This can't just be a "post and pray" approach. We need to know what we are doing, and thankfully, I think that there's been a lot of progress in that in that respect. But it is something that must be an ongoing commitment and project." • "It needs to be down to blocks" is something I like, technically. That's why I liked the Fetterman campaign: "Every county, every vote." But on policy, what a disappointment AOC was; all that intelligence and verve, wasted in kowtowing to Pelosi. Since Democrats can't go block to block on delivering anything but crumbs, that leaves the empty calories of tribalism. No thanks.

"New rest areas weren't supposed to cost taxpayers, but contractors want $260M bailout" [Buffalo News]. "It went like this: A private company would pay to knock down 23 aging rest stop plazas along the Thruway and rebuild them as sparkling, stylish spaces for weary travelers, with amenities appropriate for the 21st century and a host of new restaurants. On top of that, taxpayers would not have to pay a dime for the project, because in exchange for funding the construction, a company would gain a 33-year lease at the stops and a cut from goods sold in the facilities." Who dreamed this up? Rahm Emanuel? Anyhow, the contractors blame it on Covid, which could even be right, but is also a reason not to go the public-private partnership route in the first place.

Love me, love me, love me, I'm a liberal:

Many of the same liberals who spent *years* depicting the GOP as puppets of Jewish billionaire Sheldon Adelson, have now decreed it's antisemitic—and therefore off limits—to discuss George Soros' funding of Alvin Bragg👇 pic.twitter.com/YMfZQ6FZzC

— System Update (@SystemUpdate_) April 4, 2023

But why can't both be right?
#COVID19
"I am in earnest — I will not equivocate — I will not excuse — I will not retreat a single inch — AND I WILL BE HEARD." –William Lloyd Garrison
Resources, United States (National): Transmission (CDC); Wastewater (CDC, Biobot; includes many counties); Variants (CDC; Walgreens); "Iowa COVID-19 Tracker" (in IA, but national data).
Lambert here: Readers, thanks for the collective effort. We are now up to 50/50 states (100%). This is really great! (It occurs to me that there are uses to which this data might be put, beyond helping people with "personal risk assessments" appropriate to their state. For example, thinking pessimistically, we might maintain the list and see which states go dark and when. We might also tabulate the properties of each site and look for differences and commonalities, for example the use of GIS (an exercise in Federalism). I do not that CA remains a little sketchy; it feels a little odd that there's no statewide site, but I've never been able to find one. Also, my working assumption was that each state would have one site. That's turned out not to be true; see e.g. ID. Trivially, it means I need to punctuate this list properly. Less trivially, there may be more local sites that should be added. NY city in NY state springs to mind, but I'm sure there are others. FL also springs to mind as a special case, because DeSantis will most probably be a Presidental candidate, and IIRC there was some foofra about their state dashboard. Thanks again!
Resources, United States (Local): AK (dashboard); AL (dashboard); AR (dashboard); AZ (dashboard); CA (dashboard; Marin); CO (dashboard; wastewater); CT (dashboard); DE (dashboard); FL (wastewater); GA (wastewater); HI (dashboard); IA (wastewater reports); ID (dashboard, Boise; dashboard, wastewater, Central Idaho; wastewater, Coeur d'Alene; dashboard, Spokane County); IL (wastewater); IN (dashboard); KS (dashboard; wastewater, Lawrence); KY (dashboard, Louisville); LA (dashboard); MA (wastewater); MD (dashboard); ME (dashboard); MI (wastewater; wastewater); MN (dashboard); MO (wastewater); MS (dashboard); MT (dashboard); NC (dashboard); ND (dashboard; wastewater); NE (dashboard); NH (wastewater); NJ (dashboard); NM (dashboard); NV (dashboard; wastewater, Southern NV); NY (dashboard); OH (dashboard); OK (dashboard); OR (dashboard); PA (dashboard); RI (dashboard); SC (dashboard); SD (dashboard); TN (dashboard); TX (dashboard); UT (wastewater); VA (dashboard); VT (dashboard); WA (dashboard; dashboard); WI (wastewater); WV (wastewater); WY (wastewater).
Resources, Canada (National): Wastewater (Government of Canada).
Resources, Canada (Provincial): ON (wastewater); QC (les eaux usées); BC, Vancouver (wastewater).
Hat tips to helpful readers: Art_DogCT, B24S, CanCyn, ChiGal, Chuck L, Festoonic, FM, FreeMarketApologist (4), Gumbo, hop2it, JB, JEHR, JF, JL Joe, John, JM (9), JW, KatieBird, LL, Michael King, KF, LaRuse, mrsyk, MT, otisyves, Petal (5), RK (2), RL, RM, Rod, square coats (11), tennesseewaltzer, Utah, Bob White (3).
* * *
Look for the Helpers
Alert reader Bob White writes:

Attached is an image of a Corsi box we made, working great. Only out-of-pocket cost was the filters from Costco $39.99 for a 4 pack. The old fan was picked off the curb, already had the duct tape.

I do wish we had a better method of being certain what "working great" means. Perhaps readers have run across this, but I have not. A colored aerosol would show up on the filters, but that seems to imply spray paint, perhaps not such a good idea.

Very encouraging:

OMG @toysruscanada in Brantford – your air quality is top-notch! There are 10 of these huge units throughout the store and they blow so much fresh air that my hair was blowing in the wind. Thank you for investing in clean air for babies and kids. #COVIDisAirborne #CovidIsNotOver pic.twitter.com/ctVD1KW8HL

— Kari Raymer Bishop (@KRaymerBishop) April 6, 2023
Covid Is Airborne
This is a terrific thread, worth reading in full:

The 6 Ways to Check Ventilation

There are different tools to verify if ventilation is working and how well it is performing. They each have their own advantages and disadvantages. Here's a breakdown of the different methods.🧵

— Joey Fox (@joeyfox85) April 10, 2023

A really neat trick:

Method 2 – Checking Airflow
Use a tissue taped to a stick and hold it up to the diffuser. I use this over and over to show employees that there's no ventilation at their place of work. It was used in New York schools.https://t.co/eSrRmjbcCM

— Joey Fox (@joeyfox85) April 10, 2023

A reactionary view ("fixating"):

Fixating on this sounds exhausting. Having to stress out every time you walk into a room about the ventilation.

Maybe just trust the mechanisms that come with our body system that has kept us alive for thousands of years now!🙄

— Paul D. Valenti (@pdvalenti64) April 10, 2023

Put the handle back on the pump!

"Airborne disease transmission during indoor gatherings over multiple time scales: Modeling framework and policy implications' [Proceedings of the National Academy of Sciences]. ". Our modeling framework captures the feedback dynamics between individuals' viral shedding, the environment's viral dynamics, the group behavioral characteristics, and the impact of control measures. We identify and quantify tradeoffs between environmental variables and diverse control variables acting at multiple scales, for instance, mask wearing and ventilation (acting at the room's level), and testing and isolation (acting at the population scale). Indoor settings pose multiple intrinsic constraints (e.g., characteristics of the venue), social and economic conditions (e.g., the population's age structure and compliance with social norms) would also restrict the intensity of the response, for instance, poor organization reflected in low compliance would require centralized policy choices, instead of relying on decentralized responses like mask wearing and social distancing, which require individuals to adopt new behaviors. We focus on the epidemiological importance of policies such as mask compliance, meeting breaks, and air filtration for containing disease propagation in indoor events. We do not attempt to identify optimal policies." • They use the word "droplets," but since the so-called droplets linger, I assume they mean aerosols.
Maskstravaganza
"Americans hold mixed views on getting back to 'normal' after Covid-19, new polling shows" [CNN]. "Only 24% of Americans personally feel that the pandemic is over, a recent Monmouth University poll found, with 20% saying it will end eventually and 53% saying that it'll never be over. Those numbers were very similar to Monmouth's polling last fall, suggesting that a sense of some lingering abnormalcy may well be the new normal…. About half of Americans, 48%, are continuing to mask up in public on at least some occasions, the Monmouth poll found, though only about 21% said they do so most or all of the time." • Commentary:

Reminder, the people you see out at indoor restaurants, parties, concerts, etc are a biased sample. There's a lot of us that are avoiding crowded indoor public spaces.

— Myra #KeepMasksInHealthCare (@myrabatchelder) April 11, 2023

"Your Mask is Sexy" [Covid Underground]. This seems to be an advice column: " Lately I keep hearing versions of this question. When will you let up? When will you stop masking? What is the metric for returning to normal?…. Before you even get into the nitty gritty of negotiating mitigations, try this: ask about their values. Studies show that the best way to defuse a disagreement is to ask the other person about their values. Allowing somone to reflect on their core principles boosts their intellectual humility and openness to other perspectives. So when your ex hounds you for answers, gently turn the tables. Ask what's most important to him, and listen. He'll be more receptive to your point of view afterward. This response is practical, emotionally sensitive, and still brings your ex back around to your terms. The pandemic isn't going away, but we have agency in how we adapt to it. That's where I see you coming from, and that's a good place to be."

When you hear "masks don't work," here's one reason why:

This is not a gas station. It's a major US office supply store. None of these six masks meaningfully protect the user against covid. 5 of the masks use earloops(so them working would literally be a miracle) and the only N95 uses an ineffective bread twist tie nosewire. pic.twitter.com/GpWICIS69L

— Fit Test the Planet (@FitTestMyPlanet) April 6, 2023

(@FitTestMyPlanet is a good account; they test masks all the time, they're fanatics.) One wonders why the store's buyer made these choices. Ignorance? Cynicism? Malevolence? Incentives?

Hospital Infection Control is infecting people again ("Yeah, we only said we would control it….")

Employee/doctor break rooms where people eat. I was contacted by a Dr. who said that they were wearing N95s except when they went into the break room. In 24 hours, 75% of HCWs became infected by one doc. Infectious virus remains in the air for hours even when no one is present. https://t.co/HDyAKSPNjZ

— Kimberly Prather, Ph.D. (@kprather88) April 6, 2023

Readers may wish to evaluate this mask; this is not an endorsement:

Here it is!
GVS ELIPSE P100 Elastomeric Half Mask Respirator with Source Control for Healthcare Professionals with Replaceable and Reusable Filters Included https://t.co/cgHMCc5j4j

— Debbie G 😷 (@Violet_Kitteee) April 8, 2023

What I will say is that I recoil from the Darth Vader masks. I know they're effective, but I couldn't stand to be that much of an oddball. And I feel most people feel the same, which is why I keep saying masks need to be reperceived as a fashion item, and not as a medical device; that would be an excellent way to normalize their use. That said, this is the first Darth Vader mask I'd consider wearing. It's ugly, but not that ugly (though I still hate the plastic colors. Can't we get some primary colors?)
Scientific Communication
Read all the way to the end, like Berger did:

"So consider this a reminder to do the right thing. Practice good hand hygiene and stay home if you're feeling sick." 🤦‍♂️

Fucking hell. Three years in. We're screwed. https://t.co/Fk2DmV54vP

— Dr David Berger, aBsuRdiSTe cROnickLeR (@YouAreLobbyLud) April 10, 2023

This this poor woman still thinks handwashing protects you from Covid is at best an enormous failure in scientific communication by the public health establishment (in this case, Australia's) and at worst eugenicist ("Bringing down the life expectancy curve, one case at a time").
Policy
Where are the lawsuits (1):

If anyone wants to know why I keep banging on about airborne – it's largely survivor's guilt.
On ICU we were well protected (locally with reusable elastomerics) and staff infections were rare.
Others were sent into "the zone" with splash protection against an airborne threat. https://t.co/xb8o82rfHS

— 𝚃𝚘𝚖 𝙻𝚊𝚠𝚝𝚘𝚗 💙 (@LawtonTri) April 7, 2023

Hospital Infection Control infecting people again…

Where are the lawsuits (2):

The western world appears to believe people will be spared from post-Covid organ/immune damage if we don't test for it & call every respiratory illness "NotCovid."

But folks, the TRUE endgame is ensuring people can't prove Covid disabled them, so they can't demand compensation.

— Laura Miers (@LauraMiers) April 9, 2023

I'm amazed there's nothing from HCWs:
Elite Malfeasance
The Solomon Asch social conformity experiment:

Anyway, back to humans. A psychologist in the 50s designed an experiment where a subject was put in a room with a group of actors (not knowing they were actors) and shown a card with a line and a second card with a series of lines and asked to match their line to the similar one. pic.twitter.com/Zok4gTWOgb

— Dr. Lisa Iannattone (@lisa_iannattone) April 3, 2023

And you'll never guess what happened next:

I would bet most of the NC commentariat would be insisting on the right answer to the bitter end (q.v. Twelve Angry Men). Now, I'm not happy how Iannattone's "group" shifts insensity to "tribe"; the two words are not synonyms. And I feel that the psychology of the individual (as Jeeves calls it) needs to be set within a framework of social relations (as indeed Jeeves does do). One obvious application of social conformity is masking. However, there are clearly power relations that go beyond psychology. Oh, and for a list of "bad actors" in Covid, you could so worse than starting with Appendix A here (pundits).
* * *
Looks like "leveling off to a high plateau" across the board. (I still think "Something Awful" is coming, however. I mean, besides what we already know about.) Stay safe out there!
Case Data
BioBot wastewater data from April 10: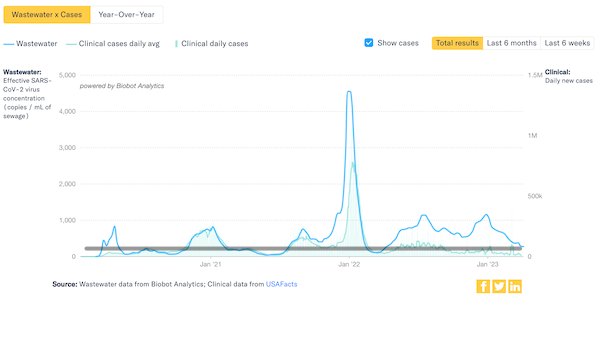 For now, I'm going to use this national wastewater data as the best proxy for case data (ignoring the clinical case data portion of this chart, which in my view "goes bad" after March 2022, for reasons as yet unexplained). At least we can spot trends, and compare current levels to equivalent past levels.
• "Rise in Hong Kong coronavirus reproduction number blamed on axing of Covid-19 restrictions and waning immunity, but increase 'expected'" [South China Morning Post]. "The interactive web-based Covid-19 case tracker run by the University of Hong Kong revealed the real-time effective reproductive number (Rt) for city cases jumped to 2.07 on March 30, up from 1.09 on March 29. It was the highest reproductive number since early March last year and could signal another outbreak. Professor David Hui Shu-cheong, a Hong Kong government pandemic adviser, said the resurgence was down to the dropping of mask-wearing and waning immunity. ' That is why we encourage people, especially high-risk groups, to receive a booster six months after the last dose or infection,' Hui, also of Chinese University's department of medicine and therapeutics, said. 'As long as there are few severe cases and deaths daily, there is no need to reintroduce social-distancing measures. Hui was speaking a month after the city lifted the mask mandate and other pandemic-related health precautions But medical experts insisted there was no need to panic as long as the number of fatalities and serious cases stayed low. They added there was no need to reinstate compulsory mask-wearing or other precautions." • Shu-Cheong's resume: "
Education MBBS (UNSW), MD (UNSW), MRCP (UK), FRACP, FRCP (Lond, Edin, Glasg), FHKCP, FHKAM (Medicine)." PMC gotta PMC, all over the world.
• Not seeing it here (yet?):
In the absence of data and a functioning public health body, celebrities and entertainers become an early warning system. https://t.co/2i5DFgh1TT

— Laura Miers (@LauraMiers) April 7, 2023
India and the UK, at least, are having their troubles. The new variants should show up at international airports (unless we've bred our own). But last holiday season I watched the airports like a cat at a mousehole, and no dice. What to do? And speaking of airports–
• "Global surveillance of novel SARS-CoV-2 variants" (preprint) [medRxiv]. "We developed simulations of the emergence and importation of novel variants with a range of infection hospitalisation rates (IHR) to the UK. We compared time taken to detect the variant though testing arrivals at UK borders, hospital admissions, and the general community. We found that sampling 10 to 50% of arrivals at UK borders could confer a speed advantage of 3.5 to 6 weeks over existing community surveillance, and 1.5 to 5 weeks (depending on IHR) over hospital testing. We conclude that directing limited global capacity for surveillance to highly connected ports could speed up global detection of novel SARS-CoV-2 variants."
Covid Emergency Room Visits
NOT UPDATED From CDC NCIRD Surveillance, from April 1: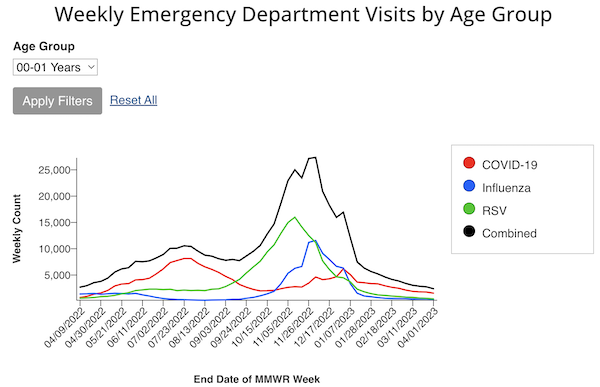 NOTE "Charts and data provided by CDC, updates Wednesday by 8am. For the past year, using a rolling 52-week period." So not the entire pandemic, FFS (the implicit message here being that Covid is "just like the flu," which is why the seasonal "rolling 52-week period" is appropriate for bothMR SUBLIMINAL I hate these people so much. Anyhow, I added a grey "Fauci line" just to show that Covid wasn't "over" when they started saying it was, and it's not over now. Notice also that this chart shows, at least for its time period, that Covid is not seasonal, even though CDC is trying to get us to believe that it is, presumably so they can piggyback on the existing institutional apparatus for injections.
Positivity
From the Walgreen's test positivity tracker, published April 11: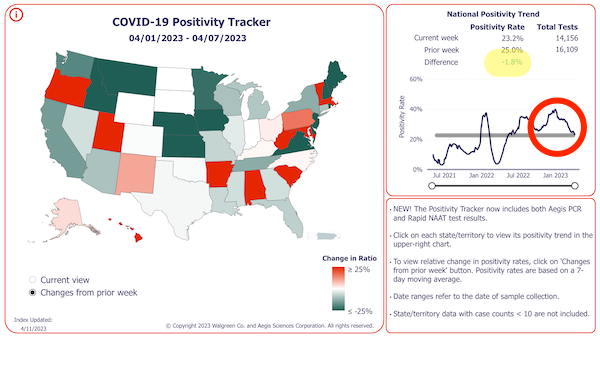 -1.8%. Below the low point of the previous valley.
Deaths
Death rate (Our World in Data):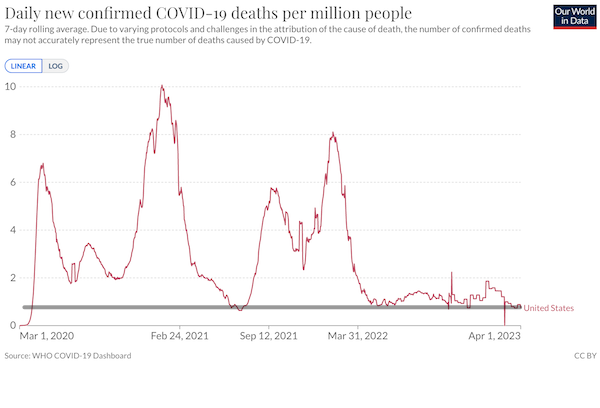 Total: 1,157,022 – 1,156,850 = 172 (172 * 365 = 62,780 deaths per year, today's YouGenicist™ number for "living with" Covid (quite a bit higher than the minimizers would like, though they can talk themselves into anything. If the YouGenicist™ metric keeps chugging along like this, I may just have to decide this is what the powers-that-be consider "mission accomplished" for this particular tranche of death and disease).
Excess Deaths
Excess deaths (The Economist), published April 2: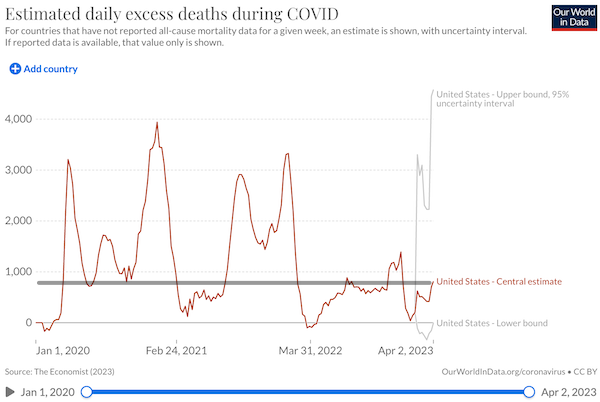 Lambert here: Big jump from the last reading in the "Central Estimate."
Lambert here: Based on a machine-learning model. Looks like a data issue, to me. I"m not sure how often this updates, and if it doesn't, I'll remove it. (The CDC has an excess estimate too, but since it ran forever with a massive typo in the Legend, I figured nobody was really looking at it, so I got rid it.
Stats Watch
Small Business Optimism: "United States NFIB Business Optimism Index" [Trading Economics]. "The NFIB Small Business Optimism Index in the United States edged lower to a three-month low of 90.1 in March of 2023 from 90.9 in February. It marks the 15th straight month the index is below its 49-year average of 98, as small business owners are cynical about future economic conditions. 24% of owners reported inflation as their single most important business problem, down four points from last month. Also, 43% reported job openings that were hard to fill, down four points from February and remaining historically very high."
* * *
Tech:
Six Things You Didn't Know About ChatGPT, Stable Diffusion And The Future Of Generative AI https://t.co/BQX6Or4cdD pic.twitter.com/t5IvpEVKaY

— Forbes (@Forbes) April 11, 2023
I have strong priors here, as readers know. But I have never seen an AI-generated "artwork" that I've wanted to look at again. Not once. Including these two.
* * *
Today's Fear & Greed Index: 61 Greed (previous close: 60 Greed) [CNN]. One week ago: 52 (Neutral). (0 is Extreme Fear; 100 is Extreme Greed). Last updated Apr 11 at 2:01 PM ET.
Rapture Index: Closes unchanged [Rapture Ready]. Record High, October 10, 2016: 189. Current: 185. (Remember that bringing on the Rapture is good.) NOTE on #42 Plagues: "The coronavirus pandemic has maxed out this category." More honest than most!
Zeitgeist Watch
"Finding the Words That Get Results" [Wall Street Journal]. "Sometimes it's just one word that makes a difference. Research that my colleague and I published in 2017, for example, found that saying you "recommend" rather than "like" something makes people 32% more likely to take your suggestion. Other words operate more like gateways: A study published in the Journal of Personality and Social Psychology found that adding the word "because" to a request, followed by the reason for it, increased compliance by 50%…. When asking people to do things we often try to motivate them using verbs, as in "Can you help me revise this Power Point deck," or "please turn out and vote." But try this simple shift: Rather than asking people to 'help,' ask them to be a 'helper.'" • !!!!!
Class Warfare
"Government Posing Greater Risk to Corporate Profits, Chamber Study Finds" [Wall Street Journal]. "Tax changes, regulatory enforcement and government policy shifts are posing a greater threat to corporate profits than they did a decade ago, according to a new study from the U.S. Chamber of Commerce. The chamber study was based on an analysis of annual reports filed by publicly traded companies in the S&P 500 index. It found that companies used terms associated with potential risks from government action about 325,000 times in their 2021 annual reports, a 27% increase from 2011. In contrast, the chamber found that risks to corporate profits from nongovernmental forces, such as lawsuits or cost increases, remained relatively flat during the 10-year period."
"Southern California ports reopen. Shutdown highlights high-stakes contract talks" [Los Angeles Times]. "Southern California dockworkers returned to the job Friday night, ending an approximately 24-hour shutdown at the Los Angeles and Long Beach ports — a crucial entry point for imports arriving from Asia. The temporary closure has exacerbated fears about a logistics infrastructure that has never fully recalibrated since the COVID-19 pandemic delays and has shone a stark, national spotlight on the high-stakes labor negotiations playing out at the ports."
News of the Wired
Sadly, I am not wired today.
* * *
Contact information for plants: Readers, feel free to contact me at lambert [UNDERSCORE] strether [DOT] corrente [AT] yahoo [DOT] com, to (a) find out how to send me a check if you are allergic to PayPal and (b) to find out how to send me images of plants. Vegetables are fine! Fungi and coral are deemed to be honorary plants! If you want your handle to appear as a credit, please place it at the start of your mail in parentheses: (thus). Otherwise, I will anonymize by using your initials. See the previous Water Cooler (with plant) here. From AM: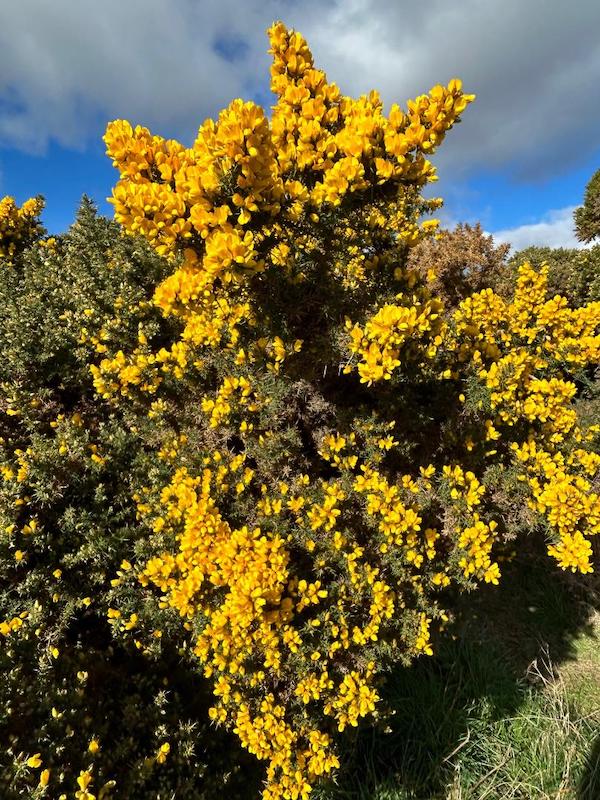 AM writes: "Gorse, St Andrews Scotland 3/6/23. Hard to frame due to wind and my shadow but lots of it with brilliant color."
* * *
Readers: Water Cooler is a standalone entity not covered by the annual NC fundraiser. So if you see a link you especially like, or an item you wouldn't see anywhere else, please do not hesitate to express your appreciation in tangible form. Remember, a tip jar is for tipping! Regular positive feedback both makes me feel good and lets me know I'm on the right track with coverage. When I get no donations for five or ten days I get worried. More tangibly, a constant trickle of donations helps me with expenses, and I factor in that trickle when setting fundraising goals:
Here is the screen that will appear, which I have helpfully annotated: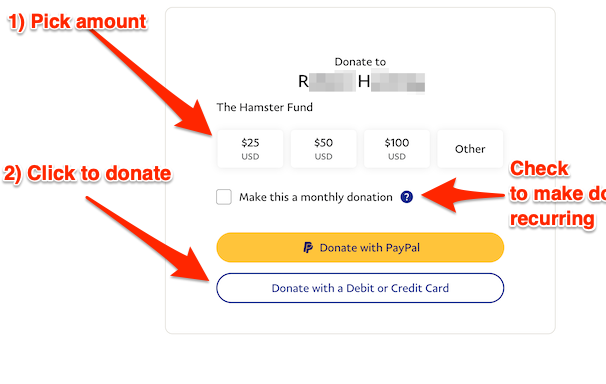 If you hate PayPal, you can email me at lambert [UNDERSCORE] strether [DOT] corrente [AT] yahoo [DOT] com, and I will give you directions on how to send a check. Thank you!