By Lambert Strether of Corrente.
Patient readers, I got wrapped around the axle on household matters. More shortly. –lambert UPDATE All done!
Bird Song of the Day
House Wren, Licking, Ohio, United States.
* * *
Politics
"So many of the social reactions that strike us as psychological are in fact a rational management of symbolic capital." –Pierre Bourdieu, Classification Struggles
Biden Administration
"Biden's nominees hit the Senate skids" [Politico]. "It looked at the beginning of the year like Democrats would have an easier time confirming Biden picks, having gained a seat last fall after a historically lengthy run in a 50-50 Senate. But this Congress has brought a host of new challenges despite that padded margin for Biden's party. Two high-profile Biden administration hopefuls have withdrawn in the past month alone. The president's Labor Department pick faces a tough road to confirmation. And the administration is in danger of a first: having to abandon a judicial nominee due to tepid Democratic support. That's in addition to the Pentagon promotions being stalled by a Republican senator and the judicial appointments delayed due to a senior Democratic senator's extended absence. Underlining the tension between the narrowly divided Senate and the administration was the Saturday evening withdrawal of Phil Washington, tapped to lead the Federal Aviation Administration. Democrats blamed a GOP campaign against him, led by Sen. Ted Cruz (R-Texas), but the reality is that Biden's own party could have saved Washington had they kept their own side united and put up a simple majority. In Washington's case, Commerce Committee member Sen. Kyrsten Sinema (I-Ariz.) had communicated her concerns to the Biden administration. And Sen. Jon Tester (D-Mont.) stayed undecided ahead of the committee vote, right up until Washington bowed out. 'That's a better question for the president,' Tester, who faces a reelection campaign this cycle, said of the FAA imbroglio. Asked if he supported the nominee, he responded: 'Never had to make that vote.'" • Sure, innocent until proven guilty, but did the Democrats really think that nominating a candidate (Washington) with outstanding warrants was a good idea?
2024
Trump Hannity interview:

"Trump says he would 'solve' war in Ukraine in 24 hours if reelected" [The Hill]. "'If it's not solved, I will have it solved in 24 hours with Zelensky and with Putin,' Trump told Hannity, referring to Ukrainian President Volodymyr Zelensky and Russian President Vladimir Putin. 'And there's a very easy negotiation to take place. But I don't want to tell you what it is because then I can't use that negotiation; it'll never work. But it's a very easy negotiation to take place. I will have it solved within one day, a peace between them. Now that's a year and a half. That's a long time. I can't imagine something not happening,' Trump added. 'The key is the war has to stop now because Ukraine is being obliterated.'" • Trump the Face. One thing Trump is very good at: Sensing weakness. If Trump thinks Ukraine is a weakness for Biden — and it surely is! — then that's interesting.

"DeSantis Would Be Working At A 'Pizza Parlor' Without My Endorsement, Trump Says In Hannity Interview" [Forbes]. "Trump reserved his sharpest attack for his biggest potential rival for the 2024 GOP nomination, Ron DeSantis, saying the Florida governor, who has not announced he is running in 2024 but is widely expected to, would be working at "a pizza parlor place" without his support in the 2018 gubernatorial race. The former president said he and the Florida governor were 'not friends' and he only knew DeSantis as one of 150 people defending him in the first impeachment trial, who later came to him 'with tears in his eyes' and was 'desperate' for his endorsement." • Trump the Heel.

"Right Now, Ron DeSantis Lacks the Killer Spirit to Vanquish Trump" [Daily Beast]. Well, it is the Daily Beast… "Is Ron DeSantis not yet ready for prime time? His performance over the last couple of weeks has not instilled confidence. We've watched him flip-flop on everything from cutting entitlement programs to his support of Ukraine. We have also seen Trump belittle him with nicknames like 'Ron DeSanctimonious' and 'Meatball Ron,' not to mention implying that he's a 'groomer.' (DeSantis also just denied an anecdote in The Daily Beast report that he once ate pudding with three fingers on a private flight. Gross.) This erratic behavior seems to have left a mark. As The New York Times' Nate Cohn wrote last week, 'In surveys taken since the Trump offensive began two months ago, Mr. DeSantis, the Florida governor, has steadily lost ground against Mr. Trump, whose own numbers have increased.' And that was before DeSantis tried to have it both ways regarding the potential arrest of Donald Trump. (He criticized the prosecutor, while adding, 'I don't know what goes into paying hush money to a porn star to secure silence over some type of alleged affair.')" • DeSantis is thoroughly nasty, a real piece of work. That's not the same as having a killer instinct, I grant. Also, there's an entertaining genre where Republicans give well-meant — indeed heart-felt — advice to Democrats on how to win. This seems like the same idea with the parties flipped. Finally, "Ron DeSanctimonious" isn't so bad. All those superfluous syllables — "is" vs. "imonious" — kinda roll off the tongue, and making the man himself seem superfluous.

Ouch:

Trump holds psychological dominance over DeSantis https://t.co/Ymhg4kCtsK

— David Frum (@davidfrum) March 26, 2023

As above, watching liberal Democrats trying to play kingmaker for the Republican Party is entertaining, at least.

"George Mason University students launch petition against hosting Youngkin as commencement speaker" [FOX]. "George Mason University announced that Virginia Republican Gov. Glenn Youngkin will be the commencement speaker at the institution's 2023 graduation ceremony in May, and some students are pushing to cancel his speech. Students at the university started a petition on Thursday, the same day Youngkin was announced as the speaker, demanding Younkgin not be permitted to speak or even attend the commencement ceremony on May 18. 'As a Patriot and prospective alumna of George Mason University, I and my peers do not want the memories of our graduation day to be tainted by an individual who has harmed and continues to harm the people he serves,' senior Alaina Ruffin wrote on the petition…. Ruffin appeared to take particular issue with the governor's record in approving legislation on transgender issues and controversial school curricula. His administration's proposals have included prohibiting transgender students from using bathrooms or participating on sports teams that do not correspond with their biological sex and banning critical race theory and sexually explicit books in schools."
Republican Funhouse
Seems legit. I'd like to see the same diagram for Democrats:

Meet 'the five families' that wield power in McCarthy's House majorityhttps://t.co/8wbdTKNBXH pic.twitter.com/b9XFOJgj8I

— Aaron Blake (@AaronBlake) March 25, 2023

Can Republican or Republican-adjacent readers comment? It would also be nice to apply Ferguson's et al.'s "industrial model" here, and follow the money.
Democrats en Déshabillé
Patient readers, it seems that people are actually reading the back-dated post! But I have not updated it, and there are many updates. So I will have to do that. –lambert

I have moved my standing remarks on the Democrat Party ("the Democrat Party is a rotting corpse that can't bury itself") to a separate, back-dated post, to which I will periodically add material, summarizing the addition here in a "live" Water Cooler. (Hopefully, some Bourdieu.) It turns out that defining the Democrat Party is, in fact, a hard problem. I do think the paragraph that follows is on point all the way back to 2016, if not before:

The Democrat Party is the political expression of the class power of PMC, their base (lucidly explained by Thomas Frank in Listen, Liberal!). ; if the Democrat Party did not exist, the PMC would have to invent it. . ("PMC" modulo "class expatriates," of course.) Second, all the working parts of the Party reinforce each other. Leave aside characterizing the relationships between elements of the Party (ka-ching, but not entirely) those elements comprise a network — a Flex Net? An iron octagon? — of funders, vendors, apparatchiks, electeds, NGOs, and miscellaneous mercenaries, with assets in the press and the intelligence community.

Note, of course, that the class power of the PMC both expresses and is limited by other classes; oligarchs and American gentry (see 'industrial model' of Ferguson, Jorgensen, and Jie) and the working class spring to mind. Suck up, kick down.

* * *

"Rep. Khanna Under Fire Over Fundraiser By GOP Backer" [California Globe]. "However, the chances of [a Khanna Senate run] dwindled this week following news that Khanna is to be at a fundraiser at the home of VC David Sacks, who was also the first Chief Operating Officer of PayPal under Peter Thiel. While Sacks is largely a supporter of GOP candidates, such as back Florida Governor Ron DeSantis and Senator J.D. Vance (R-OH) in recent elections, he has also been a supporter of government intervention in the latest banking crisis." • Dude. Come on.
#COVID19
"I am in earnest — I will not equivocate — I will not excuse — I will not retreat a single inch — AND I WILL BE HEARD." –William Lloyd Garrison
Resources, United States (National): Transmission (CDC); Wastewater (CDC, Biobot; includes many counties); Variants (CDC; Walgreens); "Iowa COVID-19 Tracker" (in IA, but national data).
Lambert here: Readers, thanks for the collective effort. We are now up to 50/50 states (100%). This is really great! (It occurs to me that there are uses to which this data might be put, beyond helping people with "personal risk assessments" appropriate to their state. For example, thinking pessimistically, we might maintain the list and see which states go dark and when. We might also tabulate the properties of each site and look for differences and commonalities, for example the use of GIS (an exercise in Federalism). I do not that CA remains a little sketchy; it feels a little odd that there's no statewide site, but I've never been able to find one. Also, my working assumption was that each state would have one site. That's turned out not to be true; see e.g. ID. Trivially, it means I need to punctuate this list properly. Less trivially, there may be more local sites that should be added. NY city in NY state springs to mind, but I'm sure there are others. FL also springs to mind as a special case, because DeSantis will most probably be a Presidental candidate, and IIRC there was some foofra about their state dashboard. Thanks again!
Resources, United States (Local): AK (dashboard); AL (dashboard); AR (dashboard); AZ (dashboard); CA (dashboard; Marin); CO (dashboard; wastewater); CT (dashboard); DE (dashboard); FL (wastewater); GA (wastewater); HI (dashboard); IA (wastewater reports); ID (dashboard, Boise; dashboard, wastewater, Central Idaho; wastewater, Coeur d'Alene; dashboard, Spokane County); IL (wastewater); IN (dashboard); KS (dashboard; wastewater, Lawrence); KY (dashboard, Louisville); LA (dashboard); MA (wastewater); MD (dashboard); ME (dashboard); MI (wastewater; wastewater); MN (dashboard); MO (wastewater); MS (dashboard); MT (dashboard); NC (dashboard); ND (dashboard; wastewater); NE (dashboard); NH (wastewater); NJ (dashboard); NM (dashboard); NV (dashboard; wastewater, Southern NV); NY (dashboard); OH (dashboard); OK (dashboard); OR (dashboard); PA (dashboard); RI (dashboard); SC (dashboard); SD (dashboard); TN (dashboard); TX (dashboard); UT (wastewater); VA (dashboard); VT (dashboard); WA (dashboard; dashboard); WI (wastewater); WV (wastewater); WY (wastewater).
Resources, Canada (National): Wastewater (Government of Canada).
Resources, Canada (Provincial): ON (wastewater); QC (les eaux usées); BC, Vancouver (wastewater).
Hat tips to helpful readers: Art_DogCT, B24S, CanCyn, ChiGal, Chuck L, Festoonic, FM, FreeMarketApologist (4), Gumbo, hop2it, JB, JEHR, JF, JL Joe, John, JM (9), JW, KatieBird, LL, Michael King, KF, LaRuse, mrsyk, MT, otisyves, Petal (5), RK (2), RL, RM, Rod, square coats (11), tennesseewaltzer, Utah, Bob White (3). (Readers, if you leave your link in comments, I credit you by your handle. If you send it to me via email, I use your initials (in the absence of a handle. I am not putting your handle next to your contribution because I hope and expect the list will be long, and I want it to be easy for readers to scan.)
• More like this, please! Total: 1 6 11 18 20 22 26 27 28 38 39 43 47 50/50 (94% of US states).
* * *
Look for the Helpers
Encouraging report from the field in California:

Some thoughts after a recent family vacation to Southern California
– Was really amazed to see the quality of indoor ventilation in almost every building we went to. Almost never saw a reading above 600, even when moderately crowded. Probably easy to do in a state where the… pic.twitter.com/1lb79rQ5qE

— Kashif Pirzada, MD (@KashPrime) March 26, 2023

I would imagine it's easier to open the windows in California at this time of year than it is in New England. OTOH, maybe people are sacrificing air conditioning?

Encouraging meeting:

And they weren't able or willing to say the word itself, but it felt like everyone in the meeting knew what the cause was.

— tern (@1goodtern) March 25, 2023

I'm filing this here because this cannot have been an easy meeting to have.

"Prince George hospice society helping long COVID sufferers" [Prince George Citizen]. "'It's a mix of resource-based, grief-based and camaraderie – they're lonely," [Denise Torgerson, the society's community programs manager] said. ;The illness itself is compounded by what people are suggesting, that you literally do nothing, so its kind of like Groundhog Day, everybody's pretty bored and it's stress related. The more stress there is, the more symptoms will show their ugly heads.' The original participants when the group first met in 2021 have all since left and are back to their jobs. The current group has about 30 people and most of the meetings have 10 or fewer participants. 'We've just had a big surge, last week we had five or six people call out of the blue,' said Torgerson. 'The government and medical system are acting like it's over but there's new people being diagnosed with this all the time. They're shutting down the clinics and not giving many resources to it, but it's still going on.'" • Yep.

* * *

"Introducing: The Covid Underground" [Covid Underground]. The deck: "Welcome to The Covid Underground, a newsletter for the Covid-free movement and all of those who continue to avoid infection." More: "True health is the ability to change. About 10-30% of the U.S. population has changed their lives in the light of the freeing revelations of 2020, and we keep changing. We are dynamically, creatively faithful to what was— briefly— plain to all: normal is a dangerous illusion." • Worth a read.

"Covid Meetups" [COVID MEETUPS (JM)]. "A free service to find individuals, families and local businesses/services who take COVID precautions in your area." • I played around with it some. It seems to be Facebook-driven, sadly, but you can use the Directory without logging in. I get rational hits from the U.S., but not from London, UK, FWIW.

Finding like-minded people on (sorry) Facebook:

Thought I'd add this here in case anyone is interested. Places to find people who "Still Covid" in your area & online: https://t.co/T4ND4XbrpF & https://t.co/sP5wq4fAw5 You can also search on FB "Still Coviding ____" & see if there's a specific group on your area.

— Adriel Rose (@adriel_rose) March 1, 2023
Maskstravaganza
"Joint Statement on Regional Healthcare Facilities' Masking Requirement" [Public Health Insider]. "Regional healthcare facilities across the Puget Sound region have issued a statement to continue requiring masking in acute care and outpatient clinic settings. A regional consensus ensures a consistent and clear message that these healthcare facilities prioritize the health and safety of both their patients and employees…. Healthcare facilities have been and continue to be on the frontlines of the COVID-19 pandemic, prioritizing patient and healthcare worker health and safety. SARS-CoV-2, the virus that causes COVID-19, is transmitted primarily through the air by small airborne and large respiratory droplets. Masking in high-risk settings has been central to help limit the spread of COVID-19 (as well as other respiratory viruses) along with other interventions such as vaccinations and attention to indoor air quality…. For these reasons, local health jurisdictions in the Puget Sound region continue to recommend masking in healthcare facilities and we fully support this unified regional approach to decrease the risk for spread of COVID-19 in healthcare facilities. A regional consensus ensures a consistent and clear message that these healthcare facilities prioritize the health and safety of both their patients and employees." • Well, the Puget Sound region is Happyville, and not Pain City, so congratulations of you're a resident. Otherwise, sucks to be you! (Of course, this should not be a regional consensus, but national guidance, and would be, if CDC and the Biden Administration weren't at the best derelict, and at the worst eugenicist.
Policy
"The End of Public Health? It's Not Dead Yet" [Bill of Health]. "Once again, health law has become a vehicle for constitutional change, with courts hollowing federal and state public health authority while also generating new challenges. In part, this pattern is occurring because the New Roberts Court — the post-Ruth Bader Ginsburg composition of U.S. Supreme Court justices — is led by jurists who rely on "clear statement rules." This statutory interpretation canon demands Congress draft textually unambiguous laws and contains a presumption against broadly-worded statutes that are meant to be adaptable over time. In effect, Congress should leave nothing to the imagination of those responsible for implementing federal laws, i.e., executive agencies and state officials, so everything a statute covers must be specified, with no room for legislative history or other non-textual sources. Clear statement rules are more than interpretive guidelines, they have constitutional dimensions that constrain congressional power both horizontally and vertically. In administrative law disputes, a critical aspect of public health law, clear statement rules enforce separation of powers…. This separated spheres of authority vision does not account for the ubiquitous use of federal/state partnerships in achieving national and state policy goals, especially health policy goals. Since the New Deal, federal/state partnership has occurred as a matter of political expedience and policy choice, but often it is not necessary as a matter of constitutional law. This pervasive structure for public health and health care laws caused problems before the New Roberts Court, but COVID-19 politics highlighted the degree to which state officials are turning away from partnering and toward what I call the 'state veto.' For example, Medicaid, the Children's Health Insurance Program, many aspects of the Public Health Service Act, and the National Emergencies Act all rely on both federal administration and partnership with states to implement federal goals. Yet, these laws have no federal alternative if states fail or if implementation is otherwise thwarted, say, by court order. Without a federal fallback, federal money cannot reach the residents of that state and the federal policy accompanying it will not occur. … [F]ederal fallbacks are necessary to achieve any federal public health policy that continues federal/state partnership. Law is a determinant of health, and older federal health laws are on a downward spiral to address modern health problems, but the spiraling can reversed — if Congress acts." • Hmm. Something to watch…
Elite Malfeasance
The most dangerous source of misinformation:
More of the same: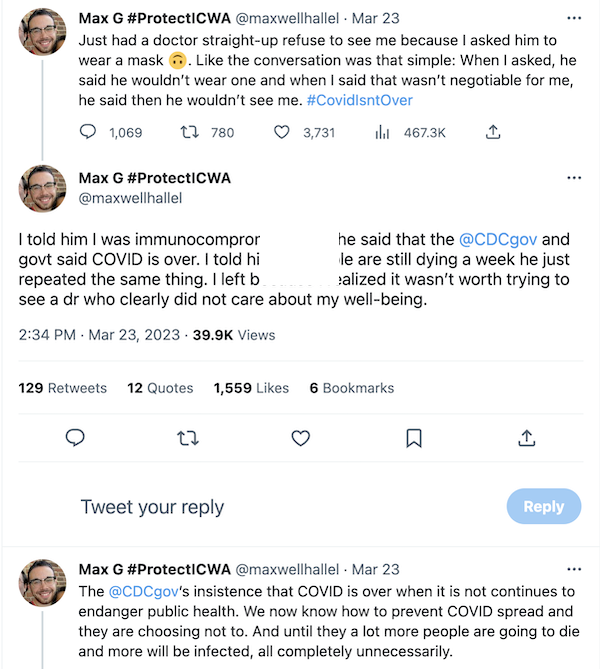 Sorry to have buried a transcript in a graphic, but this is worth reading to the end:
Slavitt: "I think there are a lot of people who would say they don't feel like we should be tying a bow around it, but they may feel like policymakers, government, congress, the administration is attempting to tie a bow around it…"

from 10:00 to 15:15https://t.co/IX2g9uVk7o pic.twitter.com/mA3oU81AaN

— wsbgnl (@wsbgnl) March 28, 2023
Fascinating to watch Fauci slowly, gentle, and deliberately throw "a certain segment of the population" under the bus.
And speaking of Fauci:
⚠️SCOOP—Dr Fauci admits key mistakes:
1) #COVID19 variants really bad—evades immunity, drugs, and vaccines
2) Asymptomatic transmission
3) Virus is airborne

I recall rude people once mocked me about "fear-mongering" about "scariants", on asymptomatic, on #COVIDisAirborne. 🤷🏻‍♂️ pic.twitter.com/PLCCOp7Syu

— Eric Feigl-Ding (@DrEricDing) March 27, 2023
No accountability for anything, ever. Listening to Fauci is like listening to all the fools and frauds who justified the Iraq War in 2003 — who are still making bank today.
* * *
Looks like "leveling off to a high plateau" across the board. (I still think "Something Awful" is coming, however. I mean, besides what we already know about.) Stay safe out there!
Case Data
BioBot wastewater data from March 27: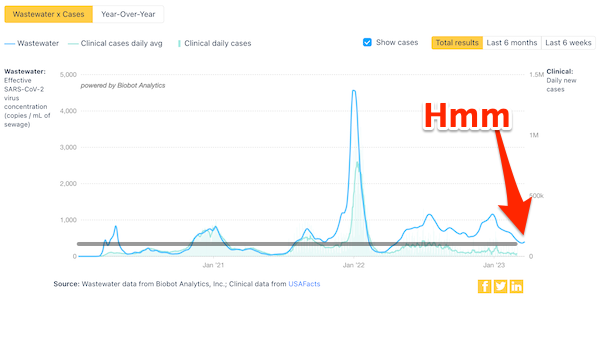 Lambert here: The decline seems to have bottomed out? Disappointing, with positivity and deaths still going down. However, note that if we look at "the area under the curve," more people have died after Biden declared that "Covid is over" than before.
For now, I'm going to use this national wastewater data as the best proxy for case data (ignoring the clinical case data portion of this chart, which in my view "goes bad" after March 2022, for reasons as yet unexplained). At least we can spot trends, and compare current levels to equivalent past levels.
Covid Emergency Room Visits
NOT UPDATED From CDC NCIRD Surveillance, from March 18: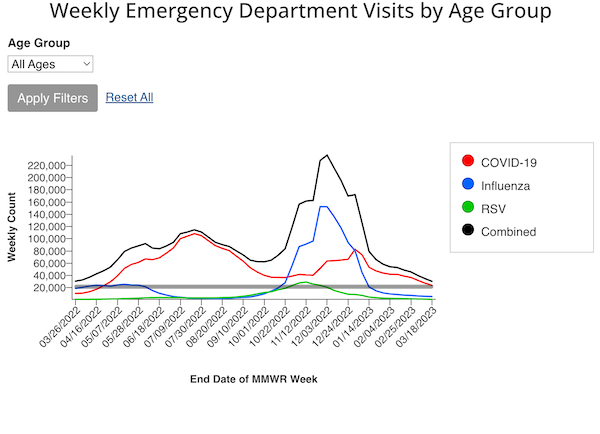 NOTE "Charts and data provided by CDC, updates Wednesday by 8am. For the past year, using a rolling 52-week period." So not the entire pandemic, FFS (the implicit message here being that Covid is "just like the flu," which is why the seasonal "rolling 52-week period" is appropriate for bothMR SUBLIMINAL I hate these people so much. Anyhow, I added a grey "Fauci line" just to show that Covid wasn't "over" when they started saying it was, and it's not over now. Notice also that this chart shows, at least for its time period, that Covid is not seasonal, even though CDC is trying to get us to believe that it is, presumably so they can piggyback on the existing institutional apparatus for injections.
Positivity
From the Walgreen's test positivity tracker, published March 28: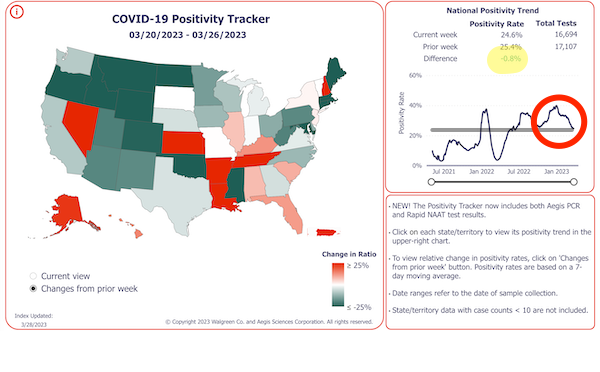 -0.8%. Still high, but we've now reached a point lower than the low point of the last valley.
Deaths
Death rate (Our World in Data):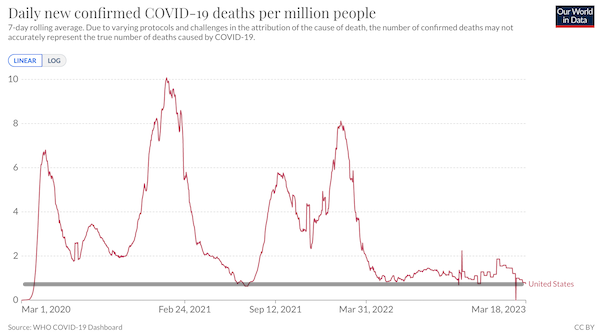 Total: 1,153,816 – 1,153,526 – 1,152,525 = 290 (290 * 365 = 105,850 deaths per year, today's YouGenicist™ number for "living with" Covid (quite a bit higher than the minimizers would like, though they can talk themselves into anything. If the YouGenicist™ metric keeps chugging along like this, I may just have to decide this is what the powers-that-be consider "mission accomplished" for this particular tranche of death and disease).
Excess Deaths
Excess deaths (The Economist), published March 28: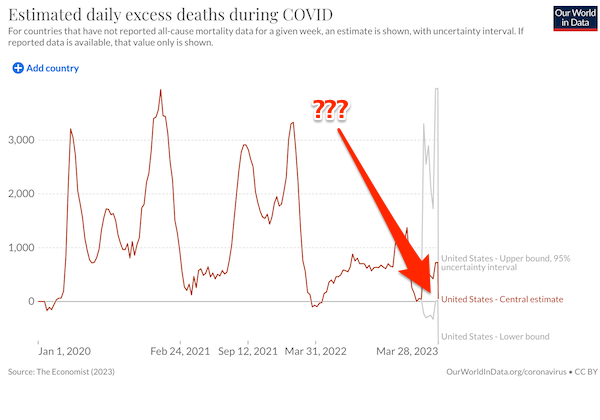 Lambert here: Based on a machine-learning model. Looks like a data issue, to me. I"m not sure how often this updates, and if it doesn't, I'll remove it. (The CDC has an excess estimate too, but since it ran forever with a massive typo in the Legend, I figured nobody was really looking at it, so I got rid it.
Stats Watch
Manufacturing: "United States Richmond Fed Manufacturing Index" [Trading Economics]. "The Manufacturing Activity Index in the Richmond area rose to -5 in March 2023 from -16 in the previous month, pointing to a modest improvement in business conditions."
* * *
Banks: "French prosecutors search banks over alleged dividend stripping" [Reuters]. "French authorities on Tuesday searched the Paris offices of five banks, including Societe Generale (SOGN.PA), BNP Paribas (BNPP.PA) and HSBC (HSBA.L), on suspicion of fiscal fraud, part of a broad European probe into the dodging of dividend tax payments. Societe Generale and BNP Paribas confirmed the searches, declining further comment. Other banks concerned did not immediately reply to requests for comment. The French prosecutors' actions are the latest to hit global banks over the dividend tax fraud scheme as similar investigations have been conducted in Germany and other European countries." • The list:
JUST IN: 🇫🇷 5 major banks raided by French authorities in €100 billion fraud investigation.

• Societe Generale
• BNP Paribas
• Natixis
• HSBC
• Exane

— Watcher.Guru (@WatcherGuru) March 28, 2023
Real Estate: "Distress in Office Market Spreads to High-End Buildings" [Wall Street Journal]. "Defaults and vacancies are on the rise at high-end office buildings, in the latest sign that remote work and rising interest rates are spreading pain to more corners of the commercial real-estate market. For much of the pandemic, buildings in central locations that feature modern amenities fared better than their less-pricey peers. Some even were able to increase rents while older, cheaper buildings saw surging vacancy rates and plummeting values. Now, these so-called class-A properties, whose rents generally fall into a city's top quartile, are increasingly coming under pressure. The amount of U.S. class-A office space in central business districts that is leased fell in the fourth quarter of last year for the first time since 2021, according to Moody's Analytics. The owners of a number of high-end properties recently defaulted on their mortgages, highlighting the financial strain from rising interest rates and vacancies." • So, will there be a real estate SVB?
Tech: "AI: Your Boss Loves It!"™
Going from humans creating content to humans reviewing the output of AI is going to happen slowly then suddenly across many fields.

What happened to humans translators with the rise of Google Translate will be a more common experience. pic.twitter.com/Zc1kZRBH2W

— Dare Obasanjo (@Carnage4Life) March 26, 2023
Kill it with fire.
Tech: "Former Meta recruiter claims she got paid $190,000 a year to do 'nothing' amid company's layoffs" [Independent]. "A former Meta recruiter has claimed that she made $190,000 a year for doing 'nothing' at her job, amid the company's recent layoffs. In a recent video posted to TikTok, Maddie, @maddie_macho, reflected on her time working at Meta for six months during 2021. Her post was also shared only days after Facebook chief executive Mark Zuckerberg announced Meta's next round of layoffs, cutting more than 10,000 employees. The clip, which was titled 'Getting paid $190k to do nothing at Meta,' started off with the former job recruiter explaining how her company wasn't hiring new workers while she was there. 'We weren't expected to hire anybody for the first six months, even the first year,' she said. 'That really blew my mind. Like 'perfect, I'm just going to ride this out for a year, obviously I didn't make that." Regarding what she did all day, Maddie said that she was 'learning', as Meta had the 'best onboarding and training' process that was 'very thorough.' She poked fun at how her 'expectations' at the beginning of her job was to be 'taking it all in', before questioning some of the meetings she had to do. 'But the most that we did, this is the crazy part, is we had so many team meetings,' Maddie claimed. 'Why are we meeting? We're not hiring nobody. Just to hear how everyone else isn't hiring anybody. And also, I was on a team where everyone was new, so none of us were hiring anybody.'"
* * *
Today's Fear & Greed Index: 37 Fear (previous close: 38 Fear) [CNN]. One week ago: 42 (Fear). (0 is Extreme Fear; 100 is Extreme Greed). Last updated Mar 28 at 1:21 PM ET.
Rapture Index: Closes unchanged [Rapture Ready]. Record High, October 10, 2016: 189. Current: 185. (Remember that bringing on the Rapture is good.) NOTE on #42 Plagues: "The coronavirus pandemic has maxed out this category." More honest than most!
Gunz
This is a parody account, but why?
Shotguns Direct PAC is a dedicated organization working towards empowering the low-income and homeless communities by encouraging and enabling shotgun ownership.

We follow all waiting period requirements as mandated by law.

— Shotguns Direct™ (@ShotgunsDirect) March 25, 2023
Book Nook
HMS Surprise? Really?!
HMS Surprise
28 guns
197 souls
San Diego

Intercept French Privateer ACHERON en route to Pacific INTENT ON CARRYING THE WAR INTO THOSE WATERS …Sink, Burn or take her as a prize pic.twitter.com/dNd4RWjnjt

— Alan Allport (@Alan_Allport) March 27, 2023
I loved the Aubrey-Maturin series. Dunno about the movie(s?), but the books are terrific. I should start the whole series again from the beginning.
The Gallery
"Did Bulgarian Police Just Discover a Previously Unknown Jackson Pollock Painting? Here's What the Evidence Suggests" [ArtNet]. "Police in Bulgaria have discovered what they say is a previously unknown Jackson Pollock painting during a recent raid in the country's capital city of Sofia. The artwork dates from 1949 and bears the late artist's signature on its right register, according to Bulgarian National Radio (BNR), which first reported news of the finding this week. Citing 'experts,' the news outlet said the painting may be worth up to €50 million ($53 million). On the reverse of the canvas is a detail that, if real, may justify such a lofty evaluation. There, in hand-scrawled text, is what appears to be a dedication to the American actress—and noted art collector—Lauren Bacall, Sofia's deputy city prosecutor Desislava Petrova said during a press conference on March 22. 'Dedicated to my very talented and dear friend Lauren Bacall, Happy Birthday,' the message, believed to have been written by Pollock himself, reads. It is dated September 16, 1949—the day of Bacall's 25th birthday." • You know how to paint, don't you? You just open a paint can… and pour. I like Pollock a lot:
Jackson Pollock – "Alchemy" #artwork #artist #art #artgallery pic.twitter.com/5BRBfS8F2i

— Carmen Azuaje (@CarmenAurora25) July 8, 2016
But would it be easy to spot a fake Pollock by looking at the painting alone?
Our Famously Free Press
Onion-level deadpannery:
That Cough Of Yours Is Perfectly Normal

A team of University of California, San Francisco doctors explain why you shouldn't worry. pic.twitter.com/oXvy8arlt0

— The New York End Times (@nyendtimes) March 26, 2023
Zeitgeist Watch
"AI and the American Smile" [Jenka, Medium]. Finally! Somebody else on the "Smile!" beat! "Why do you smile the way you do? A silly question, of course, since it's only "natural" to smile the way you do, isn't it? It's common sense. How else would someone smile? As a person who was not born in the U.S., who immigrated here from the former Soviet Union, as I did, this question is not so simple…. How we smile, when we smile, why we smile, and what it means is deeply culturally contextual. Every American knows to say 'cheese' when taking a photo, and, therefore, so does the AI when generating new images based on the pattern established by previous ones. But it wasn't always like this…. In 2018, researchers at the University of Rochester conducted an experiment to see how deception is connected to facial expressions…. Without any predetermined labels or categories, the results identified the expression most frequently associated with lying: a 'high intensity version' of the Duchenne smile — a smile that extends to both the cheek/eye and mouth muscles…. — rose out of a great emotional shift in the 18th century, theorizes Christina Kotchemidova, who teaches theory, gender, and intercultural communication at Spring Hill College in Alabama…. Prior to this shift, [Kotchemidova] believes, the American emotional landscape revolved around negative emotions like sadness and melancholy, which were seen as indicative of compassion and nobleness…. In the same way that English language emotion concepts have colonized psychology, AI dominated by American-influenced image sources is producing a new visual monoculture of facial expressions…. Which is why seeing the relentless parade of toothy, ahistorical, quintessentially American, 'cheese' smiles plastered on the faces of every civilization in the world across time and space was immediately jarring. It was as if the AI had cast 21st century Americans to put on different costumes and play the various cultures of the world. Which, of course, it had." • With many horrid AI-generated examples. I'm really starting to feel that in the West, smiling is for private interactions only. Which is, well, sad. Perhaps that's what a Yankee would feel.
Class Warfare
Jackpot:
These two phenomenon are causal. America is in a mass die-off, so Americans have become much less patriotic. When your country's systems end up killing your friends and family, you tend to lose your faith. https://t.co/LJ5ctqkBtO pic.twitter.com/i47ln4feQH

— Matt Stoller (@matthewstoller) March 27, 2023
Surprising to see Stoller taking out a Communist Party card, but these are strange times.
"Assessing COVID-19 pandemic policies and behaviours and their economic and educational trade-offs across US states from Jan 1, 2020, to July 31, 2022: an observational analysis" [The Lancet]. From the Abstract: "The USA struggled in responding to the COVID-19 pandemic, but not all states struggled equally. Identifying the factors associated with cross-state variation in infection and mortality rates could help to improve responses to this and future pandemics….. A lower poverty rate, higher mean number of years of education, and a greater proportion of people expressing interpersonal trust were statistically associated with lower infection and death rates, and states where larger percentages of the population identify as Black (non-Hispanic) or Hispanic were associated with higher cumulative death rates. Access to quality health care (measured by the IHME's Healthcare Access and Quality Index) was associated with fewer total COVID-19 deaths and SARS-CoV-2 infections, but higher public health spending and more public health personnel per capita were not, at the state level. The political affiliation of the state governor was not associated with lower SARS-CoV-2 infection or COVID-19 death rates, but worse COVID-19 outcomes were associated with the proportion of a state's voters who voted for the 2020 Republican presidential candidate. State governments' uses of protective mandates were associated with lower infection rates, as were mask use, lower mobility, and higher vaccination rate, while vaccination rates were associated with lower death rates. State GDP and student reading test scores were not associated with state COVD-19 policy responses, infection rates, or death rates. Employment, however, had a statistically significant relationship with restaurant closures and greater infections and deaths: on average, 1574 (95% UI 884–7107) additional infections per 10 000 population were associated in states with a one percentage point increase in employment rate."
"GPTs are GPTs: An Early Look at the Labor Market Impact Potential of Large Language Models" [arXiv]. The Abstract: "We investigate the potential implications of large language models (LLMs), such as Generative Pre-trained Transformers (GPTs), on the U.S. labor market, focusing on the increased capabilities arising from LLM-powered software compared to LLMs on their own. Using a new rubric, we assess occupations based on their alignment with LLM capabilities, integrating both human expertise and GPT-4 classifications. Our findings reveal that around 80% of the U.S. workforce could have at least 10% of their work tasks affected by the introduction of LLMs, while approximately 19% of workers may see at least 50% of their tasks impacted. We do not make predictions about the development or adoption timeline of such LLMs. The projected effects span all wage levels, with . Significantly, these impacts are not restricted to industries with higher recent productivity growth. Our analysis suggests that, with access to an LLM, about 15% of all worker tasks in the US could be completed significantly faster at the same level of quality. When incorporating software and tooling built on top of LLMs, this share increases to between 47 and 56% of all tasks. This finding implies that LLM-powered software will have a substantial effect on scaling the economic impacts of the underlying models. We conclude that LLMs such as GPTs exhibit traits of general-purpose technologies, indicating that they could have considerable economic, social, and policy implications." • AI coming for the PMC, while all they can do is gawk at how neat it is. I suppose each one of them figures they'll be the one writing the prompts, which would make PMC precarity even more predatory than it already is. I could revek in the schadenfreude, if I didn't think the society-wide effects would be so hideous. I mean, nobody thinks the working class is going to be clocking fewer hours for more money because of AI, do they?
News of the Wired
"The RIAA v. Steve Jobs" [Rogue Amoeba]. Quoting Adam Curry: "Steve asked: 'How do you do your recording?' We didn't really have any tools to record, there was not much going on at the time. But the Mac had an application called Audio Hijack Pro, and it was great because we could create audio chains with compressors, and replicate a bit of studio work. Eddy Cue said: 'The RIAA wants us to disable Audio Hijack Pro, because with it you could record any sound off of your Mac, any song, anything.' Steve then turned to me and said: 'Do you need this to create these podcasts?' I said: 'Currently, yes!' So Steve Jobs told them to get lost, and I thought: 'Hey man, thanks, Steve's on my side. That's cool.'" • So we can thank Steve Jobs for helping podcasting along!
"What's the best design for splash-free urinal? Physics now has the answer" [Ars Technica]. "Scientists at the University of Waterloo have determined the optimal design for a splash-free urinal: a tall, slender porcelain structure with curves reminiscent of a nautilus shell, playfully dubbed the "Nauti-loo." That's good news for men tired of having urine splash onto their pants and shoes—and for the poor souls who have to regularly clean up all the splatter. Bonus: It's quite an aesthetically appealing design, giving this workhorse of the public restroom a touch of class…. According to Pan, the key to optimal splash-free urinal design is the angle at which the pee stream strikes the porcelain surface; get a small enough angle, and there won't be any splashback. Instead, you get a smooth flow across the surface, preventing droplets from flying out. (And yes, there is a critical threshold at which the urine stream switches from splashing to flowing smoothly, because phase transitions are everywhere—even in our public restrooms.) It turns out that dogs have already figured out the optimal angle as they lift their legs to pee, and when Pan et al. modeled this on a computer, they pegged the optimal angle for humans at 30 degrees."
* * *
Contact information for plants: Readers, feel free to contact me at lambert [UNDERSCORE] strether [DOT] corrente [AT] yahoo [DOT] com, to (a) find out how to send me a check if you are allergic to PayPal and (b) to find out how to send me images of plants. Vegetables are fine! Fungi and coral are deemed to be honorary plants! If you want your handle to appear as a credit, please place it at the start of your mail in parentheses: (thus). Otherwise, I will anonymize by using your initials. See the previous Water Cooler (with plant) here. From RM: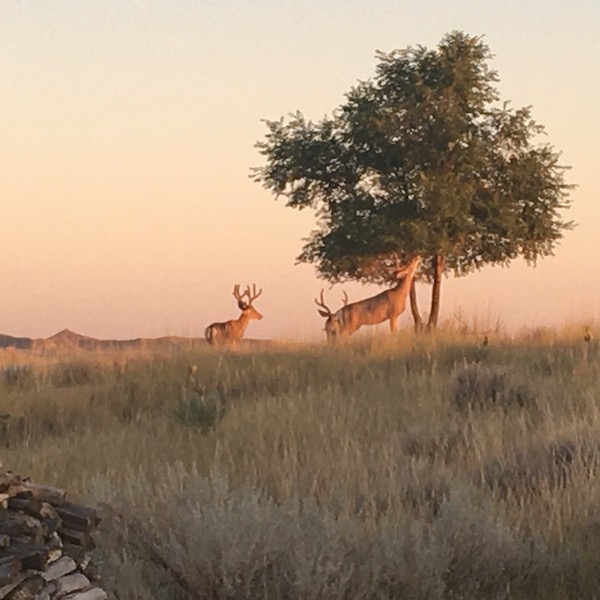 RM writes: "Tree trimming in the Fall."
* * *
Readers: Water Cooler is a standalone entity not covered by the annual NC fundraiser. So if you see a link you especially like, or an item you wouldn't see anywhere else, please do not hesitate to express your appreciation in tangible form. Remember, a tip jar is for tipping! Regular positive feedback both makes me feel good and lets me know I'm on the right track with coverage. When I get no donations for five or ten days I get worried. More tangibly, a constant trickle of donations helps me with expenses, and I factor in that trickle when setting fundraising goals:
Here is the screen that will appear, which I have helpfully annotated: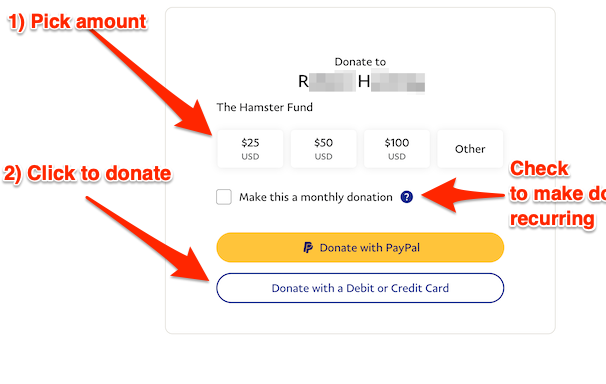 If you hate PayPal, you can email me at lambert [UNDERSCORE] strether [DOT] corrente [AT] yahoo [DOT] com, and I will give you directions on how to send a check. Thank you!