By Lambert Strether of Corrente.
Happy Valentine's Day to all! If you leave out the commercial stuff, the expectations, and the rituals, it's a pretty good idea! –lambert
Bird Song of the Day
In honor of the tool-using Cockatoo:
Blue-eyed Cockatoo, Cape Orford; Taintop Village, East New Britain, Papua New Guinea. This one sounds like an alarm!
* * *
Politics
"But what is government itself, but the greatest of all reflections on human nature?" –James Madison, Federalist 51
"Here's food for thought, had Ahab time to think; but Ahab never thinks; he only feels, feels, feels." –Herman Melville, Moby Dick
"So many of the social reactions that strike us as psychological are in fact a rational management of symbolic capital." –Pierre Bourdieu, Classification Struggles
Biden Administration
"Ron Klain Looks Back on Biden's First Two Years as President" [The New Yorker]. "Klain, at sixty-one, whirs with a low-key intensity. More than one of his peers in the White House told me that he had a helpfully 'paranoid' political radar, a catastrophic imagination for second- and third-order consequences that might seem as remote as a global pandemic once did." Like 700,000 deaths from Covid on Biden's watch? Or is that fourth order? Klain says exactly two things about Covid, and the squishy soft New Yorker doesn't press. First:

Obviously, my work on the covid response was highly impacted by my work on the Ebola response, kind of understanding how those agencies work.

Second:

We paid for a lot of covid treatments, including Paxlovid—and that is why, when you look at covid right now, cases go up and down, but deaths stay like this [traces a horizontal line in the air]. That really was the rock for a lot of what we did that followed.

That's it. That's the mindset. (I'd need a study on Paxlovid, and "deaths stay like this" = "the high plateau" I keep talking about.

"Playbook: Plan B talks on debt limit go underground" [Politico]. "MODS' DEBT LIMIT DILEMMA — The biggest subplot of the slowest-moving story in Washington — the partisan standoff over the federal debt ceiling — has so far centered on whether, absent a deal between President Joe Biden and Speaker Kevin McCarthy, moderate House Republicans might somehow band together with House Democrats to avoid a catastrophic default. The speculation has gone far enough to prompt several explainers about how it all might work — whether through a discharge petition or other obscure House procedures that could allow a bipartisan coalition to skirt conservatives' spending-cut demands. It's gone so far, we're told, that McCarthy has in recent days sent a message from on high to centrists who have openly toyed with the idea: You're killing my leverage with Biden. 'Don't talk about a discharge petition because we absolutely weaken our hand and won't get concessions if you do,' said one person familiar with the internal conversations, summarizing the leadership message. At the same time, centrists are getting assurances that McCarthy & Co. have no intention of sparking a default, 'but why don't we get some concessions out of it?' The message has been heard loud and clear. Some of those who had previously suggested they might be open to a discharge petition or other workaround, such as Rep. Brian Fitzpatrick (R-Pa.), have publicly backed away. One especially prime target for Democrats, Rep. DON BACON (R-Neb.), said the notion of sidelining McCarthy was 'DOA.' But while these conversations might have gone underground, we can report that they are very much still alive. Multiple people involved told us last night that a core group of bipartisan lawmakers have been texting, emailing and meeting about a potential backup plan should the McCarthy-Biden debt talks falter. It's far too early to say what that could look like, but the lines of communication are very much open."
2024
Petey speaks:

I continue to be concerned about the impacts of the Feb 3 train derailment near East Palestine, OH, and the effects on families in the ten days since their lives were upended through no fault of their own. It's important that families have access to useful & accurate information:

— Secretary Pete Buttigieg (@SecretaryPete) February 14, 2023

Only eleven days. That's not so bad. Meanwhile, let's finish the job, as Biden says:

OK this is genuinely insane: the US had 35 derailments per 1000 miles of track in 2021https://t.co/oIOdPaI7Us

That same year, Sweden had… 0.6.https://t.co/mFjujwhrnm

— Carl Beijer (@CarlBeijer) February 14, 2023

Maybe announce an initiative? Go for a bike ride on the tracks? Something?

"Could VP Kamala Harris be replaced in 2024? Democratic strategists weigh in" [FOX]. I know this is FOX, but that video of Harris. If I have to listen to that voice for four years…. "Harris will 'play a critical role in rallying key constituencies within the Democratic Party and Independents ahead of 2024,' Democratic strategist and Fox News contributor, Kevin Walling said. Jonathan Kott, a Democratic strategist and former aide to Sens. Joe Manchin, D-W.Va., and Chris Coons, D-Del., also came to the defense of the vice president telling Fox News Digital that Harris has 'been a key player in the most successful first two years of any presidency in my lifetime.'" • No, and no.

* * *

"The Real Reason Trump Is Calling DeSantis 'Meatball Ron'" [Daily Beast]. Well, DeSantis is kinda roly-poly. "One theory argued that our attention spans are getting shorter and shorter, and Trump understood how to succinctly capture the most negative framing of a person's fundamental nature…. The good news for DeSantis is that this specific technique is not currently being used on him (stay tuned for 'Groomin' Ron'). But what does 'meatball' even mean? The New York Times calls it 'an apparent dig at [DeSantis's] appearance,' which I take to suggest a shorter, pudgier frame—while hinting at a lock of social grace. But 'meatball' is also a slur against Italian-Americans (all eight of DeSantis' great-grandparents came here from Italy). Somewhere, Don Rickles must be thinking that if he were born 30 years later, he might have been president. It's not like DeSantis can complain or cry foul about this. It's hard to imagine the current governor of Florida trying to curry sympathy from a Republican electorate that couldn't get enough of it when Trump called Elizabeth Warren 'Pocohontas.'" • Which Warren fully, fully earned. I'm not sure how serious "Meatball" is as a slur; for example, in the reality TV show "Jersey Shore," "meatball" was "a way of describing a woman who was short, bulky and loved to party." So I'm not gonna clutch my pearls over this. Meatball also has another meaning, though it's hard to imagine Trump poring over WikiPedia to find it: "A baseball term for an easy pitch to hit — down the middle of the plate." So, DeSantis = Son of Jebbie?

"Ron DeSantis Backs Down From A Fight" [Jonathan Chait, New York Magazine]. "Biden is probably going to run — his performance was lively enough to at least slightly alleviate doubts about his age — and his campaign is likely to focus on a defense of Medicare, Medicaid, and Social Security…. This dynamic clicked into place for me when I saw two pieces of reporting about Ron DeSantis, the conservative Establishment's selection to replace Donald Trump as the presidential nominee. First, Josh Barro noted that, as a member of the House in 2013 and 2014, DeSantis not only voted for Paul Ryan's plan to turn Medicare into vouchers but also supported an even more radical plan that 'would have raised the retirement ages for both Social Security and Medicare to 70…. The next day, Andrew Kaczynski and Em Steck reported for CNN that DeSantis had endorsed privatizing both Medicare and Social Security. 'I would embrace proposals like [Rep.] Paul Ryan offered… What is perhaps even more telling is the response from DeSantis: nothing. DeSantis has built an identity as a fearless pugilist. One of his ads literally boasts that DeSantis will 'never, ever back down from a fight.' And yet, even after the media reported these damaging stories, and even after Biden traveled to Florida to give a speech attacking him for denying health coverage to a million Floridians by boycotting Medicaid expansion, DeSantis did not reply." • I'm sure DeSantis understands the Streisand Effect, and he's under no obligation to deign to respond to the puling of liberal Democrat house organs, whether what they say be right or wrong. That said, I think Chait identified a useful dynamic to watch for. What happens when a real brawler throws a punch? How does DeSantis respond?

"Nikki Haley takes on Donald Trump for 2024 U.S. Republican nomination" [Reuters]. • Weighing in at 3.9%:

"Judge to release parts of Georgia special grand jury report" [Associated Press]. "— A Georgia judge on Monday ordered the partial release later this week of a report by a special grand jury that investigated efforts by former President Donald Trump and his allies to overturn his 2020 election loss…. There was 'very limited due process' for people for whom the grand jurors recommended charges, [Fulton County Superior Court Judge Robert McBurney] wrote. Some may not have had the opportunity to appear before the panel, and those who did appear did not have the right to have their lawyers present or to offer any rebuttal. For that reason, the judge concluded, it is not appropriate to release the full report at this time." • Lol.
Republican Funhouse
"Mike Gallagher: A New Cold Warrior" [RealClearPolitics]. "The West is unprepared for everything all at once…. Well, at least that is what Rep. Mike Gallagher along with a team of academics and generals had to imagine when they poured over what looked like the most complicated "Risk" board ever assembled. It was only a war game, an exercise hosted last May by the Center for a New American Security…. If the U.S. and China go to war, the Wisconsin Republican said in a 'Meet the Press' interview, 'a lot of people are going to lose their lives.' The lesson: 'We want deterrence to actually work.' That is also the mission statement, in so many words, of the House Select Committee on China which Gallagher now chairs, a mammoth undertaking to examine not just the military risk but also the ideological and economic threats presented by the Chinese Communist Party. It is serious business. And Gallagher, a 38-year-old former U.S. Marine, is a serious man. Everyone says so. There is a feeling in Congress that the effort might just rise above the normal self-importance of Capitol Hill. 'The word 'serious' has been tossed around about this committee because that's the desire,' said Rep. Mikie Sherrill. Confronting an existential threat, the New Jersey Democrat told RealClearPolitics, shouldn't be something members 'do for personal edification or partisan means.' And that's what had Gallagher 'worried' when he pulled her aside. The two have served on committees together, and they teamed up in the CNAS war game. A U.S. Navy pilot before entering politics, Sherrill said during that exercise she appreciated the Marine's 'knowledge of ground operations.' His question on the House floor, between votes earlier this year, didn't have to do with tactics or grand strategy. Who would the Democrats seat on his committee?" • Sherrill is, of course, a CIA Democrat. "Know your enemy and know yourself." Can anybody in the national security establisment meet those two criteria? Bueller? Bueller? Bueller?
Democrats en Déshabillé
Patient readers, it seems that people are actually reading the back-dated post! But I have not updated it, and there are many updates. So I will have to do that. –lambert

I have moved my standing remarks on the Democrat Party ("the Democrat Party is a rotting corpse that can't bury itself") to a separate, back-dated post, to which I will periodically add material, summarizing the addition here in a "live" Water Cooler. (Hopefully, some Bourdieu.) It turns out that defining the Democrat Party is, in fact, a hard problem. I do think the paragraph that follows is on point all the way back to 2016, if not before:

The Democrat Party is the political expression of the class power of PMC, their base (lucidly explained by Thomas Frank in Listen, Liberal!). ; if the Democrat Party did not exist, the PMC would have to invent it. . ("PMC" modulo "class expatriates," of course.) Second, all the working parts of the Party reinforce each other. Leave aside characterizing the relationships between elements of the Party (ka-ching, but not entirely) those elements comprise a network — a Flex Net? An iron octagon? — of funders, vendors, apparatchiks, electeds, NGOs, and miscellaneous mercenaries, with assets in the press and the intelligence community.

Note, of course, that the class power of the PMC both expresses and is limited by other classes; oligarchs and American gentry (see 'industrial model' of Ferguson, Jorgensen, and Jie) and the working class spring to mind. Suck up, kick down.

* * *
Realignment and Legitimacy
"The Sudden Dominance of the Diversity Industrial Complex" [Real Clear Investigations]. "Seemingly in unison, and with almost no debate, nearly every major American institution – including federal, state, and local governments, universities and public schools, hospitals, insurance, media and technology companies and major retail brands – has agreed that the DEI infrastructure is essential to the nation's proper functioning. From Amazon to Walmart, most major corporations have created and staffed DEI offices within their human resources bureaucracy. So have sanitation departments, police departments, physics departments, and the departments of agriculture, commerce, defense, education and energy. Organizations that once argued against DEI now feel compelled to institute DEI training and hire DEI officers. So have organizations that are already richly diverse, such as the National Basketball Association and the National Football League. Many of these offices in turn work with a sprawling network of DEI consulting firms, training outfits, trade organizations and accrediting associations that support their efforts. 'Five years ago, if you said 'DEI,' people would've thought you were talking about the Digital Education Initiative,' Robert Sellers, University of Michigan's first chief diversity officer, said in 2020. 'Five years ago, if you said DEI was a core value of this institution, you would have an argument.'" • Hmm. Five years ago. That's 2022 – 5 = 2017, one year after Trump won and the PMC lost their minds and declared the State of Exception under which we live today. Coincidence? You be the judge.
#COVID19
Looks like "leveling off to a high plateau" across the board. (I still think "Something Awful" is coming, however. I mean, besides what we already know about.) Stay safe out there!
Lambert here: Last Friday, I reconfigured Covid coverage (at least temporarily; we may need to adjust to another surge). I've always thought of this section as providing readers with not only trend data, but early warning about locations (to the county level) particularly in travel season. But now the data is simply too slow and too bad, unsurprisingly, since "Covid is over." So I will revert to three charts only: national Case Data (Biobot), state Positivity (Walgreens), and national Deaths (Our World in Data). I also feel that the top of the #COVID19 section has not been sufficiently structured, and I'm going to create some buckets, like "Indoor Air," or "Masks" (and "Variants," if I encounter a good link). This reconfiguration is not a "step back," as Dima would say; but I do think I can use the freed-up time to beef up other sections, like Politics and especially Stats. Reader comment welcome!
Resources (National): Transmission (CDC); Wastewater (CDC); Variants (CDC; Walgreens).
Resources (Local): NC (Dashboard).
• Since the national data systems are being vandalized, let's start collecting links state data, too. If readers would send me links (see Plant below) to their favorite State and local dashboards/wastewater sites, that would be great. Or leave a link in Comments. Hat tip to JB for the NC dashboard.
* * *
Look for the Helpers
Here is the information that alert reader Bob promised to send on Corsi-Rosenthal (CR) Box stands:

Attached 6 photos of Corsi-Rosenthal boxes and PVC stands both angled and upright. Also attached is list of PVC parts I bought the third time to make and modify the office PVC stand so that there is an angle. Here is link to place where I purchased the furniture grade PVC. I could have used Home Depot PVC but I opted to avoid the total industrial look where there is blue lettering on the HD PVC and that PVC is dull matte looking.

https://www.pvcfittingsonline.com/

I found the place easy to work with as they were incredibly nice on the phone dealing with my admittedly novice questions. Shipping was fast but then I live in CT and they are in NJ. I went with white as the colored PVC was more expensive and neither my wife nor I care about the frame color as basically you do not really ever notice it.

The way you make an angle for the CR box is obvious when you look at either PVC frame below. The "front" has a raised bar. You control the angle by having different length PVC up-right pieces – two are needed one for each side. To change the angle you cut longer or shorter pieces with a hacksaw and using a rubber mallet knock apart that section of the PVC frame. Insert two new length pieces and bang back together. Instant new angle.

Note that the angled frames have two additional cross pieces. Two reasons. First the 2 additional cross pieces strengthens the entire frame. Second the back of the CR box then rests between the two cross pieces. Without that cross piece the CR box will slowly but surely migrate down and then fall off the frame if the CR box is angled. Bit of added resistance then prevents the migration. The entire fan and box will fall off the frame if you leave this cross piece out to save a dollar thirty five. Takes about five days for it to finally fall off – usually in the middle of the night to scare the hell of you. INTRUDERS!

I did not glue any joints as the CR boxes are so light and the fan basically adds no real weight. Zip vibration. And I get to experiment with different lengths.

And here is the parts list:

Bob was very kind to document his project and send in pictures. Please feel free to follow his example. Maybe a CR box decorated for Valentine' day? Also, what do cats think of CR boxes?

"Covid Meetups" [COVID MEETUPS (JM)]. "A free service to find individuals, families and local businesses/services who take COVID precautions in your area." • I played around with it some. It seems to be Facebook-driven, sadly, but you can use the Directory without logging in. I get rational hits from the U.S., but not from London, UK, FWIW.
Covid Is Airborne
"The history and science behind airborne infections and the use of ultraviolet irradiation for disinfecting indoor air Part One [WSWS]. Part two. This is super-interesting; kudos to WSWS for putting it together. This is a good entry point to the "Far UV" discussion. A tiny excerpt: "[W]e're using Far UV—some people don't like the term—to refer specifically to 222-nanometer (nm) or 206 nm wavelengths. Whereas what was used a 100 years ago, of course, was all UVC, but at 254 nm, which was the natural output of mercury lamps." • Obviously, I have strong priors on filters. In a perfect world, Far UV and filters like HEPA and CR Boxes would work together. There are two barriers to this. One is that the "Far UV" and "Filters/Aerosols" verticals are institutionally separated; Colorado's J.J. Gonzales, for example, is only now reviewing Far UV. This is a problem that can be solved with good will; neither vertical is, after all, hegemonic. (The series is a wonderful example of humans doing science; I highly recommend it.) My more serious objection is that this is the stupidest timeline. I can easily envision a future where people stick a blue light in a socket and call it done, vitiating alll ventilation efforts.

No wonder Listerine is good against Covid (hat tip alert reader Blitzkreig for initiating the discussion):

Lister invented disinfectant to stop infection of wounds (surgery) from the organisms FLOATING IN THE AIR. pic.twitter.com/vLMsAnGd1p

— Jonathan Mesiano-Crookston 🌬️🔅#COVIDisAirborne (@jmcrookston) February 14, 2023

"Air Filters, Pollution, and Student Achievement" (abstract only) [The Journal of Human Resources]. Interesting natural experiment: "This paper identifies the impact of installing air filters in classrooms for the first time. To do so, I leverage a unique setting arising from the largest gas leak in U.S. history, whereby the offending gas company installed air filters in every classroom within five miles of the leak (but not beyond). Using a spatial regression discontinuity design, I find substantial improvements in student performance: air filters raised test scores by 0.1-0.2σ. Natural gas was not detected inside schools, implying that the filters improved air quality by removing common pollutants and so these results should extend to other settings."
Science Is Popping
"Botanical inhibitors of SARS-CoV-2 viral entry: a phylogenetic perspective" [Nature]. The Abstract: "Throughout the SARS-CoV-2 pandemic, the use of botanical dietary supplements in the United States has increased, yet their safety and efficacy against COVID-19 remains underexplored. The Quave Natural Product Library is a phylogenetically diverse collection of botanical and fungal natural product extracts including popular supplement ingredients. Evaluation of 1867 extracts and 18 compounds for virus spike protein binding to host cell ACE2 receptors in a SARS-CoV-2 pseudotyped virus system identified 310 extracts derived from 188 species across 76 families (3 fungi, 73 plants) that exhibited ≥ 50% viral entry inhibition activity at 20 µg/mL. Extracts exhibiting mammalian cytotoxicity > 15% and those containing cardiotoxic cardiac glycosides were eliminated. Three extracts were selected for further testing against four pseudotyped variants and infectious SARS-CoV-2 and were then further chemically characterized, revealing the potent (EC50 < 5 µg/mL) antiviral activity of Solidago altissima L. (Asteraceae) flowers and Pteridium aquilinum (L.) Kuhn (Dennstaedtiaceae) rhizomes." • Interesting! Don't go trying your own tinctures, though; the concentrations are huge.
Elite Malfeasance
"Interregnum – on the lockdown 'sceptics'" (podcast) [Politics Theory Other]. From the UK. "Richard Seymour discusses his recent blogpost on the so-called lockdown sceptics, and in particular the work of Toby Green and his book 'The Covid Consensus: The Global Assault on Democracy and the Poor—A Critique from the Left'. We talked about the straw man arguments, factual inaccuracies and conspiratorial thinking that characterise the book and the lockdown sceptic literature more generally. We also talked about why parts of the left have been receptive to some of this work and also what to make of the alliance between some self-styled anti-woke leftists and religious conservatives." • Seymour gets pretty cranky toward the end; justifiably so. Lockdowns as scapegoating by, well, the enemies of human freedom:

It's the perfect scapegoat even though it wasn't long and was years ago. People loved the lockdown as it gave them time to experience life outside of corporate control. They want you to feel guilty for it and to get that idea of freedom out of your head.

— anordinarygirl (@anordinarygirl) February 12, 2023

I haven't heard this viewpoint expressed. Could mean it's valid!

Just ask youself: What would Weyland-Yutani do?

We need to learn to live with the aliens. pic.twitter.com/wyOLi1YT9q

— tern (@1goodtern) November 30, 2022

And:

At this point I really welcome Aliens pic.twitter.com/Ge66zMU8DI

— Tired (@EndemicPrepared) February 13, 2023

Patient readers: I can't with this garbage Cochrane review; I'll have a takedown in the near future.
* * *
Case Data
NOT UPDATED BioBot wastewater data from February 13: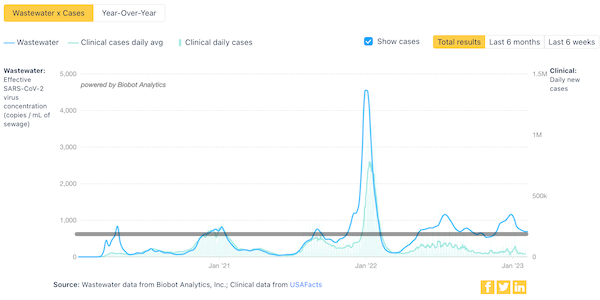 For now, I'm going to use this national wastewater data as the best proxy for case data (ignoring the clinical case data portion of this chart, which in my view "goes bad" after March 2022, for reasons as yet unexplained). At least we can spot trends, and compare current levels to equivalent past levels.
• This chart does not look particularly seasonal. Leaving it up for a bit to make the point: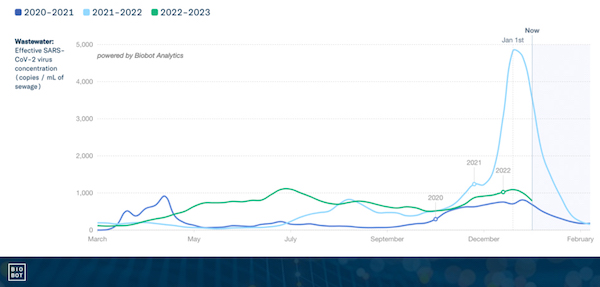 So Covid is not like "the flu," making the plan to integrate flu and Covid shots even more surrealistic than it already is.
Positivity
From the Walgreen's test positivity tracker, published February 14: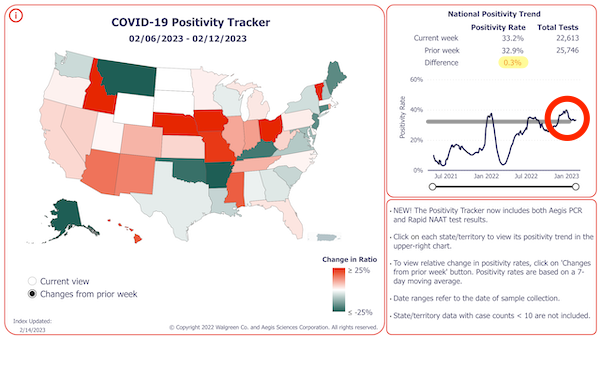 0.3%. Still on the high plateau, equal to previous peaks.
Deaths
Death rate (Our World in Data):
Total: 1,140,209 – 1,140,017 = 192 (192 * 365 = 70,080 deaths per year, today's YouGenicist™ number for "living with" Covid (quite a bit higher than the minimizers would like, though they can talk themselves into anything. If the YouGenicist™ metric keeps chugging along like this, I may just have to decide this is what the powers-that-be consider "mission accomplished" for this particular tranche of death and disease).
It's nice that for deaths I have a simple, daily chart that just keeps chugging along, unlike everything else CDC and the White House are screwing up or letting go dark, good job. (Though CDC may be jiggering the numbers soon. Lower, naturally.)
Bird Flu (H5N1)
Nail in the coffin on the putative Houston case:
Check out Tifftastic75🦋's video! #TikTok https://t.co/lvdlvh5Irn
I am sorry. It did not verify. I will never post unverified news again, period. I am glad it didnt verify. I only wanted to warn people. I made many mistakes tho. My apology is unconditional.

— Tiffany Najberg DO, FACEP (@Tifftastic75) February 13, 2023
Oopsie. Here is the reaction from FluTrackers ("Thank you to Dr. Tiffany for the effort"). One of the positives of the episode is that I learned abot FluTrackers, which is a really great site.
Stats Watch
Inflation: "United States Consumer Price Index (CPI)" [Trading Economics]. "The annual inflation rate in the US slowed only slightly to 6.4% in January of 2023 from 6.5% in December, less than market forecasts of 6.2%. Still, it is the lowest reading since October of 2021, with energy prices rising 8.7% while food cost went up 10.1%. "
Business Optimism: "United States NFIB Business Optimism Index" [Trading Economics]. "The NFIB Small Business Optimism Index in the United States went up to 90.3 in January of 2023 from a six-month low of 89.9 in December but still remained below its 49-year average of 98. The proportion of owners expecting better business conditions over the next six months increased (up 6 points to -45%). Still, 26% of owners see inflation as their single most important problem (down 6 points) and about 42% of owners raised average selling prices (down 1 point). Also, 45% percent of owners said job openings were hard to fill (up 4 points) and the expectations for real sales to be higher worsened by 4 points to -14%. 'While inflation is starting to ease for small businesses, owners remain cynical about future business conditions'." • "Cynical"?
* * *
Tech: "Opera's building ChatGPT into its sidebar" [The Verge]. "Opera's adding a ChatGPT-powered tool to its sidebar that generates brief summaries of webpages and articles. The feature, called 'shorten,' is part of the company's broader plans to integrate AI tools into its browser, similar to what Microsoft's doing with Edge." • Oh good.
* * *
Today's Fear & Greed Index: 72 Greed (previous close: 70 Greed) [CNN]. One week ago: 78 (Extreme Greed). (0 is Extreme Fear; 100 is Extreme Greed). Last updated Feb 14 at 1:32 PM EST.
Healthcare
"More Clues into ME/CFS Discovered in Gut Microbiome" [NIH Director's Blog]. "Because ME/CFS has many possible causes, it doesn't affect everybody in the same way. That's made studying the disease especially challenging. But NIH is now supporting specialized research centers on ME/CFS in the hope that greater collaboration among scientists will cut through the biological complexity and reveal answers for people with ME/CFS and their families. So, I'm pleased to share some progress on this research front from two NIH-funded ME/CFS Collaborative Research Centers. The findings, published in two papers from the latest issue of the journal Cell Host & Microbe, add further evidence connecting ME/CFS to distinctive disruptions in the trillions of microbes that naturally live in our gastrointestinal tracts, called the gut microbiome [1,2]. Right now, the evidence establishes an association, not direct causation, meaning more work is needed to nail down this lead. But it's a solid lead, suggesting that imbalances in certain bacterial species inhabiting the gut could be used as measurable biomarkers to aid in the accurate and timely diagnosis of ME/CFS. It also points to a possible therapeutic target to explore." • I had hoped to pair this with a paper on the neurological effects of Covid, suggesting that the brain and the gut might not be the independent standalone systems we think they are, but unfortunately the neurological paper is gone where the woodbine twineth.
Zeitgeist Watch
Is there some kind of catch?
Very good.pic.twitter.com/hxwCjiLPIi

— The Figen (@TheFigen_) February 12, 2023
Our Famously Free Press
From various liberal sources, I keep hearing that the problem with the Norfolk Southern train that derailed in East Palestine was brakes. But none of them cite to a source. By contrast, the union guys say it's a hot box, and there's evidence for that:
No, it experienced a mechanical failure. There is video of an overheated axle from a railside plant in Salem, and the crew received a warning from a "hot box detector" which they apparently responded to by braking.https://t.co/mZbgRmIb0l

— NewThinq (@NewThinq) February 13, 2023
The brakes thing feels non-organic, and from members of my team, or people I'd like to consider adjacent to my team. So what's up with that?
Class Warfare
"Ordinary Americans are counting the cost of thriving" [Financial Times]. "In 1985, an American man working the typical full-time job could support a family of four on 40 weeks of income, and be able to afford a range of nutritious foods, a three-bedroom house, a comprehensive health insurance plan, a family car, even saving to put both kids through the state university. In 2022, paying for all that would require 62 weeks of his income, which is a problem, there being only 52 weeks in a year. These figures come from the Cost-of-Thriving Index (Coti), which compares the rate at which wages are rising to the rate of cost increases for middle-class staples. They show starkly the effect on household budgets of a decades-long stretch in which housing prices [rents], health insurance premiums [rents], college tuition [rents], and more [rents] skyrocketed much faster than wages."
News of the Wired
"Aphrodisiacs of the Aztec and Inca" [JSTOR Daily]. "Aztecs attributed aphrodisiac properties to many plant-based foods, including the chocolate beverage atextli. … Other Aztec aphrodisiacs were medicines with psychoactive properties, including the morning glory and certain mushrooms. One kind of mushroom, teonanácatl (now known as pajarito in Spanish) was associated with prostitutes, though it's unclear whether they or their clients consumed it, or what the specific desired effects were. A plant known as cutiriqui was used not just for whetting sexual appetites but for rekindling the love of a married couple. However, [ethnobotanist Jan G. R. Elferink] writes, the most potent aphrodisiacs for the Aztecs seem to have come from animals. A part of the mazacoatl, or deersnake, was considered extremely potent, to the point of danger. The Florentine Codex, written by Spanish Franciscan friar Bernardino de Sahagún in the sixteenth century, warned that a man who drank too much of a tincture made from mazacoatl 'continually erects his virile member and constantly ejects his semen, and dies of lasciviousness.' Also dangerous was the temolin, a large beetle, which may have contained cantharidin, the same toxin found in the notorious "Spanish fly.'" • News you can use!
* * *
Contact information for plants: Readers, feel free to contact me at lambert [UNDERSCORE] strether [DOT] corrente [AT] yahoo [DOT] com, to (a) find out how to send me a check if you are allergic to PayPal and (b) to find out how to send me images of plants. Vegetables are fine! Fungi and coral are deemed to be honorary plants! If you want your handle to appear as a credit, please place it at the start of your mail in parentheses: (thus). Otherwise, I will anonymize by using your initials. See the previous Water Cooler (with plant) here. From SD: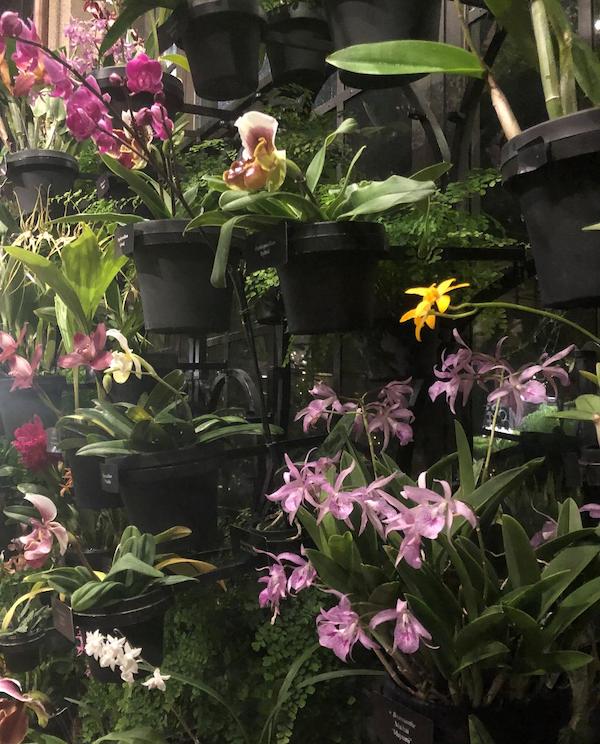 SD writes: "Wall of orchids, Longwood Gardens, PA."
* * *
Readers: Water Cooler is a standalone entity not covered by the annual NC fundraiser. So if you see a link you especially like, or an item you wouldn't see anywhere else, please do not hesitate to express your appreciation in tangible form. Remember, a tip jar is for tipping! Regular positive feedback both makes me feel good and lets me know I'm on the right track with coverage. When I get no donations for five or ten days I get worried. More tangibly, a constant trickle of donations helps me with expenses, and I factor in that trickle when setting fundraising goals:
Here is the screen that will appear, which I have helpfully annotated: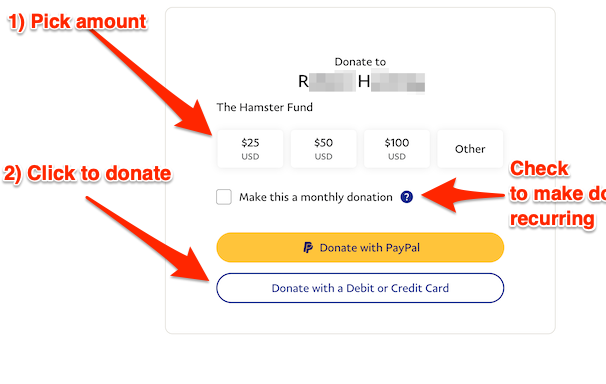 If you hate PayPal, you can email me at lambert [UNDERSCORE] strether [DOT] corrente [AT] yahoo [DOT] com, and I will give you directions on how to send a check. Thank you!