By Lambert Strether of Corrente.
Patient readers, I'm a fast man with an in-tray, but not fast enough. I really need to clear my backlog, and so I'll have more shortly. Please return. –lambert UPDATE All done!
Bird Song of the Day
Masked Finch (Masked), Muirhead bushland, Darwin, Northern Territory, Australia. "Soft, muted contact calls of small party feeding on the ground."
* * *
Politics
"But what is government itself, but the greatest of all reflections on human nature?" –James Madison, Federalist 51
"Here's food for thought, had Ahab time to think; but Ahab never thinks; he only feels, feels, feels" –Herman Melville, Moby Dick
"So many of the social reactions that strike us as psychological are in fact a rational management of symbolic capital." –Pierre Bourdieu, Classification Struggles
Biden Administration
What does this even mean?

My word as a Biden: I've never been more optimistic about America's future than I am today.

— President Biden (@POTUS) January 29, 2023

Leave aside that Joe Biden owes me six hundred bucks. What sense does it make to swear an oath that you feel something? One for the philosophers!

"White House blasts McCarthy for comments on strengthening Social Security, Medicare" [The Hill]. "McCarthy said in an interview on CBS's 'Face the Nation' earlier Sunday that he wants to take cuts to Medicare and Social Security off the table in talks with Democrats over the debt ceiling, even though Republicans do want commitments on spending cuts generally. Instead, McCarthy said Republicans were committed to strengthening the programs. The strengthening of entitlement programs laid out in the Republicans' 'Commitment to America' is vague. One of the legislative recommendations made in the plan is that Congress must 'must be prepared to make reforms to extend the solvency of the entitlement programs.' The White House rebuked the Speaker's claim, saying on Sunday that Republicans have wanted to cut earned benefits for years." • Dudes, come on. Obama wanted a Grand Bargain. Unsurprisingly, no good faith on either side here. Even so, the framing of the headline shows the Republicans are getting some a little traction.

"Biden, McCarthy to discuss debt limit in talks on Wednesday" [Associated Press]. "House Speaker Kevin McCarthy said Sunday he is looking forward to discussing with President Joe Biden a 'reasonable and responsible way that we can lift the debt ceiling' when the two meet Wednesday for their first sit-down at the White House since McCarthy was elected to the post. McCarthy, R-Calif., said he wants to address spending cuts along with raising the debt limit, even though the White House has ruled out linking those two issues together as the government tries to avoid a potentially devastating financial default. The speaker pledged that cuts to Social Security and Medicare would be off the table. 'I know the president said he didn't want to have any discussion (on cuts), but I think it's very important that our whole government is designed to find compromise,' McCarthy told CBS' 'Face the Nation.' 'I want to sit down together, work out an agreement that we can move forward to put us on a path to balance — and at the same time not put any of our debt in jeopardy at the same time.' Asked whether he would make a guarantee, McCarthy said, 'There will not be a default,' though he suggested that declaration depended on the willingness of Biden and Democrats to negotiate." • Not sure what the Freedom Caucus will think of this….
2024
"Hunter Biden converted Delaware house with classified documents into home office" [New York Post]. "Hunter Biden apparently turned his father's Wilmington, Del. mansion into a high-powered and possibly compromised home office, wheeling and dealing with some of the same nations whose names have turned up in classified documents recently discovered at the home, according to experts and leaked cellphone texts. Hunter Biden listed the idyllic Wilmington home as his address following his 2017 divorce from ex-wife Kathleen Buhle — even claiming he owned the three-bed, four-and-a-half-bath lakefront property on a July 2018 background check form as part of a rental application. The home is also listed as his billing address for a personal credit card and Apple account in 2018 and 2019. At least 12 classified documents — some dating back to President Biden's career in the Senate — were found on its premises in recent weeks. Some of the classified material found at the home, as well as the roughly 10 items of classified pages found at the Penn Biden Center, related to nations Hunter Biden had extensive business entanglements in — such as Ukraine." • Oh, Hunter, you loveable scamp!

"Front page of WaPo bashing VP Harris. Sen. Warren, et tu? Enough already" [Daily Kos]. Sorry. I had to. "But this [WaPo] article filled with quotes from 'anonymous Democrats' just infuriates me. I'm so pissed off at all the subtly-implied racism and sexism (some of it is not subtle at all) I could spit nails…" • No doubt. 2024 will be pleasant!

"Kamala Harris anonymously hit by Democrats questioning her 'basic political skills'" [FOX]. Read the article if you can't get past WaPo's paywall. It concludes: "A report from Politico on Jan. 17 suggested that Harris' team believes, "After spending much of her time in office managing bad headlines, staff turnover and persistent questions about her portfolio and position in Biden world, the vice president is in a better place." • Oh. Maybe Obama put out the word? It's hard for me to believe Harris has Obama's backing, but… This video. Wowsers:

• Eye contact:

I ran for president to build an economy for middle-class families. And a big part of that is working to bring down everyday costs – from medicine to gas. pic.twitter.com/KnMe3uvBhb

— President Biden (@POTUS) January 29, 2023

The heir apparent, "looking up" to Biden?

* * *

"Donald Trump kicks off his 2024 White House bid – and says he's 'more committed than ever'" [Sky News]. "Former US president Donald Trump has kicked off his 2024 White House bid with stops in New Hampshire and South Carolina, while brushing aside criticism that his campaign was off to a slow start. Speaking to party leaders at the New Hampshire Republicans' annual meeting in Salem, the former president insisted he was motivated to win as he embarked on his third White House bid which he announced in November. 'We're starting right here as a candidate for president,' he announced. 'I'm more angry now, and I'm more committed now, than I ever was.' In contrast to the raucous rallies in front of thousands of devotees that Mr Trump often holds, Saturday's events were notably muted. In Columbia, South Carolina, Mr Trump spoke to about 200 people in the state's capitol building, with Governor Henry McMaster and Senator Lindsey Graham of South Carolina flanking him." • As I keep saying, Trump is neither stupid nor insane. if this is how he's doing it, there's a reason.

"Trump says he would resolve Ukraine war in 24 hours if he were president" [MSN]. • That bastid keeps asking for my vote. Somebody should stop him.
Republican Funhouse
"Newsday poll: 78% of 3rd District residents say George Santos should resign" [Newsday]. "By a 6-1 ratio, voters in Rep. George Santos' congressional district want him to resign since his lies about his education, family history and work profile have been revealed, according to a new Newsday/Siena College poll. By a nearly 5-1 ratio, constituents say the Republican congressman cannot be an effective representative. Two of every three people who voted for him say they wouldn't have if they knew then what they know now. Further, in a district where prominent Republicans get good ratings and prominent Democrats don't, an astounding 83% of his constituents view Santos unfavorably compared with 7% favorably." • If it comes from the District, as opposed to the frothing and stamping of Democrat operatives, fine.

"George Santos Recuses Himself from Committee Assignments" [National Assignments]. "Representative George Santos (R., N.Y.) told the GOP conference on Tuesday that he will step down from his committee assignments after he was caught lying about his resume and background….. Santos, who was given seats on the Science, Space and Technology Committee and the House Small Business Committee, has repeatedly rebuffed calls to resign from Congress altogether."
Democrats en Déshabillé
Patient readers, it seems that people are actually reading the back-dated post! But I have not updated it, and there are many updates. So I will have to do that. –lambert

I have moved my standing remarks on the Democrat Party ("the Democrat Party is a rotting corpse that can't bury itself") to a separate, back-dated post, to which I will periodically add material, summarizing the addition here in a "live" Water Cooler. (Hopefully, some Bourdieu.) It turns out that defining the Democrat Party is, in fact, a hard problem. I do think the paragraph that follows is on point all the way back to 2016, if not before:

The Democrat Party is the political expression of the class power of PMC, their base (lucidly explained by Thomas Frank in Listen, Liberal!). ; if the Democrat Party did not exist, the PMC would have to invent it. . ("PMC" modulo "class expatriates," of course.) Second, all the working parts of the Party reinforce each other. Leave aside characterizing the relationships between elements of the Party (ka-ching, but not entirely) those elements comprise a network — a Flex Net? An iron octagon? — of funders, vendors, apparatchiks, electeds, NGOs, and miscellaneous mercenaries, with assets in the press and the intelligence community.

Note, of course, that the class power of the PMC both expresses and is limited by other classes; oligarchs and American gentry (see 'industrial model' of Ferguson, Jorgensen, and Jie) and the working class spring to mind. Suck up, kick down.

* * *

I've been thinking a lot about this passage from Kim Stanley Robinson's New York, 2140. Charlotte, one of the protagonists, has just been asked to run for Congress:

"No way!" Charlotte said, shocked. "What about the mayor's candidate?"

[The Democrat] Party was a hierarchy; you started at the bottom and moved up one step at a time—school board, city council, state assembly—and then if you had demonstrated lockstep team loyalty, the powers at the top would give you the party endorsement and its aid, and you were good to go. Had been that way for centuries. Outsiders did pop up to express various dissatisfactions, and occasionally some of them even overthrew the order of things and got elected, but then they were ostracized by the party and could get nothing done. They just wasted their time and whatever little money could be dredged up to support such quixotic tilts.

Some might say "gerontacracy," but that follows from the hierarchy; it takes time to climb the greasy pole. KSR's picture strikes me was broadly accurate (sadly). Puzzle pieces that fit right in: How Hakeem Jeffries became Speaker more or less by acclamation Pelosi retired; whether Obama's was the hand that held the dagger on the Biden documents flap (yes); how The Squad went so rotten so fast (now, no moralizing!); and of course the fate of the Sanders insurgency, which disappeared like a spring snow, along with the Sanders many of us thought we knew. For example:

Bernie Sanders' top foreign policy guy, everyone pic.twitter.com/8IRqrWanXC

— Michael Tracey (@mtracey) January 30, 2023

Duss's family — and I know this will surprise you — is Ukrainian. Just like Nuland, Blinken, and soon-to-be NATO General Secretary Freeland!

KSR wrote New York, 2140, i.e., the year the PMC, defeated by Trump, came to class consciousness and declared a state of exception for every principle of governance and personal morality they might colorably have been said to have previously possessed. So I think his model, essentially a model of seniority only, might need to be adjusted. Like epiphytes or hanging vines around the deeply rooted tree of electeds we have Flexian spooks (CIA Democrats), occasional rich marks (that crypto effective altruism dude who lost so badly), occasional straws to lose to the Republican but bring in enormous amounts of out-of-state money from gullible "In This House" types (Amy McGrath; Stacey Abrams). And then we have the rich soil of the organs of state security, from which the tree grows: Spooks, the press, NGOs. Note also, from this vignette, that the single thing a political party does — something that no other institution in the United States does, including the State — is control the ballot line. That's a monopoly. Maybe we should get Stoller to take it away from them…

Oh, a membership card! Do I get a secret decoder ring, too?

If any readers can find it within themselves to acquire one of these cards, could you please mail me? (Address below above the plant). I would be extremely interested to know what the terms and conditions are — or if indeed there are any. Presumably, the Democrat lawyers vetted this campaign and are smart enough to pre-empt any lawsuits — say, for any services "the club" failed to deliver to paid members — but you never know! I realize you may get, well, more mail if you do that, but that might be an interesting object of study as well. Oh, and this ad was clearly produced by a different shop than the cray cray ad I ran yesterday. So we're looking at some orchestration, here.
Our Famously Free Press
Twitter getting ready for Trump's return?

This version of "context" seems better than what Twitter did, pre-Elon. Now, if only Twitter would get cheeky and label The New York Times and WaPo "state media"!
RussiaGate
"The press versus the president, part one" [Jeff Gerth, Columbia Journalism Review] (and two, three, and four). This is an important three part series (part two in Links today)]. To be fair, Jeff Gerth has a checkered career, especially if you're a Clintonite. Nevertheless, it looks to me like this a serious reporting effort (unlike, say, one of Woodward's books, where Woodward gets people in his Rolodex to bloviate). Many sources refused to answer detailed lists of questions Gerth sent them, which I take to be a very good sign. I'm working my way through the whole vile mishegoss. Here's one gem from Part 4: "The Democrat-controlled Congress, however, thought it might be able to pick up those disparate pieces and fashion an impeachment case. They decided to push a reluctant Mueller to come testify himself, hoping he might help make their case. Mueller appeared in late July before the House Judiciary Committee. Schmidt was contemporaneously posting analysis on the Times website about Mueller's testimony. At just past eight in the morning, he signed in: 'Can't wait to hear Mueller talk about Volume II on obstruction.' As Mueller began answering questions, Schmidt noted how he kept asking for them to be repeated. Then a few hours later, he posted this: 'the Democrats say it was indeed obstruction and Mueller declines to back them up.' Mueller's 'halting' testimony, as noted by the Times and many other outlets, was likely the final chapter in his lengthy public life. Woodward told me the Mueller report was a 'fizzle' but reporters were 'never going to declare it's going to end up dry.' The following morning, less than eighteen hours after Mueller left the congressional hearing, a more confident Trump had his phone call with Ukrainian president Volodymyr Zelensky in which he asked him for help in digging up dirt on Joe and Hunter Biden. What Trump thought was a 'perfect' phone chat turned out to be the impeachment vehicle Democrats so desperately wanted after Mueller's far-from-perfect performance. A new media frenzy was about to begin." • Attaboy, Volodymyr!
Realignment and Legitimacy
"Nobody Knows This But" [Eschaton]. "One benefit of Trump (straining, here) was that he made me realize just how many people – including a substantial number of our elite commentators – are just like Trump. Sure Trump has no filter, just pure nonstop ID screaming it out all day every day, but that others have a slightly better filter doesn't make them fundamentally different. Inability to accept fault or criticsm, belief that every thought is a profound one never before imagined by anyone else, fundamental inability to empathize with any person or situation outside their small experience (which they believe to be expansive), the unwavering embrace of certain class and achivement markers (some of Trump's are sillier – wow Golden Globes Winner of 1983 – but not fundamentally different), etc. People should be talking about this more and more!!!" • I think Atrios is right on the money, here. No wonder they hate him so much! He's just like them!

Reversion to the civilizational mean?

Wars and plagues, the only two things that really change politics. Everything else is theatre, team sports. The 20th century began with a global war, triggering a global pandemic. The mid-century period was dominated by a second global war. /2

— Henry Madison 🦠x0 (@RageSheen) January 30, 2023

And:

Wars and plagues, the only two things that really change politics. Everything else is theatre, team sports. The 20th century began with a global war, triggering a global pandemic. The mid-century period was dominated by a second global war. /2

— Henry Madison 🦠x0 (@RageSheen) January 30, 2023

I hate this. I hate the very thought of this. OTOH, the notion of "the public" did paper over some contradictions that we now see are all too real (just like, at the NGO level, "community" does). So, opportunity? Anyhow, the whole thread is worth a careful read.
#COVID19
Lambert here: I am but a humble tapewatcher, but unlike Eric Topol, I'm not calling a surge, because the last peak was Biden's Omicron debacle, and after an Everest like that, what's left? Topol's view is the establishment view: Hospital-centric. Mine is infection-centric. I do not see the universal acceleration or doubling in cases that I would expect to see based on past surges.
I am calling a "Something Awful." It's gonna be bad, in some new way, and we don't know how, yet (but see here for immune system dysregulation, which is looking pretty awful).
Lambert here: Looks like "leveling off to a high plateau" across the board. Stay safe out there!
* * *
• I hate stories like this and I keep reading them:
My wife delayed her own medical visits because it's unsafe. We only do curbside or grocery delivery because it's unsafe. She delayed dental care because it's unsafe.

When our poor cat was hurting, she did not delay- and the first vet visit gave her COVID.

This is a hellscape.

— LukeB (@IncorrigibleOrc) January 29, 2023
* * *
• I love these metaphors, and they may persuade, but they are all about features, not bugs:
The current vaccine-only strategy is like arguing that because cars have seat belts we don't need turn signals, traffic lights, or stop signs.

Just because some of the worst outcomes can be reduced, does not remove the need for prevention and public safety.

— LukeB (@IncorrigibleOrc) January 24, 2023
Yes, this is exactly what it's like. It's as if our policy — and perhaps this is our policy — is to have a high plateau of automobile deaths and injuries for the forseeable future, because that was the most profitable course for those who collect profits.
* * *
• "Cortical Grey matter volume depletion links to neurological sequelae in post COVID-19 "long haulers"" [BMC Neurology]. "This is a retrospective single center study which analyzed 24 consecutive COVID-19 infected patients with long term neurologic symptoms. Each patient underwent Brain MRI with 3D VBM at median time of 85 days following laboratory confirmation. All patients had relatively mild respiratory symptoms not requiring oxygen supplementation, hospitalization, or assisted ventilation. 3D VBM was obtained for whole brain and forebrain parenchyma, cortical grey matter (CGM), hippocampus, and thalamus. The results demonstrate a statistically significant depletion of CGM volume in 24 COVID-19 infected patients. Reduced CGM volume likely influences their long term neurological sequelae and may impair post COVID-19 patient's quality of life and productivity."
• "Two-Years Follow-Up of Symptoms and Return to Work in Complex Post-COVID-19 Patients" [Journal of Clinical Medicine]. n = 45. From the Abstract: "Self-reported symptoms, feelings of improvement and ability to return to work allowed us to determine the efficacy of the therapeutic strategy proposed. Results: Unlike what was expected, many post-COVID-19 patients directly contacted the coordination team and had significant pre-existing comorbidities. Despite exercise, respiratory, olfactory rehabilitations, cognition/speech therapy and/or psychological support, the more frequent self-reported symptoms (fatigue, neurocognitive disorders, muscles and joint pain) did not resolve. However, dyspnea, anxiety and chest pain were significantly reduced. Finally, 2/3 of the patients felt some degree of improvement and returned to work either partially or fully, but 1/3 remained complaining of symptoms and out of work as late as 22 months after COVID occurrence." Mike the Mad Biologist comments: "It's not good. Again, you are not the weirdo if you're trying to avoid (re)-infection)."
* * *
• "The key to reinvigorating infection control? Getting back to basics, says Mount Sinai's Dr. Aaron Glatt" [Becker's Hospital Review]. Whenever I've encountered (hegemonic) infection control/infectious disease people on Covid, they've been fighting masking — in hospitals!! — and airborne transmission tooth and nail. (Sadly, IC/ID has a lot of clout; see CDC's ridiculous and lethal blather recommending handwashing to prevent Covid — in 2023!! — in their latest guidance.) So maybe the key to "reinvigoration" would be a vigorous purge of all the reactionary mossbacks at the top of the field? (I don't wish to over-generalize, and perhaps I conflate IC/ID, so those skilled in the art may wish to correct me. Nevertheless!)
* * *
Case Data
BioBot wastewater data from January 30: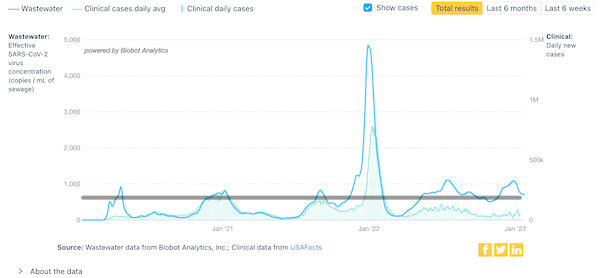 For now, I'm going to use this national wastewater data as the best proxy for case data (ignoring the clinical case data portion of this chart, which in my view "goes bad" after March 2022, for reasons as yet unexplained). At least we can spot trends, and compare current levels to equivalent past levels.
• "It's been three years since the first Covid-19 case in the United States. What have we learned and what more do we need to understand?" [CNN]. "It's been three years since the first Covid-19 case was diagnosed in the United States, on January 20, 2020. In the time since, nearly 1.1 million Americans have died from the coronavirus; the US has reported 102 million Covid cases, more than any other country, according to Johns Hopkins University. Both figures, many health officials believe, are likely to have been undercounted." • What have we learned? Classic clip aside, we've learned that we can slaughter a million US citizens without causing a riot, or, indeed, civil unrest of any sort. That's an important lesson!
Transmission
Here is CDC's interactive map by county set to community transmission (the "red map," which is the map CDC wants only hospitals to look at, not you.) The map is said to update Monday-Friday by 8 pm: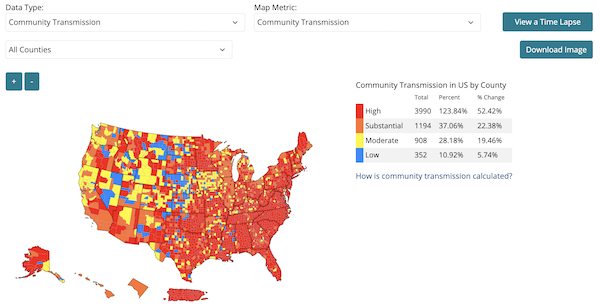 The previous map: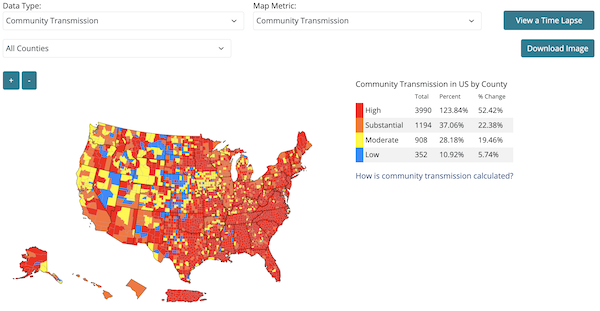 NOTE: I shall most certainly not be using the CDC's new "Community Level" metric. Because CDC has combined a leading indicator (cases) with a lagging one (hospitalization) their new metric is a poor warning sign of a surge, and a poor way to assess personal risk. In addition, Covid is a disease you don't want to get. Even if you are not hospitalized, you can suffer from Long Covid, vascular issues, and neurological issues. That the "green map" (which Topol calls a "capitulation" and a "deception") is still up and being taken seriously verges on the criminal.
Positivity
From the Walgreen's test positivity tracker, published January 31: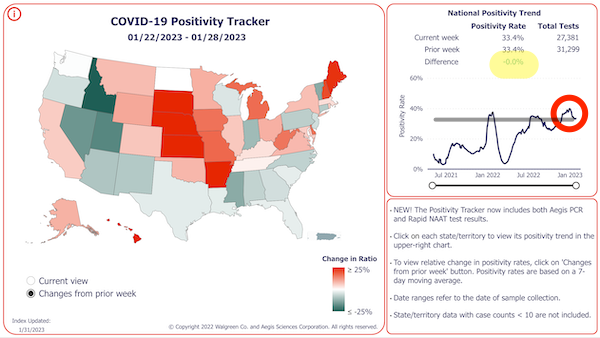 -0.0.%. Rate of decrease slows to nothing.
Wastewater
Wastewater data (CDC), January 26: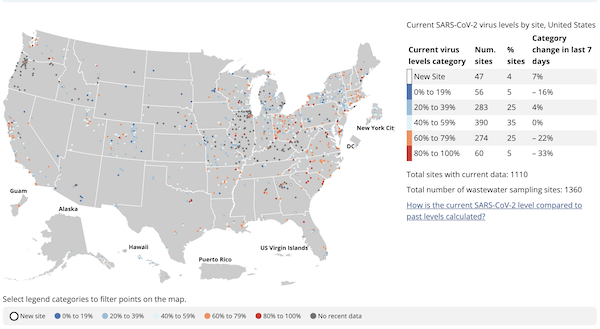 What the [family blog] is the [family blogging] use of a national wastewater map where nearly all the collection sites are [family blogging] greyed out?
January 24: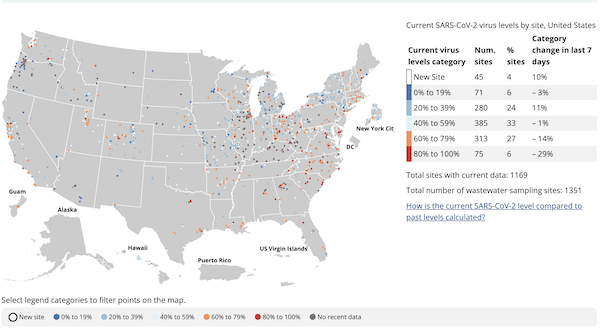 NOT UPDATED And MWRA data, January 26: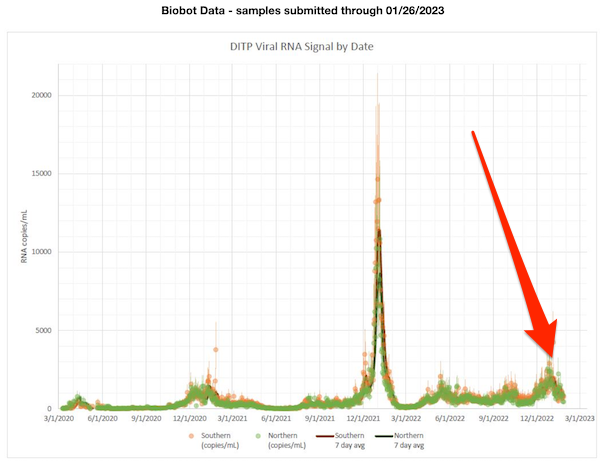 Looks to me like New England's regional surge is winding down. No bump from the students returning. Readers?
Variants
Lambert here: It's beyond frustrating how slow the variant data is. Does nobody in the public health establishment get a promotion for tracking variants? Are there no grants? Is there a single lab that does this work, and everybody gets the results from them? [grinds teeth, bangs head on desk]. UPDATE Yes. See NC here on Pango. Every Friday, a stately, academic pace utterly incompatible with protecting yourself against a variant exhibiting doubling behavior.
NOT UPDATED Variant data, national (Walgreens), January 16: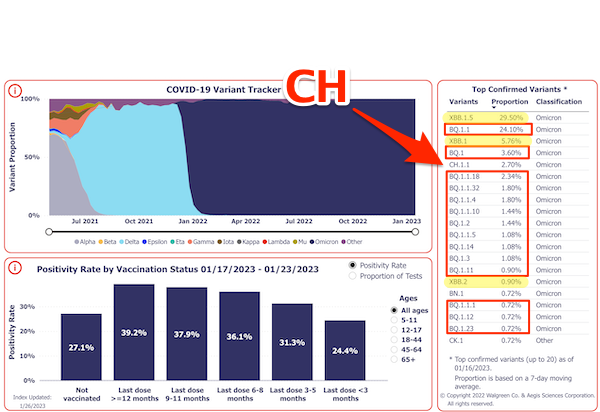 Lambert here: XBB overtakes BQ, but CH is coming up on the outside. That's a little unsettling, because a Tweet in Links, January 11 from GM drew attention to it ("displays such a high relative growth advantage") and in Water Cooler, January 18, from Nature: "CH.1.1 and CA.3.1 variants were highly resistant to both monovalent and bivalent mRNA vaccinations." Now here is CH.1.1 in the Walgreens variant data. Let's see what CDC does with it tomorrow, if anything. The Covid variant train always leaves on time, and there's always another train coming!
Lambert here: Wierdly, the screen shot about has been replaced today by data from "10/7/2022." (It's clearly not current data; BQ.1* and XBB do not dominate.
NOT UPDATED Variant data, national (CDC), January 7 (Weighted Estimates Only*):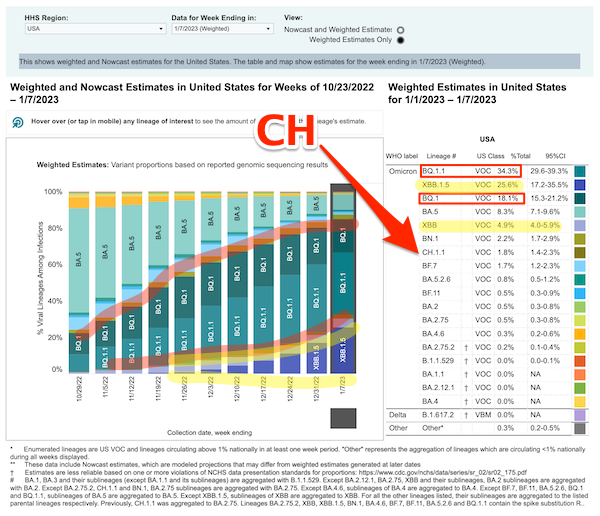 BQ.1* takes first place. XBB coming up fast. (For BQ.1/XBB and vaccine escape, see here.) CH.* now appears, a week after Walgreens. Here is Region 2, the Northeast: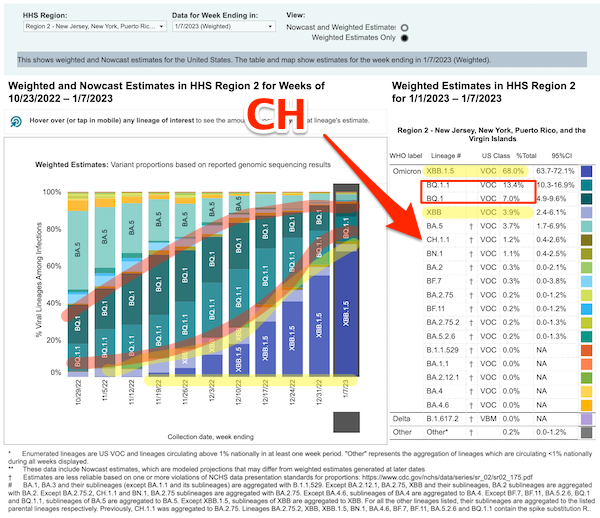 CH.1* appears, but slightly below the national average. XBB utterly dominates, making clear that Region 2 (New England) varies greatly from the national average. Wouldn't it be interesting if we ended up with different variants dominating different parts of the country.
NOTE * CDC used to have a "Nowcast Off" radio button, which I used because of my bad experience with CDC models like Nowcast. CDC explains (I think) the change in the following note:
Weighted estimates (provided for all weeks except the most recent three weeks) are variant proportions that are based on empirical (observed) genomic sequencing data. These estimates are not available for the most recent weeks because of the time it takes to generate the unweighted data, including sample collection, specimen treatment, shipping, analysis, and upload into public databases.

Sublineages with weighted estimates less than 1% of all circulating variants are combined with their parent lineage. When the weighted estimate of a sublineage crosses the 1% threshold and has substitutions in the spike protein that could affect vaccine efficacy, transmission, or severity, it may be separated from its parent lineage and displayed on its own in the variant proportions data.

Nowcast estimates (provided for the most recent three weeks when the "Nowcast on" option is selected below) are model-based projections of variant proportions for the most recent weeks to enable timely public health action. CDC uses the Nowcast to forecast variant proportions before the weighted estimates are available for a given week.
Someone who can interpret The Great Runes can look at this; but I don't have time today.
As a check, since New York is a BQ.1* hotbed, New York hospitalization, updated January 31: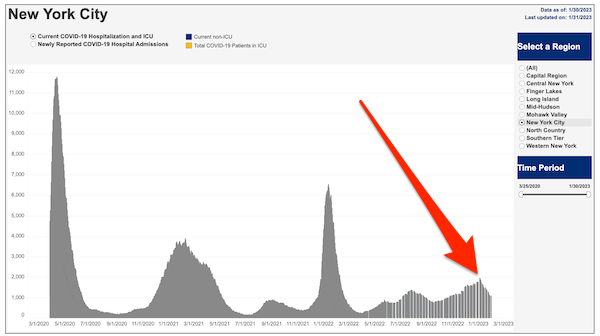 Not as high as Biden's ginormous jouissance, but still high.
Hospitalization data for Queens, updated January 27: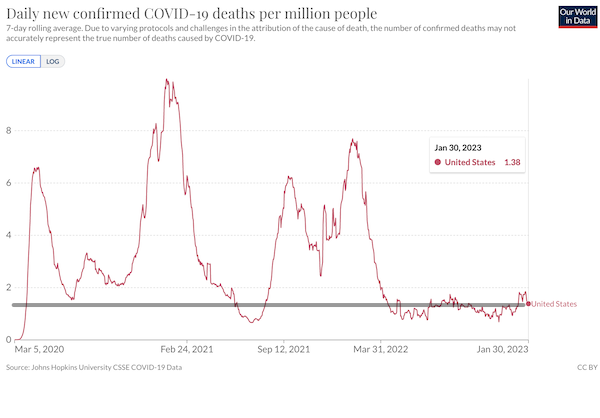 Deaths
Death rate (Our World in Data):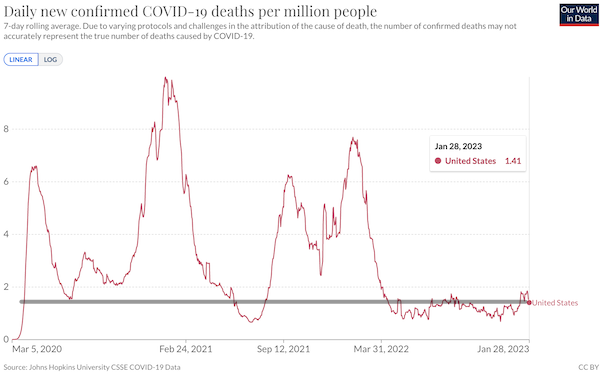 Total: 1,132,719 – 1,132,256 = 463 (463 * 365 = 168,995 deaths per year, today's YouGenicist™ number for "living with" Covid (quite a bit higher than the minimizers would like, though they can talk themselves into anything. If the YouGenicist™ metric keeps chugging along like this, I may just have to decide this is what the powers-that-be consider "mission accomplished" for this particular tranche of death and disease).
It's nice that for deaths I have a simple, daily chart that just keeps chugging along, unlike everything else CDC and the White House are screwing up or letting go dark, good job. (Though CDC may be jiggering the numbers soon. Lower, naturally.)
• Covid is not the flu:
I know that many people desperately want to declare the COVID pandemic over, and the infection officially an endemic like influenza. The problem is that 2x as many people are still dying every day from COVID as die daily from influenza during its average 3-4 mo season. pic.twitter.com/0oy6xukAHB

— Jonathan Reiner (@JReinerMD) January 30, 2023
Stats Watch
Manufacturing: "United States Chicago PMI" [Trading Economics]. "The Chicago PMI in the United States fell back to 44.3 points in January of 2023 from 44.9 in December and compared to market forecasts of 45. The reading pointed to a fifth consecutive month of contraction in business activity in the Chicago region."
* * *
The Bezzle: "FTX founder Bankman-Fried objects to tighter bail, says prosecutors 'sandbagged' him" [Reuters]. • Somebody call a wh-a-a-a-mbulance!
Tech: "Historic crash for memory chips threatens to wipe out earnings" [Straits Times]. "The memory chip sector, famous for its boom-and-bust cycles, had changed its ways. A combination of more disciplined management and new markets for its products – including 5G technology and cloud services – would ensure that companies delivered more predictable earnings. Yet, less than a year after memory companies made such pronouncements, the US$160 billion (S$210 billion) industry is suffering one of its worst routs ever. There is a glut of the chips sitting in warehouses, customers are cutting orders and product prices have plunged. The unprecedented crisis is not just wiping out cash at industry leaders SK Hynix and Micron Technology, but also destabilising their suppliers, denting Asian economies that rely on technology exports and forcing the few remaining memory players to form alliances or even consider mergers. It has been a swift descent from the industry's pandemic sales surge, which was fuelled by shoppers outfitting home offices and snapping up computers, tablets and smartphones."
* * *
Today's Fear & Greed Index: 70 Greed (previous close: 66 Greed) [CNN]. One week ago: 60 (Greed). (0 is Extreme Fear; 100 is Extreme Greed). Last updated Jan 31 at 1:05 PM EST.
Zeitgeist Watch
So so not jackpot-ready:
James Webby is an Australian competitive eater who craves for an all-out victory in eating contests worldwide https://t.co/qEhE9IlgtE pic.twitter.com/SoCsFXhREj

— ANADOLU AGENCY (@anadoluagency) January 30, 2023
Another AI use case:
Guys into AI generated porn like https://t.co/nC0L7tEN6A

— 🔎Al🔍 (@SweatieAngle) January 30, 2023
Healthcare
• "Health executives are patients, too: What 11 leaders experienced [Becker's Hospital Review]. • Interesting but, as we say on social media, the context: These are the same people who are trying to screw their workers and their patients out of every last nickel so they can give themselves bonuses.
Groves of Academe
• "Tadarrius Bean, former Memphis police officer involved in Tyre Nichols killing, was president of scandal-scarred fraternity" [New York Post]. "One of the five former Memphis police officers charged with murder in the deadly beating of Tyre Nichols was the president of a fraternity with several recent scandals at its chapters. Tadarrius Bean, 24, was the president of the Omega Psi Phi's Eta Zeta chapter at the University of Mississippi, according to his LinkedIn page. The fraternity was founded in 1911 at Howard University in Washington, D.C., a historically black college. It claims to be 'on the front line, leveraging its power, influence and more than 100 years of commitment to the uplift of our people and our communities,' according to Omega's website. But the fraternity and its members however have been involved in several troubling incidents in recent years. In 2019, Omega's chapter at Old Dominion University in Norfolk, Va., was suspended over a slew of disturbing incidents involving pledges, or people looking to join the group, including at least one hospitalization, The Virginian-Pilot reported. Potential newcomers were beaten, and some were forced to chug hot sauce or pour it down their pants to simulate a sexually transmitted disease. In 2018, a 45-year-old man looking to join an Omega Psi Phi chapter in Brooklyn had his buttocks and testicles paddled between 150 to 200 times as part of a twisted 'welcoming ritual,' resulting in two of the fraternity's members being charged with assault and hazing." • Equal opportunity….
Class Warfare
United Electrical, Radio & Machine Workers of America:
News: @ueunion is now calling for public ownership of the Class I freight railroads pic.twitter.com/Ilm2uLH0uU

— Jonah Furman (@JonahFurman) January 30, 2023
Not huge, but by no means negligible.
* * *
"The Washington Post Editorial Board Wants to Sicken Its Readers" [Mike the Mad Biologist]. "[J]ust to sum up: the Washington Post editorial board wants federal workers to return to the office full time* to generate tax revenue. What's remarkable is that there is no mention of COVID, or in particular long COVID (months long, possibly permanent, disability); the word COVID is found once in the editorial, and only in reference to the pandemic, not as a health problem. That doesn't surprise me, since the Washington Post, along with other major media outlets, simply have not pressed either the Biden administration or public health officials about the likelihood that vaccinated and boosted people will contract long COVID (for any new readers, I've been warning about long COVID for over two-and-a-half years; this isn't some 'new excuse')…. et the Washington Post editorial board seems oblivious to this. When you add in that most federal employees (who work at desks) work in common open spaces to save the federal government money–they don't have private offices they can retreat to–this is putting federal workers at risk. Workers have no control over the ventilation in many of the downtown buildings–and many of those buildings aren't new, so the ventilation isn't good either. And, of course, as much as people want to, we should not forgot the immunocompromised–and workers with households with immuncompromised people–either. They too are federal workers, and should not be put at risk….. If the Washington Post spent as much time (or any time) asking the Biden administration and public health officials about the likelihood of long COVID, especially in those who 'did what they are supposed to do' (get vaccinated) as they did call for return to full-time at the office, we would have far fewer sick (and dead) people. Instead, the ghouls at the Washington Post are asking federal workers to risk their health to increase tax revenues, which shows a vile disregard for the health of their readers." • The policy is mass infection without mitigation, so you've got to give WaPo props for its commitment to the bit.
"Blackstone steps up tenant evictions in US with eye on boosting returns" [Financial Times]. "Blackstone has filed eviction lawsuits against hundreds of tenants across the US as it winds down one of the real estate industry's most generous pandemic-era forbearance programmes, in a move that executives say will boost financial returns at the company's redemption-hit real estate fund. Court records from Georgia and Florida show that companies owned by Blackstone have commenced legal proceedings against dozens of tenants every month since August, launching more cases in a typical week than the total for the first seven months of 2022. At the same time, consultants working for Blackstone have been calling local politicians in California to warn of a probable uptick in evictions in areas of the state that have significant numbers of delinquencies, said people familiar with the conversations. The outreach from Blackstone points to the delicate task confronting the private equity group, one of the biggest landlords in the US, as it seeks to maximise returns while operating under far more public scrutiny than local property owners in what has historically been a fragmented market. Blackstone bought billions of dollars worth of apartment buildings, suburban houses and other residential assets during the pandemic." I would have thought they bought those assets after the Great Financial Crash. Oops. More: "Many of those acquisitions were made by Breit, a $69bn fund aimed at wealthy individual investors that last month imposed limits on withdrawals to curb a rush of investors trying to pull their money out." • So that was the trigger. BWA-HA-HA-HA!
"The real cost of shadow work" [Financial Times]. "One of the great economic mysteries of the moment is why worker productivity, particularly in the US, is falling… While there are certainly big long-term factors at play here, such as the failure of education to keep up with technology (which in turn reduces productivity) I think there are other, under-explored issues. These include the rise of shadow work. Shadow work is a term that was coined by the Austrian philosopher and social critic Ivan Illich in 1981. For him, it included all the unpaid work done in economies, such as mothering and housekeeping. But more recently, the term has expanded to include the work that companies have been able to turn over to their own customers, via technology. This includes everything from banking to travel bookings, ordering food in restaurants to bagging groceries, not to mention downloading and navigating the apps we need to pay parking tickets or track our children's school assignments or even troubleshoot our own tech problems. While neither [Harvard magazine editor Craig Lambert] nor groups like the IMF Statistical Agency have a good estimate of the total amount of extra work represented by such tasks, it's clearly substantial, and growing, particular if you consider research showing that a quarter of all jobs in the US will be severely disrupted by automation by 2030 (indeed most jobs will experience some level of disruption). 'I'm just amazed how we've been suckered into spending our own time straightening out things that other people used to do for us,' says Lambert." • This is a good explanation of crapification as the term has been used here at NC (and not the same as Doctorow's enshittification, a parallel phenomenon).
"Swimming in cash, Chevron plans a $75 billion slap in the face to drivers" [CNN]. "While many blue-chip companies reported lower profits last year, Big Oil was having a moment. Crude prices surged, thanks in part to high demand and reduced supply. All of that helped make Chevron the top-performing Dow stock of last year, with shares surging more than 50%. To be clear: It's not that Chevron, or any of its peers, did anything special to earn their windfall profits last year. There was no big innovation or breakthrough — they just got rich off the price of oil shooting up. Chevron, which is expected to report Friday that profits for 2022 doubled to more than $37 billion, is essentially balking at calls from the White House and some members of Congress to funnel its extra cash into more drilling capacity to help reduce prices for inflation-weary customers. Instead, Chevron is buying $75 billion worth of its own shares, and jacking up its quarterly shareholder dividend. Chevron's buyback package is so large, according to Bloomberg, that it could fund more than four years of drilling and other projects." • Of course, more drilling isn't an unalloyed good… Nevertheless, they just… grabbed the money. For themselves. Because they could.
News of the Wired
"This Surprising Hack Will Keep Mice Away For Good" [Family Handyman]. "Mice can be easily avoided around your household by simply adding the scent of peppermint in corners where they congregate. Yes, that's right, peppermint…. Peppermint obviously has a strong scent, one that mice dislike. According to Victor Pest, peppermint contains very potent menthol compounds that irritate their nasal cavities. A whiff of peppermint certainly does keep them away. So do these best mouse repellents, by the way…. Now, you can use two ways to incorporate the smell of peppermint into your home. The first is growing peppermint plants and leaving them around the house. The smell deters them from entering or roaming around in the first place. …. If you don't fancy a home full of peppermint plants, then you might prefer using peppermint oil instead. Spray the essential oil in different areas of your home that mice can access. If you're trying to catch the mice, strategically spray the peppermint oil in places that don't have a mousetrap. In theory, this should lead them to wherever you have placed it." • News you can use! Now do rats. Or deer!
* * *
Contact information for plants: Readers, feel free to contact me at lambert [UNDERSCORE] strether [DOT] corrente [AT] yahoo [DOT] com, to (a) find out how to send me a check if you are allergic to PayPal and (b) to find out how to send me images of plants. Vegetables are fine! Fungi and coral are deemed to be honorary plants! If you want your handle to appear as a credit, please place it at the start of your mail in parentheses: (thus). Otherwise, I will anonymize by using your initials. See the previous Water Cooler (with plant) here. From WB: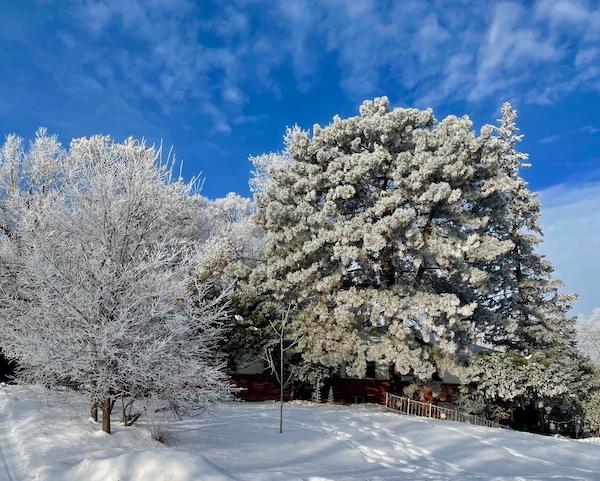 WB writes: "Frosty Minnesota this week."
* * *
Readers: Water Cooler is a standalone entity not covered by the annual NC fundraiser. So if you see a link you especially like, or an item you wouldn't see anywhere else, please do not hesitate to express your appreciation in tangible form. Remember, a tip jar is for tipping! Regular positive feedback both makes me feel good and lets me know I'm on the right track with coverage. When I get no donations for five or ten days I get worried. More tangibly, a constant trickle of donations helps me with expenses, and I factor in that trickle when setting fundraising goals:
Here is the screen that will appear, which I have helpfully annotated: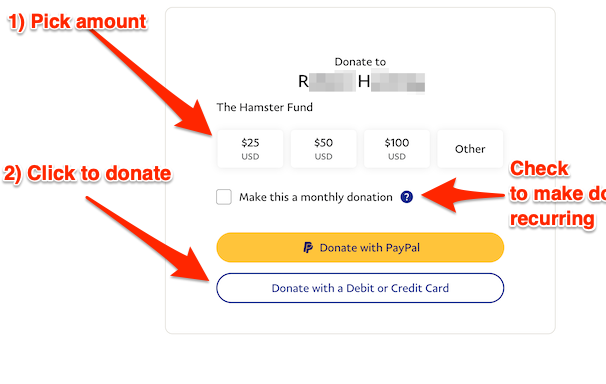 If you hate PayPal, you can email me at lambert [UNDERSCORE] strether [DOT] corrente [AT] yahoo [DOT] com, and I will give you directions on how to send a check. Thank you!