By Lambert Strether of Corrente.
I rarely write a feel-good story; this will be one. As readers know, our ruling class is very strong on keeping their air clean so they don't catch Covid. Back in 2022, we wrote "How Ashish Jha and Rochelle Walensky of Newton, MA Protect Their Children from Covid (But not Yours)" on ventilation in the schools; and recently, at Davos, our ruling class showed, by their actions, that they know #COVIDisAirborne, and will protect themselves from it (but not you):
#DavosStandard is trending on Twitter right now. What's this all about? Well, it refers to the high safety standards regarding COVID-19 that are currently being implemented at the 2023 Annual Meeting of the World Economic Forum (WEF) in Davos, Switzerland. What is the WEF doing to help prevent the spread of COVID-19 and to keep its attendees safe? Safety measures include free PCR testing upon arrival, free rapid tests throughout the length of the conference, HEPA air purifiers and good ventilation throughout the meeting spaces, and free masks….

Folks who have long been advocating for similar safety measures for public spaces, schools, workplaces, and more are taking to Twitter to praise the measures in effect at the WEF, and to spread the news that we should all have access to safe places to work, gather, learn, and more.
But what about the rest of us? For us, there's the "Corsi-Rosenthal" box (named for its inventors, Richard Corsi and Jim Rosenthal). For those who came in late, here's an image of the Corsi-Rosenthal Box (CR) box, along with its requirements:
1/ The guiding principles of the original #CorsiRosenthalBox design were (1) cost-accessibility (reduce disparities in ability to breathe cleaner air) & (2) effectiveness (in range or better of more expensive commercial HEPA air cleaners). (photo courtesy of @JimRosenthal4) pic.twitter.com/Yfv8VmoCyI

— Richard Corsi, PhD, PE (Texas) (@CorsIAQ) January 27, 2023
As we shall see, these requirements were than fulfilled. The Washington Post gives a good account — unpaywalled, kudos — of the reasoning behind the CR Box and how to build one:
The box uses four common household air filters for the sides — the kind you use for a home HVAC system — a 20-inch fan on top, cardboard, scissors, and duct tape to hold it all together.

Lots of duct tape.

It's important to get the right kind of filters. The filters need to have a MERV-13 rating, which refers to the filter's ability to trap particles of a specific size.

When the fan is turned on, air is pulled through the four sides of the box. The filters trap contaminated particles, allowing clean air to flow into the middle of the box and be pushed back out into the environment through the fan. The fan just needs to be plugged into a normal electrical outlet. Not only can the boxes reduce the spread of pathogens such as the coronavirus, they also can reduce other particles, such as those generated by wildfires, as well as dust and pollen.

The supplies to make one filter box cost me $127.

P.S. Making pie crust is harder.[1]
$127 isn't too bad, though Davos Man is probably trying to figure out how to rent you a CR Box for a lot more money.
Importantly — though oddly, this seems to have made no impact on our public health establishment, already fully committed to the "Ultimate Lockdown" of mass infection without mitigation, vax by injection, and hospitalization and death as the only metrics that matter — the studies on CR Boxes v. Covid are very good. It's not Godzilla v. Mothra, it's Godzilla v. Mickey, which is news you can feel good about (at long last).
From Building and Environment, a collaboration of NIOSH and OSHA scientists, "Efficacy of Do-It-Yourself air filtration units in reducing exposure to simulated respiratory aerosols":
Using two DIY cubes (in the front and back of the room) increased the air change rate as much as 12.4 over room ventilation, depending on filter thickness and fan airflow. Using multiple linear regression, each unit increase of air change reduced exposure by 10%. Increasing the number of filters, filter thickness, and fan airflow significantly enhanced the air change rate, which resulted in exposure reductions of up to 73%. Our results show DIY air filtration units can be an effective means of reducing aerosol exposure.
And from Science of The Total Environment, "Can 10× cheaper, lower-efficiency particulate air filters and box fans complement High-Efficiency Particulate Air (HEPA) purifiers to help control the COVID-19 pandemic?", and I'm throwing a flag on the Betteridge's Law violation here:
As we discovered in the test results, lower-efficiency air filtration by combining off-the-shelf components (box fans with heating, ventilation and cooling or HVAC filters) in tested DIY configurations compares favorably in performance (clean air delivery rate, noise) to the tested HEPA air purifiers but at approximately five to ten times lower cost, and can be an affordable, complementary option for rapid aerosol removal indoors in homes, clinics, schools, offices, and other public venues.
Davos Man would have done better to have his people bring some duct tape!
Now let me turn to some case studies (well, tweets) that show how the CR Box has gradually become a thing (which would be why WaPo, three years into the pandemic, decided to cover the story).
(1) American kawaii:
Made this C/R box to show the PTA. Thank you @JimRosenthal4 and @CorsIAQ for sharing your idea with the world! #CleanAir pic.twitter.com/TJY2FmCZ8N

— Catie Luna Hookway (@clunahookway) October 10, 2022
This is only on example of many; people seem to have an irresistable urge to decorate their CR Boxes.
(2) A fun project:
My children got inspired to help our schools build a #CorsiRosenthalBox and are building it as I tweet. Thankyou @CorsIAQ and @JimRosenthal4 The kids get it. pic.twitter.com/fpazgJmyFW

— Bill Hayward (@HaywardScoreCEO) October 9, 2021
Maybe now the WaPo has given the OK, Doctor Jill Biden will go on Good Morning America and build a CR Box with some cute kids?
(3) A STEM project:
The DIY option is also a brilliant STEM project for kids in schools: https://t.co/ixoQuoQqpL

— Cat | CC14 🐈‍⬛🇬🇧 (@CC14_CC14) January 28, 2023
Heavy emphasis on schools here, and why not, school ventilation being what it is, and Covid transmission in schools being what it is.
(4) An assembly line:
— Marc J. San Valentin (@vc199vc200) January 27, 2023
This one is in the Philippines, but I've seen the same idea in America, generally at the college level (or for institutions like churches).
(5) Why not more?
It took me less than an hour and less than $100 to build a Corsi-Rosenthal box. Why are we not seeing more of these in public indoor spaces? https://t.co/oyfeZu45lJ pic.twitter.com/pAmZpd8Yec

— Harold Jarche (@hjarche) January 28, 2023
Interestingly, CR Boxes tend to appear in private homes or public spaces like schools or churches. They tend not to appear in public spaces that are businesses, especially restaurants (who could save their business and not infect their staff, a twofer). I think that's unfortunate, and I wish I knew why. Liability? Decibels? Maintenance? Ignoramce? Hatred of mitigation by management?
A bonus: From Environmental Science and Technology, "Does Using Corsi–Rosenthal Boxes to Mitigate COVID-19 Transmission Also Reduce Indoor Air Concentrations of PFAS and Phthalates?" (another Betteride's Law violation, come on guys):
Using a quasi-experimental design, we quantified the impact of a relatively low-cost "do-it-yourself" air filter (Corsi–Rosenthal Box; CR Box) on indoor air concentrations of 42 PFAS and 24 other SVOCs. We sampled air before (October–November 2021) and during (February–March 2022) deployment of CR Boxes in 17 rooms located in an occupied Providence, Rhode Island office building… While CR Boxes were deployed, concentrations of seven PFAS (N-EtFOSE, N-EtFOSA, FBSA, PFBS, PFHxS, PFOS, PFNA) were 28–61% lower and concentrations of five phthalates (DMP, DEP, DiBP, BBzP, DCHP) were 29–62% lower.
So the added benefit would be that in a school running Corsi boxes, your kids won't be breathing toxic "forever chemicals."
I generally don't go all gooey about "the best of America" but that really does seem to be happening with CR Boxes. I see:
(1) People working together. Yes, many individual CR Boxes are built, but there seems to be strong tendency to build them in bulk ("bet you can't build just one") together with others.
(2) A Gift Economy. CR Boxes tend to be given away. People don't build them for schools, and then invoice the school.
(3) Do-It-Yourself (DIY . The CR Box is part of the maker zeitgeist, but there's a lot of traffic going on about how to improve them. Classic garage inventor and tinkerer stuff.
(4) Efficiency. Making plans, building assembly lines, developing metrics; America used to be able to make stuff. Maybe we can do that again.
There are a lot of guides on how to build CR boxes, but I thought this one was especially detailed and simple. These are good tips:
The only tools I needed were a Swiss army knife, scissors, a pencil, and a loop of string. (Oh, and a thumbtack.)… I purchased my fan and filters online, and both got shipped in boxes that are the perfect size to provide the cardboard you need… Building it was fun and easy. Recommended!
(Fascinatingly, the above post is from a site called "Conferences that Work." So maybe this guy an organize the next Davos!). I would welcome tips from readers who have build CR boxes!
* * *
Since DIY on a mass scale brings innovation (really), there have been some changes in CR Box design, and the development of a market for kits.
First, some users complain that the square floor fans used by the CR Box are too noisy. The answer is to use PC fans[2], which are quieter. This makes construction more difficult. Here is an example:
Here's another sweet spot for DIY Air Purifiers: super quiet 40dB kid magnet, sweet hum note, pulsing nighttime glow, ~ 200 CADR airflow matching medium HEPAs, just 25 Watts and ~$120 in parts. #CorsiRosenthalBox #WomenInSTEM #COVIDisAirborne pic.twitter.com/4i5yWEry2b

— Wayne Westerman, PhD (@mrlighttouch) October 3, 2022
Second, now there are kits:
Also check out the Healthy Glow from @cleanairkits. Gorgeous and closer to a Corsi-Rosenthal Box in air filtering power

Just look at that subtle opal acrylic, the tasteful thickness of it. Oh my god it even has laser engraving@mrlighttouch @robwiss 8/https://t.co/mU1QCs4RY1 pic.twitter.com/4QOElVpTnp

— Kai Chang (@syntagmatic) January 27, 2023
One rationale for going commerical would be UL certification:
@cleanairkits we will pursue UL/etc listing for some models to provide an option for jurisdictions like CA and VT that require it but this increases costs a lot as we are trying to pull costs back toward original. Less regulated jurisdictions may choose cheaper product

— Wayne Westerman, PhD (@mrlighttouch) January 27, 2023
But I'm not so sure UL certification is needed. From Underwriters Laboratories, "An Evaluation of DIY Air Filtration", although in the context of wildfires, not Covid:
Household use of portable air cleaners has increased in the face of recent wildland fire activity and in response to COVID-19. Some local agencies have begun recommending Do-It-Yourself (DIY) air cleaners (i.e., furnace air filter attached to electric box fans) during smoke events as DIYs offer an affordable and accessible alternative to commercially available air cleaners, which frequently sell out during smoke events…

Chemical Insights (CI) of Underwriters Laboratories with support of the Office of Research and Development at U.S. EPA conducted a study assessing the potential fire risks of operating DIY air cleaners. Specifically, this study evaluated the risks of fan overheating and potential fire ignition resulting from different fan/filter test scenarios..

This study assessed DIY air cleaners for use in indoor environments at room air temperatures near 20 °C. Further analysis may be required for situations where ambient room air may be at higher temperatures (e.g., 40 °C). Should the blade turning be impeded in some way, it is possible that further heating could be created resulting in an additional hazard. However, fans that have been shown to meet the requirements of UL 507 are also required for a test that eliminates this impedance hazard.
So if you need to go before the school board or the vestry, this study may help.
* * *
As we might expect, the the Center for Disseminating Covid (CDC) continues its malevolence toward mitigation. Now that Evusheld is defunct, CDC issued the following advice to wear a gold star so that the immuno-compromised can make their personal risk assessments. From "Information for Persons Who Are Immunocompromised Regarding Prevention and Treatment of SARS-CoV-2 Infection in the Context of Currently Circulating Omicron Sublineages — United States, January 2023." Of all the blather — plenty of handwashing advice, one might almost think those psychos were projecting — this is the best part:
[S]imple interventions should be used to improve ventilation in buildings and decrease SARS-CoV-2 transmission by improving air flow.
Note lack of agency! Who, exactly, will be performing these simple interventions? Well, you, presumably, since we're all on our own now, so one would think the CDC would recommend a cheap and highly effective "intervention," the subject of this post in fact. No such luck, not in 2022 and not now:
And: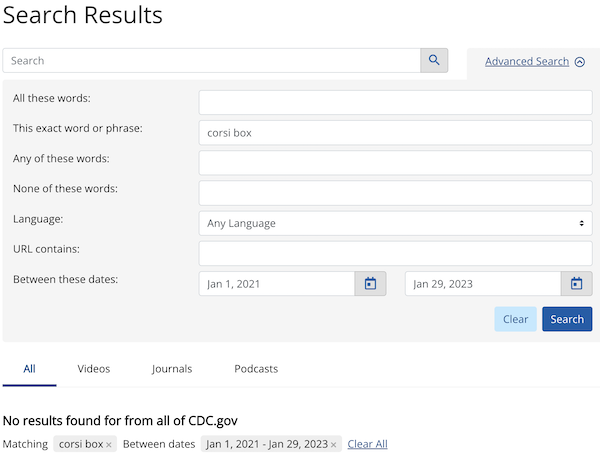 Pretty bad for a remedy that's known to work! What are they trying to do? Kill people?
Conclusion
How many CR Boxes are out there? There's no census, so we can't really now.
Over 500 responses. Every CR Box is beautiful. Almost 200K impressions! Keep the images coming & help to inspire others by retweeting. Let's keep reducing inhalation dose of virus-laden (and other) aerosol particles in 2023, and enjoy the process of doing so. Great community!💙💙 https://t.co/erfttkVvoX

— Richard Corsi, PhD, PE (Texas) (@CorsIAQ) January 1, 2023
Working on the old principle from the blogosphere that 1% of readers comment, 500 would be 1% of total CR Box builders, meaning 50,000. That's small relative to the United States population. However, measured against institutions, it's pretty good. There are, for example, 128,961 public and private K-12 schools, and all it takes is one parent with a will to organize to protect the school.
Now, I should caveat that I've done a bit of cheerleading for CR Boxes in the post. I think the key issue is that we just don't know a lot about how indoor air circulates, so we need to understand how best to place the boxes, the interaction with HVAC, the interaction with outside air, etc. For nervous school boards, the UL certification issue should be addressed. And the noise issue may be imporant to some. I would especially welcome reader comments on these points.
CR Box makers are helpers. It's been wonderful to see a CR "movement" seed itself and flourish. Let's put some honey badgers on this project and go save some lives!
NOTES
[1] I love "making pie crust is harder." Good writing matters!
[2] This astonishes me, but I guess either games or Bitcoin mining have created a demand for rugged and powerful PC fans.