By Lambert Strether of Corrente.
Bird Song of the Day
Black x Eastern Phoebe (hybrid), Big Thompson River Bike Trail, Larimer, Colorado, United States. "Dawn song and various calls from the hybrid." 28 minutes long, with a lot going on, so you can listen while making your coffee 🙂
* * *
Politics
"But what is government itself, but the greatest of all reflections on human nature?" –James Madison, Federalist 51
"Here's food for thought, had Ahab time to think; but Ahab never thinks; he only feels, feels, feels" –Herman Melville, Moby Dick
"So many of the social reactions that strike us as psychological are in fact a rational management of symbolic capital." –Pierre Bourdieu, Classification Struggles
Biden Administration
Never let it be said the Biden Administration doesn't deliver:

✅ Declining life expectancy
✅ Declining inflation-adjusted wages
✅ Declining union membership
✅ Increasing carbon emissions https://t.co/xuFYtBi74s pic.twitter.com/rVEvIQD9JF

— wsbgnl (@wsbgnl) January 20, 2023

"History on the Hill: Powerful spending committees now led by women for the first time" [NBC]. "In the Senate, Washington Democrat Patty Murray is the new Appropriations Committee chairwoman, while Maine Republican Susan Collins is the ranking member. They are taking over from two longtime male colleagues who retired last year. In the House, Texas Republican Kay Granger is the new Appropriations Committee chairwoman, while Connecticut Democrat Rosa DeLauro, the panel's past chair, is serving as ranking member. Together, the quartet of powerful appropriators is known on the Hill as 'the Four Corners.'"
2024
"Trump to GOP: Don't touch Medicare or Social Security in debt ceiling fight" [Politico]. "'Under no circumstances should Republicans vote to cut a single penny from Medicare or Social Security,' Trump said in a video message. The two-minute video — which goes on to lambaste President Joe Biden over the migration crisis at the southern border — is part of a series of policy announcements put out by his campaign. And it comes amid growing brinkmanship between congressional Republicans and the White House over raising the nation's debt limit." • Trump moves to seize the sensible center (because you know that Biden will do just that — after all, Obama couldn't do that, so Biden would finally one-up him). And then there's this:

This is absolutely insane. We don't need to be in another war because the military industrial complex and other DC warmongers want to get richer than they already are. https://t.co/7gwyNfGYSX

— Donald Trump Jr. (@DonaldJTrumpJr) January 19, 2023

DeSantis's voice (1):

DeSantis has a very Seinfeld-ish whiny New Yorker affect and tone that subtly covers his flank against populist reactionary framing

— Wesley Yang (@wesyang) January 19, 2023

DeSantis's voice (2):

particularly sweet morsel of irony that one of the obstacles to Ron DeSantis taking his anti-LGBT campaign of terror national is that his voice sounds lowkey gay

— knife-wielding hemophiliac (@NickTagliaferro) January 18, 2023

I dunno… Here's DeSantis:

Ready for the national stage?

By way of comparison, Buttigeig:

Not sure either are really ready for the national stage, tbh.
Democrats en Déshabillé
Patient readers, it seems that people are actually reading the back-dated post! But I have not updated it, and there are many updates. So I will have to do that. –lambert

I have moved my standing remarks on the Democrat Party ("the Democrat Party is a rotting corpse that can't bury itself") to a separate, back-dated post, to which I will periodically add material, summarizing the addition here in a "live" Water Cooler. (Hopefully, some Bourdieu.) It turns out that defining the Democrat Party is, in fact, a hard problem. I do think the paragraph that follows is on point all the way back to 2016, if not before:

The Democrat Party is the political expression of the class power of PMC, their base (lucidly explained by Thomas Frank in Listen, Liberal!). ; if the Democrat Party did not exist, the PMC would have to invent it. . ("PMC" modulo "class expatriates," of course.) Second, all the working parts of the Party reinforce each other. Leave aside characterizing the relationships between elements of the Party (ka-ching, but not entirely) those elements comprise a network — a Flex Net? An iron octagon? — of funders, vendors, apparatchiks, electeds, NGOs, and miscellaneous mercenaries, with assets in the press and the intelligence community.

Note, of course, that the class power of the PMC both expresses and is limited by other classes; oligarchs and American gentry (see 'industrial model' of Ferguson, Jorgensen, and Jie) and the working class spring to mind. Suck up, kick down.

* * *

"Rep. Omar celebrates federal funding for Minnesota Public Housing fire sprinkler systems" [KSTP]. • No Grenfell Tower in Minneapolis!
#COVID19
Lambert here: I am but a humble tapewatcher, but unlike Eric Topol, I'm not calling a surge, because the last peak was Biden's Omicron debacle, and after an Everest like that, what's left? Topol's view is the establishment view: Hospital-centric. Mine is infection-centric. I do not see the universal acceleration or doubling in cases that I would expect to see based on past surges.
I am calling a "Something Awful." It's gonna be bad, in some new way, and we don't know how, yet (but see here for immune system dysregulation, which is looking pretty awful).
Stay safe out there!
* * *
• A helpful tip:
Do you know the prefix 'dys'?
It basically means 'off balance'.

Use Google's search engine.

Write ' Covid dys ' into the search bar, wait a moment, then look at the autocomplete suggestions. pic.twitter.com/tnSTf9tmAO

— tern (@1goodtern) January 17, 2023
* * *
• "Big Mystery Donors Fund COVID Conspiracy Nonprofit" [Walker Bragman, Important Context]. "The country's media, and to a large extent, policymakers, have moved on from the ongoing crisis—a reality that is, at least in part, a testament to the work of one man: Jeffrey Tucker, the founder of the Brownstone Institute, a shadowy new nonprofit dedicated to waging war on public health measures….. With his Brownstone Institute, a tax-exempt, 501(c)(3) nonprofit, Tucker has sought to turn the clock back on public health—and perhaps on child labor laws as well…. New federal tax filings obtained by the Center for Media and Democracy and provided to Important Context and the OptOut Media Foundation reveal that the organization has little popular support. Instead, it is bankrolled mostly by large donations of up to $600,000…. Throughout the pandemic, business-aligned groups and the political right have been pushing back against public health measures. Koch-backed organizations have been in the fight since March 2020, messaging against business closures and later, school closures and masking in an effort to minimize economic disruption. The Brownstone Institute arose out of those efforts; specifically, an October 2020 conference Tucker helped organize while at AIER…. Held at AIER's headquarters in Great Barrington, Mass., the conference spawned an influential open letter—the "Great Barrington Declaration"—calling on governments and scientists to reject broad public health measures in favor of pursuing herd immunity through mass infection and "focused protection" only of the vulnerable. Similar ideas had been proposed in a reopening plan from the Koch-funded Heritage Foundation months earlier. The declaration and its authors, three scientists from prestigious universities—Drs. Jay Bhattacharya of Stanford and the Koch-funded Hoover Institution, Martin Kulldorff (then) of Harvard, and Sunetra Gupta of Oxford–were promoted by the political right, including the Trump White House, DeSantis, and Koch-tied groups, to undermine scientific consensus around public health measures…. The declaration signaled that public health was the new front in the war over the size and scale of government."
* * *
• "Airplane lavatories deliver new hope for the CDC's variant hunt" [Politico]. "At the same time, after a successful test run at New York's JFK Airport, the Centers for Disease Control and Prevention is pursuing talks with airlines and port authorities to start collecting samples from long-haul international flights' wastewater after they land. The small but growing Traveler Genomic Surveillance program, run by the CDC with a biotech firm and a company that collects samples, is seen by administration officials and public health experts as part of a revolution in biosafety infrastructure — and a critical plank of national security in the post-pandemic era. As it expands geographically and sets its sights on new pathogens, it could function as an early warning system for where and when dangerous viruses and bacteria, natural or otherwise, enter the country. 'Just like we have radar to look for airplanes to make sure we know what's coming into our country, or we take swabs and samples to make sure somebody walking through security doesn't have explosives on their hands, this is the same thing for pathogens or viruses or bacteria,' said Matthew McKnight, the general manager at Ginkgo Bioworks, whose biosecurity and public health unit, Concentric by Ginkgo, partners with the CDC in the program along with XpresCheck."
* * *
• "MRI evidence of olfactory system alterations in patients with COVID-19 and neurological symptoms" [Journal of Neurology]. "Brain MRI findings demonstrated [Olfactory Bulb (OB)] damage in COVID-19 patients with neurological complications. Future longitudinal studies are needed to clarify the transient or permanent nature of OB atrophy in COVID-19 pathology." But more research needed: "Our results, along with a previous study finding no difference in OB volume between COVID-19 patients with and without self-reported olfactory loss [37], suggest that OB atrophy may be associated with the neurological sequelae of COVID-19, even without leading to (self-perceivable) olfactory loss, supporting the hypothesis of SARS-CoV-2 using the olfactory pathway as a gateway to the brain. This is further supported by the findings of Gu et al. [38] and Buzhdygan et al. [39], but true evidence of the neuroinvasive potential of the Coronavirus is still missing. It may be also possible that neurological complications are due to para- or post-infectious immune processes occurring in response to the virus. Further research is required to investigate this aspect."
* * *
• I don't see why "eugenics" is the wrong word:
And, yes, this is eugenics. That's exactly what it is. It's "casual eugenics". It's eugenics through wilful negligence and disregard. It's eugenics through gaslighting. It's eugenics through "you do you". It's eugenics. It's just eugenics.

— Dr David Berger, aBsuRdiSTe cROnickLeR (@YouAreLobbyLud) January 19, 2023
After all, we just saw a splendid example at Davos. Davos attendees — ruling class, all — know very well that #CovidIsAirborne, and took the appropriate measures to protect themselves, while at the same time not only denying you all the same protections, but funding a massive propaganda campaign against them, and diverting the state which they control away from public health altogether and toward libertarian nostrums (see "How Ashish Jha and Rochelle Walensky of Newton, MA Protect Their Children from Covid (But not Yours).")
* * *
• "Solving the HEPA Filter Noise Problem" [It's Airborne]. "If you want the right answer, you need to ask the right question. You should see [Portable Air Cleaners (PACs)] as an air cleaning AND noise making device. The right question is how do you get 250 cubic ft per minute of clean air with only 45 dBA noise? The numbers can change depending on the space, but the basis of the question remains the same. It seems like an easy solution — pick a quiet PAC. But if you have a look at the PACs on the market, you will quickly notice that almost all of them are too loud. It is extremely rare to find any PAC advertised at being below 45 dBA…. CR Boxes are inconsistent with noise profile because they use different fans. Some of the most powerful fans are the noisiest and not appropriate for many situations. The most commonly used box fans are the Utilitech, Lasko and For-Living. The noise usually falls within the range of 47–52 dBA. Areas with higher background noise should be able to tolerate these without difficulty. For a typical classroom, the noise tolerance varies depending on the environment and teacher. … [PC Fans] might be the future of in-room air cleaners. To clean the air, you need a fan. PC fans are designed to be super quiet, even when you are sitting very close. Using these fans gets the best clean air delivery rate at low noise that you can find. A single fan cannot provide that much flow, but these fans can be placed in parallel to give you very high airflows with very low noise." • Very interesting!
* * *
• That's a lot:
Breathtaking: @EmilyZFeng reports an estimated one billion people in China contracted COVID in the past month. Official stats say few have died since the government lifted restrictions; but independent estimates calculate 33,000 deaths per day. @MorningEdition @NPR @UpFirst

— Steve Inskeep (@NPRinskeep) January 20, 2023
* * *
• "Judges 'rewrote' COVID coverage policies, restaurants tell N.Y. top court" [Reuters]. "CRO's complaint alleged in detail that the virus had physically damaged its restaurants by adhering to surfaces, turning them into 'vectors for disease transmission' and rendering the dining areas 'functionally useless.' That should be enough to state a claim under New York's pleading standards, the brief says. The Appellate Division disagreed, calling the complaint 'conclusory.' Even if the virus did adhere to surfaces, it could easily be wiped away and therefore did not amount to 'tangible' or 'demonstrable' property damage, the panel held." • Oh gawd. We're going to write fomite and droplet transmission into case law. Please, no.
Case Data
BioBot wastewater data from January 19:
Lambert here: For now, I'm going to use this wastewater data as the best proxy for case data (ignoring the clinical case data portion of this chart, which in my view "goes bad" after March 2022, for reasons as yet unexplained). At least we can spot trends, and compare current levels to equivalent past levels.
Transmission
Here is CDC's interactive map by county set to community transmission (the "red map," which is the map CDC wants only hospitals to look at, not you.) The map is said to update Monday-Friday by 8 pm: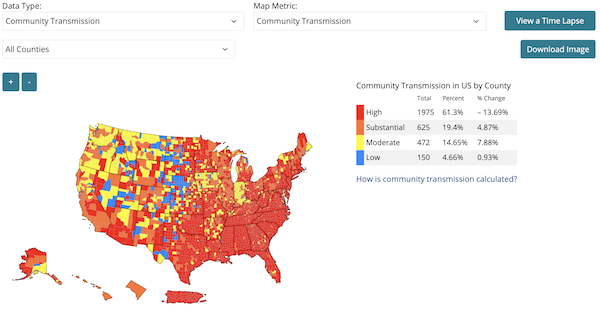 The previous map: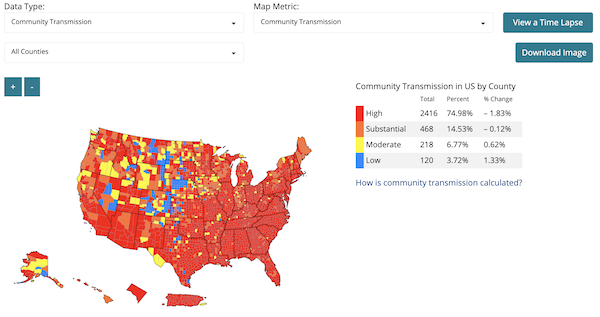 NOTE: I shall most certainly not be using the CDC's new "Community Level" metric. Because CDC has combined a leading indicator (cases) with a lagging one (hospitalization) their new metric is a poor warning sign of a surge, and a poor way to assess personal risk. In addition, Covid is a disease you don't want to get. Even if you are not hospitalized, you can suffer from Long Covid, vascular issues, and neurological issues. That the "green map" (which Topol calls a "capitulation" and a "deception") is still up and being taken seriously verges on the criminal.
Positivity
From the Walgreen's test positivity tracker, published January 20: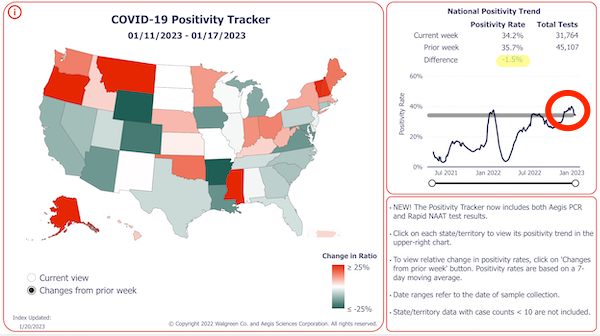 -1.5.%.
Wastewater
Wastewater data (CDC), January 16: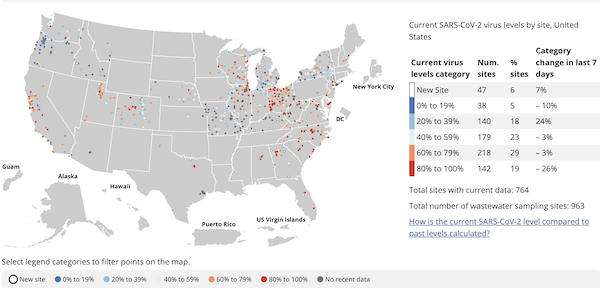 January 15: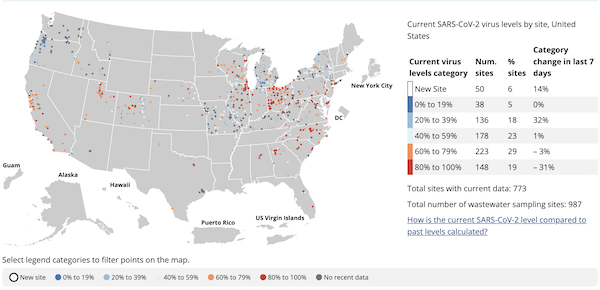 And MWRA data, January 17: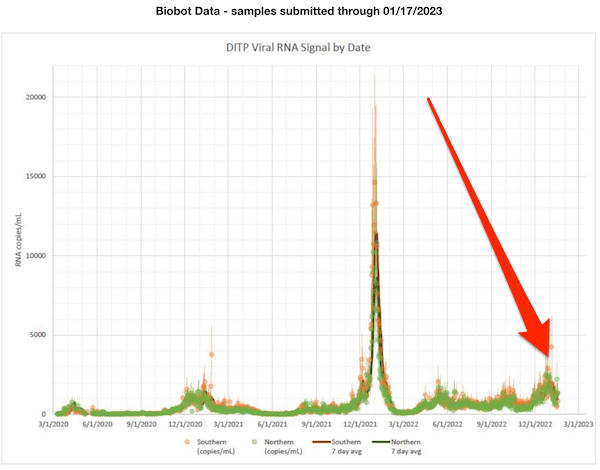 Lambert here: Slight uptick in the north. However, not all the students are back; BU classes begin January 19; Harvard's January 22.
Variants
Lambert here: It's beyond frustrating how slow the variant data is. Does nobody in the public health establishment get a promotion for tracking variants? Are there no grants? Is there a single lab that does this work, and everybody gets the results from them? [grinds teeth, bangs head on desk]. UPDATE Yes. See NC here on Pango. Every Friday, a stately, academic pace utterly incompatible with protecting yourself against a variant exhibiting doubling behavior.
NOT UPDATED Variant data, national (Walgreens), January 9: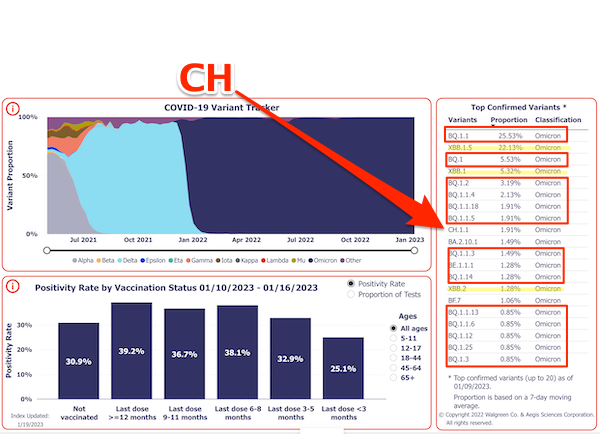 Lambert here: BQ.1* and XBB still dominate. However, CH.1.91 appears for the first time at 1.9%. That's a little unsettling, because a Tweet in Links, January 11 from GM drew attention to it ("displays such a high relative growth advantage") and in Water Cooler, January 18, from Nature: "CH.1.1 and CA.3.1 variants were highly resistant to both monovalent and bivalent mRNA vaccinations." Now here is CH.1.1 in the Walgreens variant data. Let's see what CDC does with it tomorrow. The Covid variant train always leaves on time, and there's always another train coming!
Lambert here: Wierdly, the screen shot about has been replaced today by data from "10/7/2022." (It's clearly not current data; BQ.1* and XBB do not dominate.
Variant data, national (CDC), December 31 (Nowcast off):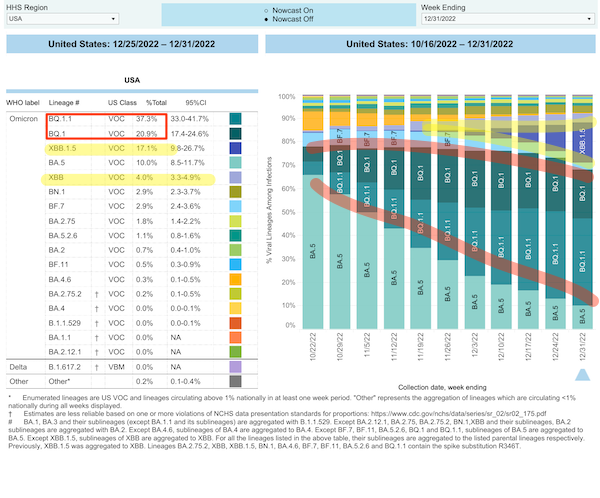 BQ.1* takes first place. XBB coming up fast. CH.1, unlike the Walgreens chart, does not appear. (For BQ.1/XBB and vaccine escape, see here.) Here is Region 2, the Northeast, where both BQ.1* and XBB are said to be higher, and are: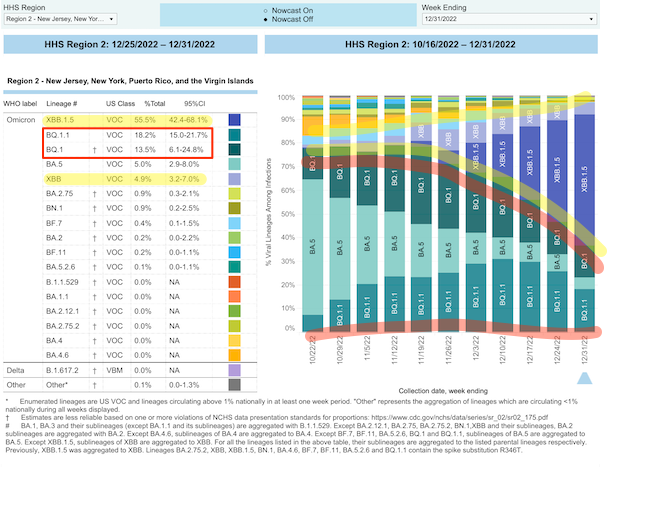 Makes clear that Region 2 (New England) varies greatly from the national average. Wouldn't it be interesting if we ended up with different variants dominating different parts of the country.
• As a check, since New York is a BQ.1* hotbed, New York hospitalization, updated January 19: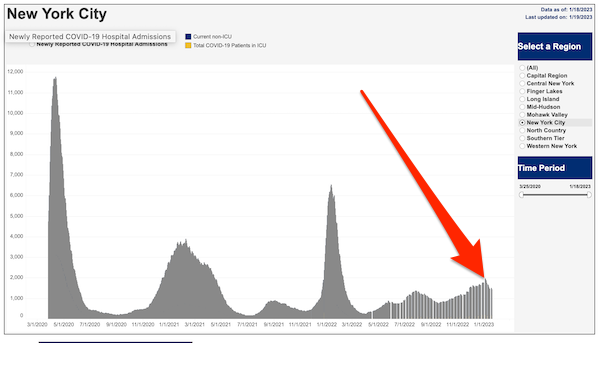 • Hospitalization data for Queens, updated January 14: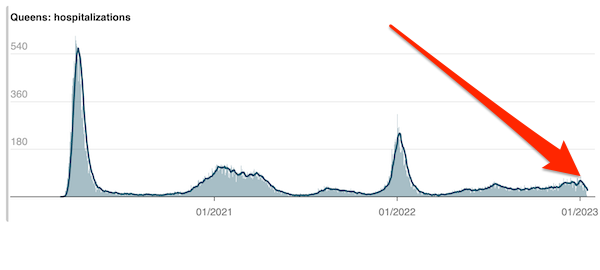 Deaths
Death rate (Our World in Data):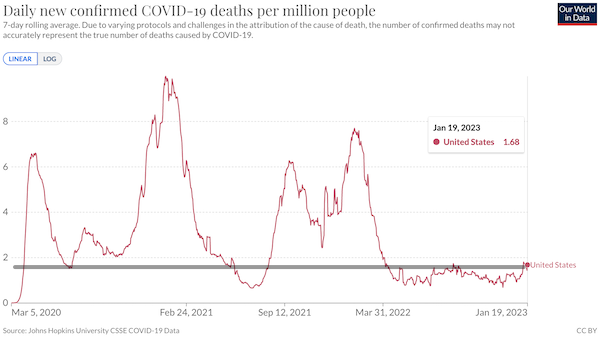 Total: 1,128,330 – 1,127,059 – 1,125,895 = 1271 (1271 * 365 = 463,915 deaths per year, today's YouGenicist™ number for "living with" Covid (quite a bit higher than the minimizers would like, though they can talk themselves into anything. If the YouGenicist™ metric keeps chugging along like this, I may just have to decide this is what the powers-that-be consider "mission accomplished" for this particular tranche of death and disease).
Lambert here: Deaths lag, and now we have some confirmation that whatever we just went through is decreasing.
It's nice that for deaths I have a simple, daily chart that just keeps chugging along, unlike everything else CDC and the White House are screwing up or letting go dark, good job.
Stats Watch
There are no official statistics of interest today.
* * *
The Bezzle:
I love that "we only did securities fraud" is a badge of honor in crypto https://t.co/mZRyI0HjJD

— Sean Tuffy (@SMTuffy) January 20, 2023
More Nexo:
We've been sued by the SEC for securities fraud, which means we're a "pioneer", not a bucket shop. 🤣 https://t.co/gFprdTn9Jk

— Stephen Diehl (@smdiehl) January 20, 2023
The Bezzle: "Elon Musk's Appetite for Destruction" [New York Times]. "For a company that depended on an unbounded sense of optimism among investors to maintain its high stock price — Tesla was at one point worth more than Toyota, Honda, Volkswagen, Mercedes, BMW, Ford and General Motors combined — these crashes might seem like a problem. But to Elon Musk, Tesla's chief executive, they presented an opportunity. Each collision generated data, and with enough data, the company could speed the development of the world's first truly self-driving car. He believed in this vision so strongly that it led him to make wild predictions: 'My guess as to when we would think it is safe for somebody to essentially fall asleep and wake up at their destination: probably toward the end of next year,' Musk said in 2019. 'I would say I am certain of that. That is not a question mark.' The future of Tesla may rest on whether drivers knew that they were engaged in this data-gathering experiment, and if so, whether their appetite for risk matched Musk's." • Ah. "Personal risk assessments"!
Tech: "The High Cost of Cheap E-Bikes" [The New Republic]. "Fires and overheating accidents attributed to lithium-ion batteries killed 19 people in the United States in 2022, according to the U.S. Consumer Product Safety Commission. In New York City alone, six people died in these uniquely fast-burning infernos. Experts say poorly made batteries, like those often found on cheaper e-bike models, are the primary culprit. So why is it still so easy to purchase them? Does a typical bike owner know how to safely charge and maintain a bike battery? And are lower-paid workers, such as delivery people, essentially being forced to purchase unsafe bikes just to be able to do their jobs?"
Tech: "Amazon's Huge Layoffs Are Gutting Comixology" [Gizmodo]. "The true scope of the layoffs at Comixology is unknown, leaving its fate uncertain—especially in the wake of a highly controversial rehaul of the platform last year. The changes went far beyond redesigning the app and website for the leading digital comics storefront and included a disastrous integration of the service more closely into Amazon's storefronts, shutting down Comixology's own website in the process. Between mass errors, clunky navigation, title discoverability issues, and the end of a long-running creator royalties program in favor of using Amazon's ebook publishing system Kindle Direct, Comixology spent much of the last year apologizing for and attempting to fix the litany of issues, an ongoing process. Or at least, was. Amazon's moves to gut Comixology after nearly a year of customer and creator strife potentially doesn't just threaten the service's presence at the forefront of digital comics distribution, but its existence at all." • Commentary:
THis feels like its becoming an increasingly common story with a lot of functional businesses being purchased dismantled and nothing emerging as a viable replacement. https://t.co/876kpggzyf

— El infame Sergacabra (A Parody, of Sorts) (@TheeFantomas) January 19, 2023
The Bezzle: "The AI Magic Show" [New York Magazine]. "If these early AI encounters didn't feel like magic, they often felt, at least, like very good magic tricks — and like magic tricks, they were disorienting. It wasn't just direct encounters with these demonstrations that were confounding, though. Explanations about how deep-learning and large-language models actually work often emphasized incomprehensibility or, to use the terms of art, a model's explainability or interpretability, or lack thereof. The companies making these tools could describe how they were designed, how they were trained, and on what data. But they couldn't reveal exactly how an image generator got from the words purple dog to a specific image of a large mauve Labrador, not because they didn't want to but because it wasn't possible — their models were black boxes by design." • Another way of putting this is that AI is not maintainable. Particularly when its on a chip, and particularly when that chip is in a consumer product. As they will be. So, when the NannyBot puts the turkey in the crib and the baby in the oven, don't blame me.
* * *
Today's Fear & Greed Index: 55 Neutral (previous close: 52 Neutral) [CNN]. One week ago: 61 (Greed). (0 is Extreme Fear; 100 is Extreme Greed). Last updated Jan 20 at 1:53 PM EST.
The Gallery
The lawn, the paths, the composition:
The Garden of the Princess, 1867 #claudemonet #realism https://t.co/LSQkpKQ2zo pic.twitter.com/BaaxmGQ2LU

— Claude Monet (@artistmonet) January 18, 2023
Police State Watch
"Inside the Underground Economy of Solitary Confinement" [The Marshall Project]. "Whatever you're buying or selling, you must learn how to "fish" to participate in the solitary economy. Fishing lines are made of ripped strips of sheets, towels and clothes. With thin enough strips, you can make about 100 feet of line out of a single state-issued bedsheet. To fish, you attach the item you're selling to the line along with a weight, such as a bar of soap. When you toss the line toward your buyer, the weight creates the momentum needed to carry your item through the air and drag it into the right cell after it lands.Of course, commodities can fall off the line or land in places where they can't be recovered. Arguments can ignite over accusations of theft, so you need to know who you can trust to pass on your goods. In my reporting, I heard about one guy who didn't have any family members on the outside to help him pay for basics like toilet paper. Thanks to his cell's central location and his good aim and trustworthiness, he was able to support himself by securing other people's lines. It started out as something he would do to pass the time, but he ended up getting really good at it. People would look out for him, sending him items in exchange for his help.It is difficult to fully describe the restrictive conditions in which fishing takes place. The rec pen is just a small cage, and the space between the bars is a matter of inches. In units where the bars are too tight to fit one's hand between them, people use a "spear" to throw the line. A spear is a magazine or newspaper rolled up so tight that it glides through the air. It serves the same purpose as a weight does. For those who are not yet adept at fishing, it can take dozens of tries just to connect to someone a few cells down.But the limitations make prisoners' proficiency all the more fascinating." • I don't know what's come over The Marshall Project, but they've been producing really good material lately.
MMT
Anyone can mint a coin. The trouble is getting it accepted:
.@NathanTankus adds: pic.twitter.com/PL07uChZSX

— Jeff Stein (@JStein_WaPo) January 20, 2023
Hard to see today's Democrats reacting to this line of thinking with enthusiasm.
Saving Social Security:
Eisner: "It was not God but Congress and the Treasury that determined the interest rate to be credited on the non-negotiable Treasury notes of the fund balances." IOW, if you want more "competitive returns," just make it so. He would have 🙄 the sovereign wealth fund. 2/ pic.twitter.com/EkVCV4pF1r

— Stephanie Kelton (@StephanieKelton) January 20, 2023
Class Warfare
"Shock and anger after fired worker killed by police at Oklahoma pork plant" [Guardian]. "Chiewelthap Mariar, a 26-year-old refugee from Sudan, was killed by police officers while working at the Seaboard Foods meatpacking plant in Guymon on 9 January. A worker who filmed parts of the incident on his cellphone, and was later fired for doing so, requested to remain anonymous for fear of further retaliation. The worker claimed Mariar was fired from his job by a supervisor but was told by human resources to finish his shift. The worker said the supervisor who fired him confronted Mariar on the shop floor after he was fired, and police arrived soon after to escort Mariar from the site. Seaboard Foods did not comment on but did not refute this characterization of the situation. 'I witnessed the entire thing, from when they started arguing with him until he was shot,' said the worker. 'He had a company-issued band-cutter in his hand. When the police got to the plant, the guy was already working, minding his own business.' The worker provided cellphone footage leading up to and following the incident, where Mariar can be seen with the band-cutter in his hand working around other employees and being confronted by officers on the shop floor. 'They made him out to be a danger when they said he had a knife in his hand, when it wasn't. And that's wrong on so many levels,' the worker said. The worker claimed employees were told to keep working after the incident occurred. 'I worked in maintenance. All they had us do was cover the scene with plastic, and we proceeded to finish what was on the production line,' the worker added. 'This company fired me for recording the truth they were trying to brush under the mat. They never asked me if I was OK. It was my first time seeing a guy get killed – and then I get fired.'" • IIRC, that's what Amazon does: Put some plastic round the corpse, and keep on working.
"Here's How Rail Workers Are Fighting On After Biden Blocked a National Strike" [In These Times]. "[Deven Mantz, a BMWED member in North Dakota] explained that rather than an executive order from Biden himself — which the rail carriers would likely challenge in court — guaranteed sick leave could come in the form of new safety rules from another part of the executive branch. The Department of Transportation, for example, could mandate paid sick days on the grounds that forcing employees to come to work ill and unrested creates unsafe conditions on the railroads." Pete? Pete? Pete? More: "Rank-and-file railroad unionists seem to agree that the best hope for a better contract next time is greater cross-craft unity, and a single bargaining coalition of all the rail unions." As I urged. More: "Building such unity is the main goal of Railroad Workers United (RWU), a solidarity caucus of rank-and-file workers from across the dozen different rail unions…. RWU organizer Ron Kaminkow said that while the group would like to see Biden mandate paid sick days, they are not going to expend their limited resources trying to persuade the president to do what he could have done during contract bargaining…. In particular, he said RWU is going to ​"go notch 8″ on its recently announced campaign calling for public ownership of the freight railroads. (Notch 8 is the highest amperage on diesel locomotive engines.)." • Good. I wonder where Sawant is on this….
"How Much Income Do You Need to Be Rich?" [Of Dollars and Data]. "Here are the top 10%, top 5%, and top 1% of household incomes in the United States:
Top 10% = $191,406
Top 5% = $290,164
Top 1% = $867,436
Interesting. Because the top 1% isn't all that much, is it? Must be quite a steep power curve, eh? (And let us all remember that income is not class. Class is a social relation. Neither "the rich" nor "the poor" are a class. Nor is the "middle."
News of the Wired
"David Boswell Reid's Ventilation of the Houses of Parliament" [The Victorian Web]. "Lord Sudeley, Chairman of the Commissioners who selected the design for the New Houses of Parliament, said in the House of Lords "The ventilation of the [Temporary] House of Commons was complete and perfect ' and the first plan of systematic ventilation ever carried out in this or any other country". In a written report he stated 'To the skill, zeal and determination of Dr Reid, it is owing that the members of the House of Commons can now pursue their senatorial duties without a sacrifice of either health or comfort. To him we owe the solution of the problem, that, by a proper system, ventilation may be obtained in the most trying and difficult circumstances' (Harris in Reid, 1858). In 1835, Sir Benjamin Hawes, Chairman of the Committee on Acoustics and Ventilation, which had originally recommended Reid's appointment, wrote to Reid 'You have facilitated public business, and prolonged the lives of public men' (Harris in Reid, 1858)." •
* * *
Contact information for plants: Readers, feel free to contact me at lambert [UNDERSCORE] strether [DOT] corrente [AT] yahoo [DOT] com, to (a) find out how to send me a check if you are allergic to PayPal and (b) to find out how to send me images of plants. Vegetables are fine! Fungi and coral are deemed to be honorary plants! If you want your handle to appear as a credit, please place it at the start of your mail in parentheses: (thus). Otherwise, I will anonymize by using your initials. See the previous Water Cooler (with plant) here. From timotheus: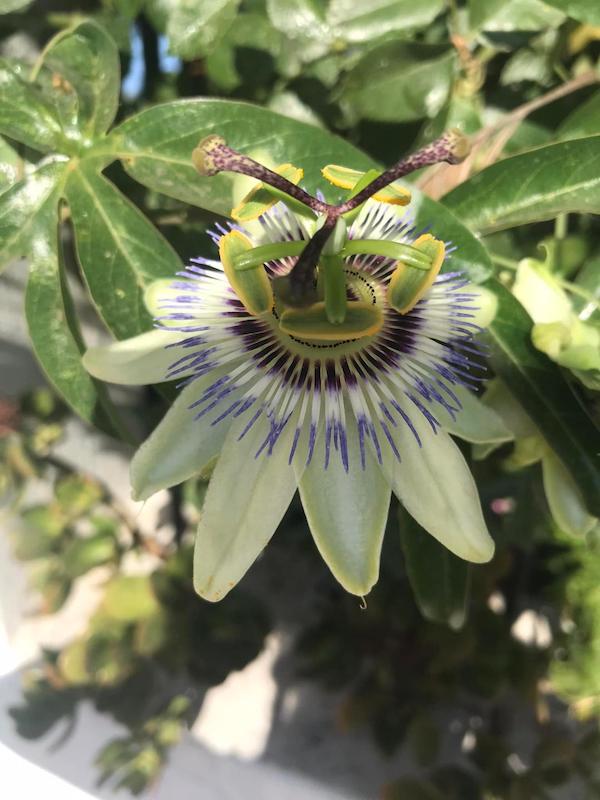 timotheus writes: "Plant or antidote – not sure."
* * *
Readers: Water Cooler is a standalone entity not covered by the annual NC fundraiser. So if you see a link you especially like, or an item you wouldn't see anywhere else, please do not hesitate to express your appreciation in tangible form. Remember, a tip jar is for tipping! Regular positive feedback both makes me feel good and lets me know I'm on the right track with coverage. When I get no donations for five or ten days I get worried. More tangibly, a constant trickle of donations helps me with expenses, and I factor in that trickle when setting fundraising goals:
Here is the screen that will appear, which I have helpfully annotated: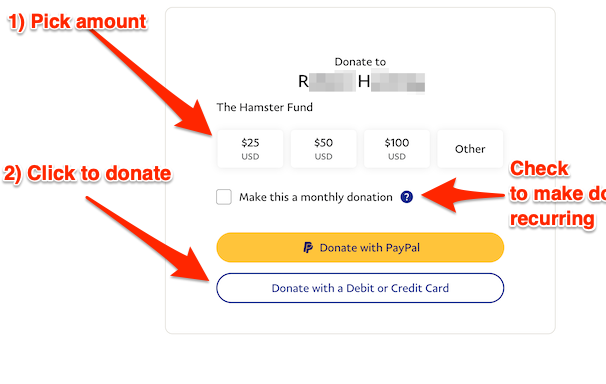 If you hate PayPal, you can email me at lambert [UNDERSCORE] strether [DOT] corrente [AT] yahoo [DOT] com, and I will give you directions on how to send a check. Thank you!