By Lambert Strether of Corrente.
Bird Song of the Day
Giant Kingbird, Parque Nacional Alexander von Humboldt; Nuevo Mundo, Guantánamo, Cuba. "Habitat: Forest." Lots of forest sounds.
* * *
Politics
"But what is government itself, but the greatest of all reflections on human nature?" –James Madison, Federalist 51
"Here's food for thought, had Ahab time to think; but Ahab never thinks; he only feels, feels, feels" –Herman Melville, Moby Dick
"So many of the social reactions that strike us as psychological are in fact a rational management of symbolic capital." –Pierre Bourdieu, Classification Struggles
2024
"DeSantis, Newsom and the Red/Blue State Divide" [Amy Walter, Cook Political Report]. "It's hard to believe that it was almost 20 years ago that a young, upcoming Senate candidate named Barack Obama mesmerized the Democratic faithful with his nomination speech for Sen. John Kerry at the DNC convention in Boston. His message was one of "the audacity of hope" and a conviction that we are more united as a country than we are divided. "There's not a liberal America and a conservative America—there's the United States of America" turned into the foundation for his eventual run for president just four years later. It was almost 25 years ago when Texas Gov. George W. Bush, already considered a front-runner for the 2000 GOP nomination, delivered an equally hopeful message in his 1999 inaugural address in Austin. 'Texans,' he said, 'can show America how to unite around issues that are larger than race or party,' Today, two of the most high-profile and widely discussed potential presidential aspirants—Florida Gov. Ron DeSantis (R) and California Gov. Gavin Newsom (D)—gave inaugural addresses that directly challenged the notion of 'E Pluribus Unum.' They contend that America is a deeply divided country, not because we aren't committed enough to unity, but because one version of America is the correct one while the other version will lead to America's destruction. In his inaugural address, Gov. Newsom argued that blue states like California must remain on the frontlines to fight against 'Red state politicians, and the media empire behind them, selling regression as progress, oppression as freedom. And as we know too well, there is nothing original about their demagoguery. All across the nation, anxiety about social change has awakened long-dormant authoritarian impulses. Calling into question what America is to become, freer and fairer … or reverting to a darker past.' California, argues Newsom, isn't just a great place to live because it has a thriving economy and a good quality of life, but because it promotes a 'far-reaching freedom agenda. A full-throated answer to those demagogues of division, determined to regress and oppress.' Come for the sunshine and Silicon Valley. Stay for the fight against demagogues and nativists. Across the country in Tallahassee, Gov. DeSantis laid out the ways the Sunshine State thrived over the last couple of years thanks to his fights against Blue State overreach. 'When other states consigned their people's freedom to the dustbin,' DeSantis said, 'Florida stood strongly as freedom's linchpin. When the world lost its mind—when common sense suddenly became an uncommon virtue—Florida was a refuge of sanity, a citadel of freedom for our fellow Americans and even for people around the world.' The leaders in blue states, said DeSantis, 'have harmed public safety by coddling criminals and attacking law enforcement. They have imposed unreasonable burdens on taxpayers to finance unfathomable levels of public spending. They have harmed education by subordinating the interests of students and parents to partisan interest groups. They have imposed medical authoritarianism in the guise of pandemic mandates and restrictions that lack a scientific basis.' Come to Florida, for low taxes, great beaches and a chance to, as DeSantis put it: 'navigate the boisterous sea of liberty rather than cower in the calm docks of despotism.'" But: "The idea of running a campaign on the "audacity of hope" or "compassionate conservatism" feels incredibly outdated. But, we also learned that leaning into the division—as Trump did in his re-election bid in 2020 and GOP Senate candidates in purple states did in their 2022 campaigns—is a losing proposition." • So, a plague on both their houses?

"Additional documents marked classified found in Biden's Wilmington garage" [Politico]. "Lawyers for President Joe Biden have discovered additional documents with classified markings in a storage space in the garage of his Wilmington, Del., residence, the special counsel to the president announced Thursday. The lawyers found the Obama-Biden administration records during a search completed Wednesday night of Biden's residences in both Wilmington and Rehoboth Beach, Del. All but one of the documents were found in a storage space in Biden's Wilmington garage, with one other record found in an adjacent room, Special Counsel to the President Richard Sauber said in a statement. It's the second batch of documents marked classified discovered in a space used by Biden since the end of the Obama administration. The previous set, found at a Biden-affiliated think tank on Nov. 2 and publicly disclosed earlier this week, triggered the broader search and a move by the Justice Department to scrutinize the discoveries." • So, Biden's own lawyers "found" the documents? One can only wonder what other lawyers would find. (Reminds me forcefully of Hillary handing over her server after her lawyer cleaned it up. I mean, who wouldn't trust a Democrat lawyer?)
Republican Funhouse
"Marjorie Taylor Greene said the House should "absolutely NOT!" display a bust of Ukrainian President Volodymyr Zelenskyy" [Politico]. • MTG keeps asking for my vote. Of course, the next thing out of her mouth will be something I can't possibly vote for, but still. Goes to show.
Democrats en Déshabillé
Patient readers, it seems that people are actually reading the back-dated post! But I have not updated it, and there are many updates. So I will have to do that. –lambert

I have moved my standing remarks on the Democrat Party ("the Democrat Party is a rotting corpse that can't bury itself") to a separate, back-dated post, to which I will periodically add material, summarizing the addition here in a "live" Water Cooler. (Hopefully, some Bourdieu.) It turns out that defining the Democrat Party is, in fact, a hard problem. I do think the paragraph that follows is on point all the way back to 2016, if not before:

The Democrat Party is the political expression of the class power of PMC, their base (lucidly explained by Thomas Frank in Listen, Liberal!). ; if the Democrat Party did not exist, the PMC would have to invent it. . ("PMC" modulo "class expatriates," of course.) Second, all the working parts of the Party reinforce each other. Leave aside characterizing the relationships between elements of the Party (ka-ching, but not entirely) those elements comprise a network — a Flex Net? An iron octagon? — of funders, vendors, apparatchiks, electeds, NGOs, and miscellaneous mercenaries, with assets in the press and the intelligence community.

Note, of course, that the class power of the PMC both expresses and is limited by other classes; oligarchs and American gentry (see 'industrial model' of Ferguson, Jorgensen, and Jie) and the working class spring to mind. Suck up, kick down.

* * *

"Democrats, Young Voters Deserve a Policy Agenda That Supports Their Future" [Teen Vogue]. "If Democrats want to beat historical odds again in 2024, they'll need a legislative vision that gives people something to vote for. Above all, they'll need a vision that centers those voters who drove their success — young people, especially young voters of color." • Worth a read, but there's no evidence the Democrats could enact any of this, or even want to.
Realignment and Legitimacy
"'Justice Has Finally Prevailed': Former Student Celebrates Shutdown of Fundamentalist School Where He Says He Was Abused" [The Roys Report]. • There must be a study out there that compares various Christian denominations for levels of abuse; but I've never seen it. However, it doesn't seem to me that Christianists and Catholics differ much in that regard.
#COVID19
Lambert here: I am but a humble tapewatcher, but unlike Eric Topol, I'm not calling a surge, because the last peak was Biden's Omicron debacle, and after an Everest like that, what's left? Topol's view is the establishment view: Hospital-centric. Mine is infection-centric. I do not see the universal acceleration or doubling in cases that I would expect to see based on past surges.
I am calling a "Something Awful." It's gonna be bad, in some new way, and we don't know how, yet (but see here for immune system dysregulation, which is looking pretty awful). Wastewater has taken off in New York, Chicago, San Francisco, and Los Angeles, right on time, two weeks after Thanksgiving. Those are not only in themselves large cities, they are all the sites of international airports (reminiscent of the initial surge in spring 2020, which emanated, via air travel, from New York). Wastewater is a leading indicator for cases, which in turn lead hospitalization (and death). In addition, positivity has reached its highest level ever, at least at Walgreens, and BQ.1* has taken over, closely followed by XBB, and both are immunue escape variants. UPDATE The rise of XBB in the Northeast is very concerning. The effects of all our holiday travel should be playing out in the next two weeks, and we are one week in.
Stay safe out there!
* * *
• ChiGal writes in, for the New Year:
howdy and happy new year! an ever dwindling number of people I know have escaped Covid: my brother, four friends (I don't count the ones who claim not to have had it but who neither mask nor test–nor do I gather indoors with them!), and I'd say a quarter of my clients. Three friends went down for the first time this holiday season, two healthy and fit and taking precautions, one in her thirties and one in her sixties; and one healthy and fit but an Ayurvedic medical practitioner and yoga instructor who has used alternative methods (skeptical of big pharma) to maintain immune health and did not vax or mask, age 70. One of my clients, an ICU Covid traveling nurse with PTSD from the past 2 3/4 years also went down for the first time by gathering unmasked with family who were supposedly testing.

the friend in her thirties says she is the sickest she has ever been in her life, two weeks and counting of pounding headaches, brain fog, congestion, fever, body aches, utter exhaustion, and a deluge of a menstrual period like never before, basically the works but not hospitalized–fingers crossed. The others have had the "bad cold" version, a good five days of symptoms but mostly recovered with lingering congestion.

me? I seriously limit indoor socializing (1-2x/mo), mask (mostly LG Airwasher, the KF94 recommended by the mask nerd, but I do have N95s for times when I anticipate more exposure), and use Enovid–thanks NC and Carla! knocking on wood here…
* * *
• Multiple levels of pathetic, including that the Times Covid newsletter editor actually believed in "herd immunity":
The New York Times now thinks the pandemic is over and ending its virus briefing newsletter. Let's check in on New York City hospitals + US #COVID19 hospital admissions…

Shame on @nytimes editors for terminating coverage while #COVID hospitalizations surging locally & US-wide. https://t.co/0PutGY0rgh pic.twitter.com/hQb6yeSI1Q

— Eric Feigl-Ding (@DrEricDing) January 12, 2023
The Times is like a little child that hasn't mastered object permanence. They think if they close their eyes, the pandemic will go away. Then again, most of their readers probably think the same thing.
* * *
• Guerilla ventilation:
* * *
• "More than 24K people have reported COVID test results to new NIH website" [ABC]. "Tens of thousands of Americans have reported a COVID-19 test result to the National Institutes of Health's website that launched in November. The site, MakeMyTestCount.org, allows people to anonymously report the results of any brand of at-home COVID-19 test. In updated data exclusively provided to ABC News, 24,000 people have reported a test result to the site. Additionally, three-fourths of the results are a positive test and women were more likely to report a test result than men." • Great! Why the hell couldn't CDC do this, like a year ago when the home test kits came out?
* * *
• "The 'Kraken' Subvariant" [New York Times]. "To understand more, I spoke to my colleague Carl Zimmer, a science reporter who covers the coronavirus." So a reporter interviews a reporter. Gad. "It looks like XBB.1.5 is a cut above the other Omicron subvariants in terms of getting around our defenses, and it's also a very transmissible virus. We won't know the full XBB.1.5 story until it's over, but right now it's definitely looking like it could potentially become dominant in the United States, maybe even the world…, Unfortunately, there's not a lot of data on its effects. From what I've heard from experts, it doesn't look like it's any more severe, which is good. But it takes time for a variant to become common enough that it infects people in large numbers, and then for some of those people to end up in the hospital, and then to analyze all those numbers. It's really surging here in the northeastern U.S., but we don't have great medical information systems to get quick answers on that." • Three years in, and "we don't have great medical information systems." What do all these credentialed people do with their time?
• XBB.1.5 severity:
On the question of whether XBB.1.5 has more acute severity, we can look at New Jersey for some hints where XBB.1.5 is estimated to have reached dominance around the beginning of this month and where the data shows a general upward trend in hospitalizations, ICUs, and ventilators. pic.twitter.com/6hgEv8386s

— Joaquín Beltrán (@joaquinlife) January 12, 2023
* * *
• Maskstravaganza: A long thread from Lloyd Armbrust, mask manufacturer. Worth reading in full, but this passage stood out:
About 50 🇺🇸 mask factories were started during the pandemic, but now most of them have shut down, meaning there is way less capacity for production now.https://t.co/8zacGgPo7U

— Lloyd Armbrust (@larmbrust) January 10, 2023
The Biden Administration destroyed those businesses because hospitals wanted cheap masks from China, and to support giant monopolies like GM.
• Maskstravaganza: "The spectacle of anonymity: how the mask became a way for celebrities to control their image" [The Conversation]. "When celebrities mask, they perform the spectacle of anonymity, rather than achieving anonymity itself…. The mask places further distance between us and them – it allows a one way scrutiny and the ability to see but not be seen. Disguising themselves in this way only serves to heighten the aura of celebrity. This has the effect of preserving their relative status as an image, as opposed to a knowable entity. It is easy to forget, then, that this object of desire (or ridicule) is a person. One might suggest this failed form of disguise is strategic or intentional, driving the frenzied economy of celebrity image production. If celebrities can reclaim access to their image – their moneymaker – it is little wonder they adopt the mask in the public sphere." • As long as masks do not conceal the eyes — as KN95s and below certainly do not — I don't believe the confer an ounce of anonymity.
* * *
Case Count
• "The doctor won't see you now: Covid winters are making long hospital waits the new normal" [WaPo].
[P]ublic health officials are still waiting to see how bad the current winter surge in viral infections turns out to be. So far, this covid winter in the United States has been challenging, though not nearly as disastrous as the past two. But most of the winter still lies ahead, and covid-19 hospitalizations have risen significantly since October…. The big unknown now is what will happen as the health-care system feels the effects of holiday gatherings.
Wouldn't it be great if we collected case data? These people don't know any more than I do (and I'd argue I've got better priors). What a farce! And:
But I don't think we have hit a steady state of disease to be able to say for sure what we will see year in and year out. … It's very dynamic."

"We all agree that the virus is evolving faster than we thought. We just don't know where the virus is headed. ."
That's a confidence builder!
Transmission
Here is CDC's interactive map by county set to community transmission (the "red map," which is the map CDC wants only hospitals to look at, not you.) The map is said to update Monday-Friday by 8 pm: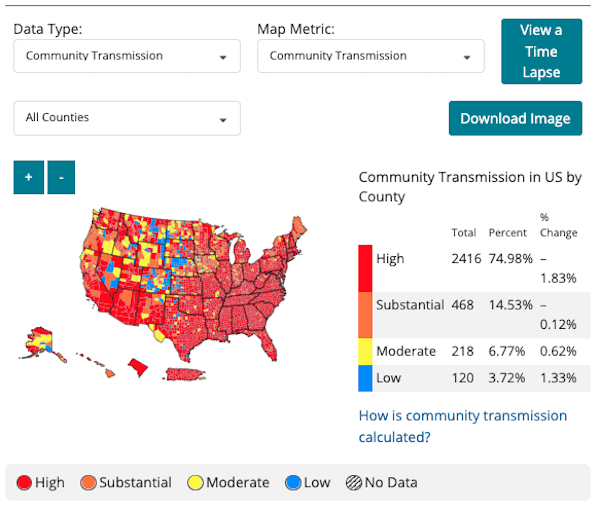 The previous map:
NOTE: I shall most certainly not be using the CDC's new "Community Level" metric. Because CDC has combined a leading indicator (cases) with a lagging one (hospitalization) their new metric is a poor warning sign of a surge, and a poor way to assess personal risk. In addition, Covid is a disease you don't want to get. Even if you are not hospitalized, you can suffer from Long Covid, vascular issues, and neurological issues. That the "green map" (which Topol calls a "capitulation" and a "deception") is still up and being taken seriously verges on the criminal.
Positivity
From the Walgreen's test positivity tracker, published January 12: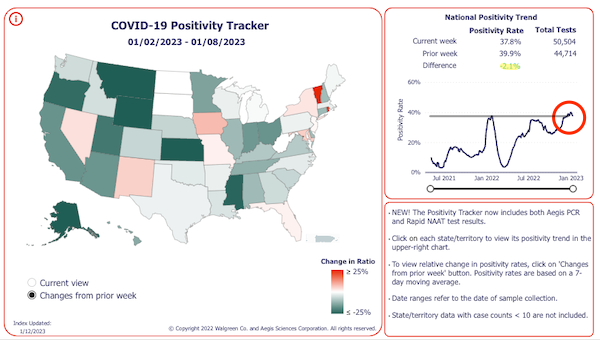 -2.1.%. Still heading down, at the same rate.
Wastewater
Wastewater data (CDC), January 8: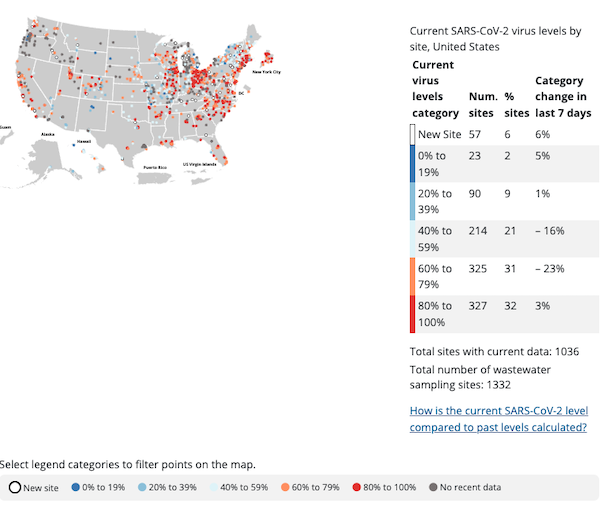 Holy moley. That's a lot of red!
January 7: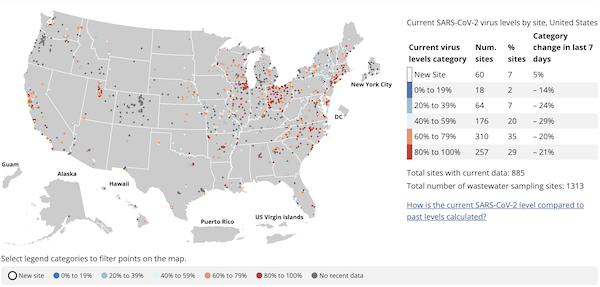 And MWRA data, January 10: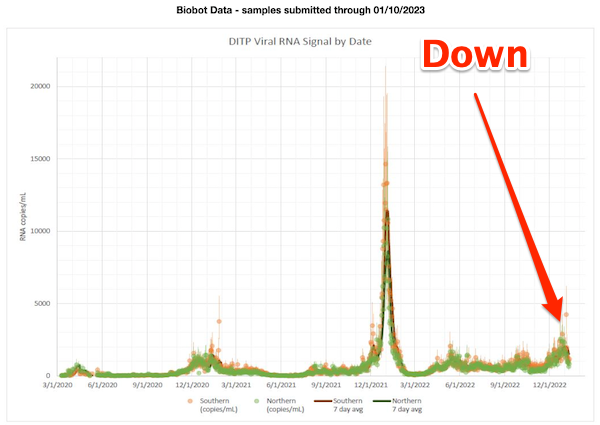 Lambert here: Finally! Unmistably down. However, not all the students are back; BU classes begin January 19; Harvard's January 22.
ChiGal sends in this wastewater site for Illinois: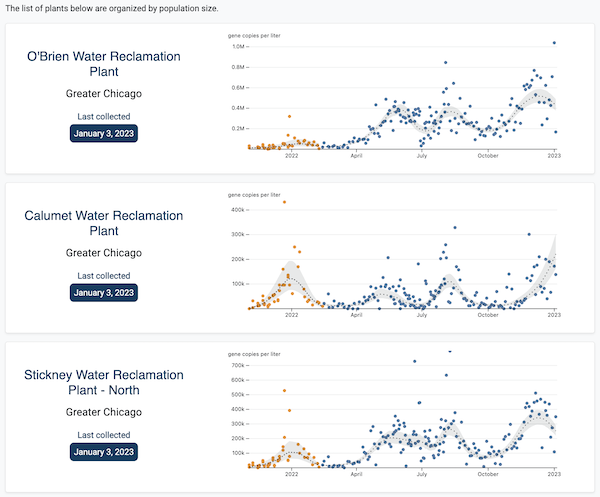 Interesting. the more we know about wastewater, the worse the case count looks.
Variants
Lambert here: It's beyond frustrating how slow the variant data is. Does nobody in the public health establishment get a promotion for tracking variants? Are there no grants? Is there a single lab that does this work, and everybody gets the results from them? [grinds teeth, bangs head on desk]. UPDATE Yes. See NC here on Pango. Every Friday, a stately, academic pace utterly incompatible with protecting yourself against a variant exhibiting doubling behavior.
Variant data, national (Walgreens), December 30: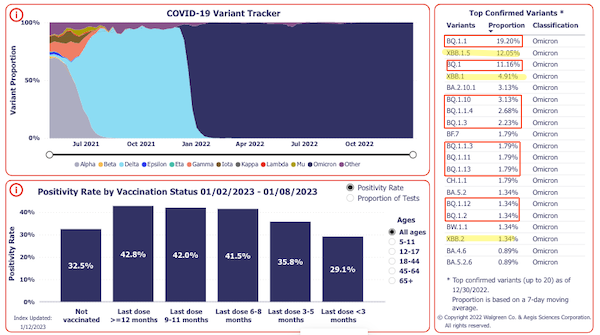 Lambert here: BQ.1* still dominates, XBB moving up fast. Note all the BQ subvariants; it's almost like something's encouraging them, like maybe a policy of mass infection. Sure hope none of 'em get lucky, like XBB.
NOT UPDATED Variant data, national (CDC), December 17 (Nowcast off):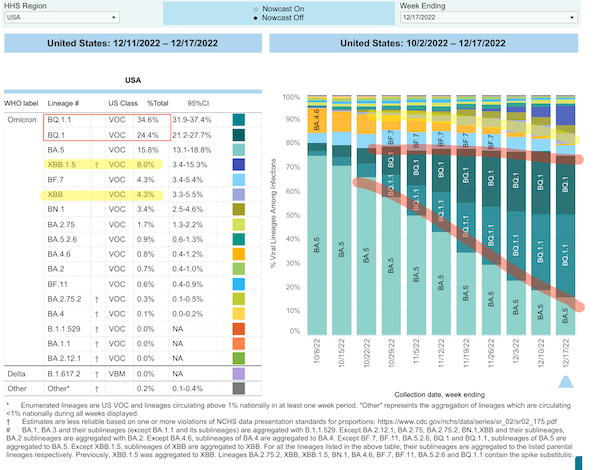 BQ.1* takes first place. XBB coming up fast. (For BQ.1/XBB and vaccine escape, see here.) Here is Region 2, the Northeast, where both BQ.1* and XBB are said to be higher, and are: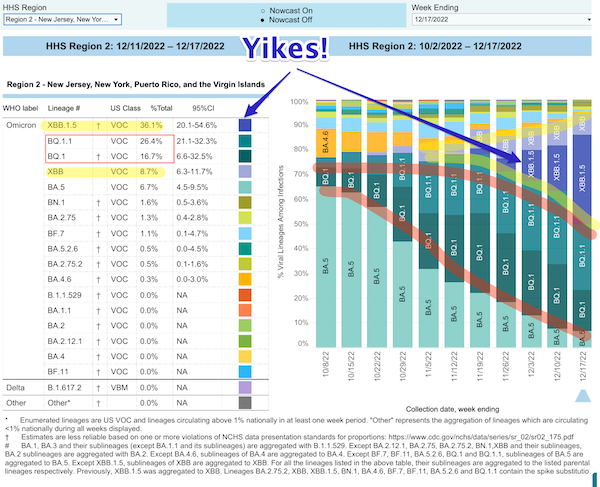 Holy moley, XBB.1.5! (Makes clear that Region 2 (New England) varies greatly from the national average. Wouldn't it be interesting if we ended up with different variants dominating different parts of the country.
• As a check, since New York is a BQ.1* hotbed, New York hospitalization, updated January 12: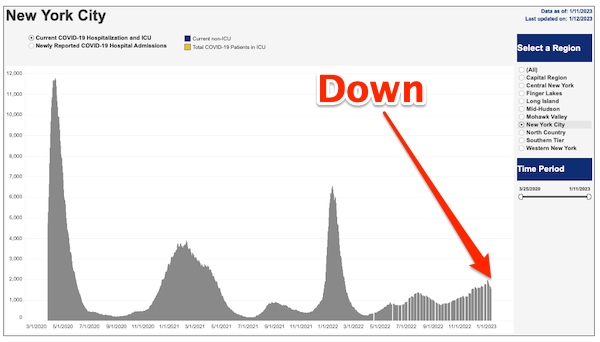 A retreat from the steady rise I have found so concerning.
• Hospitalization data for Queens, updated January 8:

Deaths
Death rate (Our World in Data):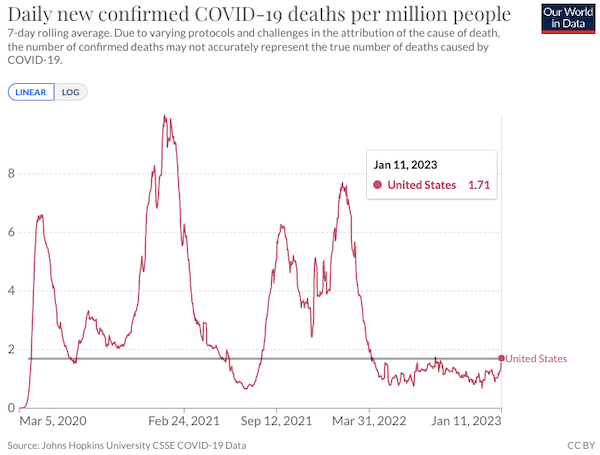 Total: 1,123,466 – 1,121,725 – 1,121,298 = 1741 (1741 * 365 = 635,465 deaths per year, today's YouGenicist™ number for "living with" Covid (quite a bit higher than the minimizers would like, though they can talk themselves into anything. If the YouGenicist™ metric keeps chugging along like this, I may just have to decide this is what the powers-that-be consider "mission accomplished" for this particular tranche of death and disease).
Lambert here: Deaths lag, so we have a nice little jump here as a consequence of whatever it is we've been going through.
It's nice that for deaths I have a simple, daily chart that just keeps chugging along, unlike everything else CDC and the White House are screwing up or letting go dark, good job.
Stats Watch
Employment Situation: "United States Initial Jobless Claims" [Trading Economics]. "The number of Americans filing new claims for unemployment benefits fell by 1,000 to 205,000 on the week ending January 7th, well below expectations of 215,000. It was the lowest value in over three months, adding to recent evidence of a tight labor market despite the Federal Reserve's aggressive tightening path last year." • The Fed is turning a rubber thumbscrew…
Inflation: "United States Inflation Rate" [Trading Economics]. "The annual inflation rate in the US slowed for a sixth straight month to 6.5% in December of 2022, the lowest since October of 2021, in line with market forecasts."
CPI: "United States Consumer Price Index (CPI)" [Trading Economics]. "The consumer price index in the US increased 6.5 percent over the last 12 months to an index level of 296.797. It was the lowest inflation rate since October of 2021."
* * *
The Bezzle: "FTX Pre-Mortem Overview" [SBF, SBF's Substack]. • Yes, SBF got a substack. I can't even. Perhaps Yves will have something to say.
The Bezzle: "DCG's crypto broker Genesis owes creditors more than $3bn" [Financial Times]. "Crypto broker Genesis owes creditors more than $3bn, prompting its owner Digital Currency Group to explore selling assets in its large venture portfolio to raise money, according to people familiar with the matter. DCG, a conglomerate that controls crypto media outlet CoinDesk and investment manager Grayscale, is seeking to raise fresh cash after its Genesis unit was wrongfooted in November by the collapse of FTX. As part of its efforts, DCG is considering offloading parts of its venture capital holdings, which include 200 crypto-related projects such as exchanges, banks and custodians in at least 35 countries, and is worth about $500mn, according to people familiar with the matter. Genesis's debts to creditors, the scale of which have not been previously reported, underscore the magnitude of the fundraising task for Connecticut-based DCG, whose search for outside funding has failed to draw interest as the group struggles in the wake of the collapse of crypto exchange FTX." • Somehow, I don't think those "crypto-related projects" are worth $500mn.
The Bezzle: "JPMorgan shutters website it paid $175 million for, accuses founder of inventing millions of accounts" [CNBC]. "JPMorgan Chase
on Thursday shut down the website for a college financial aid platform [Frank] it bought for $175 million after alleging the company's founder created nearly 4 million fake customer accounts… Regardless of the outcome of this legal scuffle, this is an embarrassing episode for JPMorgan and its CEO, Jamie Dimon. In a bid to fend off encroaching competitors, JPMorgan has gone on a buying spree of fintech companies in recent years, and Dimon has repeatedly defended his technology investments as necessary ones that will yield good returns. The fact that a young founder in an industry known for shaky metrics and a 'fake it 'til you make it' ethos managed to allegedly dupe JPMorgan calls into question how stringent the bank's due diligence process is." • Yes, the "founder" did a bad thing. But I'm finding it hard to work up any outrage that somebody defrauded Jippy Mo.
The Bezzle: "John Deere's repair fake-out" [Cory Doctorow, Medium]. "Last week, a seeming miracle came to pass: John Deere, the Big Ag monopolist that — along with Apple — has led the Axis of Evil that killed, delayed and sabotaged dozens of Right to Repair laws, sued for peace, announcing a Memorandum of Understanding with the American Farm Bureau Federation to make it easier for farmers to fix their own tractors… The MOU that Deere and the Farm Bureau signed is full of poison pills, gotchas, fine-print and mendacity, as Lauren Goode documents in her Wired article, 'Right-to-Repair Advocates Question John Deere's New Promises': For starters, the MOU makes the Farm Bureau promise to end its advocacy for state Right to Repair bills, which would create a repair system governed by democratically accountable laws, not corporate fiat…..Deere's deal offers independent repair shops access to diagnostic tools and parts "on fair and reasonable terms," a murky phrase that can mean whatever Deere decides it means. Crucially, the deal is silent on whether Deere will supply the tools needed to activate VIN locks, meaning that farmers will still be at Deere's mercy when they effect their own repairs. What's more, the deal itself isn't legally binding, and Deere can cancel it at any time. Once you dig past the headline, the Deere's Damascene conversion to repair advocacy starts to look awfully superficial — and deceptive." • J-LS would be ticked; though I bet she would have called it.
* * *
Today's Fear & Greed Index: 58 Greed (previous close: 54 Neutral) [CNN]. One week ago: 42 (Fear). (0 is Extreme Fear; 100 is Extreme Greed). Last updated Jan 12 at 1:59 PM EST.
Healthcare
"The doctor won't see you now: Covid winters are making long hospital waits the new normal" [WaPo].
"White House covid-19 response coordinator Ashish Jha said the American health-care system may not be able to withstand the continued viral onslaught, straining the system's ability to care for other serious illnesses. 'I am worried that we are going to have, for years, our health system being pretty dysfunctional, not being able to take care of heart attack patients, not being able to take care of cancer patients, not being able to take care of the kid who's got appendicitis because we're going to be so overwhelmed with respiratory viruses for … three or four months a year,' Jha told The Washington Post."
So now you're telling me "Let 'er rip!" is problematic? That "nobody could have predicted"? That mass infection was the intended outcome of administration policy is a lot more parsimonious; "what you see is what you get." And then there's this gem:
Hospitals are already under financial stress because of rising labor costs, physician burnout and the trend toward outpatient treatment. The added coronavirus strain is likely to push some facilities over the edge, noted Robert Wachter, a professor and chair of the Department of Medicine at the University of California at San Francisco.

"With all of this, you'll see hospitals … begin closing at a faster pace, leaving some rural/suburban communities without a hospital, and fewer hospitals in urban areas," Wachter said by email.

So far, Congress and the federal government broadly have not taken concerted action to address these chronic challenges. There is no cavalry on the horizon for the health-care system.
No mention of executive salaries and bonuses, no mention of upcoding and fraud, no mention of private equity gutting systems. No, the first thing out of their mouth is labor costs. And all this from a liberal Democrat house organ, the party that successfully nuked #MedicareForAll.
I applaud Medlock for helping a family member join ObamaCare; I hope it works out for them:
So over the holidays I had a chance to help an uninsured family member sign up for the ACA. It was a really interesting experience – if you know anyone who is uninsured, you should offer to help if it doesn't feel intrusive https://t.co/DkGVcyDRKC

— James Medlock (@jdcmedlock) January 12, 2023
But read the thread if you want to see a ridiculous, trap-filled process replete with complex eligibility requirements. Despite Medlock's "easy-peasy" intent, the process is clearly not.
Under the Influence
"Why 'Kidfluencers' Have So Few Protections — Even As Americans Support Regulating The Industry" [FiveThirtyEight]. "While polls like the one by YouGov show that the public is exhibiting a healthy amount of hesitation toward monetizing children's online presences, the American legal system makes it hard to act on that concern."
Class Warfare
"Nurses at 2 NYC hospitals return to work as deal ends strike" [Associated Press]. "Thousands of nurses at two New York City hospitals ended a three-day strike Thursday after reaching a tentative contract agreement that union officials said offers better working conditions, in addition to pay raises. The tentative deals at Mount Sinai Hospital, in Manhattan, and Montefiore Medical Center, in the Bronx, include raises totaling 19% over three years. Nurses began returning to work at both hospitals Thursday morning, with Gov. Kathy Hochul greeting returning nurses at Mount Sinai just before dawn…. The union stressed staffing levels as a key concern, saying that nurses who labored through the grueling peak of the coronavirus pandemic are stretched far too thin because too many jobs are open. Nurses say they have had to work overtime, handle twice as many patients as they should, and skip meals and even bathroom breaks. The agreements with the privately owned, nonprofit hospitals include concrete, enforceable staffing ratios, the union said. The agreement with Montefiore also included what the union described as community health improvements and nurse-student partnerships to recruit local nurses from the Bronx."
News of the Wired
"The end of the high school essay" [Seth's Blog]. "There's not a lot of evidence that getting good at writing book reports or regurgitated essays under typical high school conditions leads people to success or happiness later in life… They were actually a signal that you could do just enough work to persuade an overwhelmed teacher that you were compliant. So, now that a simple chat interface [ChatGPT] can write a better-than-mediocre essay on just about any topic for just about any high school student, what should be done? The answer is simple but difficult: Switch to the Sal Khan model. Lectures at home, classes are for homework. When we're on our own, our job is to watch the best lecture on the topic, on YouTube or at Khan Academy. And in the magic of the live classroom, we do our homework together. In a school that's privileged enough to have decent class sizes and devices in the classroom, challenge the students to actually discuss what they've read or learned. In real-time, teach them to not only create arguments but to get confident enough to refute them." • Hmm.
* * *
Contact information for plants: Readers, feel free to contact me at lambert [UNDERSCORE] strether [DOT] corrente [AT] yahoo [DOT] com, to (a) find out how to send me a check if you are allergic to PayPal and (b) to find out how to send me images of plants. Vegetables are fine! Fungi and coral are deemed to be honorary plants! If you want your handle to appear as a credit, please place it at the start of your mail in parentheses: (thus). Otherwise, I will anonymize by using your initials. See the previous Water Cooler (with plant) here. From RM: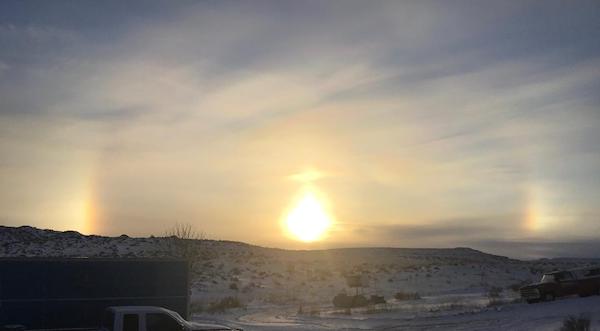 RM writes: "Sundog sunrise on New Years Day here in Eastern Montana. Looks like it is going to be a fantastic year." I hope so!
Readers, please please send me more plants!
* * *
Readers: Water Cooler is a standalone entity not covered by the annual NC fundraiser. So if you see a link you especially like, or an item you wouldn't see anywhere else, please do not hesitate to express your appreciation in tangible form. Remember, a tip jar is for tipping! Regular positive feedback both makes me feel good and lets me know I'm on the right track with coverage. When I get no donations for five or ten days I get worried. More tangibly, a constant trickle of donations helps me with expenses, and I factor in that trickle when setting fundraising goals:
Here is the screen that will appear, which I have helpfully annotated: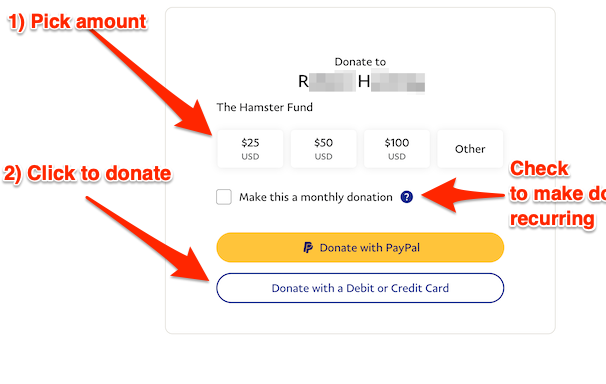 If you hate PayPal, you can email me at lambert [UNDERSCORE] strether [DOT] corrente [AT] yahoo [DOT] com, and I will give you directions on how to send a check. Thank you!