By Lambert Strether of Corrente.
Bird Song of the Day
Loggerhead Kingbird, Artemisa, Cuba.
* * *
Politics
"But what is government itself, but the greatest of all reflections on human nature?" –James Madison, Federalist 51
"Here's food for thought, had Ahab time to think; but Ahab never thinks; he only feels, feels, feels" –Herman Melville, Moby Dick
"So many of the social reactions that strike us as psychological are in fact a rational management of symbolic capital." –Pierre Bourdieu, Classification Struggles
Abortion
"Virginia Democrat Holds Small Lead In State Senate Race To Decide Fate Of Abortion Rights" [Huffington Post]. "Democrats appear to have flipped a critical Senate seat in the Virginia legislature on Tuesday — likely safeguarding the state from enacting a 15-week abortion ban. Aaron Rouse, a former NFL player and Virginia Beach councilmember, holds a narrow lead over Republican Kevin Adams, a Navy veteran, as of Wednesday morning. The special election was held to fill a swing-district seat vacated by Republican Jen Kiggans after she was elected to the U.S. House in November. It was a tight race, with Rouse taking 50.41% of the votes and Adams 49.51%, according to the Virginia Public Access Project."
Biden Administration
I haven't had a chance to look at the sekrit documents Biden stashed, naturally under a completely different scenario than the former guy, but this is interesting:

Hmm. Let's see. What kind of last-minute stuff was Biden working on when he was packing up to leave the Vice Presidency? https://t.co/Et4gk3ga9j pic.twitter.com/Gvlahk4zkx

— FoiaFan (@15poundstogo) January 10, 2023

Working the grift 'til the last possible moment?

"Biden's documents drama gives Republicans a fresh narrative to use against him" [CNN]. "'Let me get rid of the easy one first,' Biden told an American reporter who asked him several questions, including one about the documents, in Mexico City. He said he was surprised when he learned about the discovery, that he didn't know what was in the files, that they were in a locked closet and that his lawyers immediately turned them over to the National Archives and Records Administration. 'People know I take classified documents, classified information seriously,' the president said, drawing an implicit contrast with Trump's fight to keep many more documents that he hoarded at his Mar-a-Lago resort after leaving office. Biden's response was notable and his words were carefully chosen, apparently evidence of an acknowledgment by the White House that the president couldn't ignore the increasing noise over the documents but also of a desire to avoid offering Republicans new political ammunition." • If there was no camera on the "locked closet," then Trump's security was better than Biden's….

"New Biden student loan proposal could cut some borrowers' payments" [Axios]. Wow, enthusiastic headline! 'It's unclear when the changes will be implemented, though they will be subject to public comment for 30 days after being published in the Federal Register on Wednesday."
2024
What an irony it would be if the Democrats stashed Mayo Pete at the Department of Transportation because nothing could really go wrong for him there, and then it turns out our infrastructure starts really collapsing on his watch:

"Air travel across US thrown into chaos after computer outage" [WTOP]. " The world's largest aircraft fleet was grounded for hours by a cascading outage in a government system that delayed or cancelled thousands of flights across the U.S. on Wednesday. The White House initially said that there was no evidence of a cyberattack behind the outage that ruined travel plans for millions of passengers. President Joe Biden said Wednesday morning that he's directed the Department of Transportation to investigate. Whatever the cause, the outage revealed how dependent the world's largest economy is on air travel, and how dependent air travel is on an antiquated computer system called the Notice to Air Missions, or NOTAM. Before commencing a flight, pilots are required to consult NOTAMs, which list potential adverse impacts on flights, from runway construction to the potential for icing. The system used to be telephone-based, with pilots calling dedicated flight service stations for the information, but has moved online. The NOTAM system broke down late Tuesday, leading to more than 1,000 flight cancellations and 7,000 delayed flights by midday Wednesday, according to the flight tracking website FlightAware." • How much you wanna bet Mayo Pete singlehandedly discovers this was all a Russian plot?

"Promotions, not job cuts, follow Southwest's holiday chaos" [ABC]. "Southwest Airlines announced a number of executive promotions on Monday, days after announcing that last month's service meltdown will cost the company up to $825 million, but none of the changes involved the highest ranking officers…. A Southwest spokesman said no one was demoted or left the company in connection with Monday's moves." • Of course not! Nice to see Mayo Pete jawboning the heck out of this. Oh, wait…
Republican Funhouse
NY: "NY Republican leaders call on GOP Rep. George Santos to resign over campaign lies" [NBC (Furzy Mouse)]. "'George Santos' campaign last year was a campaign of deceit, lies and fabrication,' Nassau County GOP Chairman Joe Cairo said at a news conference with other party officials. Cairo took aim at Santos for having 'disgraced' the House and made clear that the freshman congressman is 'not welcome here at Republican headquarters.' 'We do not consider him one of our Congress people,' Cairo said. Moments later, Santos told reporters that he would not resign. He ignored further questions from reporters." • Pass the popcorn.
Democrats en Déshabillé
Patient readers, it seems that people are actually reading the back-dated post! But I have not updated it, and there are many updates. So I will have to do that. –lambert

I have moved my standing remarks on the Democrat Party ("the Democrat Party is a rotting corpse that can't bury itself") to a separate, back-dated post, to which I will periodically add material, summarizing the addition here in a "live" Water Cooler. (Hopefully, some Bourdieu.) It turns out that defining the Democrat Party is, in fact, a hard problem. I do think the paragraph that follows is on point all the way back to 2016, if not before:

The Democrat Party is the political expression of the class power of PMC, their base (lucidly explained by Thomas Frank in Listen, Liberal!). ; if the Democrat Party did not exist, the PMC would have to invent it. . ("PMC" modulo "class expatriates," of course.) Second, all the working parts of the Party reinforce each other. Leave aside characterizing the relationships between elements of the Party (ka-ching, but not entirely) those elements comprise a network — a Flex Net? An iron octagon? — of funders, vendors, apparatchiks, electeds, NGOs, and miscellaneous mercenaries, with assets in the press and the intelligence community.

Note, of course, that the class power of the PMC both expresses and is limited by other classes; oligarchs and American gentry (see 'industrial model' of Ferguson, Jorgensen, and Jie) and the working class spring to mind. Suck up, kick down.

* * *

"Bernie, on his agenda for the Senate health panel" [WaPo]. "You might not have guessed this: As Sen. Bernie Sanders takes the gavel of the chamber's prestigious health panel, a hearing on Medicare-for-all isn't at the top of his list." • Surely we can do better than this. Though I confess I'm unsure how. And speaking of useless Democrats:

Did you know that not having Medicare for All results in 68K dead Americans each year? That's not including 1/3 of all COVID deaths due to lack of healthcare. You haven't used your power to get us a vote on universal, guaranteed healthcare but you're worried about our stoves?

— Prof Zenkus (@anthonyzenkus) January 11, 2023
Realignment and Legitimacy
"Black Political Incorporation under Neoliberalism: The Routinization of Interracial Urban Regimes" [nonsite.org ]. "After more than fifty years of black urban governance, black politicians and managers have successfully navigated a contradictory terrain to maintain power and accrue benefits for themselves and their class. Of course, their own personal and political success has nothing to do with how well they have served their constituents. Otherwise working-class residents would have a chance at gaining quality public schools, affordable housing, living wage jobs, adequate health care, beautiful parks, and reliable public transportation systems. Success has everything to do with the staying power of African American professionals and managers in the positions of mayor, city councilors, housing authority directors, budget and planning directors, and school superintendents. Their longevity speaks to the postwar expansion and continuity of the black professional and managerial class delivering a seemingly unending supply of pedigreed candidates for municipal office.1 More than any other reason, their sustained run is a testament to the role this class continues to play in urban governance. They have continued to promote a developmental agenda for downtown expansion and investment, diverting public capital away from addressing deteriorating housing and infrastructure, dwindling job prospects, chronically under-resource public schools, and the violent character of making ends meet in the informal economy." • Yep. (This by Reed (recommended by Flora) is great, too. Eviscerating reparations entrepreneur Darity en passant is typical Reed…
#COVID19
Lambert here: I am but a humble tapewatcher, but unlike Eric Topol, I'm not calling a surge, because the last peak was Biden's Omicron debacle, and after an Everest like that, what's left? Topol's view is the establishment view: Hospital-centric. Mine is infection-centric. I do not see the universal acceleration or doubling in cases that I would expect to see based on past surges.
I am calling a "Something Awful." It's gonna be bad, in some new way, and we don't know how, yet (but see here for immune system dysregulation, which is looking pretty awful). Wastewater has taken off in New York, Chicago, San Francisco, and Los Angeles, right on time, two weeks after Thanksgiving. Those are not only in themselves large cities, they are all the sites of international airports (reminiscent of the initial surge in spring 2020, which emanated, via air travel, from New York). Wastewater is a leading indicator for cases, which in turn lead hospitalization (and death). In addition, positivity has reached its highest level ever, at least at Walgreens, and BQ.1* has taken over, closely followed by XBB, and both are immunue escape variants. UPDATE The rise of XBB in the Northeast is very concerning. The effects of all our holiday travel should be playing out in the next two weeks, and we are one week in.
Stay safe out there!
* * *
• "Endothelial dysfunction in COVID-19: an overview of evidence, biomarkers, mechanisms and potential therapies" [Nature]. From October 2022, still highly germane: "Mounting evidence suggests that SARS-CoV-2 infection leads to multiple instances of endothelial dysfunction… Direct SARS-CoV-2 infection or indirect effect arising from SARS-CoV-2 infection leads to endothelial dysfunction in pan-vasculature, which results in the development of ." • It's just a cold! Handy graphic:
* * *
• Taibbi on Bill Maher (sigh). Worth a listen:
"Doctors are afraid to speak out" – Bill Maher pic.twitter.com/STPK1k1ABD

— Anish Koka, MD (@anish_koka) January 5, 2023
* * *
• "The New Yorker Goes All In on Our Precious Bodily Fluids" [Gregg Gonsalves, The Nation]. The deck: "Or, how I learned to stop worrying and love the virus." More on Emma Green's horrid New Yorker article: "A flurry of pieces in mainstream, prestige media outlets like The New Yorker, The New York Times, and The Washington Post—followed by some admiring posts on social media from clinicians who should know better—took things a few steps further at the end of 2022. These commentators suggested that those who refuse to forget, move on, and stop paying attention to the pandemic are 'holdouts,' 'hardliners,' adherents to a 'fringe politics'—and, an appellation almost too silly to write, 'communists.' The implication is that people who still care—or care too much—are beyond the pale, and also, perhaps, harboring a touch of danger in what they represent…. But you also have to wonder: Why target this small group of progressive scientists and activists? I suspect it's because Green wants to make an example of them. She has no interest in challenging the government's response to the pandemic; instead, ." • Sounds like Gonsalves has been reading Bourdieu.
* * *
Maskstravaganza: "The best masks to protect you from the newest XBB.1.5 'Kraken' COVID variant" [New York Post]. "Want to tame the beast? We know we are a broken record, but the best way to do so is with a mask. However, not just any mask will do anymore, especially for this current XBB.1.5. strain, now nicknamed Kraken…. No matter what, masking up is still the way to go, even three years after the pandemic's start…. • This is, amazingly enough, in the Shopping section, and there seems to be a promotional tie-in with Armbrust American. But this is America….
* * *
• "Peter Hotez on new COVID XBB1.5 variant: 'People are saying this will be mild. It's not mild'" [Houston Chronicle]. "People"? Which people? More: " I was hoping 2022 wouldn't be as bad as 2021, and unfortunately it turned out to be almost as bad. That first omicron wave a year ago, the first months of 2022, was a disaster with a huge number of deaths. That was disturbing and disappointing. After the terrible delta wave in 2021, I didn't think it could get worse, and it almost did. I'm hopeful 2023 won't be as bad as 2022, but it's not starting out great…. As we're speaking, we're seeing XBB1.5 become the dominant variant…. It's starting to smell like another traditional winter wave like we had in 2021 with alpha and 2022 with omicron. We don't have those proportions in Texas yet, but we probably will. So it might be rough the next couple of months. Because so many people were infected or vaccinated or infected and vaccinated, there may be some mitigating effects." • I like "smell like." Seems like Hotez is a tapewatcher too! (The best proxy we have now for cases is wastewater. Unfortunately, CDC's wastewater tracking network is going grey just at the critical time. What about my personal risk assessment?
* * *
• "New Chinese mRNA Covid vaccine shows positive early results" [Financial Times]. "A Chinese vaccine maker has announced positive early results for its messenger RNA jab, as Covid-19 spreads rapidly across a population that has been inoculated with more traditional vaccines. CanSinoBio on Friday said its vaccine had elicited 23 to 29 times more antibodies than an inactivated jab when given as a booster to people who had already received three shots. The 'phase 2b' trial of more than 400 people — which usually comes before a gold-standard phase 3 trial — showed positive results against the Omicron variants BA.1 and BA.5." • So now we having a big natural experiment on mRNA. If we can ever get good data out of China — or the United States.
• "Exclusive: China in talks with Pfizer for generic COVID drug" [Reuters]. "China is in talks with Pfizer Inc (PFE.N) to secure a licence that will allow domestic drugmakers to manufacture and distribute a generic version of the U.S. firm's COVID-19 antiviral drug Paxlovid in China, three sources told Reuters. China's medical products regulator – the National Medical Products Administration (NMPA) – has been leading the talks with Pfizer since late last month, one of the sources with knowledge of the matter said." • Late to the party, see below.
* * *
• "COVID drug Paxlovid was hailed as a game-changer. What happened? [Nature]. Among other things: "Paxlovid relies on a robust COVID-19 testing infrastructure and access to primary-care physicians and pharmacies, she notes. This amplifies pre-existing disparities resulting from race and income. For example, Black and Hispanic populations were about 36% and 30% less likely to be prescribed Paxlovid, respectively, compared with white populations, according to an analysis5 of almost 700,000 people who sought COVID-19 care across 30 US sites. Fears about hesitancy, says Sosin, provide an excuse to blame individuals rather than policymakers and to deflect 'attention away from the system that needs to be in place to deliver the drugs.'"
* * *
Transmission
Here is CDC's interactive map by county set to community transmission (the "red map," which is the map CDC wants only hospitals to look at, not you.) The map is said to update Monday-Friday by 8 pm:
The previous map: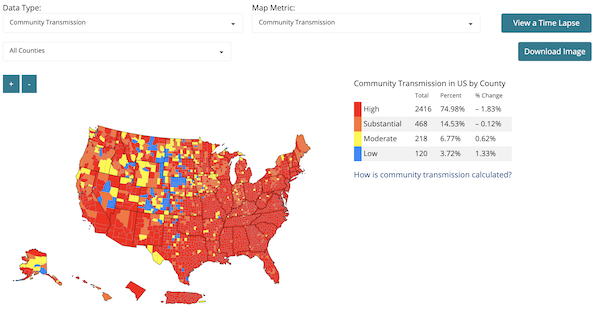 NOTE: I shall most certainly not be using the CDC's new "Community Level" metric. Because CDC has combined a leading indicator (cases) with a lagging one (hospitalization) their new metric is a poor warning sign of a surge, and a poor way to assess personal risk. In addition, Covid is a disease you don't want to get. Even if you are not hospitalized, you can suffer from Long Covid, vascular issues, and neurological issues. That the "green map" (which Topol calls a "capitulation" and a "deception") is still up and being taken seriously verges on the criminal.
Positivity
From the Walgreen's test positivity tracker, published January 11: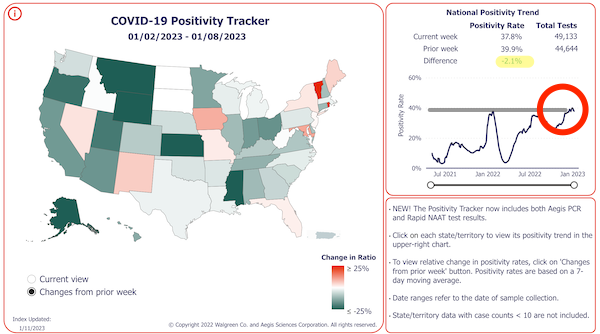 -2.1.%. Still going down.
Wastewater
Wastewater data (CDC), January 7: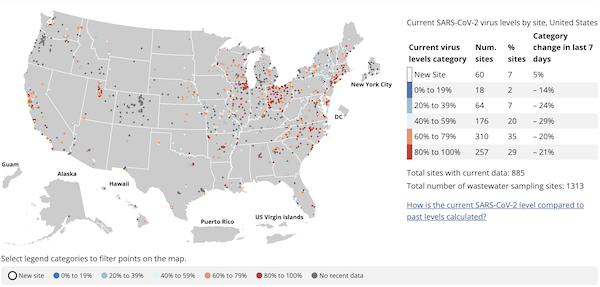 Still too much grey. New York city down. Really? And MWRA isn't updating either. Some debacle in the lab? Not unknown at CDC?
January 6: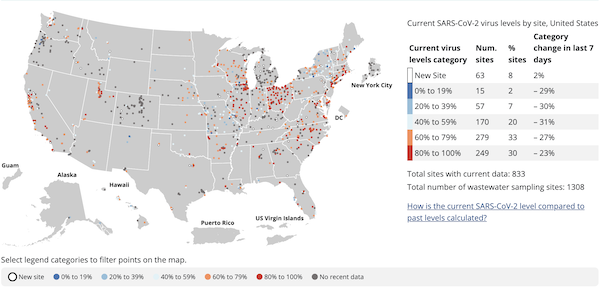 NOT UPDATED And MWRA data, January 5: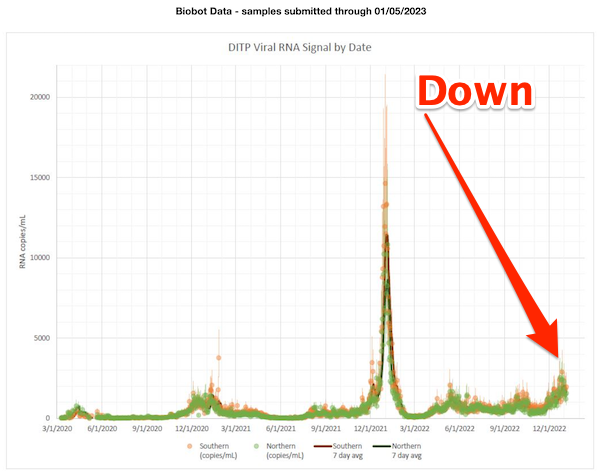 Lambert here: Both North and South are down. However, not all the students are back; BU classes begin January 19; Harvard's January 22.
Variants
Lambert here: It's beyond frustrating how slow the variant data is. Does nobody in the public health establishment get a promotion for tracking variants? Are there no grants? Is there a single lab that does this work, and everybody gets the results from them? [grinds teeth, bangs head on desk]. UPDATE Yes. See NC here on Pango. Every Friday, a stately, academic pace utterly incompatible with protecting yourself against a variant exhibiting doubling behavior.
NOT UPDATED Variant data, national (Walgreens), December 23: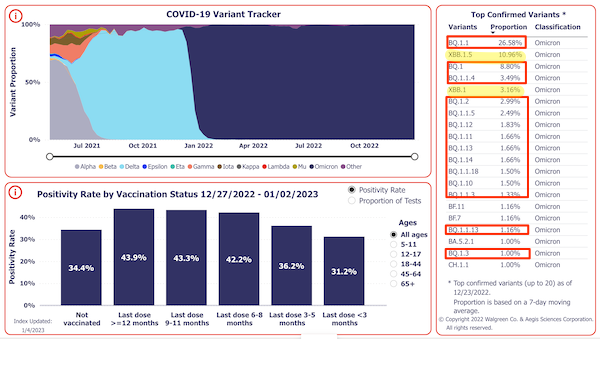 Lambert here: BQ.1* dominates, XBB moving up fast. Note all the BQ subvariants; it's almost like something's encouraging them, like maybe a policy of mass infection. Sure hope none of 'em get lucky, like XBB.
NOT UPDATED Variant data, national (CDC), December 17 (Nowcast off):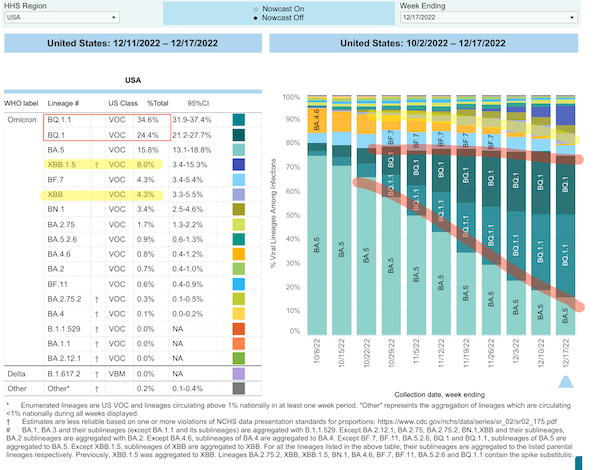 BQ.1* takes first place. XBB coming up fast. (For BQ.1/XBB and vaccine escape, see here.) Here is Region 2, the Northeast, where both BQ.1* and XBB are said to be higher, and are: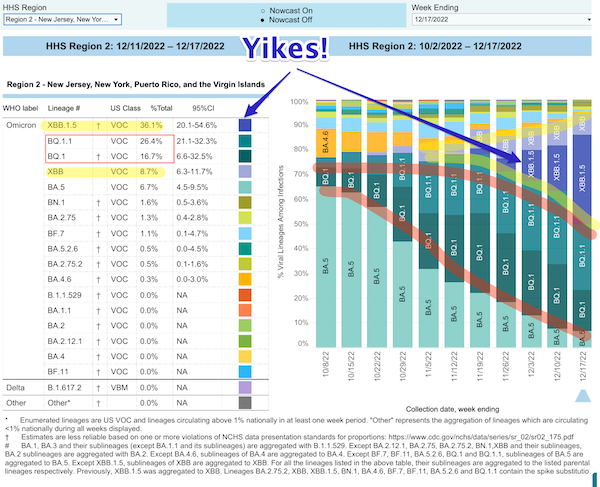 Holy moley, XBB.1.5! (Makes clear that Region 2 (New England) varies greatly from the national average. Wouldn't it be interesting if we ended up with different variants dominating different parts of the country.
• As a check, since New York is a BQ.1* hotbed, New York hospitalization, updated January 10: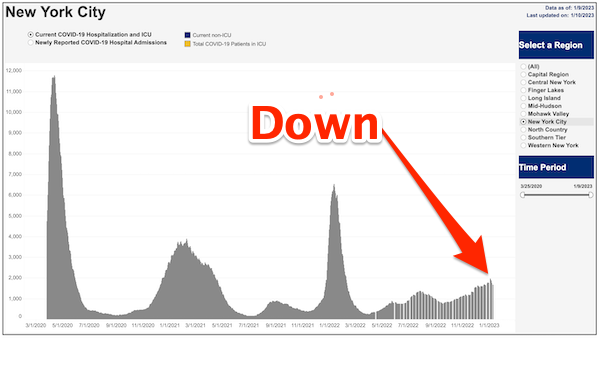 A retreat from the steady rise I have found so concerning.
• Hospitalization data for Queens, updated January 8: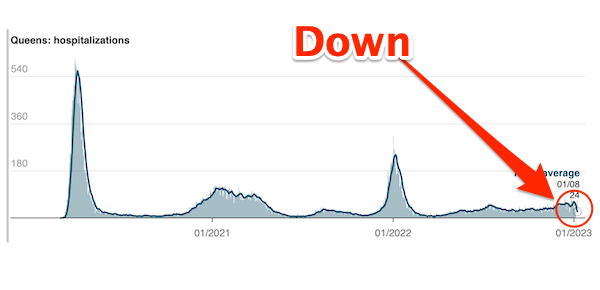 Backward revision, down.
Deaths
Death rate (Our World in Data):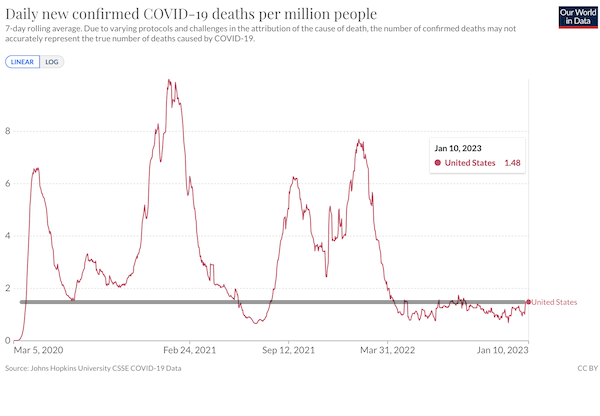 Total: 1,121,725 – 1,121,298 = 427 (427 * 365 = 155,855 deaths per year, today's YouGenicist™ number for "living with" Covid (quite a bit higher than the minimizers would like, though they can talk themselves into anything. If the YouGenicist™ metric keeps chugging along like this, I may just have to decide this is what the powers-that-be consider "mission accomplished" for this particular tranche of death and disease).
Lambert here: Deaths lag, so we have a nice little jump here as a consequence of whatever it is we've been going through.
It's nice that for deaths I have a simple, daily chart that just keeps chugging along, unlike everything else CDC and the White House are screwing up or letting go dark, good job.
• Here is a long thread on calculating Covid deaths in the UK. The methodology is important, even if it turns out the causality for excess deaths (ED) is different from the US:
The gold standard for an ED analysis is doing it using age-standardized mortality rates (ASMR) which I did, using narrow age bands

When you compare these with the historic trend, you see that indeed, there is no real major excess deaths in 2022 not explanable by covid

— Jean Fisch (@Jean__Fisch) January 11, 2023
Long story short:
So everything points at the pressures on the NHS as being the trigger for these unexpected excess deaths

This adds more elements to something which is being widely suspected, among others recently by @ActuaryByDay

— Jean Fisch (@Jean__Fisch) January 11, 2023
Stats Watch
There are no official statistics of interest today.
* * *
The Bezzle: "Silvergate Bank loaded up on $4.3 billion in Home Loan bank advances" [American Banker]. "When depositors began pulling money out of Silvergate Capital Corp. following the collapse of the cryptocurrency exchange FTX, the California bank shored up its liquidity by tapping a quasi-government agency not typically known as a lender of last resort. Silvergate received $4.3 billion from the Federal Home Loan Bank of San Francisco late last year, company filings show. The billions in liquidity provided by the FHLB in the fourth quarter alone helped La Jolla, Calif.,-based Silvergate stave off a further run on deposits. The crypto-friendly bank now holds roughly $4.6 billion in cash — the bulk of which came from Home Loan Bank advances, according to select financial metrics that Silvergate released last week. The lifeline that Silvergate got from the Home Loan Bank System shows one way in which the crypto industry has managed to find its way into the mainstream banking system. It also comes as the Federal Housing Finance Agency is reviewing the mission of the Home Loan banks. Critics have questioned the system's hybrid public-private business model and whether the banks are engaged in the primary mission of supporting housing. Though the banks were created during the Depression to support housing finance, some experts suggest the funding to Silvergate is an example of mission creep." • Well, er. Let's hope this contagion hasn't spread very far!
The Bezzle: Quite a pile-up:
I obtained surveillance footage of the self-driving Tesla that abruptly stopped on the Bay Bridge, resulting in an eight-vehicle crash that injured 9 people including a 2 yr old child just hours after Musk announced the self-driving feature.

Full story: https://t.co/LaEvX9TzxW pic.twitter.com/i75jSh2UpN

— Ken Klippenstein (@kenklippenstein) January 10, 2023
I'm wondering what the threshold is for self-driving deaths to lead to abolition. One death? 10, in a big pile-up? 100, in a national study? More?
The Bezzle:
I've experienced some of the many flaws on this spreadsheet, and I've really only driven using it for not many miles. https://t.co/sEJYzH9pgB

— Steven Dennis (@StevenTDennis) January 11, 2023
"Tesla hopes having large numbers of people training up the algorithm will solve these problems." Running experiments on the general population without their informed consent seems to be a thing these days. It's tiresome.
Tech: Elon crapifies Twitter (1): Images no longer cropped on the timeline on mobile: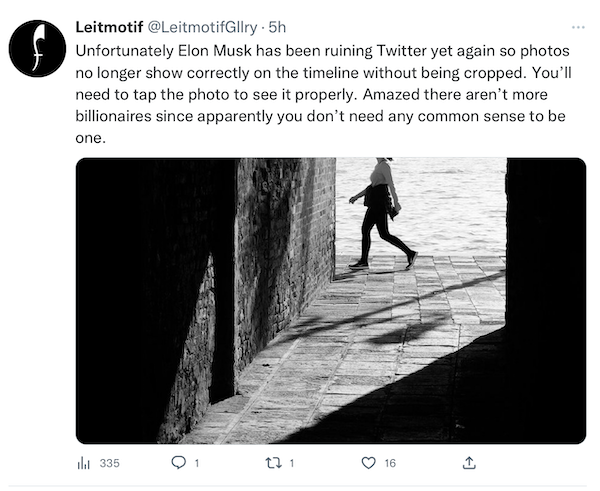 The full image:
Unfortunately Elon Musk has been ruining Twitter yet again so photos no longer show correctly on the timeline without being cropped. You'll need to tap the photo to see it properly. Amazed there aren't more billionaires since apparently you don't need any common sense to be one. pic.twitter.com/L2j4uuQ5cI

— Leitmotif (@LeitmotifGllry) January 11, 2023
Social media managers everywhere tearing their hair out just now….. In addition to creators, of course.
This abomination seems not to have been rolled out on the desktop (yet) but if it is:
Now is a good time for a reminder that Twitter Large Thumbnails extension exists on desktop browsers to completely remove cropping on single-media posts bc this is such a stupid ass-backwards move

chrome: https://t.co/H4ByCgvYz4

firefox: https://t.co/274t3gTcMW https://t.co/iVVGvTh0bP pic.twitter.com/8GXtxMZKhU

— jinh ☀🍎 hatingway (@forgivenrevelry) January 10, 2023
Tech: Elon crapifies Twitter (2): "Twitter's Algorithmic 'For You' Feed Becomes Default Timeline on iOS" [MacRumors]. Not on the desktop, fortunately. "Twitter has made the algorithmic "For You" timeline the default feed that users see when they open the iOS app, a controversial change that the company has tried previously before rolling it back due to a pronounced backlash. In a change that is sure to draw the ire of some users, Twitter has removed the sparkle-shaped icon from the top-right of the app's interface that let users switch between 'For You' and 'Latest' and replaced it with two tabs called 'For You' and 'Following.' 'For You' still shows users tweets from people they follow out of order, sprinkled with algorithmically suggested tweets from people they don't [which is a problem, since the algo is garbage], while 'Following' shows tweets in pure reverse chronological order. While the change technically makes it easier to switch timelines [although why on earth anyone would want to do that escapes me] – users can now just swipe between them instead of tapping the star icon – users on iOS will now always see the algorithmic 'For You' tab when opening the app, " • The gall, calling the algo timeline "for you," when the timeline that's really for me is the one I carefully curated, ffs. The gall, in fact, of both forcing the algo on users and rolling back cropping to 2020, when those were the two misfeatures most complained about by users (after the lack of an edit button). The difficulty here is that Twitter's current chief competitor, Mastodon, is dominated by child pr0n and ped0.
* * *
Today's Fear & Greed Index: 53 Neutral (previous close: 50 Neutral) [CNN]. One week ago: 41 (Fear). (0 is Extreme Fear; 100 is Extreme Greed). Last updated Jan 11 at 2:23 PM EST.
Groves of Academe
"The Consolidation-Disruption Index Is Alarming" [The Atlantic]. "We should be living in a golden age of creativity in science and technology. We know more about the universe and ourselves than we did in any other period in history, and with easy access to superior research tools, our pace of discovery should be accelerating. But, as I wrote in the first edition of this newsletter, America is running out of new ideas. 'Everywhere we look we find that ideas … are getting harder to find,' a group of researchers from Stanford University and MIT famously concluded in a 2020 paper. Another paper found that 'scientific knowledge has been in clear secular decline since the early 1970s,' and yet another concluded that 'new ideas no longer fuel economic growth the way they once did.'" • No need for new ideas when everybody has just one idea: Profit (or, in the case of academics, symbolic capital if they don't have what it takes to become a star and pick up some patents).
"Performance of ChatGPT on USMLE: Potential for AI-Assisted Medical Education Using Large Language Models" (preprint) [medRxiv]. "We evaluated the performance of a large language model called ChatGPT on the United States Medical Licensing Exam (USMLE), which consists of three exams: Step 1, Step 2CK, and Step 3. ChatGPT performed at or near the passing threshold for all three exams without any specialized training or reinforcement. Additionally, ChatGPT demonstrated a high level of concordance and insight in its explanations. These results suggest that large language models may have the potential to assist with medical education, and potentially, clinical decision-making." • I'm not sure that's what the results suggest at all.
News of the Wired
Finally, somebody agrees with me on "smart." Granted, an Australian Senator:
AUSTRALIA – Senator Alex Antic.

"your streets are spying on you, your mobile phone is spying on you, your cities are spying on you …don't be fooled"

SMART is the new word for control.

Can you see it yet? 🔥

— Bernie's Tweets (@BernieSpofforth) January 6, 2023
* * *
Contact information for plants: Readers, feel free to contact me at lambert [UNDERSCORE] strether [DOT] corrente [AT] yahoo [DOT] com, to (a) find out how to send me a check if you are allergic to PayPal and (b) to find out how to send me images of plants. Vegetables are fine! Fungi and coral are deemed to be honorary plants! If you want your handle to appear as a credit, please place it at the start of your mail in parentheses: (thus). Otherwise, I will anonymize by using your initials. See the previous Water Cooler (with plant) here. From CM: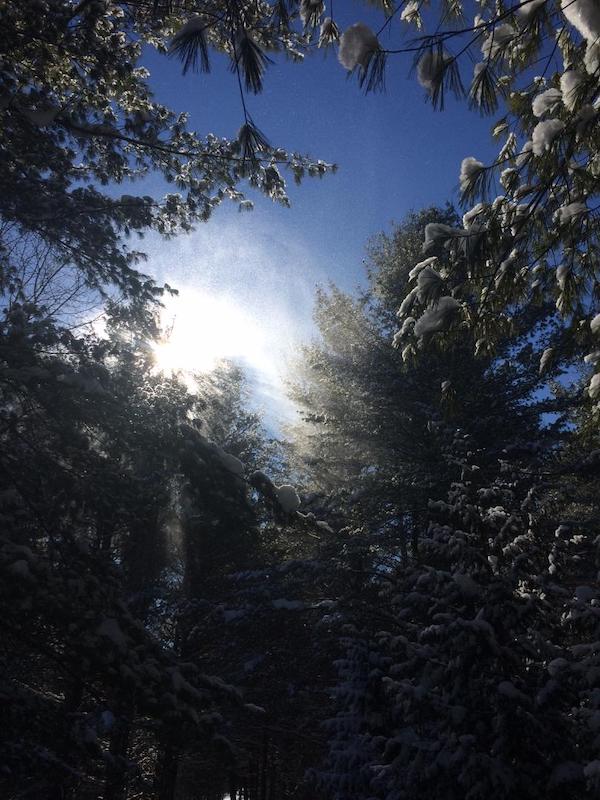 CM writes: "The sunlight catching the powdered snow drifting off the pine trees created a magical effect. Taken in Grey County, Ontario."
Readers, puh-leeze send me more plants!
* * *
Readers: Water Cooler is a standalone entity not covered by the annual NC fundraiser. So if you see a link you especially like, or an item you wouldn't see anywhere else, please do not hesitate to express your appreciation in tangible form. Remember, a tip jar is for tipping! Regular positive feedback both makes me feel good and lets me know I'm on the right track with coverage. When I get no donations for five or ten days I get worried. More tangibly, a constant trickle of donations helps me with expenses, and I factor in that trickle when setting fundraising goals:
Here is the screen that will appear, which I have helpfully annotated: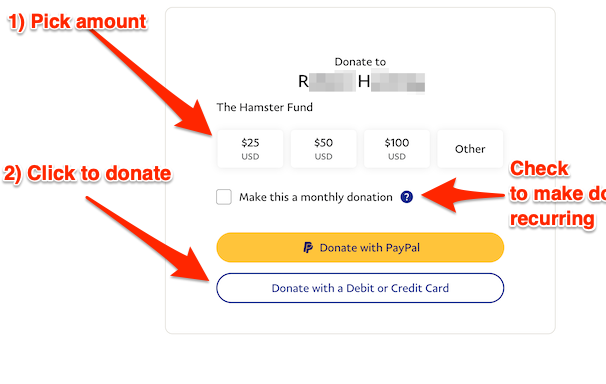 If you hate PayPal, you can email me at lambert [UNDERSCORE] strether [DOT] corrente [AT] yahoo [DOT] com, and I will give you directions on how to send a check. Thank you!