By Lambert Strether of Corrente.
Bird Song of the Day
Greater Swamp Warbler, Yala Swamp and Lake Kanyaboli (general), Nyanza, Kenya.
* * *
Politics
"But what is government itself, but the greatest of all reflections on human nature?" –James Madison, Federalist 51
"Here's food for thought, had Ahab time to think; but Ahab never thinks; he only feels, feels, feels" –Herman Melville, Moby Dick
"So many of the social reactions that strike us as psychological are in fact a rational management of symbolic capital." –Pierre Bourdieu, Classification Struggles
Biden Administration
"Kamala Harris requires negative COVID tests for Senate swear-in photo op" [New York Post]. "Vice President Kamala Harris is requiring senators, their spouses and guests older than the age of 2 to submit a negative COVID-19 test before taking part in the traditional swearing-in photo op when the 118th Congress convenes Tuesday, Capitol Hill sources confirmed to the Post." • I thought the pandemic was over?

"Here are the 4 big election storylines for 2023" [Politico]. "Here are the four big election storylines to follow in 2023… The Kentucky gubernatorial contest has already gotten off to a chaotic start, with a slew of prominent Republicans in the state lining up to challenge Democratic Gov. Andy Beshear, who is seeking a second term…. After a much-delayed redistricting process, states scrambled to lock in their congressional maps ahead of the 2022 election. But those maps are anything but set-in-stone for 2024…. A handful of states will also hold state legislative races in 2023, with the contests in Virginia as the likely headliners in November. Both chambers are up in the commonwealth, which will be the only state that has a split Legislature in 2023… Five of the nation's 10 largest cities — Chicago, Houston, Philadelphia, San Antonio and Dallas — are holding mayoral elections this year."

"You're not getting child tax credit checks anymore. Here's why" [Los Angeles Times]. "If you raised children during the pandemic, you probably remember something remarkable: getting checks in the mail, every month, from the federal government. The expanded child tax credit provided a few hundred dollars to help pay for your son's braces or your daughter's ballet lessons — or to ease the stress over whether you had enough money to cover the mortgage. Then, one day, the checks just stopped coming. A sudden end to the payments was not what the measure's boosters had intended, or its critics had feared. Supporters of the 2021 boost to the Child Tax Credit — part of the $1.9-trillion COVID-19 relief package — had intended it as an initial effort, not a one-off. They hoped that the measure would prove so successful, and so popular, that Congress would feel compelled to extend it. The policy succeeded at reducing child poverty. The U.S. child poverty rate fell 46% to its lowest level in 2021, according to the U.S. Census Bureau. The temporary credit lifted nearly 4 million children out of poverty and reduced the number of households that reported not having enough food. The expanded benefit delivered more money to 61 million children in 36 million households and reached even the poorest families, who didn't qualify before because they had no income. The monthly payments allowed families to afford essentials, including groceries, rent and clothing, researchers found. But as the pandemic receded, so did the expanded credit's chances of survival. In January 2022, Republicans and Democratic Sen. Joe Manchin refused to extend it. The effects of the program's end were immediate, driving 3.7 million more children back into poverty that month compared with the month before. A year later, efforts to revive the $100-billion program have failed again, erasing one of President Biden's biggest domestic achievements and prompting the program's supporters to reflect on why a policy that changed so many people's lives just fizzled out." • Hey, remember when Trump actually reduced poverty? Until the Democrats increased it again?
Republican Funhouse
"Here are the 20 House Republicans who voted against McCarthy for speaker on the third ballot" [CNN]. Rep. Andy Biggs, Rep. Dan Bishop, Rep. Lauren Boebert, Rep. Josh Brecheen, Rep. Michael Cloud, Rep. Andrew Clyde, Rep. Eli Crane, Rep. Matt Gaetz, Rep. Bob Good, Rep. Paul Gosar, Rep. Andy Harris, Rep. Anna Paulina Luna, Rep. Mary Miller, Rep. Ralph Norman, Rep. Andy Ogles, Rep. Scott Perry, Rep. Matt Rosendale, Rep. Chip Roy, Rep. Keith Self, and Rep. Byron Donalds. • Is your Representative here? If so… What are your views on them? Meanwhile:

JUST IN – Trump endorses Kevin McCarthy in all caps. pic.twitter.com/jgzOM6BLMn

— Disclose.tv (@disclosetv) January 4, 2023

"Centrist Republican says 'preliminary talks' with Democrats underway on Speaker deal" [The Hill]. "Rep. Kevin McCarthy (R-Calif.) has begun talks with Democrats about a deal to support a 'consensus candidate' for Speaker or hold out from voting to ensure he needs to reach a lower threshold to lead the chamber, according to Rep. Don Bacon (R-Neb.) Bacon told CNN on Wednesday morning that McCarthy was in 'preliminary talks' with lawmakers to reach a deal, but said he wanted to hold back on the details of the conversations to not get ahead of the negotiations. 'There are preliminary talks, but we don't want to go too fast on this because that then highjacks what Kevin is trying to do, and we want to support Kevin, he's worked hard to get this,' Bacon said. McCarthy left the House Tuesday after a historic defeat in the first three rounds of voting for the gavel. It was the first time in 100 years that a contest for Speaker went past the first round of balloting. He was blocked by 20 Republican lawmakers who refused to support his bid." • Commentary:

The problem is liberal media figures 1) have no understanding of internal GOP divisions and 2) can only understand the world through archaic left/right prisms.

Gaetz's differences with McCarthy include the latter's subservience to the Endless War machine, FBI/CIA and Big Tech. https://t.co/vAkidcRcbD

— Glenn Greenwald (@ggreenwald) January 4, 2023

My understanding isn't that great either. (Perhaps readers can help.) I do notice that on topics like Ukraine and Big Tech, Republicans keep asking for my vote.

"House begins fourth vote for speaker as McCarthy opponents dig in" [NBC]. "'I was thinking today, 'Gosh, Kevin McCarthy was only short a few votes.' I wish I could be part of some kind of a unity caucus that would yield him the votes,' Ohio Democratic Rep. Marcy Kaptur told a local news outlet. 'I was going around talking to some of my Republican colleagues about that.'" • Gosh!

"Jordan says no chance he'll be Speaker despite peeling off McCarthy's support" [The Hill]. • Dodged a bullet there; I can't imagine what "the 20" were thinking. Surely the Republicans don't need another Denny Hastert?
Democrats en Déshabillé
Patient readers, it seems that people are actually reading the back-dated post! But I have not updated it, and there are many updates. So I will have to do that. –lambert

I have moved my standing remarks on the Democrat Party ("the Democrat Party is a rotting corpse that can't bury itself") to a separate, back-dated post, to which I will periodically add material, summarizing the addition here in a "live" Water Cooler. (Hopefully, some Bourdieu.) It turns out that defining the Democrat Party is, in fact, a hard problem. I do think the paragraph that follows is on point all the way back to 2016, if not before:

The Democrat Party is the political expression of the class power of PMC, their base (lucidly explained by Thomas Frank in Listen, Liberal!). ; if the Democrat Party did not exist, the PMC would have to invent it. . ("PMC" modulo "class expatriates," of course.) Second, all the working parts of the Party reinforce each other. Leave aside characterizing the relationships between elements of the Party (ka-ching, but not entirely) those elements comprise a network — a Flex Net? An iron octagon? — of funders, vendors, apparatchiks, electeds, NGOs, and miscellaneous mercenaries, with assets in the press and the intelligence community.

Note, of course, that the class power of the PMC both expresses and is limited by other classes; oligarchs and American gentry (see 'industrial model' of Ferguson, Jorgensen, and Jie) and the working class spring to mind. Suck up, kick down.

* * *

"Twitter Files: Why Twitter Let the Intelligence Community In" [Matt Taibbi, TK News]. • The prose version of the thread in Links this morning. Full of horrid stuff; remember the Hamilton 68 dashboard? Worth reading in full. The piece isn't a smoking gun; it's a smoking armory. Taibbi cites chapter and verse on a topic I've been nattering about for some time, even if at times I thought I was too cynical: The merger of the Democrat Party, the intelligence community, and the press into a single entity. Moreover, Taibbi explains what sparked the merger: Russiagate. So we have a lot to thank the Hillary Clinton campaign for. One example of the merger:

18.After spending years rolling over for Democratic Party requests for "action" on "Russia-linked" accounts, Twitter was suddenly playing tough. Why? Because, as Roth put it, it would pose "major risks" to bring the GEC in, "especially as the election heats up." pic.twitter.com/tAd6lVh2KH

— Matt Taibbi (@mtaibbi) January 3, 2023

Trust me on this. There are no anarchists in the Democrat Party:

Meanwhile, in the Democratic Party, our broad, diverse coalition that ranges from anarchists and socialists to neo-con former Republicans seems able to continuously come together and make things happen.

— Ron Filipkowski 🇺🇦 (@RonFilipkowski) January 3, 2023

Speaking of oppo:

Over the last 15 years, I've used my research into right-wing Christianity to impact maybe a half dozen election contests – presidential, Senate, House, gubernatorial.

Never have I been contacted by anyone in the Democratic Party about this unpaid work. https://t.co/ya7xGNyVwB

— Bruce Wilson (@brucewilson) December 23, 2022
Realignment and Legitimacy
"California seeks sterilization victims to pay reparations" [Associated Press]. " About 600 people alive today can't have children because California's government sterilized them either against their will or without their knowledge, and now the state is trying to find them so it can pay them at least $15,000 each in reparations. But after a year of searching, the state has approved just 51 people for payments out of 310 applications. There's one year left to look before the $4.5 million program shuts down and the challenges remain steep. State officials have denied 103 people, closed three incomplete applications and are processing 153 others — but they say it's difficult to verify the applications as many records have been lost or destroyed. Two groups of people are eligible for the money: Those sterilized by the government during the so-called eugenics movement that peaked during the 1930s and a smaller group who were victimized while in state prisons about a decade ago." Ah, eugenics. How soon we forget.
#COVID19
Lambert here: I am but a humble tapewatcher, but unlike Eric Topol, I'm not calling a surge, because the last peak was Biden's Omicron debacle, and after an Everest like that, what's left? Topol's view is the establishment view: Hospital-centric. Mine is infection-centric. I do not see the universal acceleration or doubling in cases that I would expect to see based on past surges.
I am calling a "Something Awful." It's gonna be bad, in some new way, and we don't know how, yet (but see here for immune system dysregulation, which is looking pretty awful). Wastewater has taken off in New York, Chicago, San Francisco, and Los Angeles, right on time, two weeks after Thanksgiving. Those are not only in themselves large cities, they are all the sites of international airports (reminiscent of the initial surge in spring 2020, which emanated, via air travel, from New York). Wastewater is a leading indicator for cases, which in turn lead hospitalization (and death). In addition, positivity has reached its highest level ever, at least at Walgreens, and BQ.1* has taken over, closely followed by XBB, and both are immunue escape variants. UPDATE Walgreen's positivity, Boston MWRA data going vertical, and the rapid rise of XBB in the Northeast are all very concerning. The effects of all our holiday travel should be playing out in the next two weeks. Readers, please feel free to add holiday anecdotes.
Stay safe out there!
• Sitrep from Ashish Jha:
Good morning

Over the holidays, you may have heard about Omicron XBB.1.5

It went from 4% of sequences to 40% in just a few weeks

That's a stunning increase

So what does it mean? Will it cause a wave of serious illness and death?

Here's what we know, don't know

🧵

— Ashish K. Jha, MD, MPH (@AshishKJha46) January 4, 2023
This is the official line. I found this of interest:
What you can do (continued)…

4. Work to improve ventilation/filtration in indoor spaces

5. If you have symptoms: test right away and avoid hanging out with high risk folks

6. If you do get Covid – immediately get evaluated for treatments. They are lifesavers.

9/n

— Ashish K. Jha, MD, MPH (@AshishKJha46) January 4, 2023
That Jha is advocating ("Scarlet Letter") masks at all (#3) is almost enough to make me call a surge right now. And at least he mentions ventilation (#4), though who knows what "work to improve" means. If Jha means Corsi-Rosenthal boxes, for example, he should say so. And throwing in a #CovidIsAirborne wouldn't hurt, would it?
* * *
• Can't be repeated too often:
This is so brain-shatteringly obvious.

— tern (@1goodtern) January 4, 2023
And:
No variant will ever evolve that can evade a hepa filter.

— tern (@1goodtern) January 2, 2023
• Well, French air is different:
This is amazing, France is going to require clean air in classrooms, aiming at CO2 levels of 800 ppm. Other countries should quickly follow suit. Aside from limiting Covid, just the benefits of lowering common respiratory viruses makes this worth it alone, as any parent knows. https://t.co/SdImE7E522

— Kashif Pirzada, MD (@KashPrime) January 3, 2023
800 ppm seems high. Linking to the Biden Administration equivalent, "Fact Sheet: Departments And Agencies Commit To Cleaner Indoor Air Across The Nation", I commented: "I don't see who or what is in charge of this effort. If Nixon had decided to clean the water or the air with this structure, if structure it be, I don't think much would have been done." Quite a contrast between France's approach and our own.
• Alternative CR box technology:
People should be following Rob and paying more attention to the pc fan cr boxes. I think they will get really popular soon. They are the quietest portable air cleaners that we have. https://t.co/Vi8OcashQq

— Joey Fox (@joeyfox85) January 2, 2023
* * *
• Here is an introduction to Far-UV. Thread:
Far-UV – 9 Threads

1/ Intro
2/ Safe Use
3/ What Stops Far-UV?
4/ Issues with Far-UV
5/ Testing the Lily
6/ Testing the X-One
7/ Purchasing Far UV
8/ Personal Far UV – Does it work?
9/ Ozone and Byproducts

— Joey Fox (@joeyfox85) January 2, 2023
(I thought I had linked to this, but I can't find it, so.) I haven't done research on Far-UV at all. It worries me, because it seems like exactly the sort of "silver bullet" technical fix our society loves ("Solve Covid by screwing in a light bulb" — probably very unfair). So I will be interesting to hear what readers think. Especially the engineers.
* * *
• One of a series on "forever" (1):
"Will you cook chicken to at least 75°C for the rest of your life?"

Yes, yes I will. It's a bit of a hassle, but I don't want to get sick. Pretty simple, really.

— Compute My Head Strap N95 🖲 (@MixtUpMixy) January 4, 2023
• One of a series on "forever" (2):
"Are we gonna mask forever?"

Are communities going to be forced to boil water forever?

Oops, your privilege is showing.https://t.co/BMvxDAFOom

— David Fisman (@DFisman) January 2, 2023
* * *
Transmission
For grins, here's a look at hospitalization ("new admissions") from the CDC:
Yes, hospitalization is up, but because CDC truncates the chart to begin on 2020-08-01, we can't compare today's peak to the the entire pandemic, good job. I have drawn a grey "Fauci" line to emphasize the comparison. (Note that on the right, the herd is being nicely culled.)
Transmission
Here is CDC's interactive map by county set to community transmission (the "red map"). (This is the map CDC wants only hospitals to look at, not you.) The map is said to update Monday-Friday by 8 pm: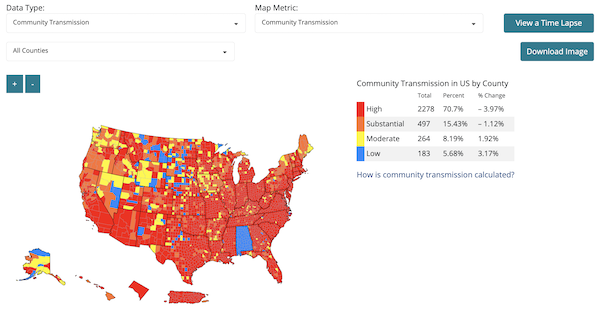 The previous map: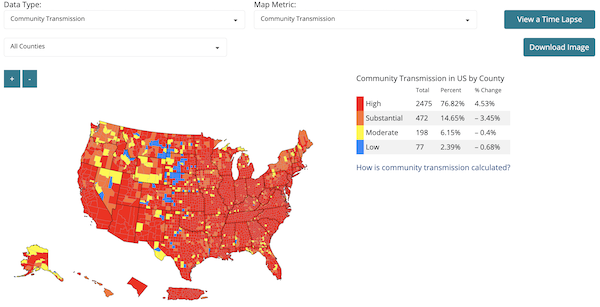 NOTE: I shall most certainly not be using the CDC's new "Community Level" metric. Because CDC has combined a leading indicator (cases) with a lagging one (hospitalization) their new metric is a poor warning sign of a surge, and a poor way to assess personal risk. In addition, Covid is a disease you don't want to get. Even if you are not hospitalized, you can suffer from Long Covid, vascular issues, and neurological issues. That the "green map" (which Topol calls a "capitulation" and a "deception") is still up and being taken seriously verges on the criminal.
Positivity
From the Walgreen's test positivity tracker, published January 4: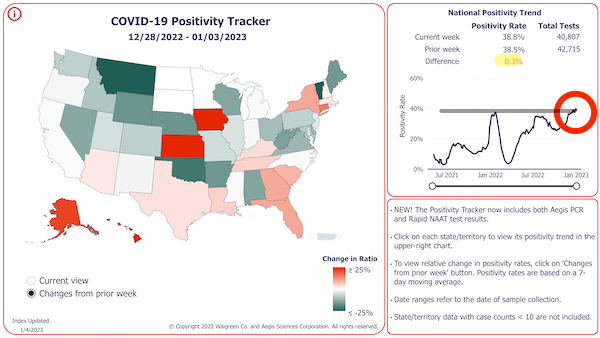 0.3%. Still the highest ever. NOTE: Of course, it's an open question how good a proxy Walgreen's self-selected subjects are for the general population, especially because they didn't go the home-testing route, but we go with the data we have.
Wastewater
Wastewater data (CDC), December 31: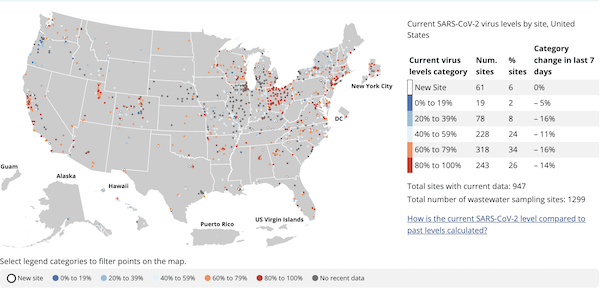 Too much red (even with Illinois offline). JFK/LGA (Queens County, NY), SFO (San Francisco, CA), LAX (Los Angeles) are all red. ATL (Cobb County, GA) no longer.
From CDC: "Please note that during the holiday season there will be delays in the collection of wastewater samples and reporting of wastewater data." Just when we need it the most, since there's no case data anymore, good job.
December 27: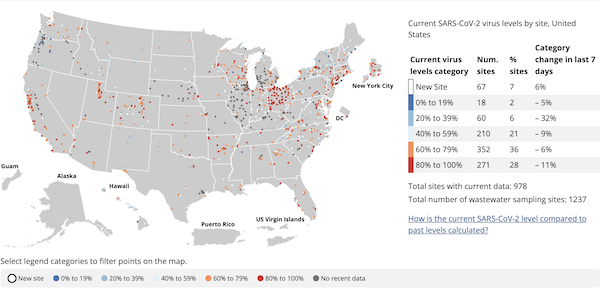 And MWRA data, December 27: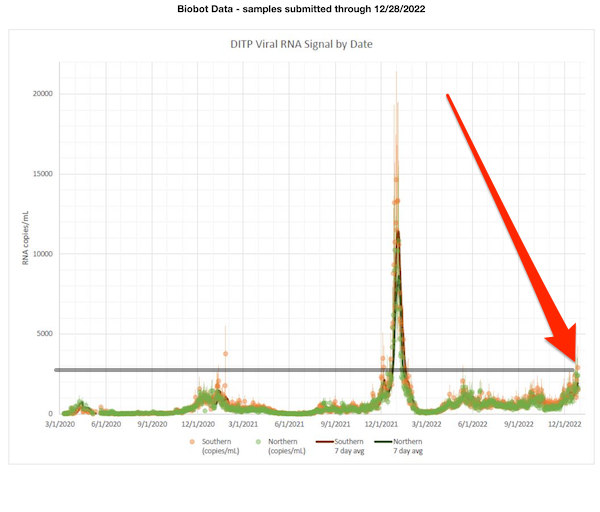 Lambert here: Still yikes. Going vertical. And certainly not all the students are back; BU classes begin January 19; Harvard's January 22.
Variants
Lambert here: It's beyond frustrating how slow the variant data is. Does nobody in the public health establishment get a promotion for tracking variants? Are there no grants? Is there a single lab that does this work, and everybody gets the results from them? [grinds teeth, bangs head on desk]. UPDATE Yes. See NC here on Pango. Every Friday, a stately, academic pace utterly incompatible with protecting yourself against a variant exhibiting doubling behavior.
Variant data, national (Walgreens), December 23: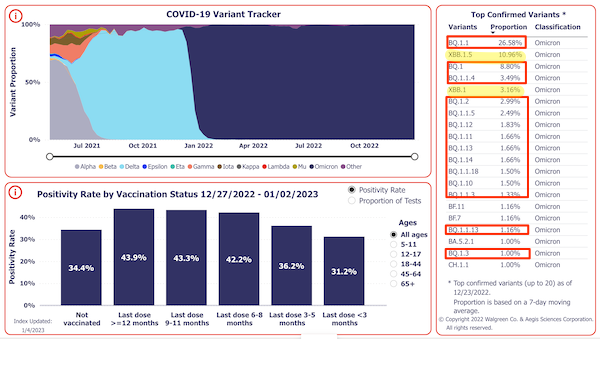 Lambert here: BQ.1* dominates, XBB moving up fast. Note all the BQ subvariants; it's almost like something's encouraging them, like maybe a policy of mass infection. Sure hope none of 'em get lucky, like XBB.
NOT UPDATES Variant data, national (CDC), December 10 (Nowcast off):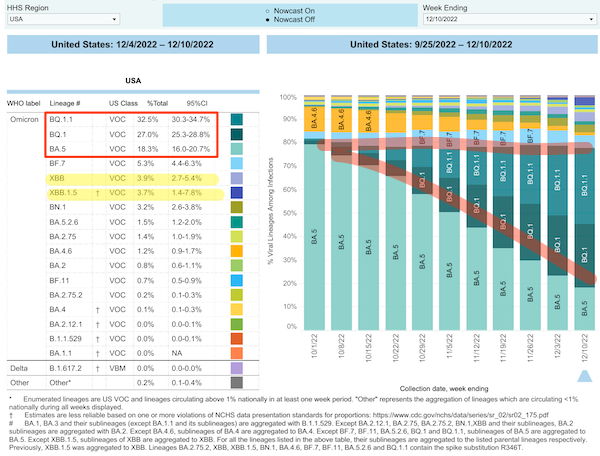 BQ.1* takes first place. XBB coming up fast. (For BQ.1/XBB and vaccine escape, see here.) Here is Region 2, the Northeast, where both BQ.1* and XBB are said to be higher, and are: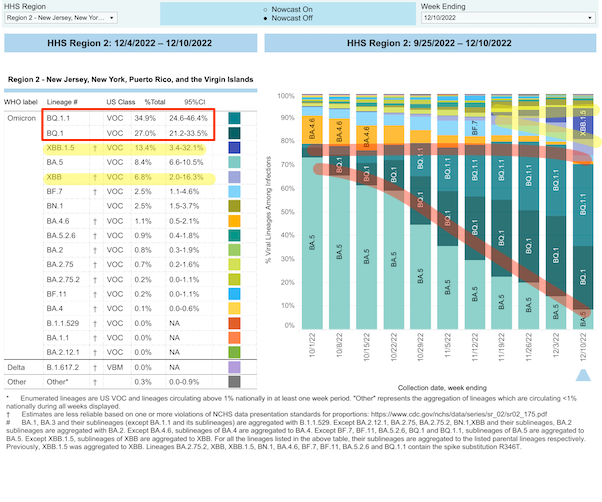 • As a check, since New York is a BQ.1* hotbed, New York hospitalization, updated December 31: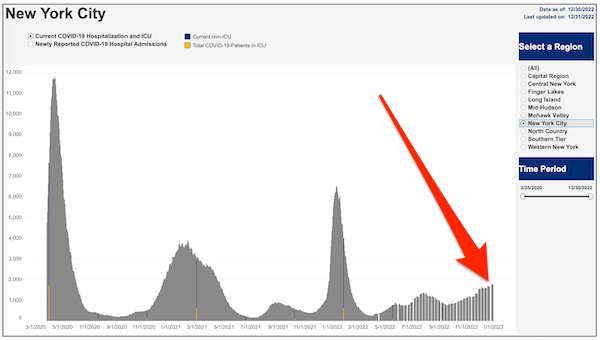 Resuming the steady upward climb after a short plateau. Of all the charts, I find this steady rise the most worrisome, because it doesn't fit into any of the narratives.
• Hospitalization data for Queens, updated December 31: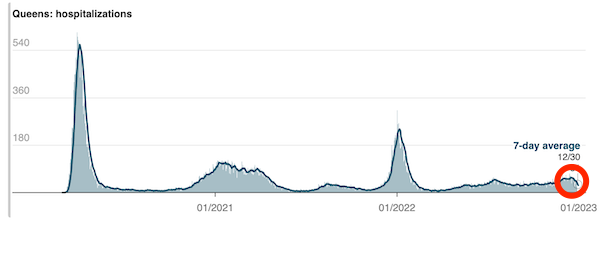 We'll see what is hospitalization is like about two weeks into January, after holiday travel has ended.
Deaths
Death rate (Our World in Data):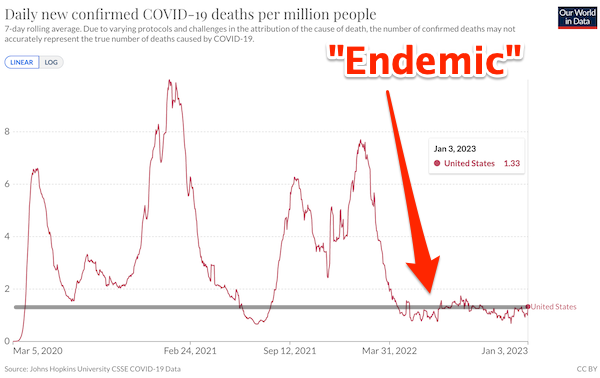 Total: 1,118,757 – 1,118,478 = 279 (279 * 365 = 101,835 deaths per year, today's YouGenicist™ number for "living with" Covid (quite a bit higher than the minimizers would like, though they can talk themselves into anything. If the YouGenicist™ metric keeps chugging along like this, I may just have to decide this is what the powers-that-be consider "mission accomplished" for this particular tranche of death and disease).
Lambert here: I put in the grey "Fauci Line" because nobody with honest gelatin in their emblobbed body could look at that deadlly plateau and say "this pandemic is over." It's not.
It's nice that for deaths I have a simple, daily chart that just keeps chugging along, unlike everything else CDC and the White House are screwing up or letting go dark, good job.
Stats Watch
Logistics: "United States LMI Logistics Managers Index Current" [Trading Economics]. "The Logistics Manager's Index in the US increased to 54.6 in December of 2022 from 53.6 in November which was the second lowest reading on record, with economic activity usually revolving around holiday shopping firms take steps to prepare for it. Inventory Levels (57.3) are increasing at a much slower rate than was observed throughout most of 2022. Inventory Levels were much higher for Downstream than for Upstream firms (62.8 to 53.3 respectively), as Downstream respondents such as retailers held higher levels of inventory and dealt with more limited warehousing as they pushed to get goods to consumers for holiday shopping. Meanwhile, Transportation Utilization was down to 48.1, marking the first time it has dipped into contraction territory since April of 2020. Transportation Prices contracted at a rate of 36.9, which is the sharpest rate of contraction on record." • See also Shipping below.
Manufacturing: "United States ISM Purchasing Managers Index (PMI)" [Trading Economics]. "The ISM Manufacturing PMI for the US fell to 48.4 in December of 2022, slightly below forecasts of 48.5, pointing to the 2nd month of contraction in factory activity as Americans are shifting spending away from goods to services. Excluding the decline in April 2020 at height of the covid pandemic, this was the lowest reading since February 2016. New orders (45.2 vs 47.2), and new export orders (46.2 vs 48.4) declined further and production shifted to the negative territory (48.5 vs 51.5). On the other hand, employment rebounded (51.4 vs 48.4), with many companies managing headcounts through a combination of hiring freezes, employee attrition and layoffs."
Employment Situation: "United States Job Openings" [Trading Economics]. "The number of job openings in the United States decreased slightly by 54,000 to 10.5 million in November of 2022, compared with market expectations of 10 million, suggesting the labor market remains strong." • Dang.
* * *
Retail: "Column: The guilty parties evading blame for the Southwest meltdown are its board members" [Michael Hiltzik, Los Angeles Times]. "The main question should be: What do these people do to earn compensation that, according to the company's most recent proxy statement, averaged more than $284,000 in 2021? Where were they during the years in which employees and their unions continually warned that Southwest's crew and aircraft scheduling technology was hopelessly outdated? Why did the board not take matters in hand when Southwest's on-time performance cratered in 2014 due to bad planning and an effort to expand its service on the cheap, without adding planes to its fleet or upgrading its antiquated reservations system? Or in June or October 2021, when the airline had to cancel thousands of flights because of technological problems?"
Shipping: "Chinese Export Container Rates Plunge 27%" [Marine Link]. "The bad news for liner operators appears to have no end. In a normal year, the weeks leading up to Chinese New Year (CNY) bring an increase in volumes and freight rates. So far, however, the lead-up to CNY in 2023 has been the worst in 13 years. Spot rates for containers loading in Shanghai will normally be 12% higher just before CNY than 10 weeks earlier. Similarly, average rates for all containers loading in China will normally end 4% higher. This year, both spot and average rates, however, continue to fall.  The China Containerized Freight Index (CCFI) measures average Chinese export container rates. The index has seen a 50% drop since February 2022 and stood at 1,730 seven weeks ago. Rather than stabilising and then climbing towards CNY, it has continued to fall. Last week it hit 1,271 and has therefore dropped by a further 27% since mid-November. … The CCFI is showing a worse than normal development in all trade lanes. To Europe and Mediterranean, the index has fallen by respectively 34% and 57% during the last seven weeks whereas the index for exports to the US West Coast and East Coast are down by 26% and 27% respectively. "
The Bezzle:
This is completely insane. They just did crime, that's it. They didn't build shit, they just said they did. How hard is it to understand this? https://t.co/mn13YM18OQ pic.twitter.com/qUW6XFGliy

— Sean Tuffy (@SMTuffy) January 3, 2023
"But they were playful thieves." Really? Why is everybody stretching to give this guy a break?
The Bezzle: "This little-known firm with a weird website was central to the misappropriation of FTX customers' money, regulators say" [NBC]. "Among the 130 or so companies in Sam Bankman-Fried's sprawling crypto empire, North Dimension Inc. assumed a low profile. Unlike FTX, its name wasn't splashed on billboards or sporting arenas, and its business wasn't promoted by celebrities. Still, North Dimension had a crucial role in the FTX mess, regulators now say. In fact, they contend, the little-known company was central to the furtive misappropriation of FTX customers' funds. As a subsidiary of Alameda Research, the crypto hedge fund and trading firm also founded by Bankman-Fried, North Dimension was where FTX customers were told to wire money if they wanted to trade on its exchange, according to a complaint filed Wednesday by the Securities and Exchange Commission. But North Dimension Inc. also appears to have been a fake online electronics retailer, an NBC News investigation found. Its website, now disabled, is archived on the internet." • Oh.
The Bezzle: "Canada Steals Cultural Works From The Public By Extending Copyright Terms" [TechDirt]. From November, still germane. "We've said this before and we'll say it again: it cannot make sense to extend copyright terms retroactively. The entire point of copyright law is to provide a limited monopoly on making copies of the work as an incentive to get the work produced. Assuming the work was produced, that says that the bargain that was struck was clearly enough of an incentive for the creator. They were told they'd receive that period of exclusivity and thus they created the work. Going back and retroactively extending copyright then serves no purpose. Creators need no incentive for works already created. The only thing it does is steal from the public. That's because the "deal" setup by governments creating copyright terms is between the public (who is temporarily stripped of their right to share knowledge freely) and the creator. But if we extend copyright term retroactively, the public then has their end of the bargain ("you will be free to share these works freely after such-and-such a date") changed, with no recourse or compensation. That makes no sense. And yet, countries keep doing it. Canada has quietly done it: extending copyrights on literary, dramatic or musical works and engravings from life of the author plus 50 years year to life of the author plus 70 years."
* * *
Today's Fear & Greed Index: 41 Fear (previous close: 36 Fear) [CNN]. One week ago: 31 (Fear). (0 is Extreme Fear; 100 is Extreme Greed). Last updated Jan 4 at 1:05 PM EST.
Class Warfare
"Outlook 2023: Labor shortages continue to plague aerospace" [Leeham News and Analysis]. "Airbus, Boeing and other manufacturers, including engine companies, complain they can't get to desired production rates because of, in part, a labor shortage. It's part of a broader phenomenon across all manufacturing, with one industry group saying there's an immediate need for 2.1 million factory workers right now. In some circumstances, this has meant raising wages. In Wichita, the 'Aerospace Capital of the World,' there's a bidding war going on for skilled aerospace mechanics. In Puget Sound, Boeing had to go back to the bargaining table with the Machinists Union in 2019, to negotiate $4-an-hour pay increases for entry-level workers. In Charleston (SC), Boeing reportedly struggles with a higher than normal attrition rate as workers leave for higher-paying jobs. It seems inevitable that the lack of experienced workers will make it harder for companies to deliver parts and finished goods on time, and the absolute need to raise pay will cut into margins. Both these factors could very well be a drag on profits, even as airlines clamor for new aircraft that will increase manufacturers' revenues."
Wonderful world, beautiful people:
Amazon workers at DEN4 in Colorado say an elderly worker died on the job on 12/28 after returning from a medical leave and instead of shutting down the area, Amazon managers stacked boxes around the body until a coroner could arrive so they could keep workers working through it pic.twitter.com/q1OSyOwlnq

— Michael Sainato (@msainat1) January 2, 2023
(There is a Nick McKeen who works for Amazon in Colorado.)
News of the Wired
"Can Self-Replicating Species Flourish in the Interior of a Star?" (PDF) [Letters in High Energy Physics]. Big if true:
[L]ife needs at the minimum these three hypotheses:

1. The ability to encode information.

2. The ability of information carriers to self-replicate faster than they disintegrate.

3. The presence of free energy: at the minimum, ∆F = T ∆S, needed to constantly create order out of the disorder by decreasing entropy S through self-replication, where T is the temperature of the system.

Armed with this extreme reasoning, we ask whether some form of life could flourish deep inside the core of main-sequence stars like our Sun. We speculate that it is possible to satisfy hypotheses 1 and 3. Given how complex and nonobvious is the functioning of the biological cell that we are familiar with, and the fact that the early path of the biological evolution that has led to it is unknown, we will not speculate about the intricate series of bionuclear reactions that can satisfy hypothesis 2. The only principle one should be guided with is that a self-replication hypercycle, if it exists, inevitably emerges in the dynamics of a complex system as a stationary process that survives out of all other processes.
* * *
Contact information for plants: Readers, feel free to contact me at lambert [UNDERSCORE] strether [DOT] corrente [AT] yahoo [DOT] com, to (a) find out how to send me a check if you are allergic to PayPal and (b) to find out how to send me images of plants. Vegetables are fine! Fungi and coral are deemed to be honorary plants! If you want your handle to appear as a credit, please place it at the start of your mail in parentheses: (thus). Otherwise, I will anonymize by using your initials. See the previous Water Cooler (with plant) here. From AM:
AM writes: "Just a few minutes before sunset on New Year's Day at Battery Park, downtown NYC. Urban sea grass, shrubs and trees with The Statue of Liberty in the distance. Happy New Year!!"
Patient readers, I am running very short on plant pictures, so if you could send me more, that would be great. New readers welcome! Plants covered in ice and snow are fine, but so are field reports on yield from fall gardens. Thank you!
* * *
Readers: Water Cooler is a standalone entity not covered by the annual NC fundraiser. So if you see a link you especially like, or an item you wouldn't see anywhere else, please do not hesitate to express your appreciation in tangible form. Remember, a tip jar is for tipping! Regular positive feedback both makes me feel good and lets me know I'm on the right track with coverage. When I get no donations for five or ten days I get worried. More tangibly, a constant trickle of donations helps me with expenses, and I factor in that trickle when setting fundraising goals:
Here is the screen that will appear, which I have helpfully annotated: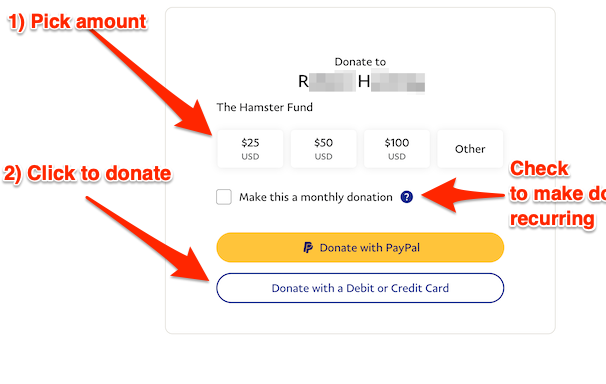 If you hate PayPal, you can email me at lambert [UNDERSCORE] strether [DOT] corrente [AT] yahoo [DOT] com, and I will give you directions on how to send a check. Thank you!